He is 14, he has been a professional - that's right, professional scooter - rider for two years, and Righetti High School freshman Bryce Baker is already highly decorated in that sport.
"I've won three first places, and I've had 11 podium showings," Bryce Baker said recently in the Orcutt home of his parents, Lisa and Michael Baker.
Bryce Baker said the relatively new sport is "Mostly similar to BMX. There are back flips, 360s, stuff like that."
Extreme sports have grown hugely in popularity, and it seems it won't be long until the time will come for the sport Baker has come to love.
Skateboarding, sports climbing and surfing will be included in the program for the 2020 Tokyo Olympics.
"Not Tokyo 2020, but soon," Australian Scooter Association (ASA) President James Morrison said to Emily Bissland of ABC South West Vic as to when scooter riding will arrive on the world stage.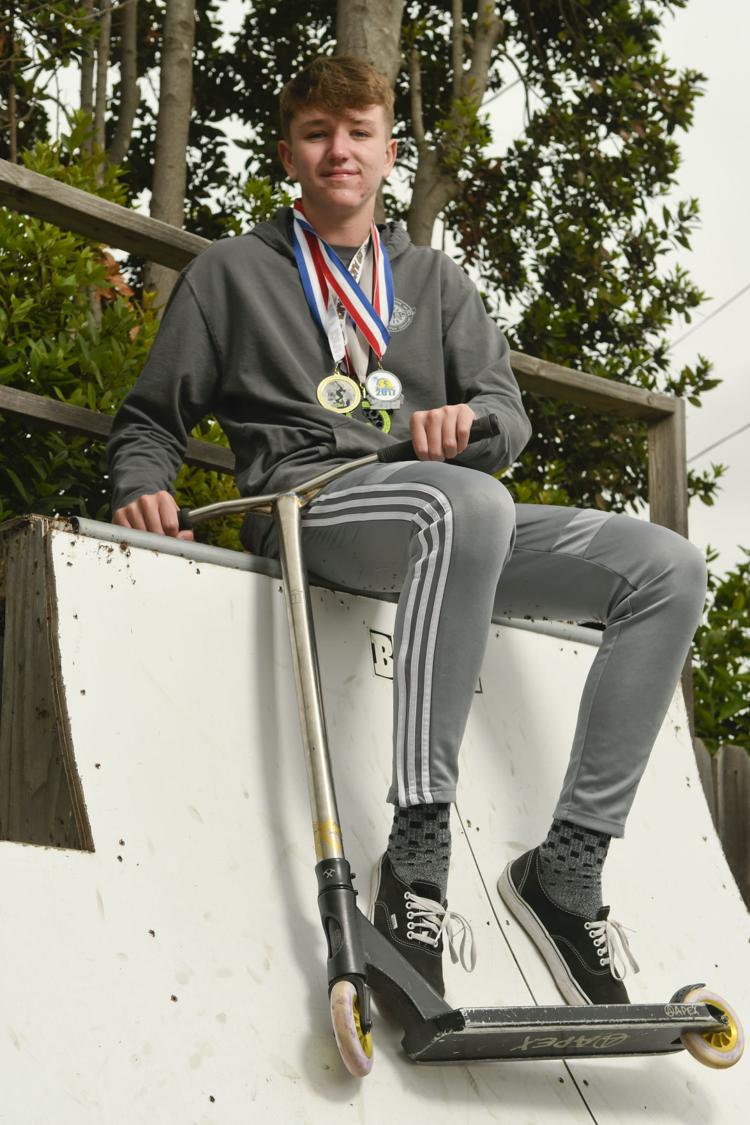 There is "absolutely," a movement to make scooter riding an Olympic sport, Morrison told Bissland.
As for the more immediate future, Bryce Baker is bidding for a spot in the 2020 International Scooter Association (ISA) World Championships in Barcelona, Spain.
"I finished 41st in the pro division of the National ISA Qualifier at Woodward West Park in Tehachapi," Baker said.
"I'm going to work really hard this year and try to make it into the top 10, which will get me into the World Championships in Barcelona."
To help get him there, Baker hopes to capitalize on a challenging move that he learned at the ISA Qualifier, the BVI Buttercup.
"In that move, the scooter goes over your head twice, and there are four spins in the bottom of the scooter," said Baker.
"To score the most amount of points, you need to land it with both feet. I landed it with both feet on the first run. On the second, I landed it with one. I want to get where I can land it with two feet on both runs."
Bryce Baker said he particularly relished telling his parents he had mastered the move.
"They're standing there telling me, 'Why don't you practice that move?' I told them, 'I've already done it," Bryce Baker said.
"There were 60 competitors there," he said. "Fourteen was the youngest age there, and there were two other 14-year-olds. Maybe one or two other (riders) did that move. I was the only rider there from the Central Coast."
Bryce Baker's competitive scooter is lightweight, but durable. "The bars are titanium, and the (frame) is made out of aluminum," he said.
The scooter is also flexible. "I actually got interested in riding a scooter five years ago," he said. "Some friends and I went to a skate park, and we were having a really hard time riding down the ramp on bikes.
"Then I went home and got my $150 fold-up scooter. I couldn't believe the things I could do on it."
Bryce and Michael Baker said getting and replacing parts for a competitive scooter can get quite expensive. "Up to $1,100."
Bryce Baker said he has three sponsors who help him with the cost. He said the sponsors are Ransom Scooters in Arroyo Grande, SCTUSA, the owner of A-Town Park in Atascadero where Baker works out, and S1 helmets in Long Beach.
Baker said he works out "10 to 12 hours a week," at A-Town Park on his scooter.
Though he is only 14, Bryce Baker already has a career goal.
"I want to be a pharmacist," he said. "My mom works at Dignity Health, and she told me a little bit about the job. It sounded interesting."
Bryce Baker said he will compete at a United Scooter Association competition at Tuscon, Arizona on Memorial Day.