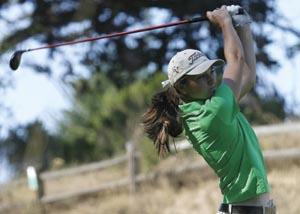 The Hancock College golf program finished third at their own Western State Conference tournament on Monday, missing a win at the Santa Maria Country Club by eight strokes.
Hancock trailed winner and defending state champs Canyons 371-379, tying with Moorpark. However, the Raiders claimed second on the sixth-player tiebreaker, beating the Bulldogs by six strokes.
Alex Schumacher led Hancock with a three-over-par 74, while Justin Warthen and Jacob O/Keefe each carded 75s; Mike Lyons shot a round of 76 and Ernie Del Rio at 79.
Matt Porco of Canyons was the day/s medalist, shooting a one-under 70 on the par-71 layout.
Ventura (383 strokes), Bakersfield (384), Santa Barbara (384) and Citrus (393) completed the team field.
The Bulldogs will play two more local matches in the next week, hosting Bakersfield at Cypress Ridge on Wednesday before hosting the rest of the conference again next Monday, this time again at Cypress Ridge.
Prep Tennis
Santa Ynez falls to New Jersey school
SANTA YNEZ 7 Behind a singles sweep, The Hun High/s of New Jersey picked up a 14-4 victory over Santa Ynez on Monday, giving up only eight games in singles action.
Andrew Tervooren led Hun with a 6-0, 6-0, 6-0 sweep from the No. 3 singles spot, while No. 1 player Hakan Gonca scored a 6-1, 6-3, 6-0 sweep.
Santa Ynez garneded most of its set victories from the No. 2 doubles team of Garrett Gunning and Steve Sauer, who ended the day with a scoreline of 0-6, 6-3, 6-0.
Santa Ynez travels to Arroyo Grande today for non-league action.
March 9, 2004
Be the first to know
Get local news delivered to your inbox!