"This isn't my first rodeo."
That's what Joseph (Joe) Gamble had to say Sunday after competing in the annual Minetti Mini Rodeo qualifier at the Santa Maria Elks Unocal Event Center rodeo arena.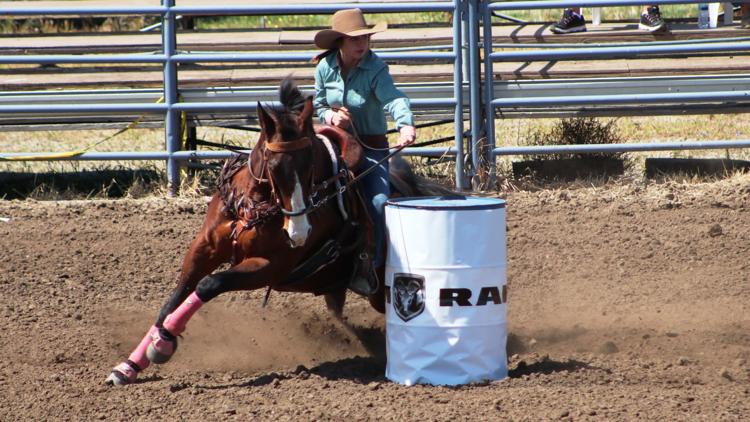 Not only has he competed in numerous youth rodeos, but Sunday also marked the sixth time that he qualified for the Minetti.
That's a fairly big accomplishment for young Joe, considering that he's only 9 years old, a third-grade student at Pacific Christian School.
Altogether, 74 young cowgirls and cowboys competed for spots at the Minetti Mini Rodeo, the event that kicks off the 76th annual Santa Maria Elks Rodeo on Thursday morning, May 30.
"I don't ever remember having this many kids out here competing for spots at the Minetti Mini Rodeo," said the Elks Recreation Committee's Chief Operating Officer Tina Tonascia. "(Teresa) Toot Rivas is the chairman of the Mini Rodeo Committee. Toot, (arena announcer) Janice Chaves and (official timer) Debbie Wineman are amazing at what they do. Every year they make it better for the kids. They know every single kid by name."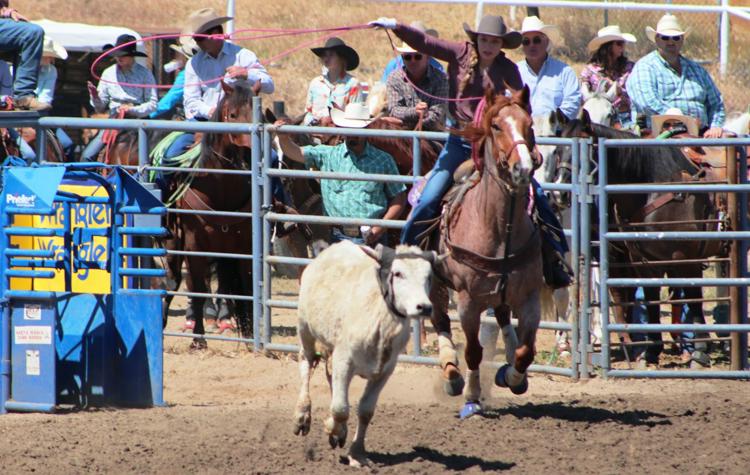 The top five in each age group in team roping, breakaway roping and barrel racing earned spots in the Minetti Mini where they'll face off for the 2019 championships in front of a packed house of 6,000 local elementary school students.
"It's a beautiful day out here," said Elks Recreation Committee Treasurer Scott Parsons, who also oversees the rodeo grounds. "It's so great to see so many young men and young women out here. They're the future of the sport."
Joe Gamble was the top qualifier in the 7-9-year-old barrel race.
"That's pretty good," said Joe, who rode his 23-year-old horse, Girl, to the top spot. "I'm going to ride with Papa John (grandfather John Rivas who will come out of retirement to team with Joe in the Elks Team Roping event at the rodeo). "Girl used to be my sister's barrel horse."
Girl is also a seasoned Minetti competitor, having carried older sister Kennedi Gamble to the Minetti finals several times.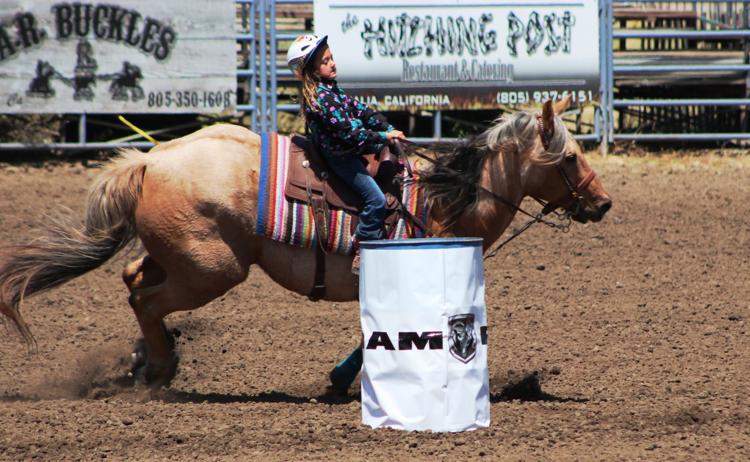 "I rode (8-year-old) Belle this year," said 13-year-old Kennedi Gamble, a student at Orcutt Junior High, after qualifying in the 10-13 barrel race. "I started (competing at the Minetti) when I was three so this is my 11th time. This is fun. I like to go fast."
It is quite common for siblings to compete since rodeo is a family affair.
Besides the Gambles, sisters Haliegh and Sadie Grant and their cousins Jaycee Chaves and Charlee Teixeira earned spots in the Mini Rodeo as did brothers Jameson and Cade Branquinho and their cousin Kylee Branquinho.
"Mayor Alice (Santa Maria Mayor Alice Patino) came out to see here granddaughter Sophia," said Tonascia. "It really is a family day."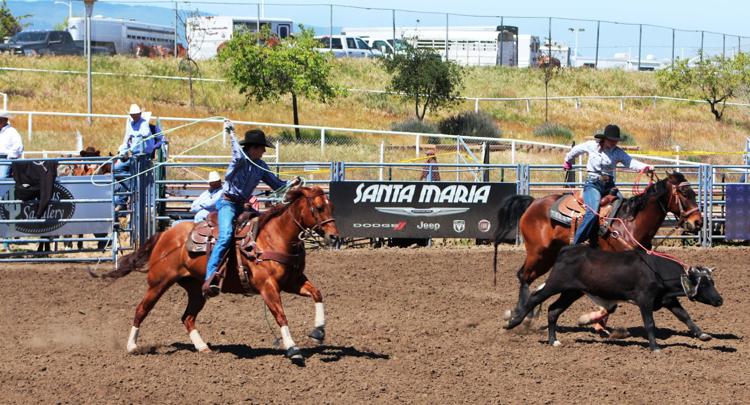 Keeping it in the family is Regan Fowler, a junior at Righetti High and the great granddaughter of Clarence Minetti, the namesake of the Mini Rodeo.
"I started carrying flags at the Mini Rodeo when I was in third grade," said Fowler, who will soon be heading to the California High School State Finals Rodeo in team roping and cutting. Fowler won the world cutting title last year against high school students from the United States, Canada, Mexico and Australia. "This year I qualified (for the Mini Rodeo) in breakaway roping."
The Mini Rodeo entry list could change if some of Sunday's qualifiers can't make it on May 30.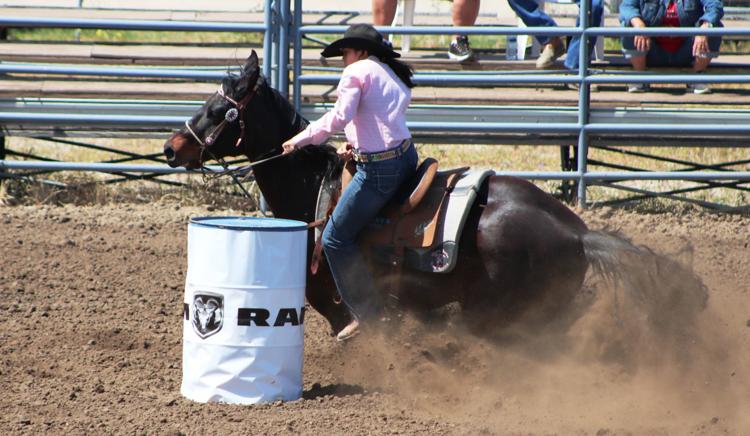 Here are the young men and women who earned their official Mini Rodeo entries Sunday with the winner and their time listed, followed in order by the other qualifiers.
You have free articles remaining.
Barrell racing
14-17-year-old
Makenna Machado (17.375), Haliegh Grant, Sammy Massey, Josie Pereira, Karli Huguenard
10-13
Shaylee Baxley (17.848), Sadie Grant, Teagan Ross, Alexius Jones, Kennedi Gamble
7-9
Joseph Gamble (19.277), Jameson Branquinho, Lillian Stone, Jaycee Chaves, Charlee Teixeira
6-and-under
McCoy Draper (24.167), Robby Alexander, Oakley Ganibi
Breakaway Roping
13-17
Delaney Browder (3.96), Sammy Massey, Sophia Patino, Gracie Lopez, Regan Fowler
12-and-under
Kylee Branquinho (4.98), Addie Shelly, Sadie Grant, Cade Branquinho 
Junior Team Roping
Enrique Ramirez/Nicholas Realzola (19.91 on 2), Dylan Fleming/Lacey Lewis, Ashley Lewis/Blaine Twisselman, Sammy Massey/Nicholas Realzola, Ashley Lewis/Josie Pereira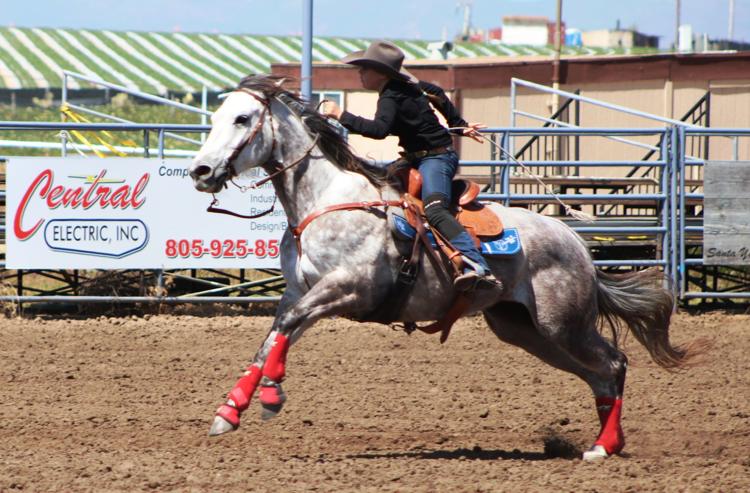 Junior/Senior Team Roping
Elks Recreation added Junior/Senior Team Roping last year.
The event matches a junior roper with an adult family member; mom, dad, aunt, uncle or grandparents.
It was so popular the Elks Rec brought it back again this year.
This competition is run in its entirety during qualifying and won't be part of the Mini Rodeo.
This year's winners (with junior roper listed first) were Sutton Mang and Jeff Mang (18.86 on 2 steers), followed by the team of Corbin Jones/Luis Ramirez and Parker Jones/Mike Monighetti.
"There are so many people to thank. We could never do this without all our hard working volunteers," said Tonascia. "Adam Teixeira provided all the cattle. Joe "Joe Dirt" Silva and his crew, Jeff Ward, Mason Silva and Nathan Rowles spent many landscaping the arena and getting the dirt perfect, the roping chute crew, the catch pen crew — there are so any people who make this possible. This year our theme is 'A Cut Above.' We always want to be a cut above and our volunteers are the main reason we can make that come true."