SONOMA — John Force was running late.
The legendary drag racer got stuck in Bay Area traffic Friday morning on the way to Sonoma Raceway.
He had to get to a National Hot Rod Association (NHRA) drivers' meeting before qualifying began Thursday afternoon for the 32nd annual NHRA Sonoma Nationals.
Force was already on edge when he ran into a man Force thought had to be the worst ever ticket taker at the drivers' entrance.
"John Force was late and I told him he was late," said the (for the moment anonymous) man at the gate. "I told him I was going to have to pull his hard card and he just lost it."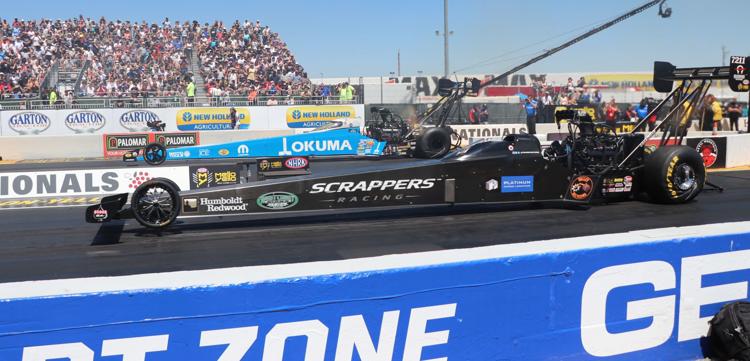 "I was late for a mandatory meeting and he said I wasn't John Force," said the 16-time NHRA Funny Car world champion. "He said he was going to have to pull my hard card — my credentials — and that I needed to go to the office and explain myself."
What followed was a profanity-filled tirade.
That's when the ticket taker revealed the ultimate prank.
"I was wearing an NHRA cap, sunglasses and thin black fake mustache," said the ticket taker.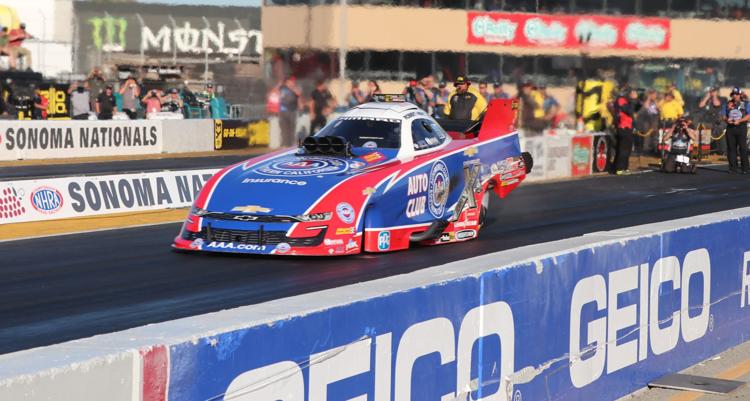 The uncooperative nemesis turned out to be none other than San Luis Obispo native and another former Funny Car world champion Ron Capps.
"They were doing this to a lot of drivers at the gate," Force said. "I'm the only one who made a fool out of myself. I was totally wrong. I didn't know it was Capps. They played me — I fell for it.
"And they got the whole thing on a Go Pro camera so I can't even lie about it."
"We had a blast," said Capps. "I can't wait to see the footage."
By this time, Force had cooled down and could finally laugh about it.
How the prank even worked at all is amazing.
Except when they're going head to head on the track, Force and Capps are the best of friends off it and yet, Force didn't even pick up on the sound of Capps' voice.
Capps got the jump on Force in Friday's first round of qualifying.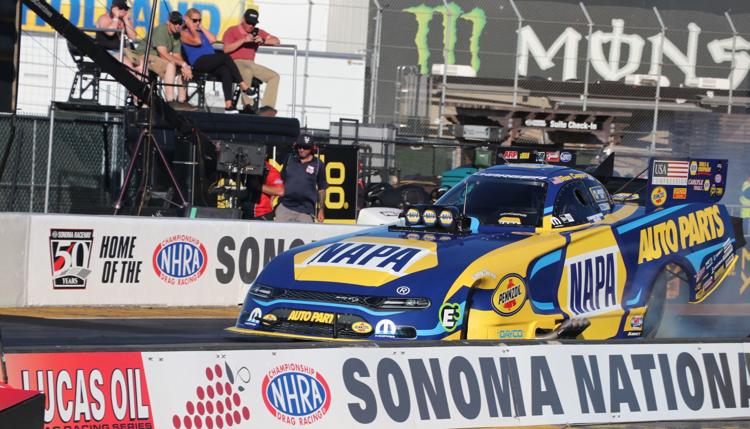 It was Fast Jack Beckman who got the Funny Car party started with a 3.951-second, 321.96-mph pass to take the lead after the first session.
But Capps was right behind at 3.960 and Force was third at 3.974.
You have free articles remaining.
With temperatures way down, speeds picked up in the second session with Robert Hight's 3.858/334.65 moving him to the top of the Funny Car field after the fastest run of the 2019 season.
"It's big. Being number one is big," said Hight, the defending Sonoma champion. "I think Funny Car is the toughest class out here. What was big for me today was making two good runs. Tomorrow, we should have the same kind of heat. If I can put up a good time in the first round (where he has a solo run), then I can put the pressure on the other guys and that may make them go out and go too hard but being the number one qualifier really builds my confidence."
Capps and Force got pushed way down the ladder but Force got a small measure of revenge on the track, qualifying seventh for Sunday's elimination ahead of Capps' ninth.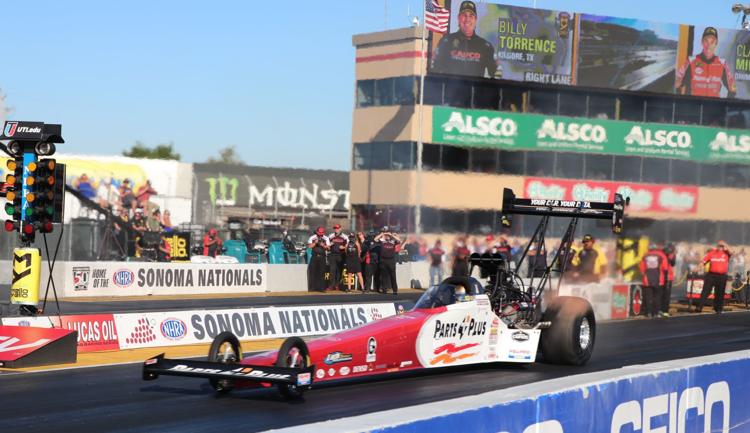 "I hope Friday is as hot as they say it's going to be. The higher temperatures will keep the speeds down and make me the number one (Top Fuel) qualifier," said Clay Millican after posting the best time in Friday's second round.
Millican was right. His Friday night 3.68/330.96 pass was tops in qualifying.
"That (Friday night) qualifying run was so much different than it's going to be race day," said Millican. "So we were pretty sure we had number one locked up and that gave us the chance to tinker with the car today to get it ready for Sunday's heat. I feel good about our chances tomorrow.
"We're only two rounds out of second place (in the standings). The closer you can get to (points leader) Steve Torrence, the better shape we'll be in come the Countdown."
Defending Mello Yello Series champion Steve Torrence is second with Billy Torrence, Steve's father, third.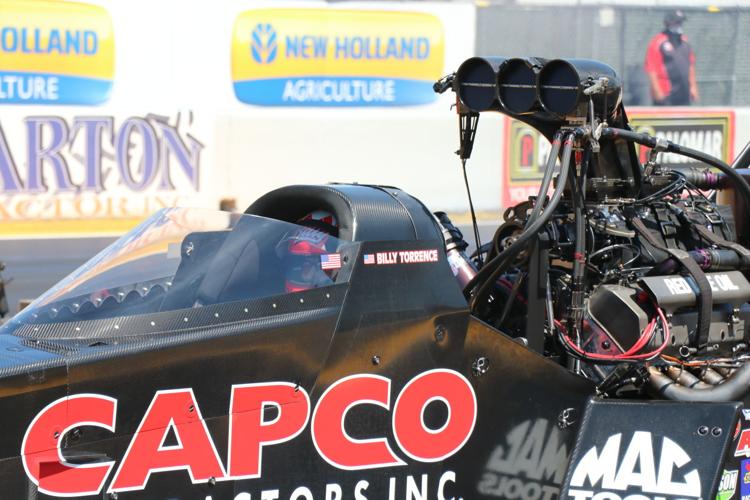 Alex Laughlin is the top qualifier in Pro Stock after his Friday night 6.520 second. 210.80 pass held up.
Deric Kramer and Jeg Coughlin finished second and third, respectively.
"Coming from Denver last weekend when we went out in the first round, it seemed like everything was against us," said Laughlin. "This is definitely a confidence booster. I think we're in really good shape for Sunday."
The Pro Stock Motorcycle class featured a race within the race –— the annual Mickey Thompson Pro Bike Battle.
The top eight riders on the season face off in a winner-take-all $25,000 race.
Andrew Hines won his seventh Pro Bike Battle, defeating his Harley Davidson Screaming Eagle teammate Eddie Krawiec for the title.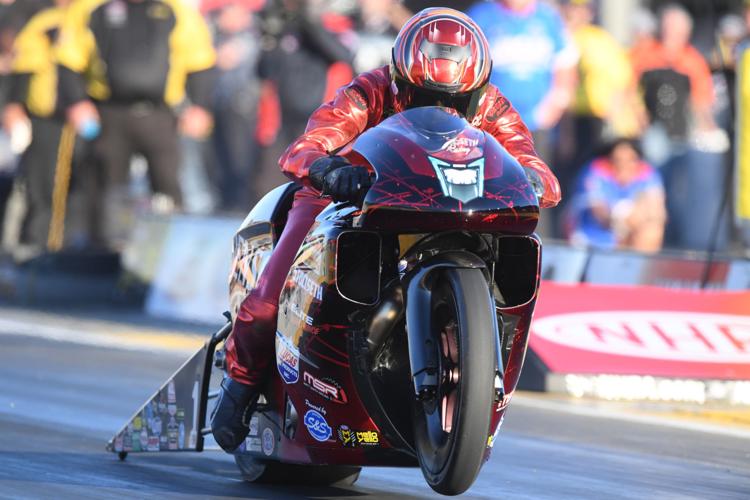 "Today was hot –— a big change from yesterday," said Hines. "But knowing we were going to have this weather, we had the right tune up for it. We'll tinker with the bike a little tonight — we never stop tinkering — but we'll be ready for Sunday.
"Today, the Bike Battle was fun. Tomorrow is when the nerves kick in."
Defending series champ Matt Smith hit 200.83 mph in Friday's second round of qualifying Pro Stock Motorcycle, a time which held up to give him the top spot on Sunday's ladder.
But he didn't have any luck in the Pro Bike Battle.
"We had a good first round but we ran into mechanical trouble in the second (where he fell to Hines)," said Smith. "But I like our chances tomorrow. Last year we qualified number one in Sonoma, won the race and went on the win the championship. We had a glitch in the Bike Battle. We'll get it fixed and be ready for tomorrow."