Central Coast cowboys and cowgirls took the spotlight on Championship Sunday at the 76th annual Santa Maria Elks Rodeo.
Before yet another sold out house at the Elks Unocal Event Center, two brothers from Creston and Cal Poly's assistant rodeo coach rode off with Santa Maria Elks Rodeo titles on the final day of the four-day rodeo weekend.
Lane Santos Karney, a Creston native and Templeton High graduate, teamed up with Kyle Lockett to win the Professional Rodeo Cowboys Association (PRCA) team roping championship.
Santos Karney also finished fourth in tie down roping and with the money earned in the two events, left his hometown rodeo with $4,854 and the title of All-Around champion.
Lockett finished third in the All-Around.
Brother Taylor Santos, also a Templeton High grad, won the tie down roping championship, with a low time of 19.0 seconds in the two rounds of the event.
"This is awesome," said Lane Santos Karney, who is also a Cal Poly graduate. "I got to team rope with Kyle and he's currently No. 1 in the world. My brother was here and he also won an event. We got to compete in front of all our family and friends. I love this rodeo. I've always loved this rodeo and to win the team roping and All-Around is special."
In the inaugural Women's Professional Rodeo Association (WPRA) breakaway roping, Cal Poly assistant rodeo coach Chelsey Bushnell roped her calf in 3.1 seconds on Sunday, putting her into a tie for first place with Liz Hirdes.
"I feel pretty blessed," said Bushnell, a Red Bluff native who will be getting her Master's Degree in Agricultural Education from Poly next week. "Breakaway roping is growing and it's giving us more opportunities to compete."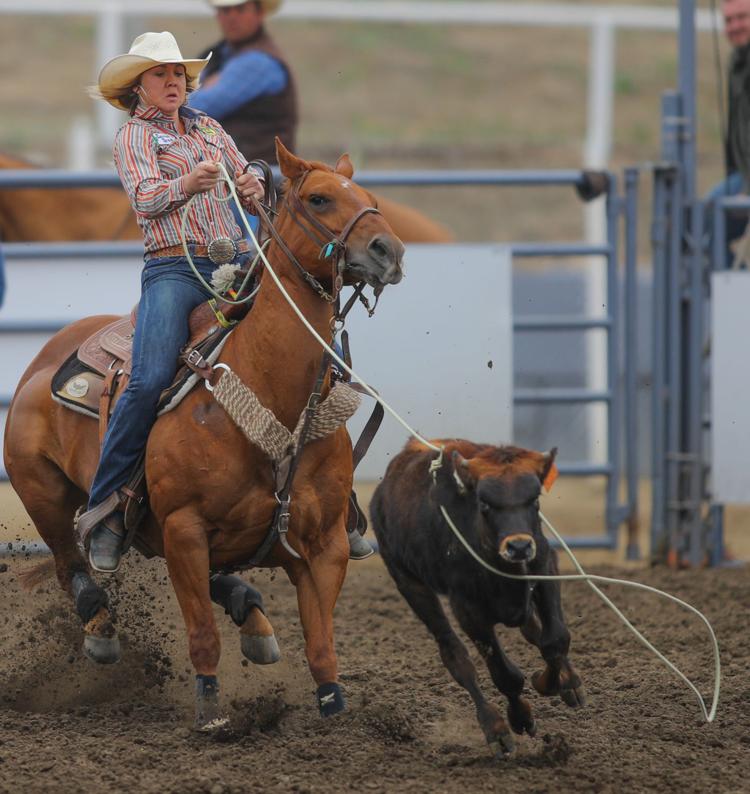 "I love it. I got to compete in breakaway at a sanctioned event and I got to tie for first place with my best friend," said Hirdes. "This is my first time roping here I Santa Maria. I love this arena. The crowd was fantastic. I hope they keep on having our event."
Local riders always win the Elks team roping event since only local Elks members are allowed to enter.
Adam Teixeira and Mike Draper rode off with the Elks championship after their 7.3-second run Sunday (30.6 seconds over three rounds) vaulted them past Teixeira's father and stepmother, Glen and Karen Teixeira for the title.
"It's pretty cool. This is the second time we've won Elks team roping," said Adam Teixeira. "Mike and I have been best friends since we were little kids and to win this with him is pretty cool."
"This means a lot to us," said Draper. "My daughter McCoy (5 years old) won the 6-and-under barrel race at the Minetti Mini Rodeo on Thursday. It's pretty cool that both of us won buckles on the same weekend."
"To win this in front of our friends and family and with my best friend makes this the best weekend you could ask for," said Teixeira.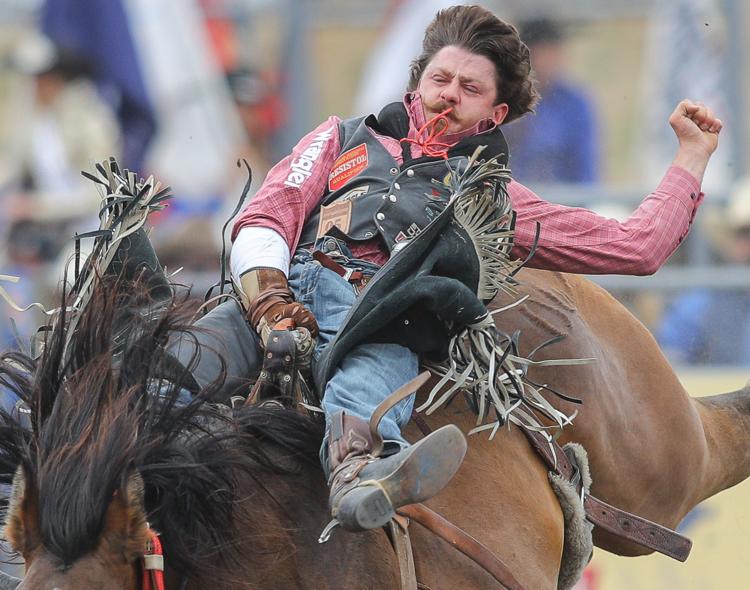 "I think winning with Adam was the best thing – and winning shotguns was the second best," said Draper.
Keeping it in the family, Teixeira's daughter Charlee was also one of the Minetti competitors.
Bob and Ryan Browder finished second in Elks team roping with Cheyne Torres and Tim Righetti finishing third.
The weekend didn't end well for Los Alamos cowboy and five-time world steer wrestling champion Luke Branquinho.
It started well enough when Branquinho posted a 5.5-second time to take the early lead during Thursday night's first round.
Branquinho then flew to Green Bay, Wisconsin, where he finished third and picked up a $10,000 check in a non-PRCA rodeo Saturday.
Back home Sunday, the steer fell on Branquinho's right leg giving him a 'no time' for the go-round.
"I'll find out Monday the extent of the injury," Branquinho said after limping out of the arena and being checked out by the Justin Sports Medicine team. "I don't think it's too bad."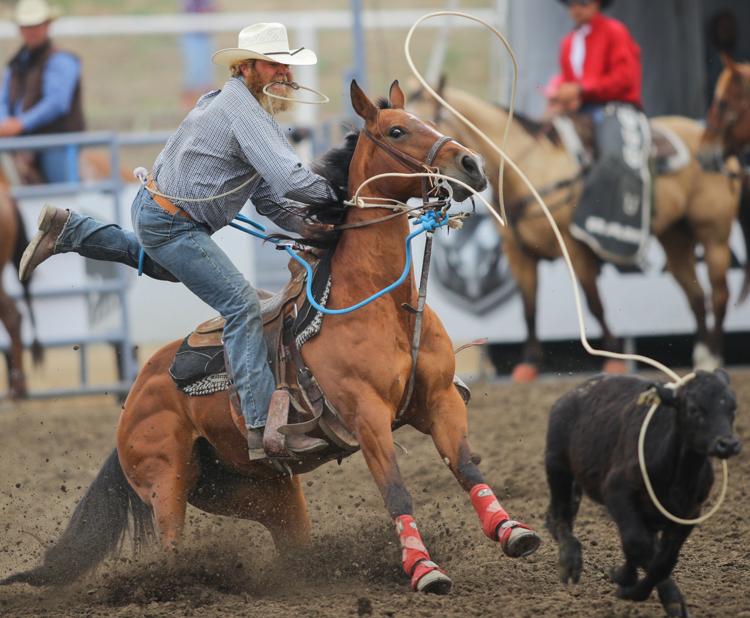 Paul Bianchi's 7.7-second run was Sunday's best but it wasn't enough to crack the top three.
Blake Knowles with runs of 5.3 and 6.3 seconds took the title with a two-round total of 11.6 seconds.
Stetson Jorgenson (15. 8) finished second with Taylor Gregg (16.9) third.
Bareback riding produced a back-to-back champion on a day where all five riders posted good scores, keeping the crowd cheering throughout the event.
Austin Foss rode Lil Red Hawk to an 88.5-point ride on Sunday to win his second straight Santa Maria championship.
A local cowboy competition is just one of the many things that makes the Santa Maria Elks Rodeo unique. Mixed in with all the professionals, the Elks hold their own team roping to determine which twosome wins bragging rights for the next 12 months. On Saturday evening, during the third performance of the 76th annual Santa Maria Elks Rodeo at the Elks Unocal Event Center — the third straight sold out house — the father-son team of Daryl and Billy Vinnedge, from Arroyo Grande, had a 9.0-second run, posting the night's best time.
"88.5 — that'll work," said Foss. "I had a really good horse. I think that's the third time I rode that horse. She does a really good job. You go from zero to 90 in nothing flat. The hardest part is getting into the horse's pace right away. The horse is 50 percent of the score and this one really bucked. She's as honest as can be."
Clayton Biglow picked up 87.5 points Sunday aboard Lil Josy that was good for second.
Coming into Santa Maria, Biglow was No. 6 in the world standings with Foss No.  7.
"I was right in front of Austin coming into the weekend but after this weekend, he might be a little ahead of me," said Biglow. "I really love that horse. She always gives me a good ride."
Trenton Montero (81.5), Kevin Lusk (81) and Wyatt Denny (80) also finished in the money after their Sunday rides.
The saddle bronc riders had a good day with six of the nine getting scoring rides.
Lefty Holman and Mitch Pollock tied for first with 84.5-point rides.
Sometimes you have to travel halfway around the world to chase your dream.
"I always love coming here – great crowds, great atmosphere, great weather. It's really a nice rodeo for us," said Pollock. "That horse (Boxed Wine) nearly bucked me off at the git-go, but I kept battling and we had a really good trip."
Pollock was sitting in 19th place in the world standings before the weekend. He needs to get into the top 15 to earn a spot in December's National Finals Rodeo.
"This will help me move up a couple of spots," said Pollock. "There's still a lot of rodeos left for me to pick up the rest."
"My ride felt good. I knew if I could get a clean start that I could pile up some points. It worked out well," said Holman, a Visalia native who is a sophomore at Cuesta College when not riding on the Pro Rodeo Tour. "I wanted to beat Mitch but tying with him is still good. We're good buddies and are always trying to beat each other."
Holman's given name is Lefty.
"Yeah, I'm right handed. It turned out that Lefty was a cruel joke my parents played on me," said Holman.
Cameron Messier had an 82.5-point ride and Jake Finlay scored an 82 on Sunday to move into the money.
Luke Branquinho is having a happy homecoming.
No one could catch 2017 world champion Nellie Miller's arena record 16.74-second barrel racing time, set Saturday night.
Jolee Lautaret-Jordan's 17.37 race was Sunday's fastest but was only good enough to move her into fifth place overall.
The Bulls once again won the day, beating the cowboys 7-2 on Sunday but one of the two successful runs electrified the crowd.
Clayton Sellars picked up 85 points for his ride aboard Custer.
That was good for second place behind Friday night's 85.5-point ride by new Santa Maria champion Boudreaux Campbell.
Will Morris had a 73.5-point ride aboard Kat Rock Sunday that was good for fifth place.
"It was a fabulous four days," said the Elks Recreation Committee's Chief Operating Officer Tina Tonascia. "We have amazing fans, amazing volunteers. The 76th annual Santa Maria Elks Rodeo was over the top. I can't wait for the 77th."