By 2005, Josh Prenot was well on his way to becoming an accomplished swimmer. In August of that year, Prenot had just turned 12 years old and was competing with the Santa Maria Swim Club. 
In a brief story that appeared on page B2 in the Aug. 9, 2005 edition of the Santa Maria Times, Prenot and the SMSC had just competed at the CCS Long Course Junior Olympics in Fresno, with the team earning a fourth-place finish.
Prenot himself finished second in the 50- and 100-meter breaststroke and 400-meter freestyle races in his age division. 
Clearly Prenot was in the right lane to find success in the pool, but did anyone really foresee a future Olympian at this point? Perhaps, if anyone did, it would be SMSC coach Mike Ashmore or Prenot's parents Bill and Tammy.
If they did envision the Olympics in Prenot's future, they'd be right. Prenot would in fact become an Olympian, and not just a competitor, but an Olympic medalist. 
The Prenots came to the area after Bill, a lieutenant colonel with the Air Force, transferred to Vandenberg Air Force Base. Josh Prenot joined the local swim club in 2005.
I think the best way to judge transferring and recruiting is to use one simple question: What's best for the kid? 
The Orcutt native Prenot spent years as an SMSC member during his youth. He competed up and down California and all over the country. 
In 2009, Prenot swam with his teammates at the NCSA Junior National Championships in Florida. He set the SMSC club record in the 1,000-yard freestyle.
Josh Prenot was featured in the Times in 2010 after becoming a semifinalist for the National Merit Scholarship Program, with his PSAT score ranking among the top 1% in the country. Prenot attended Crestview Elementary in Lompoc before being home schooled after the fifth grade through high school, with his mom Tammy handling most of the teaching duties. 
"You and I started swimming in a Mommy-and-Me program at 6 months," Tammy Prenot told her son Josh, according to reporter Brian Bullock for his 2010 story. "You always loved the water."
King rehabbed for a year and made it back to the Pirate lineup as a senior in 2010-11, scoring 427 points that year and leading Santa Ynez to the Los Padres League title, the Pirates' most recent league championship in girls hoops.
By this point, Prenot had already qualified for the Olympic Trials as a 17-year-old and, in 2012, just missed out on an Olympic spot as a 19-year-old after he made the semifinals in the 200-meter breaststroke.
Prenot went on to swim for Cal and had a stellar career there. He was named the Pac-12 Conference Newcomer of the Year after winning the 400 IM as a freshman. He set school records as a sophomore and again won the conference 400 IM, finishing third at the NCAA Championships. He won more conference titles as a junior and earned All-American honors that year.
As a senior in 2015-16, Prenot won the NCAA title in the 400 IM and finished second in the 200 IM and 200 breaststroke. 
Prenot had developed from elite youth swimmer to world-class athlete before he was done with college. Then came the 2016 Olympic Trials. There, Prenot took another step, going from possible Olympic team member to possible Olympic champion. He qualified for the U.S. team with an American record time in the 200-meter breaststroke, finishing in 2:07.17. That time was the fourth fastest ever at that point. 
The 5-foot-11, 165-pounder carried that success over to Rio de Janeiro. Prenot cruised into the 200-meter breaststroke final in Rio and won silver at the Games, split seconds off a gold medal. Kazakhstan's Dmitriy Balandin won gold in 2:07.47, with Prenot finishing second in 2:07.53.
Prenot was warmly welcomed back to the Central Coast in September of 2016 when he was honored at a Downtown Fridays event in Santa Maria. He and fellow Santa Marian Karlos Balderas both represented the city in the 2016 games. 
"(K)arlos and I proved that it is doable from a city like this," Prenot said in a Sept. 10, 2016 Times story. "People from Santa Maria can achieve athletic greatness."
Prenot finished up his academic career at Cal and graduated with a degree in physics. He was planning to swim in the Trials this summer for the 2020 Tokyo Games, but the COVID-19 pandemic has pushed the Olympic schedule back a year.
Cooks blossomed into a standout early in her Righetti High career and turned that into a long and accomplished spell at Washington State, where she played four years of basketball with the Cougars.
Prenot joined the professional swimmer circuit last year and has also qualified for a number of events in the Olympic Trials. Prenot has qualifying times for the Trials in the 100 butterfly, 100 breaststroke, 200 breast, 200 IM and 400 IM. 
The Tokyo Olympics are scheduled for next summer. Prenot will be 29 years old when the next Olympics start. 
Santa_Maria_Times_Sat__Sep_10__2016_ (1).jpg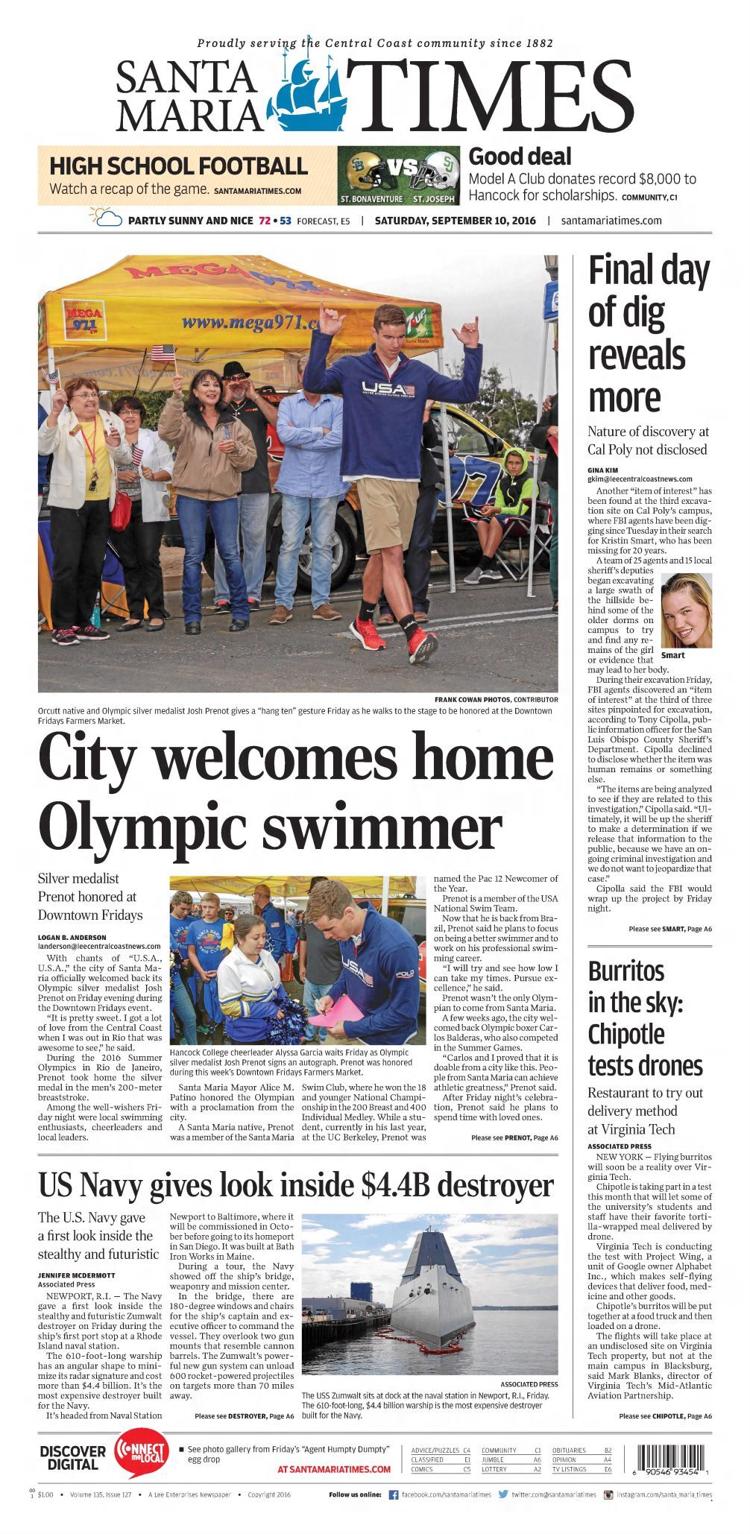 Santa_Maria_Times_Sat__Sep_10__2016_.jpg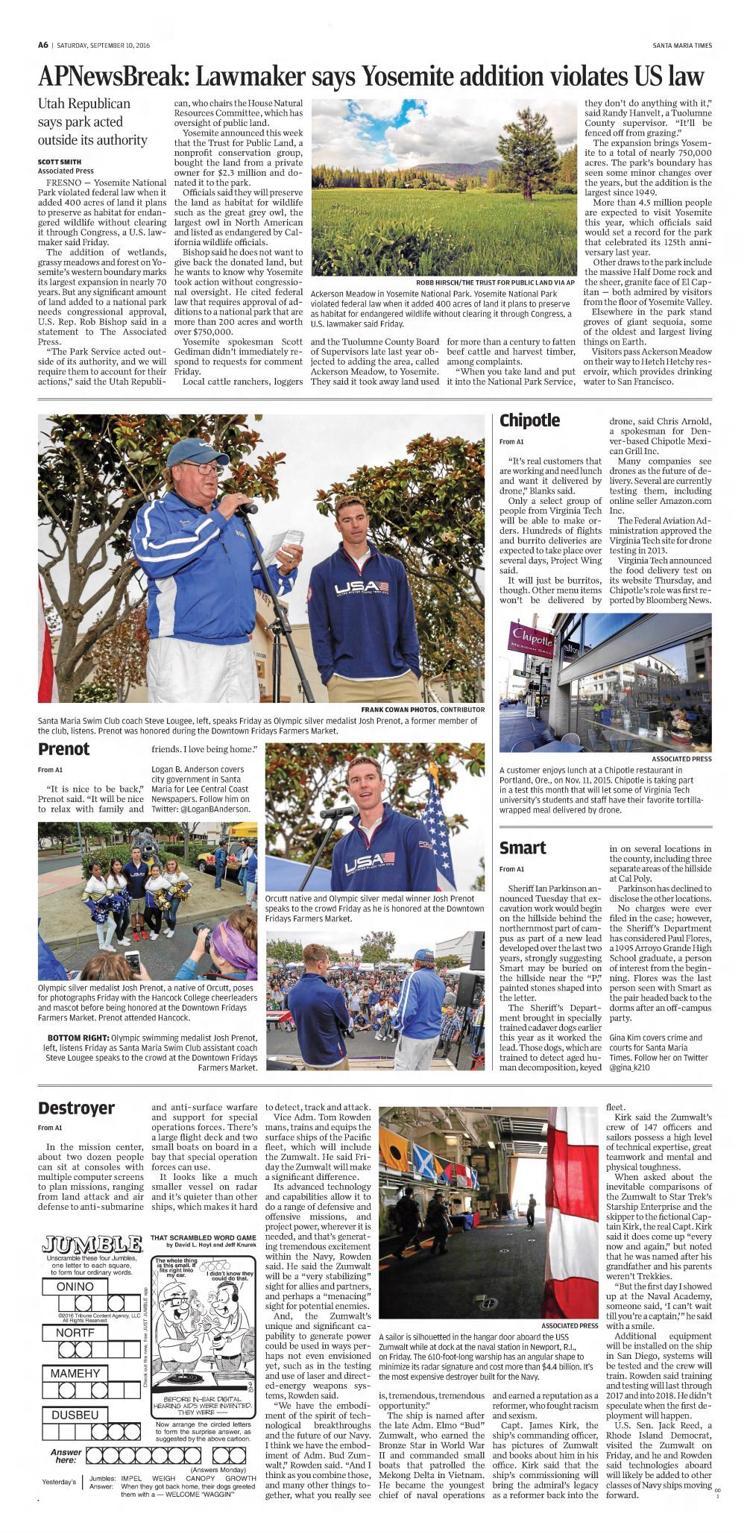 Santa_Maria_Times_Thu__Aug_11__2016_.jpg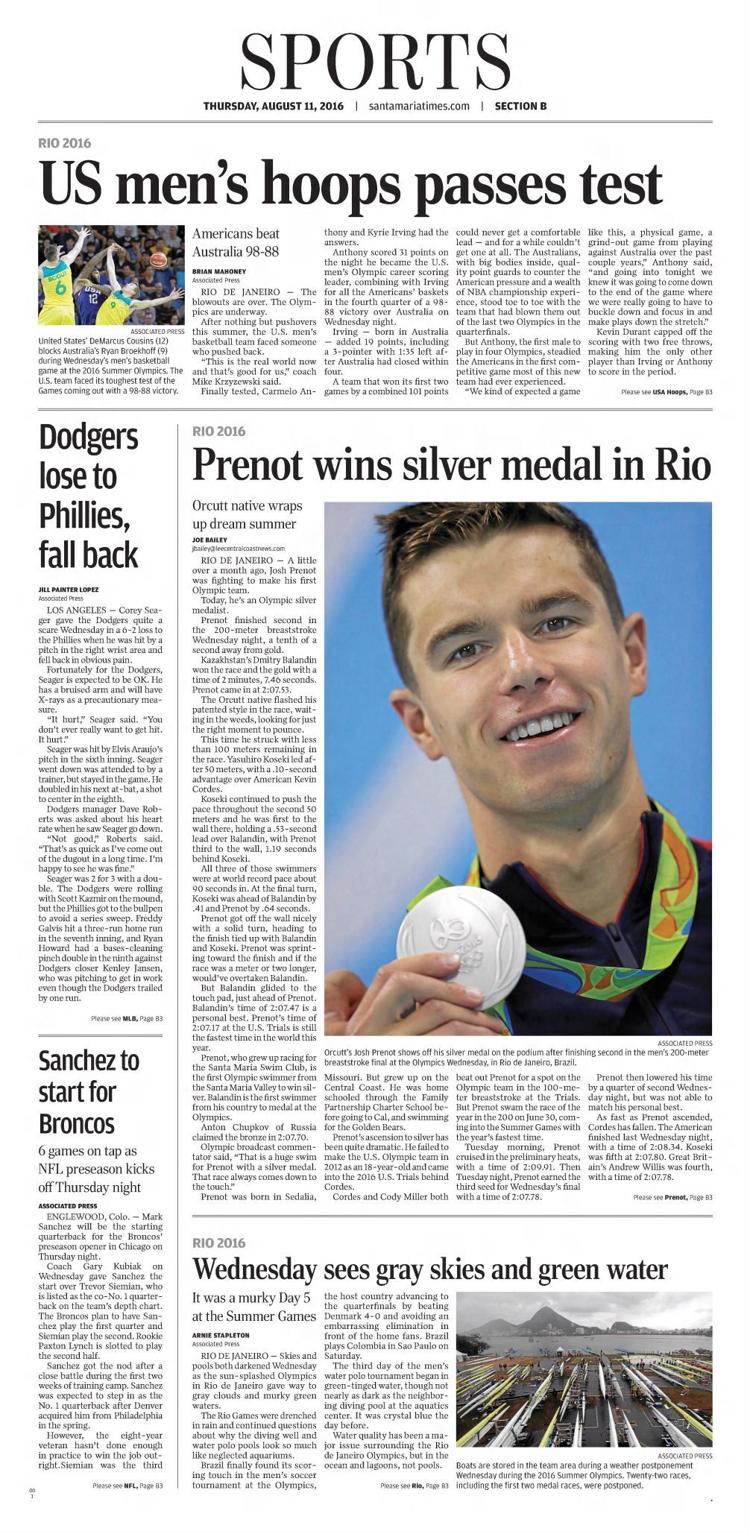 Santa_Maria_Times_Thu__Aug_11__2016_ (1).jpg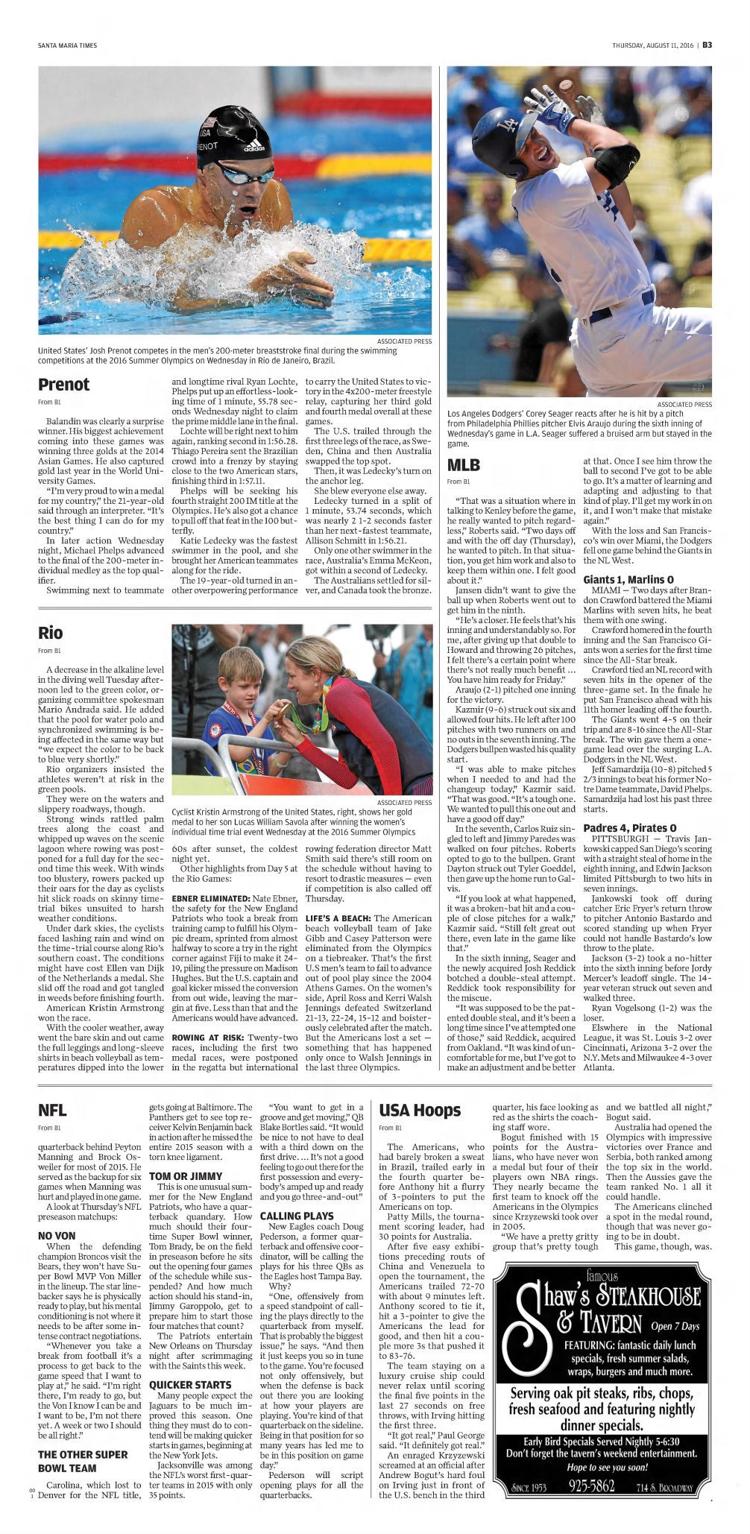 Santa_Maria_Times_Tue__Aug_9__2005_.jpg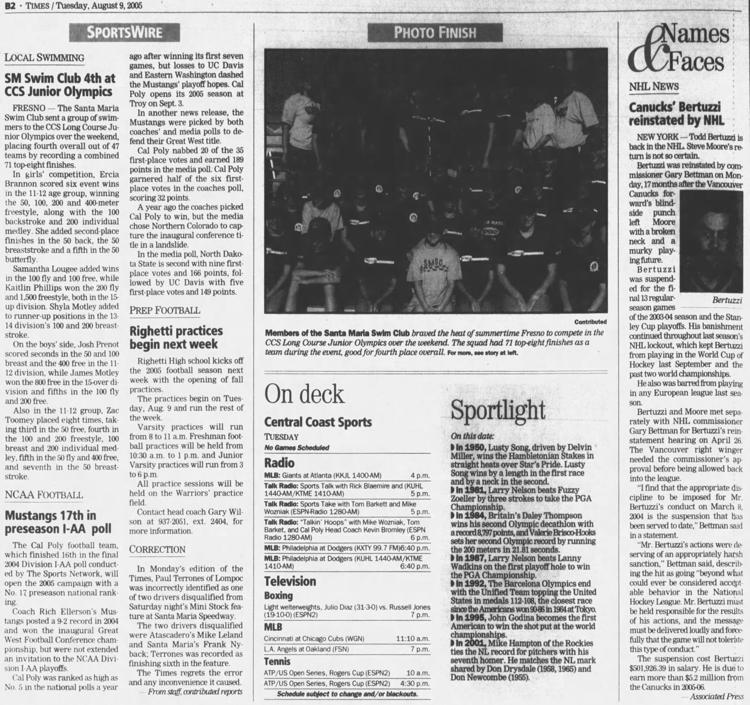 Santa_Maria_Times_Thu__Mar_23__2006_.jpg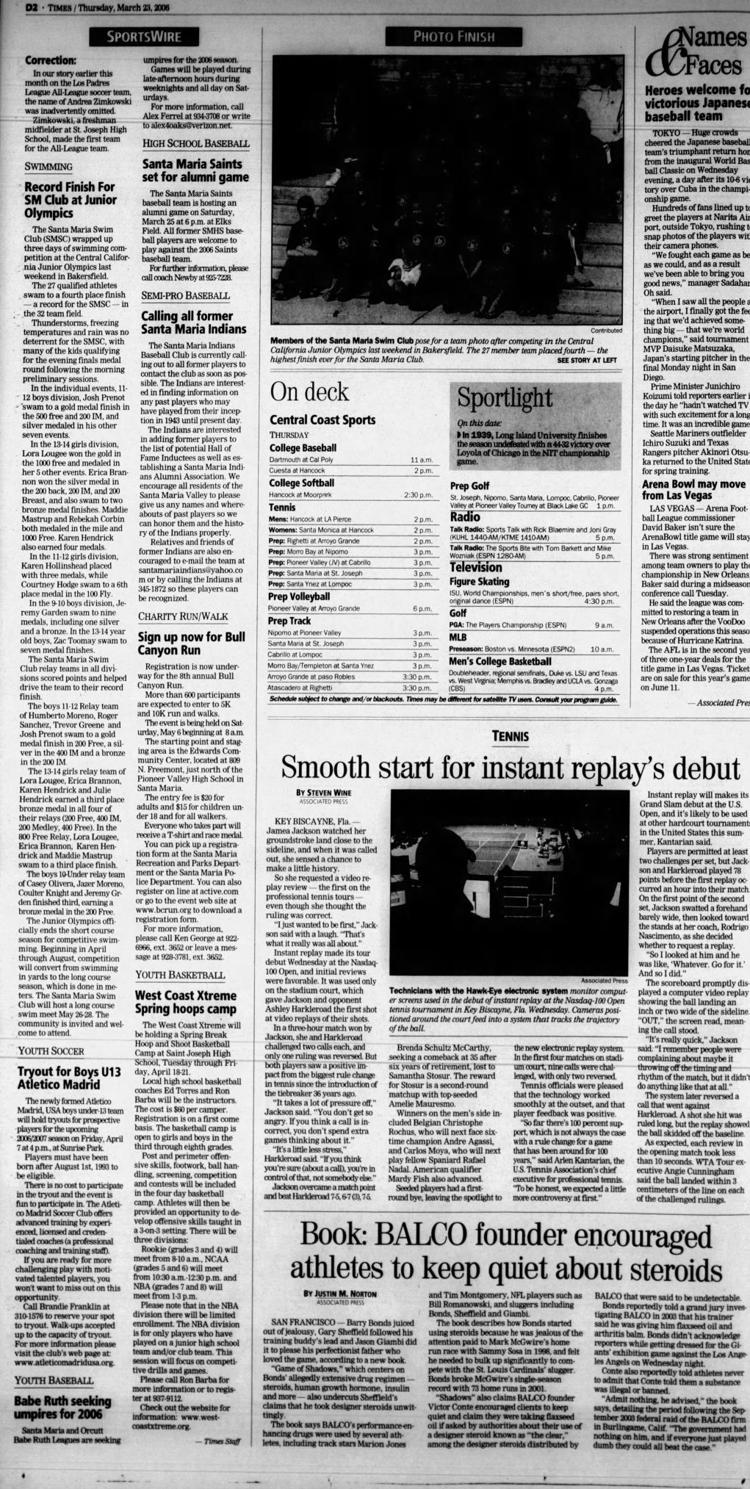 Santa_Maria_Times_Fri__Aug_18__2006_.jpg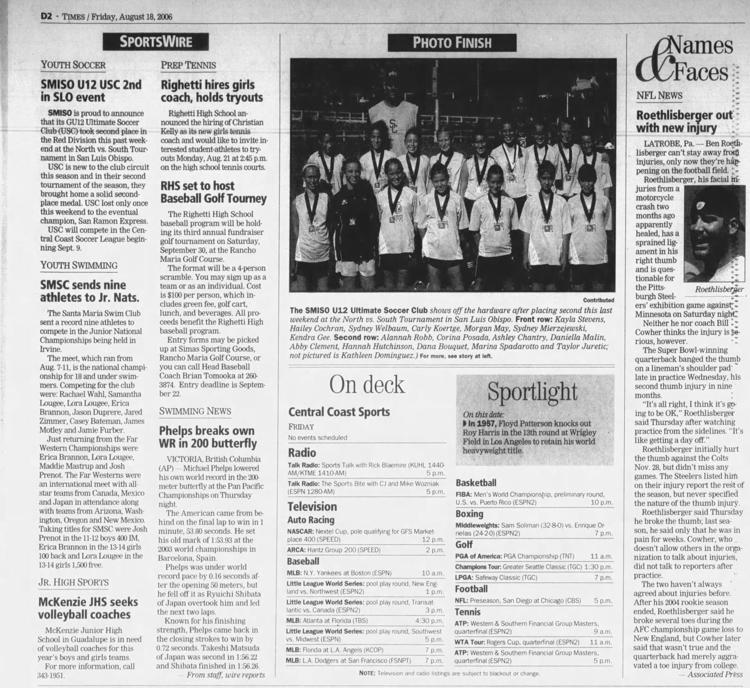 Santa_Maria_Times_Fri__Feb_23__2007_.jpg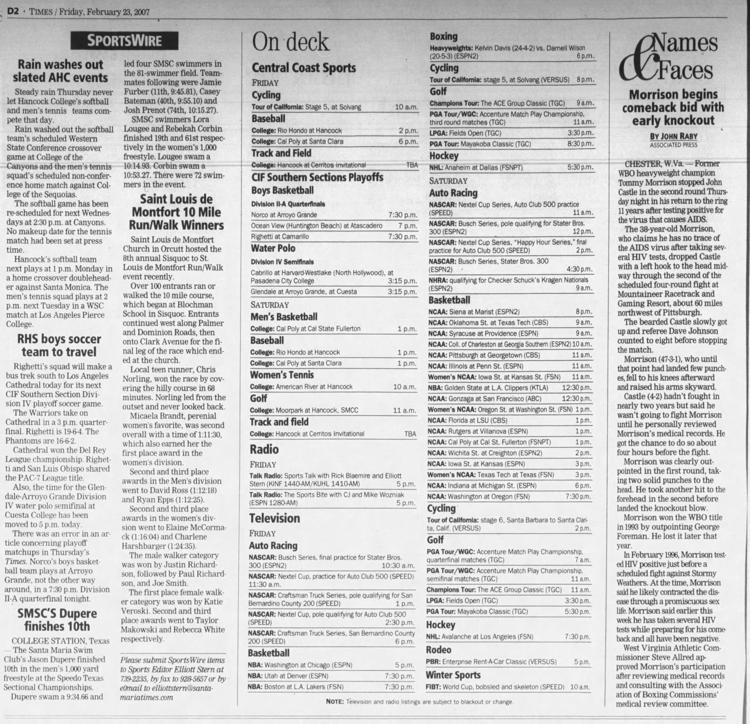 Santa_Maria_Times_Sat__Mar_17__2007_.jpg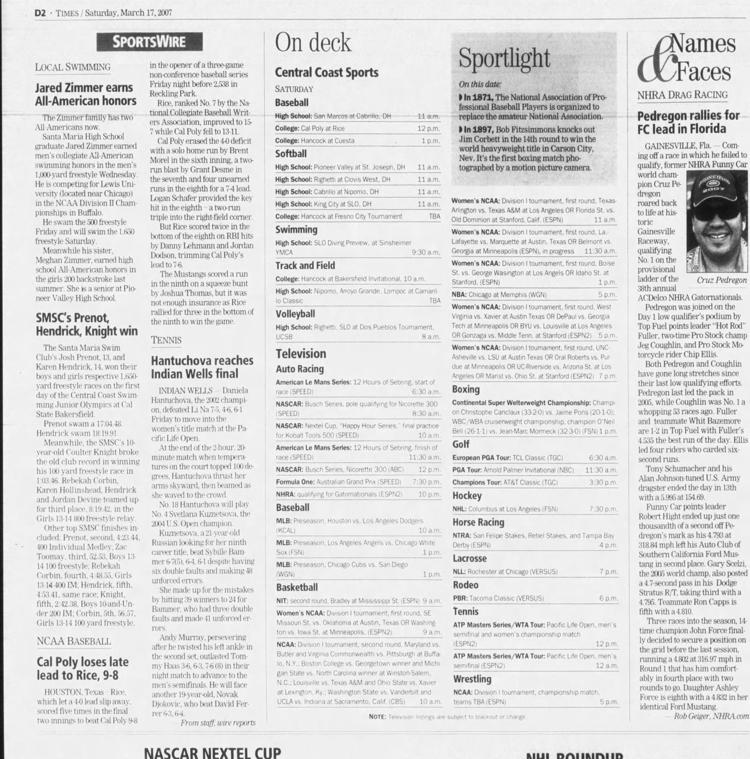 Santa_Maria_Times_Thu__Feb_22__2007_.jpg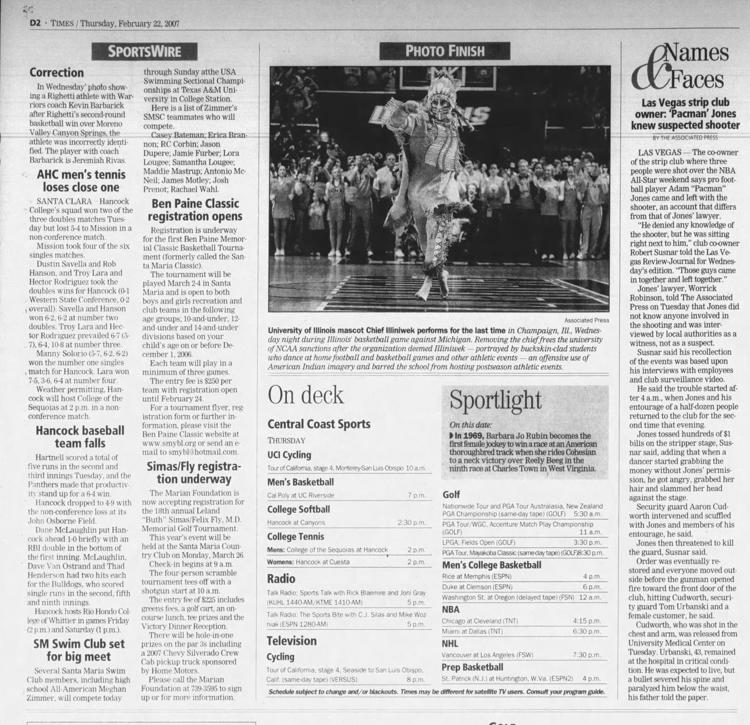 Santa_Maria_Times_Wed__Jun_11__2008_.jpg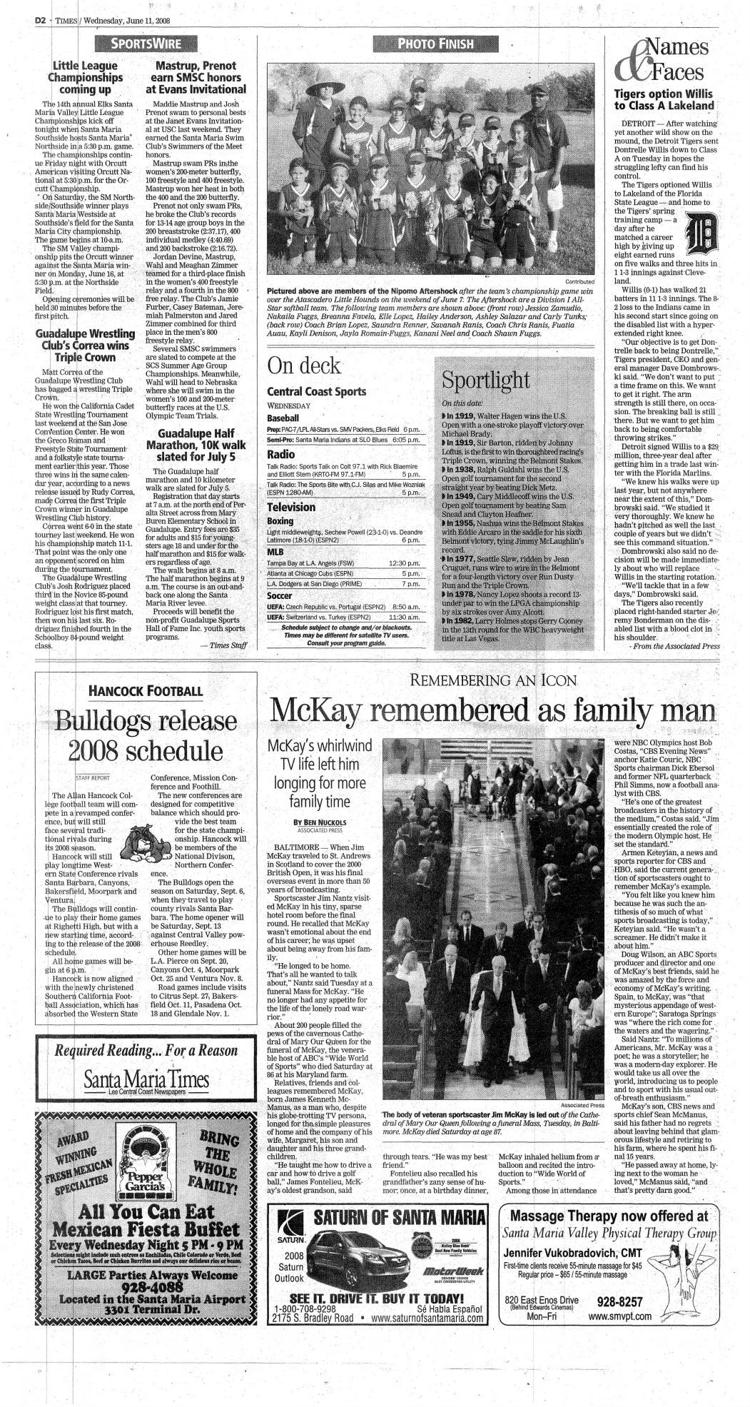 Santa_Maria_Times_Thu__Nov_12__2009_.jpg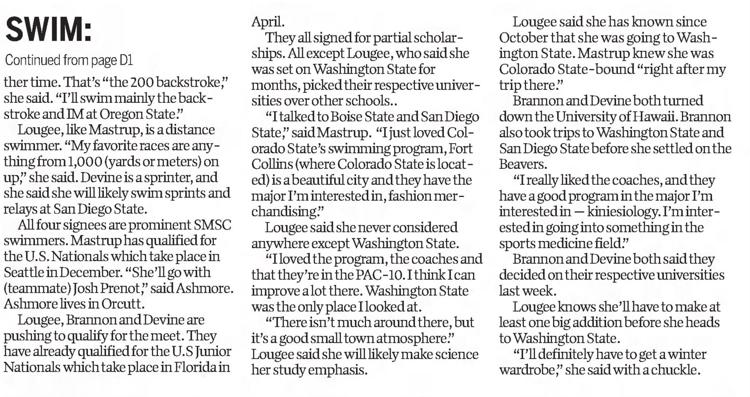 Santa_Maria_Times_Wed__Mar_25__2009_.jpg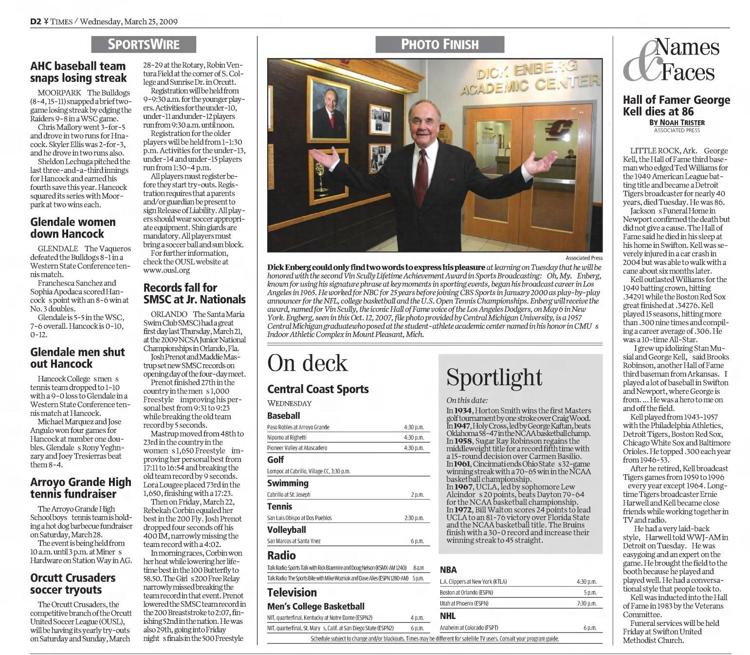 Santa_Maria_Times_Wed__Sep_15__2010_.jpg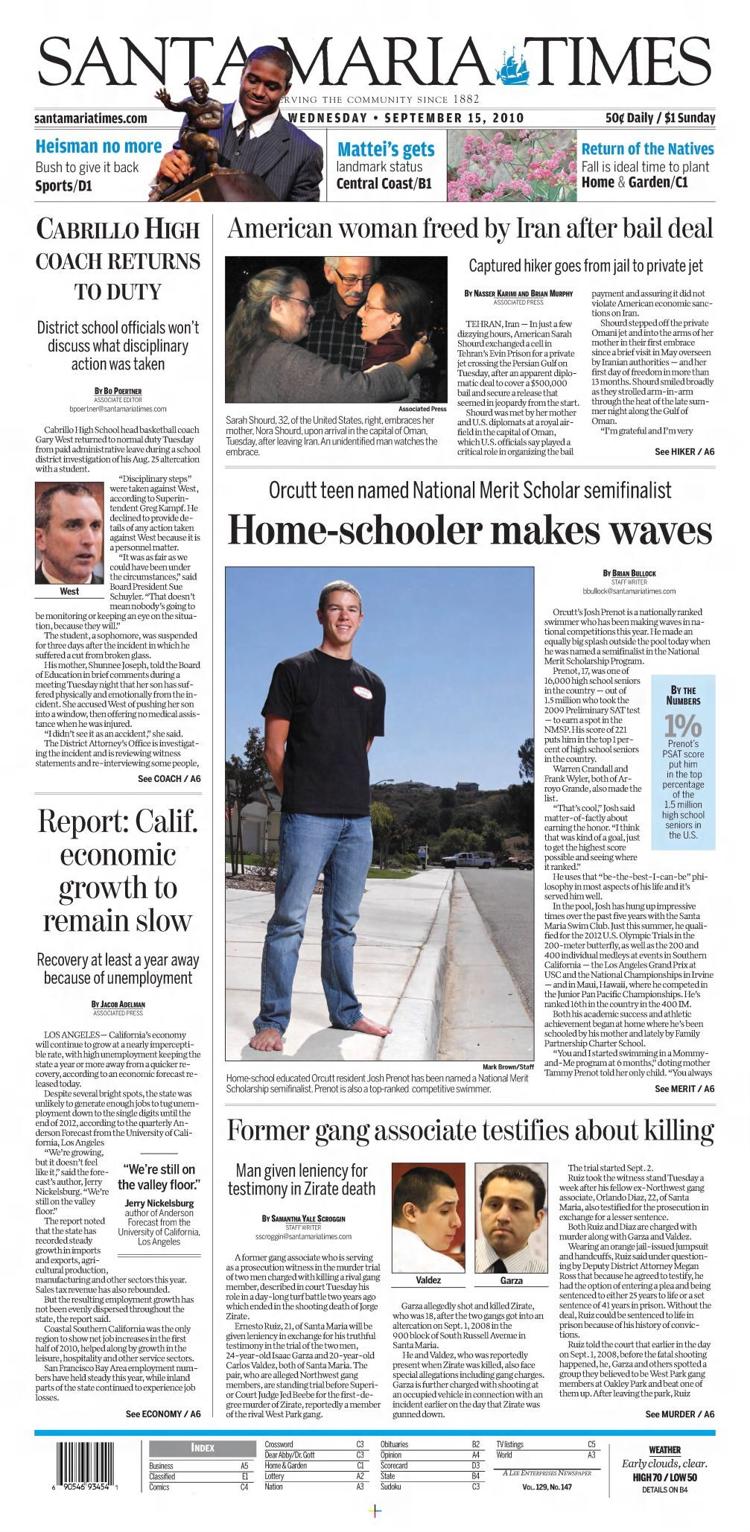 Santa_Maria_Times_Wed__Sep_15__2010_ (2).jpg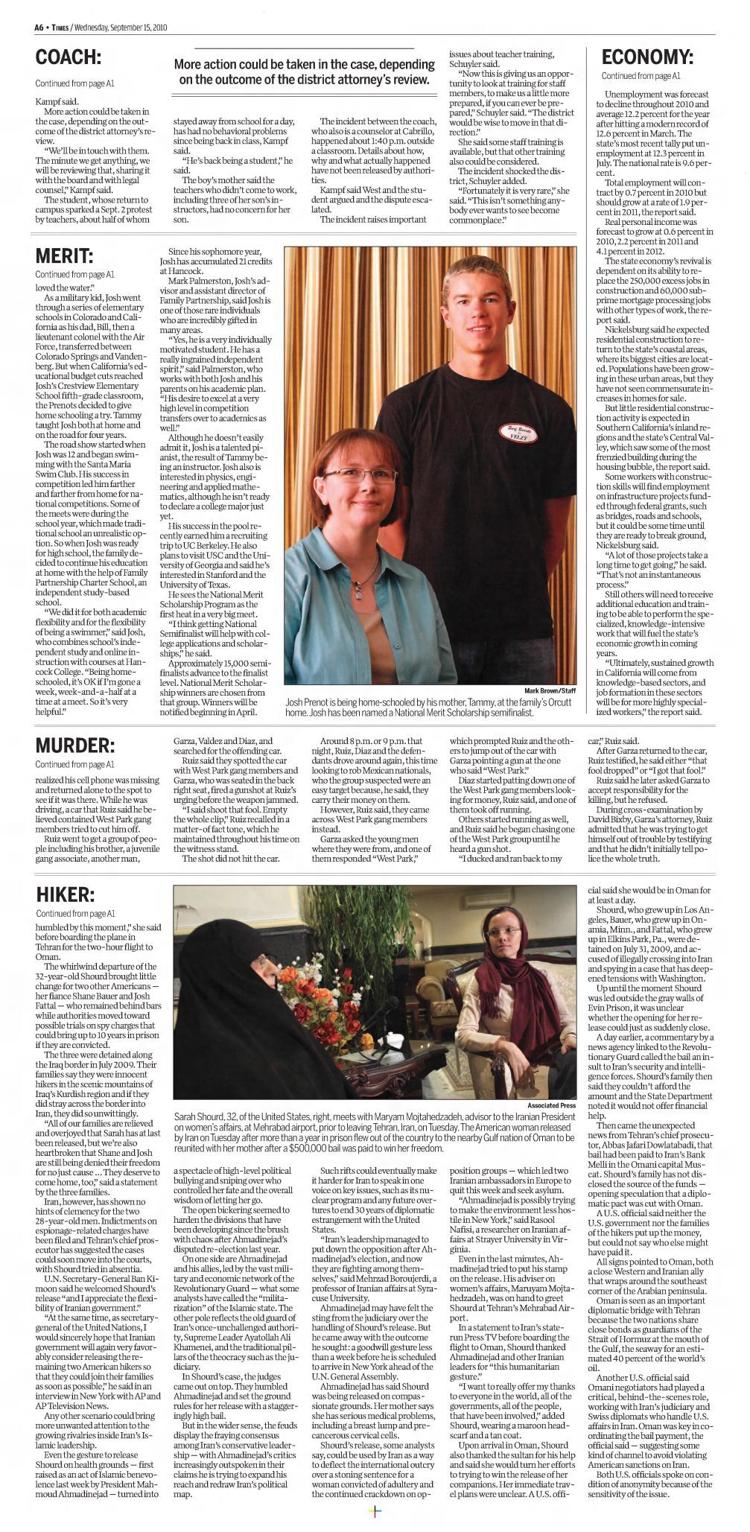 Santa_Maria_Times_Sat__Dec_11__2010_.jpg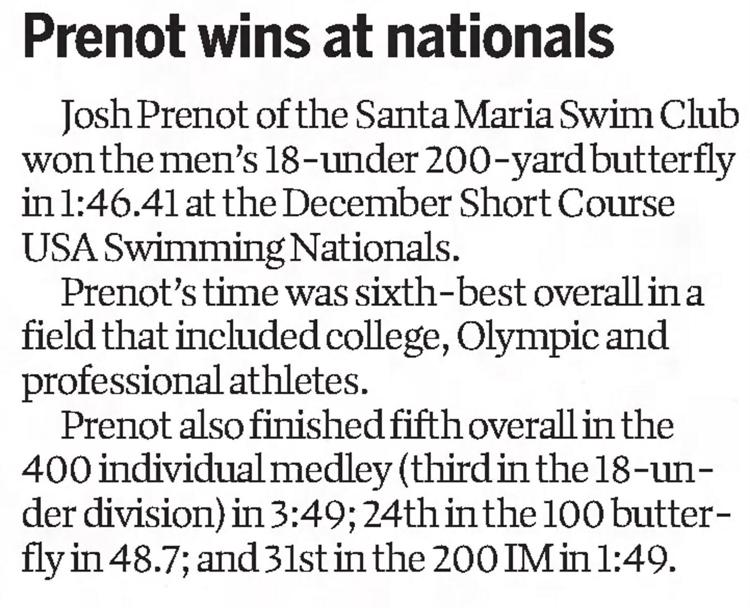 Santa_Maria_Times_Wed__Jun_6__2012_.jpg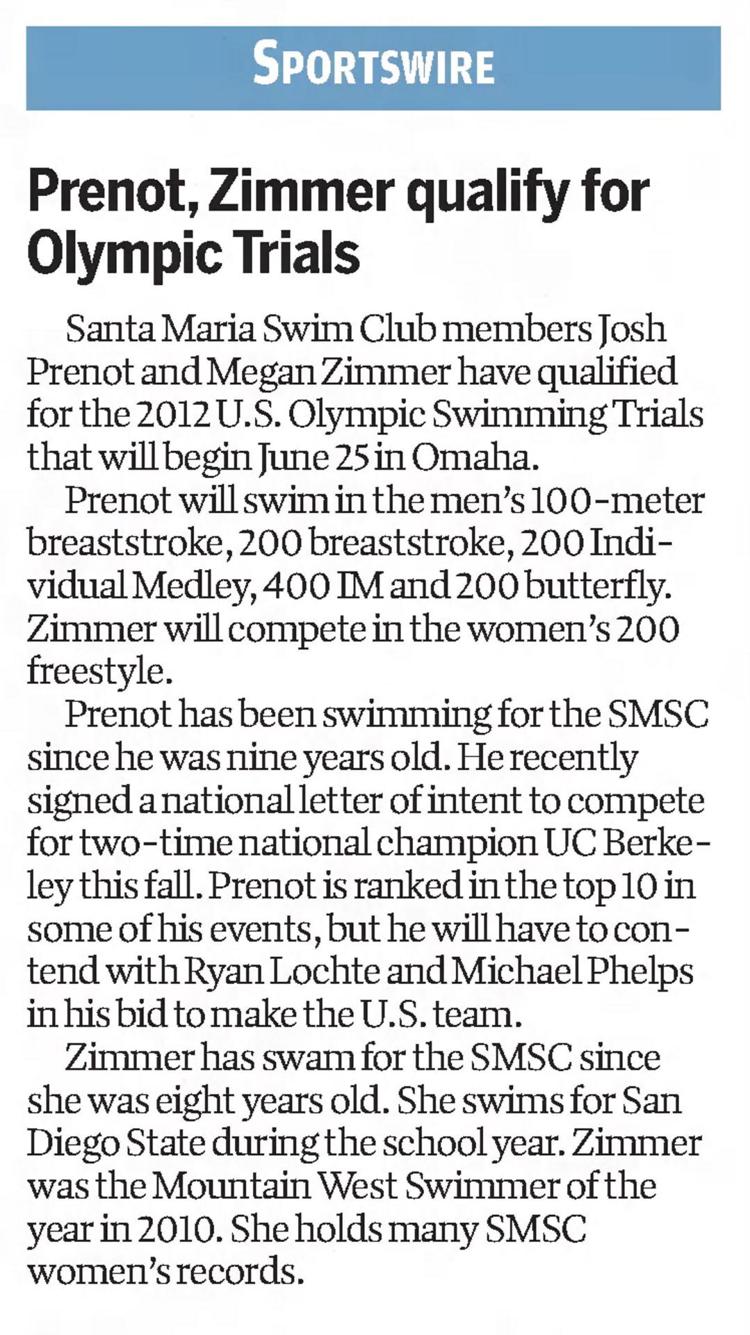 Santa_Maria_Times_Wed__Jun_20__2012_.jpg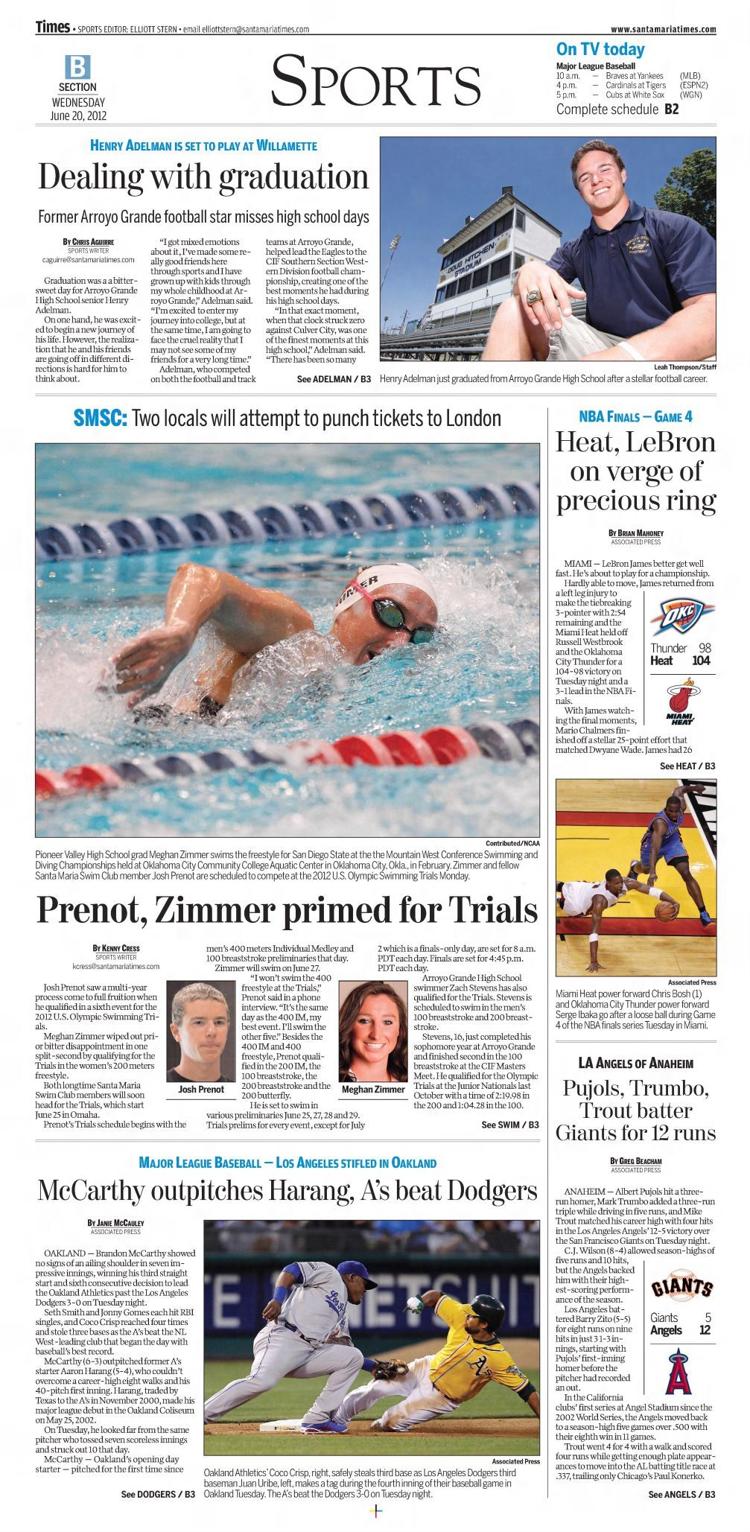 Santa_Maria_Times_Fri__Jun_29__2012_.jpg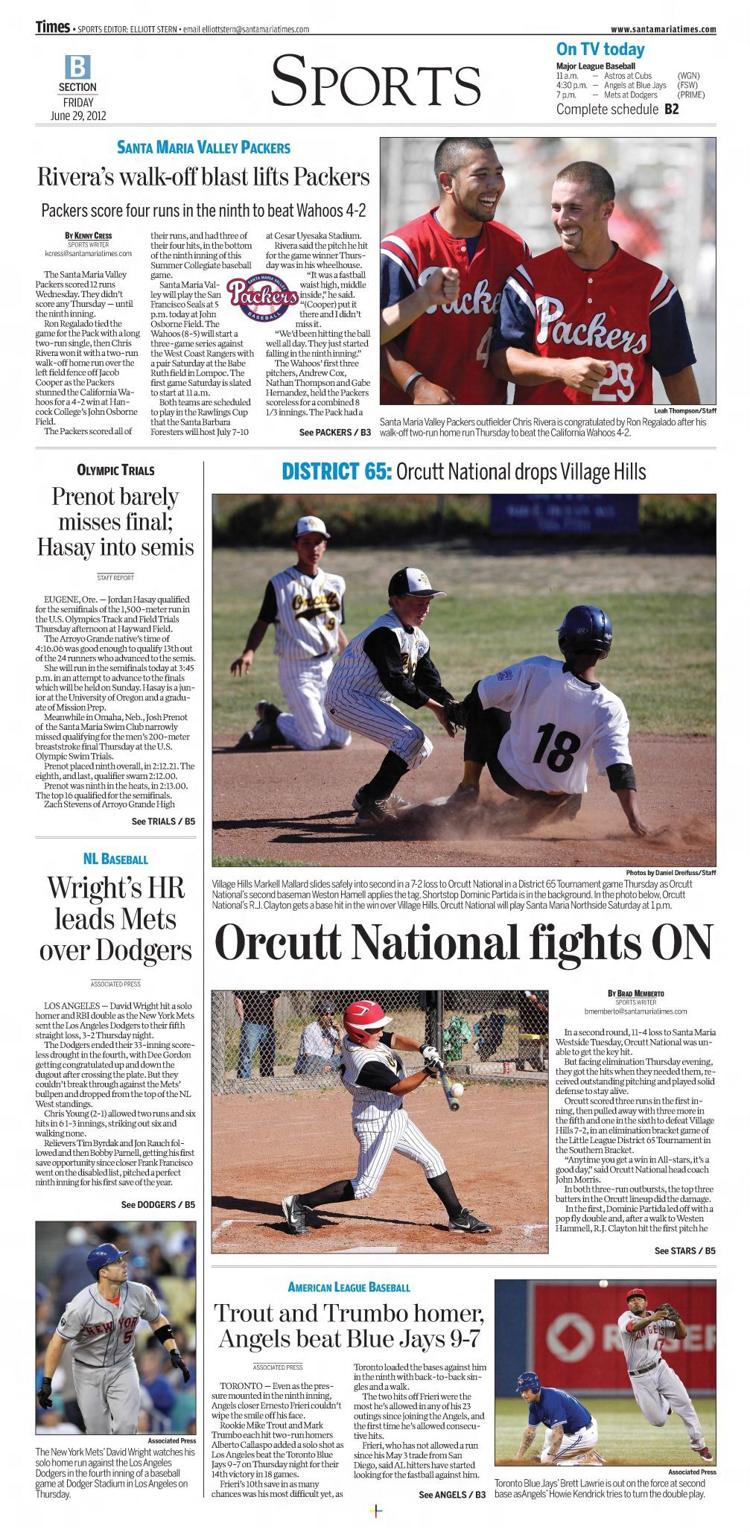 Santa_Maria_Times_Wed__Sep_15__2010_ (1).jpg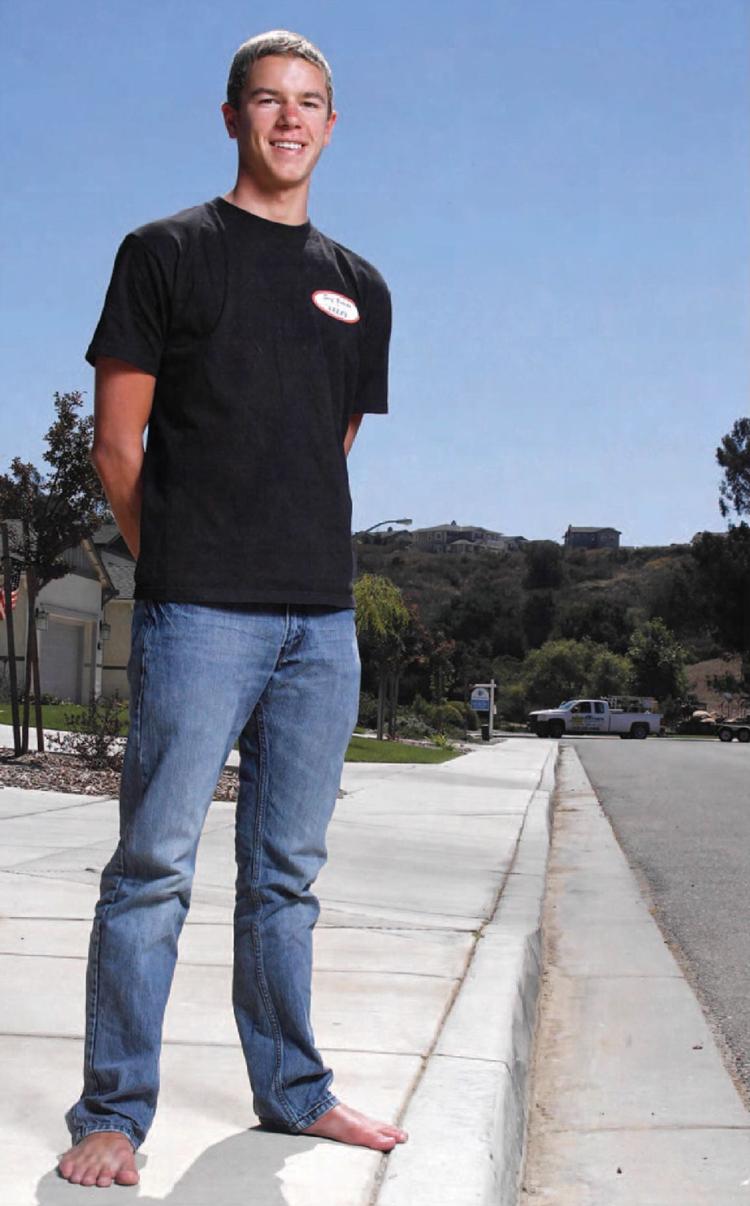 Be the first to know
Get local news delivered to your inbox!