There weren't any surprises for the Righetti baseball team Tuesday.
The Warriors secured a mostly stress-free win over Bakersfield Frontier then, by a score of 4-1, clinching their place in the CIF Central Section Division 1 championship game. 
The Warriors have taken on a mantra of 'No surprises' as they've rolled through the Mountain League and the Division 1 postseason. 
They played a clean game Tuesday with junior left-hander Ricky Smith, who earned the win in the quarterfinals at Clovis West last Thursday, threw four strong innings and was followed by Omar Reynoso, another junior left-hander, who was lights out in the fifth, sixth and seventh innings.
Righetti, the No. 5 seed in the eight-team bracket, will play No. 2 Bakersfield Stockdale in the Division 1 championship. The game is scheduled for Friday night at 6 p.m. at Valley Strong Ballpark in Visalia, the home of the Visalia Rawhide, the Single-A affiliate of the Arizona Diamondbacks. 
Stockdale beat No. 6 Bakersfield Liberty 10-4 in the other semifinal. 
"This team has got experience and like we've said all along -- and I'll credit coach (Nick) Harlow for this -- there were 'No surprises,'" Righetti coach Kyle Tognazzini said. "We just go up there and do our thing and I put trust in our pitching. We don't throw hard, but we know how to pitch. We have a great catcher (Brodie Miller) who can receive and see the game really well. These guys wanted the baseball tonight and that's the big deal, they wanted it and every single one of them, one through 20, wanted the ball and you saw that today."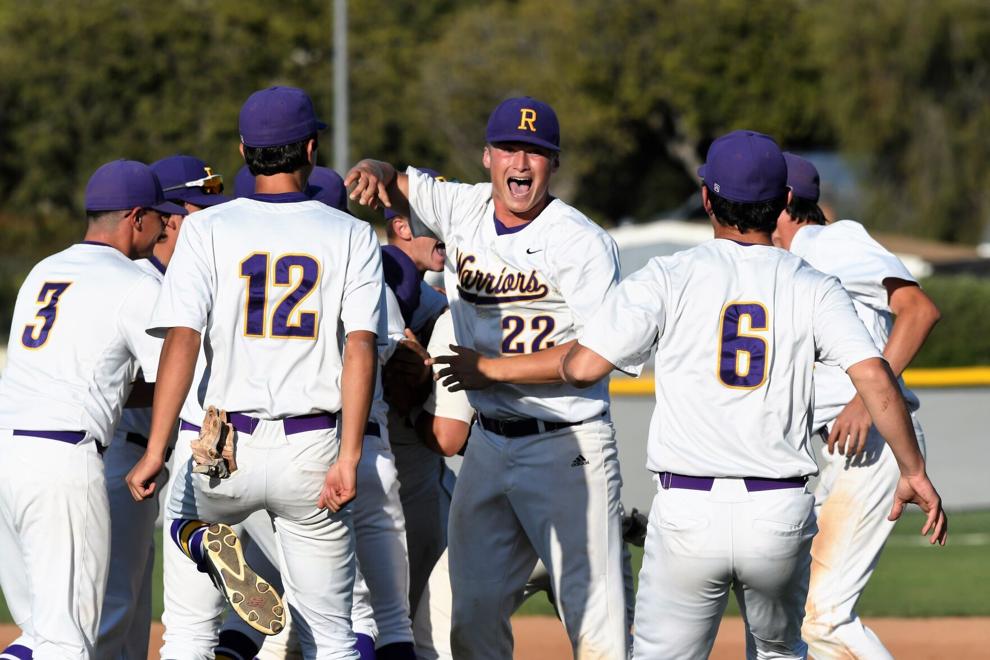 Frontier stunned the Central Section baseball world with a 17-11 thrashing of No. 1 Clovis Buchanan last Thursday. Buchanan was ranked No. 1 in the state, according to some publications. After scoring 17 times against Buchanan, the Titans scored just once against the Warriors.
Smith, who threw six innings in Thursday's 4-3 win at No. 4 Clovis West, started Tuesday and threw four strong innings. Reynoso pitched the final three innings and was masterful, including a three strikeout sixth inning after a leadoff double. 
"I can't say enough great things about him," Tognazzini said of Smith. "He's the Mountain League MVP for a reason. He's a big game guy and he wants the ball in the big game every single day. He has a heart and all year long he's proven that.
"Both Ricky and Omar, they don't throw hard but they know how to pitch. They can throw all three of their pitches in any count and that's the thing that's so deceptive with them. You can't sit back on a pattern, they come out and deceive you."
"It feels great knowing my coach has that type of confidence in me," Smith said. "That just makes it so much easier for me to go out on the mound and throw strikes, knowing I've got my whole team behind me and the coaching staff backing me up the whole time."
Righetti scored three runs in the first inning after Frontier went up 1-0. 
Gavin Long had a leadoff single to start the first for the Warriors. Adrian Santini then bunted for a hit and the runners advanced when an errant throw got away from first baseman Hudson Barrett. Smith then helped his own cause by smashing a double to right field to score both Long and Santini.
The Warriors never looked back.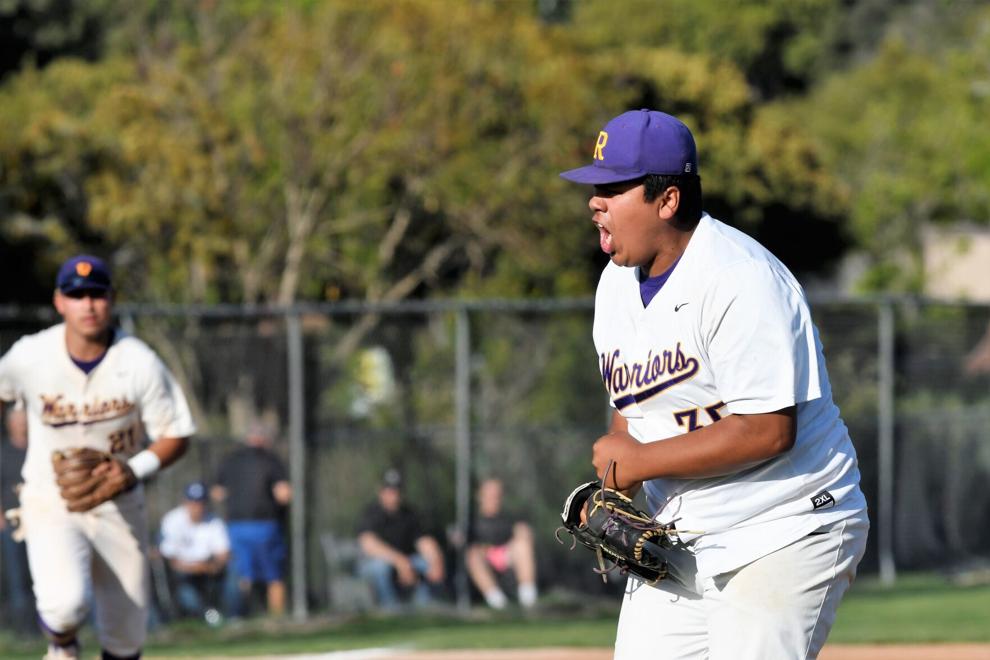 Smith scored when Matthew Rivas hit a ground ball in the hole and Frontier second baseman Cade Parks made a spectacular diving stop, but his flip to second missed the mark, allowing Smith to put the Warriors up 3-1.
Mason Schmid led off the second inning with a hard double to left field. He scored on Long's smash to deep right field that was good for a stand-up triple. Neither team scored again. 
Smith pitched a gutsy third inning, pitching around a lead-off walk. It was clear he was laboring through the inning, but he buckled down and forced a ground out to Rivas at shortstop to strand Jaycob Villalpando at third. 
Smith then stranded two Frontier runners in the fourth with a ground out to JJ Ughoc at third to end the inning. Smith struck out five batters in four innings. Reynoso struck out five in three innings.
After Joseph Gabaldon led off the sixth with a double, Reynoso struck out the next three batters and let out a roar and a fist pump after the final strike. 
"It felt great, I knew I could help my team to get in a better situation so we can go to the championship," Reynoso said. "It was amazing."
Reynoso found a way to make the top of Frontier's lineup look incredibly uncomfortable at the plate Tuesday.
"I just dance on that mound and move the hips and throw the off-speed, my changeup is my most effective pitch," Reynoso added. "That's my best pitch and it gets everyone out. I've been working on it for three years."
Rivas, the Warriors' shortstop, made two stellar plays to end the game, diving to stop a ground ball in the hole and flipping to Long for the second out of the inning. He then snagged a sharp ground ball and stepped on second to end the game, sending the Warriors into a celebration on the mound.