St. Joseph defeated Mission Prep 54-45 in a Mountain League boys basketball game Friday night.
This battle at Righetti's Warrior Gym for first place in the Mountain League wasn't much of a battle at all. The Warriors' first half points t…
Orcutt Academy sophomore point guard Giselle Calderon sat most of the fourth quarter Friday night. By that time, she had already inflicted mor…
The Warriors gave one of the Central Section's strongest teams one of its toughest league challenges.
Shutout number two on the season for Righetti goalkeeper Remy Waldron did not come easily Thursday night. Waldron and her defense, however, ma…
SANTA CLARA — The San Francisco 49ers are one win away from accomplishing a turnaround that's been done only once before in the Super Bowl era.
It all came down to the fourth quarter.
Righetti dominates Arroyo Grande in battle of 2019 divisional wrestling champions, winning 60-15 at Righetti.
Those eligible to be listed are from the five leagues in our area: The Ocean, Mountain, Channel, Condor and Coast Valley. 
LOS ANGELES — A report on the death of Mongolian Groom in the Breeders' Cup Classic at Santa Anita says veterinarians missed opportunities to …
Any win over a Santa Maria team, Pioneer Valley senior point guard Christian Morin said Tuesday night, is a big one. Morin spoke after the Pan…
Maya Mendek made the play of the game.
About 2,500 Lompocans traveled to Anaheim Stadium for a June 1, 1970 baseball game.But it wasn't a major league game or even a collegiate cont…
Each winner and two guests were invited to a dinner, awarded with a trophy and a basketball.
Nipomo High School senior Jesse Garza stars in football, wrestling and track. He was recently named the PAC 4 football league's defensive Play…
Hancock's Jamario Bibb hit a twisting 3-pointer as time ran out in the first half to pull the Bulldogs within 40-37 against Ventura Saturday night.
Senior Kai Karamitsos helped lead the Righetti boys water polo team to another league championship. Karamitsos, along with Arroyo Grande senio…
The World Fighting Championships (WFC) made its fifth stop last Friday night for boxing at the Chumash Casino Resort.
Seconds after the crowd at the Chumash Casino's Samala Showroom started chanting for hometown favorite Angel Flores, the Buellton native gave …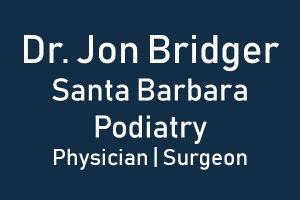 Dr. Jon Bridger - Santa Barbara Podiatry

Farmers Insurance - Jaime Flores
Isaiah Tell scores big points late, Righetti wins.
The first annual 17 Strong tennis fundraiser will take place Feb. 1 and 2 at Arroyo Grande High School and Soto Park in Arroyo Grande.
Santa Ynez girls water polo got the new year off to a winning start with a 16-5 victory over the Buena High School Bulldogs in Ventura in thei…
Let three-dom ring. The Santa Ynez Pirates rained down the 3-pointers Thursday night on their way to a 55-37 Channel League victory at home ov…
Templeton put up 10 foul shots in the second quarter and made eight. That helped the Eagles beat foul and turnover-prone Santa Maria 59-46 at …
The Santa Ynez Pirates turned the tables on the Cabrillo Conquistadores in Thursday's girls water polo match at Santa Ynez High. "I'm here to …
See which athletes earned All-Ocean League honors for the fall sports season.