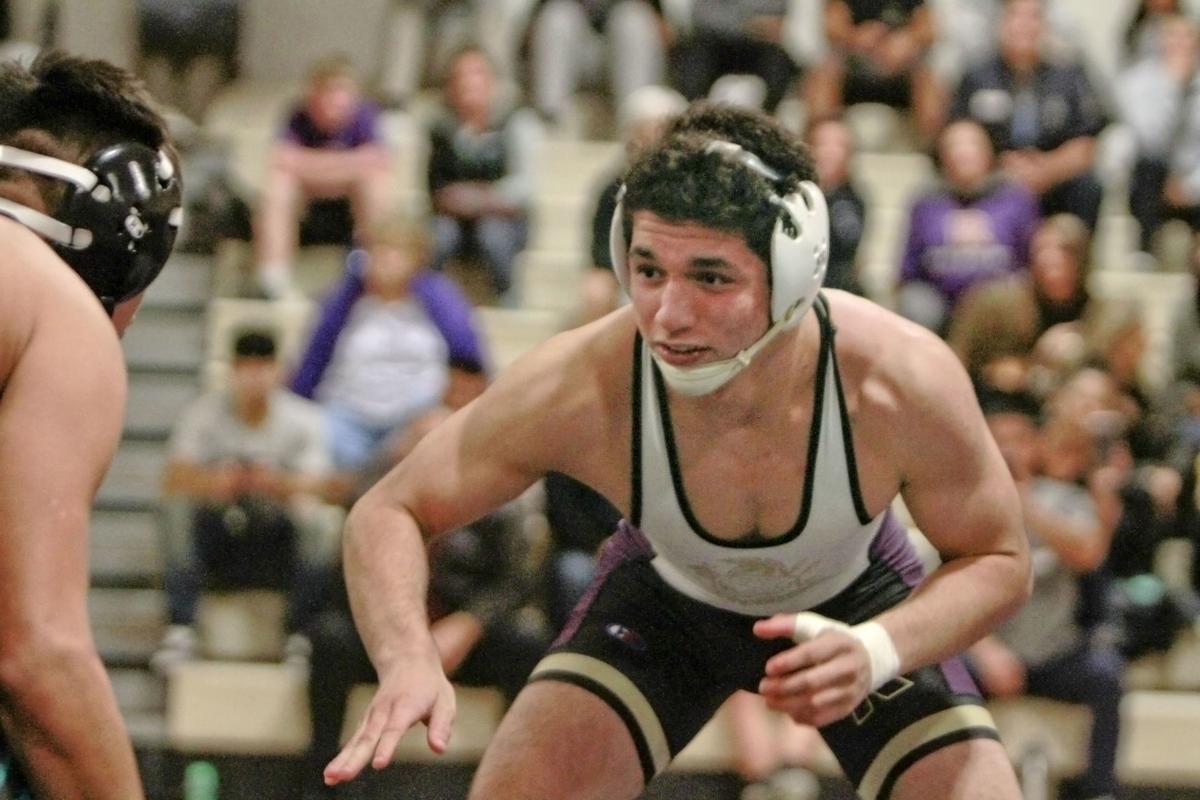 BAKERSFIELD — At press time Friday, Righetti's Matt Rodriguez was rolling through the 145-pound consolation bracket at the CIF State Boys Wrestling Tournament at Rabobank Arena.
Rodriguez lost his opening match of the tourney 3-0 in the round of 32 of the championship bracket after drawing a first-round bye.
He won four times in the consolation bracket after that and was set to wrestle in the consolation semifinals. After that 3-0 loss, Rodriguez won by 6-2, 8-1, 6-4 and 3-1 decisions in the consolation bracket.   
At press time, Lizette Pompa of Pioneer Valley had won twice in the 143-pound girls consolation bracket, and Richie Sandoval-Castro had made it to the championship quarterfinals before losing.
Pompa lost on opening day at 143 pounds Thursday, but she scored 9-2 and 6-3 decisions in her first two consolation matches Friday. At press time, Pompa was set to wrestle in her third consolation match.
Castro-Sandoval won three times before losing in the quarters at 120 pounds. Some wrestlers drew first-round byes, but Castro-Sandoval did not.
Castro-Sandoval racked up a pin in his first match, won by a technical fall in his second match, got another pin and then lost  5-4 in the quarters.
At press time, Castro-Sandoval was to wrestle in the consolation bracket.
Dominic Mendez of Righetti won his opening match at 106 pounds 6-4 then lost 7-4 in the second round. At press time, he was slated to wrestle in the consolation bracket.
All of the other area wrestlers had been eliminated at press time.
Pioneer Valley had three girls wrestlers at the state tourney. Mya Velasquez won her first consolation match 5-3 at 126 pounds before going out with a 4-2 loss the next round.
Jisela Alvear lost her first match in the consolation round by a 13-3 major decision at 106 pounds.
Righetti's Gabby Rincon, at 111 pounds, and Kameah Tell, at 116, both went out in their first consolation matches in the girls tournament. Rincoon lost 3-2 and Tell lost an 8-0 major decision. Both of them won once in the championship round Thursday. 
You have free articles remaining.
Samantha Ruiz of Nipomo lost by a 5-0 decision at 116 pounds in a girls consolation match.   
Righetti's Beni Banduenga, the Central Section Masters boys champion at 152 pounds, forfeited both of his scheduled matches at 150 at the state tournament. Nipomo's Leila Martin forfeited both her scheduled matches at 150 pounds in the girls tournament. 
The three-day tournament will conclude Saturday.
Track
Pioneer Valley boys, girls win city championships
Depth carried the Pioneer Valley boys and girls squads to team titles at the Santa Maria City Track and Field Meet that took place Wednesday at Santa Maria High School's Ralph Baldiviez Stadium.
Pioneer Valley's boys out-scored second-place Orcutt Academy 185-149.5. Santa Maria was third with 134 points. St. Joseph was fourth with 72.5.
Pioneer Valley's girls scored 183.5 points to runner-up Santa Maria's 129.5. St. Jsoeph scored 106 points. Orcutt Academy had 21.
Righetti's squads did not compete at the meet.
Pioneer Valley had multiple top-five finishes in eight boys open events and four girls open events.
Avery Francisco (800 meters), Elmer Vejiga (110 hurdles), Ramon Herrera (pole vault) and Pioneer Valley's 4x400 relay team all won for the victorious Panthers in the boys meet.
Pioneer Valley's girls open event winners included Jasmine Magana in the 200, Cristhy Olvera in the 400, Leslie Mora in the shot put, Charlotte Ionata in the discus and Lauren Cabandang in the pole vault. The Pioneer Valley girls 4x400 relay team also won.
Multiple boys open event winners included Max Daniels of Orcutt Academy (400 and long jump), Chris Cervantes of Santa Maria (1,600 and 3,200) and Ethan Otremba of St. Joseph (shot put and discus).
Braidyn Cossa of St. Joseph was the lone girls multiple open event winner. Cossa won the 100 and the long jump.