Santa Barbara edged runner-up Dos Pueblos 193-190 for the team title, and North County wrestlers made a pretty good showing at the Channel League Boys Wrestling Tournament on Bryan Ayer Court at Lompoc's Paisola Pavilion Saturday.
Santa Ynez finished third in the six-team field with 162 points. Cabrillo was fourth with 158, Lompoc wound up fifth with 134 and San Marcos was sixth with 123.
Lompoc hosted the tournament. The top three finishers in each weight class medaled.
The third-place Pirates went three-for-three in title matches. Armando Contreras (10-2 major decision at 115 pounds), Richie Sandoval (fall in 1:05 at 122) and Jose Rodriguez (fall in the second period at 287) all won.
Sandoval is a senior who finished fifth at the state tournament last year. Still, he doesn't consider himself a standout or even particularly good.
"I consider myself a mediocre wrestler," he said. "I have a lot of room to grow, room to get better, things to improve on."
Sandoval was the top seed for his weight class and he received a bye clear into the title round, his only match of the day.
"I would have liked to have had more mat time today," he said. "I was fortunate that my opponent, Ryley Daltorio (of Cabrillo) is a quality opponent."
Sandoval said, "Ryley and I have been friends for a long time. He always pushes me whenever we wrestle."
Lompoc's Gracen Hayes was the top seed at 145 pounds. When it came to mat labor to earn a title Saturday, He went dead in the opposite direction that Sandoval did.
You have free articles remaining.
Though he was the top seed, Hayes didn't get a first-round bye.
"I wrestled three matches today," he said afterward. "It was a little more tiring, not getting the first-round bye, but it didn't really affect me. I got the rest (time) in.
"Yes and no," Gracen Hayes said when he was asked if he was happy overall with how his day of wrestling went. "I would have liked to have ended the matches sooner," with pins. He earned a 10-2 major decision to win the 145-pound championship.
The host team had mixed results in title matches. Gracen Hayes' brother, Corbin, took a 4-1 decision to win at 222 pounds, despite having to go almost a full minute in the last round with most of his face bandaged because of cuts.
Rodriguez pinned Lompoc's Cesar Corona to win the 287-pound title. A tournament referee, who was observing 162-pound title match, confirmed that Lompoc's Aaron Nunez was disqualified for biting Dos Pueblos' Oscar Phillips on the arm as time was running out in the second round of that one.
Phillips led 7-2 at the time.
Cabrillo got consecutive wins in the 172-pound (via a fall for Patrick Durham) and 184-pound (via a 9-5 decision for Angel Martinez) title matches.
Durham was sporting a Dinuba High School singlet, with the word "champion" and an image of a target on the back.
"I won at a tournament there, they gave me the singlet, my family was here today so I figured 'why not?,'" he said.
In lower weights title matches, Brandon Lozcano of Santa Barbara (108 pounds), Brennan Akley of Dos Pueblos (128), Sean Yamasaki of Dos Pueblos (134) and Oscar Munoz of Santa Barbara (140) all won by fall.
In upper weights championship matches, Connor Lee of Dos Pueblos earned a 5-3 decision at 154 pounds and Jorge Huerta of San Marcos took a 7-3 decision at 197.
The medalists automatically advanced to the CIF Southern Section tournament, which will take place at Etiwanda High School next Friday and Saturday. 
Santa Ynez Armando Contreras (Top) controls Xavier Reyes of Cabrillo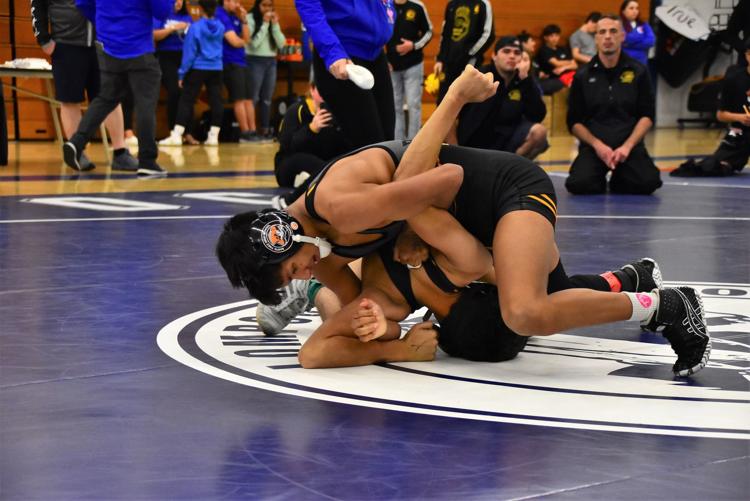 Lompoc's Gracen Hayes (Right) contros Cabrillo's Raymond Guerra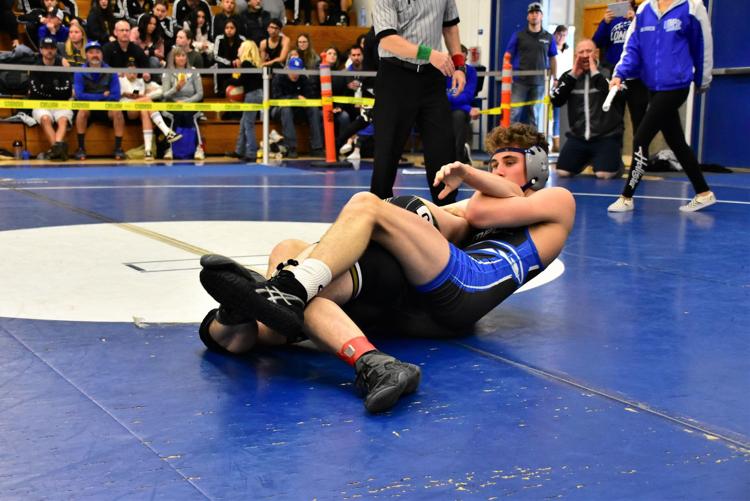 Cabrillo's Raymond Guerra (Right) struggles to escape from Lompoc's Gracen Hayes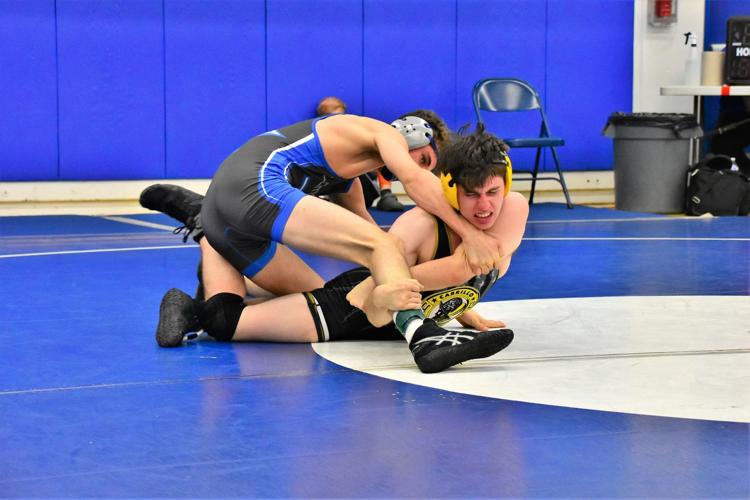 Cabrillo's Aiden Bumanglag (Bottom) tries to pin San Marcos' Levi Cooper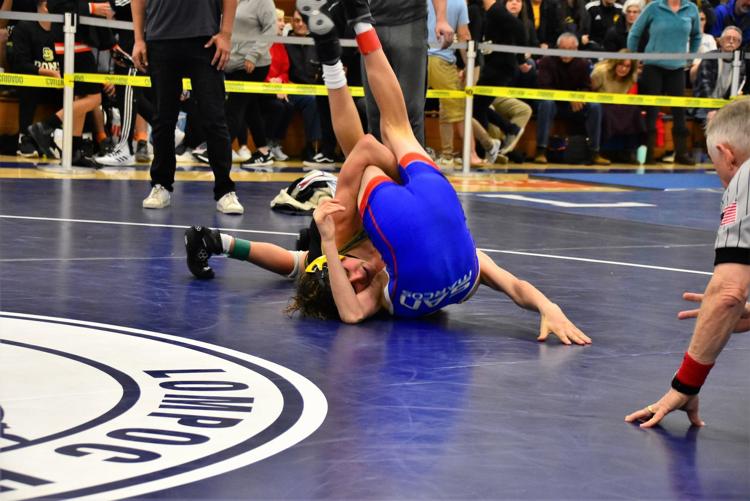 San Marcos' Levi Cooper (Top) scores a pin on Cabrillo's Aiden Bumanglag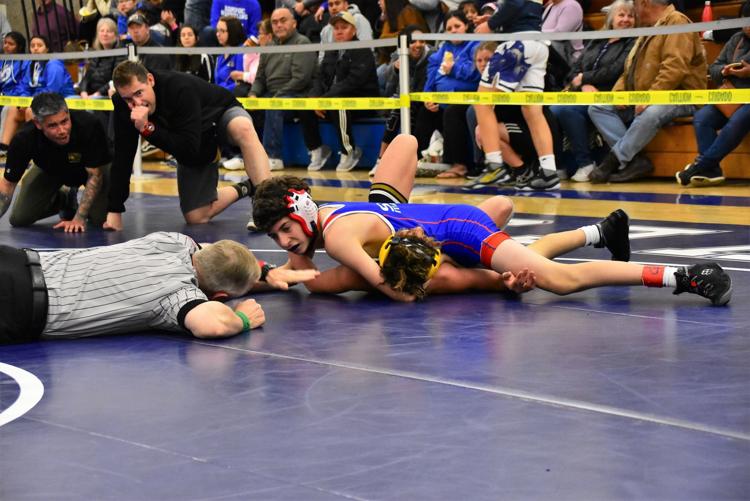 Cabrillo's Ryley Daltorio (Bottom) goes for a takedown on Santa Barbara's Gabriel Jimenez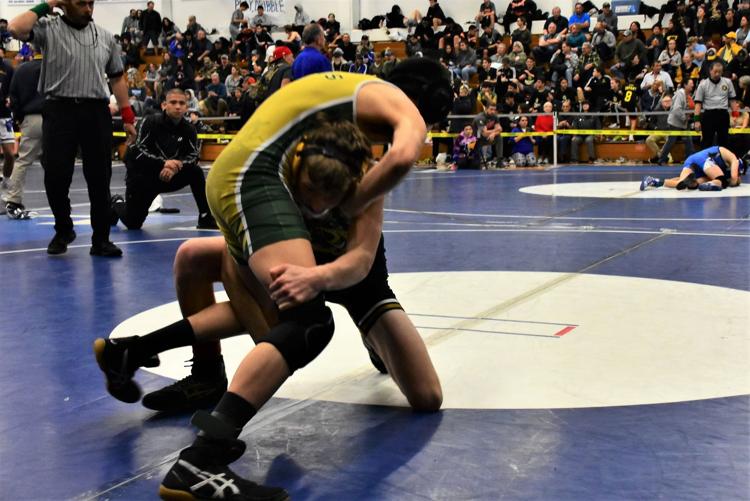 Santa Barbara's Gabriel Jimenez (Top) escapes from Cabrillo's Ryley Daltorio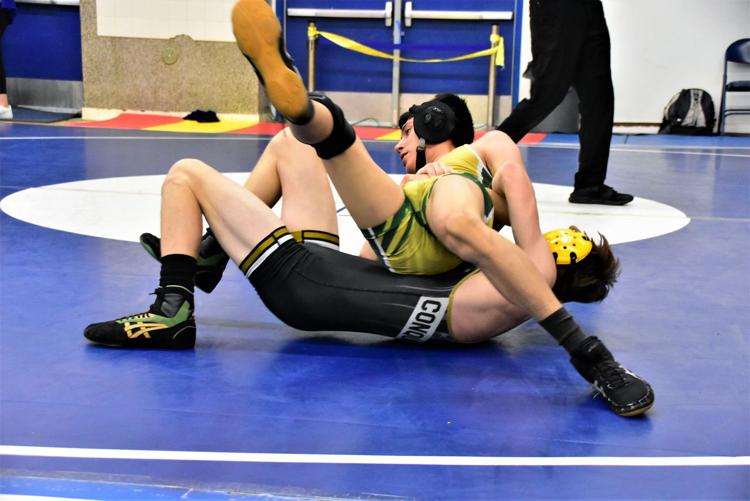 Cabrillo's Blake Rehder (Top) works to control Santa Ynez Freddy Lemmex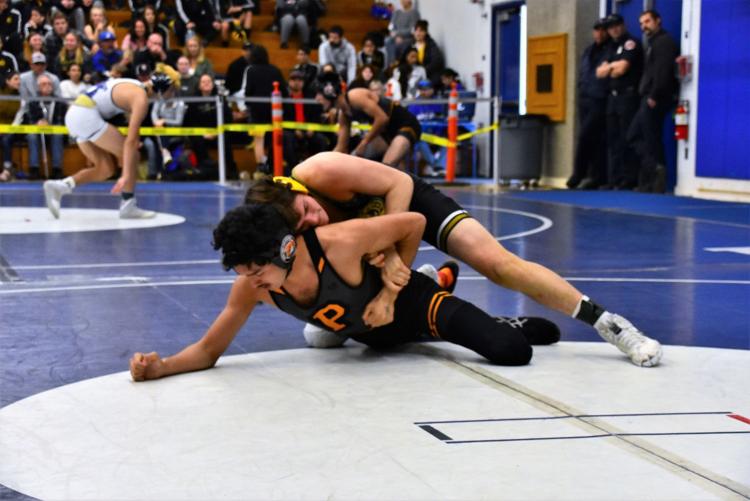 Santa Ynez Freddy Lemmex (Bottom) works to escape from Cabrillo's Blake Rehder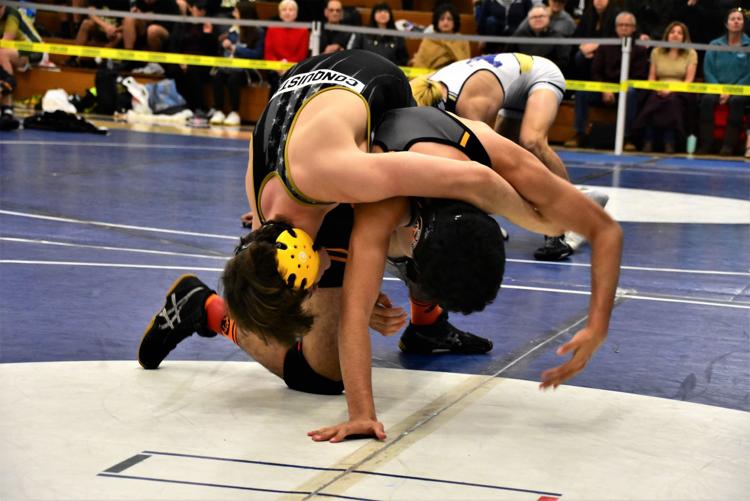 Cabrillo's Patrick Durham (Right) works to control Lompoc's Armani Vinyard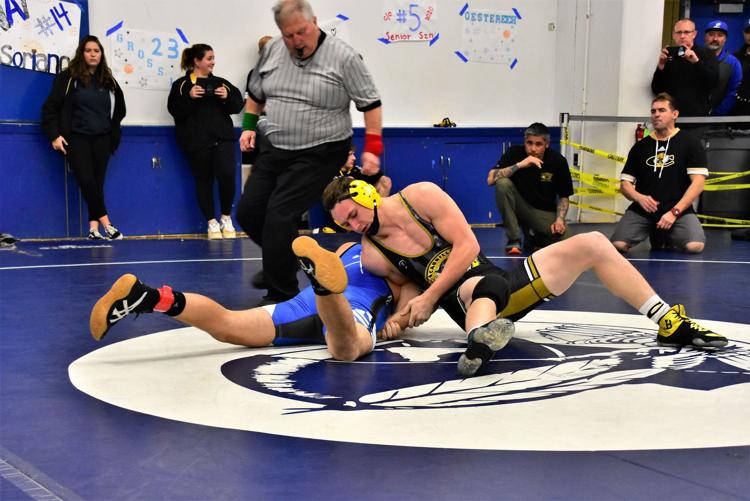 Lompoc's Armani Vinyard (Top) works hard to escape from Cabrillo's Patrick Durham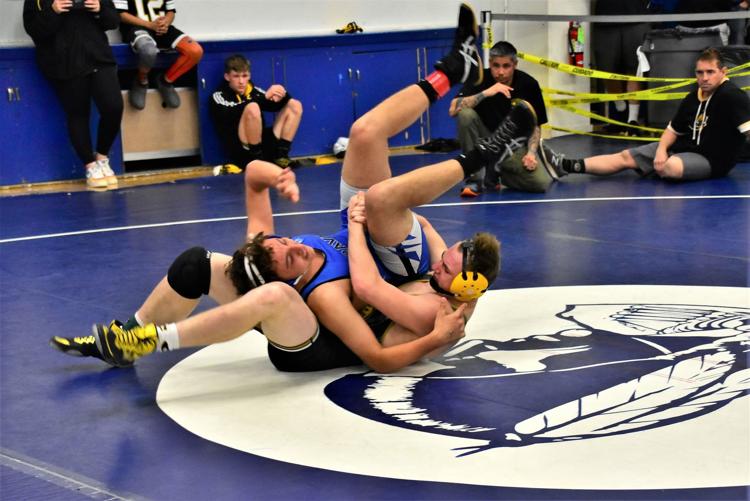 Lompoc's Aaron Nunez (Right) takes down Santa Barbara's Phoenix Lyle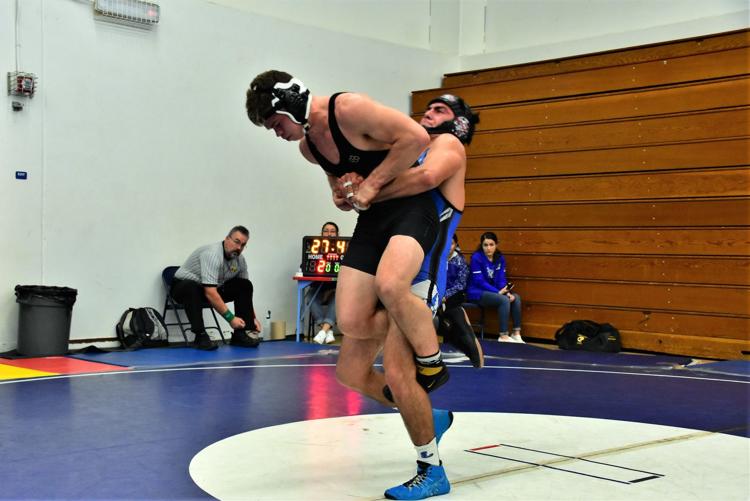 Lompoc's Aaron Nunez (Left) and Santa Barbara's Phoenix Lyle tumble for control
Lompoc's Corben Hayes (Top) tries to pin San Marcos' Emmanuel Munoz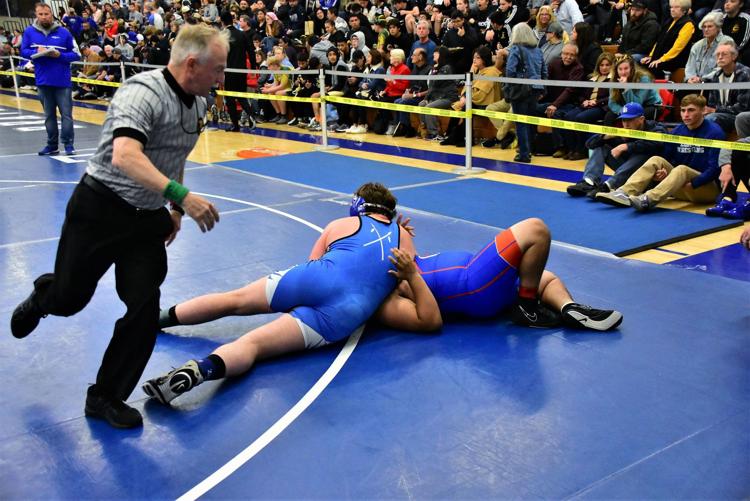 Lompoc's Corben Hayes (Top) works to control San Marcos' Emmanuel Munoz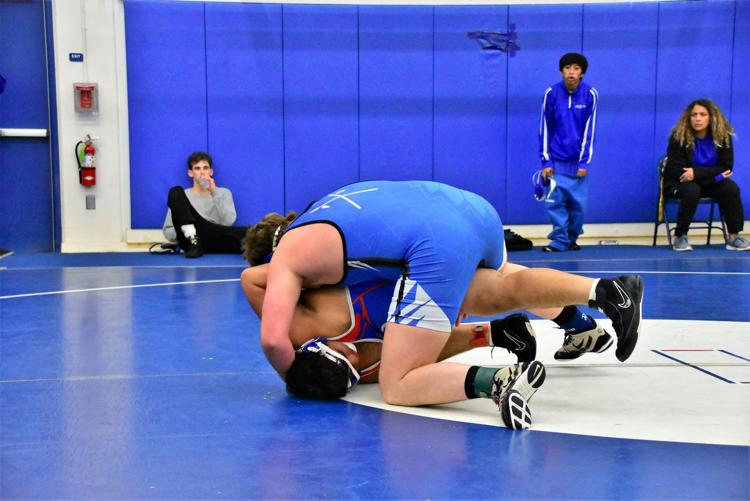 San Marcos' Emmanuel Munoz (Bottom) rolls to escape from Lompoc's Corben Hayes