Bakersfield Ridgeview parlayed a big finish into a team championship, and several area wrestlers won individual weight class titles at the Santa Maria Girls Wrestling Tourney Saturday.
The Wolf Pack passed host Santa Maria late and edged the second-place Saints 154-148. The tournament took place at Santa Maria's Wilson Gym.
Santa Maria led Ridgeview 130-125 late in the match, but the Wolf Pack had the best finish.
Ridgeview's Monique Bravo (235 pounds) and Camilla Caggianelli (189) pinned their Santa Maria counterparts in late matches.
Six area wrestlers won individual titles. Santa Maria junior Destiny Garcia was the first local winner, notching a pin to win at 121 pounds.
"This is the second time I've won at this tournament, and it feels extra good because both times have been when I've been a team captain," said Garcia.
"It feels really good to set an example for my younger teammates." Garcia won three matches Saturday to get the 121-pound title.
Saturday marked Santa Maria's first appearance this season.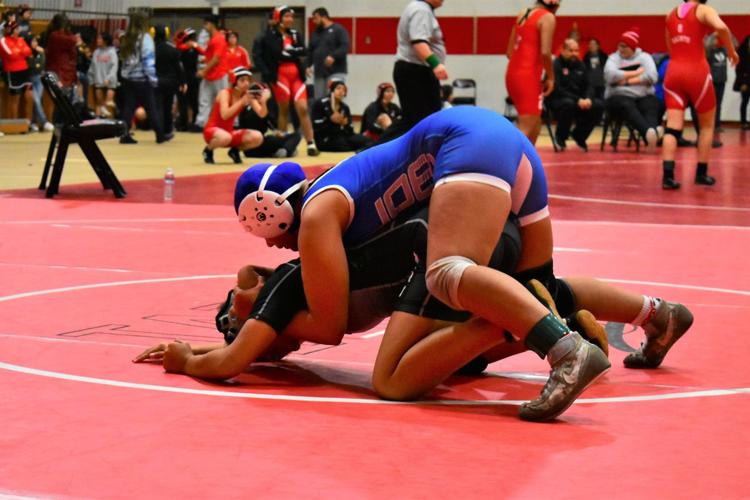 Cabrillo senior Miiya Adames was a first-time winner at the tournament. She scored the only two points of the 126-pound championship match in the second period and earned a 2-0 win.
You have free articles remaining.
"I used the chicken wing," to score the points, said Adames. "It's one of my favorite moves."
Other area winners included Austria Holland of Nipomo at 101 pounds, Erika Sierra of Santa Maria at 111, Jennifer Lopez of Santa Maria at 137 and Lydia Monedero of Cabrillo at 160.
Holland, Sierra and Lopez all notched a pin in their title matches. Monedero held on late to earn a 13-11 decision.
Lopez earned her first championship in the tournament in her third appearance there.
"I used the double move with the arms," as her go-to move to win three matches, said Lopez.
Bakersfield Golden Valley finished third in the team standings with 131 points. Morro Bay (fourth place, 67 points) and Cabrillo (fifth, with 31) also cracked the top five.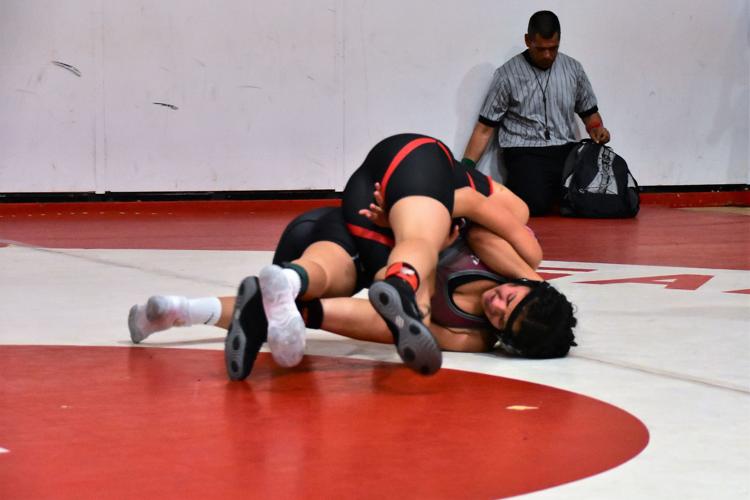 Some lower-weight class winners included Holland at 101 pounds, Elba Garcia-Carranza of Ridgeview at 106, Sierra at 111 and Genesis Quirarte of Ridgeview at 116.
Others included Garcia at 121, Adames at 126 and Sara Sterner of Morro Bay at 131.
Some upper weight class winners included Lopez at 137 pounds, Ariana Lefotu of Golden Valley at 143, Hazel Sunnarborg of Morro Bay at 150 and Monedero at 160.
The others, Joanna Chavez at 170, Caggianelli at 189 and Bravo at 235, were all from Ridgeview.
Righetti's Kitana Fleming moving to take down Dos Pueblos' Fiona Cates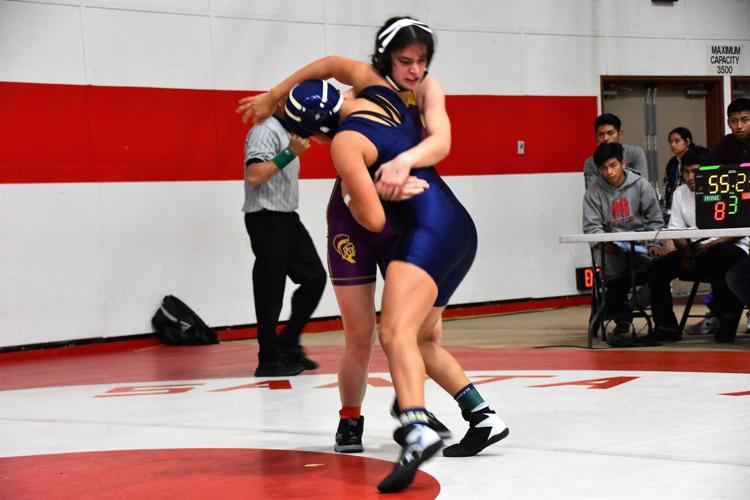 Santa Maria's Jennifer Hernandez takes down Golden Valley's Celeste Cubillo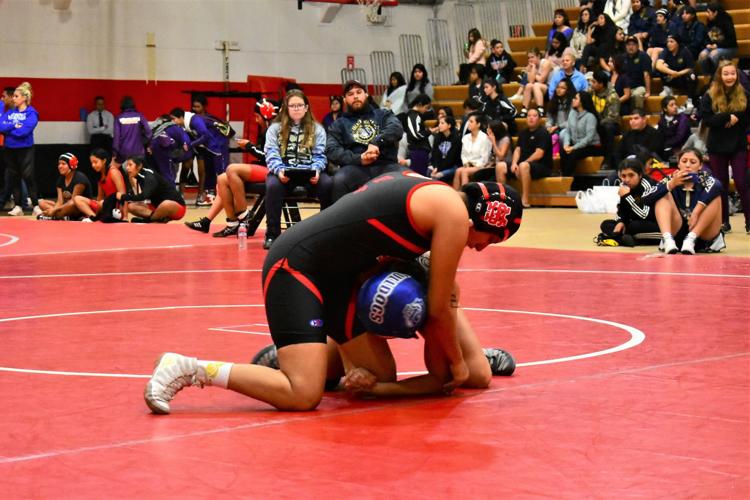 Morro Bay teammates Emily Carroll and Daisy Simpson battle for control
Santa Maria's Destiny Garcia working to pin Nipomo's Savanah Ruiz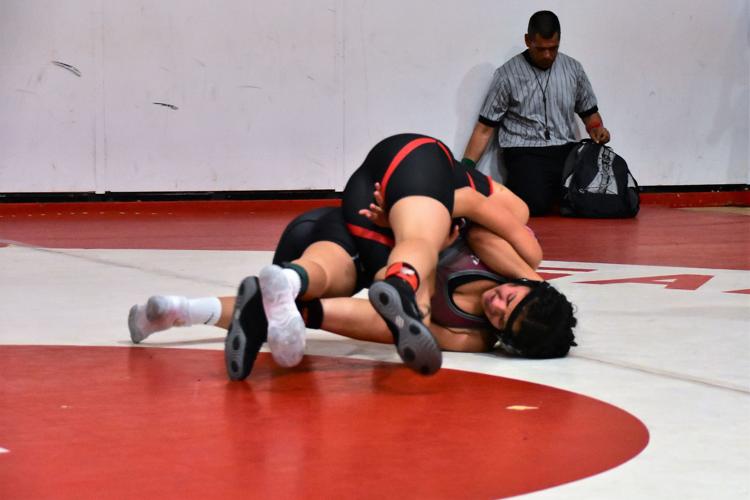 Atascadero's Allison Jespersen controls Golden Valley's Celeste Cubillo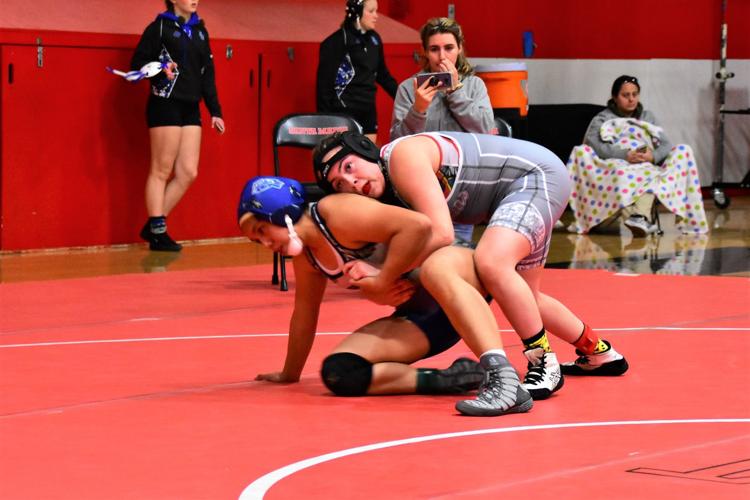 Santa Maria's Jessica Ramirez tries to escape from Golden Valley's Audrey Chavez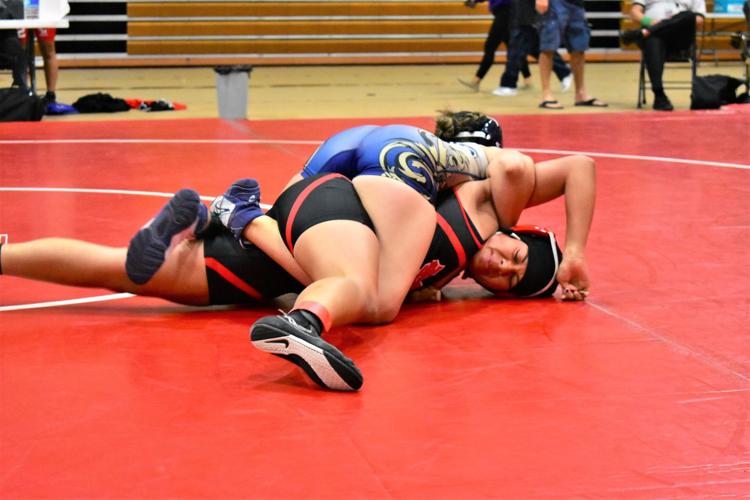 Golden Valley's Celeste Cubillo moves to escape from Atascadero's Allison Jespersen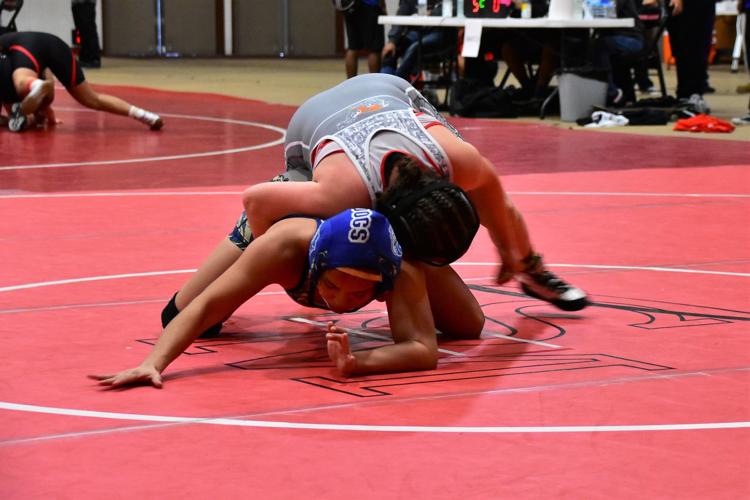 Dos Pueblos' Fiona Cates working hard to take down Righetti's Kitana Fleming
Righetti's Kitana Fleming controls Dos Pueblos' Fiona Cates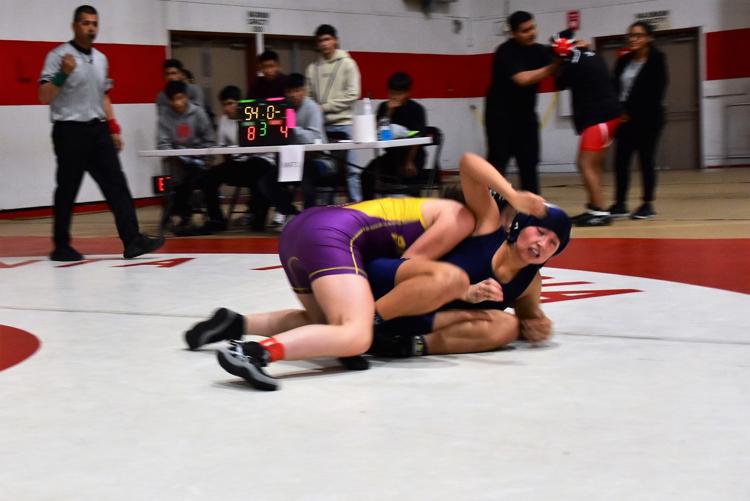 Lompoc's Chloe Gabriana tries to control Nipomo's Elysia Lopez-Moreno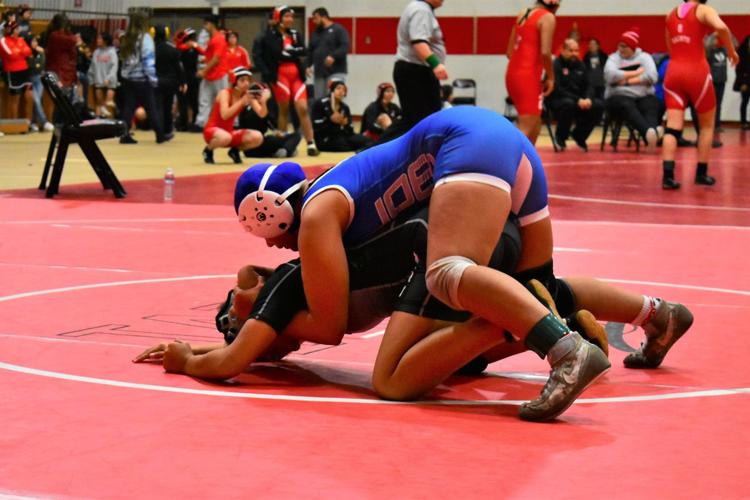 Santa Maria's Jennifer Hernandez trying to pin Golden Valley's Celeste Cubillo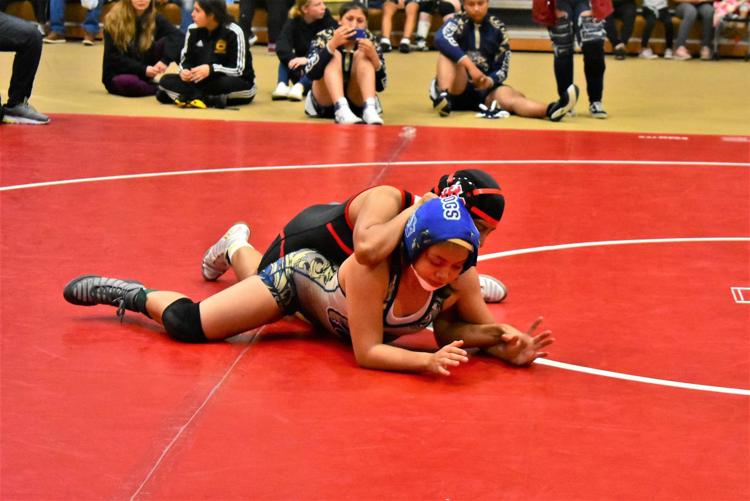 Golden Walley's Celeste Cubillo struggles to get free from Santa Maria's Jennifer Hernandez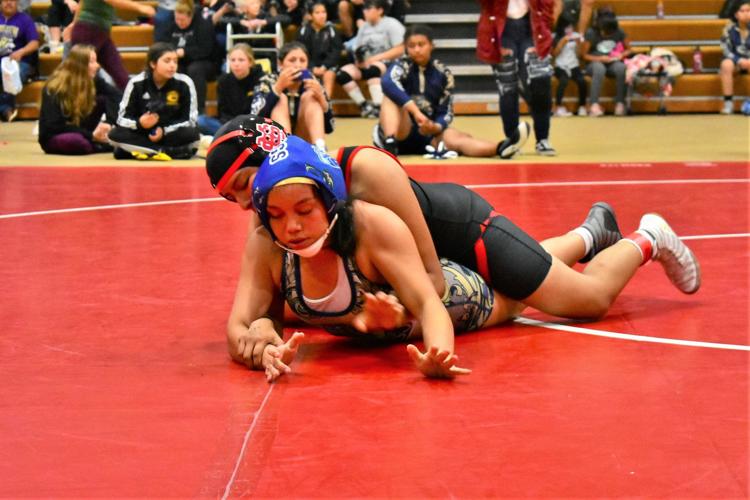 Lompoc's Jazmine Andrade grapples with Ridgeview's Celeste Esquivel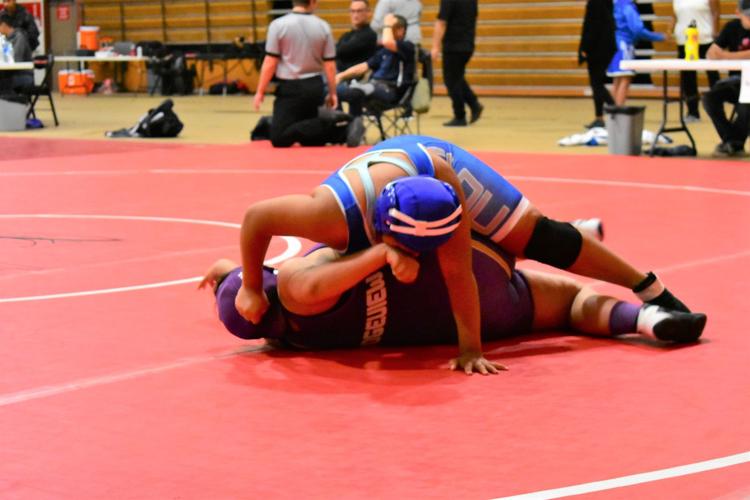 Righetti's Kitana Fleming and Atascadero's Elanor Rodriguez mix it up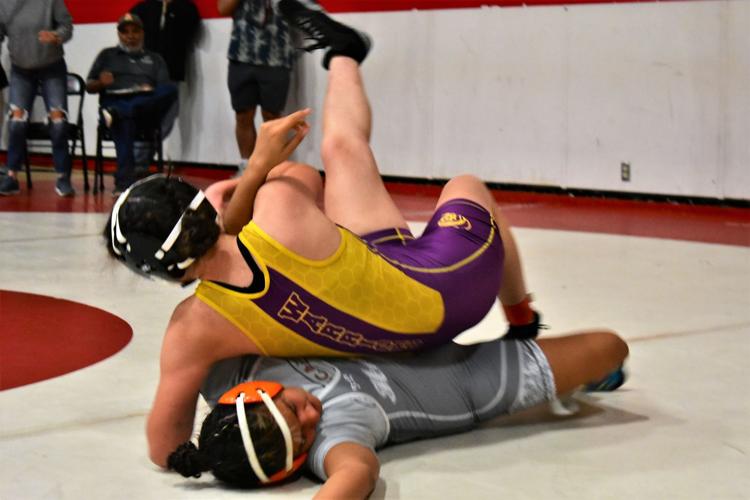 Righetti's Kitana Fleming giving it her all to control Atascadero's Elanor Rodriguez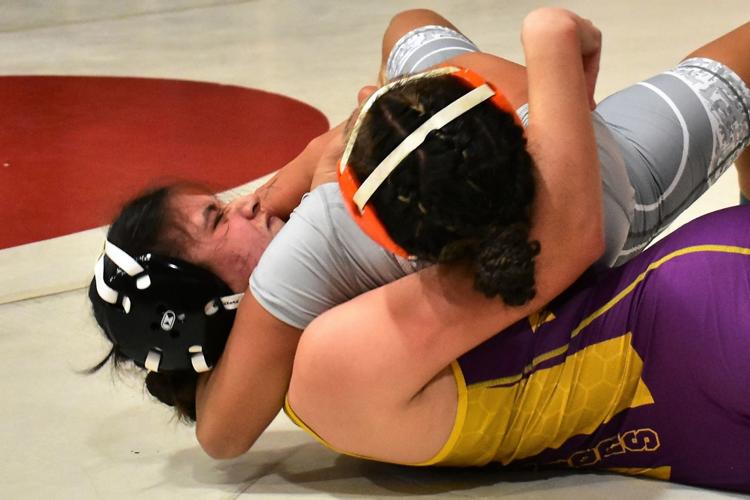 Golden Valley's Audrey Chavez controls Santa Maria's Jessica Ramirez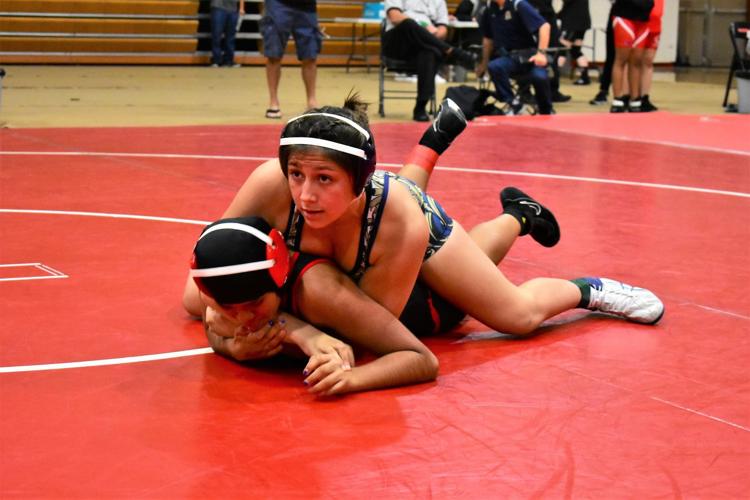 Dos Pueblos' Paola De La Cruz tries to pin teammate Maria Silva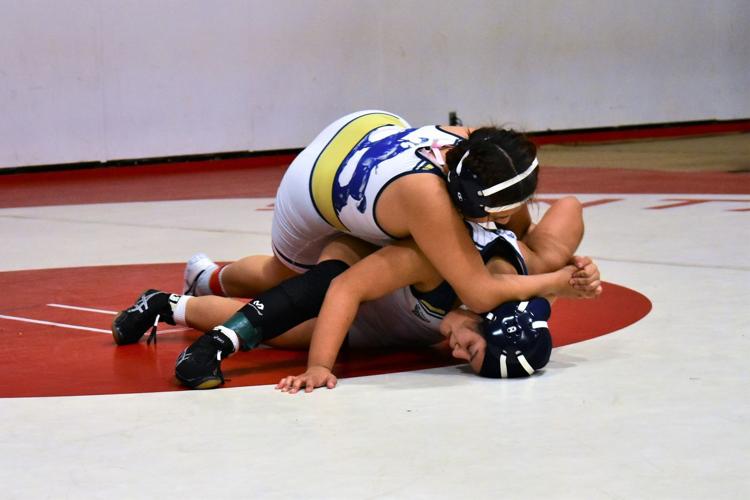 Dos Pueblos' Maria Silva making her escape from teammate Paola De La Cruz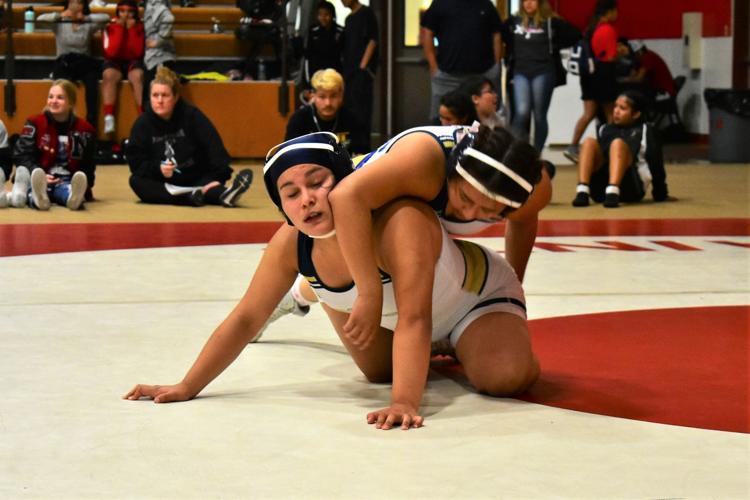 Ridgeview's Celeste Esquivel makes her escape from Lompoc's Jazmine Andrade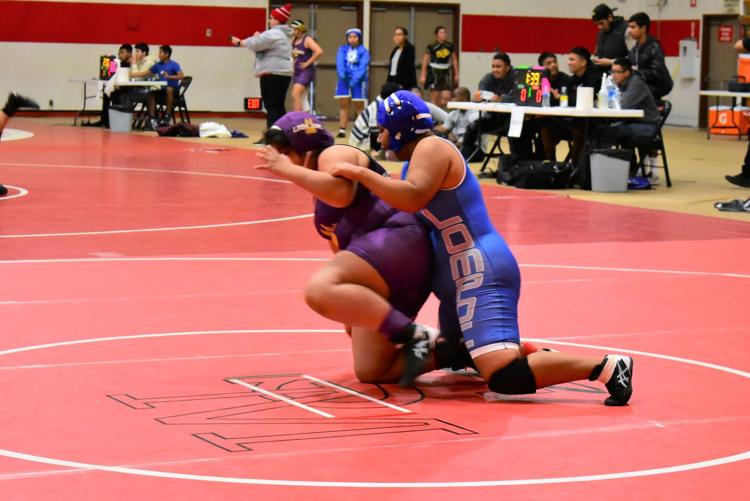 Santa Maria's Erika Sierra struggles to pin Dos Pueblos' Kimberly Silva