Dos Pueblos won the girls team championship at the Channel League Wrestling Finals on Bryan Ayer Court at Lompoc High School's Paisola Pavilion Saturday. Cabrillo had the most individual champions.
The Chargers edged the second-place Conquistadores 150-144. Santa Barbara finished third in the four-team field with 66 points. Lompoc was fourth with 55.
The top three finishers in each weight class medaled.
For Cabrillo coach Courtney Monedero, whose daughter Lydia won by fall in the 152-pound championship match, his team's strong showing was a breakthrough in itself.
"It's all about the girls," he said.
"They were the ones who put in all the hard work during the summer, in the wrestling room this season."
Cabrillo upper weights winners included Lydia Monedero at 152 pounds, Destiny Burke at 139, Julia Esparza at 145 and Avery Munden-Manko at 237.
"This was my biggest win. In anything," said Munden-Manko after she, as did the other Cabrillo champs in theirs, earned a fall in her title match.
Munden-Manko is a freshman and a first-year wrestler. "A friend just invited me to join the conditioning," Munden-Manko discovered she liked what went into a wrestling program, she stuck with it and now she is a league champion.
Cabrillo sophomore Jillian Brodeur racked up a pin at the 0:30 mark of the second round to win the 108-pound championship. Miiya Adames, in the 128-pound championship match, racked up a second-round pin as well and then a string of Cabrillo pins happened thereafter.
You have free articles remaining.
Fiona Cate of Dos Pueblos received a walkover to win at 133 pounds. After that, a string of Cabrillo pins fallowed, with Burke at 139 pounds, Esparza at 145 and Lydia Monedero at 152 all racking up falls.
Lompoc sophomore Yoanna Esquivel was the other Lompoc Valley champion. She notched a fall at the 1:01 mark of the first round.
"I did a single, power half move," to win, said Brodeur after she became the first champion from the Lompoc Valley. "It's one of my favorite moves.
"It's the first time I've ever won at this tournament. It feels really good."
Adames won at this tournament for the second time, and this time in the title match, "I just really tossed her," Adames said after pinning Kelly Zamora of Dos Pueblos at the 1:33 mark of the second round.
Burke is a first-time league tournament winner. She got the job done "with an ankle move," she said. "I just did it because the situation called for it."
Esquivel is yet another first-time league champion.
"I wrestled at this tournament last year and didn't do very well," the Lompoc sophomore said. "I just put in a lot of work over the summer, got a lot better."
Besides Cate and the Lompoc Valley champions, lower weights winners included Natalie Sanchez of Dos Pueblos at 103 pounds, Alasha Aparicio of Santa Barbara at 113, Isabela Regalado of Dos Pueblos at 118 and Stephanie Esparza of Dos Pueblos at 123.
Regalado and Esparza both won by fall. Aparicio took a 9-0 major decision in her title match.
Some upper weights winners included Maria Isa Silva of Dos Pueblos at 162 pounds and Alessandra Urquilla of Santa Barbara at 191. Both won by fall.
The medalists advanced automatically to the CIF Southern Section tournament which will take place next Friday and Saturday at Camarillo High School.      
Santa Ynez Armando Contreras (Top) controls Xavier Reyes of Cabrillo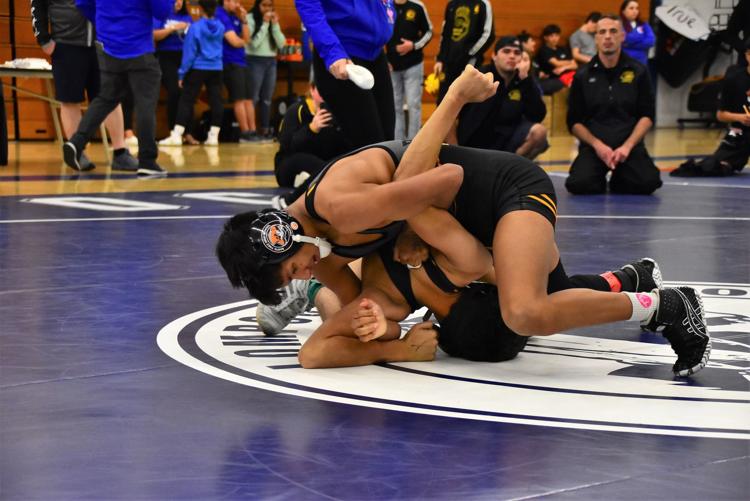 Lompoc's Gracen Hayes (Right) contros Cabrillo's Raymond Guerra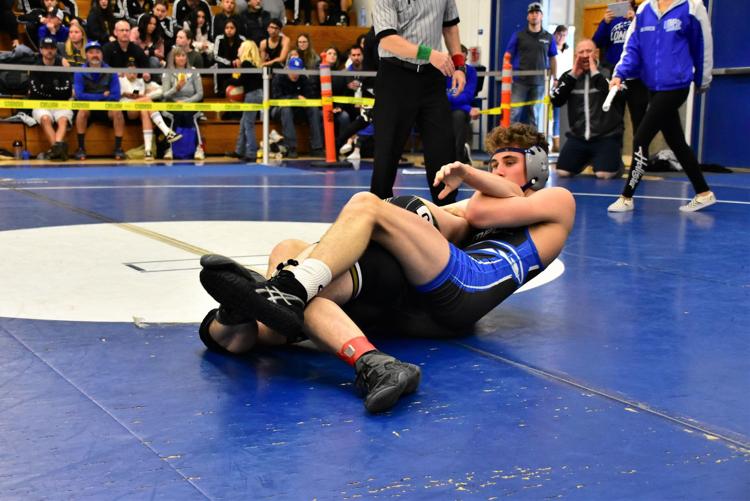 Cabrillo's Raymond Guerra (Right) struggles to escape from Lompoc's Gracen Hayes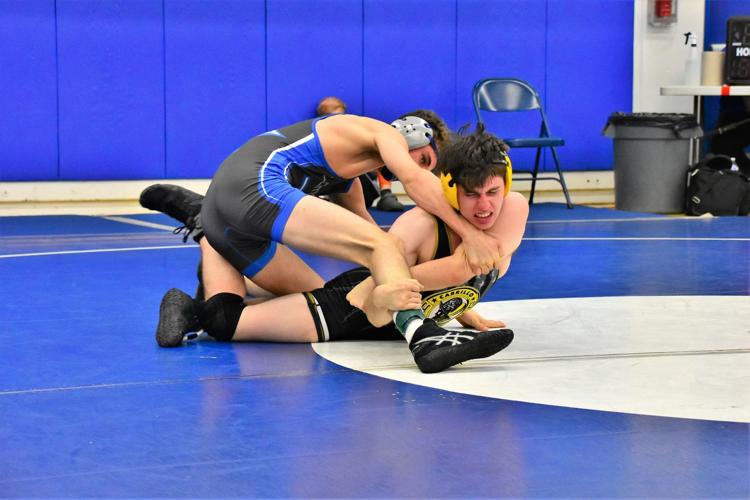 Cabrillo's Aiden Bumanglag (Bottom) tries to pin San Marcos' Levi Cooper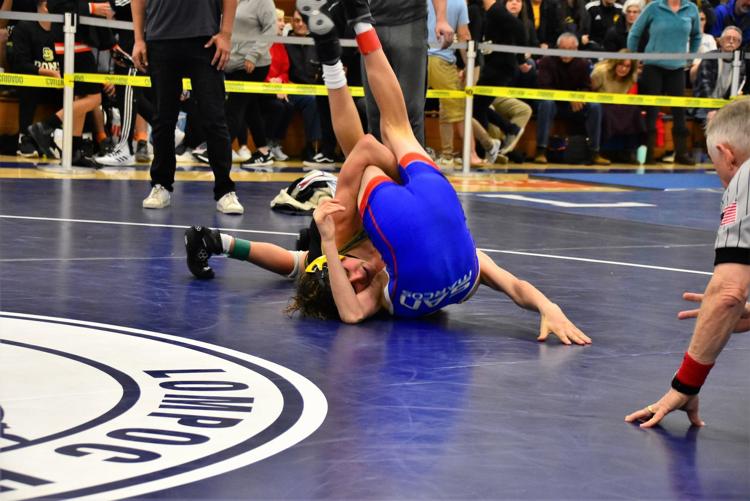 San Marcos' Levi Cooper (Top) scores a pin on Cabrillo's Aiden Bumanglag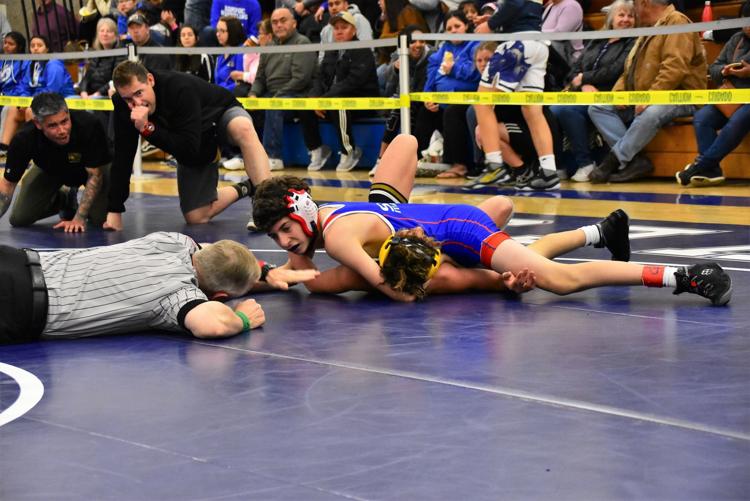 Cabrillo's Ryley Daltorio (Bottom) goes for a takedown on Santa Barbara's Gabriel Jimenez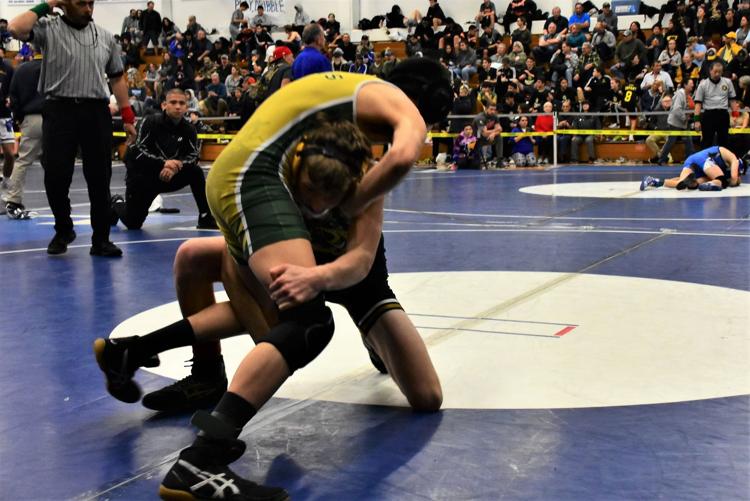 Santa Barbara's Gabriel Jimenez (Top) escapes from Cabrillo's Ryley Daltorio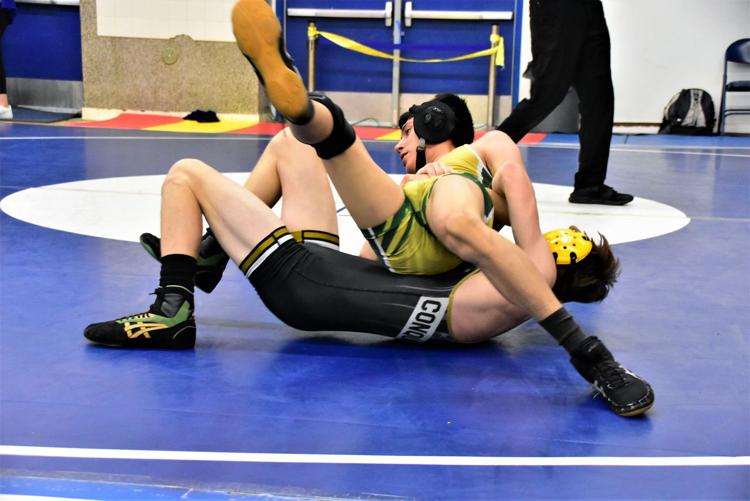 Cabrillo's Blake Rehder (Top) works to control Santa Ynez Freddy Lemmex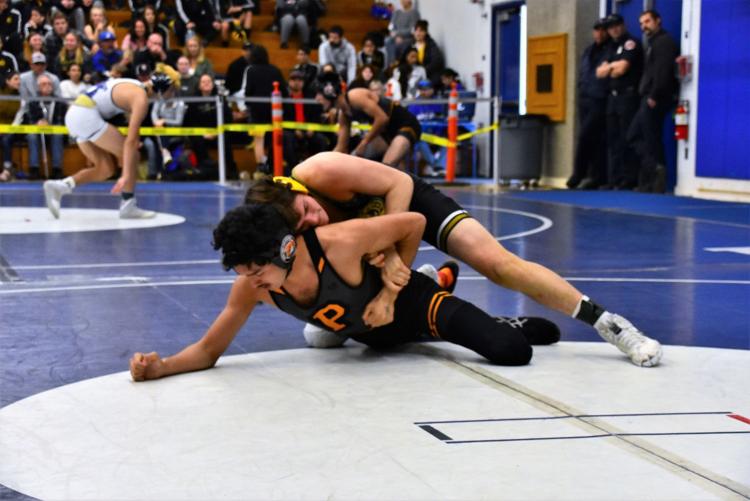 Santa Ynez Freddy Lemmex (Bottom) works to escape from Cabrillo's Blake Rehder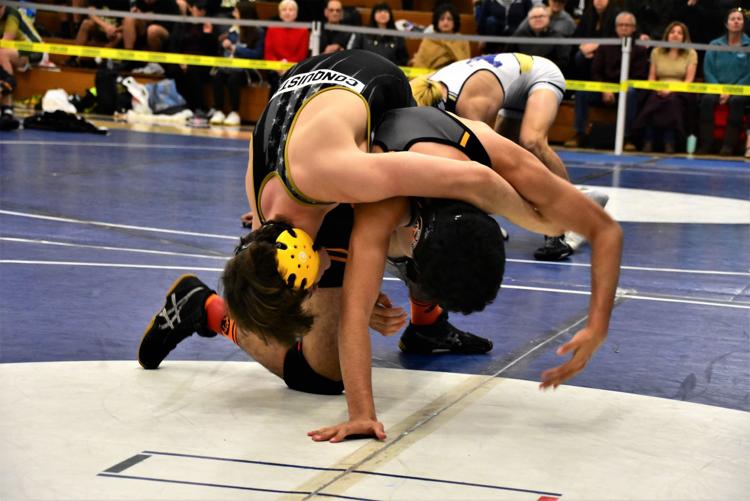 Cabrillo's Patrick Durham (Right) works to control Lompoc's Armani Vinyard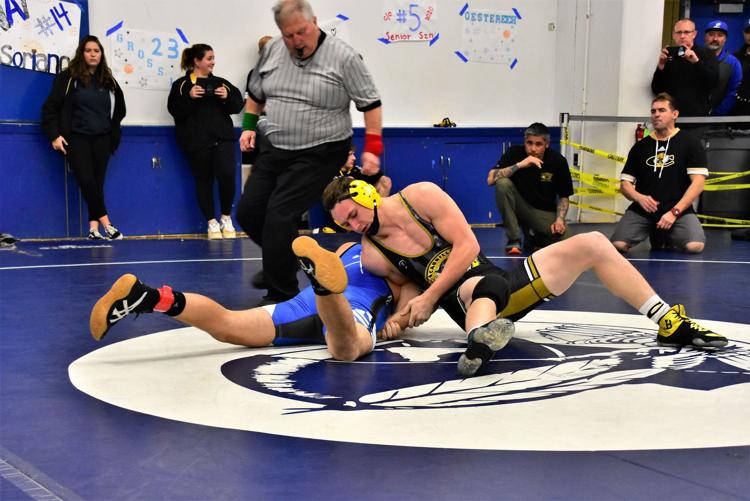 Lompoc's Armani Vinyard (Top) works hard to escape from Cabrillo's Patrick Durham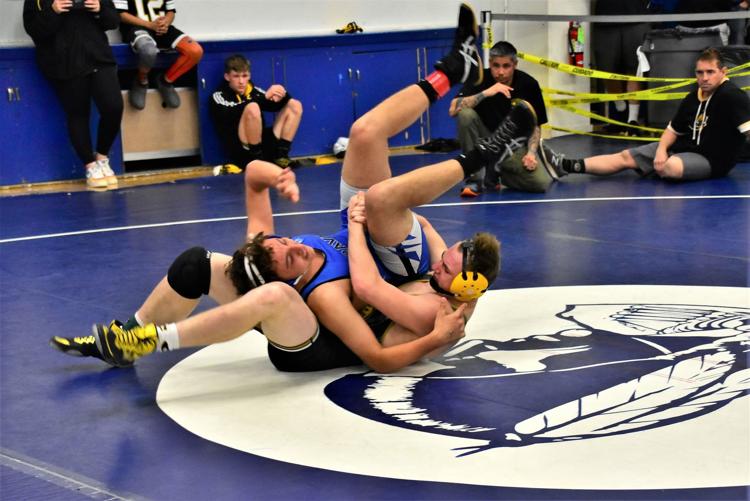 Lompoc's Aaron Nunez (Right) takes down Santa Barbara's Phoenix Lyle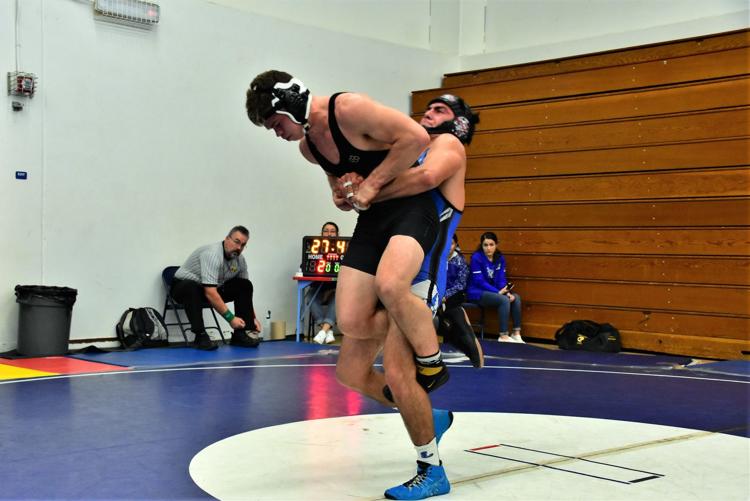 Lompoc's Aaron Nunez (Left) and Santa Barbara's Phoenix Lyle tumble for control
Lompoc's Corben Hayes (Top) tries to pin San Marcos' Emmanuel Munoz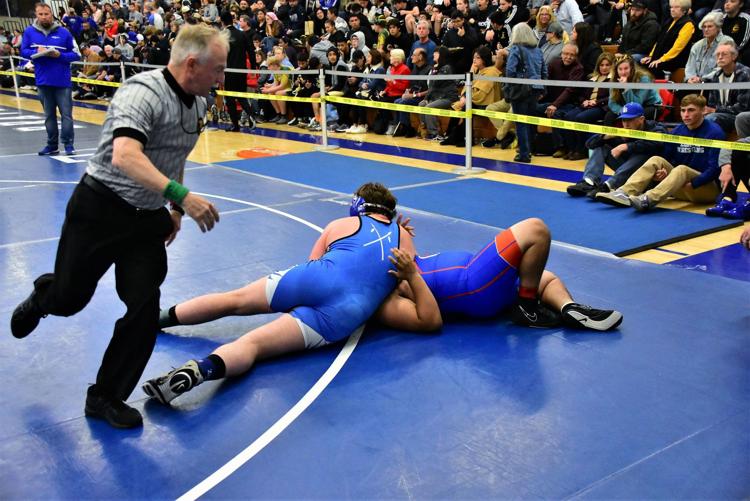 Lompoc's Corben Hayes (Top) works to control San Marcos' Emmanuel Munoz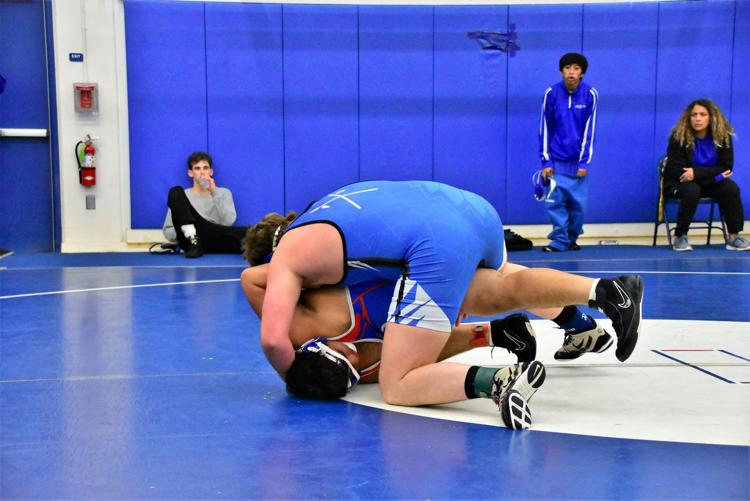 San Marcos' Emmanuel Munoz (Bottom) rolls to escape from Lompoc's Corben Hayes