Pioneer Valley's boys wrestling team began a busy dual meet schedule with three wins at the Pete Duca Invitational that the Panthers hosted Saturday.
"Counting today, we'll have 15 dual matches in nine days," said second-year Pioneer Valley coach Kent Olson after his team went 3-0 Saturday.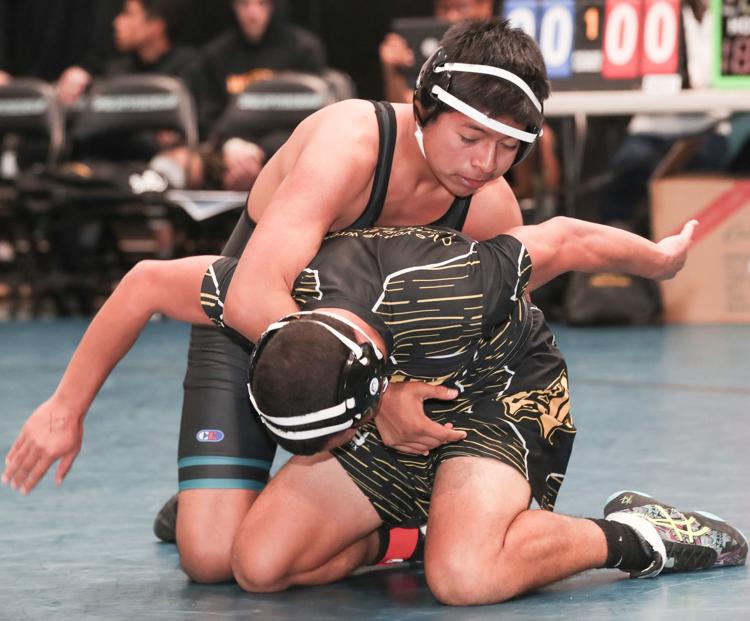 Nipomo went 2-1 in the four-team dual tourney. Lompoc went 1-2. San Luis Obispo went 0-3.
"A couple of teams that we thought were supposed to come here didn't show up," said Olson.
Pioneer Valley defeated Lompoc 60-21, San Luis Obispo 60-12 and Nipomo 45-33.
Nipomo went 2-1 on the day, defeating San Luis Obispo 33-0 and Lompoc 36-18 before losing to Pioneer Valley.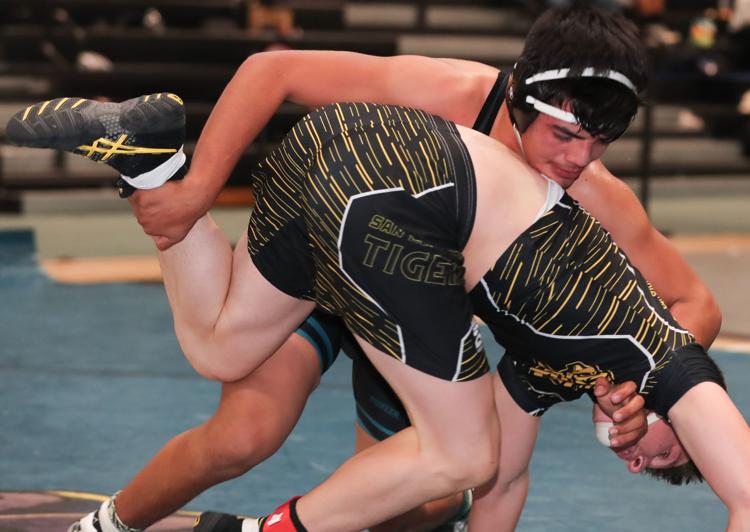 Lompoc's win came against San Luis Obispo. The Braves defeated the Tigers 32-24.
"It was the first meet for us, but I thought it went pretty well," said Olson.
"One guy for us I was really impressed with was Isaac Gutierrez. He went 3-0 at 145."
Olson said, "Andy Ojeda went 3-0 at 126. Jacob Limon wrestled only one match, but he did well out of the gate. He went 1-0 at 138."
The Panthers resume their busy dual meet schedule with a 7 p.m. match at home against San Luis Obispo Tuesday. Pioneer Valley will compete at Fresno Edison Wednesday.
The Pete Duca Invitational is named in honor of former long-time Arroyo Grande wrestling coach Pete Duca.
The meet used to feature both team scores and championship matches in each weight class, but Olson said he decided this year to change the format to a dual meet one.
"I know it was held at Nipomo for years before they moved it here, and there used to be 40 teams in that tournament," said Olson.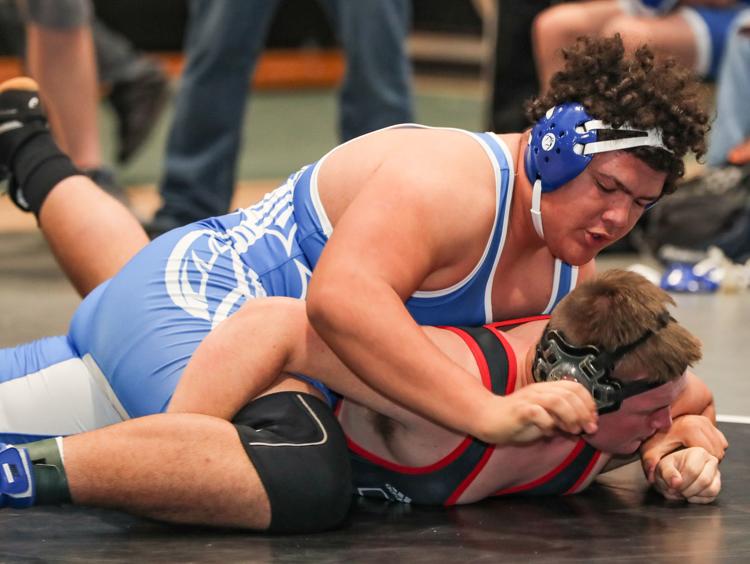 Of the four teams that competed at the Pete Duca Invitational Saturday, all but Lompoc moved from the CIF Southern Section to the Central Section earlier this year. Thus, the Duca Invitational may have been a prelude to some competition Pioneer Valley, Nipomo and San Luis Obispo wrestlers will face down the road in the off-season.
Olson, a former veteran wrestling coach at Lemoore-based West Hills College and Lemoore High School, took over at Pioneer Valley after former veteran coach Kevin Ilac announced his retirement as the wrestling coach in April of 2017.
Olson said, "There's fewer teams in (the Duca Invitational) than there used to be, and we decided to change it to a dual meet format.
"We'll (eventually) have 90 guys (in the varsity and JV programs combined), said Olson."We have 60 now. All of them got to wrestle today. Some our guys wrestled in the novice tournament at Santa Maria."
Pioneer Valley's coach chuckled. "We still haven't gotten some of our guys from football yet. They'll eventually be cutting weight (to get to their ideal competing wrestling weight). They're fat and happy right now.
"We're a 'C-plus' right now," as a team, Olson said. "We'll get to an 'A', but it will take a lot of work." 
Girls basketball
Bryan Ayer Classic
Righetti 56, Santa Barbara 46
All-Tournament selection Alexandria Paquet scored 11 points for Righetti, and the Warriors (2-1) defeated the Dons (3-3) for their second straight win in this tournament at Lompoc High School's Paisola Pavilion.
Righetti went 2-1 in the tournament, which is named after the late Bryan Ayer, a former veteran Lompoc coach.
The Warriors led 40-25 after three quarters and were well on their way to a win in their tournament finale.
Eight Righetti players scored. Alijah Paquet, scored 10 points. Mercedes Arredondo put in nine and Mishila Garcia had eight.
Mireya Gil scored a game-high 16 points for Santa Barbara. Maddie Miller added 10.
Nipomo 60, Santa Maria 54
Santa Maria 68, Templeton 66
The Santa Maria High Saints had two games today in the Morro Bay HIT tournament on Saturday.
The first game, against the Nipomo Titans, was a back-and-forth battle from the tip off.
Nipomo held a 56-54 lead with 30 seconds to go and SM had a 3-point attempt rim out that would have given the Saints the lead.
The Saints had to foul in those finals seconds but the Titans hit all four of their shots to close out the win.
Thomas Segel led the Saints in this game with 24 points including four three-pointers and Rolando Pina had 17 rebounds along with 4 points for the Saints.
The second game was another dogfight from the beginning.
Santa Maria had the ball with 22 seconds left and the scored tied at 66.
Segel drove the lane with 4 seconds on the clock and made the bucket to give the Saints the win.
Segel led all scorers with 28 points, including 5 three-pointers.
Guard Genaro Morales also had a big game with 16 points and 7 boards and forward Rolando Pina had a monster game on the glass with 19 rebounds and nine points for Santa Maria.
The Saints knocked down 10 threes on the night in a preview of what's to come in the new Ocean league.
Santa Maria is now 3-3 overall with another road game coming up on Tuesday at a former Southern Section rival Foothill Tech.
Valley Christian 45, Midland 33
With the football season over, many of the Valley Christian Academy Lions players have moved over to the basketball court, leading the Lions to a non-league victory over Los Olivos Midland School Saturday at VCA.
Richard Matias led the Lions with 12 points, Timmy Trenkle added nine, Andrew Sparlin scored eight to go with 15 rebounds and Tyler McCoy, playing his first-ever basketball game for VCA, chipped in four points.
VCA (2-2) begins Coast Valley League play Tuesday at Shandon.
Boys soccer 
Alex Gonzalez opened things up with a goal in Monday's night's game. And the rout was on from there at NHS. 
Gonzalez added one more goal. J.D Montelongo put LHS up 3-0 with his kick. Tomasso Prosperi ended the evening by tacking on two more scores for the Braves.