Atascadero (0-7, 0-1) at St. Joseph (5-2, 1-0).
Where: Jay Will Stadium, St. Joseph High School.
Atascadero outlook: The play of Stephen Reyes has been a bright spot in what has been the roughest season in years for the Greyhounds. Reyes is the team's leading rusher (523 yards, two 100 yards-plus games and four touchdowns on the year) and receiver (35 yards a game in receptions and two TDs this year). The 'Hounds have given up a lot of points, 246.
St. Joseph outlook: The offense hummed along as the Knights beat traditional stumbling block Arroyo Grande 34-17 two weeks ago. QB Chase Artopoeus has delivered the ball consistently to prolific WR Trevor Cole. Devin Guggia has been a productive running back. FS Justin Maldonado helps lead a defense that has made some key stops.
How the game shapes up: The beleaguered Atascadero defense doesn't figure to have nearly enough against the St. Joseph offense.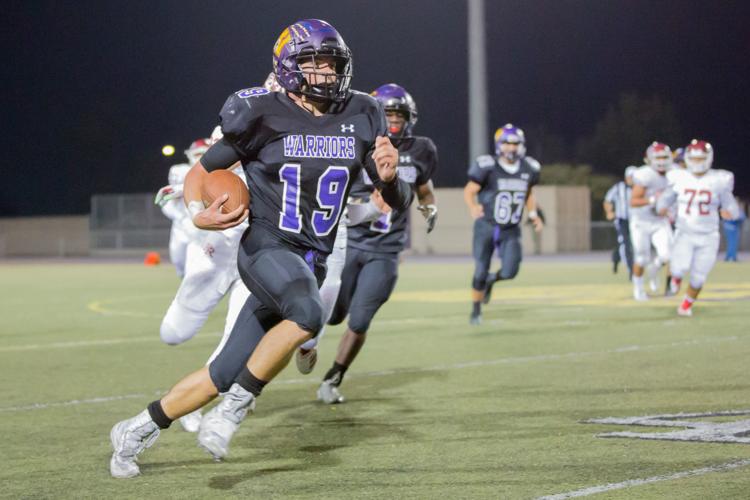 Righetti (7-1, 2-0) at Arroyo Grande (6-2, 1-1).
Where: Doug Hitchen Stadium, Arroyo Grande High School.
Righetti outlook: The points keep coming in a steady flow for the Righetti offense. The Warriors have scored 345 points this year. Meanwhile, the defense has not allowed more than two touchdowns in any of Righetti's last four games. Righetti's ground game averages 305 yards a game, and Adan Solis (1,233 rushing yards) is over 1,000 yards already for the year. Kidasi Nepa (nine yards a carry) is a productive secondary back. Logan Mortensen has flourished when he is in at quarterback and former full-time QB Brandon Giddings is in the slot. CB Jake Steels helps lead the defense.
Arroyo Grande outlook: The Eagles run for even more yards a game, 316, than the Warriors do. With QB Kadin Byrne, the team's rushing leader at 124 yards a game, and backs Caleb Tomasin and James Gilmet, Arroyo Grande has at least as good a triple rushing threat as anyone in the area. LBs Elijah Castro and Russell Ferrall lead a defense that has usually been solid but ran into a snag against the St. Joseph offense.
How the game shapes up: In a game featuring two top-notch rushing attacks, a big advantage in the passing game goes to Righetti. Mortensen throws for about 145 yards a game. Byrne throws for about 42. Meanwhile, a big advantage in the kicking game goes to Arroyo Grande. AG kicker Colton Theaker has 34 touchbacks this year. Righetti kickoffs are usually pooches. This one figures to be close.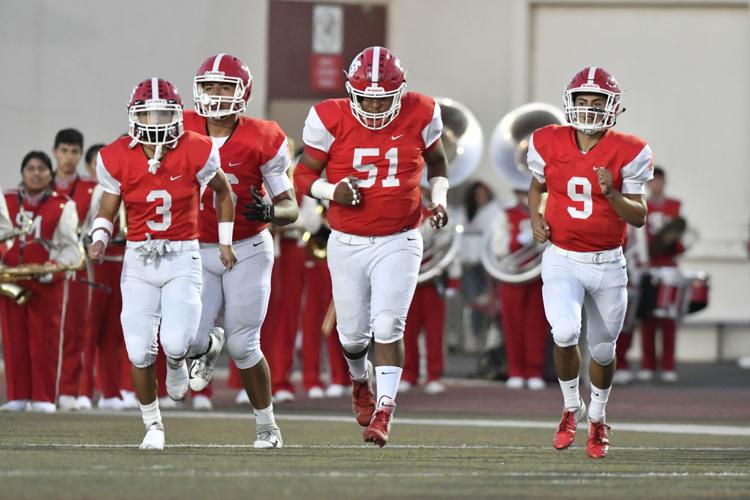 Templeton (2-5, 1-1) at Santa Maria (2-5, 0-2).
Where: Ralph Baldiviez Stadium, Santa Maria High School.
Templeton outlook: QB Jack Trimble has been a handful for opposing pass defenses to deal with. He throws for about 205 yards a game and he completes more than 60 percent of his passes. Shane Simonin has established himself as a particularly productive back. He averages 108 yards a game. Trimble has two dangerous receivers in Marino D'alfonso and Tyler Kaschewski. D'alfonso averages nearly 90 yards a game in receptions. Templeton's biggest problem is on the defensive side of the ball. The Eagles have scored 177 points but they've given up 267.
Santa Maria outlook: The Saints played much-improved San Luis Obispo tough on the road, but the Tigers won 21-7. Santa Maria has used three quarterbacks, and between them they average about 78 yards a game passing. The Saints have followed pretty much the same pattern for weeks on offense. They rely mostly on RB Sammy Herrera (106 yards a game). Kenny Dato (50 yards a game) has been a solid secondary back. When he's been in there at quarterback, Dominick Martinez has averaged 92 a yards a game. The Saints' defense has had trouble getting stops, but the unit showed pretty well last week.
How the game shapes up: The Eagles can run the ball and Trimble can throw it, so the Saints' defense will have a lot to deal with. Santa Maria's best chance to win figures to be controlling the clock with an effective ground game.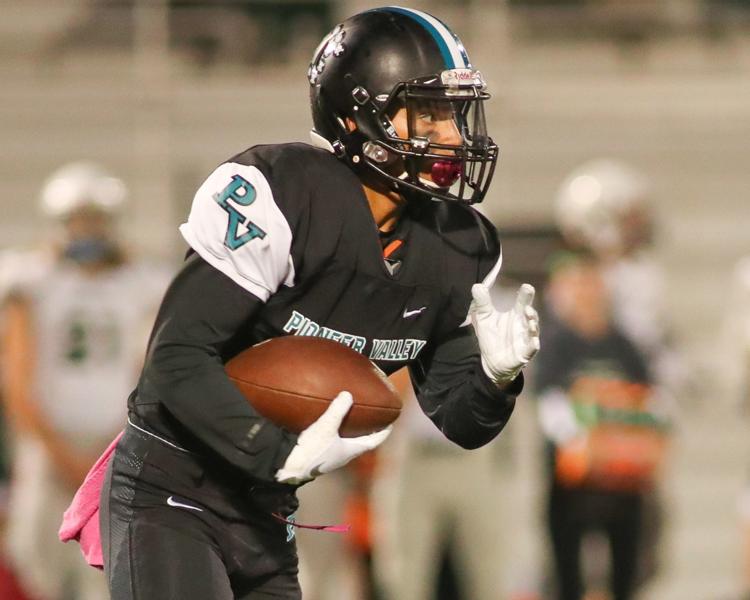 Pioneer Valley (4-3, 2-0) at Morro Bay (1-6, 0-2).
Where: Morro Bay High School.
Pioneer Valley outlook: Michael Bourbon, a steady back in the past, has had some big games this year and is averaging 80 yards an outing. QB Jayson Garcia averages around 61 yards on the ground himself. Garcia throws for just 66 yards a game. Pioneer Valley's defense has been good at times and struggled at others. DB Steven Fuerte helps lead the unit, which was solid in a big 24-17 win for the Panthers at San Luis Obispo two weeks ago.
Morro Bay outlook: No stats on the Pirates were available. They have had a rough year, taking a lot of lopsided losses.
How the game shapes up: Pioneer Valley doesn't figure to have much trouble in this tuneup before what figures to be a big Homecoming game for the Panthers against Nipomo next week.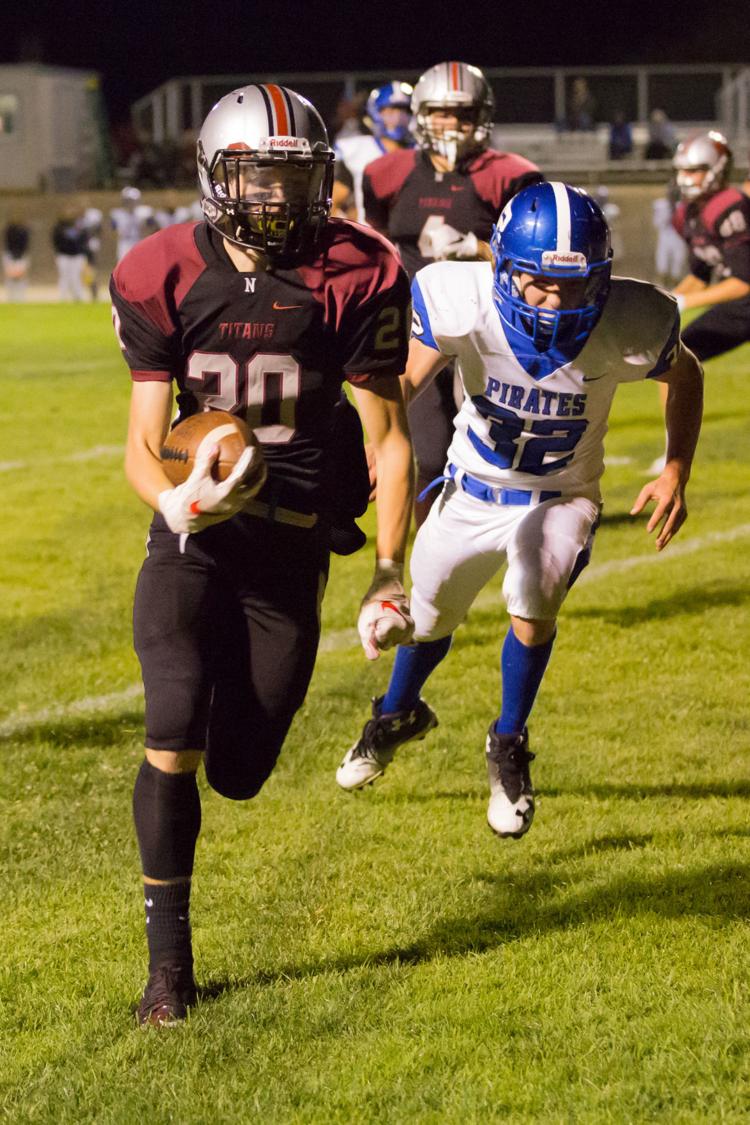 San Luis Obispo (5-2, 1-1) at Nipomo (5-2, 2-0).
Where: Nipomo High School.
San Luis Obispo outlook: The improved Tigers, at 4-1, were riding high when play in the inaugural Ocean League started but they lost at home to Pioneer Valley in their league opener and, again at home, had a tougher than expected time against Santa Maria in their first two league games. Another area team with a triple threat rushing attack, the Tigers have QB Emilio Corona (97 yards a game), Anthony Ayala (85) and Jeremy Fitzsimmons (62). The Tigers' defense has been pretty solid.
Nipomo outlook: QB Brayden Groshart completes about half of his passes. He throws for 122 yards a game and has a good touchdown-to-interceptions ratio, nine to five. Nipomo doesn't have anyone with flashy rushing numbers, but the Titans run for about 194 yards a game. Strong safety Anthony Perez and middle linebacker Jesse Garza lead a defense that has been pretty good. The Titans give up less than 20 points a game.
How the game shapes up: Everything about this one points to a close match-up. Both teams have good, unspectacular offenses and solid defenses. Nipomo has the home field advantage but the Tigers' faithful won't have to travel far, so San Luis Obispo should travel pretty well for a game that is critical in the Ocean League title race.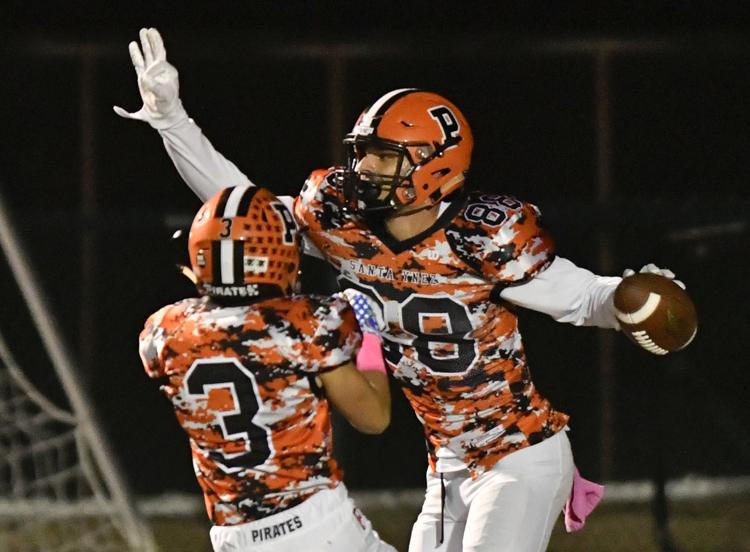 Santa Ynez (4-3, 1-1) at Cabrillo (0-7, 0-2).
Where: Huyck Stadium, Lompoc.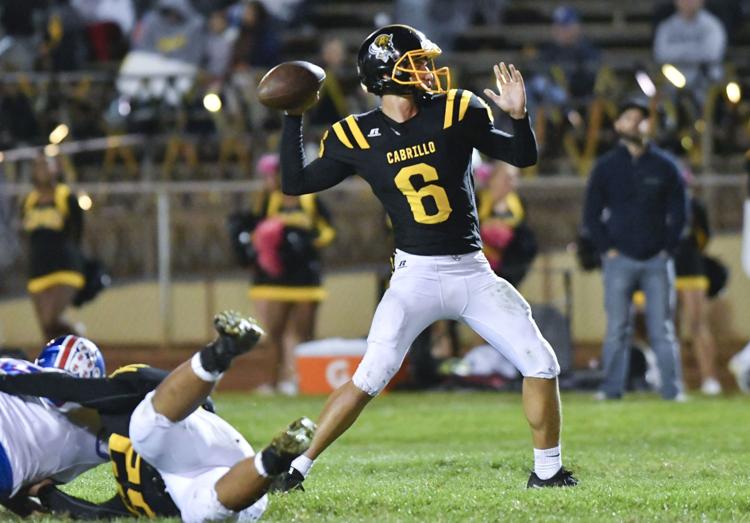 Broadcast: KUHL 1440 AM/106.3 FM, KPEG 100.9 FM.
Santa Ynez outlook: The Pirates have a particularly good group of linebackers, with Vinny Vacca and Mateo Baca helping lead the group, and Santa Ynez has given up just 96 points this year. At 103 yards a game, Cash Transeth has accounted for almost two thirds of his team's rushing yardage. The Pirates get less than 100 yards a game through the air, though Jasper Kadlec does average 54 yards a game in receptions. Santa Ynez is coming off a big 28-10 league win at home over Santa Barbara.
Cabrillo outlook: The Conquistadores suffered a wrenching 26-25 loss at home to San Marcos last week, but Cabrillo did have some areas of improvement to build upon. RB Tito Miza and LBs Patrick Durham and Spencer Cothran continue to be team leaders. Mason Townes picked off two passes last week and returned a kick 90 yards for a touchdown.
How the game shapes up: Cabrillo is improving, but the Pirates figure to have too much for the Conqs in this one. Santa Ynez has a big league game at home against Dos Pueblos next week.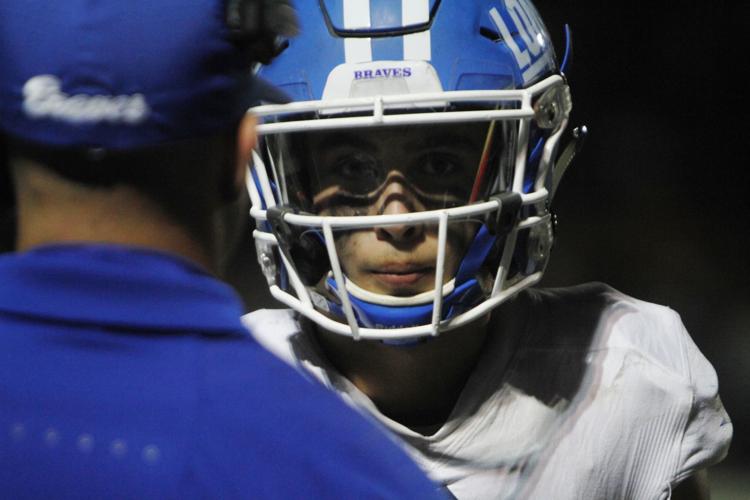 Lompoc (5-2, 2-0) at Santa Barbara (5-2, 1-1).
Where: Santa Barbara City College.
Kickoff: 7 p.m. Saturday.
Broadcast: TAPTV/KPEG 100.9 FM.
Lompoc outlook: The Braves had some struggles in the preseason, but they have characteristically rolled along in league play, beating Santa Ynez 21-0 and Dos Pueblos 42-21 in their first two league games. Leondre Coleman leads second-place Cameron Iribarren, the quarterback, 630-629 in team rushing yardage. Opponents have had a hard time trying to block Coleman when he's playing linebacker. Coleman has 14 tackles for losses this year. Coleman and Ryan Morgan accounted for about 90 of the team's 110 reception yards a game before Morgan suffered a broken collarbone.
Santa Barbara outlook: As a team, the Dons average 102 yards a game through the air, but Frank Gamberdella has thrown for 142 yards a game the three times he's been in at quarterback. The Dons only run for about 44 yards an outing. How good the Santa Barbara defense has been has generally depended on how good the opposing offense it faces has been.
How the game shapes up: The Dons have faded against the better teams on their schedule, and Lompoc is one of the better teams on their schedule.
Other games: Channel League: Dos Pueblos (4-3, 1-1) at San Marcos (2-5, 1-1), 7 p.m. No radio. Eight-man: Central Sierra League: Fresno Christian (5-1, 3-1) at Orcutt Academy (6-1, 4-0), 7 p.m., Pioneer Valley High School. Lemoore Kings Christian (2-5, 1-3) at Mission Prep (7-0, 4-0), 7 p.m. Coast Valley League: Maricopa (0-5, 0-1) at Valley Christian Academy (3-2, 1-0), 7 p.m.
Bye: Paso Robles, Bishop Diego.