Santa Ynez High School seniors Kylie Clouse and Richie Sandoval signed their national letters of intent Tuesday and both chose California universities for the next stop of their academic and athletic careers.
In front of family, friends and coaches, the signing ceremony took place in the school's board room early Tuesday afternoon.
In the fall, Clouse will attend The Masters University in Santa Clarita where she will continue her volleyball career while Sandoval heads to Cal State Bakersfield where he'll continue his wrestling career.
"This is a great day," said Santa Ynez High School athletic director Ashley Coelho. "They can focus on finishing out their senior year without having to stress about college or how they are going to pay for it.
"Kylie has a partial scholarship to The Masters University and Richie has an academic and athletic scholarship to Bakersfield."
Charles Sommer, the emcee at the Northern Santa Barbara County Athletic Round Table, says it's usually a difficult decision when choosing the Athletes of the Week. For this week, though, that was not the case.
"Out of all the schools that contacted me, the coach at Masters and I really connected right away," said Clouse. "He really spoke to me and I knew it was the school for me."
Her new coach will be Allan Vince who has led the Masters Mustangs for six seasons.
The NAIA team plays in the National Christian College Athletic Association as a member of the Golden State Athletic Conference (GSAC)
Vince was the GSAC coach of the year in 2018 and has produced at least one NAIA All-American in each of his seasons.
"It's a small school, about the size of Santa Ynez High School," said Clouse. "Academically, it will allow me to transition to a college where the professors will try to help me get to the next level."
Clouse plans a future in law enforcement, following in the footsteps of her father, Patrick Clouse.
"I'm thinking of something in law enforcement, maybe getting a degree in therapy where I could work with people suffering from PTSD and if I could work religion into it that would be good."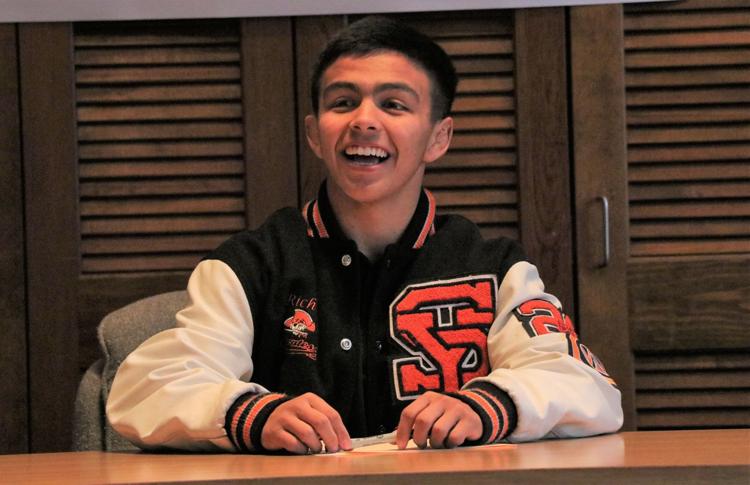 You have free articles remaining.
Clouse is a Santa Cruz native who moved to the Santa Ynez Valley in her sophomore year and was a varsity player all four of her high school years, first in Santa Cruz and then at Santa Ynez High.
"It was a fun transition to Santa Ynez," said Clouse. "It was definitely a small-town feel and that was a huge difference for me. Everyone here has been great and I think The Masters will have a similar environment."
"I expect her to do really well at Masters," said Santa Ynez High girls volleyball coach Tom Wright. "She was a great addition to our program when she transferred from Santa Cruz. She blended in really well, took on a leadership role and did well with it. All the girls looked up to her and I expect the same at Masters."
Sandoval is also thinking about following in his father's footsteps... eventually.
His father, Raul-Omar Sandoval, is the wrestling coach at Santa Ynez High and one day, Richie Sandoval would like to join his father's coaching staff.
First, he's off to join the Cal State Bakersfield Roadrunners and then he's got his eyes on the Olympics.
"I have a lot of California pride and I wanted to stay close to home," said Sandoval. "There are only about five Division I colleges in California that offer wrestling and a lot of high school wrestlers have to move out of state for college.
"I really love the coaches. Manny Rivera is the head coach and Luke Smith is the assistant coach that works with the lower weight classes (Sandoval will wrestle at 125 pounds at Bakersfield). They were actually my coaches at the Nationals. We got along very well. They really fit my style. There have been a lot of Olympic wrestlers to come out of the program. I'm definitely going to be one of them."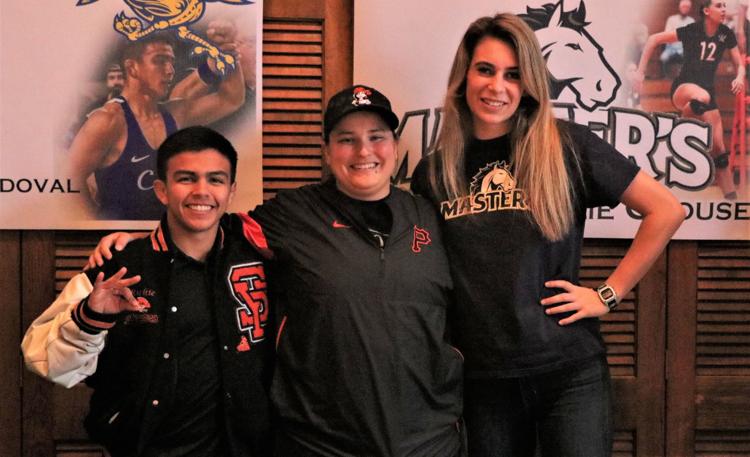 Sandoval plans to major in kinesiology and take his shot at the 2024 and 2028 US Olympic wrestling teams.
"After that, I plan on coming back, getting a job as a teacher at Santa Ynez High and then coaching with my father and mother."
His mother, Chantalle, is an assistant coach on the Pirates squad.
"Wrestling really is a family affair for us," said Chantalle Sandoval.
"I'm definitely a proud papa and coach," said Raul-Omar Sandoval. "This has been a long time coming but I'm thrilled to know his future is secure. Now Richie can focus on wrestling and school the rest of the year. He's going to a good school with good coaches and it's not too far from here. We can go watch him and still be a part of his career."