CLOVIS — A wet CIF Central Section Masters Meet was a lackluster one for the locals at Buchanan High School's Veterans Memorial Stadium Saturday.
None of the area competitors qualified automatically for the CIF State Meet and Righetti sophomore Rayann Booker, the top girls sprinter in the area, had a tough meet.
The top three finishers in each event advanced automatically, and Booker was seeded third in the 100. She finished fourth in 12.33, well off her seed time of 12.04.
She was tied for the third seed in the 200, but finished seventh in 25.75.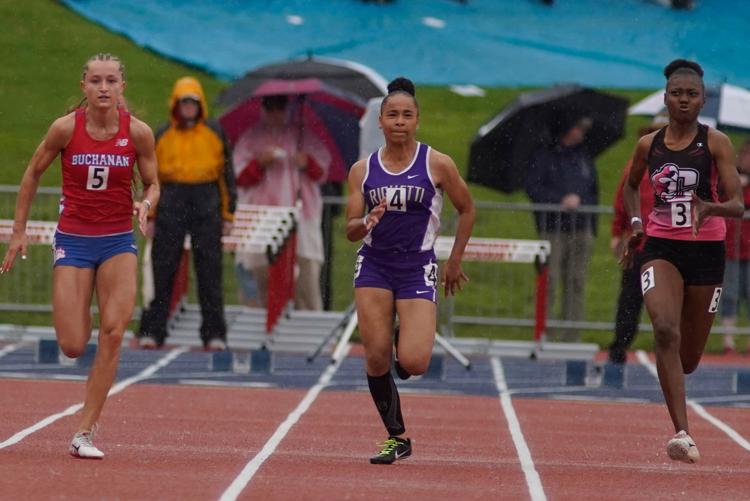 If Booker's time was fast enough when factoring in times from other sections, she will go to the state meet as an alternate.
Booker also ran in the girls 4x100 relay team for Righetti that finished sixth. Booker's twin sister Reann was scheduled to run in both the 100 and 200, but did not. It was not known why.
The state meet will take place May 24 and 25 at Buchanan.
St. Joseph's boys 4x100 relay team did not advance, but the foursome did set a school record of 43.05.
The foursome of Tyler Williams, Sam Bazunga, Devin Guggia and Darien Langley finished second in heat one and eighth overall, good for a team point.
"The hand-offs were good and the take offs for the exchanges were good," said Guggia.
"We were shooting for the 42's, but this was pretty good."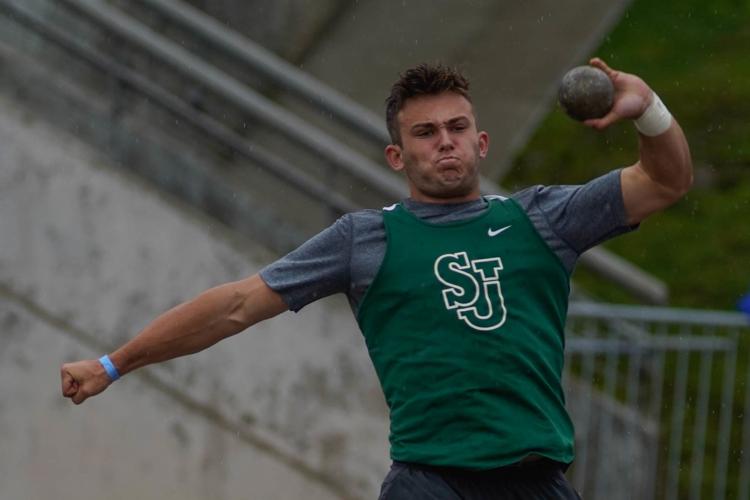 Later, Langley won heat 1 of the boys 100 in 10.94 and finished a solid fifth overall.
St. Joseph coach Al Garcia was pleased with how his team performed.
You have free articles remaining.
"Ethan Otremba threw 151-6 in the discus, a very good mark for him, Darien ran his best time of the season and Tyler Williams tied for eighth in the 200."
St. Joseph senior Joseph Domingues Jr. was seeded fourth in the boys 800, but he faded to ninth in the fast heat.
Domingues finished 12th overall in 2:02.72. His seed time was 1:57.74.
Nipomo senior Olivia Labastida pronounced herself pleased after winning heat one of the girls 300 hurdles in 46.53.
"That's my second best time ever. I've run 46.23," she said.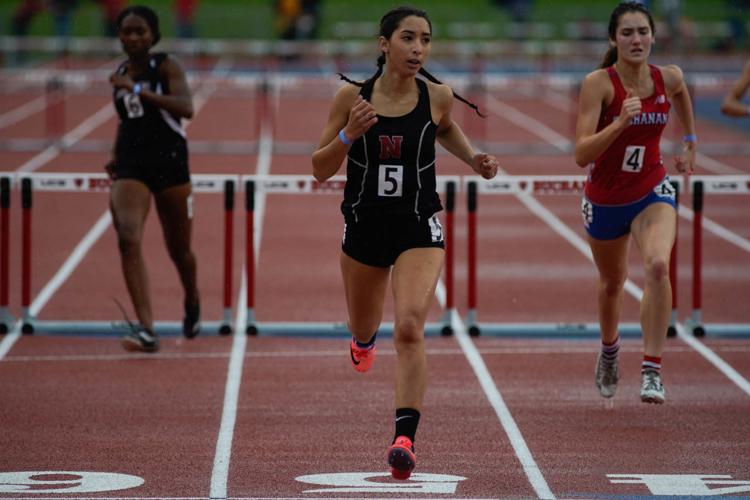 "The Bearcat Relays at Paso Robles was a wetter track than this," said Labastida.
"Even wet, I'd rather run on this track than anywhere else. I love this track. I was happy I was able to run like that in my last race."
It was Labastida's last open high school race, anyway. She was slated to run for Nipomo's 4x400 relay squad later in the evening.
Nipomo senior Devin Diaz had the top seed time of 9:33.80 in the boys 3,200, but seed times in distance races sometimes don't mean much.
Diaz finished seventh, in 9:29.12, in a fast race.
Some other area competitors included Max Daniels (boys 400) and Josiah DeBruno (boys triple jump) of Orcutt Academy, the Nipomo girls 4x100 relay team, Kacie Slover of Nipomo in the girls 800, Williams in the boys 200, Tatianae Felimi of Righetti in the girls shot put and Ethan Otremba of St. Joseph in the boys discus.
Ofiaeli 10th at Master Meet
TORRANCE — Santa Ynez High School freshman Neta Ofiaeli finished 10th in the triple jump at Saturday's CIF Southern Section Masters Meet at Torrance's El Camino College.
Nursing a nagging calf injury that she suffered on Wednesday, Ofiaeli was still able to jump 36-feet, 10-inches, hitting that mark on the third of her six attempts.
"I am very proud of her accomplishments as a ninth grader," said Santa Ynez High's head track coach Ashley Coehlo in a text to the Times. "She was a (Channel League) league champion in three events — triple jump, 100 and 200 meter dashes), a CIF-SS Division 4 triple jump champion and she reached the Masters Meet after only doing the triple jump for a month."