Late into a tough day for the Ocean League representatives at the Area Sectional Boys Tennis Tournament on Friday, Orcutt Academy coach Art Lopez seemed ready to look ahead to his squad beginning its appearance in the CIF Central Section Division 3 Team Tournament.
"Now we can concentrate on the team tournament," Art Lopez said after the Paso Robles tandem of Victor Streel and Reese Eddy defeated Orcutt's second-seeded tandem of Matthew Lopez (Art's son) and Troy Fulton 6-3, 6-1 in the second round at San Luis Obispo High School.
Fourth-ranked Orcutt Academy will host No. 5 Fresno Edison Tuesday at Santa Maria Country Club in the second round of the Division 3 team tournament. Start time is tentatively 3:30 p.m., but Art Lopez said that likely will change.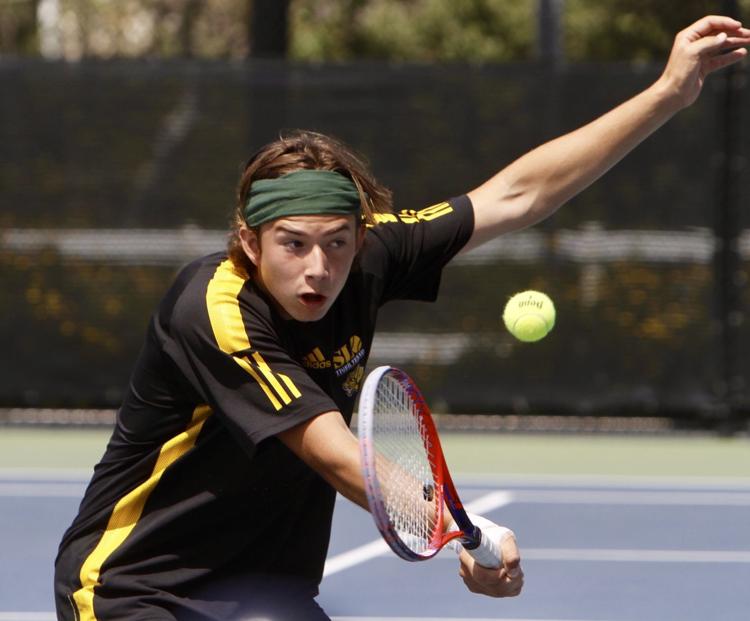 Orcutt drew a first-round bye.
Streel and Eddy simply were far more steady than Fulton and Matthew Lopez were and hit their shots with more authority than the Orcutt tandem did.
"Troy's been on vacation for a week, and he's a sophomore," said Art Lopez. "Matthew's a senior, our only one, but he wasn't as aggressive as he should have been. All credit (to Streel and Eddy). They played a solid match."
Fulton and Matthew Lopez were not the only second seeds to lose. Arroyo Grande's Michael Atherton downed No. 2 Luke Llaurado of Mission Prep 6-2, 7-6 in the second round of the singles competition.
The top four singles and doubles finishers advanced to the CIF Central Section Individual Tournament that will take place next Friday at Reedley Immanuel High School. All four singles qualifiers and all four doubles teams that advanced out of the area tournament were from the Mountain League.
In fact, Mountain League singles players and doubles teams beat their Ocean League counterparts in every head-to-head match between representatives from the two leagues. Mountain League teams generally compete in larger Central Section divisions than Ocean League squads do.
Other than Streel and Eddy, every qualifier for sectional tourneys was from Mountain League champ Arroyo Grande or Mountain League runner-up San Luis Obipso.
The top seeds, Sam Ashbrook of Arroyo Grande in singles, and the San Luis Obispo tandem of Kavi Freyaldenhoven and J.J. Niven in doubles, moved on.
There were no singles or doubles semifinals and finals, since this area sectional tournament, one of four Central Section area sectional tourneys that took place, was strictly to determine who advanced to the sectionals.
"They'll take care of all the seeding (for the sectional single and doubles tourneys) over there," said San Luis Obispo coach Ken Peet.
You have free articles remaining.
Thus, every second-round winner Friday advanced.
Singles qualifiers were Arroyo Grande's Ashbrook and Atherton, and San Luis Obispo's Nathan Butterfield and Elias Weeks. The doubles teams that moved on were Freyaldenhoven and Niven; Streel and Eddy; and the Arroyo Grande tandems of Ryan Arcangel and Nick Fuller, and Dylan Black and Isaiah Sczbecki.
"I'm very happy," Arroyo Grande coach Lori Hollister said as her team's fruitful day at the area sectional was progressing.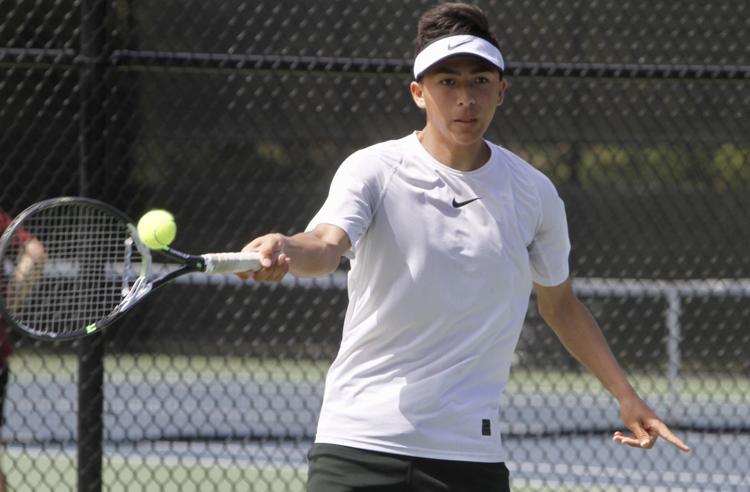 In particular, "It was good to see Michael win a tough match like that," said Hollister. "This was the first time in a couple of years I've seen Luke out there, and it was a high-quality match."
Noah Ortiz of Righetti was the only area player to win a match. He beat Orcutt's Kyle Quinlan 6-2, 6-3 in the first round before falling 6-0, 6-0 to Ashbrook.
Nipomo's doubles tandem of Carlos DIaz and Jesus Hinojosa fell in the first round. None of Orcutt's three doubles teams won a match.
"Our boys did well to get this far," said Art Lopez. "This is farther in individuals than we're used to going. There was a lot of pressure."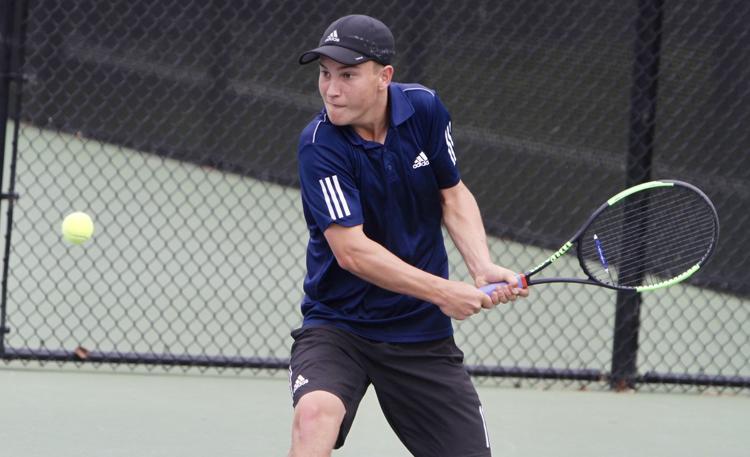 Western State Conference Finals
MOORPARK - Hancock College's Jacob Desimas finished 11th in the men's hammer throw with a best of 31.38 meters (102 feet, 10 inches) at the WSC finals at Moorpark College.
Teammate Kevin Lopez finished 18th in the javelin at 37.64 meters - 123-5. The Bulldogs' Letarian Brandon leaped a personal best 12.18 meters (39-10) in the triple jump and finished 14th.
The three will find out Sunday night if their marks were good enough to qualify for the Southern Cal Prelims that take place in Riverside next weekend.