Emily Wilson hit a second serve service winner Thursday, and the St. Joseph girls tennis team had officially played itself into the CIF Central Section Division 2 championship match.
Her winner wrapped up a 6-0, 6-2 win for Wilson and partner Shianne Gooley over Bakersfield Centennial's Aleyna Young and Kate Yackovich in the No.1 doubles match that gave the Knights their clinching fifth point.
The Knights (16-2) ultimately beat the No. 3 Golden Hawks (14-15) 6-3 at the Santa Maria Country Club.
Top seed Sanger defeated Atascadero 6-3 in the other semi and will host the final Tuesday. The start time is scheduled for 2 p.m.
The St. Joseph girls tennis team defeated Bakersfield Centennial in the semifinals of the CIF Central Section Division 2 playoffs at the Santa…
"No," Wilson replied quickly when she was asked if it had sunk in for her that the Knights were headed to the first sectional final for a St. Joseph girls tennis team in recent memory.
"It's sunk in. A little," for her, said Shianne Gooley, second-year St. Joseph coach Trish Gooley's daughter, said.
Playing for the second straight time without injured freshman Michahjuliana Lundberg, their No. 2 singles player, the Knights won four singles sets and two doubles sets against a Centennial team that looked much more impressive than its 14-15 record.
It's high school football playoff time.
"I'm very happy with how the girls played, and they have done well to advance this far," said Trish Gooley.
With the injury to Lundberg, "I thought the girls handled how we had to change the lineup very well."
St. Joseph scored its second straight 6-3 win in the playoffs. The Knights downed No. 10 El Diamante Visalia in the quarterfinals Tuesday at the SMCC. St. Joseph received a first-round bye.
Wilson won 6-2, 6-3 at No. 1 singles for the Knights. Shianne Gooley won 6-4, 6-2 at No. 3.
Janelle Brickey, after trailing much of the first set, won 7-5, 6-2 at No. 5 singles for the Knights. Eva Datuin cruised to a 6-1, 6-3 win at No. 6.
You have free articles remaining.
"We've been working all season for this," said Brickey. "We (got a three-way share of the Mountain League title). Our goal is to win the (Division 2) championship."
After a slow start, Righetti gained control of its CIF Central Section playoff game against Bullard and powered its way into the Division 1 qu…
Datuin and Katelynn Haskell, St. Joseph's No. 2 singles player, gave the Knights their last point with a 3-6, 6-2 (10-8) win in the No. 2 doubles match.
The pair went up 9-4 in the 10-point third set tiebreak then saw Golden Hawks Natalie Tun and Estelle Anguilero score four unanswered points. Then a Centennial shot went long, and Haskell and Datuin had the win.
Tun, with a 6-3, 6-2 win at No. 2 singles, and Anguilero, with a 6-4, 6-2 win at No. 4, gave the Golden Hawks their singles points. Centennial's Kaya Lock and Daniella Park won 6-3, 7-6 (4) at No. 3 doubles, the last match to finish.
Wilson and Gooley became a doubles team late in the season after Haskell, Wilson's former partner, was injured.
"Shianne and I have been friends since we were 13, we'd played together (before this season), so that made it easier."
Wilson was home schooled before she attended St. Joseph the second semester of her junior year. She and Shianne Gooley are unbeaten as a doubles tandem.
As the results from the women's race at the Oct. 25 Western State Conference Cross Country Finals were coming in, Hancock College coach Louie …
The pair, with a display of power tennis and well-angled shots, rattled off the first 11 games against Young and Yackovich and, up 30-0 on Gooley's serve, were two points from victory.
The Centennial pair ultimately broke Gooley's serve, and Young held hers. However, Wilson held at love to finish it.
"Young and Yackovich are a good doubles team, they're very consistent but me and Emily have been really good together," said Shianne Gooley.  "Our communication is really good."
Lundberg had not lost in singles or doubles before an injury in the second set, which she led 5-1 after winning the first set, forced her to retire in the Knights' final match of the regular season, a non-league one.
"MJ is still a part of the team in every way, even though she's not playing, with the way she's been supporting us at the matches," said Shianne Gooley.
110719 Centennial SJ tennis 02.jpg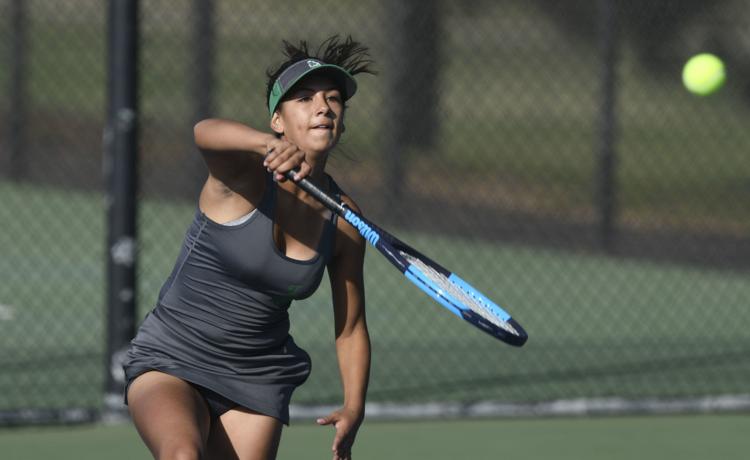 110719 Centennial SJ tennis 01.jpg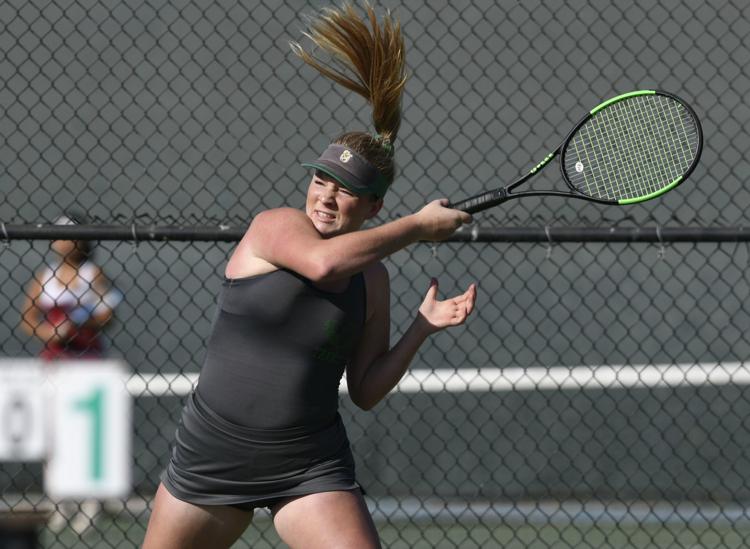 110719 Centennial SJ tennis 03.jpg
110719 Centennial SJ tennis 04.jpg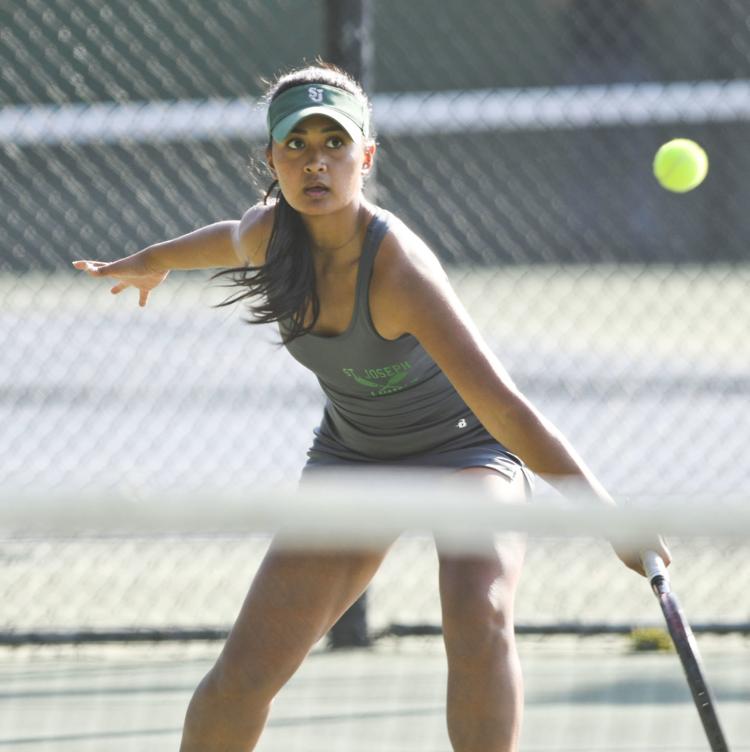 110719 Centennial SJ tennis 05.jpg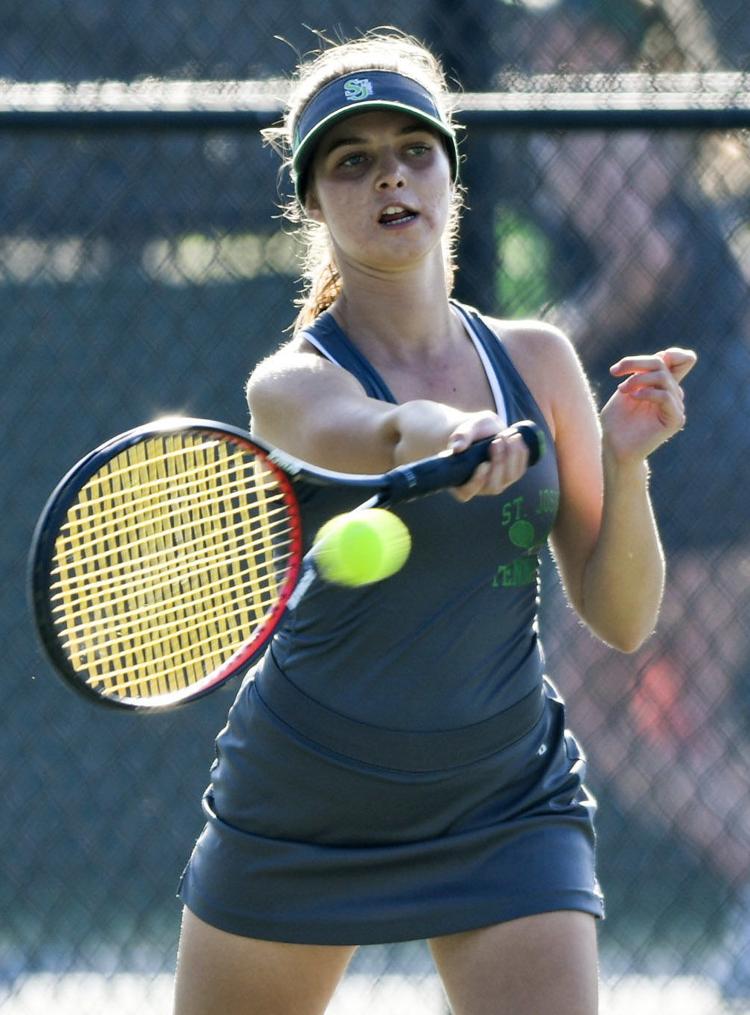 110519 Diamante SJ tennis 01.jpg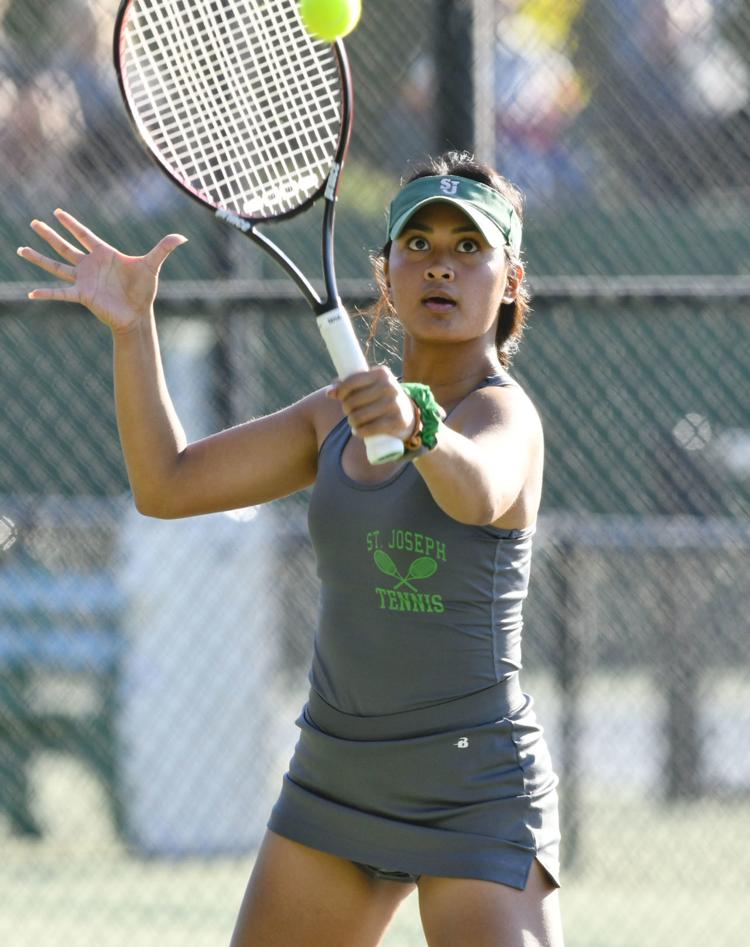 110519 Diamante SJ tennis 02.jpg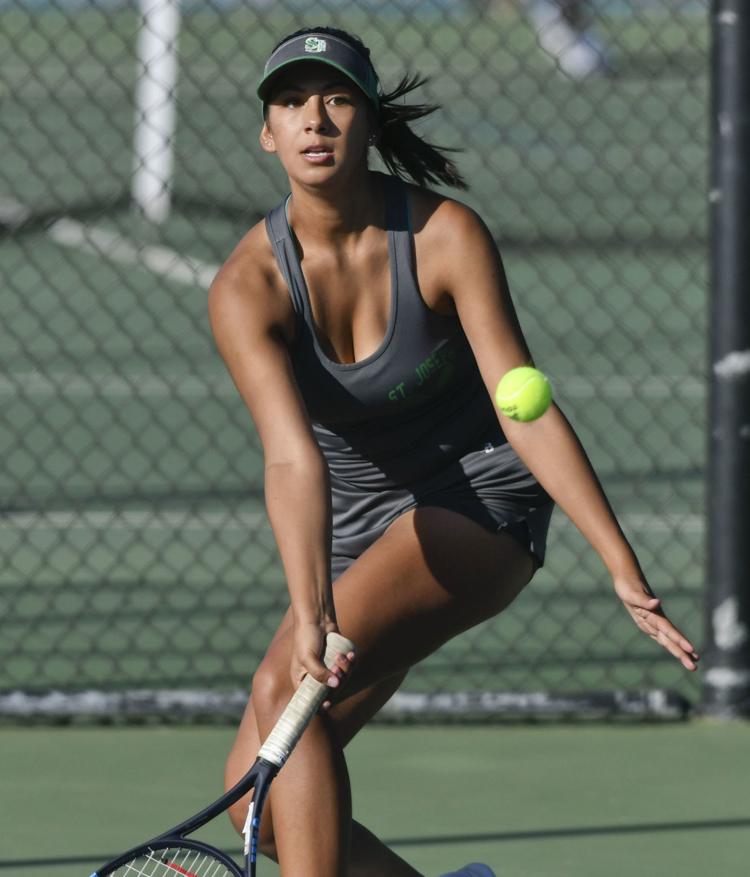 110519 Diamante SJ tennis 03.jpg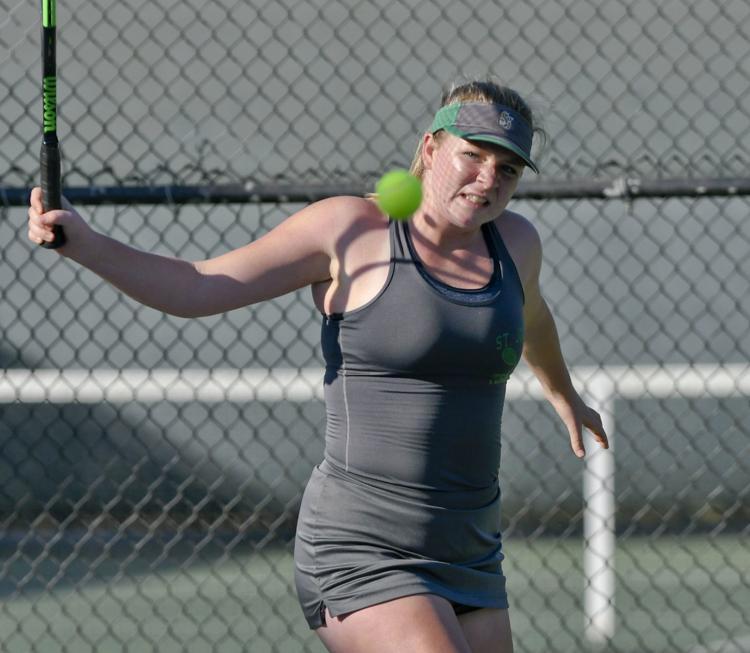 110519 Diamante SJ tennis 04.jpg
110519 Diamante SJ tennis 05.jpg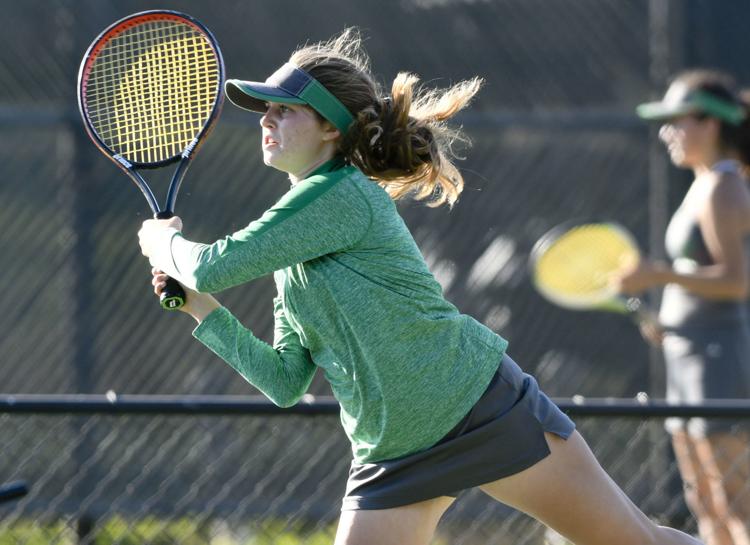 110519 Diamante SJ tennis 06.jpg