Santa Ynez coaching openings
Santa Ynez High School is looking a head coach for both the boys varsity and junior varsity tennis teams.
Send an email to Athletic Director Ashley Coelho acoelho@syvuhsd.org for more information and a coaching application.
AHC baseball camp
Hancock College Baseball will be hosting its annual Winter Bulldog Baseball Camp January 2–4 for children ages 6-13. The camp will take place at John Osborne Baseball Field at the Hancock College Santa Maria campus. The camp costs $100 per child and 75$ per additional family member. Payments can be made via cash or check to "Hancock Baseball."
Participants will be given drink and lunch breaks during the event and will need to have their parents provide them with snacks and water. Participants will learn fundamental techniques and skills taught by current and former Hancock players and coaches.
- Swing fundamentals/consistency
- Proper fielding techniques
- Arm care and injury prevention
- Confidence and the mental aspects of pitching
Central Coast Venom Baseball seeks board members
Central Coast Venom (CCV) Baseball is seeking new board members for its 2020 season. Contact Jason Ramirez at 805-598-8204 for details.
Orcutt Academy openings
Orcutt Academy has openings for a varsity dance coach, a junior varsity girls volleyball coach and a junior varsity boys soccer coach.
Lompoc baseball reunion
A Lompoc High baseball reunion is in the works.
Former assistant coach Jimmy McKaskle, along with former longtime coach Dan Bodary and former player Tom Harmon, are organizing the event to commemorate the 1970 Lompoc High baseball team that won the CIF Southern Section championship.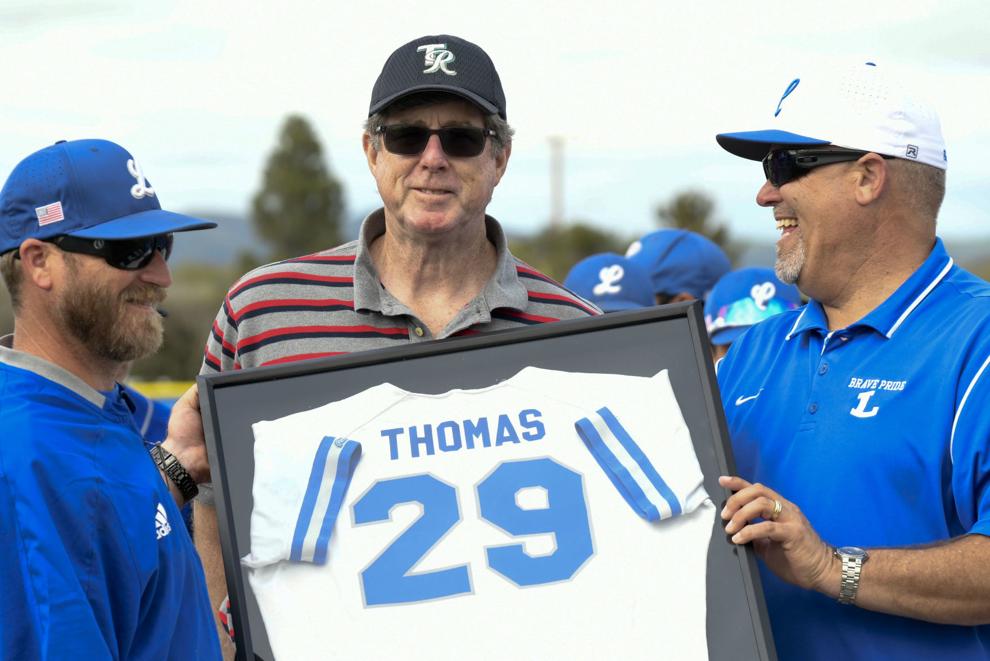 "Coach Bodary, Tom Harmon and I have tried to put together something that is a little of what we remember Lompoc used to be," McKaskle said.
A 'Lompoc style barbecue' will be served by the Kiwanis Club.
"We will have some time reserved just for ourselves and our family members, and then open it up for the those in the town who want to come and spend some time with us," McKaskle added.
Roy Thomas was the star pitcher of the Lompoc Little League team that reached the SoCal Finals in '65, the '68 Babe Ruth team that went to the national championship, and the Lompoc High team that won a CIF Section title in 1970. Yesterday, his No. 29 was retired
As Lompoc's coach, Bodary won CIF titles in 1970, 1974, 1979 and 1993. He won 18 league championships and 615 total games over 35 years of coaching.
The date of the reunion is set for Jan. 18, 2020. The former team members are asked to arrive at 12 p.m. at the Schuyler River Bottom Ranch located at 1330 Barton Ave., in Lompoc. The family has donated the facility for the occasion.
Group pictures will be taken at 12:30 p.m. and from 1 to 3 p.m. team members, family and guests will mingle.
From 3 p.m. to 7 the team members, families and guests will then spend time with community members. 
Beer and wine will be available to purchase. 
Lompoc High graduate Roy Thomas, a former MLB pitcher, had his old jersey number retired by the Braves on Wednesday. 
McKaskle noted that he is still trying to contact former players Joe Brooks and Reuben Heredia, or Bruce Williams, the team's equipment manager.
"Most recently I was able to locate Steve Glover, who pointed me in the direction of Marc Landry," McKaskle said. "As you all know, we have lost Ted Torres and Jeff Bratz, and Marc Landry has indicated to me that his situation with cancer will keep him from being in attendance. Randy Shaw, one of our managers, has also indicated that he will not be able to be here."
Those attending can send a check payable to Dan Bodary in the amount of $17 per attendee.
Checks can be sent to Tom Harmon, 3002 Courtney Ave, Lompoc, CA, 93436.
For any more information, contact McKaskle (928) 710-1843, Bodary at (805) 588-4648 or Harmon at (805) 717-0982.
All checks must be received by Jan. 4, 2020.
Photos: Former MLB pitcher, Lompoc alumni Roy Thomas has number retired
040319 Lompoc Roy Thomas 06.jpg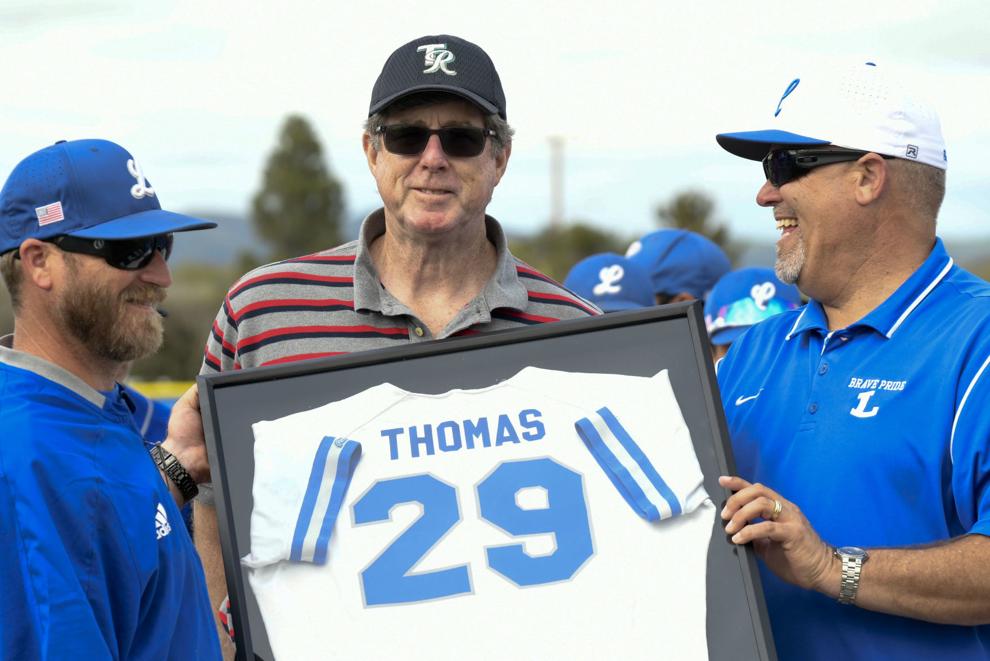 040319 Lompoc Roy Thomas 01.jpg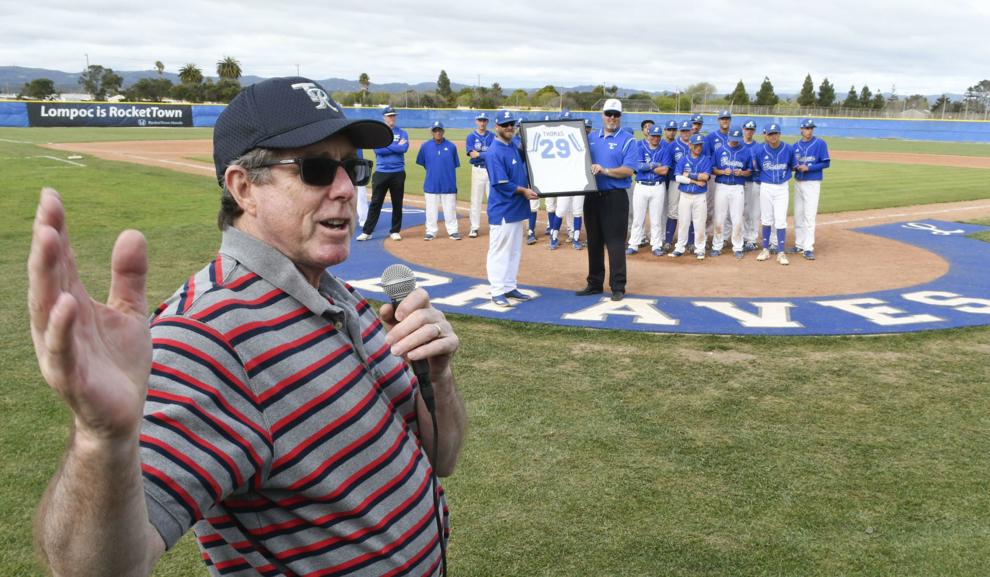 040319 Lompoc Roy Thomas 02.jpg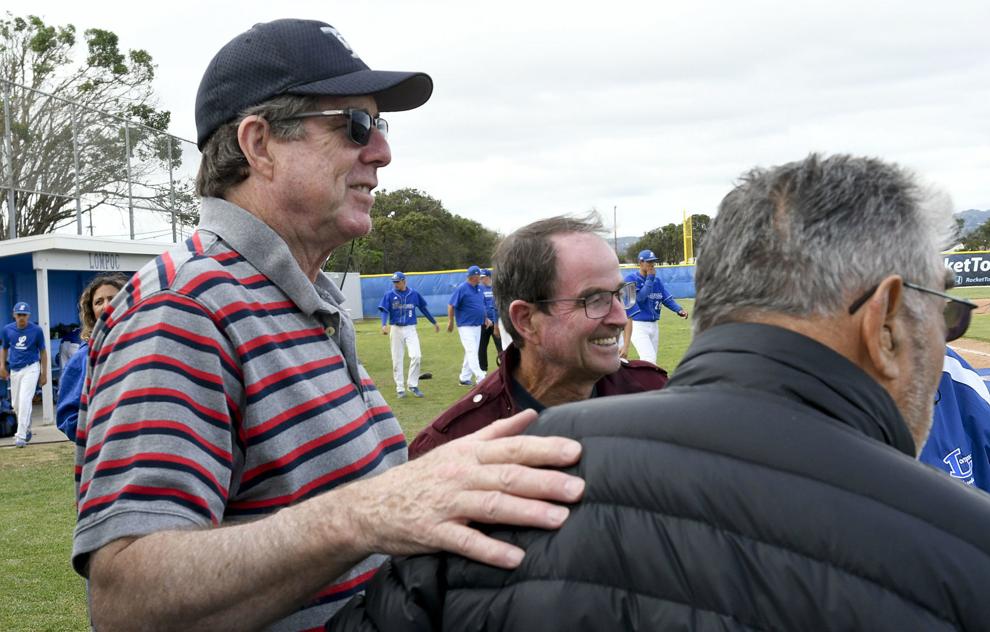 040319 Lompoc Roy Thomas 03.jpg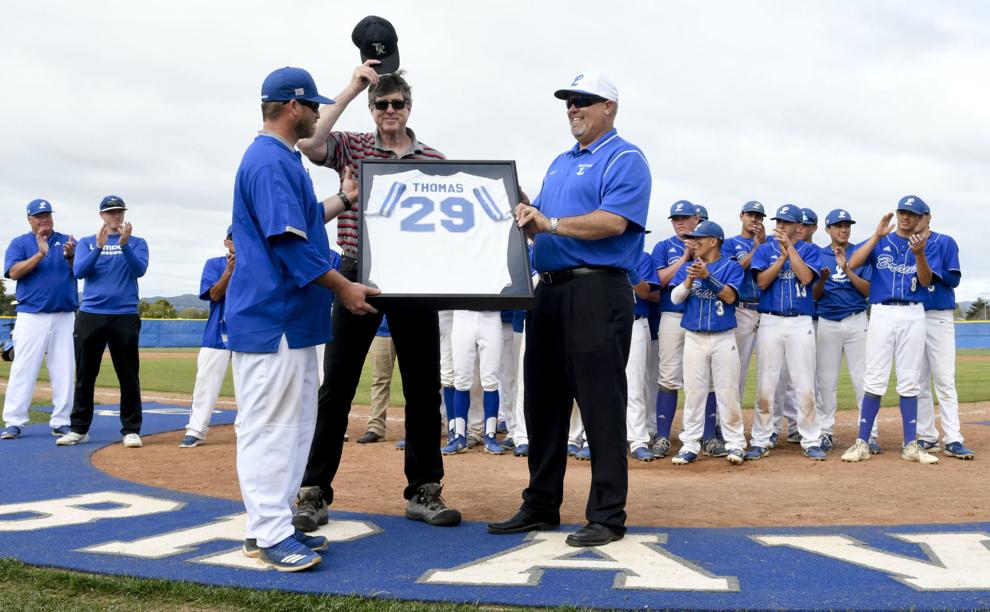 040319 Lompoc Roy Thomas 04.jpg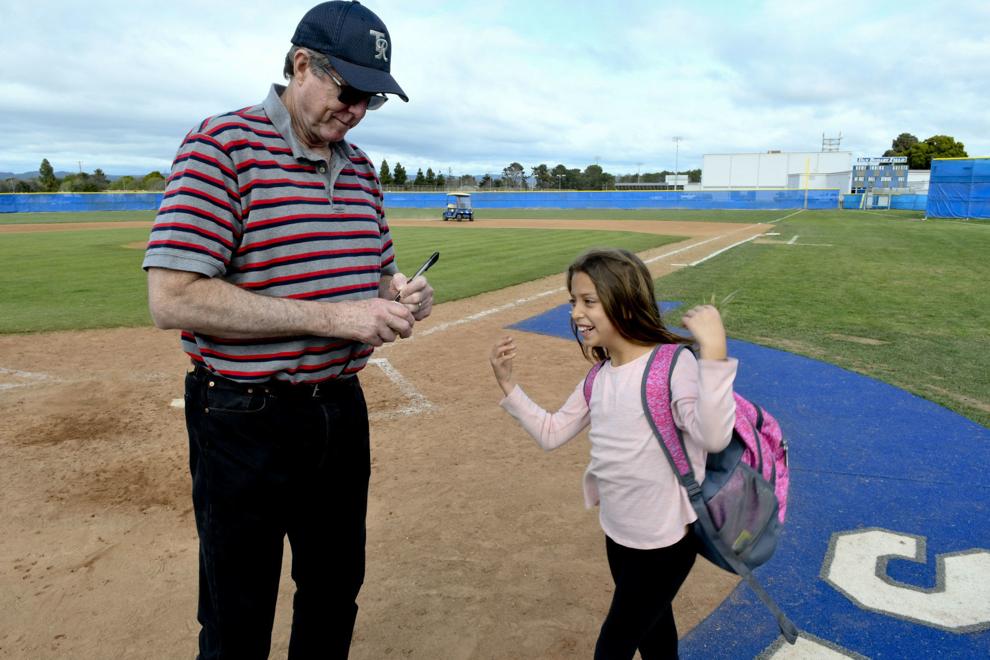 040319 Lompoc Roy Thomas 05.jpg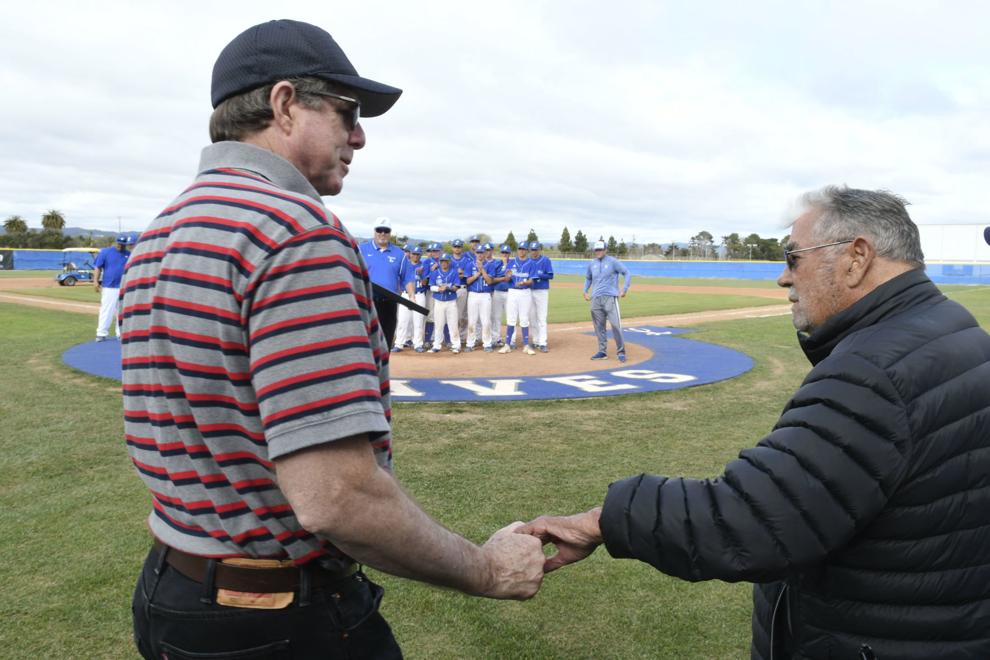 040319 Lompoc Roy Thomas 07.jpg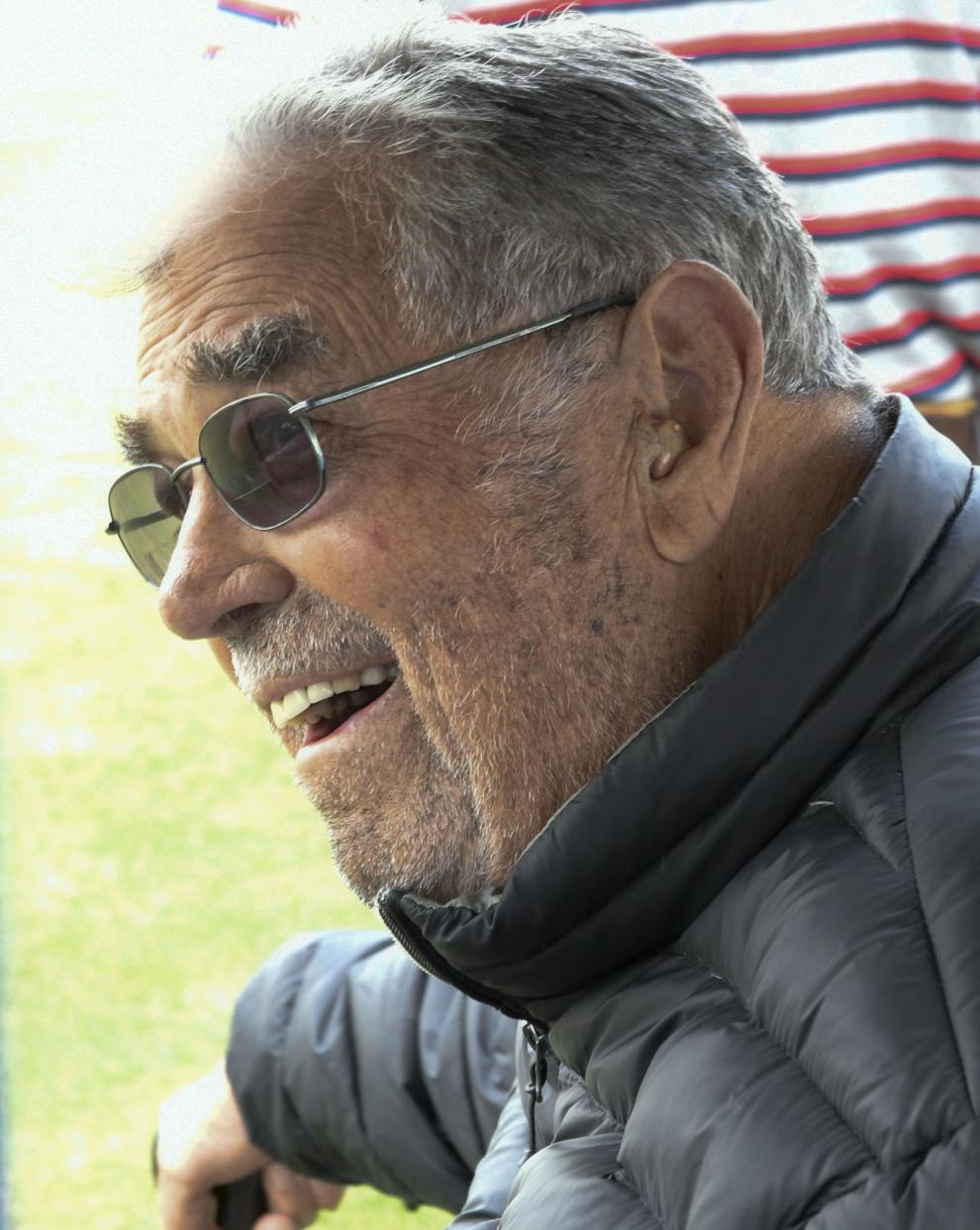 040319 Lompoc Roy Thomas 08.jpg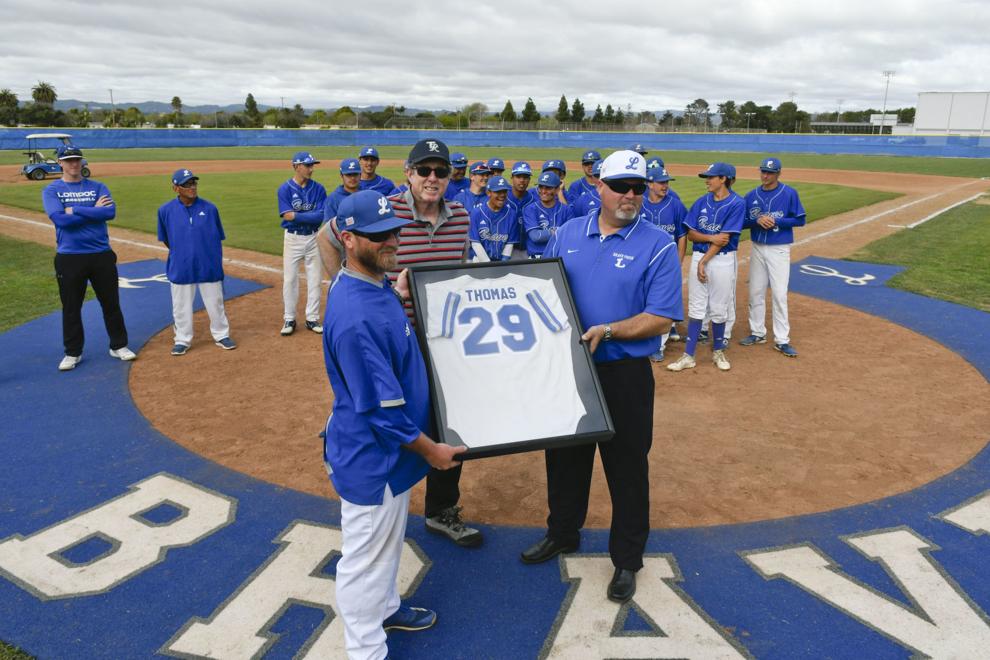 Elliott Stern Fave 5 Collection
2020 is here, and wow we are already almost through January?!? In this collection reporter Elliott Stern chooses the top five stories that he wrote in 2019. Follow more of his work on SantaMariaTimes.com, and sign up for a News+ membership to support the work of local journalists in your community.