The Santa Maria Valley has produced an abundance of quality softball players over the years.
There have been CIF and NCAA championships, MVP awards and successful college careers scratched out from the softball fields around town.
But there is one particular player who came before them, creating the path they'd soon follow.
That would be Tracy Compton.
Compton was born to pitch. She starred for the Orcutt Express travel team in her youth, winning a national title in 1981. She also pitched Righetti High to three CIF titles (1979, 1980-81).
She earned a scholarship to UCLA and won three NCAA national titles with the Bruins in the 1980s. Compton was inducted into the UCLA Athletic Hall of Fame in 1999 and was named to the Pac-12's All-Century Team.
Compton, now Tracy Compton Davis, majored in Math at UCLA and eventually became a math teacher at her old high school. But before all that, Compton's story began on the Orcutt softball fields in the 1970s, though Compton was also a member of Girls Scout Troop 173 and Los Amigos 4-H for awhile.
In a 1973 Santa Maria Times article, one of the first times her named would appear in the sports section, her team in the Orcutt Youth Softball League, the Dunlap Cubs, beat the St. Louis de Montfort Pirates 28-2.
"Donna Bank led the Cubs with a grand slam home run, a triple and seven RBIs while Tracy Compton had a pair of doubles," the write-up read.
In 1976, Compton was pitching for the Orcutt Express. That summer she helped the team reach national championships in New York.
"Tracy rides a Honda 50 mini-bike, lists science as her favorite subject and has two "mutts" named Sophia and Pebbles," Joan Denslow's Times' article reads. "'It really gets me when an umpire makes a bad call,' said Tracy, who hates to 'make errors' herself."
Tracy's father, Charles Compton, was the Express' coach and her mother, Carol Compton, was the team mom. The Express wouldn't win the national title that year, though the team would eventually break through.
According to a Times story from 1978, Compton had built up a 57-10 pitching record with the Express and threw eight no-hitters during the summer of that year. Compton was a freshman at Righetti that year.
In her sophomore season, Compton helped Righetti win the CIF 3-A title with a 3-2 win over Northern League rival Lompoc. Compton earned the win.
"I was kinda scared we would choke, but we didn't," Compton said, according to former Times sports editor Ted Truby.
Righetti would win two more CIF titles in Compton's final two seasons. In 1980, Compton led Righetti to a 29-0 season and a CIF 4-A title, the top crown in the CIF section.
"The overpowering junior right-hander thoroughly dominated Cypress in the championship, tossing a three-hitter while striking out 17, including the 15 of the first 19 batters she faced," Andy Furillo's story in the Times read. "And to top off her evening, Compton drove in the game's only run with a single..."
Compton went 13-0 in the circle that year.
Then came 1981, where Compton led Righetti to its third straight CIF title and her first national championship with the Orcutt Express. Compton and Righetti beat Cypress again in the 1981 title game, again by a 1-0 score with Compton throwing another shutout, this one with 15 strikeouts.
"On a scale of one to ten, Compton considered her performance an eight, adding her riseball was her 'out' pitch. 'But I used it too much,' said Compton. "I didn't use my fastball enough. I wasn't thinking, I was too nervous,'" John Cressy wrote in his game story in the June 1, 1981 edition of the Times.
Later that summer, Compton and the Express won their first national Amateur Softball Association Girls Fast-Pitch title in their third trip to nationals.
"I can't believe it," Tracy said, according to Cressy's story. Compton pitched her second shutout for the win in front of about 9,500 fans at Simas Park in Santa Maria.
Dillon's athleticism was so off the charts that coach Mike Regan couldn't resist putting the ball in his hands. Regan would employ Dillon as a 6-foot-3, 250-pound running quarterback at times and Dillon would run through, over or past would-be-tacklers. 
Compton immediately went on to pitch for UCLA and immediately began to dominate there. Compton teamed up with Debbie Doom to form the most commanding pitching duo in NCAA history.
With Doom and Compton, UCLA won NCAA titles in 1982, 1984 and 1985.
In 1982, Compton went 10-2 with a 0.21 ERA in 101 2/3 innings. She had 91 strikeouts as a freshman as UCLA beat Fresno State for the title.
The Bruins won another title in 1984 as Compton went 20-3 with a 0.29 ERA in 175 innings. She struck out 172 batters that season.
Then, in 1985, Compton went 20-4 with a 0.08 ERA in 167 1/3 innings with 172 strikeouts.
The 1985 NCAA Regionals were actually played in Santa Maria at Simas Park. UCLA lost to Pacific 3-1 on May 16 of that year before the Bruins beat Pacific twice the following day to earn a trip to another College World Series in Omaha. UCLA went on to win its second straight title and third in four years with Compton and Doom.
In a 1989 Times story, Compton was named the head coach of Hancock College's softball team and she was also teaching math at the school on a part-time basis. Compton played professionally with various clubs, including the Hi-Ho Brakettes in Connecticut, one of the best teams in the country. Compton also played professionally in New Zealand.
Santa_Maria_Times_Mon__Aug_17__1981_.jpg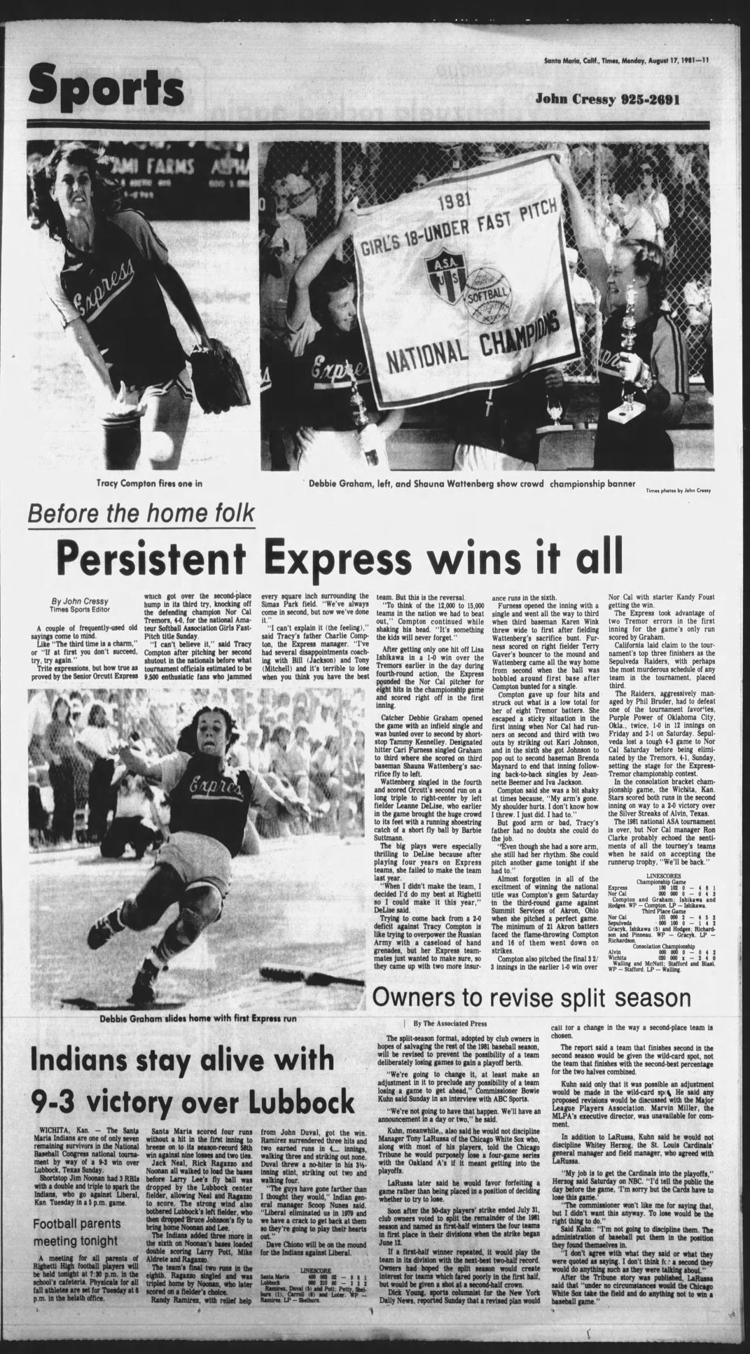 Santa_Maria_Times_Mon__Jul_6__1987_.jpg
Santa_Maria_Times_Mon__Jul_11__1977_.jpg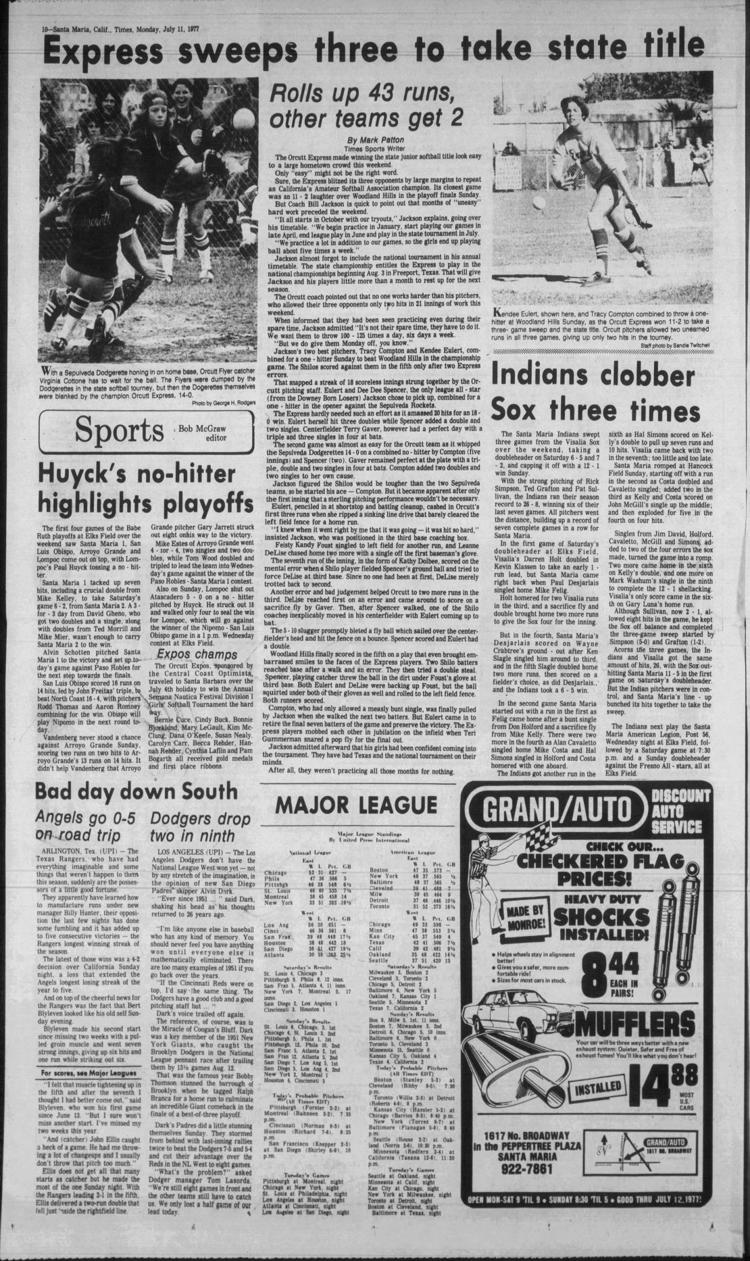 Santa_Maria_Times_Mon__Jun_1__1981_.jpg
Santa_Maria_Times_Mon__Jun_2__1980_.jpg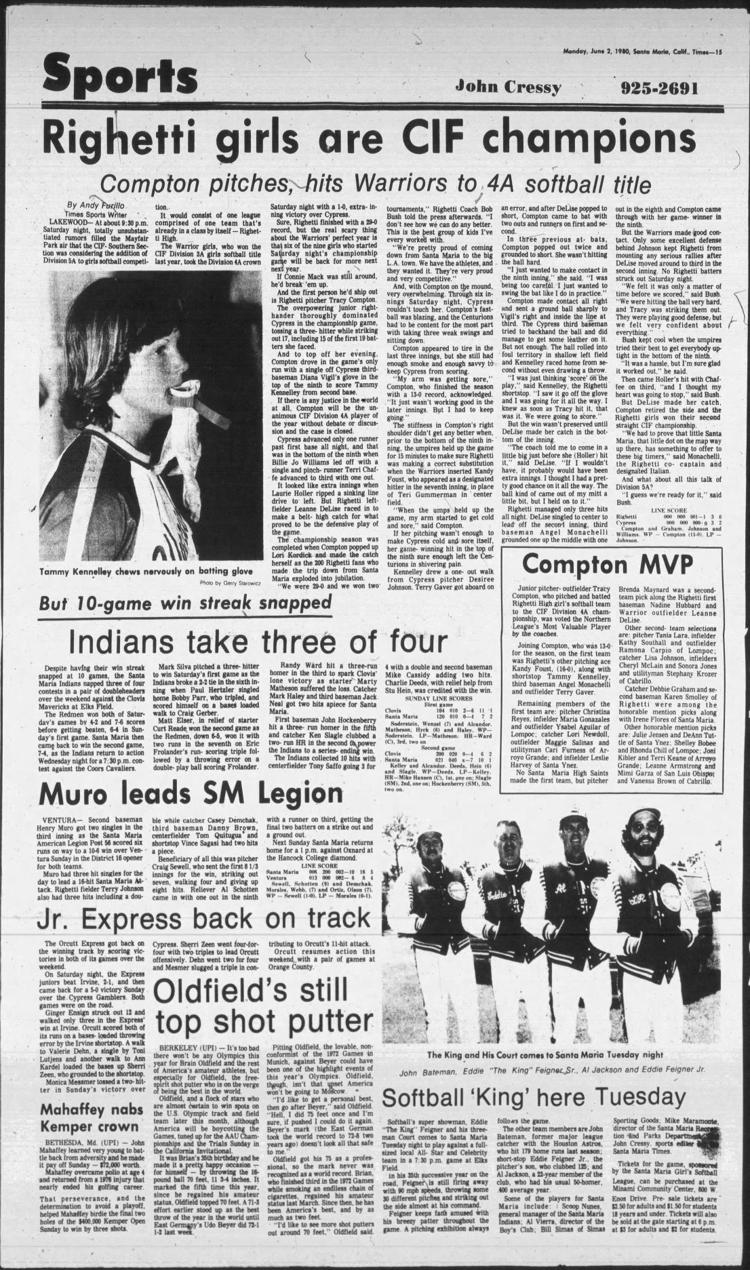 Santa_Maria_Times_Mon__Mar_2__1981_.jpg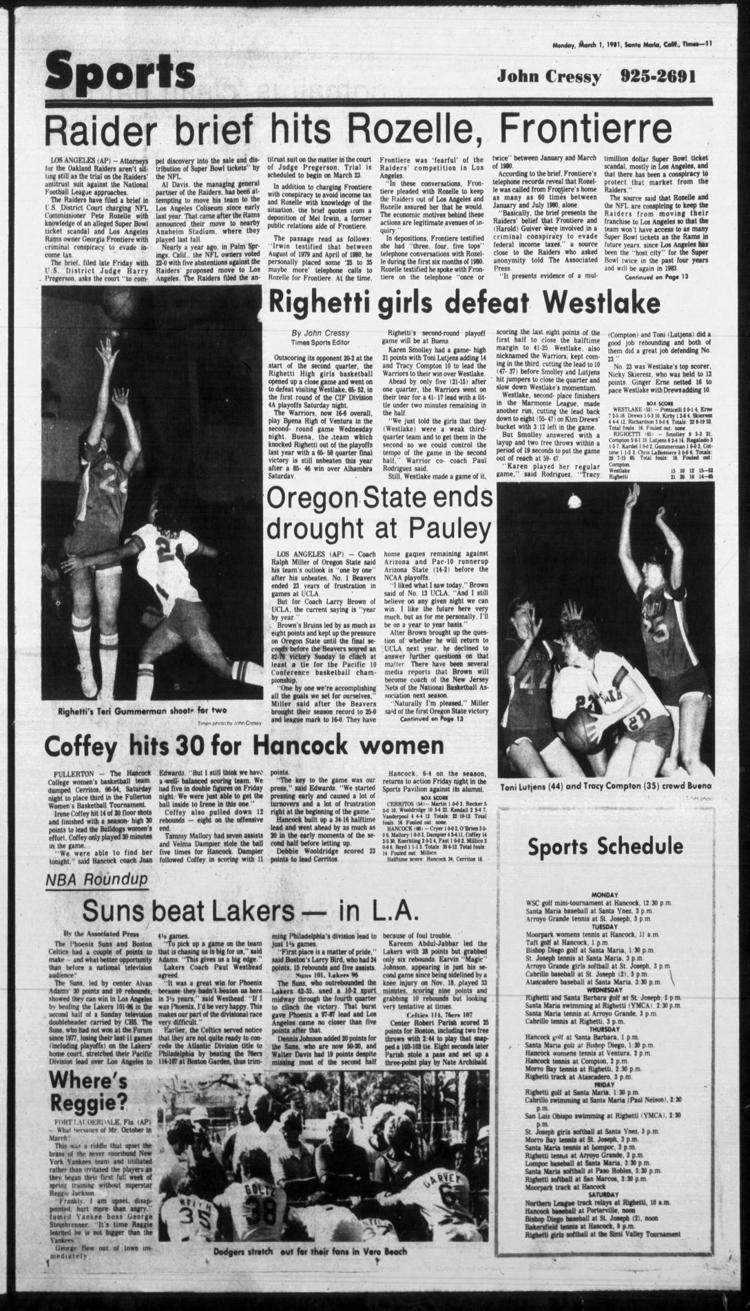 Santa_Maria_Times_Sat__Jul_25__1981_.jpg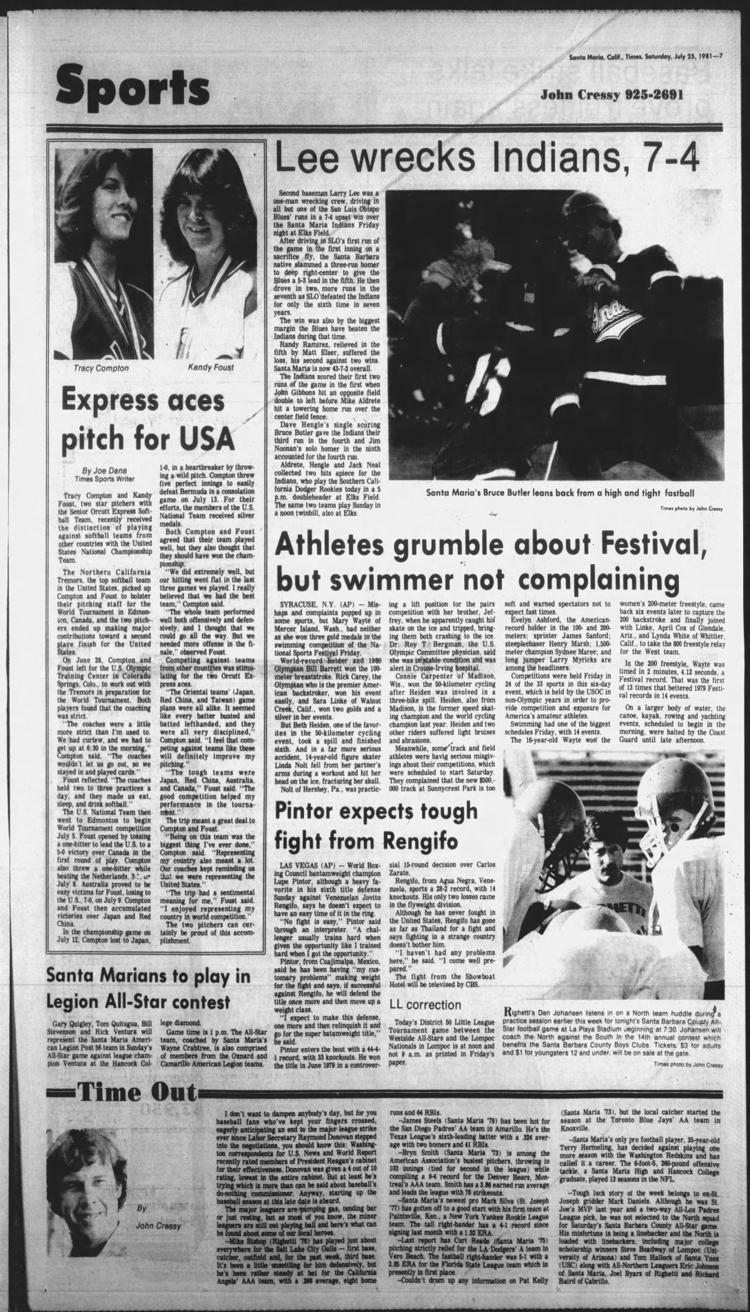 Santa_Maria_Times_Sun__Mar_27__1988_.jpg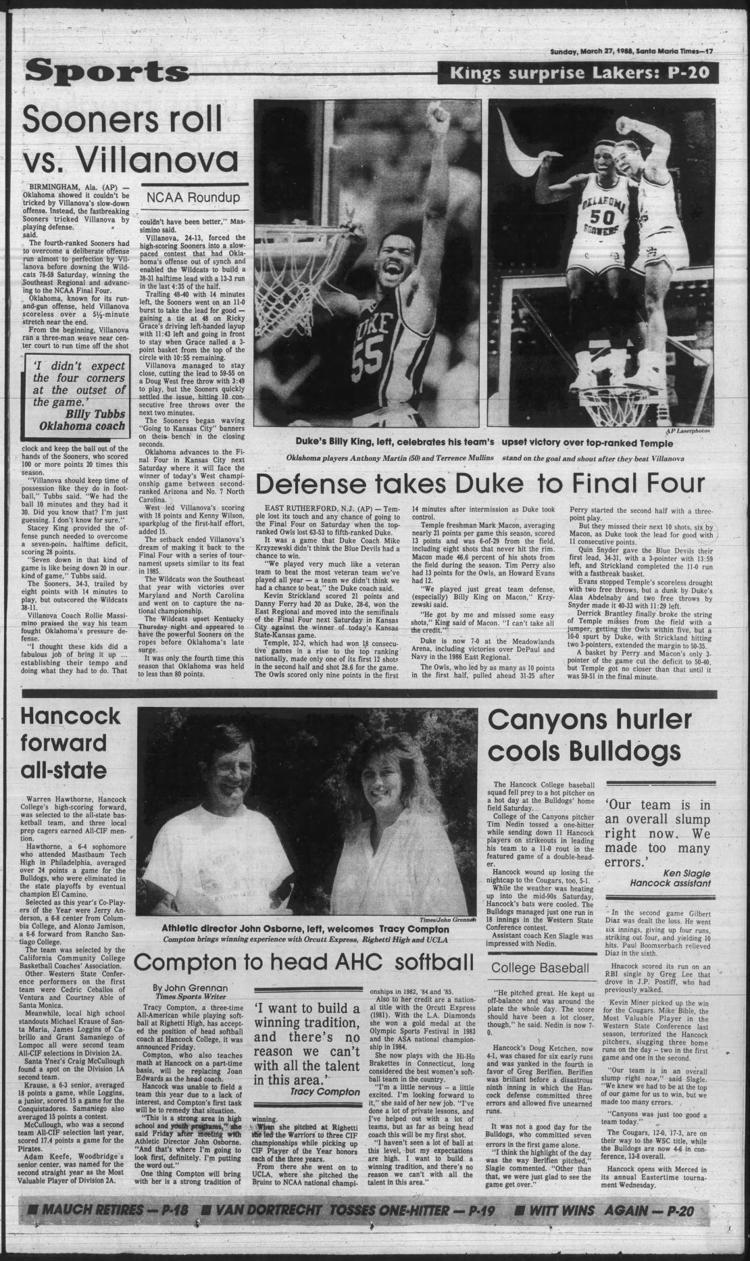 Santa_Maria_Times_Sun__May_19__1985_.jpg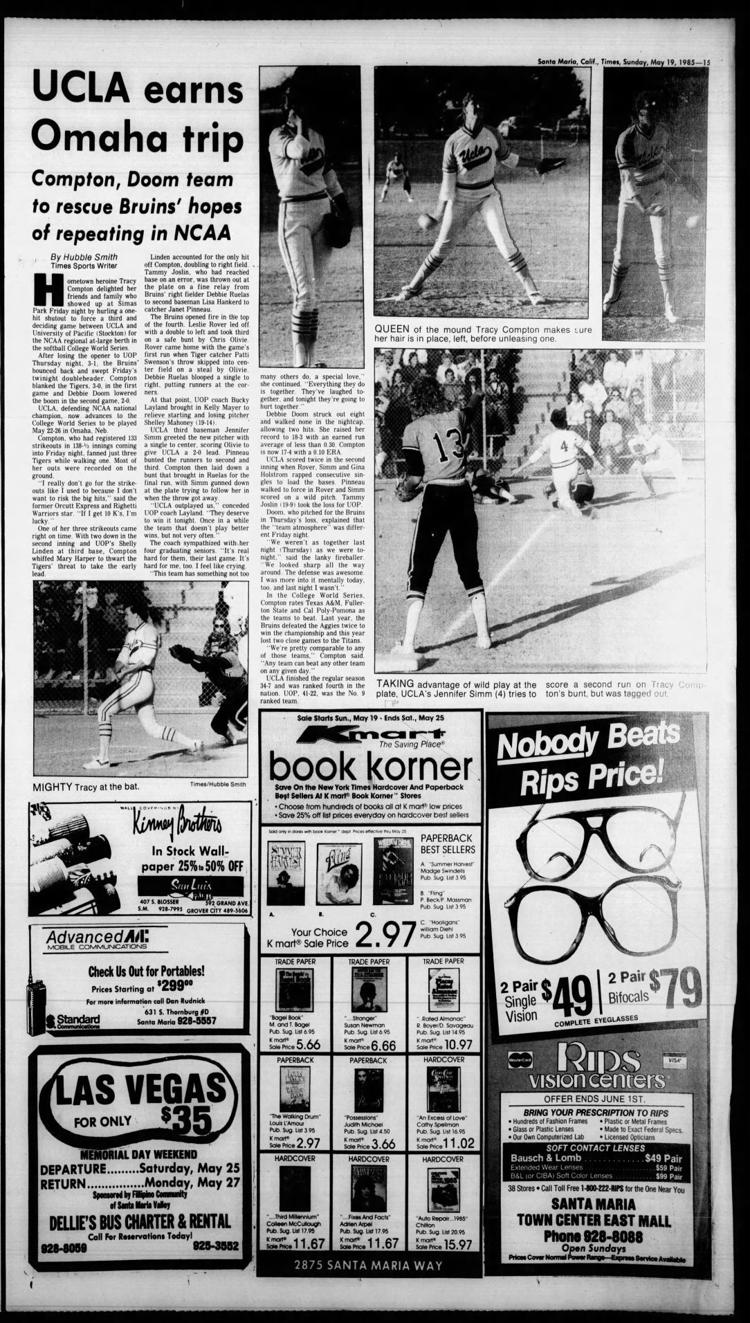 Santa_Maria_Times_Thu__Apr_25__1985_.jpg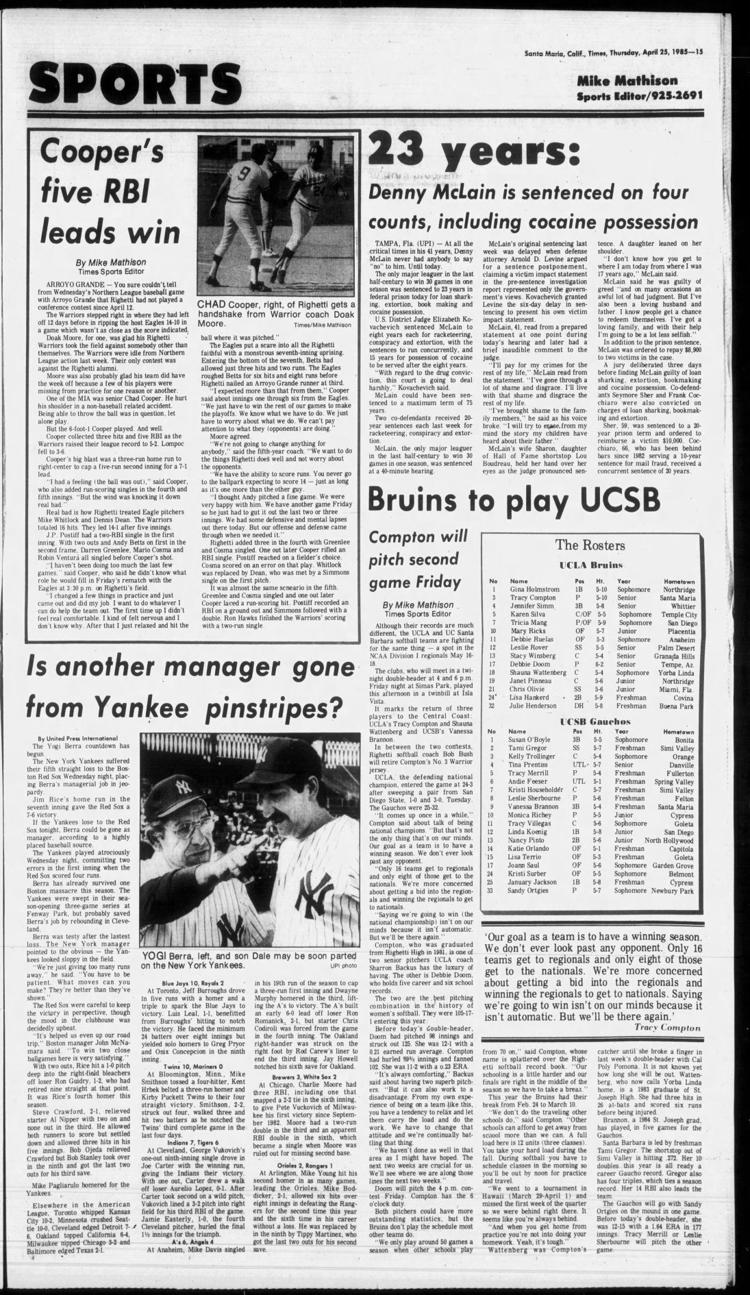 Santa_Maria_Times_Tue__May_14__1985_.jpg
Santa_Maria_Times_Tue__May_29__1979_.jpg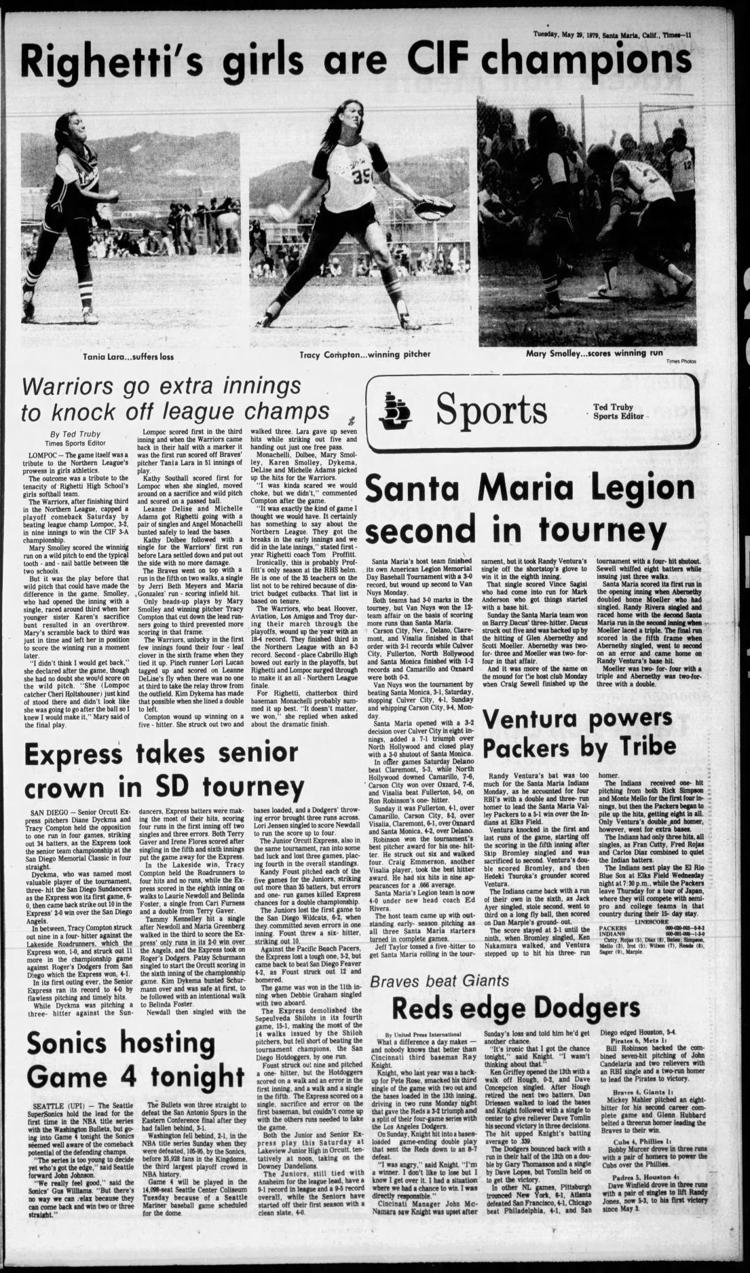 Santa_Maria_Times_Wed__Jul_12__1978_.jpg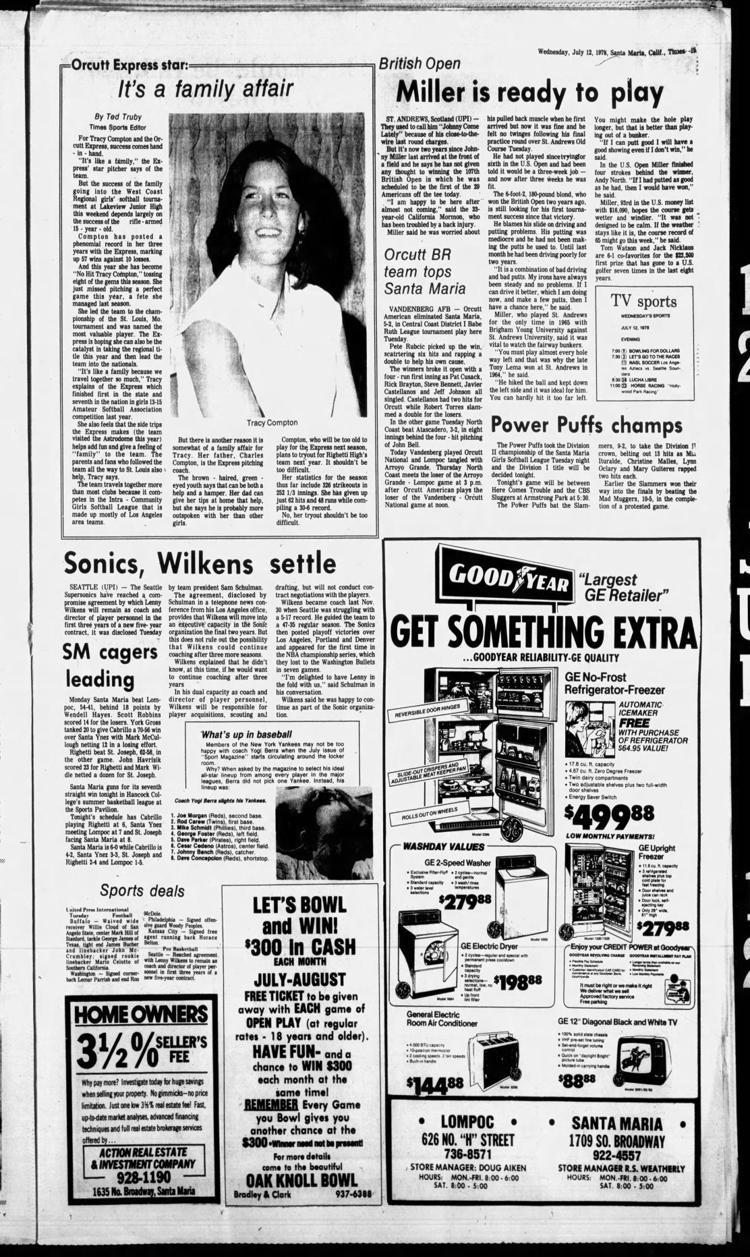 Santa_Maria_Times_Wed__Jul_28__1976_.jpg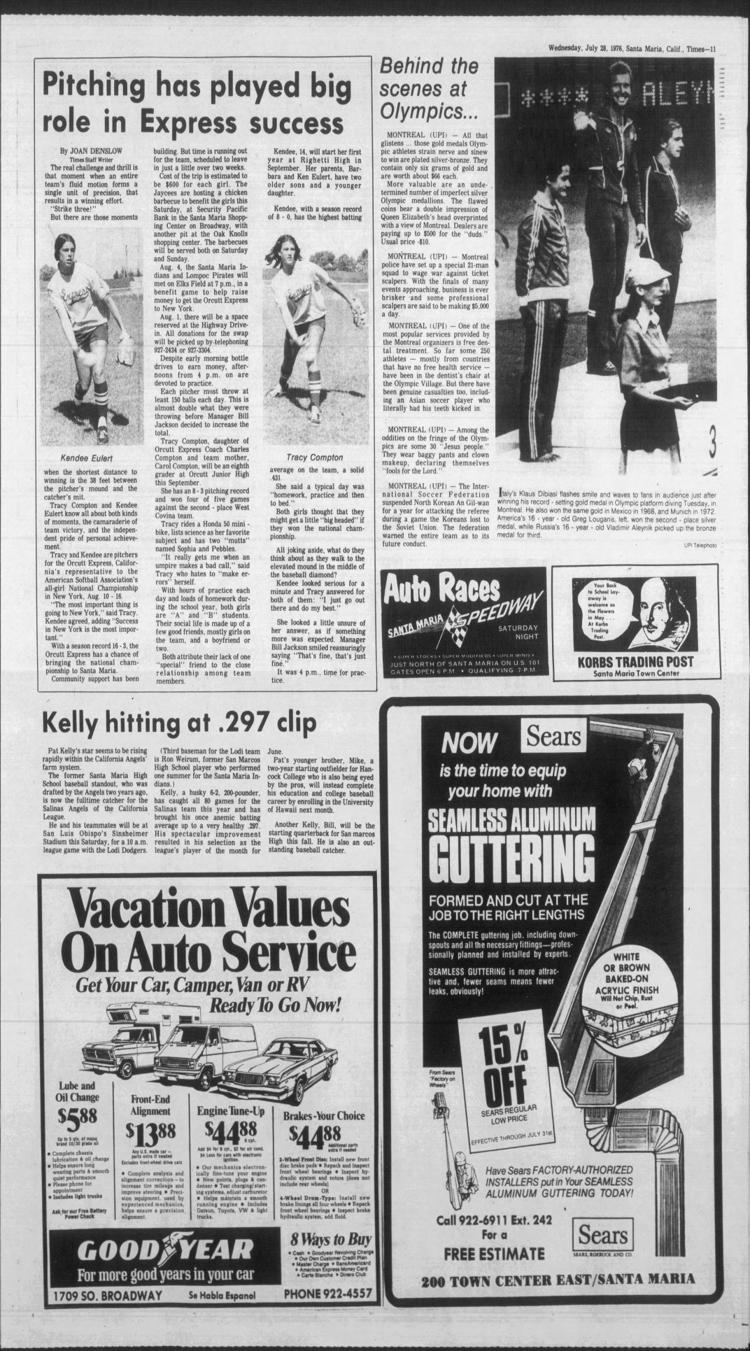 Santa_Maria_Times_Wed__Jun_6__1979_.jpg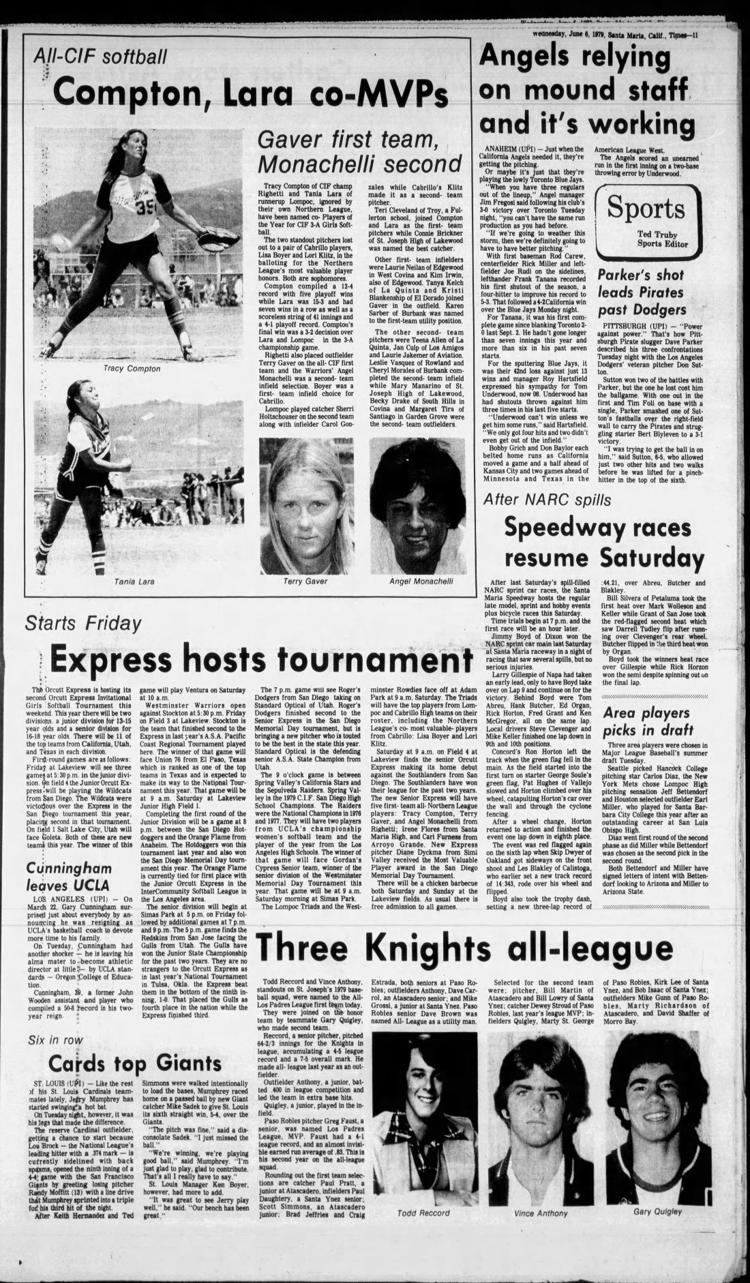 Santa_Maria_Times_Wed__Jun_6__1990_.jpg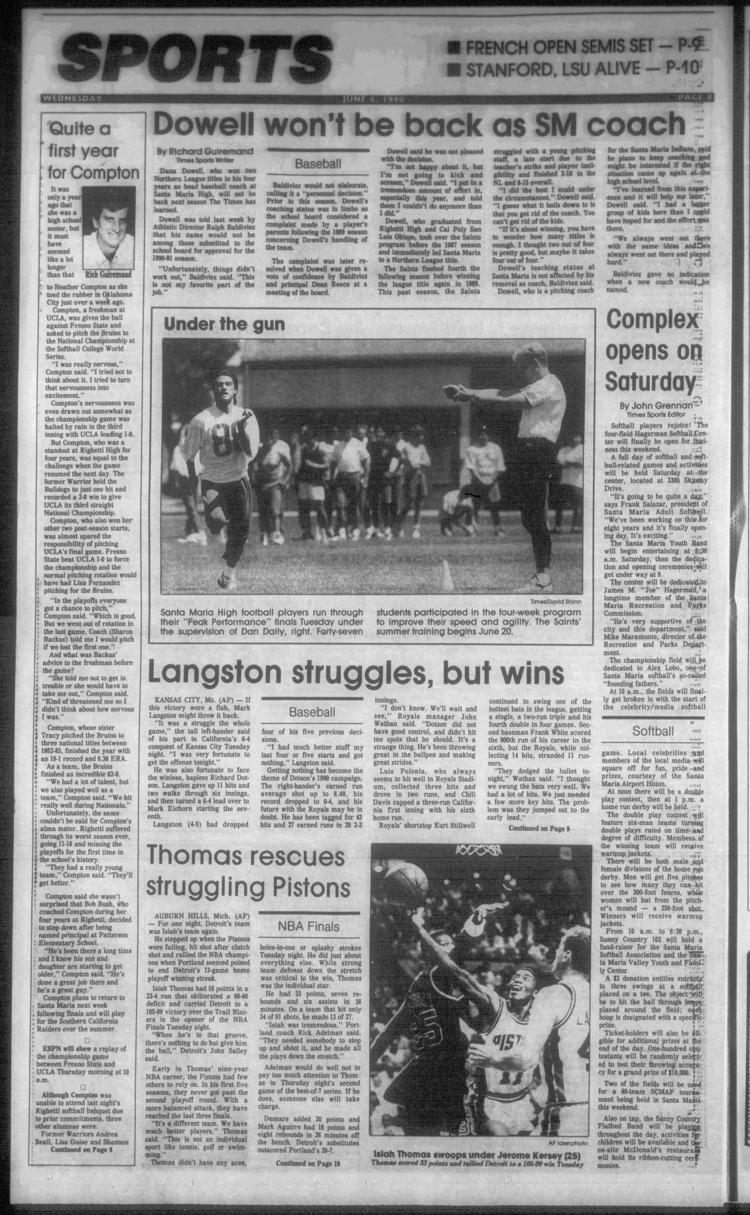 Get in the game with our Prep Sports Newsletter
Sent weekly directly to your inbox!