If what happened Tuesday is any indication, facing hitters from a bigger league will not faze Ashley Daugherty at all.
In both teams' inaugural Mountain League game, the Templeton senior right-hander racked up her third no-hitter this season. The Eagles scored two unearned runs in the top of the ninth inning and won 2-0 on the Hagerman sports complex's field one.
Alani Mott scored from second base with the first run of the game when St. Joseph pitcher Skylar Johnson threw the ball over first baseman Lita Mahoney's head on Megan Ingle's one-out bunt. Alex Dahlen scored when the next batter, Bella Backer, grounded out.
Templeton moved to 4-0, 1-0. St. Joseph is 3-3, 0-1. Both teams are in their first season in the CIF Central Section after moving from the Southern Section.
St. Joseph's hitters struggled to simply make decent contact against Daugherty.
"From where I was coaching from the the third base box, I could see the ball hop up," as Daugherty was throwing her rise ball, said St. Joseph coach John Welch.
"But it wasn't just the rise ball. Our batters said the movement on (Daugherty's pitches) was very good."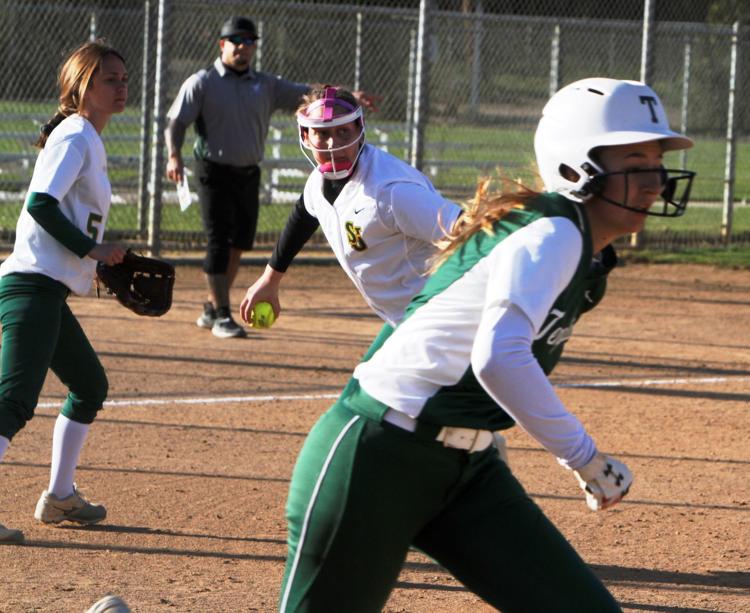 Mott led off the Templeton ninth with an infield single. Dashlen put down a good bunt that St. Joseph third baseman Halli Hunter could not pick up - it would have been a tough play for Huner in any case - and both runners were safe.
Johnson caught Mikala Landes looking on a third strike, but then the St. Joseph right-hander overthrew the Ingle bunt.    
Johnson scattered seven hits. She out of some late-inning jams in regulation, and in the first extra inning, the eighth .
Hunter saved a run and kept the game scoreless, for the time being, when she gloved the smash Izzy Cowne hit and stepped on the bag for the third out of the top of the eighth.
Thanks to the move to the Mountain League, the Eagles will play teams mostly from the former, bigger PAC 8 League after Daugherty dominated opposing hitters the past three seasons  in the old Los Padres League.
It mattered not at all Tuesday as Daugherty zipped through the St. Joseph lineup. The Knights are one of the former PAC 8 squads that moved to the Mountain League.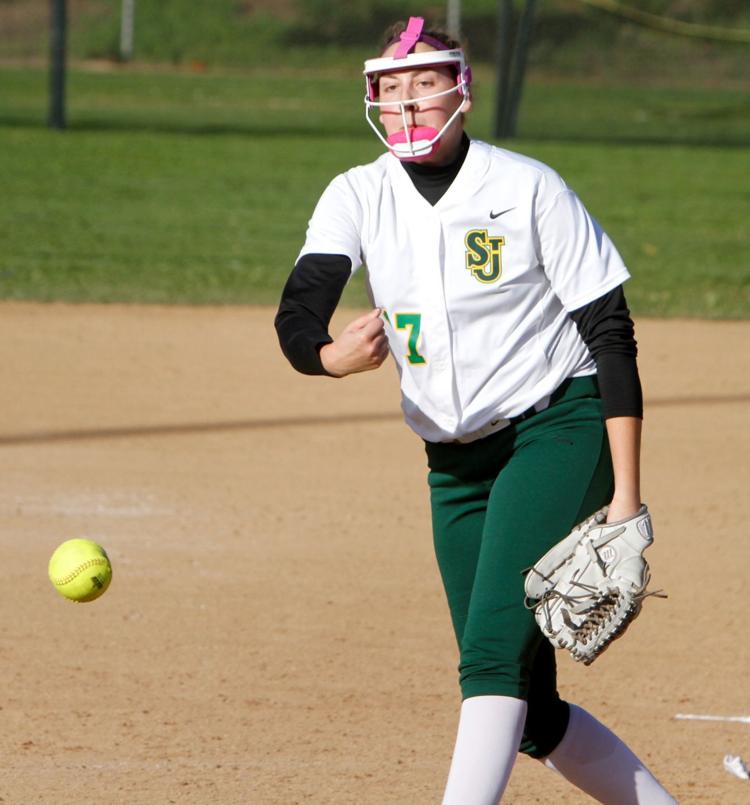 Daugherty struck out 19 Tuesday. She walked no one. Templeton made one error.
Johnson struck out 15 herself Tuesday, but the throwing error was her undoing as the Eagles went extra innings to stay perfect on the year.
"The game came down to whoever made the first mistake, and we made the first mistake," said Welch. 
St. Joseph will play a non-league game at crosstown rival Pioneer Valley at 4:30 p.m. Friday.
Righetti 8, Arroyo Grande 2
The Warriors (4-6-1, 1-0) spotted the Eagles (3-5, 1-0) a third-inning run, went ahead with two in the fourth then broke the game open with six in the fifth.
"We put together five singles in the fifth," said Righetti coach Brian Tomooka. "We spread out the hitting. It was a team effort."
Rijghetti backed up pitcher Mackenzie Kestler with eight hits. Kestler went the distance, giving up five hits.
Kestler helped hersefl by going 3-for-4 with an RBI. Keriann Aguilera had the only extra-base hit, a double for Arroyo Grande. 
Orcutt Academy 15, Coast Union 4 (6 innings, run rule)
The Spartans (3-0) run-ruled the Broncos (0-7) in a non-league game at Lakewood Junior High School.
Shawnie Flores had two hits, scored a run and knocked in one for the Spartans. She scored twice. Flores was Orcutt's starting, and winning, pitcher. She gave up one hit in her three innings of work. All four runs against her were unearned.
Danica Black finished in relief of Flores and held the Broncos hitless. Shes struck out six and walked one.
Bolack went 2-for-2 with a double, two RBIs and two runs scored. Black was hit by a pitch and walked in her other two plate appearances.
Daisy Esparza had one hit and drove in three Orcutt runs. Ariana Contreras went 2-for-3 with an RBI and a run scored. Nami Rojo tripled, drove in a run and scored. 
Pioneer Valley 6, Santa Maria 1
Monique Gomez and Leticia Perez homered, and the Panthers (1-5) defeated the Sants (1-6) for Pioneer Valley's first win of the year.
Ashley Gutierrez pitched a complete game for the Panthers. Though the teams are in the Ocean League, they played a non-league game Tuesday. Ocean League play will start March 26.
Gomez and Perez each hit a solo hoe run. Serenity O'nan hit a two-run triple for Pioneer Valley.
Samantha De La Cruz drove in the Santa Maria run.
College softball
Bakersfield 6, Hancock 1
BAKERSFIELD - The Bulldogs (2-6, 0-4) took their sixth straight loss with a defeat at the hands of the Renegades in this Western State Conference North Division game at Bakersfield. No details were available.
Boys wrestling
All-Ocean League Team
Some last names were inadvertently cut off in a previous list the Times received. Here are the All-League members.
Nipomo sophomore Francisco Alcantar is the lower weights MVP. Morro Bay senior Cole Visconte is the upper weights MVP. Alcantar qualified for the CIF State tournament.
The lower weights First-Team  consists of Alcantar at 108 pounds; Alcantar's teammate, sophomore Johnathan Gallardo, at 115; Morro Bay senior Trey Dennis at 122 pounds; Morro Bay freshman Ryland Offill at 128; Morro Bay junior Marshall Beacham at 134; St. Joseph junior Richard Gonzalez at 152; and St. Joseph junior Noah Polley at 147.
The upper weights First Team consists of Morro Bay senior Ian Franks at 154 pounds; Santa Maria junior Nicholas Quang at 162; Visconte at 172; Nipomo junior Justin Burdick and St. Joseph junior Jacob Medrano at 184; St. Joseph senior Marcelino Gonzalez at 197; Morro bay senior Tanner Daugherty at 222; and St. Joseph senior Jacob Hernandez at heavyweight.
The lower weights Second Team consists of Santa Maria sophomore Vaentino Martinez at 108 pounds; Santa Maria senior Emilio Barajas at 115; Santa Maria junior Juan Valencia at 122; San Luis Obispo freshman Daniel Gonzales at 128; Santa Maria senior Elijah Arguilo at 134; Nipomo senior Luis Riquelme at 152; and Morro Bay senior Conner Pugh at 147.
The upper weights Second Team consists of Santa Maria senior Arturo Davis and Morro Bay senior Eufemio Cisneros at  154 pounds; San Luis Obispo freshman Kashayar-Demartini at 162; San Luis Obispo junior Ty Evans at 172; Morro Bay senior Danny Bernal at 184; Nipomo junior Jesse Garza at 197; Nipomo senior Joey Garza at 222; and Santa Maria senior Edson Reyes at heavyweight.
Nipomo sophomore Sam Riquelme (122 pounds), Santa Maria senior Carlos Ramirez (197) and St. Joseph junior Cesar Vargas (220) earned honorable mention.
College Baseball
Hancock 3, Santa Barbara City 2
The Bulldogs (10-9, 2-1) bounced back from the 9-3 loss they took at the hands of the Vaqueros (9-6, 2-2) at Hancock Saturday with a come-from-behind win at SBCC Tuesday.
Hancock scored all its runs in the seventh inning. Chris Tani scored the winning run on an error by Vaqueros' catcher Alonzo Rubalcaba.
Tani drove in Hancock's first run on an infield hit. Travis Welke singled in Joseph Boivin, and Tani scored on the subsequent error.
Hancock starter Trevor Garcia (3-1) went eight innings to get the win. Bulldogs' closer Izzy Hernandez worked the ninth to earn his third save. SBCC starter Conner Robertson (3-1) took his third loss of the year.      
Baseball
Nipomo 4, Orcutt Academy 2
Nipomo starter Carmelo Hernandez struck out 12 in his five innings of work, and the Titans (3-1-1) beat the Spartans (0-5) at Nipomo.
Both teams are in the Ocean League, but the game was a non-laague one. League play will start next week, when Ocean League rivals begin their home-and-home series against each other.
Ricky Iniguez and Anthony Campos had two hits each, and both doubled. Each drove in a run.
Alex Sutton doubled twice for the Spartans.
Morro Bay 12, Santa Maria 6
The Pirates scored a win over the Saints at Santa Maria.
Though the teams are Ocean League rivals, the game was a non-league one. Ocean League play will start next week.  
Boys tennis
Orcutt Academy 9, Santa Maria 0
Kenyon Childs, William Jin and Kris Gilbertson all racked up a singles win and contributed to a doubles win for the Spartans, who ran their ledger to 7-0-1, 5-0-1 with an Ocean League win over the Saints.
Childs won his No. 3 singels match 6-0, 6-1 and teamed with Aidan Crawley for an 8-3 win at No. 1 doubles. Jim won 6-0, 6-0 at No. 5 doubles and won 8-1 with Nathan Calhoun at No. 2 doubles.
Gilbertson followed up his 6-0, 6-0 win at No. 6 singles by teaming with Skyler Grimnes for an 8-2 win at No. 3 doubles.
Arroyo Grande 7, San Luis Obispo 2
The Eagles (4-2, 1-0) defeated the Tigers in a Mountain League opener between teams that typically battled for the top spot in the PAC 8 League before both moved from the CIF Central Section to the Southern Section early last year.
This is the first season for both in the Mountain League.
Arroyo Grande won five of six singles matches and two of three doubles matches. Singles players Sam Ashbrook, Joey Kuhlman, Isaiah Czbecki, Ethan Wolfe and Gavin Silva all earned singles wins for the Eagles.
Kuhlman gave the Eagles their clinching fifth point with a 6-4, 4-6, (10-7) win in the No. 3 singles match.
Mission Prep 9, Pioneer Valley 0  
The Royals blanked the Panthers in an Ocean League match at Mission Prep.