Hard-throwing Righetti senior right-hander Katie Chenault was the Santa Maria Times All-Area MVP in 2013, and she showed all of that when her team needed her most.
Chenault struck out 12 and scattered six hits in a complete game as Righetti beat Fullerton Sunny Hills 6-2 at Deanna Manning Park in Irvine to win the CIF Southern Section Division 3 championship, the first sectional divisional title for a Righetti softball team in school history.
"I walked off, and then it was like, 'Whoa! We won CIF just now,'" Chenault recalled thinking after she had struck out MJ Knighten swinging for the last out.
Chenault and Sunny Hills junior right-hander Riley Nahrwold were locked in a scoreless battle the first three innings. Righetti broke through for four runs in the top of the fourth.
Gladys Esparza got the Warriors rolling with a lead-off single. Breanna Timmons delivered a big two-run double later.
The most runs Chenault had allowed in any playoff game had been two, but the Lancers made the Righetti fans more nervous when they got to Chenault for two runs in the fifth. Some shaky Sunny Hills defense aided Righetti in a two-run top of the sixth.
Hard-throwing Righetti senior right-hander Katie Chenault was the Santa Maria Times All-Area MVP in 2013, and she showed all of that when her …
With two outs and two strikes in the bottom of the seventh, Chenault seemed all set to lock the championship away for the Warriors. However, the Sunny Hills batter kept spoiling Chenault's fastballs by fouling them off.
Finally she popped one up right between Chenault and the Righetti third baseman. Neither one of them could get to it, and the Lancers were still in it.
Chenault subsequently ended it by striking out Knighten.
Besides her dominating performance from the circle, Chenault helped herself by singling twice in Righetti's 10-hit attack. Timmons had three hits, Chenault and Mariah Zaragoza both had two, and Esparza, Judith Salazar and Siera Betts all had one.
Esparza and Betts each drove in a run. Zaragoza scored two runs, and Esparza, and Teanna Silveira, Melanie Johnson and Brianna Alvarez all scored one.
"To me, the most astonishing thing was they won while being away all the time," said Righetti coach Scott Nickason. "That tells you something about the girls."
Running the anchor leg in the 4x100 relay at a Central Coast Athletic Association Meet on March 11, Langley took the baton with a three-meter deficit and turned it into a split-second victory, racing past some of the fastest kids in the area to give his team the win.
A few days later, though, the St. Joseph junior saw his season put on ice.
Chenault pitched a no-hitter as Righetti beat Pasadena La Salle 10-0 in the first round. The Warriors defeated Grand Terrace 6-2, Whittier California 7-1 and La Habra 14-2, all on the road, before winning the championship game.
Throughout, "The girls had a very business-like attitude," said Nickason, who would subsequently be tabbed the All-Area Coach of the Year.
Chenault went 25-5 on the year and compiled a 1.11 ERA. Righetti finished 27-7 on the year and sailed through the PAC 7 League with a 12-0 record.
The Warriors gave Chenault plenty of hitting support, batting .333 as a team. Three players drove in more than 20 runs on the year. Brianna Alvarez drove in 29 runs, Salazar drove in 28 and Jessica Rothanzl drove in 21.
Chenault and Rothanzl, a power-hitting first baseman, went on to star together at Hancock College then both signed with Cal State Northridge.  
Santa_Maria_Times_Sat__Dec_2__2017_.jpg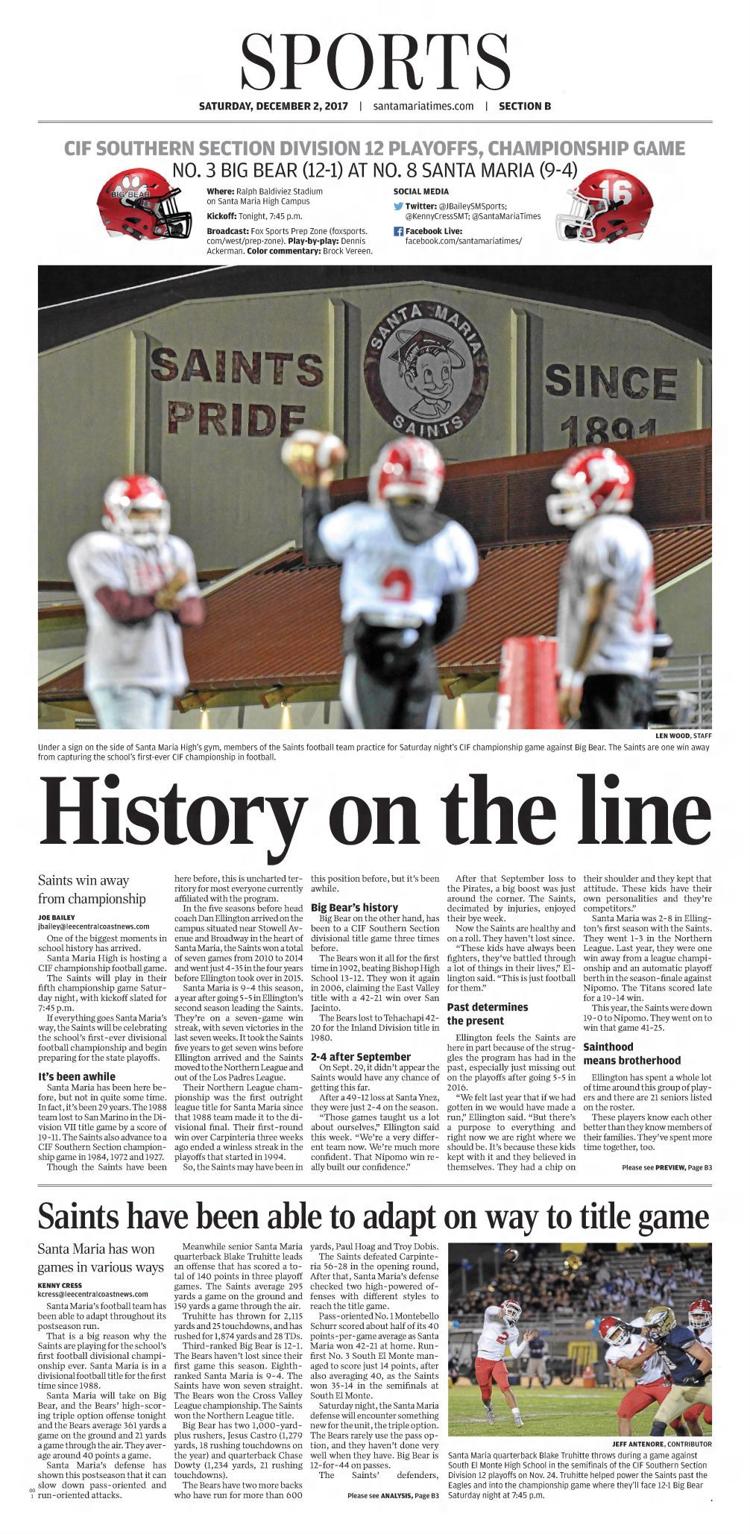 Santa_Maria_Times_Sat__Dec_2__2017_ (1).jpg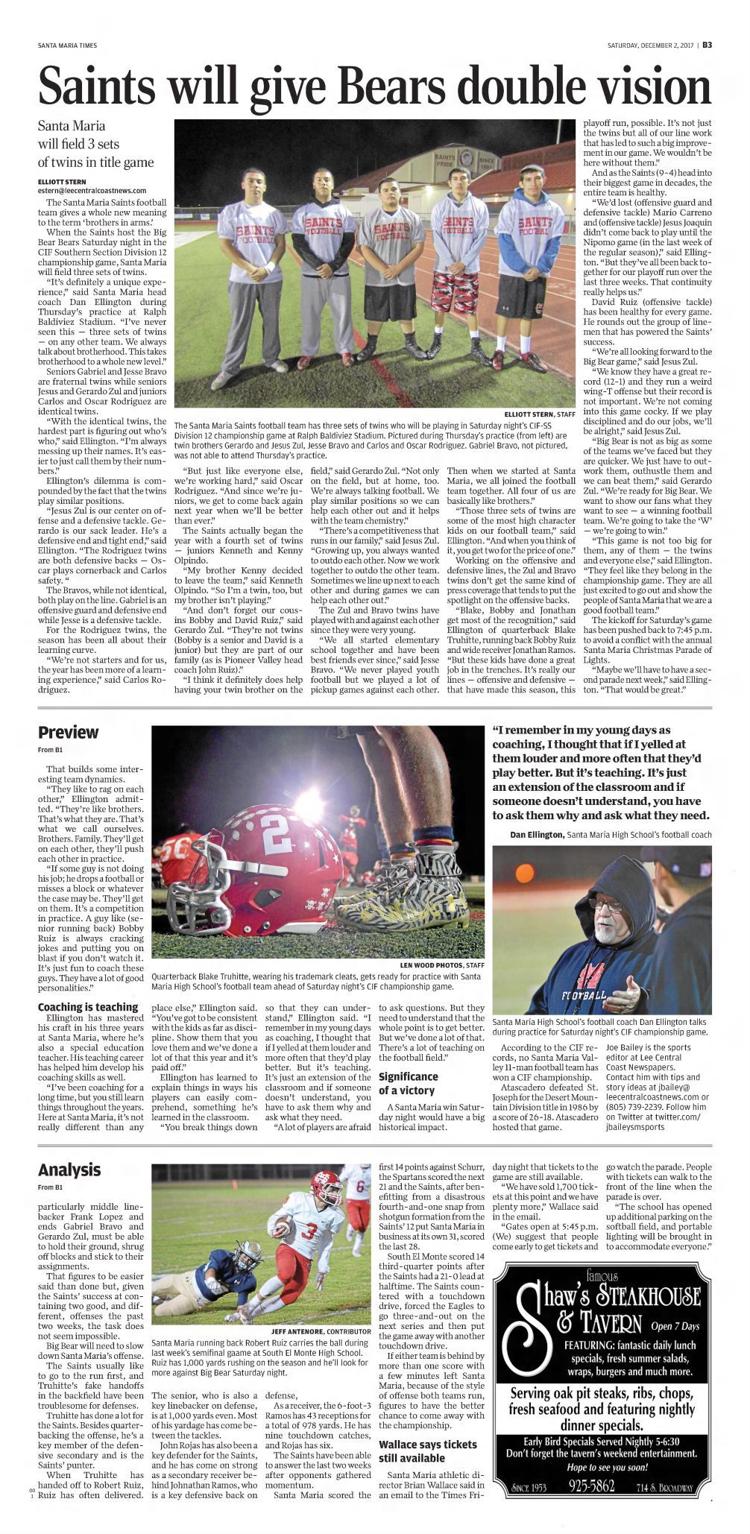 Santa_Maria_Times_Sun__Dec_3__2017_.jpg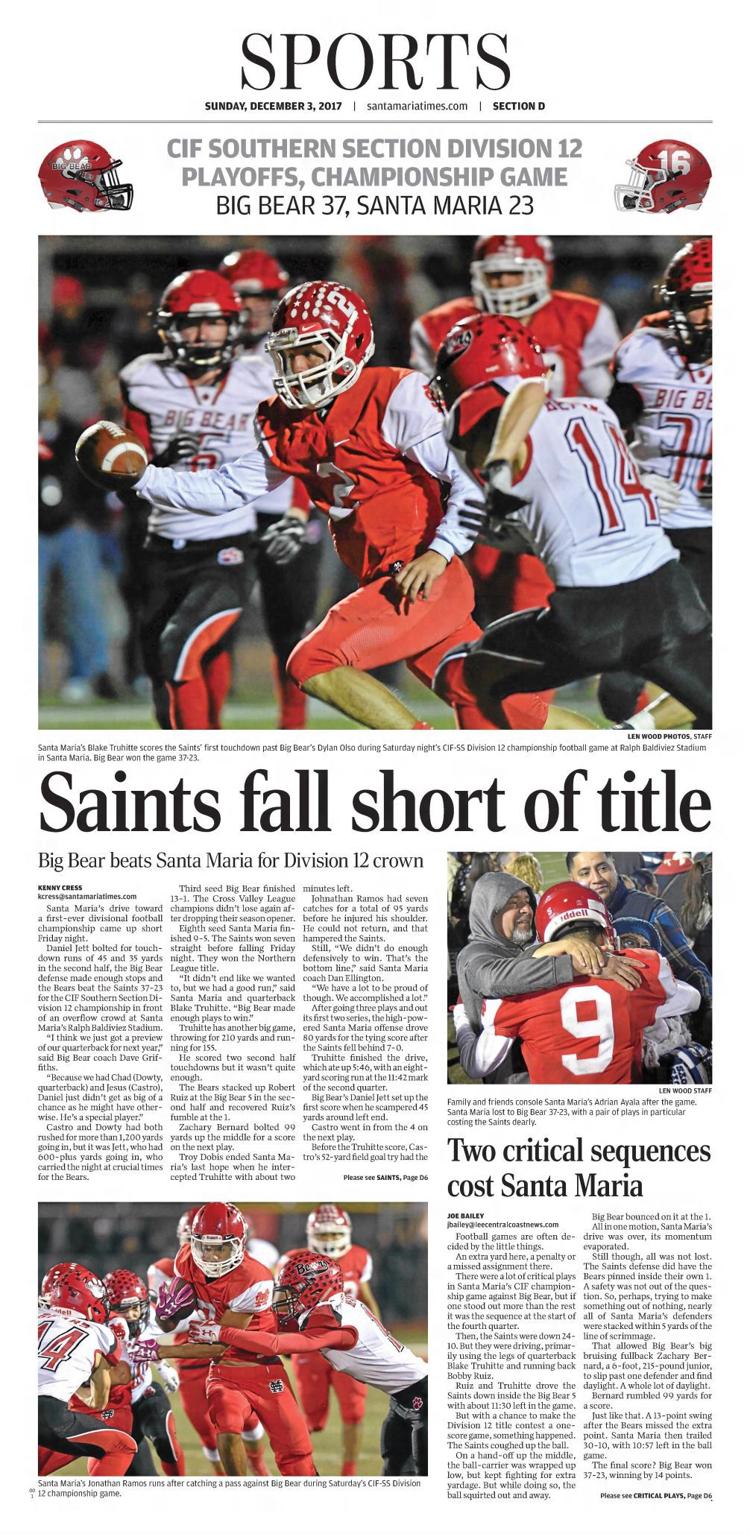 Santa_Maria_Times_Sun__Dec_3__2017_ (1).jpg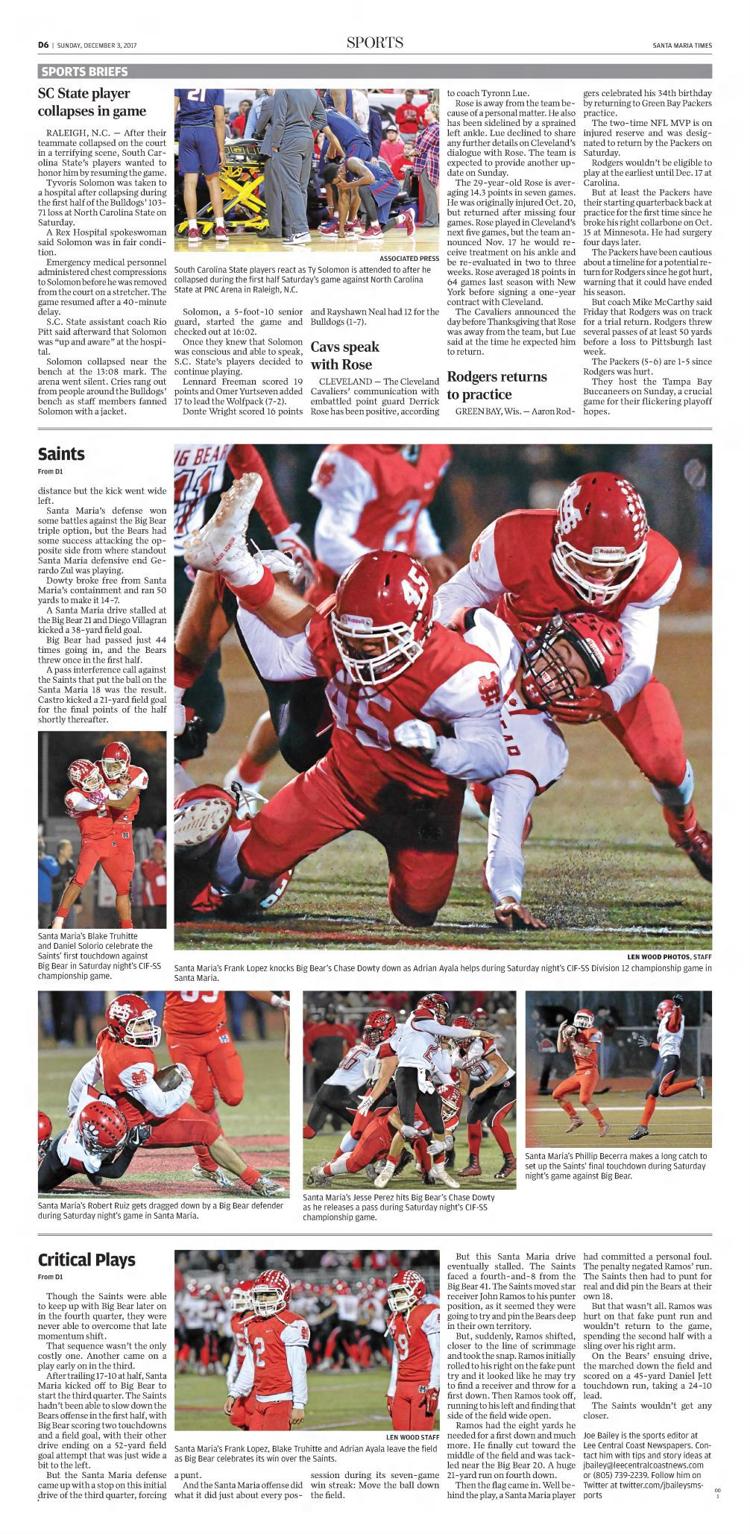 Santa_Maria_Times_Sun__Dec_3__2017_ (2).jpg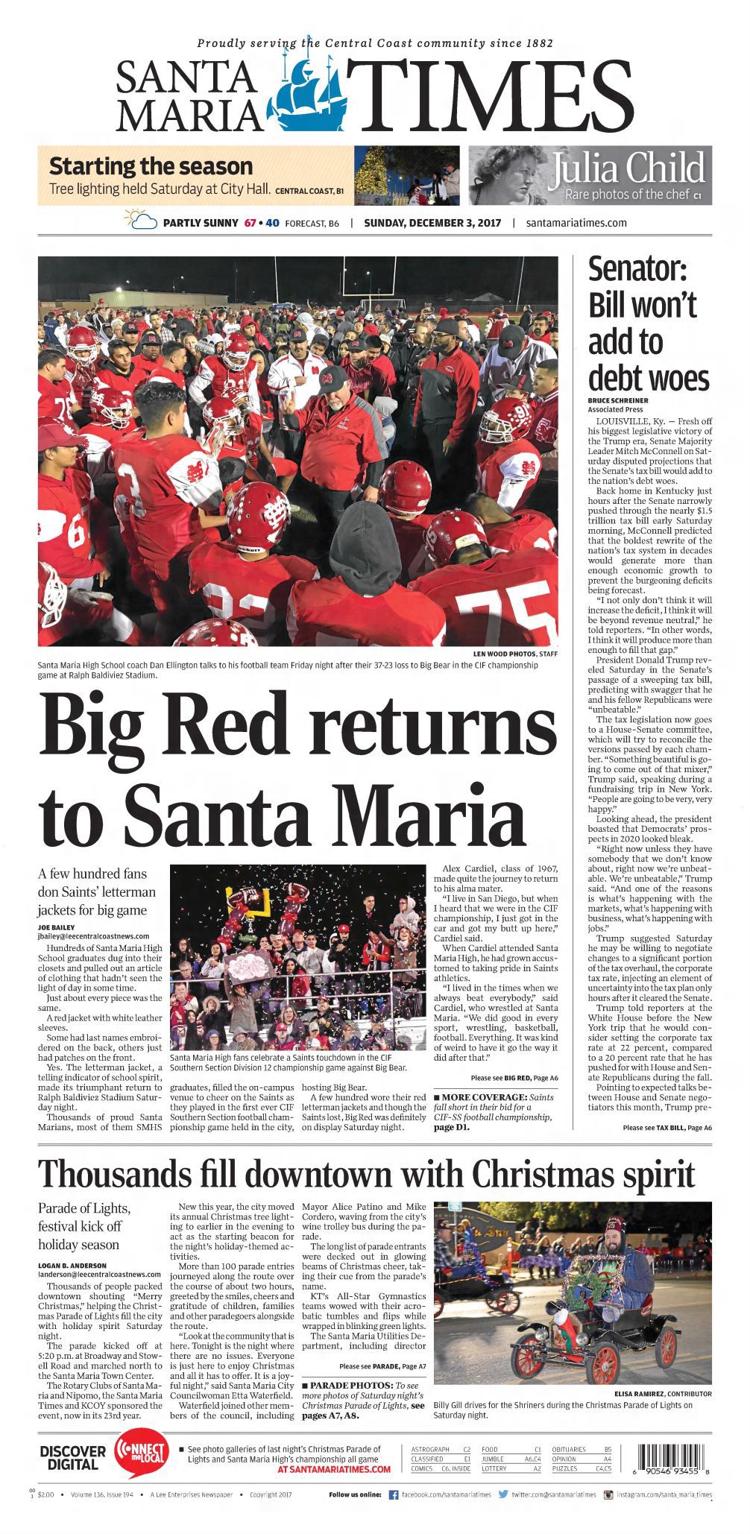 Santa_Maria_Times_Sat__Nov_25__2017_ (1).jpg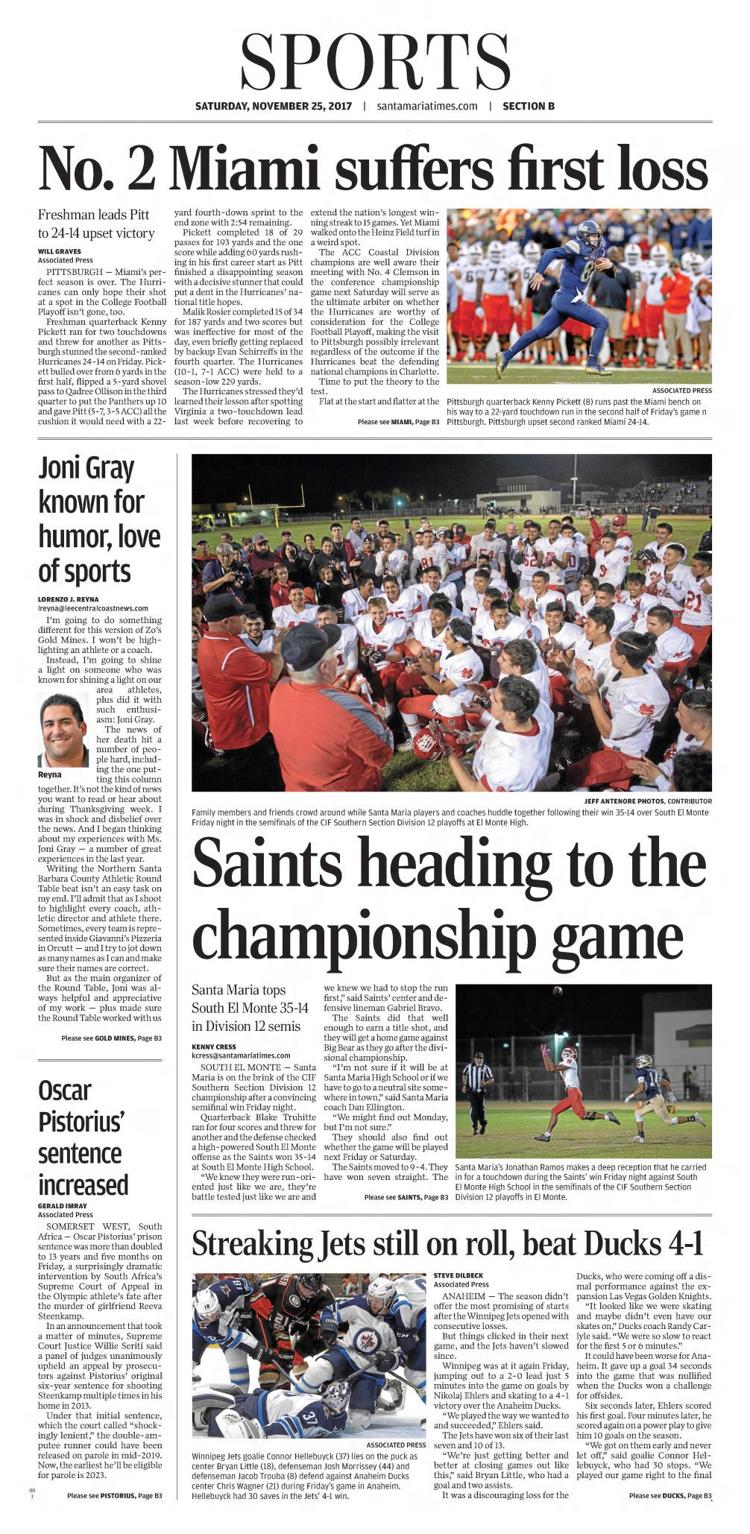 Santa_Maria_Times_Sat__Nov_25__2017_ (2).jpg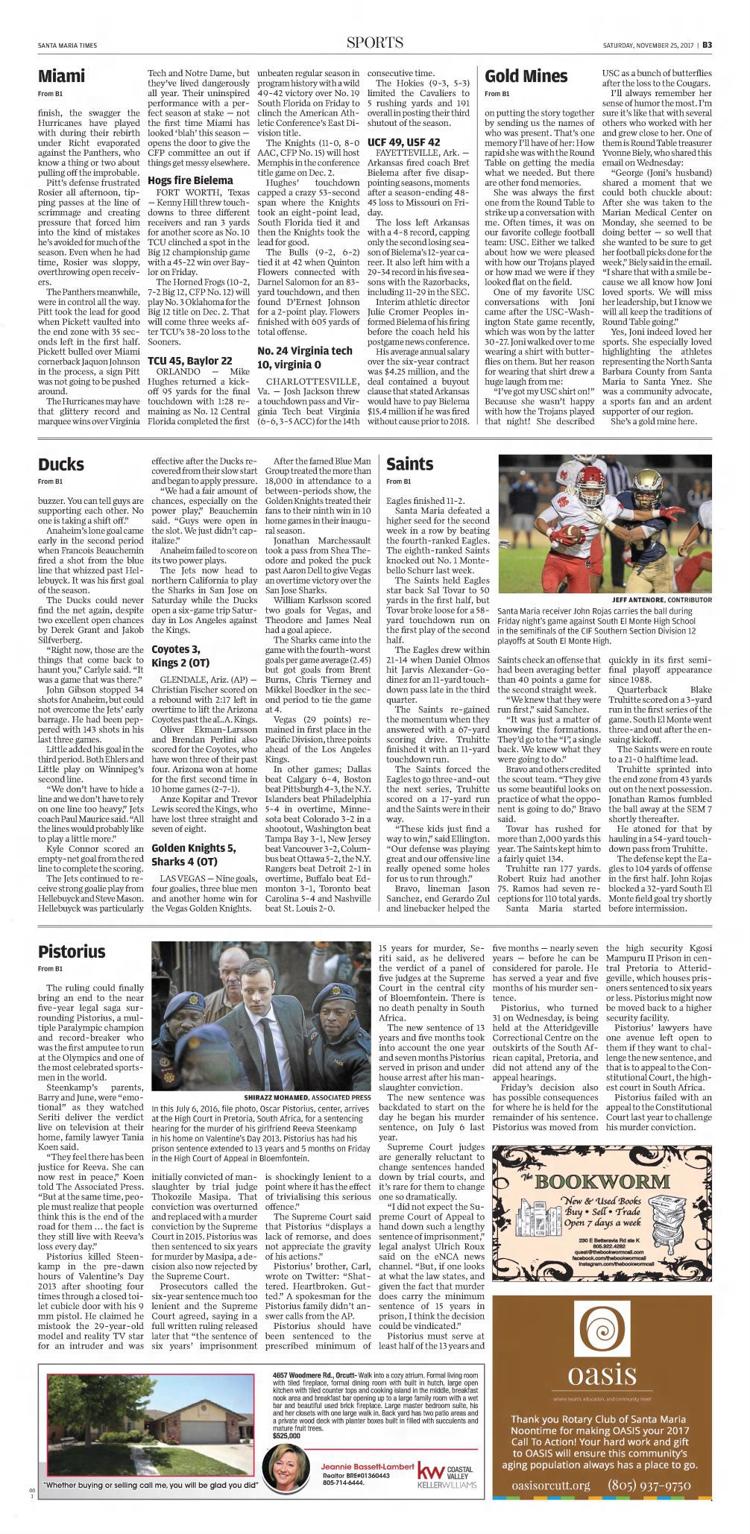 Santa_Maria_Times_Sun__Dec_17__2017_.jpg
Santa_Maria_Times_Sun__Dec_17__2017_ (1).jpg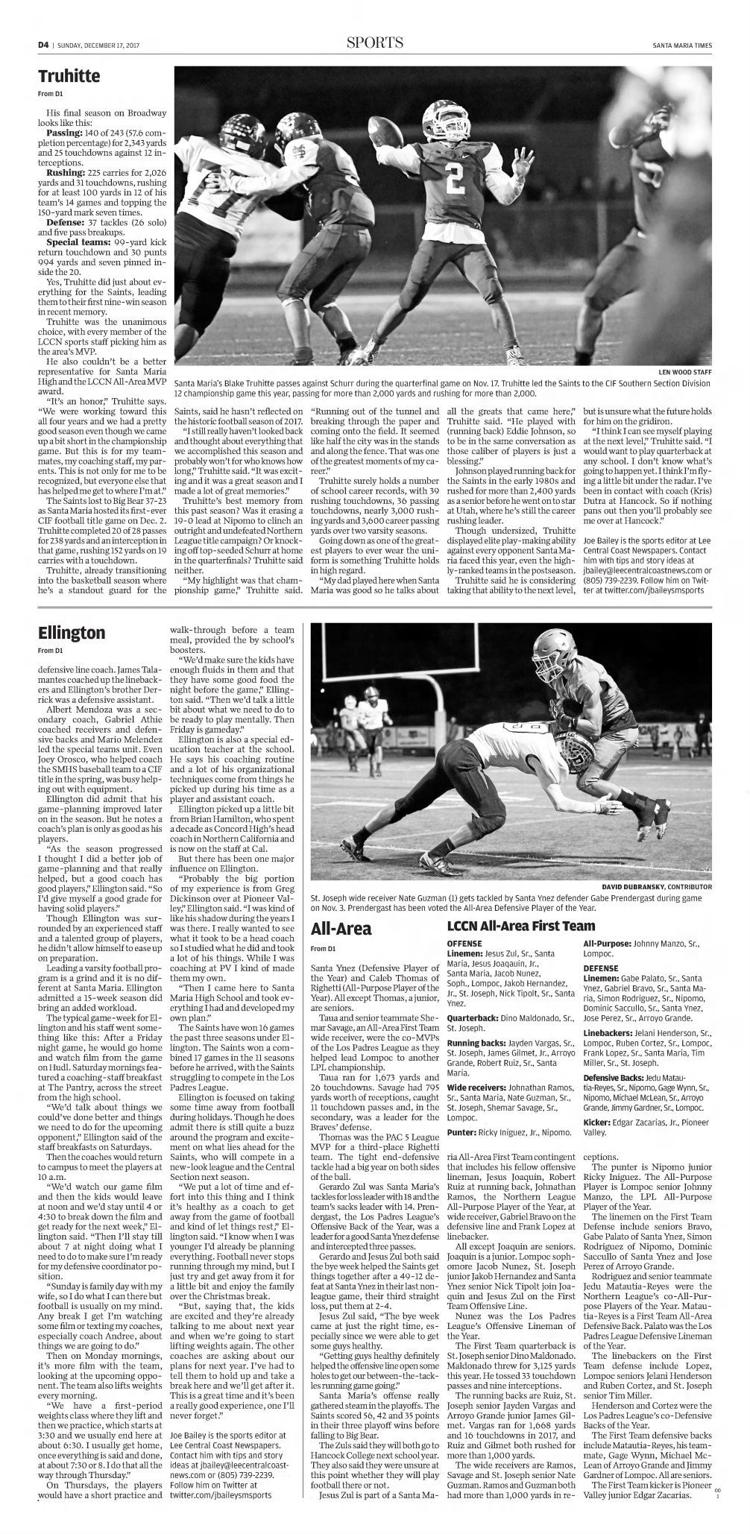 Santa_Maria_Times_Sat__Aug_26__2017_.jpg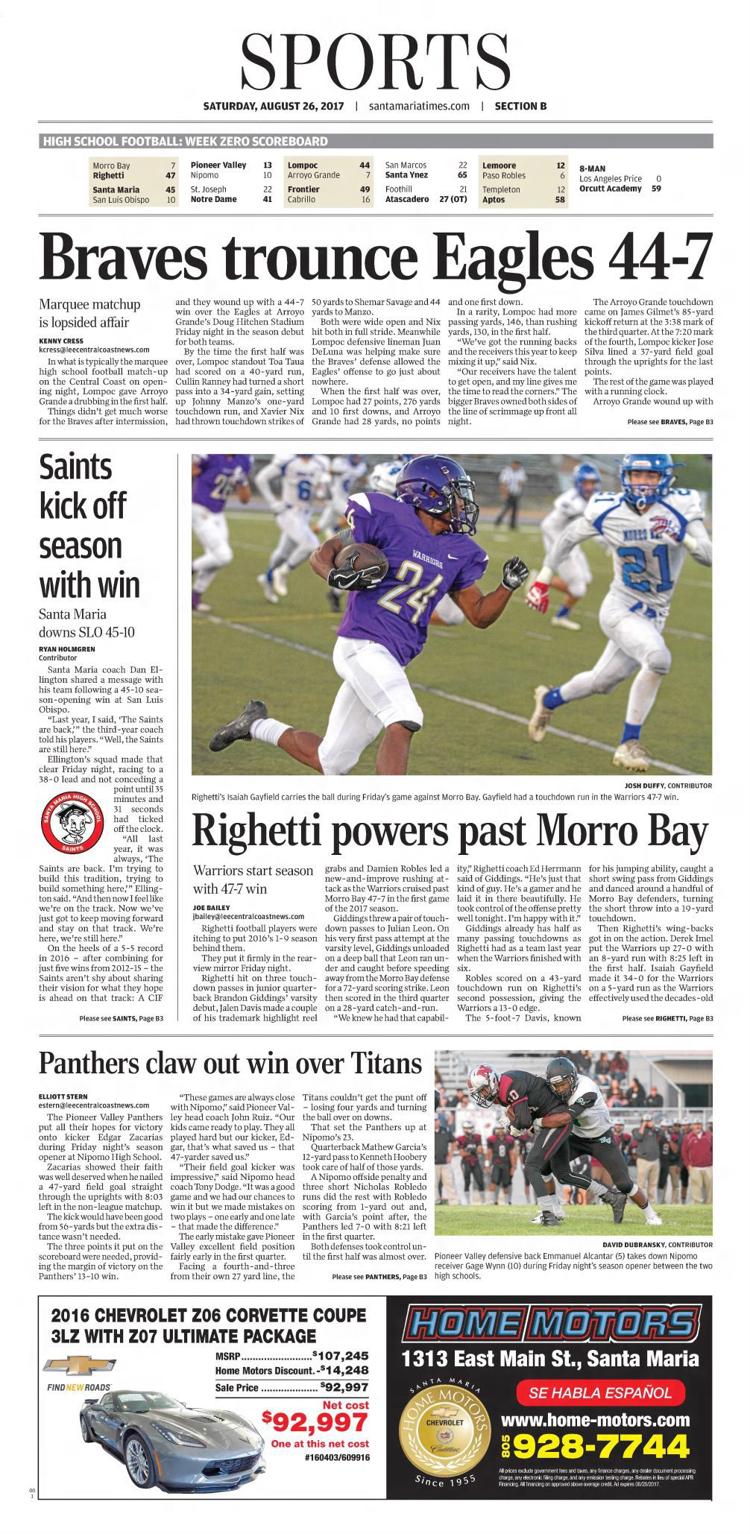 Santa_Maria_Times_Sat__Sep_9__2017_.jpg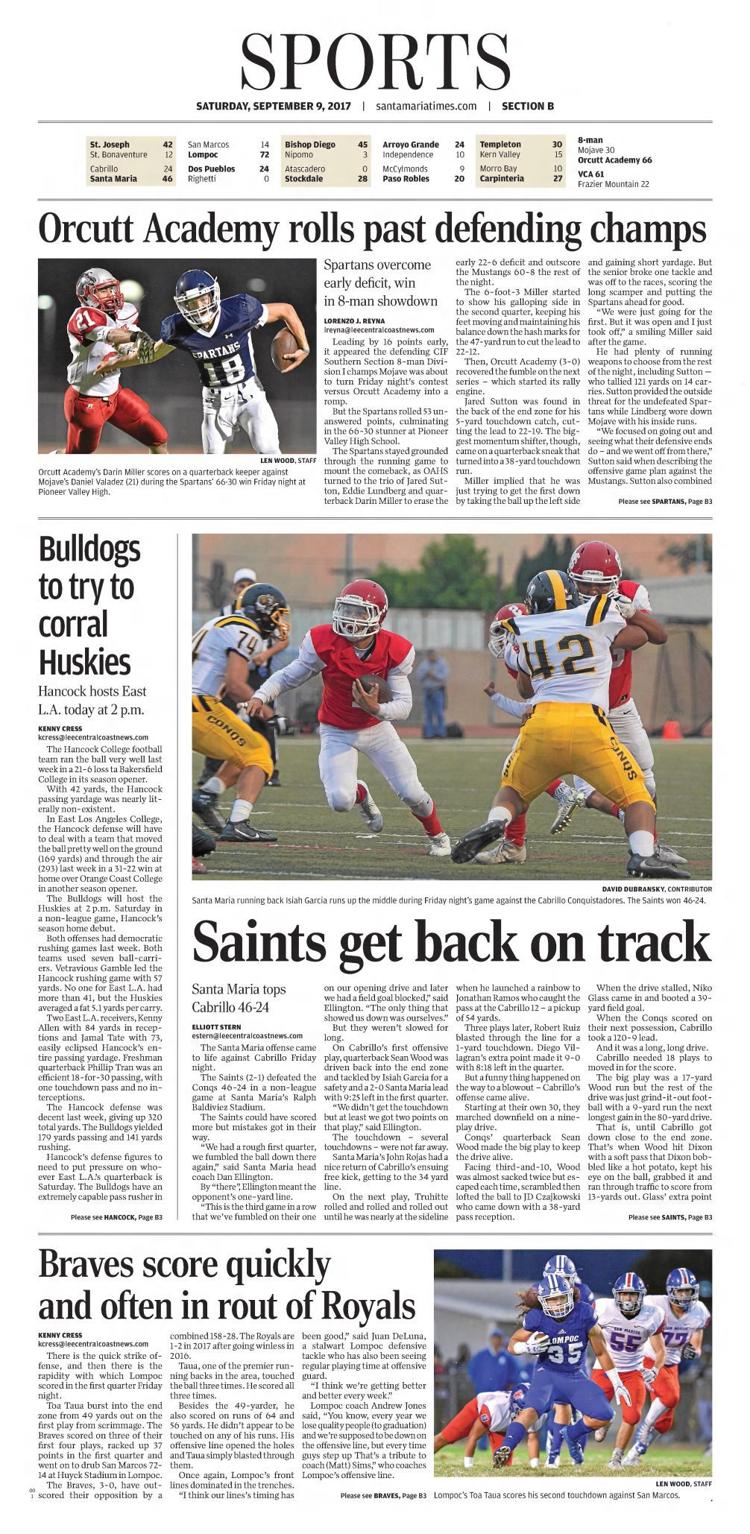 Santa_Maria_Times_Sat__Sep_9__2017_ (1).jpg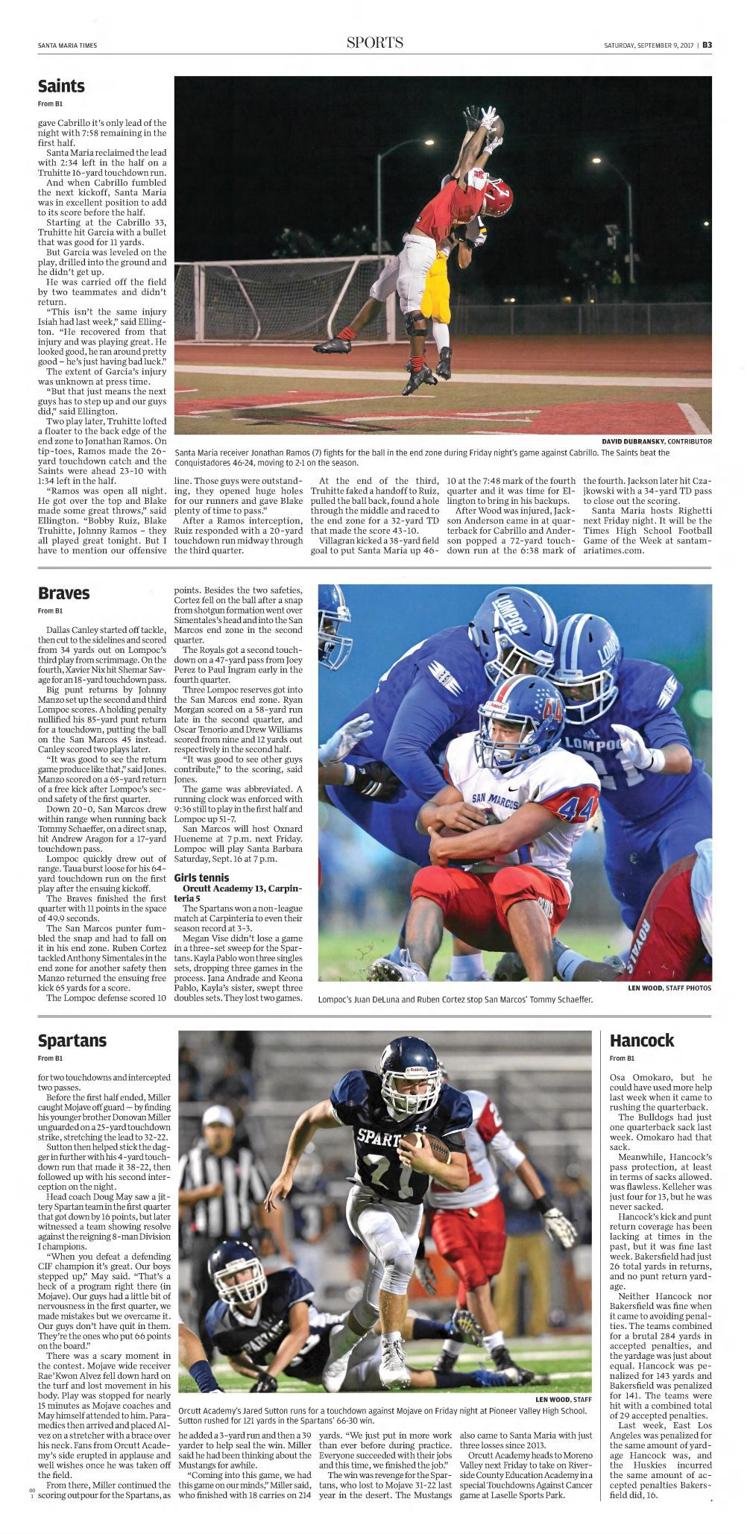 Santa_Maria_Times_Sat__Sep_16__2017_.jpg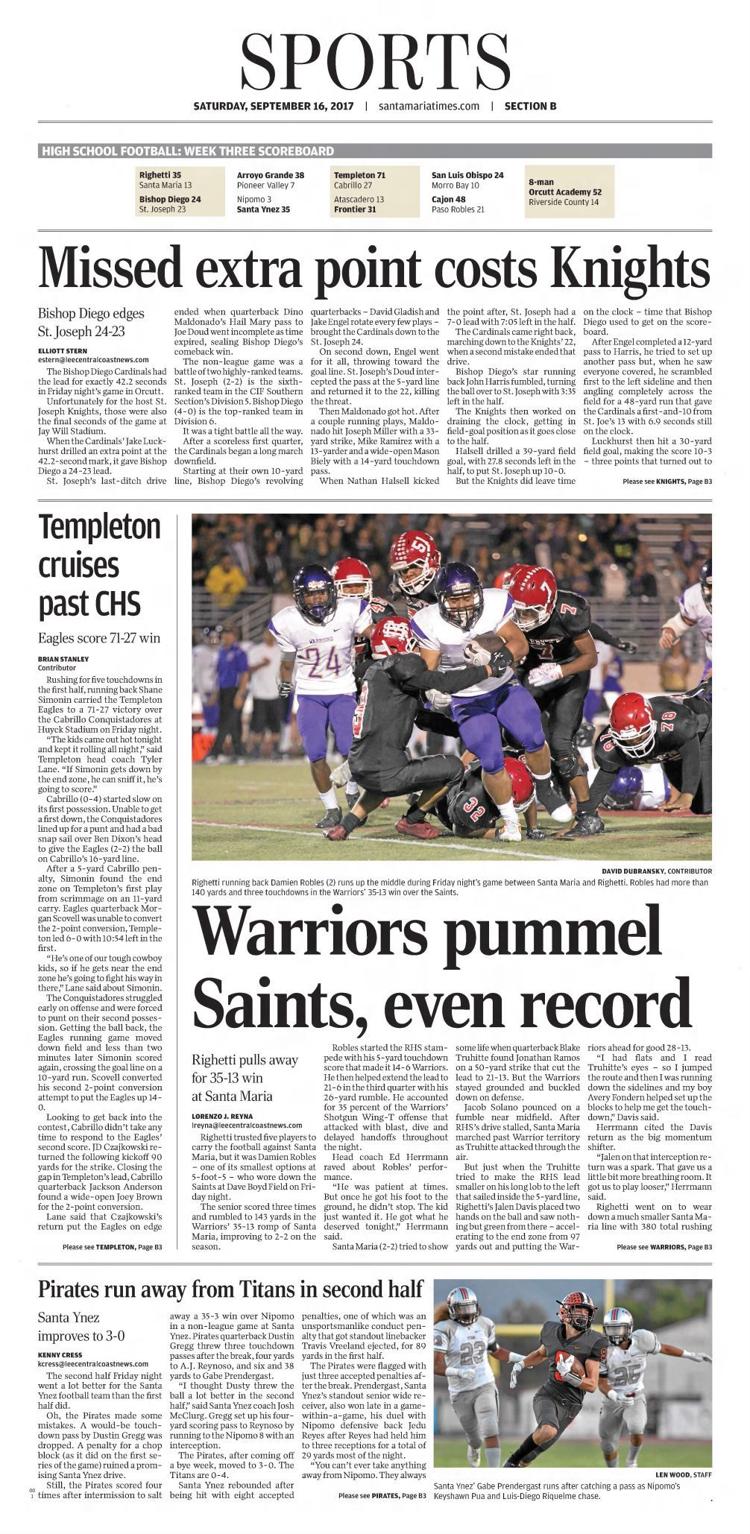 Santa_Maria_Times_Sat__Sep_16__2017_ (1).jpg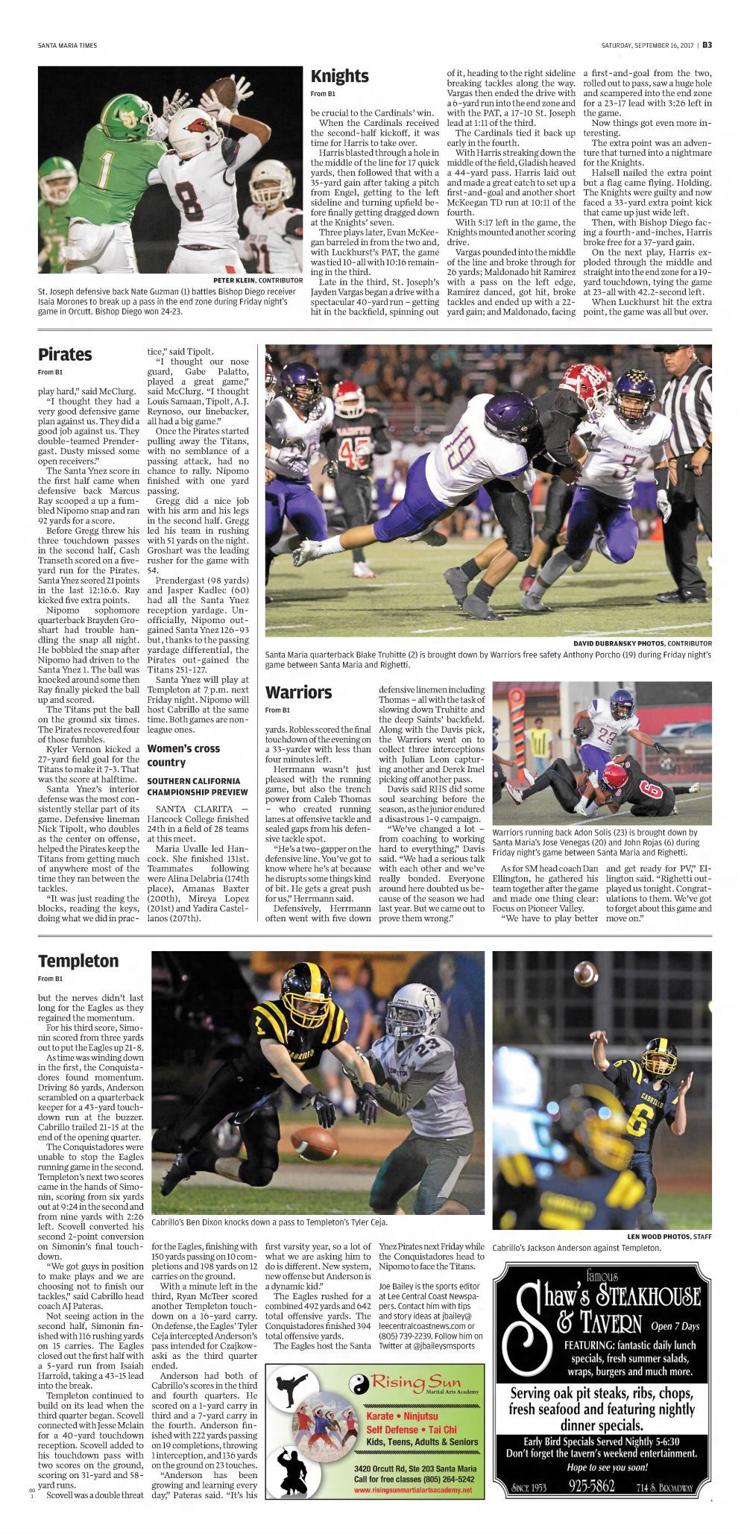 Santa_Maria_Times_Sat__Sep_23__2017_.jpg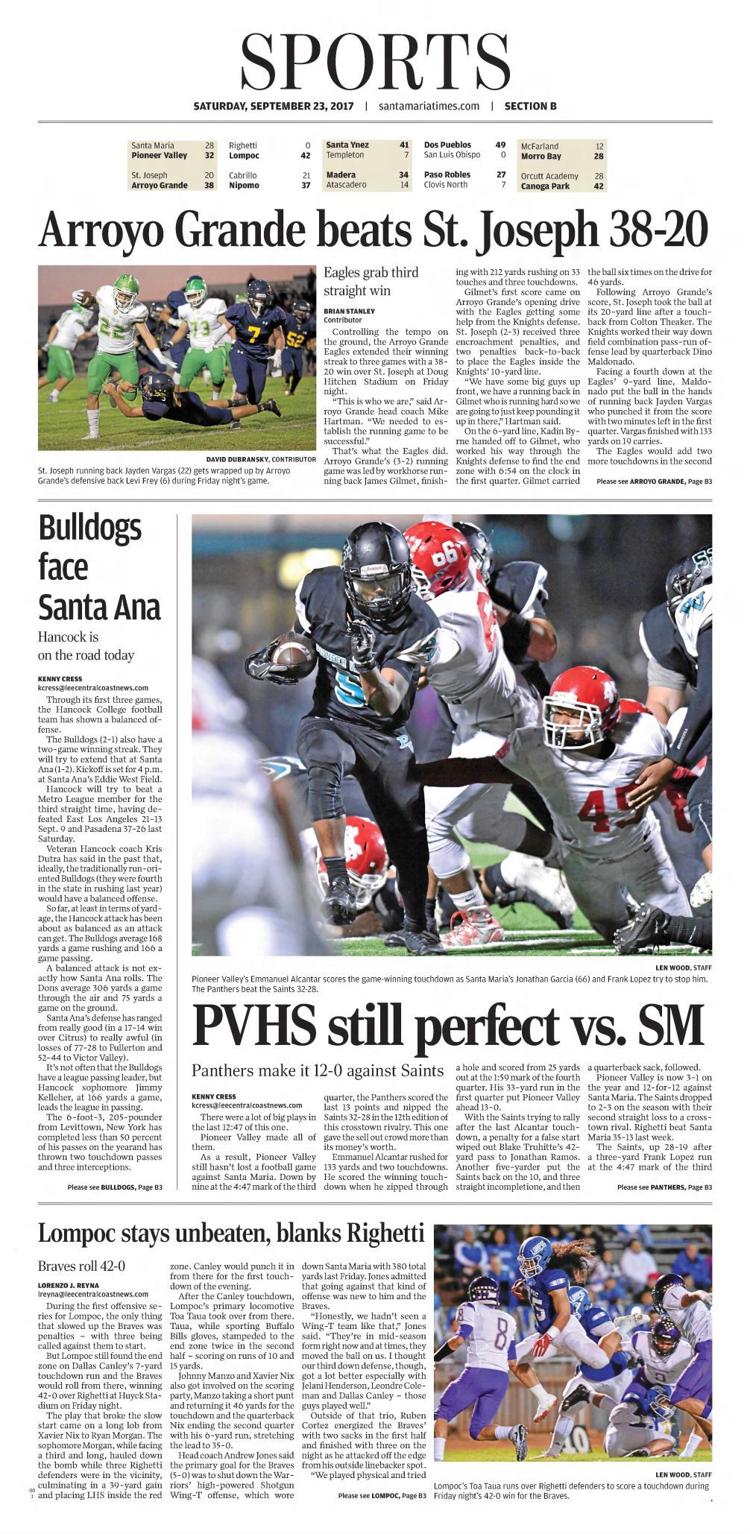 Santa_Maria_Times_Sat__Sep_23__2017_ (1).jpg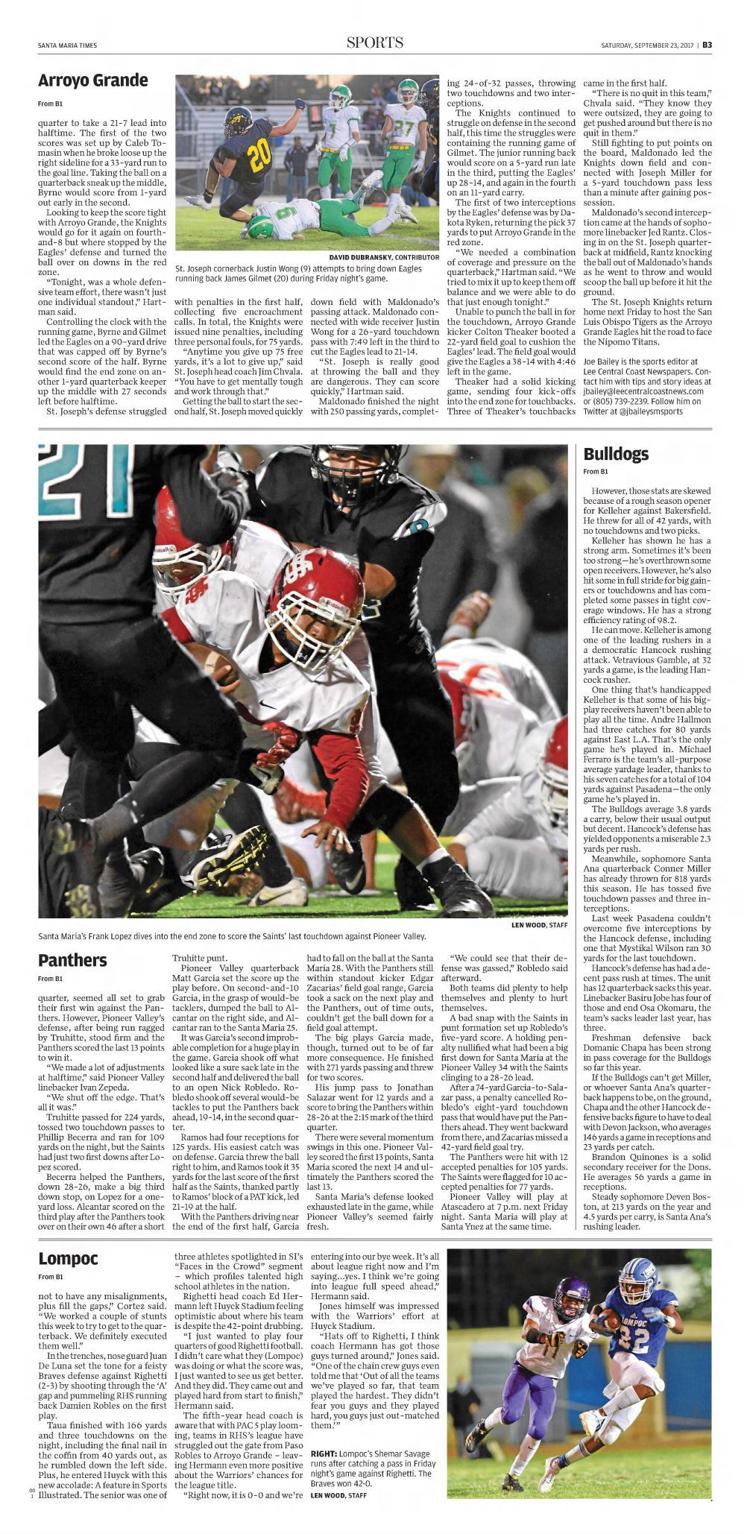 Santa_Maria_Times_Sat__Sep_30__2017_.jpg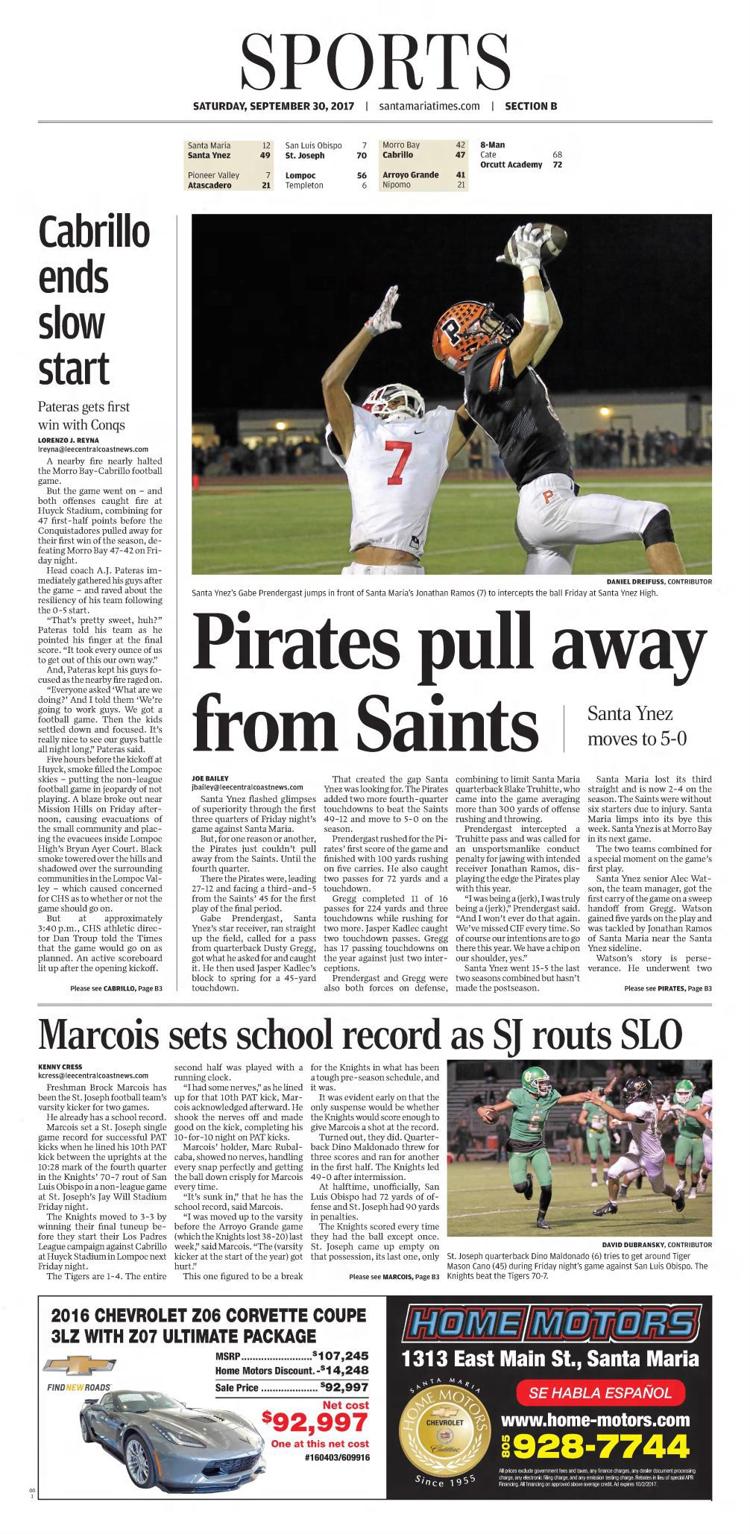 Santa_Maria_Times_Sat__Sep_30__2017_ (1).jpg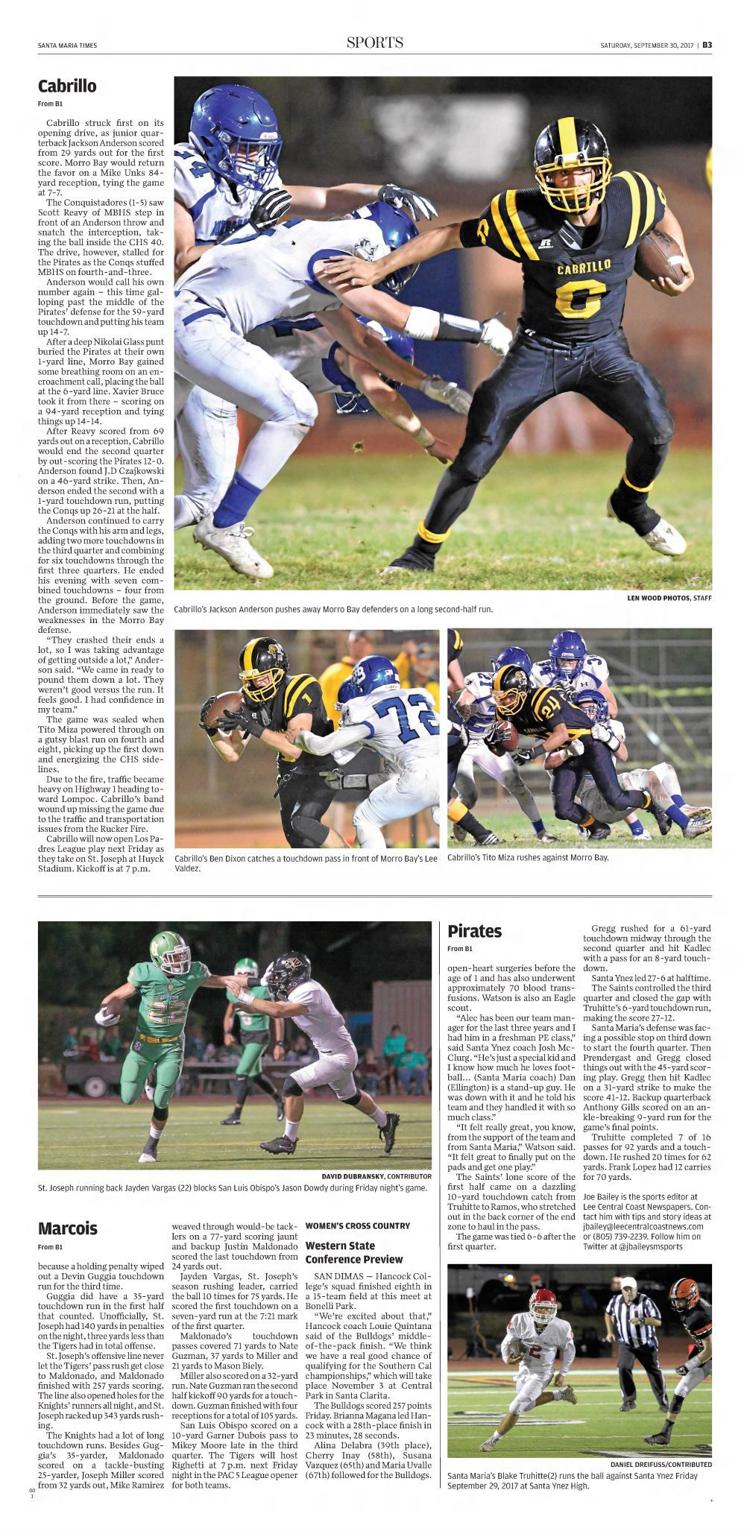 Santa_Maria_Times_Sat__Oct_7__2017_.jpg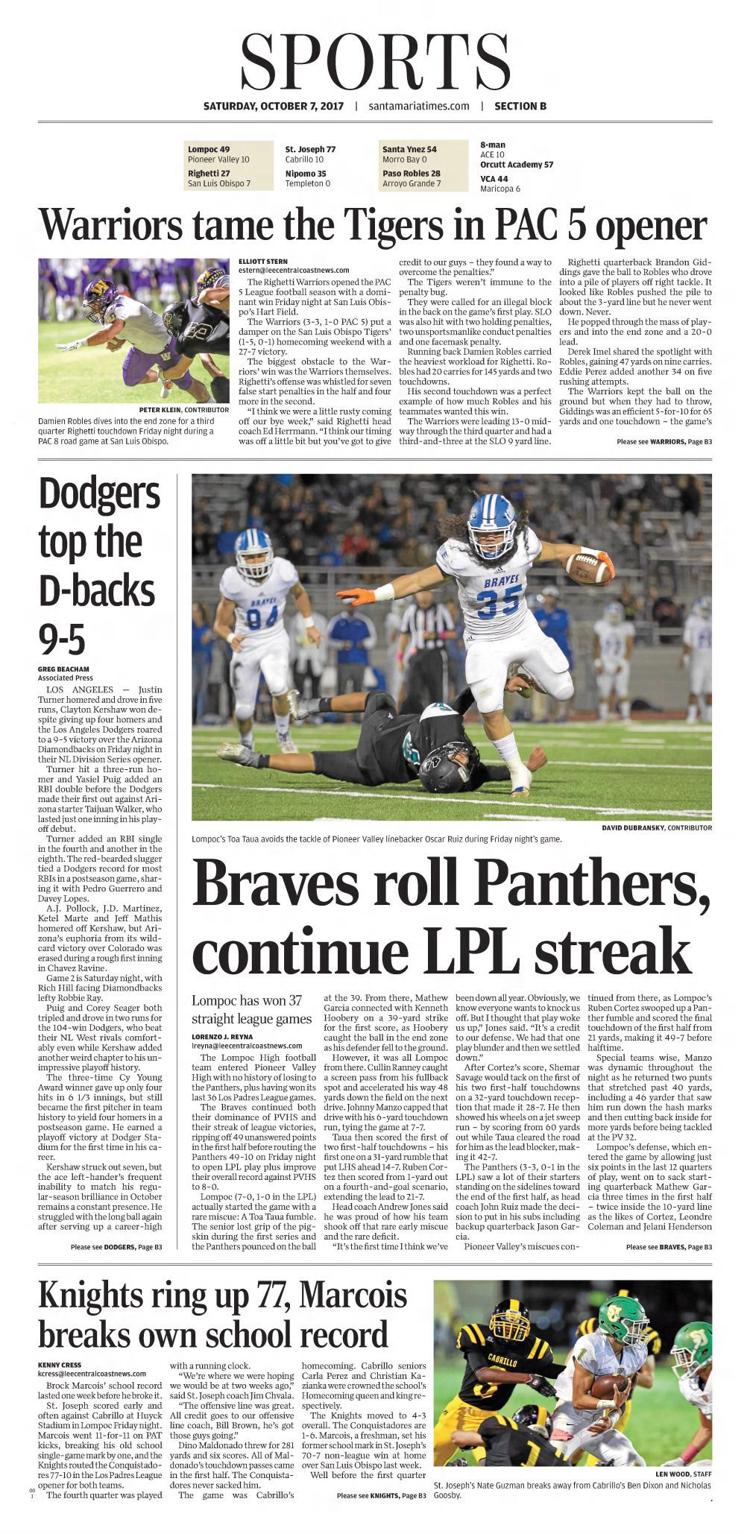 Santa_Maria_Times_Sat__Oct_21__2017_.jpg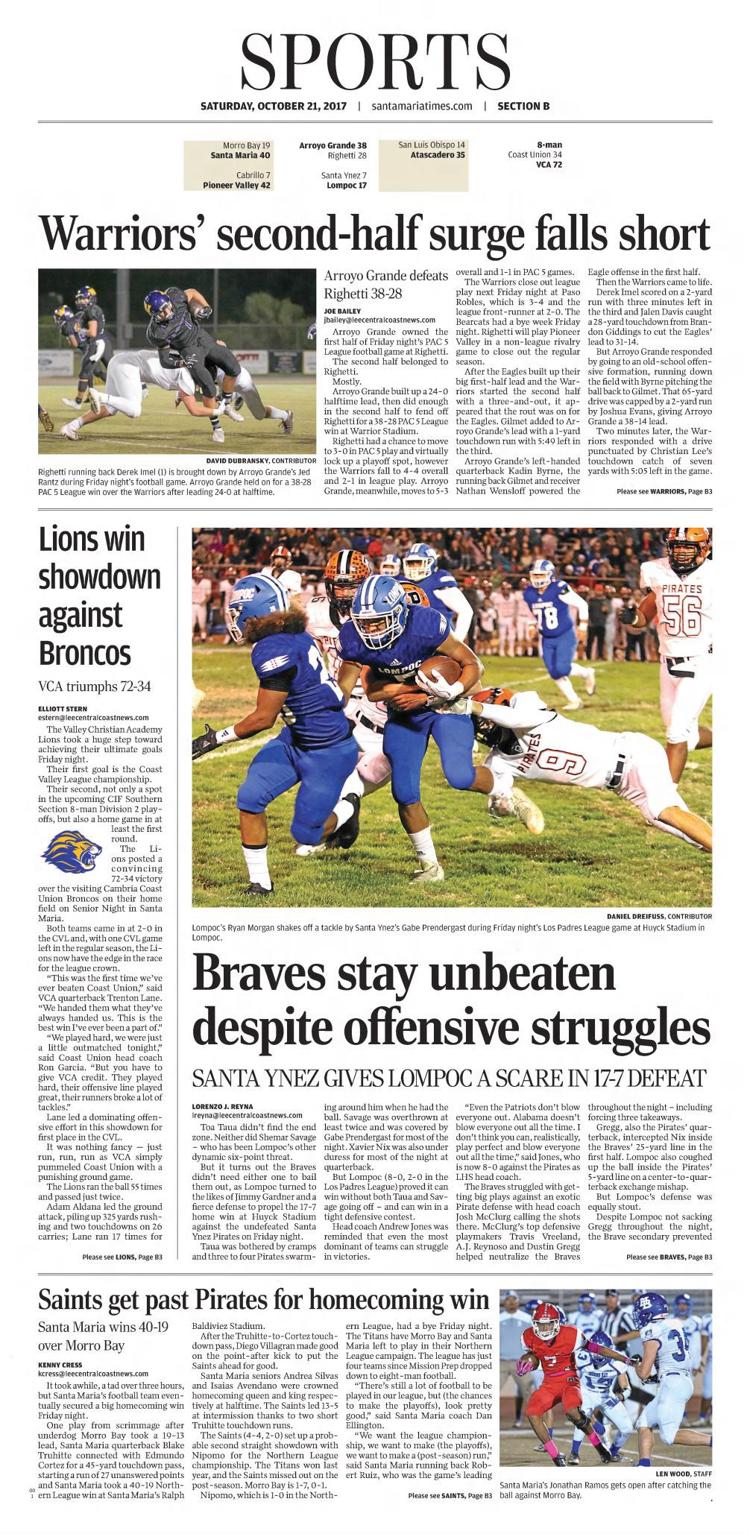 Santa_Maria_Times_Sat__Oct_21__2017_ (1).jpg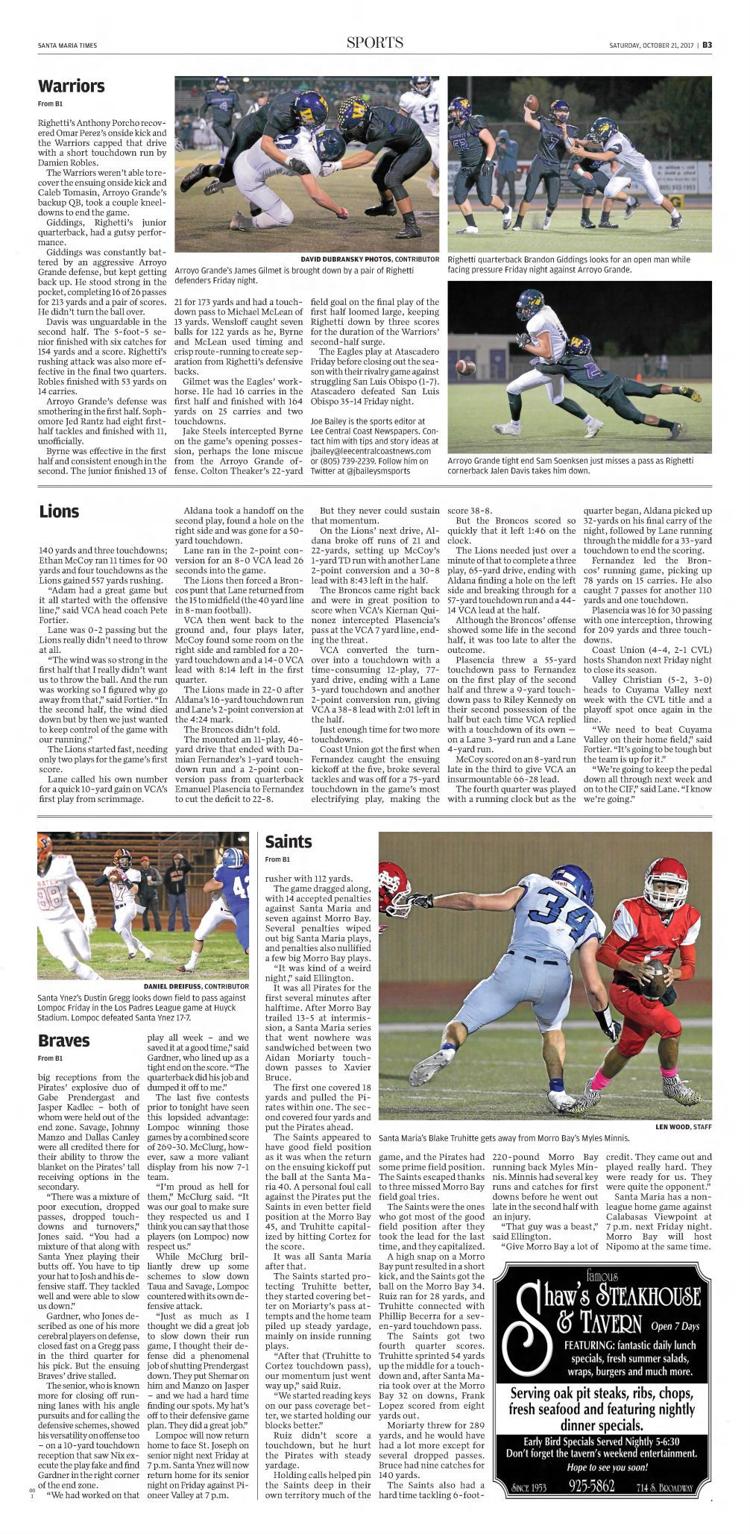 Santa_Maria_Times_Sat__Oct_28__2017_.jpg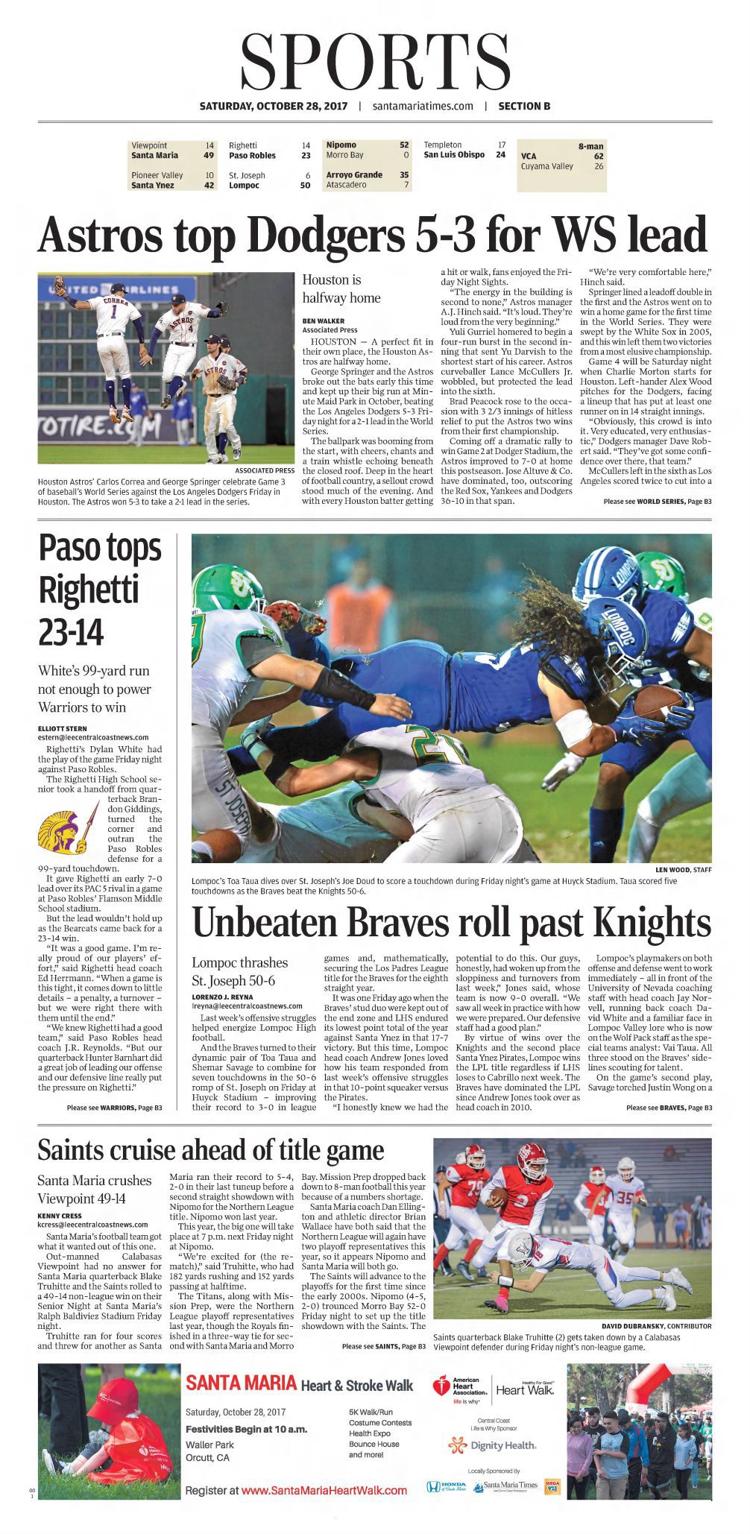 Santa_Maria_Times_Sat__Nov_4__2017_.jpg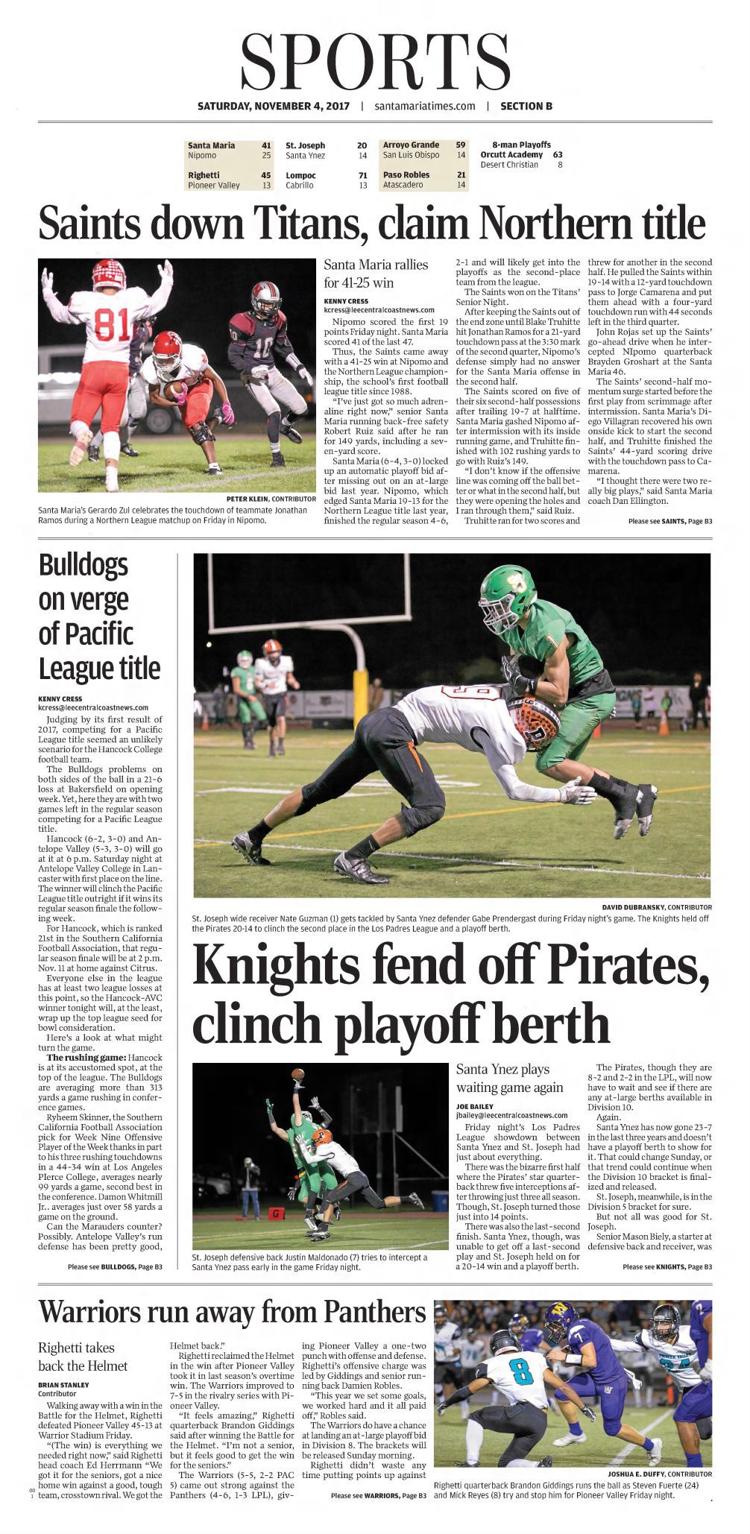 Santa_Maria_Times_Sat__Nov_11__2017_.jpg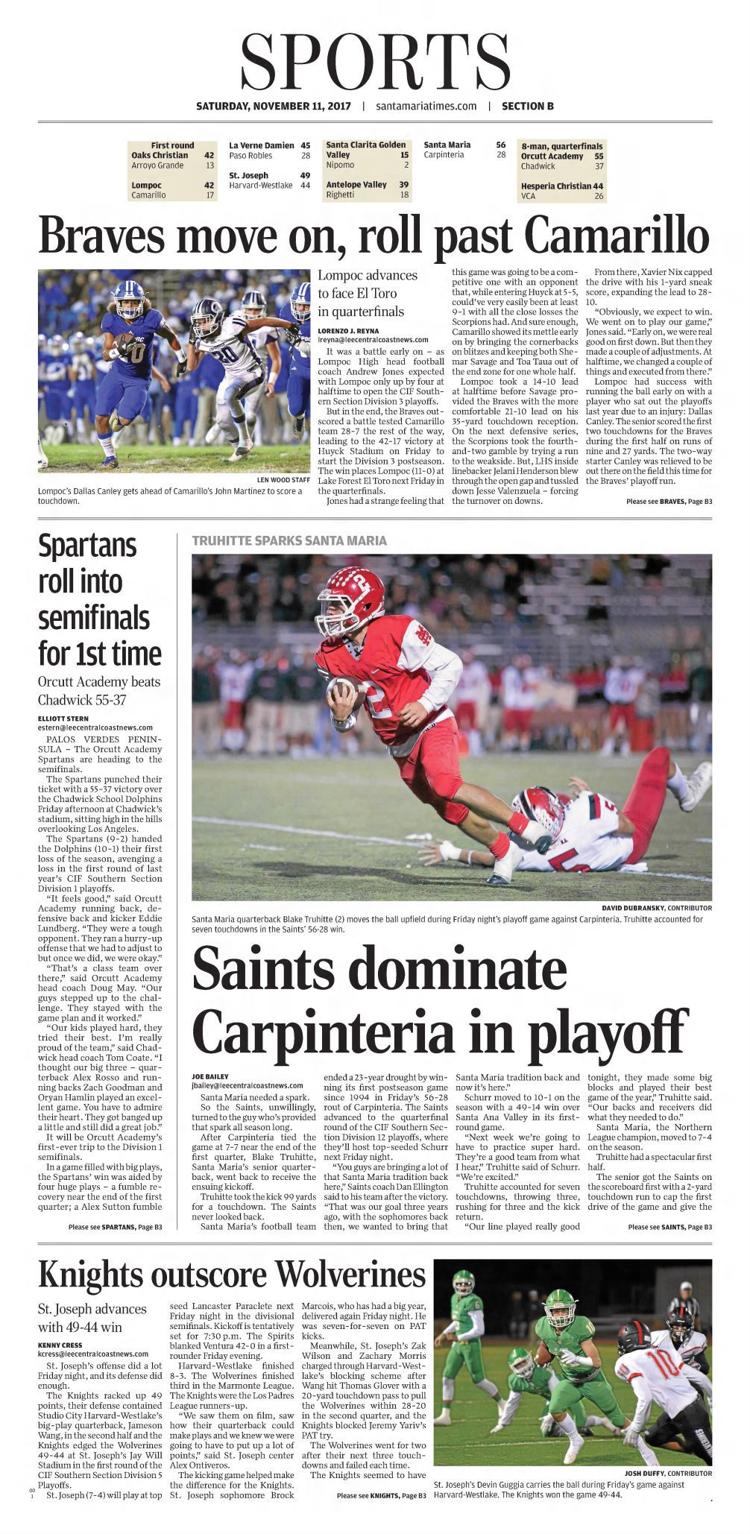 Santa_Maria_Times_Sat__Nov_11__2017_ (1).jpg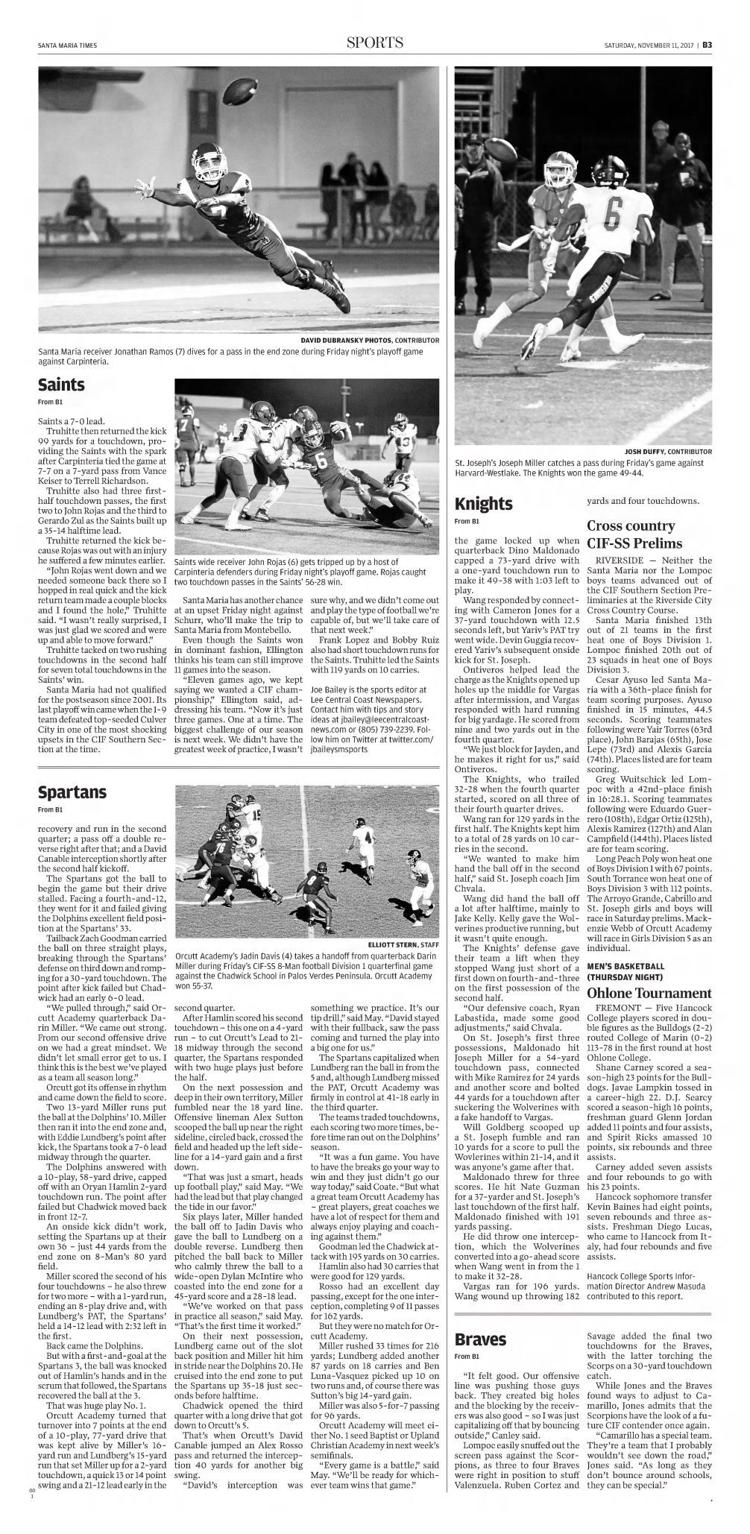 Santa_Maria_Times_Tue__Nov_14__2017_.jpg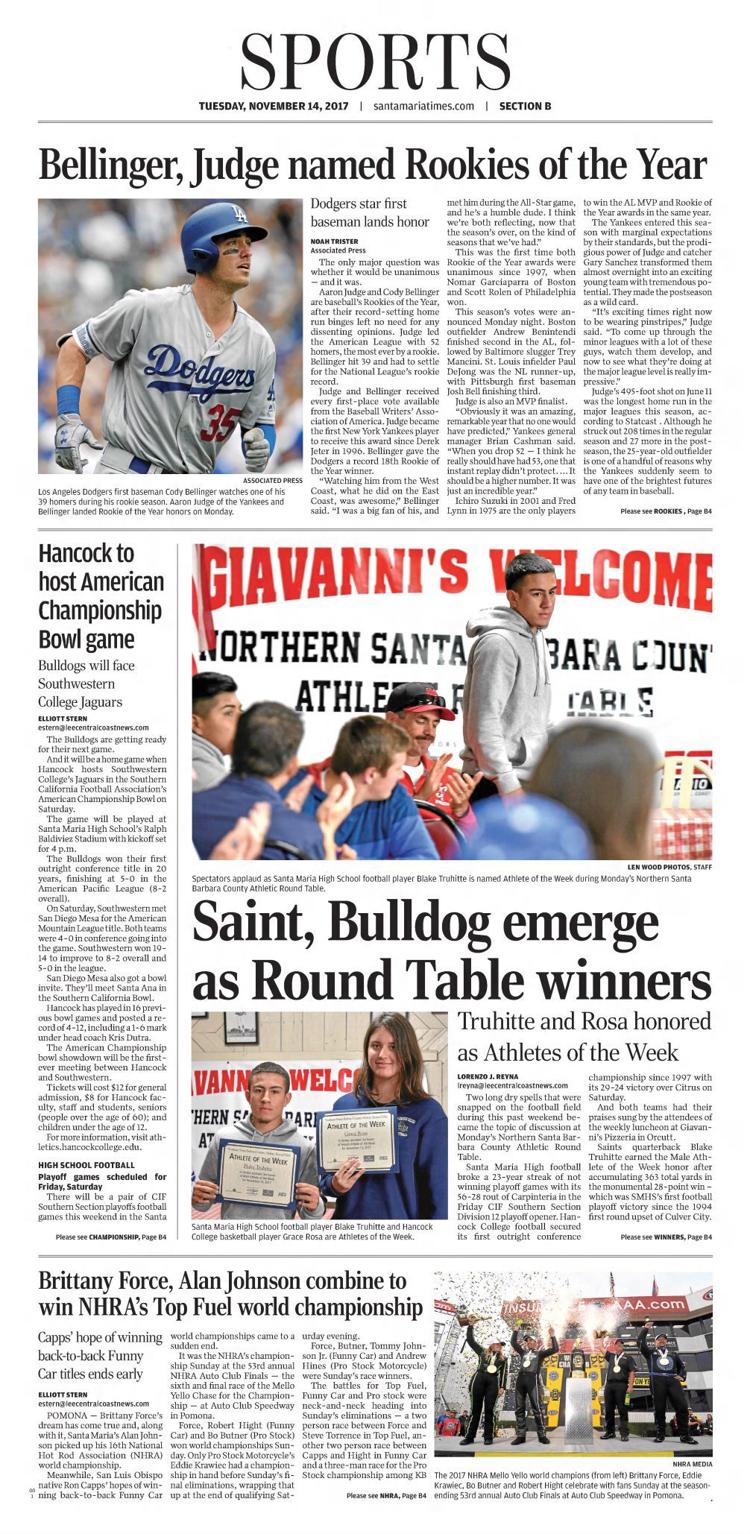 Santa_Maria_Times_Sat__Nov_18__2017_.jpg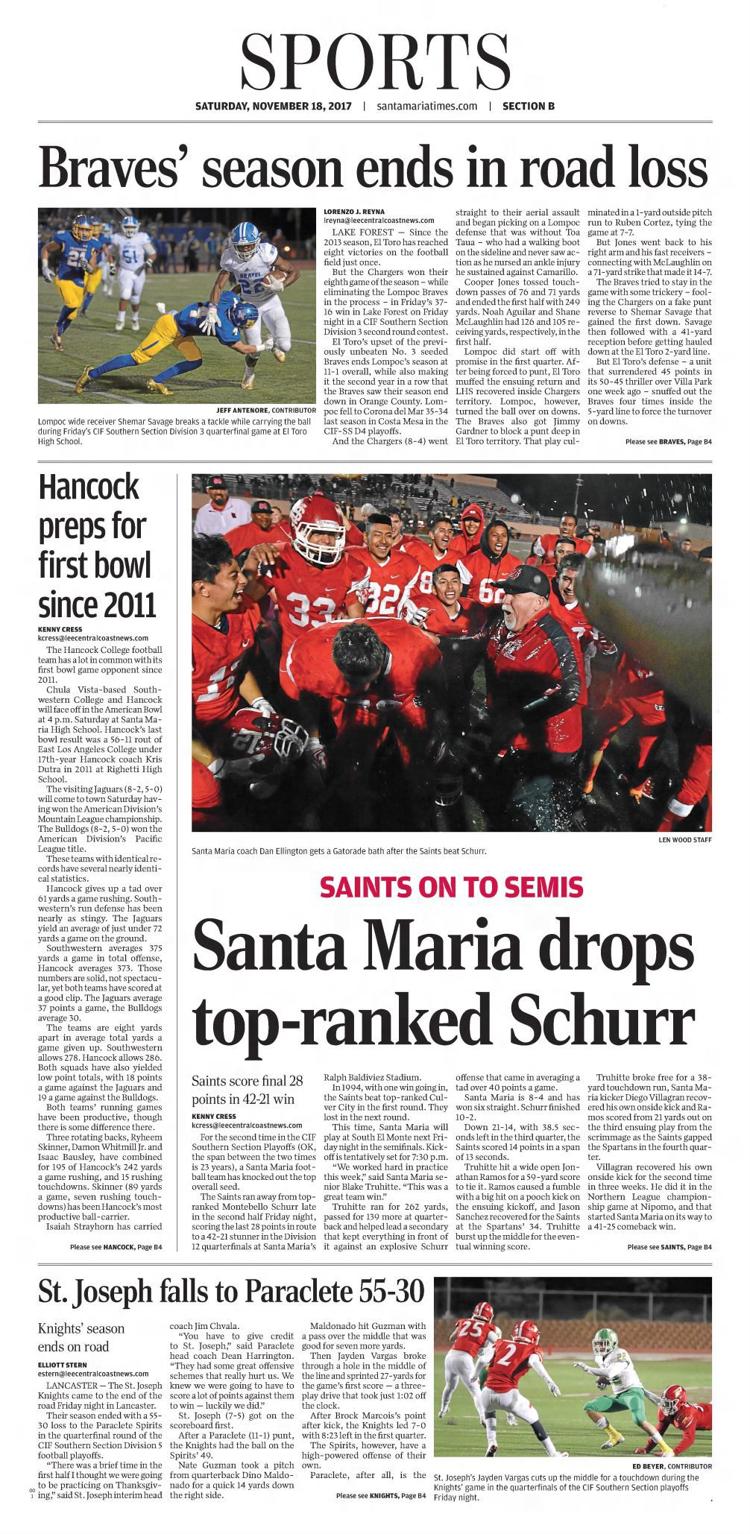 Santa_Maria_Times_Sat__Nov_25__2017_.jpg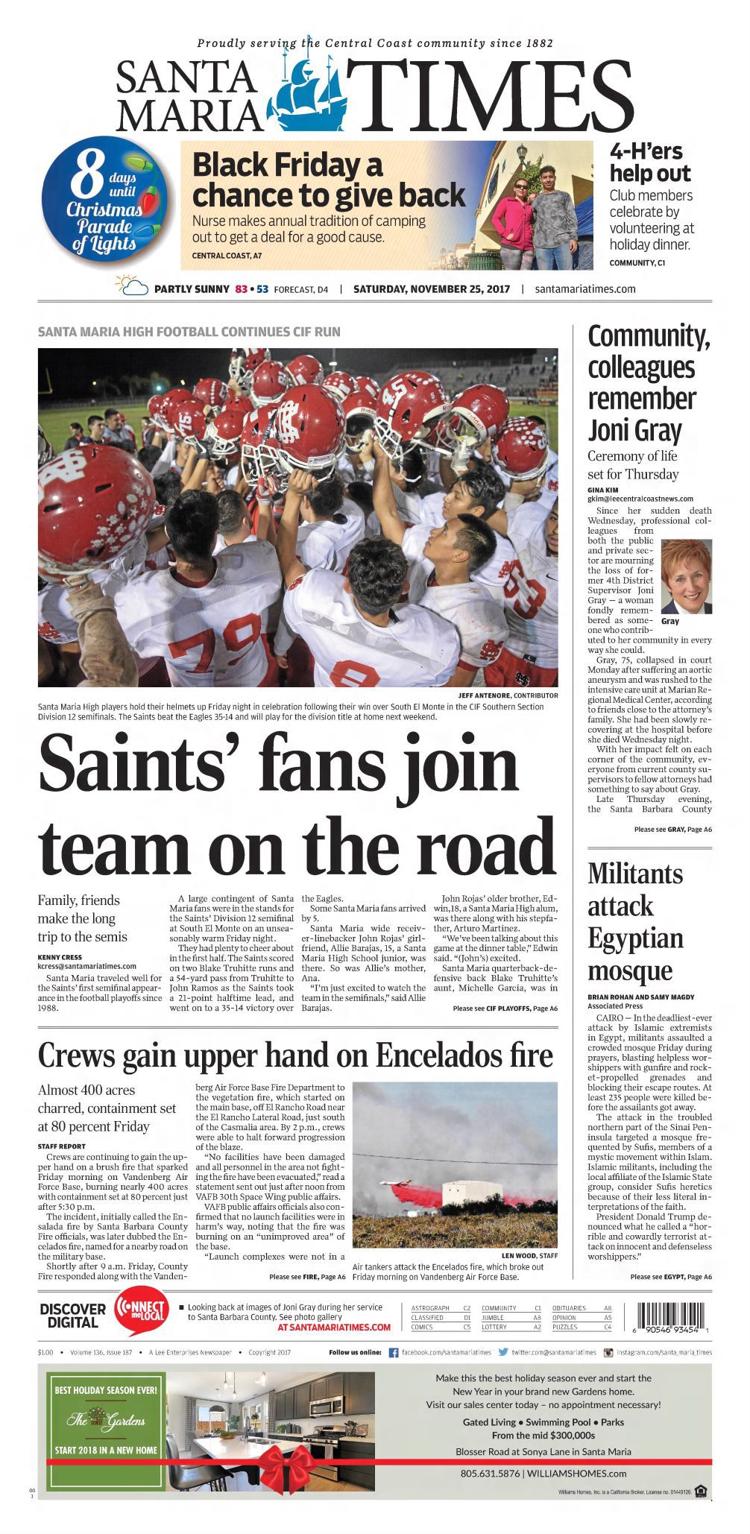 Central Coast Classic Series: We look back at some the biggest games in the area's history
With a little extra time on our hands, we are taking a look into the past of prep sports on the Central Coast. Our sports staff has been going through our archives searching for photos and stories highlighting some of the most pivotal games area teams have played over the last two decades.
You can support the hard work of our local sports team by signing up for a News+ Membership. 
Get in the game with our Prep Sports Newsletter
Sent weekly directly to your inbox!