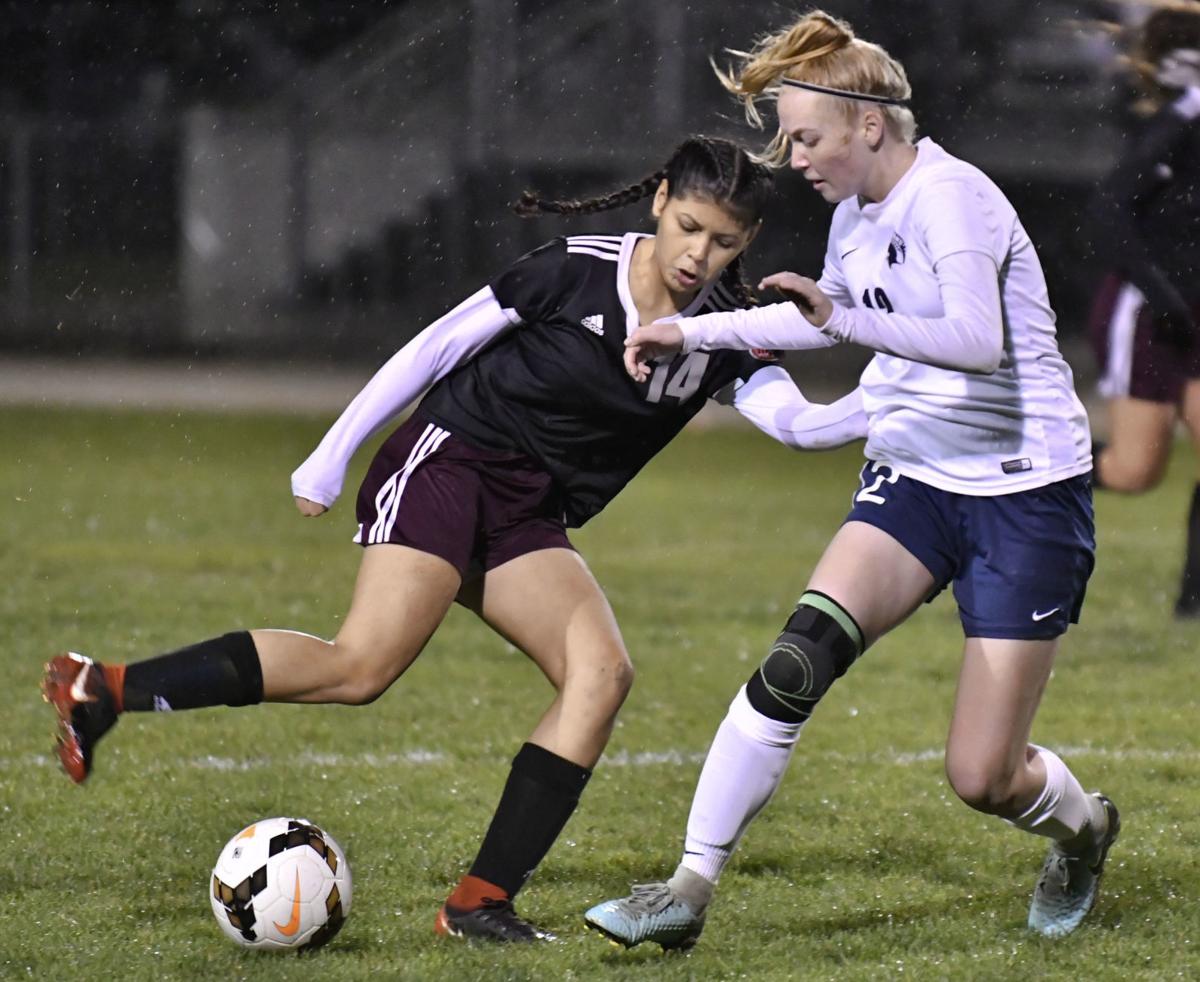 Nipomo had a good day at the Pioneer Valley Girls Soccer Tournament Friday, winning both of its games on the first day of the two-day tournament at the host school.
Emely Graciliano scored in the last two minutes, and the Titans edged the host team 1-0. The Titans followed that up with a 4-0 win over Fresno Washington Union.
Heylana Arreola scores twice in that one. Graciliano and Heleen Mott scored the other Nipomo goals.
After Righetti led most of the day, Porterville Monache passed the Warriors and moved into the lead Friday night at The Bash wrestling tournament.
Nipomo goalkeeper Alexis Acosta posted two shutouts Friday. Amaya Yebra gave Pioneer Valley a solid game in goal in her team's game against Nipomo.
Righetti defeated Pioneer Valley 3-0 and tied Fresno San Joaquin Memorial 1-1.
Hailey Gough scored two Righetti goals against Pioneer Valley. Natalie Estrada tallied once.
Emily Jordan scored the Righetti goal against San Joaquin Memorial. Isabelle Rojo was the Righetti goalie both games.
It's your chance to vote for who you think is the Central Coast Player of the Year! The annual LCCN All-Area Team is a squad the sports staffs at the Santa Maria Times, Lompoc Record and Santa Ynez Valley News put together. We pick who we think are the top players in our coverage area. 
Arroyo Grande went 2-0 with two shutouts, defeating Santa Maria 6-0 and Orcutt Academy 2-0.
Five Eagles scored against Santa Maria. Lauren Tucker knocked in two goals. Liz Perez, Angie Tapia, Jiana Martin and Jackie Ramirez all tallied once.
The tournament will resume Saturday at Pioneer Valley.
The Saints' historic win, in front of a capacity crowd at Pioneer Valley on the Panthers' Senior Night, ranks as No. 9 among the top Lee Central Coast Newspapers sports stories of 2019, as determined by voting among the LCCN sports staff.
Santa Maria 58, LaVerne Lutheran 19
The Saints moved to 6-5 on the season with a win at the VCA Tournament and advanced to Saturday's title game against VCA.
Carlissa Solorio led Santa Maria with 16 points and 20 rebounds. Iceis McNutt added 15 points as she hit three 3-pointers. Luz Olea had 12 points and nine steals for Santa Maria, whose Alma Fernandez added nine points.
The Saints hit 10 3-pointers as a team, with McNutt and Fernandez each hitting three.
VCA 55, LaVerne Lutheran 26
The Valley Christian Academy Lions played their way into the championship game of their annual Christmas basketball tournament with a runaway victory over the LaVerne Lutheran Trojans Friday night in Santa Maria.
Lindsay Mikkelson led the charge, scoring 19 points to go with eight rebounds and four steals.
Miley DeBernardi had 11 points, which included two 3-pointers.
Jenna Mason had nine points, 11 rebounds and four blocked shots.
You have free articles remaining.
Grace Cose scored eight points and grabbed nine rebounds.
"LaVerne is not a great outside shooting team so we played them with a tight zone defense. We held their top scorer, Amanda Garcia, to eight points," said head coach Randy Stanford. "On our end, the girls did a great job of taking the ball to the basket."
VCA plays Santa Maria Saturday at 10 a.m. for the tournament championship.
Pioneer Valley won two tournament games handily, defeating Bakersfield Centennial 57-31 and Taft 52-28, to move to 3-0 in the tourney.
Panthers point guard Ravynn Anielski, with 23 points against Centennial and 10 against Taft, scored in double figures both times.
Kiana San Juan led the Panthers scoring against Taft with 14 points. Chyanna Medina-Tell scored 12 in that one. Valeria Nol put in 10 points against Centennial. 
Orcutt Academy 45, Bakersfield Mira Monte 32
The Spartans (11-3) held Mira Monte to nine points in the second half and won for the second time in the tournament.
Erynn Padhal racked up 17 points and snared seven rebounds for Orcutt. Giselle Calderon amassed 11 points, six assists and five steals. 
Orcutt Academy 49, East Bakersfield 29
The Spartans rolled to a win in the Arvin Tournament semifinals.
Giselle Calderon scored 22 points for Orcutt, whose defense shut down East Bakersfield. Mariah Lopez scored 12 points for the Spartans and Erynn Padhal had 10.
The Warriors (11-2) had a lot of trouble scoring against the Yellowjackets and saw their eight-game winning streak end.
Malia Cabigon led Righetti with 10 points. 
Tulare Mid Winter Showcase Tournament
Without star freshman point guard Makennah Simonson for this tournament, Nipomo (12-2) routed Tulare Western 57-15 and fell to Porterville 79-53.
Leah Miller dropped  in 21 points for the Titans in the Tulare Western game and made five 3's.
Kat Anderson, with 12 points against Tulare Western and 10 against Porterville, was in double figures both games.
Kacie Slover put in 13 points for Nipomo against Portervile.
Valley Christian Academy Tournament
Isaac Luque scored a game high 21 points, and Orcutt Academy (7-5) eased to a 70-43 win over host VCA in the Lions' gym.
Four Spartans scored in double figures. Elijah Stephenson put in 16 points, Camden Smith scored 11 and Connor Adams had 10.
Gavin Edick led the Lions with 17 points. Sean Swain had nine.