The Channel League boys soccer season got off to an exciting start Tuesday afternoon with two old rivals battling for not only a league win but for some bragging rights in the Lompoc Valley.
Although the Lompoc Braves scored early — very early — the game went down to the wire with Lompoc eventually winning 3-2 over the Cabrillo Conquistadores in a match played at Cabrillo High.
"I'm excited," said Lompoc head coach Marcos Vargas. "We got our first league win under our belt. Hopefully there will be many more. We just have to keep playing hard and hope for the best."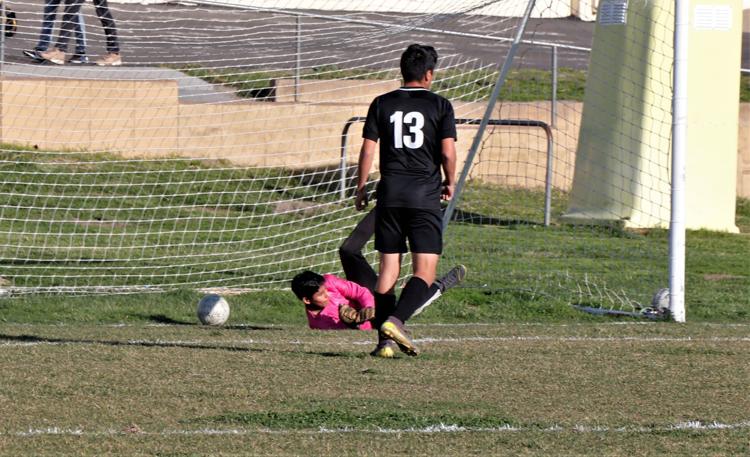 Something you won't see very often — all five goals were unassisted.
"The preseason is over. We've got 10 games, 10 league games," said Cabrillo head coach Oscar Torres as his team took the field. "Let's take them one at a time. Let's leave it all on the field."
But Torres' team found itself in an early hole when Lompoc's Alfredo Botello got the ball, saw an opening and fired the ball past Cabrillo goal keeper Jireh Velasquez in the game's first minute.
In the 10th minute, Lompoc's Harold Morales was surrounded by five Cabrillo players about 30 yards out but directly in front of the Cabrillo goal. He fired a long ground ball that got past Velasquez for a 2-0 lead.
"Morales made a great play," said Vargas. "He was in a crowd and just pulled the trigger."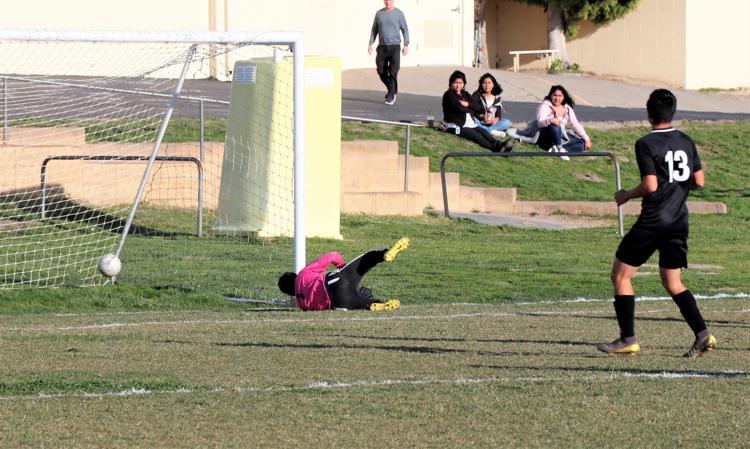 "That was a pretty rough start, giving up two goals in the first 10 minutes of the game," said Torres. "It's hard to keep a positive mindset after two early goals, especially against our crosstown rival."
But there was plenty of time left and the Cabrillo players battled their way back into the game.
With Lompoc's defense doing a good job of double-teaming the ball, Cabrillo's Cody Aguilera fought through several Brave defenders and sent a low, bouncing ground ball toward the goal from about 20 yards out. The ball scooted past Lompoc keeper Alejandro Lopez to get the Conqs on the scoreboard in the 30th minute.
"Cabrillo is a tough team," said Vargas. "After they scored that first goal, it gave them a little life back, gave them a spark."
Despite pushing the action for the final 10 minutes of the half, Cabrillo wasn't able to get another goal and trailed 2-1 at the break.
But early in the second half, Lompoc was whistled for a penalty and Cabrillo's Diego Cardenas made the most of the penalty kick, tying the game at 2-all just four minutes into the half.
Five minutes later, Lompoc had a corner kick.
The ball bounced around in front of the Cabrillo goal, Lompoc's Alexander Gonzalez got a foot on it and sent the ball into the corner of the net for the eventual game-winner.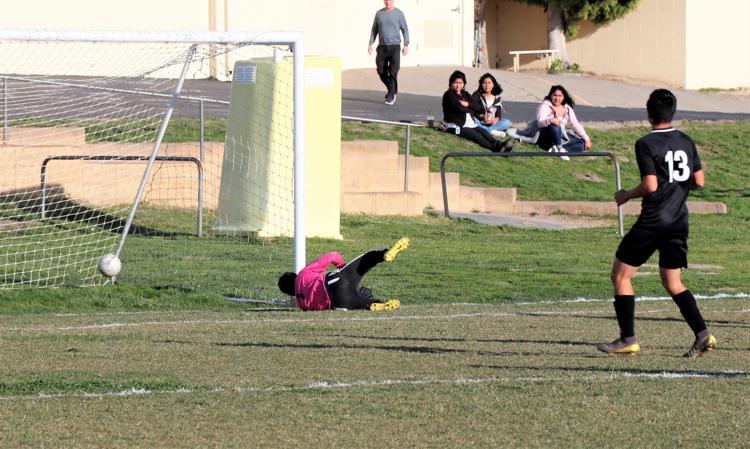 "It was good to see Alexander get that goal," said Vargas. "He missed a bunch of games because of an illness and we're working him back into the lineup slowly. We're glad to have him back and glad he got that shot. After they got that second goal, we were able to get the tempo back and that resulted in Alexander being able to get the game-winner."
"They were up two goals but we tied it," said Torres. "But we gave up that goal after the corner kick. That's definitely something we've got to work on."
Cabrillo's keeper was under pressure the entire game.
"Jireh made 15 key saves for us. He's been a very consistent player," said Torres. "And he's only a sophomore. He's already improved so much. I'm excited to see just how good he will become over the next couple of seasons."
Lompoc's Lopez had five saves.
Both teams continue Channel League play with home games on Thursday.
Lompoc hosts San Marcos while Cabrillo will host Dos Pueblos.
Pioneer Valley 5, Righetti 0
The Pioneer Valley Panthers rolled to a Mountain League boys soccer victory at Righetti High. The shutout evened their league record at 1-1.
You have free articles remaining.
Edson Guerrero scored twice for the Panthers and single goals were scored by Jesse Morales, Jose Fuentes and Julian Rodriguez.
Pioneer Valley next plays Friday at Paso Robles while Righetti hosts Santa Maria the same day.
Santa Ynez 1, Dos Pueblos 0
The Pirate defense was the star of the game, stifling every Dos Pueblos Chargers attack while posing a shutout in the teams' Channel League opener.
"It was a fun game but it was a battle," said Santa Ynez head coach Rob Cantrell in a telephone interview after the game.
"(Defenders) Olivia Torres and Katelyn Rennie both played out of their minds, absolutely fantastic defense tonight," said Cantrell.
The defense was so strong that Pirates' goal keepers Brookelyn Fletcher (first half) and Callie Grieco (second half) each only had to make one save in posting the combined shutout.
The game was scoreless until the 73rd minute when Jazz Feeley scored on a free kick from 37-yards out.
Both teams are back in Channel League action on Thursday when Cabrillo visits Dos Pueblos and Santa Ynez (7-2-1, 1-0 Channel) faces Santa Barbara at San Marcos High.
Santa Barbara 58, Santa Ynez 23
The Santa Ynez Pirates lost their Channel League opener to the Santa Barbara Dons in a game played at Santa Ynez High.
"The boys played really well in the first half. We were down 11-8 after the first quarter and were tied 14-all with about five minutes to go in the half," said Santa Ynez head coach Ray Vazquez in a telephone interview after the game. "But Tyler (Rasmussen) got into foul trouble and we had to go with a much smaller lineup and we were overmatched by their height after that."
Santa Barbara went on an 1802 third quarter run to put the game out of reach.
"Santa Barbara is very good. They have the two reigning league MVPs back for their senior years," said Vazquez. "We'll just have to re-group and go back at it Friday night at Dos Pueblos."
Coast Union 56, Valley Christian Academy 42
The Valley Christian Academy Lions dropped a Coast Valley League decision at Camrbia's Coast Union.
Gavin Edick and Sean Swain each scored 17 points to lead the Lions.
"We knew it would be a challenge and we did some things that we can build off of," said VCA head coach Christopher Maples in a telephone interview after the game. "We're definitely improving."
VCA (4-6, 2-2 CVL) is home for its next game Friday against Shandon.
Coast Union 43, Valley Christian Academy 32
The Valley Christian Academy Lions dropped a Coast Valley League game at Cambria's Coast Union Broncos.
Grace Cose scored 18 points and pulled down 13 rebounds for the Lions (5-6, 2-2- CVL).
Only four girls scored for VCA with Lindsay Mikkelson and Miley DeBernardi each scoring six and Jenna Mason two.
The Lions led 8-7 after the first quarter and were tied 20-20 at the half.
"We were outscored 13-2 in the third quarter and that was the ballgame," said VCA head coach Randy Stanford in a telephone interview after the game. "Now we just have to regroup and get ready for Shandon on Friday."
Get in the game with our Prep Sports Newsletter
Sent weekly directly to your inbox!