For the most part, the rain stayed away from Santa Maria High School Thursday night.
A heavy, sheeting rain fell, with a strong wind blowing in from the west, before the start of Santa Maria's soccer match against the Santa Ynez Pirates.
And then, as if on cue, the rain and wind stopped and the match went on as scheduled.
One other thing went the way of the Saints — the scoreboard — as Santa Maria rolled to a 6-0 victory in the non-league game at Ralph Baldiviez Stadium.
"It rained on both sides of the field," said Santa Ynez head coach Rick Joyner. "It's a tough loss, we have a young team. I don't want to use that as an excuse but Santa Maria's experience really showed."
"The rain goes both ways," said Santa Maria head coach Eduardo Cuna. "But at the same time, it does take away from our possession game. We were still able to move the ball so I'm not complaining about the weather."
Both teams struggled to find solid footing early in the game, playing through large puddles that covered most of the middle of the field.
In the ninth minute, the Saints gained possession and launched a long pass down field. Jonathan Santos got behind the Pirates' defense, caught up with the ball and rocketed a shot past Santa Ynez goalkeeper Misa Hernandez for a 1-0 lead.
It would have been 2-0 less than two minutes later but Hernandez made a strong save to keep the Saints off the board.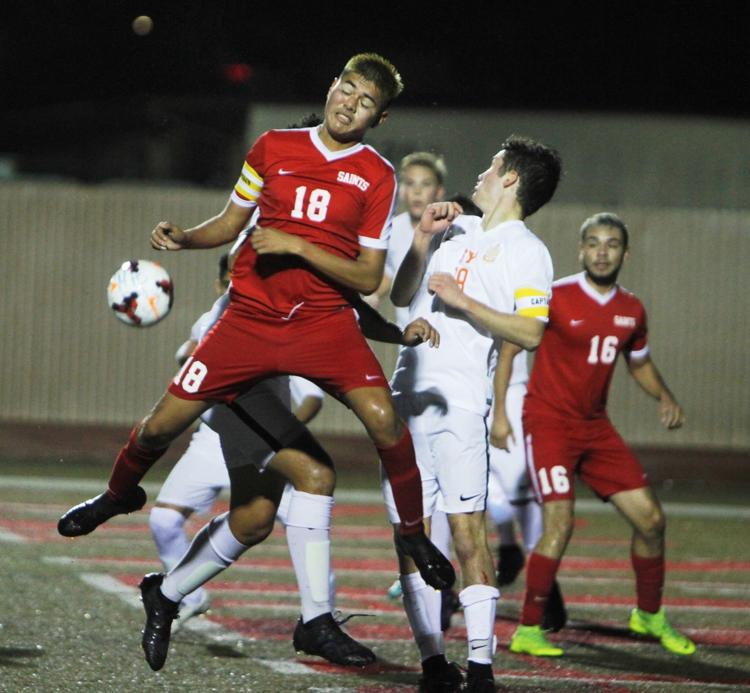 Saints keeper Gabriel Flores made the first of his six saves in the 17th minute and quickly got his team back on the attack — the possession ending with Erick Romero scoring the first of his three goals.
"Erick is hard to stop but he doesn't do it alone and our defense made it hard on them to score," said Cuna.
Coming out of a scrum in front of the Santa Ynez net in the 28th minute, the Saints' Eduardo Rodriguez got control of the ball and fired a shot past Hernandez for a 3-0 lead.
Romero made it 4-0 with eight minutes left in the first half after taking a long, 20-yard pass at the Santa Ynez 25-yard line and then driving the ball the rest of the way and scoring from about 5-yards out.
Meanwhile, the Saints' defense shut down the Pirates' offense, holding the Pirates to two clean shots on goal in the first half and six for the game.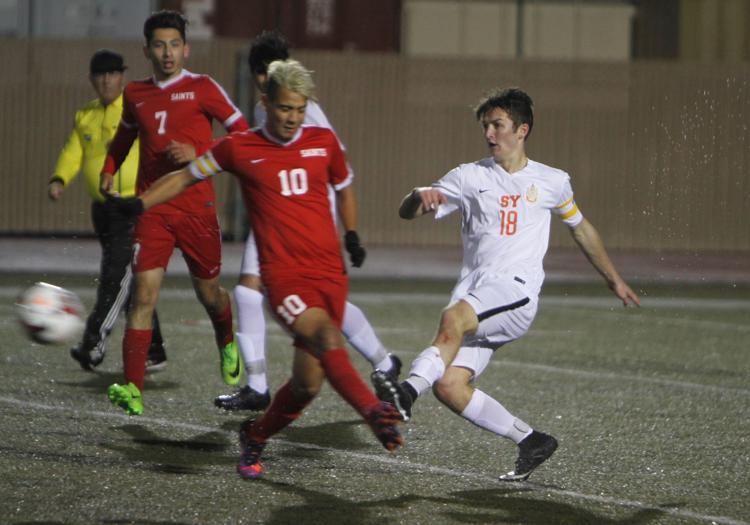 "We played good, solid defense," said Cuna. "Our two center backs — Edgar Garces and Jose Rodriguez — played a good, solid game. In the midfield, Eduardo Rodriguez and Jonathan Santos kept the ball moving the right way for us."
By halftime, the field had drained nicely but that didn't last long as the rain returned just after the halftime horn.
But again, as if on cue, the rain stopped just before the second half began although a light rain returned, on and off, for the first 15 minutes of the second half before quitting for good.
After Saul Salcido headed in a goal and Romero completed his hat trick early in the second half, Cuna pulled most of his starters and Santa Ynez changed to Juan Sanchez in goal.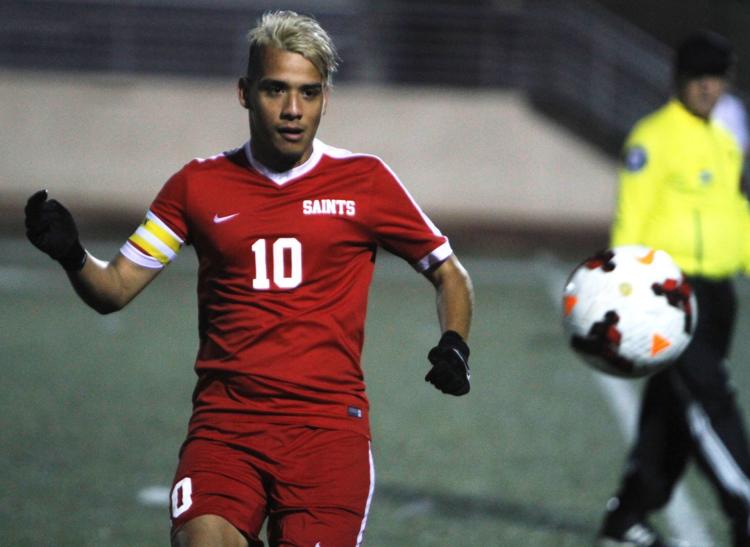 "I think Deklan Pollenz played a good game for us tonight," said Joyner. "Santa Maria is a talented team. They were more aggressive than we were. They're a lot like the tough Santa Barbara teams (Santa Barbara, San Marcos and Dos Pueblos) that we'll be facing in the Channel League. A game like this shows our players what they need to work on and I'm sure they'll learn this lesson and get better."
"We had a lot of good play from a lot of our people," said Cuna. "In our last game (a 6-2 win over Templeton), we had five different players score. Tonight we had four players score our six goals. Our offense gets everyone involved. As long as we keep playing this way, we'll be hard to stop."
Santa Maria (3-0) hosts St. Joseph next Tuesday while Santa Ynez (1-2) is on the road next Tuesday at San Luis Obispo. Both are non-league matches. 
Boys Basketball
Morro Bay Tournament
Santa Ynez 48, Nipomo 46
For the second time this week, the Pirates (2-1) defeated the Nipomo Titans.
On Tuesday, Santa Ynez edged Nipomo 65-59 at Nipomo High.
On Thursday, the game was even closer in both teams' first game at the Morro Bay Tournament.
The teams were tied 22-all at the half and Santa Ynez led 35-33 after three quarters.
But Nipomo took a 46-45 lead on a basket with 30-seconds left in the game.
"Then Nate Rogers got into the lane and put up a nifty left-handed layup in traffic to put us back in the lead at 47-46," said head coach Ray Vazquez in a telephone interview after the game. "We kept them from scoring and Ryan Rennick was fouled. He made one of two free throws to put us up 48-46. Nipomo got off two shots in the last nine seconds but neither of them went in."
Rogers led the Pirates with 11 points, seven rebounds and five assists.
"Nate really stood out today," said Vazquez. "He played really well, got us into the right tempo the whole game."
Merek Mercado scored 10 points and Rennick added nine points to go with 11 rebounds.
Santa Ynez continues tournament play Friday with a 5:30 game against Bishop Amat at Morro Bay High School. Nipomo's Friday opponent had not been determined at press time.
Bakersfield Garces Memorial 76, Santa Maria 53
Garces Memorial won its opening game of the Morro Bay Tournament, rolling past Santa Maria.
The Saints got off to a hot start, hitting six of their 14 3-pointers in the first quarter to grab a 20-18 lead.
But Garces' tall front line controlled the boards, making it difficult for the Saints to get second chance shots.
Rolando Pina, Santa Maria's 6-6 sophomore, led the Saints with 13 rebounds.
Thomas Segel had 15 points on five 3-point buckets, Genaro Morales had 11 points and five rebounds and Jon Garcilazo had nine points on three 3-pointers.
The Saints (1-2) will play new Ocean League foe Atascadero in a 4 p.m. second round game Friday.