After 80 minutes of play, it appeared St. Joseph was going to score a hard-earned victory over its rival.
Then came second-half stoppage time.
Righetti's Rigoberto Zepeda took a short corner kick and dribbled toward the endline. He was bumped by a St. Joseph defender and crashed to the turf.
The referee immediately called for a penalty.
Righetti's Bryan Rivera stepped up to the spot and calmly knocked down his penalty to the middle-right of the net to get past the left-leaning Gabe Penner for a goal, tying the game at 1-1.
A few moments later, the final whistle blew.
Righetti had salvaged a 1-1 draw with St. Joseph.
The Knights held the lead for much of the match after St. Joseph senior forward Christian Angulo scored on a gem of a free kick from 25 yards out. Angulo's shot, in the 17th minute, came from the left wing and whipped in front of the goal and past Righetti's keeper.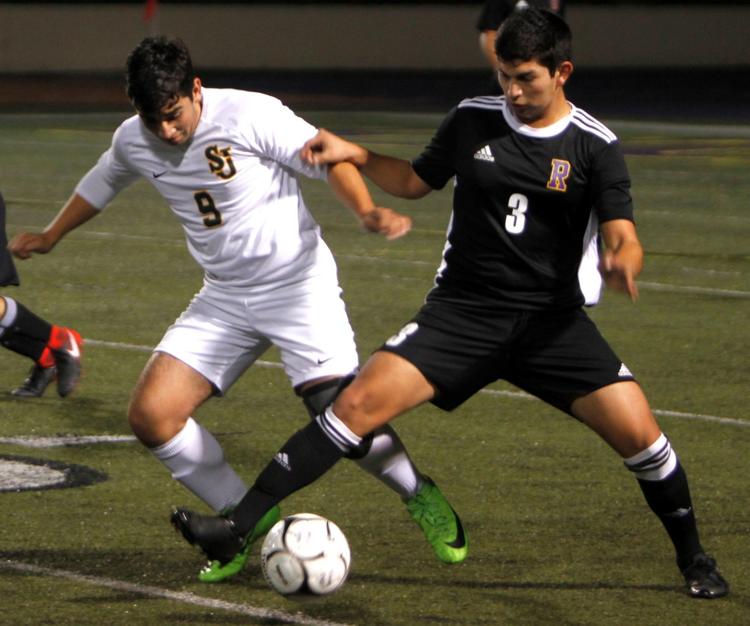 St. Joseph didn't really challenge Righetti's goal again, save for an Aden Andersen header that went over goal late in the second half. (That came on the end of a 50-yard free kick from defender Nathan Halsell).
After Angulo's goal, Righetti took control of the game, but the Warriors didn't find the net in the field of play.
From about 22 minutes left in the first half all the way to the 10-minute mark, Righetti relentlessly attacked St. Joseph's defense. The Warriors earned five corner kicks in a span of five minutes and put six shots on goal.
But Penner, and the Knights' backline of Halsell, Henry Adam, Chance Roach and Colin Reynolds stiffened up time and again. Penner made eight saves on the night.
Halsell, who recently wrapped up an All-League season kicking for the Knights football team, cleared the ball off his line at least a dozen times.
It appeared St. Joseph would pitch a shutout. 
But the Warriors kept attacking, putting up 20 shots, unofficially, and 10 shots on goal. The Warriors kept earning corners late in the second half and finally made one count as Zepeda earned the penalty on the edge of the penalty area deep into stoppage time.
With the draw, Righetti moves to 3-2-1. St. Joseph is now 1-3-2. The Knights next play host to Fresno San Joaquin Memorial Friday at 5 p.m.
The series, which had been a PAC 8 League matchup, is now a non-league contest as Righetti is in the Mountain League while St. Joseph moves to the Ocean League.