It is not unusual for a sports team to have a set of siblings.
Nipomo's girls basketball team has three. Sisters Janna and Kacie Slover, Gracie and Abbey Gutierrez, and Clarissa and Shantille Simonson comprise two thirds of the Titans' nine-woman roster.
"I had a set of twins on my team before," said ninth-year Nipomo girls basketball coach David Mendez. "I've never had three sets of siblings.
"I call all of my players by their first names, so that cuts out some of the confusion (that would result by calling players by their last names). If I want to get to one sibling I go through the youngest one first, just like I do with my own kids."
Mendez has three children.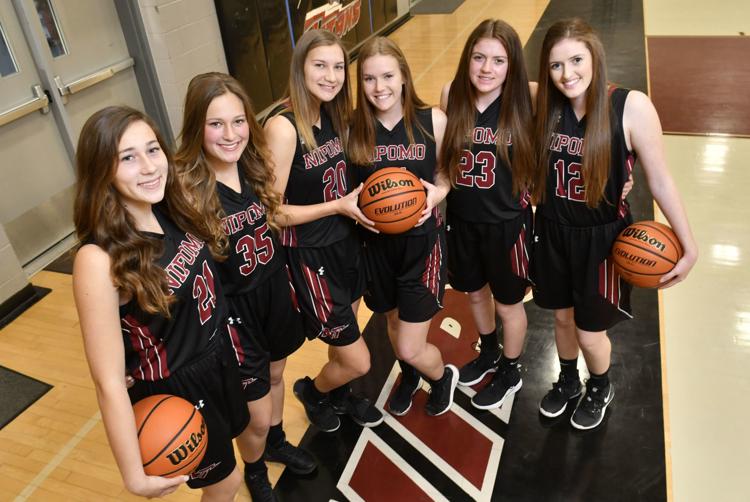 Janna Slover is a senior forward. Kacie Slover is a freshman guard. Gracie Gutierrez is a freshman center. Abbey Gutierrez is a senior guard. Clarissa Simonson is a sophomore shooting guard. Shantille Simonson is a junior center.
All of the sisters play regularly for a 2019 Nipomo team (18-8, 11-1) that shared the inaugural Ocean League championship with Pioneer Valley. Then again, all of the players on the Titans' small roster play regularly.
They all contribute pretty regularly, too. No individual statistics were available for the Titans, but the team's hallmark has been rugged defense -- Nipomo gives up fewer than 40 points a game -- and balanced scoring.
Janna Slover said all of the team's players are close. "It's like we're all sisters," she said.
As for his three sets of siblings, "They bring a lot of positive energy to the team, encouraging each other like sisters do," Mendez said.
The siblings said they and their teammates, senior Mady Witcher, freshman Leah Miller and sophomore Kat Anderson, play for the same area club team, the Nipomo Boltz.
All three sibling sets also said basketball was a consistent topic of discussion around their respective families' dinner tables.
"We do talk about it a lot," said Kacie Slover.
"Basketball is a big thing in our family," said Shantille Simonson. "My dad coaches a club team."
In fact, Shantille Simonson, Witcher and Janna Slover all are coaches for Nipomo Recreation fifth- and sixth-grade teams. 
The sisters all said they can read their sibling on the court through unspoken communication.
"She'll be standing at the 3-point line, giving me that look that says 'Don't throw me the ball,'" Abbey Gutierrez said, glancing at Gracie with a chuckle.
Then, when her sister is in a better shooting position, "She'll give me the look that says 'throw me the ball,'" said Abbey.
By way of encouragement, "She'll give me that tap on the shoulder," Abbey Gutierrez said.
Shantille Simonson also said her sister "will give me that look," when the two are on the floor together.
"I have a lot of looks," said Clarissa Simonson. And, "Yeah," she can read her sister on the court, Clarissa said.
Gracie Gutierrez said that she and her sister used to practice a lot on their own together but, "High school is pretty busy, so we can't do that as much."
Kacie Slover qualified for the state cross country meet last fall. "Running cross country did give me good conditioning for basketball," she said.
Janna Slover said Kacie "runs laps around us."
Neither Gracie Gutierrez nor Kacie Slover will have to deal with their sister leaving home for college next school year. Abbey Gutierrez said she will attend Hancock College. Janna Slover said she will likely attend Cuesta. Both said they are undecided as to whether or not they will try to play basketball in junior college.
All of the siblings said the team is excited for the upcoming playoffs. Nipomo is in the CIF Central Section's Division II. Playoff pairings are due out by 2 p.m. Friday.
Meanwhile, Shantille Simonson said, the Nipomo girls basketball program will get another Simonson next year.
"Our sister, Makennah, will come here next year, and, since we play different positions, all three of us will be on the court together," said Shantille.
Makennah Simonson is a point guard.