Three St. Joseph athletes spent some extra time in their school's library on Wednesday.
They better get used to doing that.
The trio of Knights committed to study and also compete at four-year universities in a ceremony held during their school's lunch period Wednesday. 
Football and basketball standout Elijah Brinez signed with MidAmerica Nazarene University, located in Olathe, Kansas. 
While Brinez will be traveling to the Midwest, his two classmates aren't going all that far.
Golfer Alexis Mitchell signed with Westmont, the small Christian liberal arts school in Montecito. 
Goalkeeper Gabe Penner signed with Cal Poly, where he'll study business and compete for a spot on the men's soccer team. 
Friends, teammates and family members gathered inside the St. Joseph library to celebrate the achievement. The school's football coach, Pepe Villasenor, played the role of emcee, congratulating the student-athletes and then allowing them time to speak.
"We know that this doesn't just take the efforts of our student-athletes, but also their parents and the St. Joseph community," Villasenor said. 
Mitchell will golf for the Warriors at Westmont, which has just started its women's program. 
"I wouldn't be here without all the people who've helped me along the way," Mitchell said. "I do want to thank God, because I know I wouldn't be here without his blessing. I'm really excited to represent the St. Joseph community and Westmont."
Mitchell then said something St. Joseph students nearly never say: "Go Warriors!" (Westmont happens to have the same mascot as St. Joseph's rival, Righetti).
You have free articles remaining.
Brinez said he plans on playing both basketball and football at MidAmerica Nazarene, which fields an NAIA program in both sports.
"I'm extremely excited about it, it's the next step," Brinez said. "I can't think of a better school to go to right now. From the very beginning, when they first showed interest, it was just excitement from everyone. They wanted me to play football and said I had a future in basketball too. It's just an amazing experience."
Brinez plans on playing receiver at MNU, though he could also fill in at defensive back, where he excelled at last season with the Knights. On the basketball floor he's best suited to play small forward.
"I'm definitely going to play wide receiver, but if they need me to play corner I'll play corner," Brinez said. "Unfortunately I'm not as tall as I want to be, but definitely can play the 3 or the 4 in basketball."
Brinez said the highlight of his time at St. Joseph was winning a CIF Southern Section title as a freshman on the basketball team.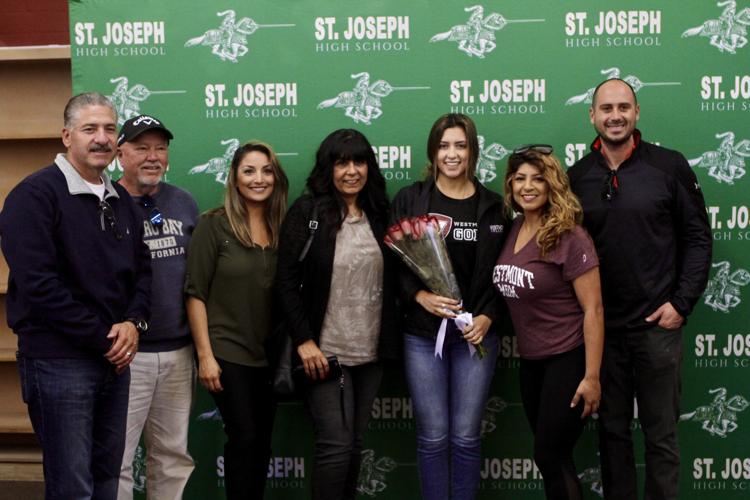 Penner, meanwhile, was drawn to Cal Poly because of its academics and the soccer team's coaching staff. The Mustangs went 5-9-2 last season. Penner said he's receiving a small scholarship to attend Cal Poly and will be competing for a spot in goal for the Mustangs.
"I think I'm just going to go in there and compete and show the coach that I can be on the field," Penner said. "Go in there and compete for that No. 1 spot because that's what I'm there for. I want to play as soon as possible."
The 6-foot-1 Penner has the size of a Division I goalkeeper, though he says he'll rely another trait to find playing time.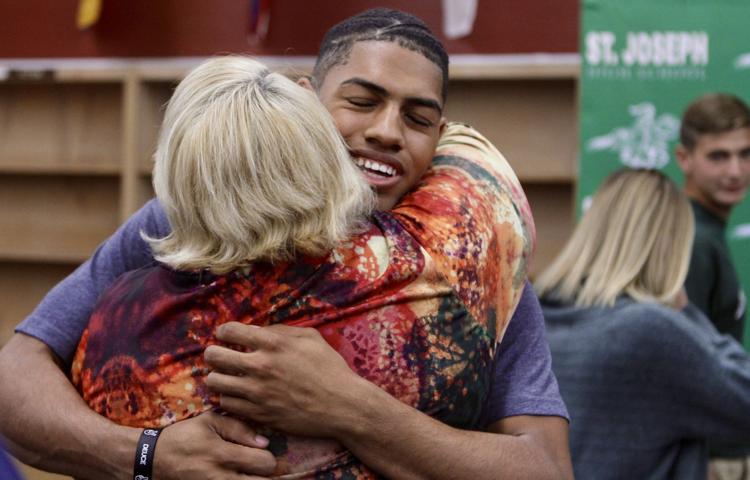 "My work ethic," Penner said when asked what sets him apart from others. "I work really hard. I think I'm an all-around good goalkeeper, I have the attributes. I just need to keep working and improving. There are so many aspects to that position. I work hard and I think that's the biggest attribute."