After a decorated distance running career at Santa Ynez High School, Emily Donahue has two cross country seasons under her belt at San Diego-based Point Loma.
She hopes to get a collegiate track season in - next year.
"I had a stress fracture my freshman year," so that cancelled her potential first collegiate track season after what she described as a successful initial collegiate cross country campaign.
In the wake of COVID-19, the coronavirus, sports across the country were cancelled before Donahue could run a track race in 2020.
She is still running. The Point Loma sophomore is just not racing. Running is one activity health officials have actually encouraged during a statewide shelter-in-place directive, and Donahue has taken advantage of that opportunity.
"I'm fortunate to live in an area where I can train regularly," said Donahue. She said she was home in Santa Ynez and taking online classes before the college semester ended.
Donahue noted that a lot of people, actually, have taken advantage of the opportunity to run during this time.
"Everyone's a runner now," she said. "That's awesome."
Donahue ran for a Point Loma team that won the 2018 Pac West Conference championship when Donahue was a freshman, though Donahue wasn't one of the scoring runners for the Sea Lions.
Point Loma qualified for the NCAA Division II Cross Country Championships Donahue's freshman year. The Sea Lions did not make it that far in 2019.
Donahue finished a solid 44th out of 269 runners at the Lewis Crossover Invitational at Lewis University in Romeoville Illinois in October of her freshman year.
She ran the 6K course in 23 minutes, 6 seconds that day, her best time over a 6K to date.
The longest high school cross country race is traditionally a 5K and Donahue, who has always preferred longer races, said she prefers the 6K.
"I like the extra (kilometer of a 6K)," she said. "It gives me a longer time to build up. The second half of the race is usually my strongest."
UPDATE: Here are the vote totals for each matchup as of 3 p.m. on July 14.
That was true for Donahue when she won the CIF Southern Section Division 4 championship in the 3,200 her sophomore year at Santa Ynez.
She won multiple track league championships during her high school track career as well. Still, though she was a more decorated athlete in track than cross country during her time at Santa Ynez, "I like cross country best," Donahue said.
That is because, you guessed it, the race distance is longer.
When she does get to have a collegiate track season, "I'll run the 5,000," Donahue said. That is the longest collegiate track distance.
Coming off the stress fracture, Donahue could not match her freshman cross country marks during her sophomore collegiate cross country season.
She did finish a fairly solid 59th out of 96 runners at the 2019 Pac West Championships. Donahue was the third runner home for a Point Loma team that finished seventh in a field of 12.
"I didn't have the sophomore cross country season I hoped to have but, coming off the injury, I was happy with it" said Donahue.
Donahue looks forward to the day she can return to the gorgeous Point Loma campus that sits on the San Diego waterfront. She also looks forward to the day she can rejoin her teammates.
"It's a beautiful campus, I love going to school there," she said. "The people there are beautiful. I love being on the track team."
Donahue is an exercise and sports science major at Point Loma. She hopes to go into occupational therapy.
No. 1 Seth Jacobs vs. No. 8 Nick Kimball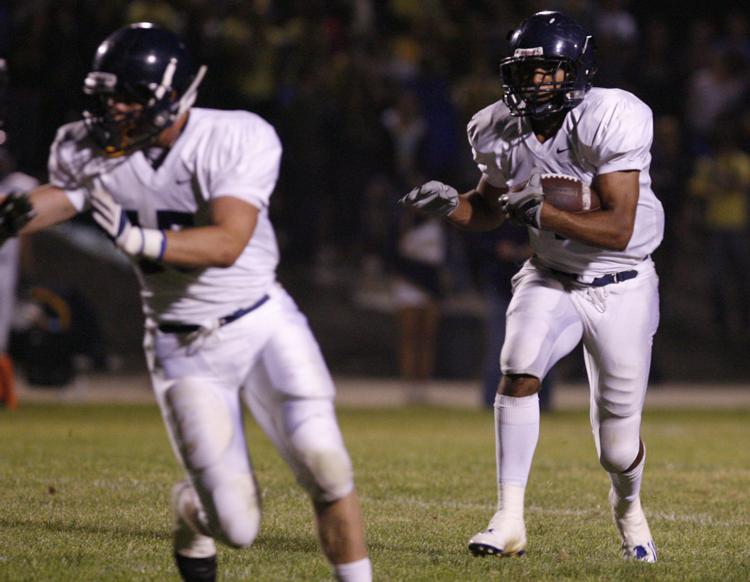 Arroyo Grande graduate Seth Jacobs is the No. 1 seed.
Jacobs, who went on to play linebacker at Oklahoma State, will face the No. 8 seed Nick Kimball, a former Nipomo High standout. Kimball played at Hancock College and the University of LaVerne. 
Jacobs had an all-around standout career at Arroyo Grande, playing some quarterback, running back, receiver, linebacker and safety. He scored 22 career touchdowns while also making 344 total tackles with eight interceptions.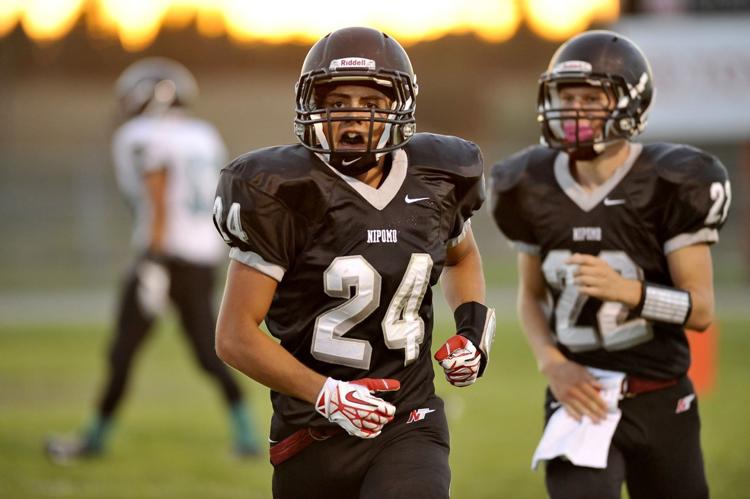 Kimball, the 2014 All-Area MVP, caught 31 touchdown passes over his final two seasons at Nipomo, with 21 of those coming in 2014 when the Titans won a CIF Southern Section title.
Jacobs led Arroyo Grande to its most recent CIF title, a Western Division championship in 2011. 
No. 1 Seth Jacobs, Arroyo Grande, LB, S, RB, QB (2008-11)
Career accomplishments: 26 for 47 passing, 355 yards, 4 TDs, 2 INTs; 115 carries, 861 yards, 16 TDs; 28 catches, 520 yards, 4 TDs; 344 total tackles (251), 18 TFLs, 6 sacks, 8 INTs, 15 pass breakups, 3 fumble recoveries,  4 forced fumbles, 22 total TDs in career.
8. Nick Kimball, WR/DB, Nipomo (2012-14): 88 catches, 1,812 yards, 31 TDs (21 TD catches in 2014); 35 total tackles, 3 INTs. The 2014 All-Area MVP had 1,240 yards in receptions, and 21 touchdowns, as he helped lead Nipomo to the Southern Section Northwest championship. Also made 35 tackles that year. Had 572 yards in receptions, and 10 touchdowns, in 2013. 
Player of the Decade: Seth Jacobs vs. Nick Kimball
No. 2 Patrick Laird vs. No. 7 Emilio Corona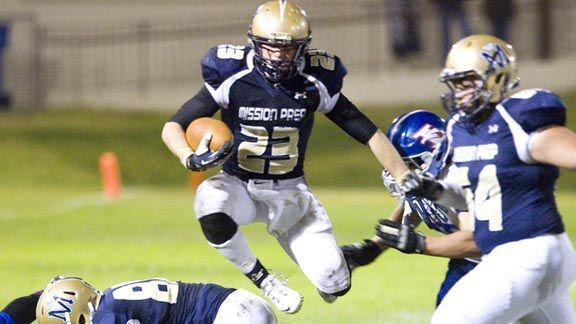 Mission Prep grad Patrick Laird, who also grew up in Arroyo Grande, is the No. 2 seed.
Laird piled up 4,551 rushing yards in his days with the Royals, scoring 50 touchdowns on the ground. He had 3,117 yards and 32 touchdowns as a senior in 2013. He walked on at Cal and made the team, eventually topping 2,000 career rushing yards with the Golden Bears. He is currently in the NFL as a running back with the Miami Dolphins. He scored a rushing touchdown last season, the only player from the area to score an NFL touchdown last decade. 
Laird will go up against No. 7 Emilio Corona, a 2020 graduate of San Luis Obispo High. Corona, a quarterback, led the school's recent resurgence, capturing 18 wins over two seasons.  Corona accounted for 81 touchdowns over his final two campaigns.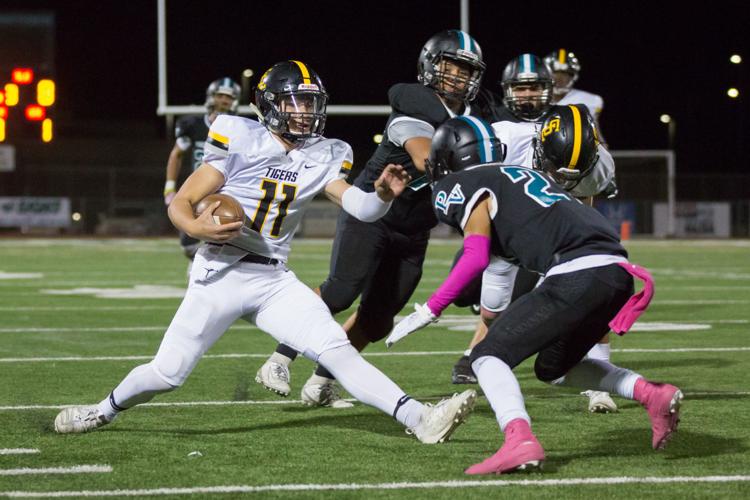 No. 2 Patrick Laird, Mission Prep RB (2011-13) vs. No. 7 Emilio Corona, SLO QB (2017-19)
Laird's resume: 4,551 yards rushing, 50 TDs (3,117 yards rushing, 32 TDs as senior). Played running back at Cal. Currently on Miami Dolphins' roster. Only area player to score an NFL TD last decade. 
Corona's resume: 281 for 508 passing for 4,635 yards; 56 TD passes, 21 INTs; 189 carries, 1,762 yards and 25 TDs; PAC 4 League MVP, Will play baseball at Washington.
No. 2 Patrick Laird vs. No. 7 Emilio Corona
No. 3 Bradley Mickey vs. No. 6 Matt Albright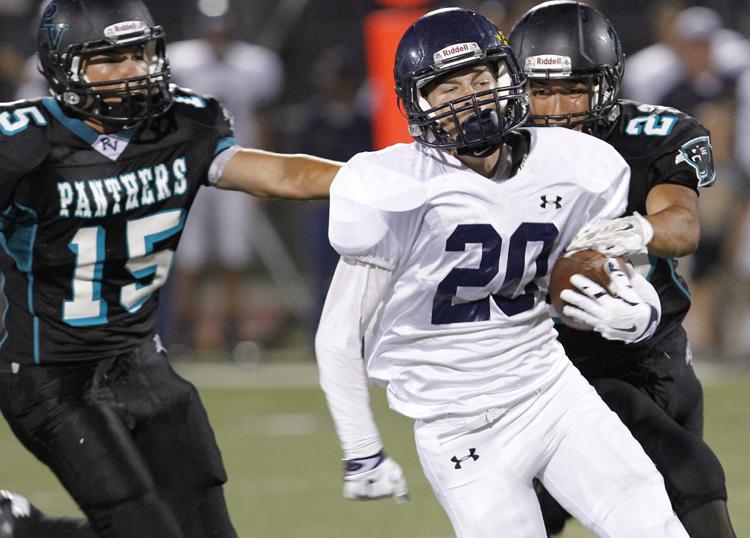 Arroyo Grande grad Bradley Mickey is the No. 3 seed.
Mickey is currently a defensive back at Cal Poly. He was named the 2015 All-Area MVP as a two-way star with the eagles. He rushed for more than 1,200 yards and topped 1,100 receiving yards while also intercepting 21 passes on defense with 205 total tackles in his varsity career. He scored 31 total touchdowns and accumulated nearly 2,500 all-purpose yards. 
Mickey will square off with the No. 6 seed Matt Albright, Nipomo's former quarterback.
Albright had two dynamic seasons at QB for the Titans, helping them win a CIF title in 2014 with Kimball at receiver. Albright threw 62 touchdowns in his junior and senior seasons, topping 5,600 yards. He was named Northern League MVP in 2014 and landed All-CIF honors.  
No. 3 Bradley Mickey, RB/DB/WR (2012-15) vs. No. 6 Matt Albright, Nipomo QB (2013-14)  
Mickey's resume: 1 for 1 passing, 26 yards, TD; 132 carries, 1,244 yards, 15 TDs; 82 catches, 1,106 yards, 9 TDs; 3,484 all-purpose yards; 205 total tackles (129 solo), 3 TFLs; 21 career INTs for 284 yards, 38 passes defensed, 3 fumble recoveries, 4 forced fumbles; 31 total TDs. Nearly 2,500 all-purpose yards. The 2015 All-Area MVP. Saw significant playing time in the Cal Poly secondary the past two years.
Albright's resume: 62 career TD passes, 20 career INTs; Threw for 5,672 yards in two seasons; completed over 60% of passes (423 for 700); Northern League MVP in 2014. Won CIF title with Nipomo. Played at Hancock College and the University of LaVerne.
No. 3 Bradley Mickey vs. No. 6 Matt Albright
No. 4 Bailey Gaither vs. No. 5 Garrett Owens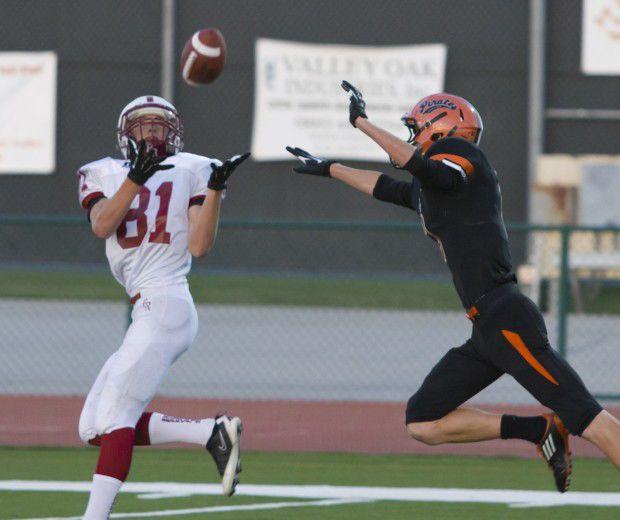 Former Paso Robles great Bailey Gaither is the No. 4 seed. Gaither caught 41 touchdown passes with the Bearcats and also led that team to a CIF title in 2014 (where they beat Mickey's Eagles in the semifinals). Gaither has gone on to play at San Jose State, where he has over 1,500 receiving yards with the Spartans. 
Gaither will face off with former Arroyo Grande standout Garrett Owens, who was a standout receiver and defensive back while also becoming one of the greatest placekickers the area has ever seen.
Owens topped 1,300 receiving yards while also making 160 total tackles and intercepting 10 passes for the Eagles. He also handled all kicking and punting duties there. He went on to play at Oregon State, where he became the Beavers' starting kicker. He transferred to Iowa State as a senior and earned the starting role there, too, making 17 field goals in his final college season.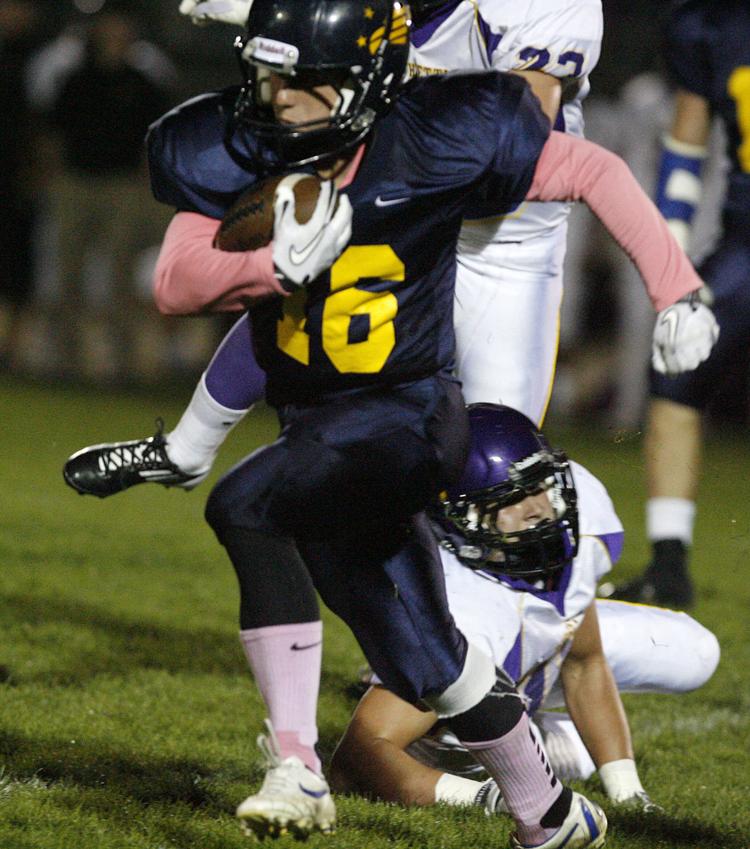 No. 4. Bailey Gaither, Paso Robles  WR (2012-15) vs. No. 5 Garrett Owens, Arroyo Grande WR/DB/K (2009-2011): 
Gaither's resume: 2 for 3 passing, 54 yards, 1 TD; 63 carries, 396 yards, 6 TDs; 167 catches, 3,277 yards, 41 TD catches; 1,666 kick return yards; 5,546 all-purpose yards; 1 INT; 52 career TDs; won CIF Southern Section title at PRHS and named 2014 CIF Player of the Year. Entering sixth season at SJSU; 94 catches, 1502 yards, 14 TD catches at SJSU.
Owens' resume: 371 yards rushing, 4 TDs; 90 receptions, 1,363 yards, 12 TDs; 161 total tackles (149 solo), 10 interceptions; 134 touchbacks on 174 kickoffs; averaged over 35 yards on 61 career punts; 23 for 36 on FGs; 118 for 124 on PATs; Made 57-yard field goal. Kicked at Oregon State/Iowa State. Made 32 of his 45 career field goal attempts at Oregon State, with a long of 50. As a Cyclone, Owens was good on 17 of 22 FGs with a long of 45.
The Jacobs-Kimball winner will face the Gaither-Owens winner in the next round. The Laird-Corona winner will face the Albright-Mickey winner in the next round. Those winners will face off before squaring off with the Northern Santa Barbara County winner.
No. 4 Bailey Gaither vs. No. 5 Garrett Owens
Player of the Decade: We're looking for the top player of the last 10 seasons
The sports staff at the Santa Maria Times, Lompoc Record and Santa Ynez Valley News is looking for the top football player from Northern Santa Barbara County and San Luis Obispo County over the last 10 seasons of high school ball.
See who our nominees are thus far.
Get in the game with our Prep Sports Newsletter
Sent weekly directly to your inbox!