Football was in the air Monday evening at Santa Maria High School.
Dave Boyd Field at Ralph Baldiviez Stadium was home to one of the biggest football camps in the Santa Maria Valley then.
Nearly 200 youth players attended the first night of the camp, which was organized in conjunction with the Santa Maria Youth Football League and its team of Rebels. The entire varsity squad at Santa Maria High led campers in drills for roughly two hours. 
The camp, which is open and comes at no additional cost to players in the youth football league, continues Tuesday at Santa Maria High School and will then move on over to Pioneer Valley High for Thursday and Friday. 
Saints players led the young athletes in groups of different positions drills. Players got to try their hand at skill positions and various defensive spots. They also worked on improving their blocking techniques during lineman drills on both sides of the ball. Specialists also had plenty of work, as punters and placekickers had a spot on the field.
Santa Maria High School was home to a youth football camp held in conjunction with the Santa Maria Youth Football League.
Santa Maria High's new receivers coach, Armando Silva, directed the camp. Holding his stopwatch at midfield, Silva allowed 10 minutes per station and made sure the large group of kids stayed on task. 
Santa Maria offensive coordinator Matt Andree, and his star pupil, starting quarterback Dominick Martinez, worked with the signal-callers and receivers.
"Remember, we start with our feet shoulder-width apart," Andree told a line of young quarterbacks. "If you're a right-handed thrower, you're going to take your left foot and slide it back. If you're a left-handed thrower, you're going to slide your right foot back."
Andree then worked on handling the snap, both under center and in shotgun formation. 
"Great job, good work," Andree praised one of his campers on their hand placement on shotgun snap drills.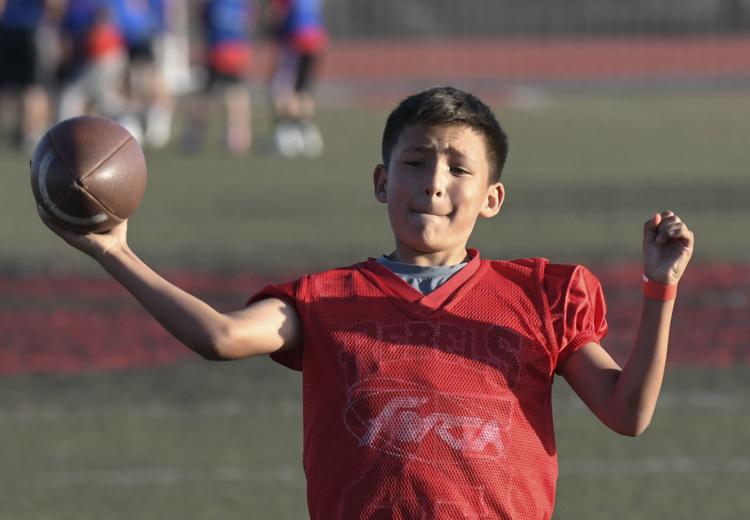 Andree took last season off, but has returned as Santa Maria's offensive coordinator in 2019, allowing head coach Dan Ellington to return his focus to the team's defense.
Martinez, who threw four touchdown passes and rushed for seven more last season, spent one-on-one time with most of the camp's talented throwers. 
"Your footwork is very important," Martinez told one young quarterback. "Start with your feet even and straight and then adjust."
Santa Maria players Sammy Herrera and Adrian Arredondo helped lead the youngsters in some of the more exciting drills. 
Herrera, Santa Maria's star running back who rushed for more than 800 yards and 13 touchdowns as a sophomore in 2018, directed players in a two-hand touch Oklahoma drill where a defender tried to corral a ball-carrier in a 5-by-10-yard playing area.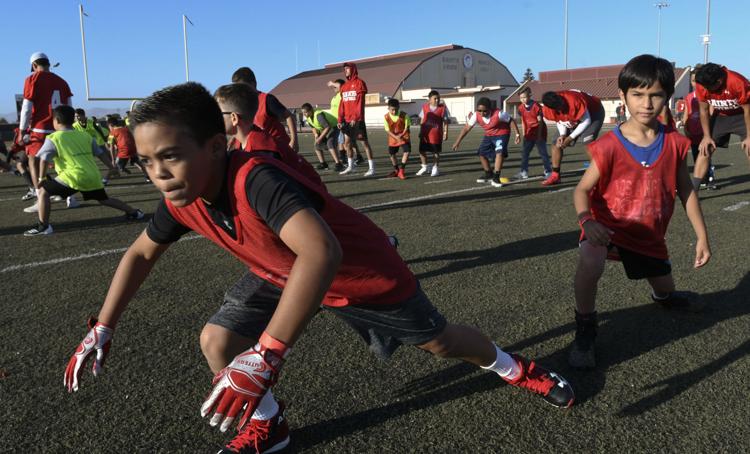 In another drill, Arredondo spun the ball on the ground and a player scooped it up while another trailed in pursuit trying to make a two-hand touch tackle.
Ellington, Santa Maria's head coach, kept a close eye on his offensive linemen. Ellington made sure his blockers showed proper technique as groups of youngsters looked on. At Ellington's cue, his offensive line pulled and spun and blocked at a rate most young campers had trouble matching.
It was a long day for Ellington and his Saints. It was their first day of official camp heading into the 2019 season. The Saints open their campaign on Friday, Aug. 23, with a home game against Righetti High School. The Saints will play in the realigned Ocean League in 2019, along with Mission Prep, Morro Bay and Templeton. 
072919 SM youth football camp 01.jpg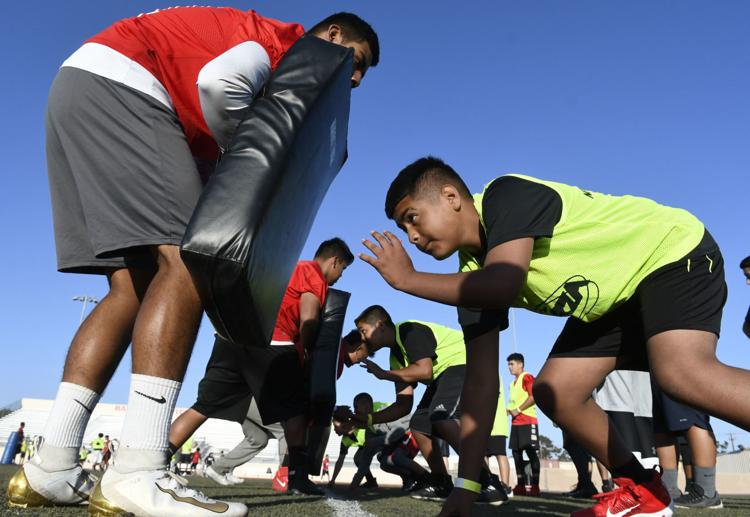 072919 SM youth football camp 12.jpg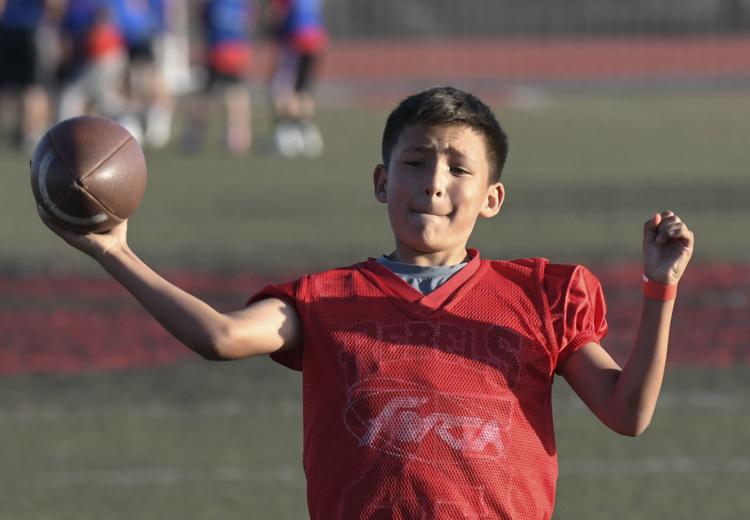 072919 SM youth football camp 02.jpg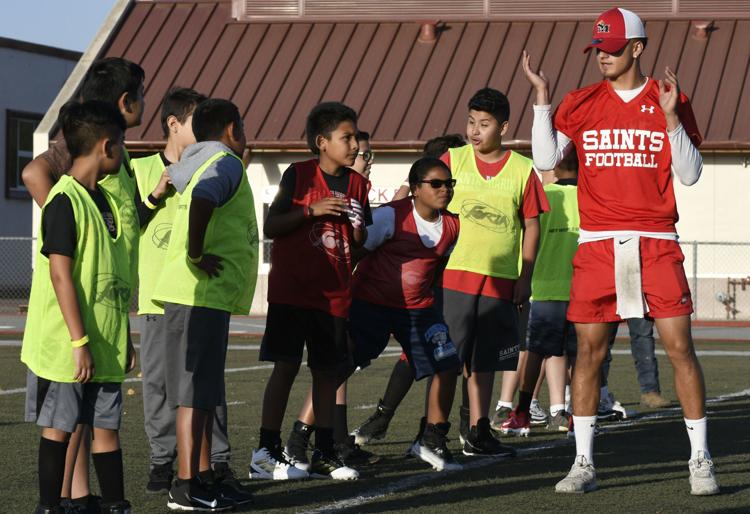 072919 SM youth football camp 03.jpg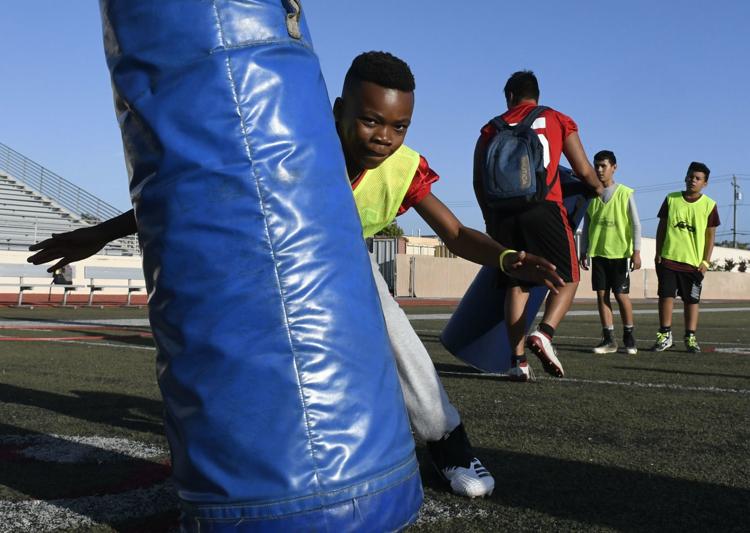 072919 SM youth football camp 04.jpg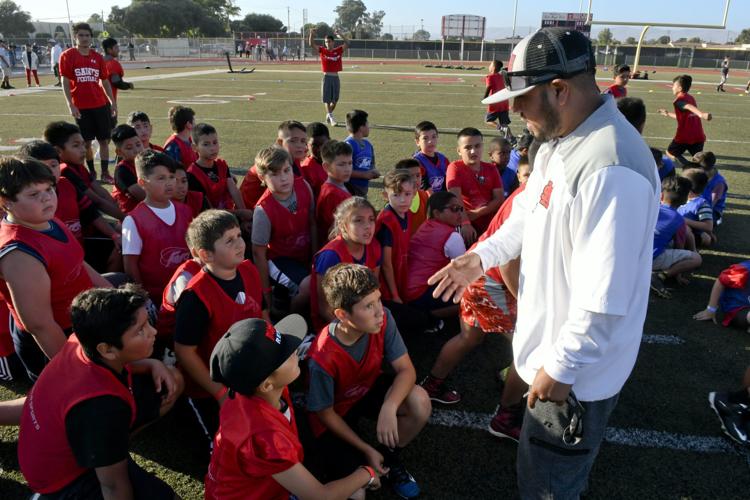 072919 SM youth football camp 05.jpg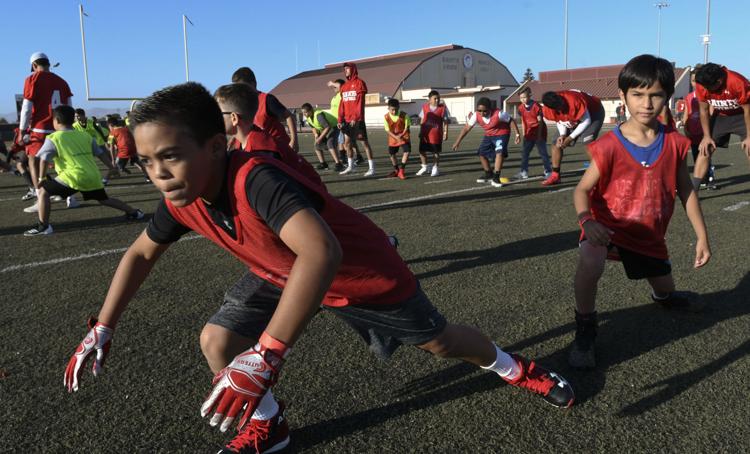 072919 SM youth football camp 06.jpg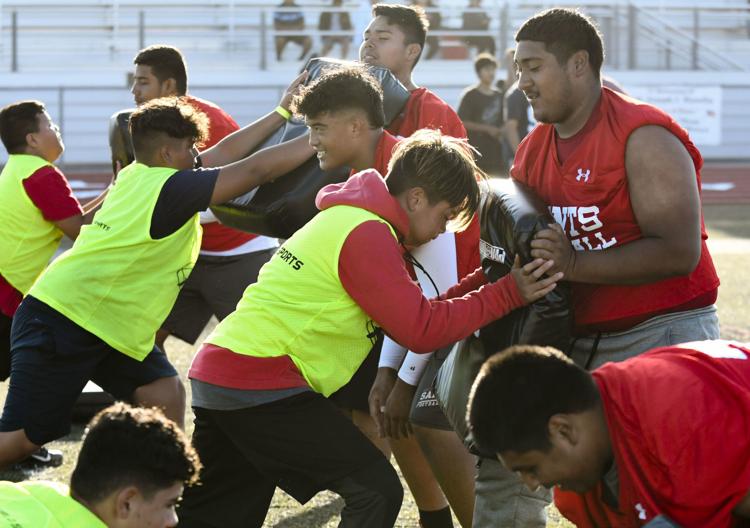 072919 SM youth football camp 07.jpg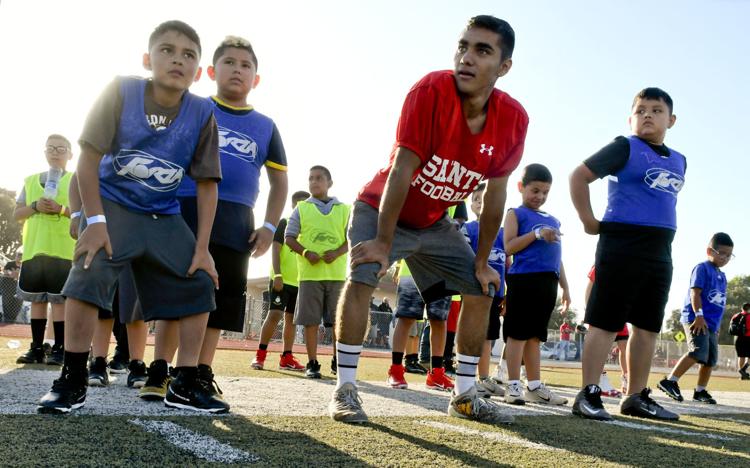 072919 SM youth football camp 08.jpg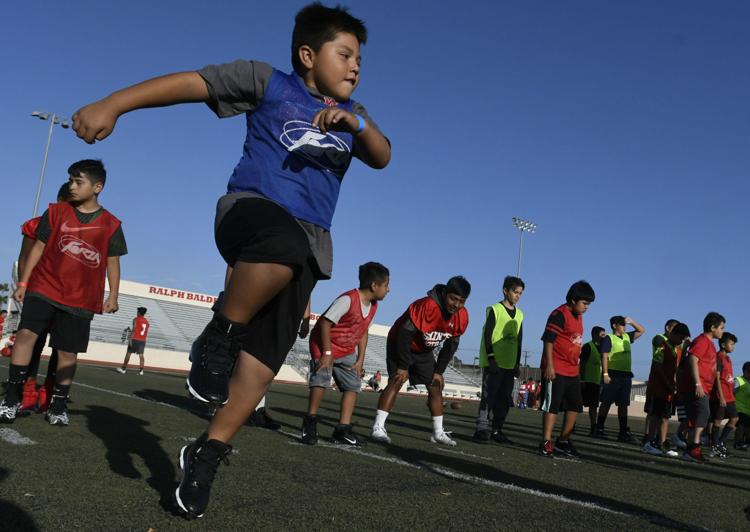 072919 SM youth football camp 09.jpg
072919 SM youth football camp 10.jpg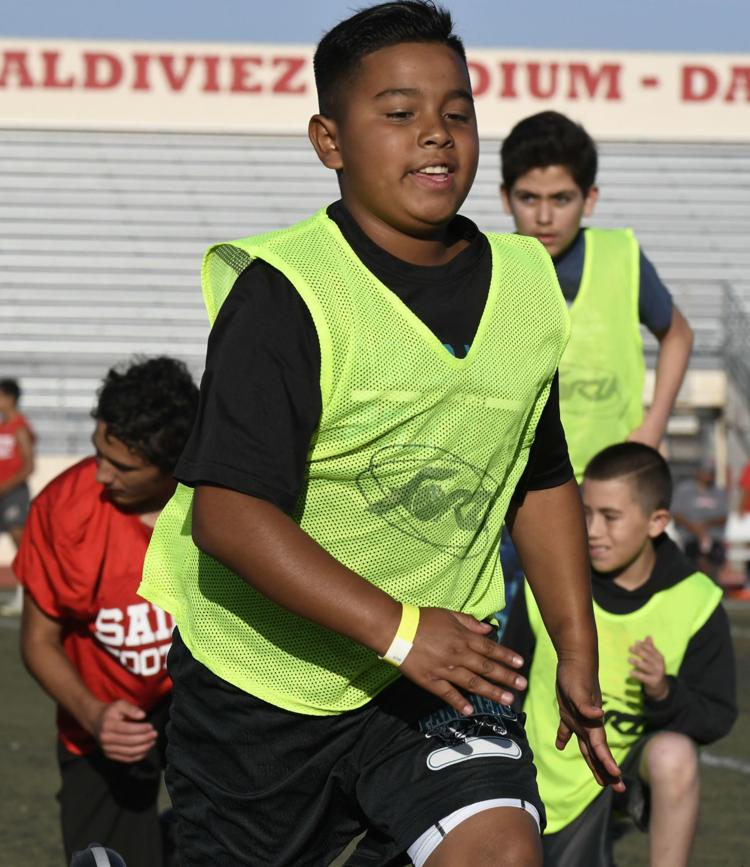 072919 SM youth football camp 11.jpg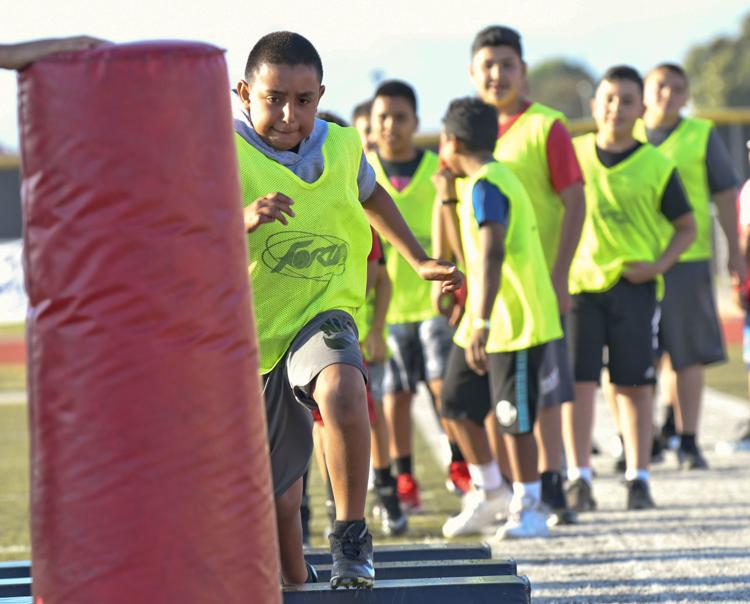 072919 SM youth football camp 13.jpg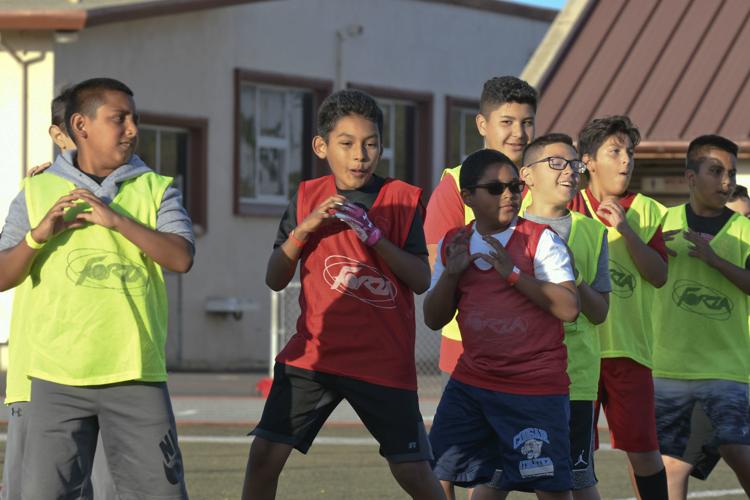 072919 SM youth football camp 14.jpg