POMONA — The Santa Maria High School Race Team is making history.
This week the team took its custom-built 1968 Chevrolet Camaro to the National Hot Rod Association's (NHRA) 2020 season-opening Lucas Oil Winternationals at Pomona's Auto Club Raceway.
When they took to the track for Thursday's first qualifying session, the SMHS team became the first-ever high school built car to race at an NHRA national event.
"All nine kids on the team had a hand in getting us here," said team advisor Matt Almaguer, who also teaches auto shop at the school. "Over the last 40 days we've rebuilt the car from the front bumper to the rear bumper. It's ironic that a mechanical problem did us in."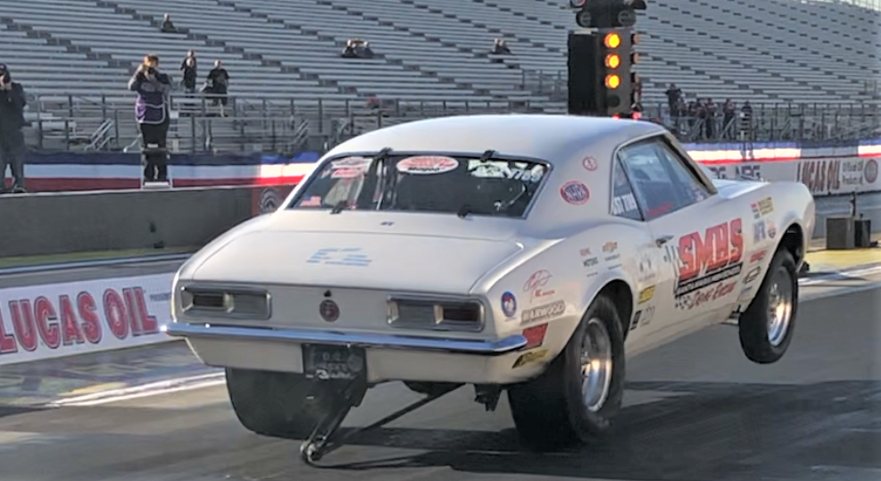 After solid qualifying runs Thursday, the team was back on the track early Friday morning for final eliminations in the Super Street Class/10.90 Index Class.
But their hopes died at the start line.
"We made some adjustments after qualifying and were really confident when we got into the staging lane today," said Almaguer. "The other team was having some kind of difficulty and we had to wait at the line. When we finally got to start our engine, the car rolled back a little bit and stalled out and there was nothing more we could do. We never got off the line.
"I wish it didn't happen. I was sure that we were ready to do well."
"I was sad that the car broke but we're all really excited to be here," said Blake Almaguer, a freshman at Righetti High School. "Everyone welcomed us with open arms — the other teams and the NHRA."
Someone else was excited to see the first-ever high school team on the track — the FOX Sports Network.
FOX sent a camera crew to the SMHS pit to get shots of the team in action for a feature to be aired over FOX's weekend NHRA coverage.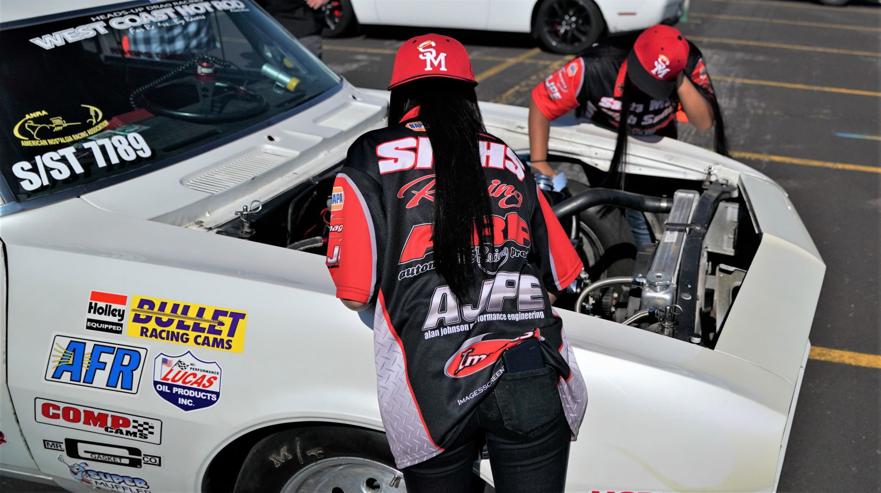 "The race team is a district-wide team so we have my son from Righetti and we had John Graack from Righetti but he's off to Cal State Channel Islands. We've also had Pioneer Valley students on the team in the past," said Matt Almaguer.
"We're just one big group," said Blake Almaguer. "We don't really have specialists. We all work on all areas of the car."
"I do a lot of the welding," said senior Brayan Flores. "I'm just trying to get more of a basic understanding of how to work on cars so I can make a career of that."
"I help with the engine building," said senior Gabriel Chavez. "Coach put an engine on a stand, showed us which parts go where and how to build an engine. This team has been a really cool experience."
"I've built the roll cage. I ripped out the old one and put in the new one," said senior Alberto Solis. "I'll probably become a mechanic but I might give driving a try."
"I grew up around cars and worked on cars with my dad," said SMHS sophomore Hazel Perez, one of two girls on the team. "When I heard about the race team, I didn't know about drag racing but I knew about cars.
"What I don't know, coach teaches us. He also teaches us about always staying positive and about the importance of getting our education. He really keeps us motivated."
"It's kind of like a little family," said SMHS sophomore Alize Torres, the team's other girl. "Hazel is my best friend. She has more experience and teaches me about cars."
"We all do a little bit of everything, from working on the engine, to helping with the tools and even cleaning the car," said Perez.
"The only thing that's sad is that we're going to lose four seniors to graduation," said Torres.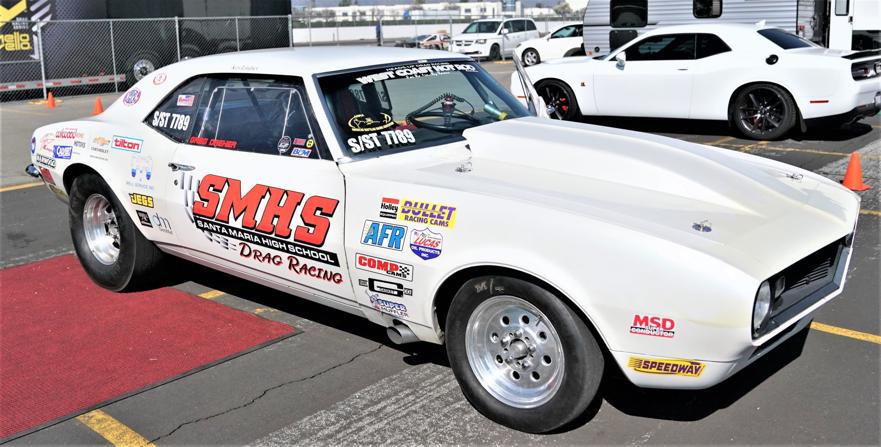 Greg Dreher is the only team member, other than coach Almaguer, who isn't a student.
Dreher, 43, is a water service operator from Bakersfield who is the team's driver.
"I didn't realize it was going to be so special working with these kids," said Dreher. "I've driven 50 or 60 cars over the years but these kids are the most special team I've ever worked with. There is nothing better than seeing the kids filled with a sense of pride when they're building a car."
"This wouldn't have happened without Greg," said Matt Almaguer. "He has experience driving in national events.
"We also have to thank the NHRA YES (Youth and Education Services) and NHRA Launch programs. They partner with groups like our shop students to find kids who are interested in the profession and help provide future employment opportunities."
This isn't the Santa Maria's team's first history making weekend.
Back in November, the team won the championship of the D/Gas Class during the American Nostalgia Racing Association's event at Bakersfield's Famoso Raceway.