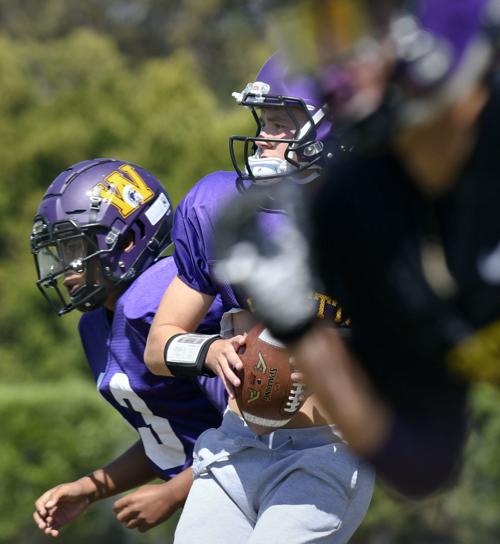 Righetti High School, currently in a distance learning setting, has shut down on-campus athletic workouts after a student tested positive for COVID-19 this week.
Righetti principal Karen Rotondi notified parents in an email Wednesday night, noting the student had attended a Halloween party last weekend in Orcutt.
Neighboring St. Joseph High School, which did start on-campus instruction two weeks ago, shut down its campus and switched back to distance learning this week after a student at that school tested positive for COVID-19, also after attending a Halloween party.
Voting closes at 4 p.m. on Nov. 10.
"The health and safety of our students and staff are a top priority," Rotondi said in Wednesday night's email. "This letter is to inform you we were notified that a Righetti student who attended a local weekend Halloween party tested positive for COVID-19.
"It has come to our attention that additional RHS and other area high school students were at the same party. This may constitute close contact. We ask that you talk with your student and take necessary precautions if they were in attendance, including staying home, quarantining for 14 days, and contacting your health care provider."
Rotondi said the school is working with the Santa Barbara County Department of Public Health.
"A Righetti High School student who attended a large private Halloween party in Orcutt has notified school staff of a positive test for Covid-19 this week," Kenny Klein, the Santa Maria Joint Union High School District public information officer, said in an email Thursday. "A second student, who may have been at the same gathering, might also be infected. Both are presently quarantined for 14 days."
St. Joseph said it will suspend distance learning for all students until Nov. 16, less than two weeks after the school began accepting students for in-person learning.
Righetti High has no in-class instruction to pause. 
"Since we are currently in a complete distance learning instructional setting, no changes will occur with class schedules. For precautionary reasons, all athletic workouts have shut down for two weeks as contact tracing is conducted," Rotondi said in her message to parents.
SMJUHSD schools resumed athletic activities on Sept. 21. All high school sports have been shut down since mid-March at the onset of the coronavirus pandemic. The high school sports season is slated to begin in December, with the football season scheduled to start on Jan. 7.
Rotondi urged parents to monitor students for symptoms and to contact a health care provider if anyone in a household experiences influenza-like symptoms, while also asking parents to have their children avoid large gatherings and parties.
"The Santa Maria Joint Union High School District is concerned about any potential spread and has monitoring and tracking measures in place," the district statement read. "In general, it's impossible for schools to protect or predict the behavior of young people outside of their boundaries."
GBB: Player of the Decade Final Round
Kaitlyn Flowers vs. Tatiana Dunlap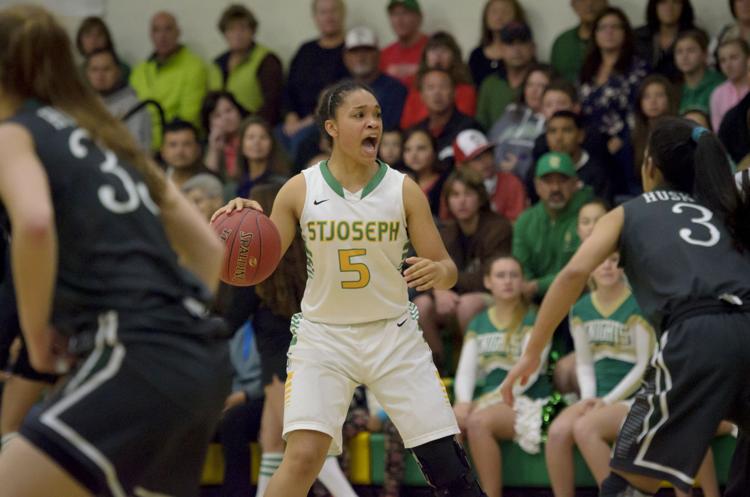 Flowers made it to the final round without too much drama. Dunlap, on the other hand, had to grind out a win over the top remaining seed.
Dunlap narrowly fended off Ashlyn Herlihy of Arroyo Grande in the semifinals. It was a close fight, but Dunlap pulled away late to score the victory, 1,089 to 876.
On the other side of the bracket, Flowers cruised past Heather Madrigal, who played at both St. Joseph High and Arroyo Grande with Flowers and Dunlap, in the semifinals. Flowers voters have consistently led the round-by-round voting. 
In this round, Flowers received 1,443 votes, edging Madrigal, who tallied 1,023 votes as of 4 p.m. Tuesday.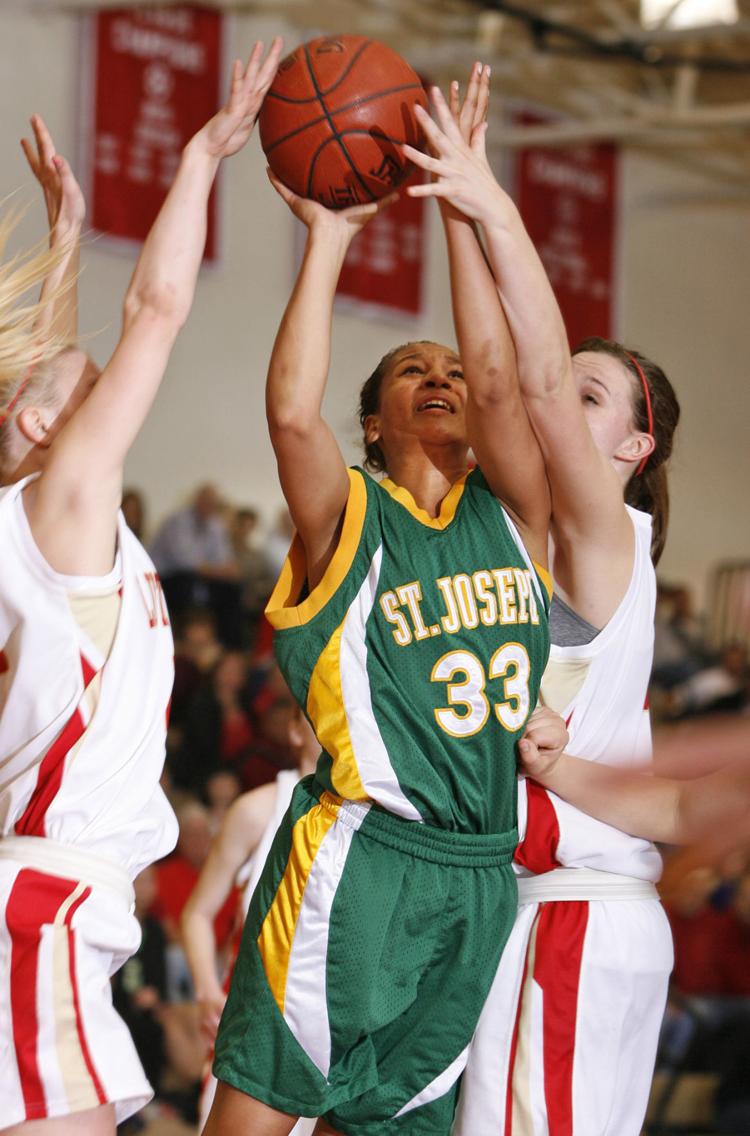 Voting ran from Wednesday, Oct. 28 to closing at 4 p.m. Tuesday.
In all, 4,431 votes were cast in the semifinal round. There were 3,044 votes cast in the quarterfinals and 4,500 votes in the opening round, meaning readers have cast about 12,000 total votes in this contest.
Flowers led the opening round with 446 total votes. She then had 520 in the quarterfinals before taking in over 1,400 votes in the semifinals. Dunlap had 422 votes in the opening round, then 351 votes in the quarterfinals before hauling in 1,089 votes in the semifinals.
Flowers defeated Lompoc grad Danielle Morgan 446-187 in the first round and Cabrillo High grad Erin Jenkins 520-88 in the quarterfinals before defeating Madrigal in the semifinals. Dunlap beat Santa Ynez grad Hailey King in the first round 422-76 and Righetti grad Mariah Cooks 351-260 in the quarterfinals.
Dunlap won a CIF state title in her sophomore season with the Knights. Flowers was a freshman that year and, as fate would have it, filled in for an injured Dunlap in the state title game, giving the Knights valuable defense and rebounding in their win over Bishop O'Dowd.
In Dunlap's three seasons at St. Joseph, she scored over 1,300 points and the 5-foot-8 guard averaged 23.7 points, 3.0 assists, 9.2 rebounds and 2.6 steals per game as a senior.
Dunlap earned one All-Area MVP award, during her senior season. For her career, Dunlap averaged 15.1 points over 87 games with the Knights. As a junior in 2011-12, Dunlap averaged a double-double for the season, with 15.3 points and 10.3 rebounds per game, while also dishing out 3.0 assists and swiping 2.4 steals per game. 
A 2014 St. Joseph graduate, Flowers eventually scored over 1,400 points during her Knight career. As a senior in the 2013-14 season, she averaged 17.9 points, 7.3 rebounds, 3.7 assists and 4.8 steals per game. 
As a junior, Flowers averaged 18.1 points, 4.5 rebounds, 4.9 assists and 4.7 steals. As a sophomore, she scored 18 points a game, adding 4.3 rebounds, 3.2 assists and 4.4 steals per game. She finished her St. Joseph career with 1,448 total points, 503 total rebounds, 326 assists and 391 steals in 110 games. She averaged 18 points a game over the 75 games she played in her sophomore, junior and senior seasons.
Flowers also averaged nearly five steals a game in that span.
Readers have cast votes on the Santa Maria Times' three websites, santamariatimes.com; lompocrecord.com and syvnews.com. The voting for the final round is now live on those three websites and will close on Tuesday, Nov. 10 at 4 p.m. The Times polled current and former coaches to develop its list of nominees for Player of the Decade.
Concerned about COVID-19?
Sign up now to get the most recent coronavirus headlines and other important local and national news sent to your email inbox daily.