Update: Voting is now closed in our Player of the Decade semifinal round. Tatiana Dunlap upset top seed Ashlyn Hurlihy with a big push from the voters in the last two days, and Kaitlyn Flowers held on to her early lead to make it through to the finals, defeating Heather Madrigal. 
Dunlap and Flowers will now matchup in the finals of our poll. Get ready to vote for your favorites and share the poll to get more support for your choice!
---
Voting closes Tuesday, Nov. 3 at 4 p.m. Remember to vote on all three sites. The vote totals from all three will be combined and used to determine the winner in each matchup.
Santa Maria Times | Lompoc Record | Santa Ynez Valley News
We've asked for some input from our readers over the last two weeks and you all have been busy obliging us. You, the readers, have helped whittle the field down from 16 contenders to just four. That's right. We are now in the semifinals. 
The Times is looking for its Player of the Decade for girls basketball and, after two rounds of action, nearly 8,000 votes have been cast.
The Final Four. 
And here are the remaining matchups.
Ashlyn Herlihy is the No. 1 seed. She will face No. 4 seed Tatiana Dunlap.
Kaitlyn Flowers has earned the No. 2 seed. She will face No. 3 seed Heather Madrigal.
Let's take a deeper look.
GBB: Player of the Decade Semifinals
No. 1 Ashlyn Herlihy vs. No. 4 Tatiana Dunlap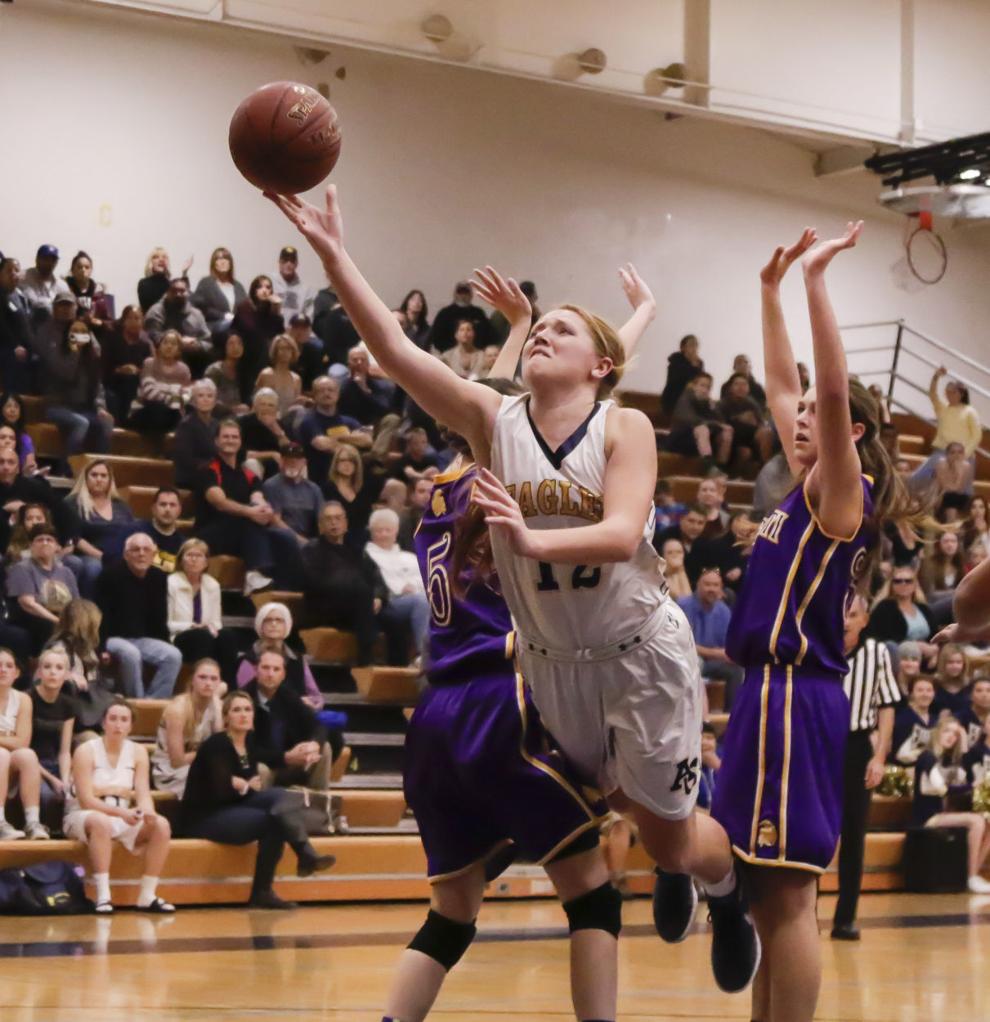 No. 1 Ashlyn Herlihy, Arroyo Grande High
Currently playing at Santa Clara University
Herlihy, a 6-foot-1 forward, averaged 19.9 points and 12 rebounds a game throughout the 2014-15 season at Arroyo Grande, which was Herlihy's junior year.  She led the team to a 24-3 overall record, which included a 21-game win streak and an undefeated and untested run through the PAC 8 League. She was named the league MVP, the Times' All-Area MVP and the SLO County Player of the Year.
Herlihy was even better as a senior, averaging 22 points, 9.7 rebounds, 1.4 steals and 5.5 blocks per game. (The Eagles went 20-8 that year and split the league title with Righetti and Herlihy was named the All-Area Offensive Player of the Year).
Herlihy has gone on to play at Santa Clara University. She redshirted there in 2016-17 and has grown into a starting role the last two seasons, averaging over 10 points and 7 rebounds a game. She earned All-West Coast Conference honors the last two years. She's started 61 games the last two seasons.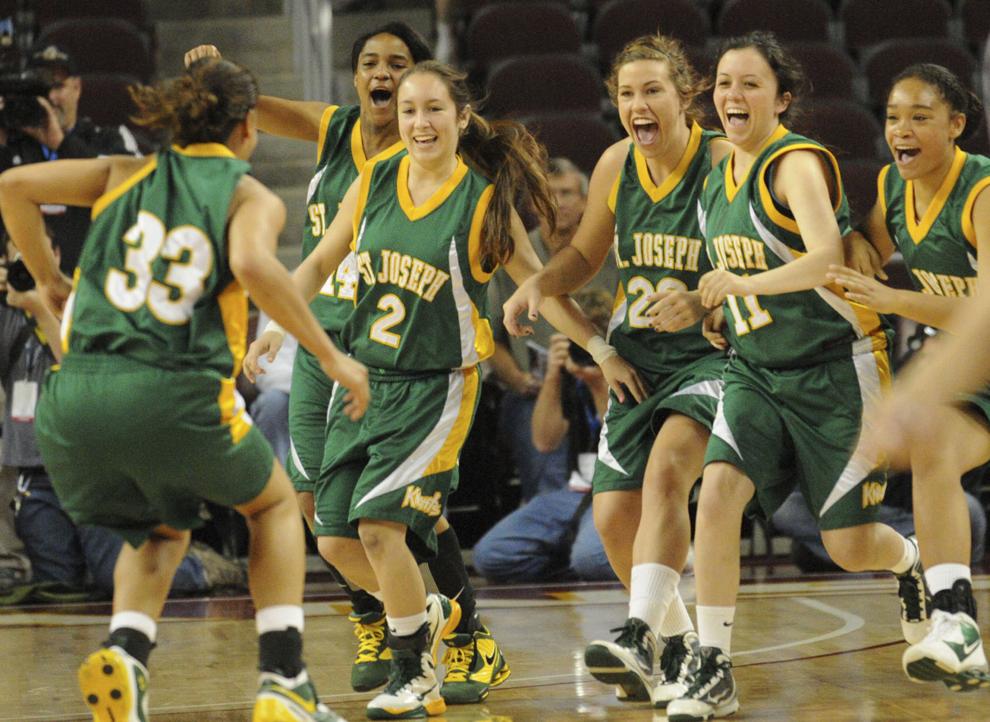 No. 4 Tatiana Dunlap, Cabrillo/St. Joseph
Played at CSU San Bernardino and Cal Lutheran
Going up against Herlihy is Dunlap, a standout two-way guard who starred at St. Joseph High before playing in college. 
Dunlap won a CIF state title in her sophomore season with the Knights. In her three seasons at St. Joseph, Dunlap scored 1,300 points and the 5-foot-8 guard averaged 23.7 points, 3.0 assists, 9.2 rebounds and 2.6 steals per game as a senior.
Like Herlihy, Dunlap also earned one All-Area MVP award, during her senior season. Dunlap averaged 15.1 points over 87 games with the Knights. As a junior in 2011-12, Dunlap averaged a double-double for the season, with 15.3 points and 10.3 rebounds per game, while also dishing out 3.0 assists and swiping 2.4 steals per game. 
No. 2 Kaitlyn Flowers vs. No. 3 Heather Madrigal
No. 2 Kaitlyn Flowers, St. Joseph
A 2014 St. Joseph graduate was a freshman on the Knights' 2011 CIF State championship team. (Flowers played a key role in the Knights' state title win over Oakland's Bishop O'Dowd, eating up 28 minutes and leading the team in rebounding while playing effective defense against the Dragons).
Flowers eventually scored over 1,400 points in her St. Joseph career. As a senior in the 2013-14 season, Flowers averaged 17.9 points, 7.3 rebounds, 3.7 assists and 4.8 steals per game. 
As a junior, Flowers averaged 18.1 points, 4.5 rebounds, 4.9 assists and 4.7 steals. As a sophomore, she scored 18 points a game, adding 4.3 rebounds, 3.2 assists and 4.4 steals per game.
She finished her St. Joseph career with 1,448 total points, 503 total rebounds, 326 assists and 391 steals in 110 games. She averaged 18 points a game over the 75 games she played in her sophomore, junior and senior seasons. She also averaged nearly five steals a game in that span.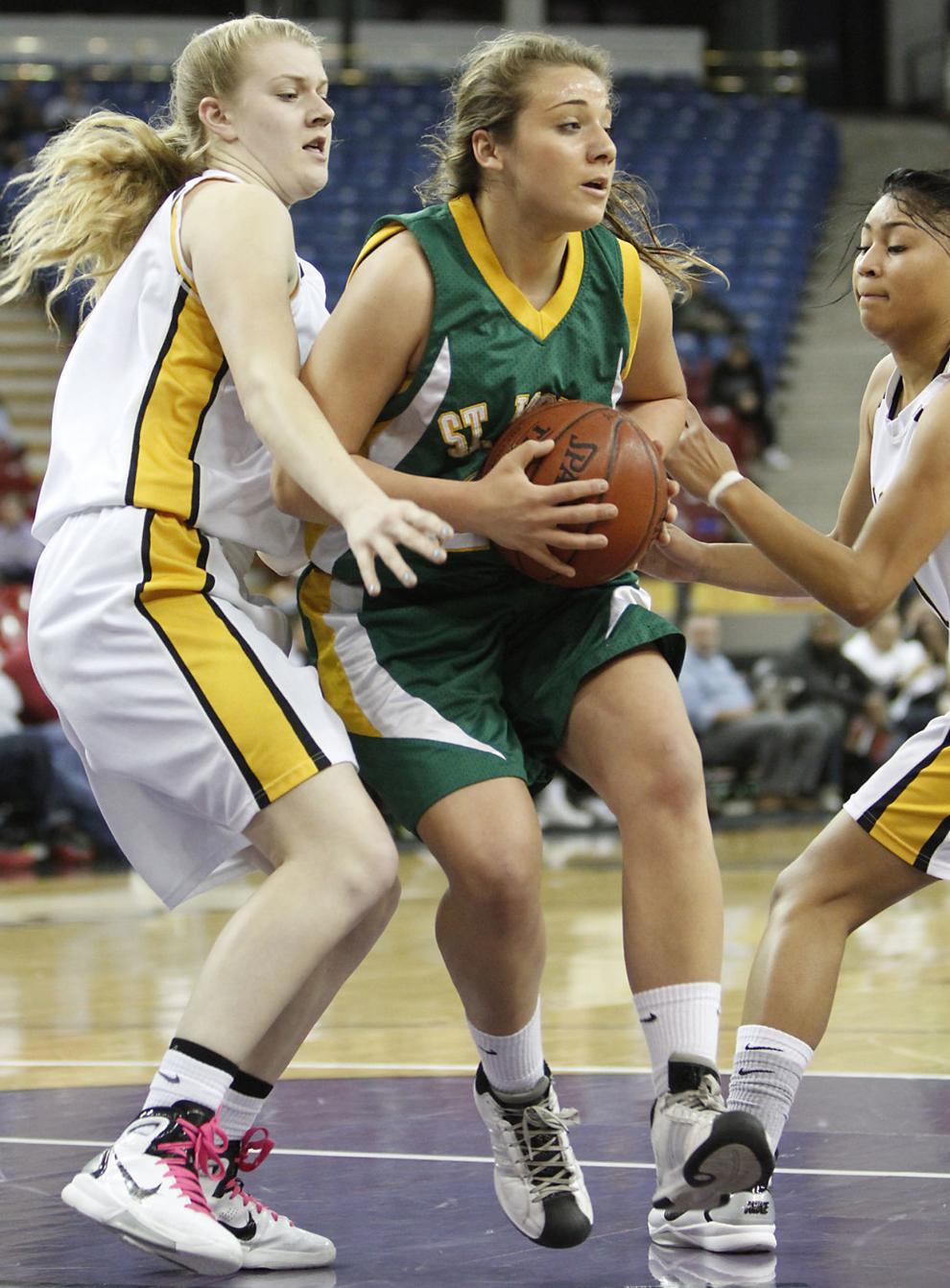 No. 3 Heather Madrigal, St. Joseph/Arroyo Grande
Madrigal was also on that 2011 state title team at St. Joseph. After that season, she transferred to Arroyo Grande and went on to win her fourth CIF championship in 2012. 
Madrigal won three CIF Southern Section titles and one state championship. That's four more titles than the total league games she lost during her career. (Madrigal's teams went 48-0 in league in high school).
Madrigal went 113-20 in her four-year varsity career. The 5-foot-8 forward scored more than 900 points at St. Joseph and, during her lone season at Arroyo Grande, she topped 500 points.
Madrigal averaged 16.2 points, 8.7 rebounds, 2.8 assists and 1.5 steals per game as the Eagles went 27-6 that year. She played 98 games with the Knights and averaged 9.4 points, 4.5 rebounds, 2.4 assists and 1.8 steals per game. 
Madrigal was named the Times' All-Area MVP after her lone season in Arroyo Grande.