In a game that was nip-and-tuck most of the way, St. Joseph relied on a group effort during the second half to top San Luis Obispo in a Mountain League boys basketball game Thursday night.
Playing on the road at San Luis Obispo High School, Angel Ortiz, St. Joseph's dynamic point guard, scored 18 points in the fist half as the Knights led 36-32 at the break. 
But everyone chipped in during the second half after the Tigers clamped down on Ortiz's scoring, limiting the sophomore to two second-half points in the Knights' 72-63 win.
Ortiz finished with a team-high 20 points. He also grabbed seven rebounds.
It was another sophomore who was also key in the Knights' win. Janielle 'Jincho' Rivera scored all 12 of his points after halftime. Rivera also had eight rebounds.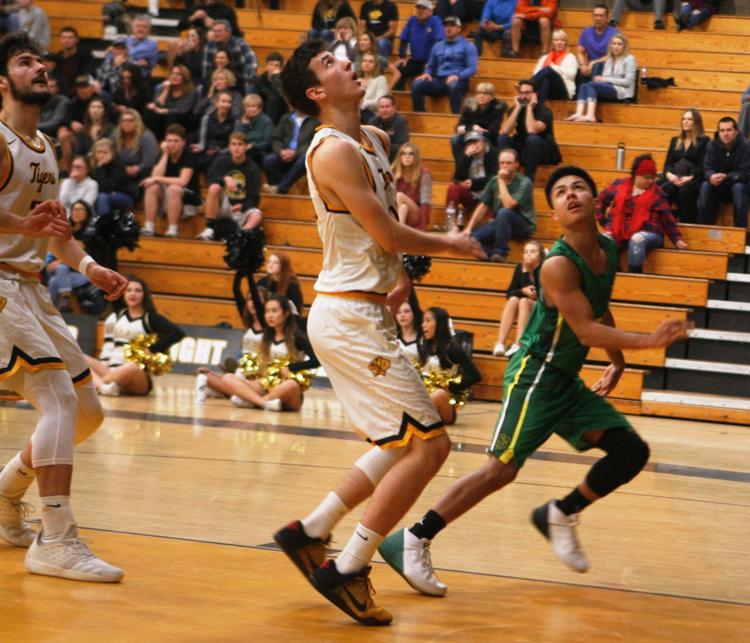 Steven Vasquez, the Knights' sharp-shooting sophomore, had seven points at the break and finished with 13 in the game. 
Senior Chase Artopoeus, who quarterbacked the Knights to a Mountain League title during the football season, hit a key 3-pointer in the first half and added eight second-half points to power the Knights after the break, finishing with 11 points and four steals. 
St. Joseph is now the lone unbeaten team in the Mountain League. The Knights are 16-3 overall and 3-0 in league play. They are scheduled to play at Pioneer Valley on Saturday night (tip-off at 6:45 p.m.) before hosting Mission Prep on Wednesday, Jan. 16. 
Arroyo Grande, which the Knights beat 64-62 last week, handed Mission Prep its first league loss with a 68-51 thumping Thursday night. The Eagles are 3-1 in league play and 15-4 overall. Mission Prep is 9-10 and 2-1 in league. Bryan Smith scored 23 points to lead Arroyo Grande in the win over the Royals as Ryan Hutchens added 17 and Caleb Whalen had 15 points. 
San Luis Obispo is now 1-2 in league games, with losses to St. Joseph and Arroyo Grande. The Tigers are 13-7 overall. 
Mission Prep and San Luis Obispo split the league championship last year. 
Paso Robles 47, Pioneer Valley 46
The Bearcats out-scored the Panthers (3-18, 0-5) 17-14 in the fourth quarter and pulled out a Mountain League win at Pioneer Valley.
Paso Robles overcame the 13-4 deficit it faced to start the second quarter. Steven Fuerte popped in 20 points for the Panthers. Braden Waterman did the same for the Bearcats.
Arroyo Grande 78, San Luis Obispo 70 (Tuesday night)
In the Eagles' win over the Tigers on Tuesday, Whalen and Hutchens scored 21 points each for the Eagles, who beat the Tigers in a Mountain League game.
Smith scored 17 points and pulled down eight rebounds for the Eagles. Charlie Bayer scored eight points and snared seven rebounds.