The Pioneer Valley varsity girls wrestling team was at full strength Wednesday evening, and the Panthers had a big night on their Senior Night at the quad meet they hosted in the Pioneer Valley gymnasium.
Pioneer Valley went 3-0, defeating Nipomo 66-9, Santa Maria 69-6 and Righetti 60-21. The host squad was the only one that consistently fielded wrestlers for all 14 weight classes. The other squads were short-handed.
"The team that wrestled tonight is our tournament team," said Pioneer Valley coach R.D. Noel.
"We did not wrestle our varsity wrestlers at the quad meet at Righetti, and that is why the scores were so drastically different. We like these quad meets. They give our younger girls some valuable experience."
Pioneer Valley went 1-2 at the quad meet at Righetti earlier in the season. Host Righetti went 3-0 and won the event.
Righetti went 2-1 at the Wednesday night quad meet. Santa Maria was 1-2 and Nipomo was 0-3.
In a match pitting the two teams that were 2-0 in the quad meet at that point, the Warriors had 10 wrestlers on hand against the Panthers, so they forfeited four weight classes. Pioneer Valley won six of the 10 matches that physically took place.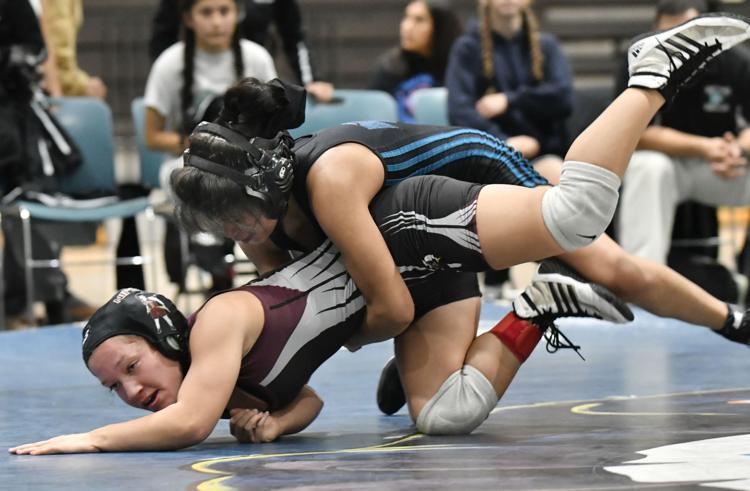 In the only match that went the distance, Gabby Rincon earned a 6-0 decision for Righetti at 113 pounds.
When Anna Flores took a forfeit win at 133 pounds, that gave the Panthers an insurmountable 42-21 lead with three matches left.
Mya Velasquez, at 133 pounds, was next up for the Panthers and the two-time state qualifier racked up a pin in 36 seconds.
Velasquez is a junior. Though she has qualified for the state meet twice, she has never placed there.
"That's my goal this year. To get on the podium," she said.
"I think I'm ahead of where I was at this point last year. I'm getting the confidence I need."
Besides Velasquez, Esme Sanchez (152 pounds), Anayeli Mendoza (162), Jisela Alvear (108), Dulce Garcia (139) and Lizette Pompa (145) notched pins for the Panthers.
"Jisela Alvear, Lizette Pompa and Mya Velasquez are our captains and part of the cornerstone of our team," said Noel.
Righetti's Natalie Haro (172 pounds), Shanyce Valdez (191) and Kameah Tell (118) earned pins in the Pioneer Valley match after doing the same against Santa Maria.
Jessica Ramirez, at 152 pounds, was the lone Santa Maria wrestler who didn't win by forfeit against Righetti. She earned a pin
Prior to the Pioneer Valley-Righetti match, and after the Panthers honored their current seniors, Beatriz Bautista was inducted into the Pioneer Valley Hall of Fame.
Bautista was a member of Pioneer Valley's 2013 graduating class. She was a three-time All-CIF Southern Section wrestler when she wrestled for Pioneer Valley, and she finished sixth at the state meet her senior year.
Long-time Pioneer Valley wrestling coach Kevin Ilac told the crowd that Bautista "was one of the founding members," of the Pioneer Valley girls wrestling program.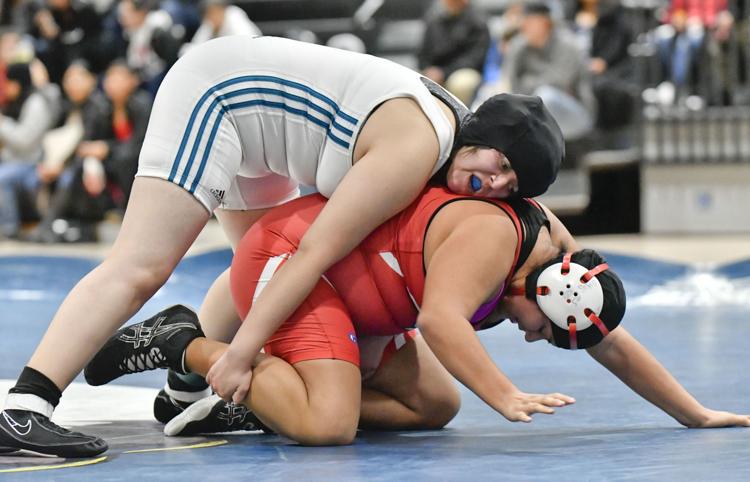 Ilac oversaw the Pioneer Valley wrestling program for years before he stepped down from the position recently. He assisted Noel Wednesday night.
Atascadero 4, Orcutt Academy 2
Kaden Bennett scored twice for the Spartans (4-7-1, 0-4) who lost an Ocean League game to the Greyhounds on a muddy Atascadero pitch.
The teams' game was originally scheduled for Orcutt's home pitch at Rice Ranch Tuesday but was postponed because of a wet field.
Bennett scored on a 28-yard free kick and on an assist from Micah Rauscher.