Jeff McNeil played in the All-Star Game Tuesday night.
Yes. Major League Baseball's All-Star Game. The Midsummer Classic. 
He went 0-for-1 in the game, representing the New York Mets for the National League, which lost 4-3. 
McNeil got to the ASG by leading the majors in hitting with a .349 average, some 13 points higher than the second-place hitter in baseball.
To say McNeil's rise to stardom in the major leagues was at one point unlikely is one of the greatest understatements in the history of baseball.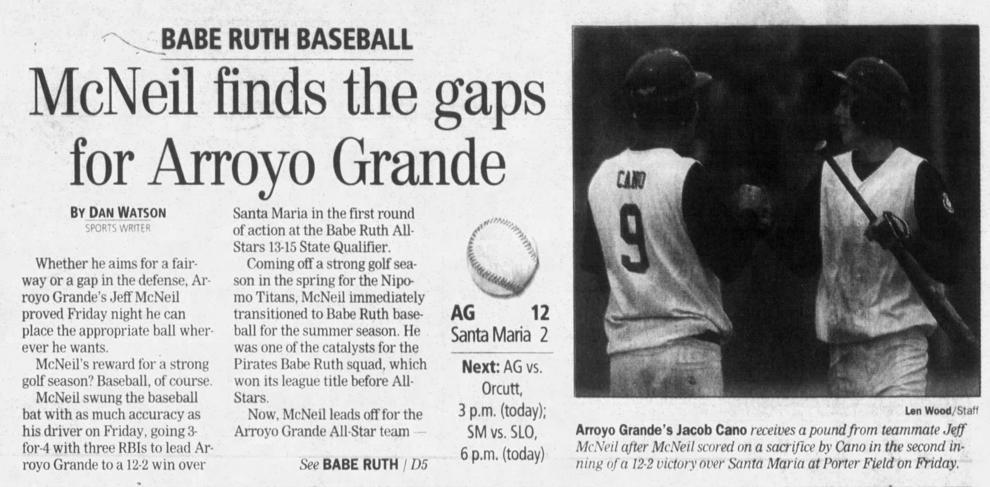 McNeil played Little League in Santa Barbara, where he grew up. He then played Babe Ruth ball at Arroyo Grande. 
Then, once he hit high school, McNeil focused on golf. (I have to mention that Jeff was also a standout hoops star at NHS).
McNeil played just one single season of high school baseball. He played as a senior at Nipomo High. He dreamed of playing golf in college and eventually making the PGA Tour and playing against his idol, Tiger Woods. McNeil played against some of the top guys currently on tour, including Jordan Spieth. 
Before his senior year at Nipomo, McNeil spent the previous three springs playing golf. He did play baseball during the summer, but springs were strictly for golf.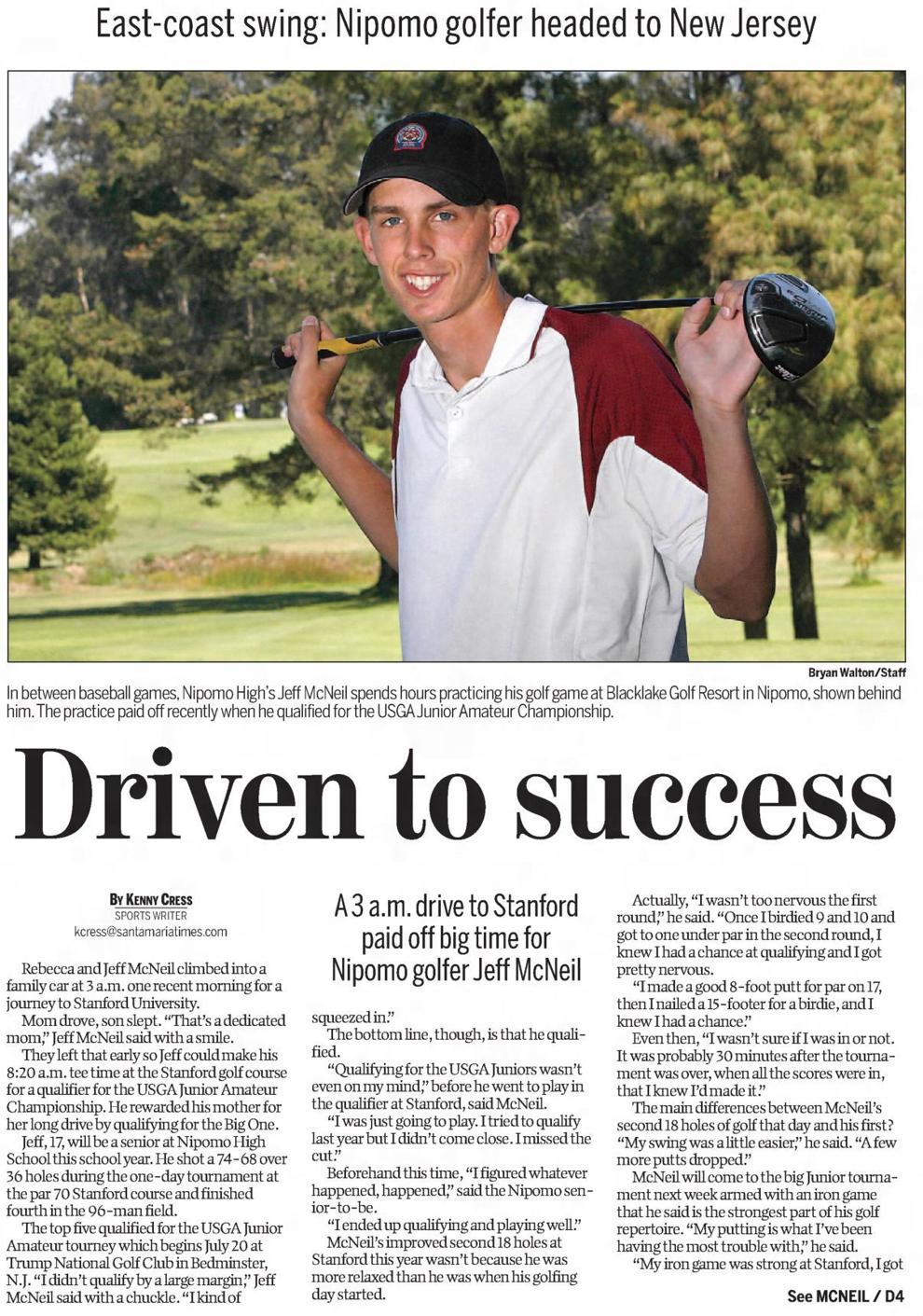 Then, before his senior year at Nipomo High, he finally realized baseball was the way to go. 
McNeil had almost no recruiting. Well, actually, he wasn't recruited at all. Vince Sagisi, of the Wahoos, had to work to get McNeil linked up with the coaches at CSU Northridge where he thought he'd play ball on a partial school scholarship after graduating from Nipomo High in 2010.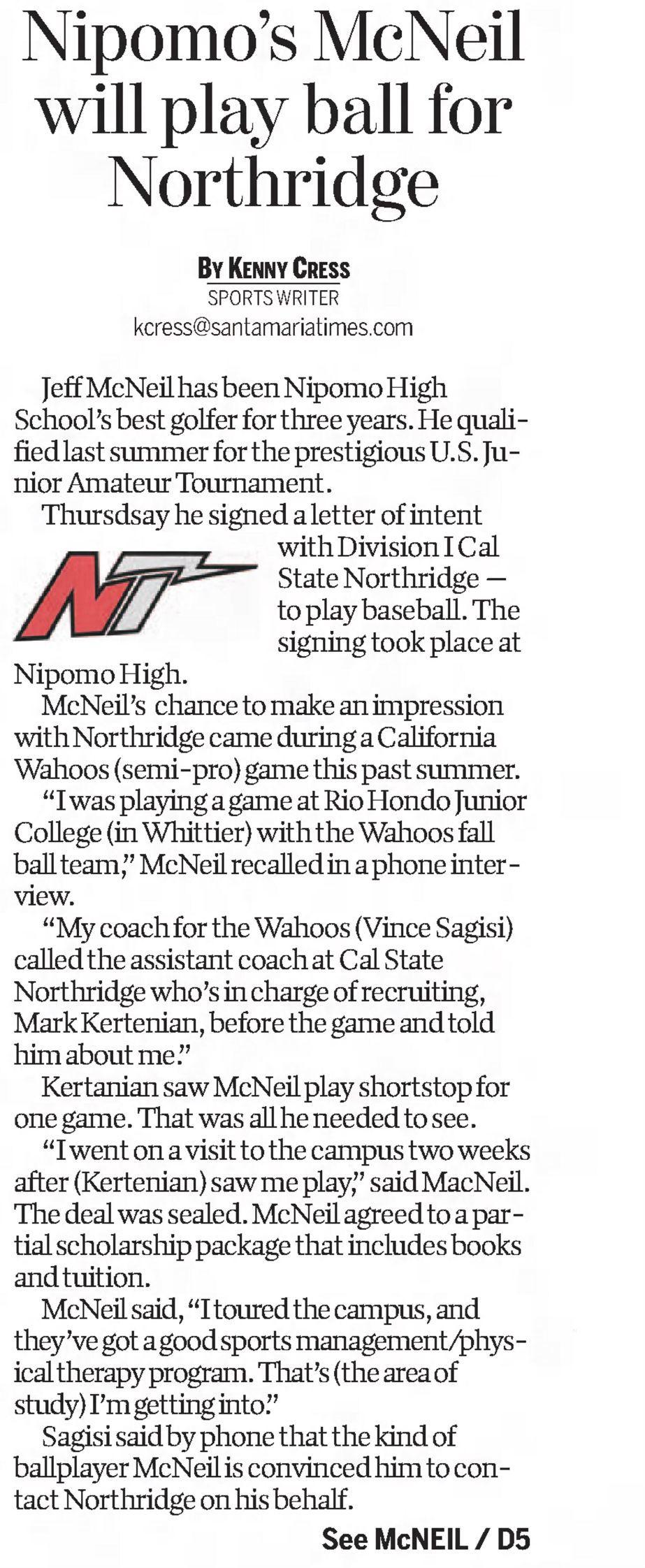 McNeil, though, never suited up for the Matadors and instead ended up at Long Beach State. 
Even at Long Beach, which is a Big West powerhouse, it appeared McNeil had a slim chance of ever playing pro ball. He was a light-hitting infielder who didn't really have a position. He hit .251 as a sophomore. But as a junior at LBSU, McNeil found his groove at the plate and hit .348.
Though, he only slugged .439 that year, McNeil was drafted by the Mets in the 12th round in 2013. 

After getting drafted, he lit up the minor leagues, but, mainly because he was always dealing with injuries, it didn't appear McNeil would ever materialize as an everyday major leaguer. He even underwent sport hernia surgery a couple years into his pro career. He was rarely healthy on the field, playing through injury constantly. 
But after a solid 2017, McNeil dominated Double-A and Triple-A pitchers in 2018. Mets fans began clamoring for the front office to give him a shot with the big league club. His call finally came last summer and McNeil didn't disappoint as he hit .329 in 63 games with the Mets.
This year, McNeil, once again almost completely healthy for the entire year, has continued to rake. He's leading the majors with a .349 average and has a .409 OBP. His OPS is solid at 917.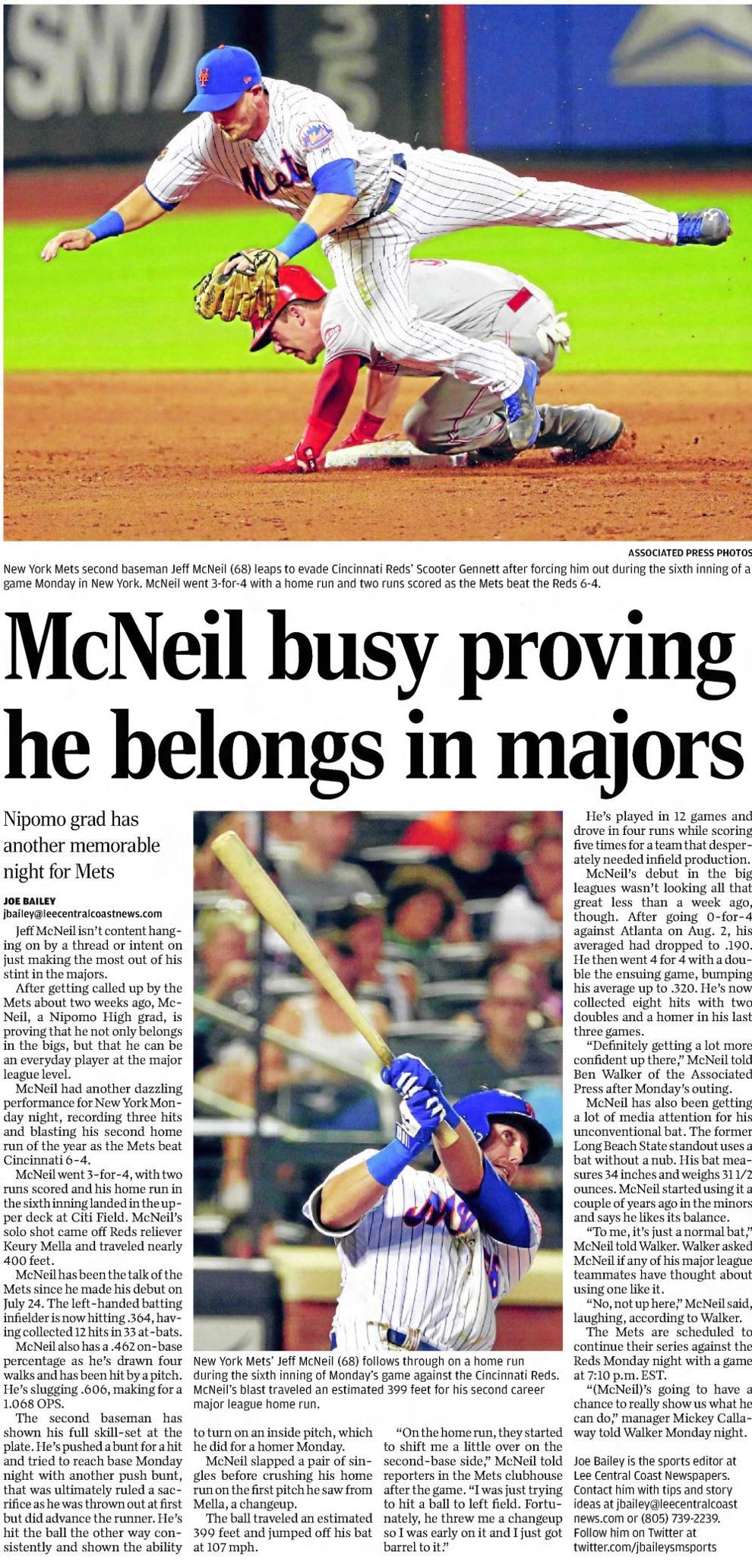 So, yeah. His story is pretty remarkable. From golf instead of high school baseball. From no college offers to CSU Northridge to Long Beach. To a 12th-round pick who had no pop and was always injured to leading the majors in hitting and playing in the All-Star Game.
And most of his story was documented in the Santa Maria Times. You can check out our archives by becoming a subscriber!
We have moved over 100 years of our archives online to make it easier for you to experience the history of the Santa Maria Valley and our region. Subscribe to the Santa Maria Times and visit our archives to get access to our recently digitized archives!