Who: Bakersfield Garces Memorial (0-2) at St. Joseph (2-0).
Where: Jay Will Stadium, St. Joseph.
Broadcast: A live webcast will be available at www.santamariatimes.com. Times sports editor Joe Bailey will call the play-by-play. The pre-game show will start at 6:45 p.m.
Garces outlook: The Rams average less than 150 yards a game of total offense and took a 56-0 thumping from Bellflower St. John Bosco, the top-ranked high school football team in the nation by MaxPreps.com, last week. Most of the offense the Rams have mustered has come from the passing of junior QB Joseph Campbell, who averages just less than 100 yards an outing.
St. Joseph outlook: The Knights kept enough of the 28-3 lead they built on Pioneer Valley to take a 35-19 win last week. St. Joseph, with WR Darien Langley, among other receivers, QB Chase Artopoeus (though he struggled last week), RB Devin Guggia, has proven it can move the ball through the air or on the ground. The defense has been steady.
What to look for: This is another in-section match-up for St. Joseph, a first-year CIF Central Section member. The Division I Knights appear to have too much for the Division II Rams in this one.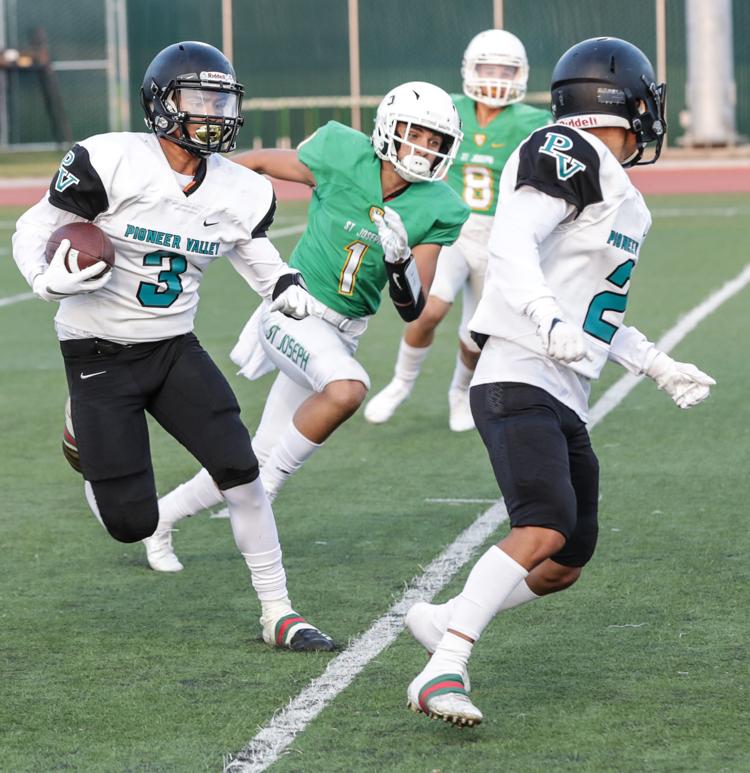 Who: Pioneer Valley (0-1) at Righetti (2-0).
Where: Warrior Stadium, Righetti High School.
Pioneer Valley outlook: The Panthers showed well after falling behind 28-3 to St. Joseph, though Pioneer Valley ultimately lost 35-19. The Panthers showed a healthy running game, featuring Michael Bourbon and a defense that improved as the game went along. Standout kicker Edgar Zacarias doesn't appear to have lost the form he had last year. He kicked a 51-yard field goal last week.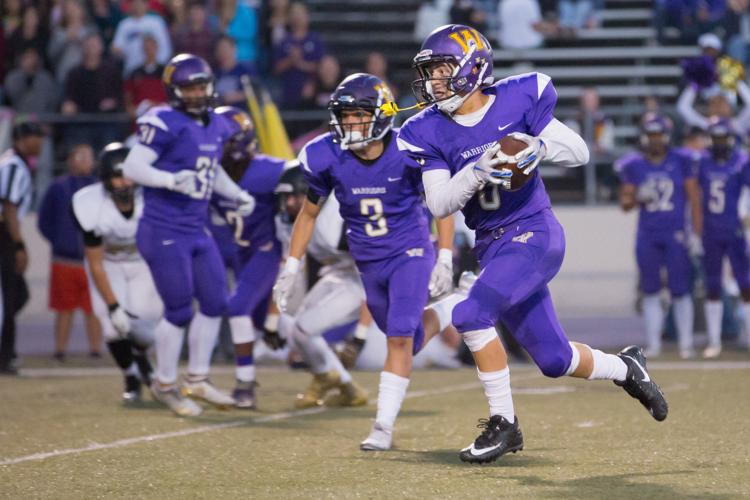 Righetti outlook: The pass defense faltered after DB Jake Steels' three early picks. The Warriors had 11 penalties in the first half. Kickoff coverage was sometimes wanting. Other than that, Righetti was superb in a 49-21 win over Oak Park last week. RB Adan Solis ran for more than 200 yards and three scores, fellow RBs Isaiah Gayfield and Kidasi Nepa were stellar as well. QB Brandon Giddings was steady. Righetti gave up five rushing yards. 
What to look for: Pioneer Valley's running game has looked good. Righetti's running game has looked better. The Panthers may need to switch gears from what worked against St. Joseph and try to move the ball at least some through the air. This edition of the Battle for the Helmet will also match first-time Central Section Division II rivals in Righetti's third home game this year.
Who: Santa Ynez (2-0) at Santa Maria (1-1).
Where: Ralph Baldiviez Stadium, Santa Maria High School.
Broadcast: KUHL 1440 AM/106.3 FM.
Santa Ynez outlook: The defense has been superb. The offense, plagued with injury problems. has been underwhelming. LB Vinny Vacca and DE Misuel Hernandez have been particularly sturdy defenders for the Pirates.
Santa Maria outlook: The Saints rallied for a 29-28 win at San Marcos after trailing 21-0 in the second half. Sophomore RB Samuel Herrera helped lead the comeback. At 97 yards a game, he is easily the team's leading rusher. Kenny Dato is a dependable secondary outlook. QB Sebastian Saiz can also run. The passing game hasn't been much to speak of.
What to look for: The Saints' offense will have its hands full with the Pirates' defense. Cash Transeth ran for more than 100 yards and averaged nearly six yards a carry in Santa Ynez's opener. He didn't play last week. If he can go this week, that will be a problem for the SM defense.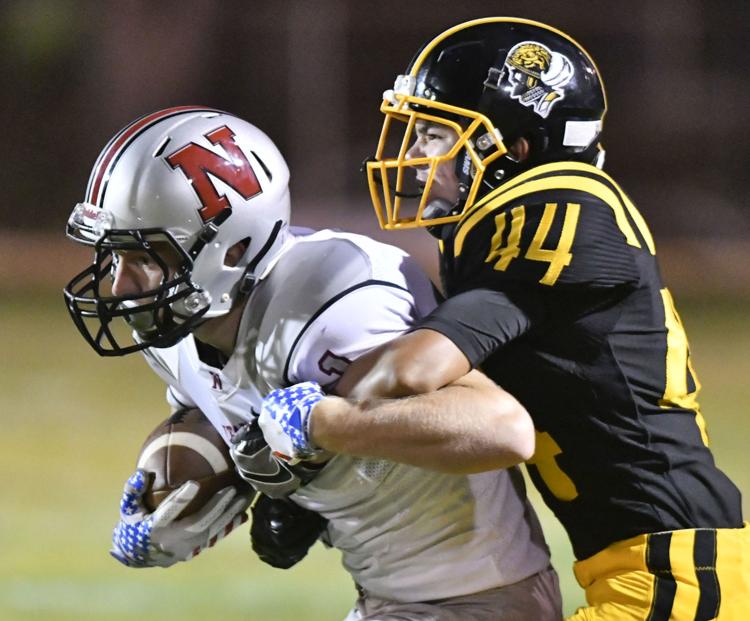 You have free articles remaining.
Who: Visalia Golden West (1-1) at Nipomo (2-0).
Where: Nipomo High School.
Golden West outlook: No statistics were available for the Trailblazers, who lost 32-21 to Porterville Monache and trounced Merced El Capitan 46-6. The Trailblazers play in the Central Section's Division IV.
Nipomo outlook: DB Wyatt Omohundro said there would be no slow start for the Titans this year, and he has been prophetic. Nipomo has been solid on both sides of the ball. The Titans don't have anyone with flashy stats on offense, but they scored 45 points last week as QB Brayden Groshart threw 3 TDs. Omohundro and Nate Reese lead a reliable group of receivers. Jesse Garza helps spark a strong defense.
What to look for: This will be Nipomo's first in-section game, and the Central Section Division II Titans figure to come out on the long end against the Trailblazers.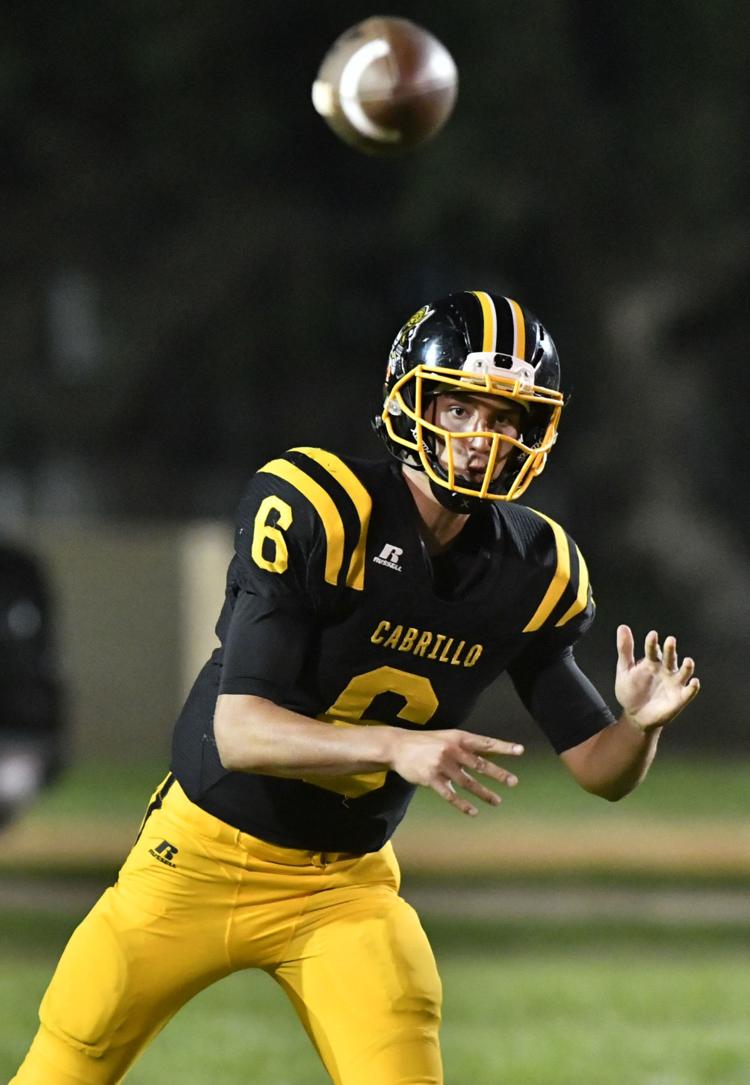 Who: Oxnard Rio Mesa (1-1) at Cabrillo (0-2).
Where: Huyck Stadium, Lompoc.
Rio Mesa outlook: No statistics were available for the Spartans, whose opener was a wipeout, a 51-7 loss to Camarillo. Rio Mesa beat Simi Valley Royal 24-14 last week. Coach Jim Bittner lost 33 seniors from the 2017 squad that went 12-1.
Cabrillo outlook: It has been rough for the Conquistadores on both sides of the ball. They have been out-scored by a total of 94-14. They will try to rebound behind QB Jackson Anderson.
What to look for: The Conquistadores badly need a confidence booster, and if they can at least hang with the Spartans most of the way, that would be a big help. Losing 33 seniors from the prior year is a challenge for any team.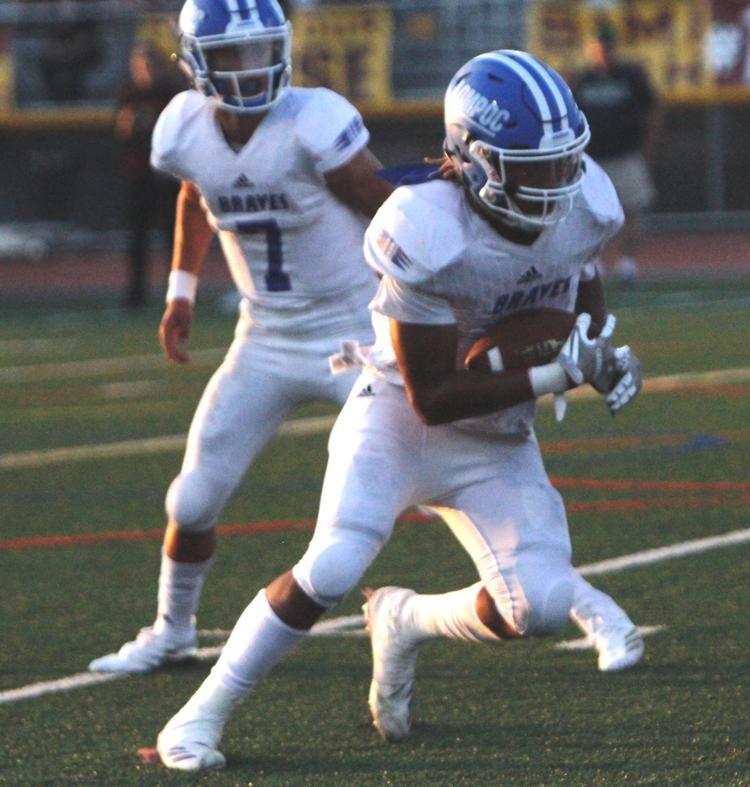 Who: Lompoc (1-1) at Bishop Diego (1-1).
Where: La Playa Stadium, Santa Barbara City College.
Broadcast: KPEG 100.9 FM; KTNK 1410 AM.
Lompoc outlook: No season stats were available for the Braves, who scored the first 13 points then fell flat in a 31-13 loss at Santa Fe Springs St. Paul last week. LB Leondre Coleman and WR Ryan Morgan have been two steady players for the Braves.
Bishop Diego outlook: The Cardinals won big in their opener vs. Cabrillo then lost 27-3 to Ventura St. Bonaventure last week. Luke Knightley accounts for half of Bishop Diego's 118 rushing yards a game. QB Jake Engel threw four TD passes in his only appearances but he reportedly will sit this one out for disciplinary reasons. Solid RB Adrian Soracco looks to be in action for the first time this year.
What to look for: The Cardinals' offense figures to challenge the Braves' defense, which has been uncharacteristically vulnerable in this young season. This is an intriguing match-up between two strong programs (Bishop Diego won a divisional state championship last season) that were jolted by graduation.
Other games: Bakersfield Independence (2-0) at Arroyo Grande (1-1), 7 p.m. Broadcast: None. Morro Bay (0-2) at Lindsay (1-0), 7 p.m. No radio. Lake Isabella Kern Valley (1-1) at Mission Prep (1-0), 7 p.m. No radio. San Luis Obispo (1-1) at San Marcos (0-2), 7 p.m. Broadcast: ESPN 1280 AM. Bakersfield Stockdale (0-2) at Atascadero (0-1), 7:30 p.m. Broadcast: KJUG 98.1 FM. Paso Robles (1-1) at Visalia El Diamante (0-2), 7:30 p.m. Broadcast: www.voiceofpasorobles.com. Mendota (0-2) at Templeton (0-1), 7 p.m. Broadcast: KPRL 1230 AM. Eight man: Orcutt Academy (1-0) at Cate (0-0), 4 p.m. Valley Christian Academy (0-0) at Laguna Blanca (0-0), 4 p.m.