The St. Joseph and Bishop Diego seven-on-seven football squads both went four-for-four Saturday.
That is, they each went 4-0 in the second of the two-day, seven-on-seven competition that Santa Maria High School hosted Friday and Saturday. They were the only two of the 16 squads to do so.
Mark Crisp, the Knights' junior varsity quarterback last year, got the bulk of the work at quarterback for St. Joseph during the seven-on-seven competition at Santa Maria. Chase Artopoeus, the 2018 Mountain League co-MVP who quarterbacked the Knights to the league championship that year, graduated.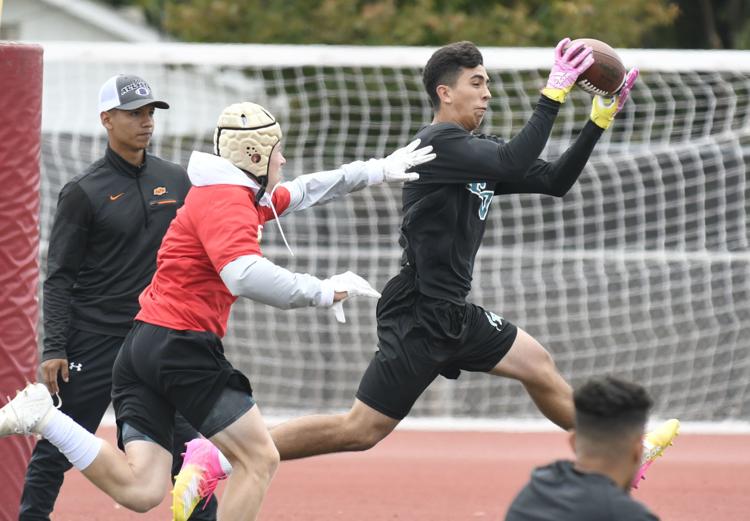 Righetti and Nipomo each went 3-1 Saturday. Bakersfield Golden Valley broke Righetti's run with a win in both teams' last game of the day. Central Coast squads went primarily against Central Valley teams during the two-day competition.
Logan Mortensen was having a big year at quarterback for Righetti last year when he went down mid-year with a season-ending injury. He will be back for his senior season, and Mortensen hooked up with Jake Steels for a lot of scores Saturday. Steels caught five touchdown passes in Righetti's first game of the day.
"This was my first seven-on-seven this summer," said the left-handed Mortensen, who sported a hat, while his teammates wore soft helmets, when he competed Saturday. "It's not like real football but it shows you where you're at, what you need to work on.
"Jake's probably the best athlete on our team, probably the best athlete in the area."
Steels, along with Chase Reynoso who was not at the seven-on-seven competition, figure to be among Righetti's top receivers in the fall.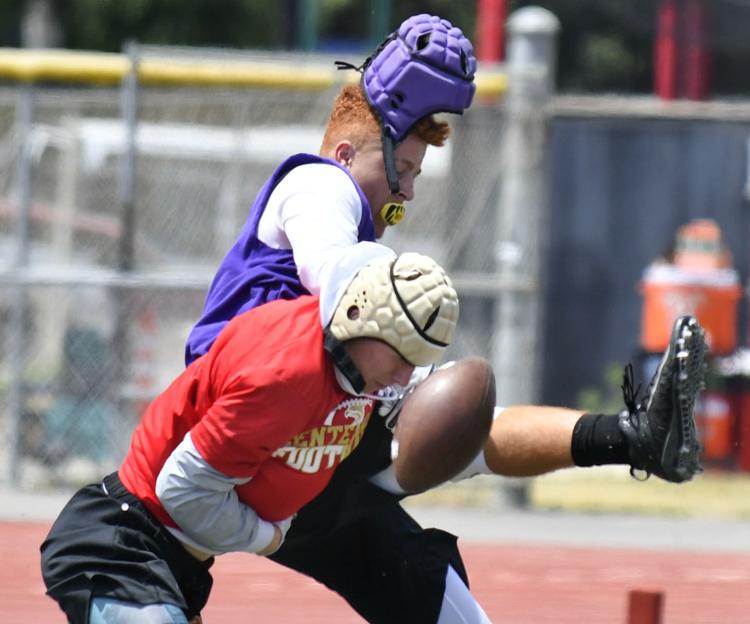 There were no running plays, no conversion tries and no tackling during the competition at Santa Maria. Teams could not rush the passer, but the team lost a down if the quarterback did not get off a pass within an allotted time.
Teams earned six points for a touchdown and two for an interception.
Games were played on 40-yard fields and were 40 minutes long, with no clock stoppages. Besides the gridiron at Santa Maria's Ralph Baldiviez Stadium, Santa Maria's practice field and baseball diamond were also in use for games.
As the day went along, Nipomo coach Tony Dodge pronounced himself pleased with the way things were going for his team.
"Nick Milton, the quarterback for our freshman team last year, and Nate Reese (a receiver in 2018) have been our quarterbacks today, and it's been going very well," Dodge said.
"I think you'll see a lot of guys in multiple spots for us this year."
Brayden Groshart, Nipomo's starting quarterback the past two years, was not at the seven-on-seven event.
The seven-on-seven competition was the first look for new Pioneer Valley coach John Beck at his team against opposition. Beck took over for former veteran Panthers coach John Ruiz who stepped down at the end of last season.
Pioneer Valley went 1-3 Saturday. The Panthers had a big turnout for the event and, "I've been very pleased with the turnout and enthusiasm," said Beck. "The coaches and the players are buying into what we've been doing. The effort has been great."
Beck said he taught at King City Middle School last school year. "My last coaching before this was as an assistant to Mike Hartman at Arroyo Grande."
Arroyo Grande went 2-2 Saturday.
Santa Maria's "A" team went 1-3 Saturday. The Saints lost their first three games then snagged a win against Bakersfield Independence when Dominick Martinez connected with Andres Cuevas for a touchdown near the end of the game.
Officially, there were eight Central Coast teams and eight Central Valley squads. The Santa Maria "B" team went into the Central Valley half to balance things out.
The Santa Maria "B" squad was the only team from the area that went against another Central Coast squad. Santa Maria's "B" team went 1-3, pulling out a win against Pioneer Valley.
Central Coast teams had 36 wins to the Central Valley's 27 overall, and 19 wins to the Central Valley's 13 Saturday.
The Righetti team of Robert Lamb III, Jake MacKinnon, Henry Aguilar, Robert Cetti and Jessup Nocis won a competition for linemen that included 40-yard dash times, a blocking sled push, weight lifting that included the bench press, squats, and clean and jerk, a tire flip and a 5x100 relay.