St. Joseph made sure next Friday night's game against Righetti is another marquee matchup with its win Friday against Arroyo Grande.
The Knights defeated the Eagles 21-14, rallying with a key fourth-quarter drive after Arroyo Grande had taken the lead and coming up with one final defensive stand in the final seconds. 
After Arroyo Grande went ahead 14-13 with 8:48 left in the game, St. Joseph quarterback Hunter Barnhart engineered a game-winning drive in the fourth quarter, finding Noah Skarda for two big completions for first downs.
Junior running back Brett Burress also picked up chunks of yardage on the final drive, capping the march with a 4-yard touchdown run.
On the two-point try, Barnhart checked out of his read to the right, tucked the ball and knifed through the Eagle defense to score, giving his Knights a seven-point cushion with 5:08 left.
"That whole drive, we were thinking was about all the hard work we put in the last week and it all paid off there," Barnhart said. "We stayed as a family. We drove down the field and put it in. There are no individuals out here, we're a family."
 "It starts with the O-line blocking up nice and a nice ball from the quarterback," said Skarda, who had two catches for 43 yards on the game-winning drive. "All I do is catch it and hold on for the first down."
Skarda and Barnhart have built some chemistry together. Barnhart, a Division I baseball commit, is a pitcher on the St. Joseph baseball team that Skarda is a catcher on.
"We played baseball together so we've had some bonding before the season started, it's just a little extra chemistry," Skarda said. 
Arroyo Grande started its ensuing drive in Knight territory after a personal foul for a late tackle out of bounds on the kick return.
Pioneer Valley couldn't hold the Tigers in general or their quarterback, Emilio Corona, in particular Friday night.
But the St. Joseph defense stiffened up when it counted. 
Arroyo Grande running back Caleb Tomasin caught a swing pass for a big first down, putting the Eagles inside the 30.
You have free articles remaining.
The Eagles then got inside the 10. But a holding call and a sack by Noe Carlos backed A.G. up, setting up a fourth-and-goal from the 30 with 20 seconds left.
Michael Madrigal helped lead a St. Joseph defense that limited AG to 14 points. He also battled thru cramps most of the second half. Standout can cover like a safety and play inside like a linebacker. #santamariatimes pic.twitter.com/zMkFaoz5fU

— Joe Bailey (@JBaileySMSports) October 26, 2019
Arroyo Grande quarterback Ethan Royal threw up a pass to his brother, sophomore Travis Royal, who pulled in the pass but was ruled out of bounds, forcing a turnover on downs with 12 seconds left.
Barnhart took one knee and the game was over.
St. Joseph junior kicker Brock Marcois hit one of his two 27-yard field goals on the Knights' first possession. Barnhart then found Diego Castillo on a 30-yard strike on the first play of the second quarter to give the Knights a 10-0 lead. 
Caleb Tomasin scored the Eagles' first touchdown on a 2-yard run in the second quarter, cutting the Knights' lead to 10-7 before Marcois hit his second field goal for a 13-7 lead with 10:50 left in the game.
Right after that score, though, the Eagles sliced through the St. Joseph defense to take a 14-13 lead on Tomasin's 30-yard touchdown run, with 8:48 left. 
But the Knights responded with Barnhart piloting the crucial drive in crunch time.
St. Joseph has now won four straight games after a 2-3 start. The Knights will host Righetti, which beat Paso Robles 28-14 on the road Friday night, next week in the game that is known as the Battle for the Shield. 
St. Joseph is now 2-0 in league games, while Righetti is 1-1. Arroyo Grande is done for the regular season at 6-4 overall and 2-1 in league.
Someone had to snap their three-game losing skid and finally earn their first Ocean League win.
A St. Joseph win over Righetti next week gives the Knights a second-straight outright Mountain League championship. A Righetti win, meanwhile, would cause three teams to be at 2-1 in league, forcing a three-way tie for first place and a tri-championship.
"I've heard it's a dog fight, I heard it's a dog fight to the very last play," Barnhart said of the matchup with Righetti. "I'm excited to play in it and I'm excited to be on the St. Joe side and put all my effort into getting a win."
Friday's game was played at Doug Hitchen Stadium, which is currently being renovated. The pressbox and one side of bleachers have been removed and temporary seating was installed for St. Joseph fans at Friday's game.
102519 Arroyo Grande vs St Joseph 02.jpg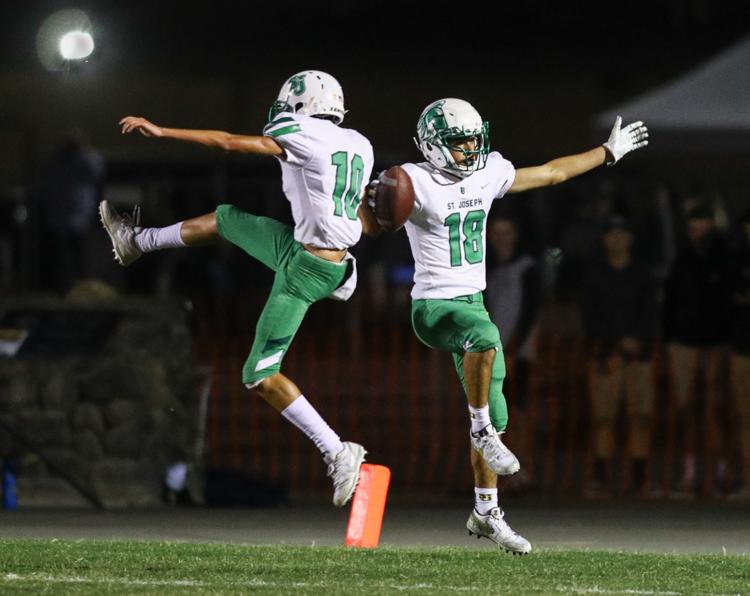 102519 Arroyo Grande vs St Joseph 01.jpg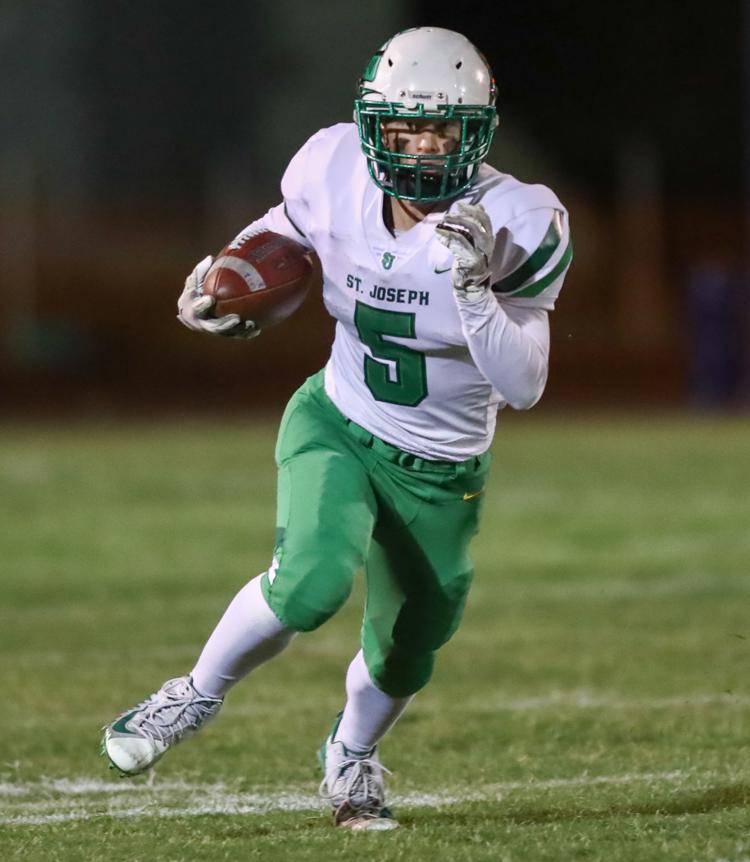 102519 Arroyo Grande vs St Joseph 03.jpg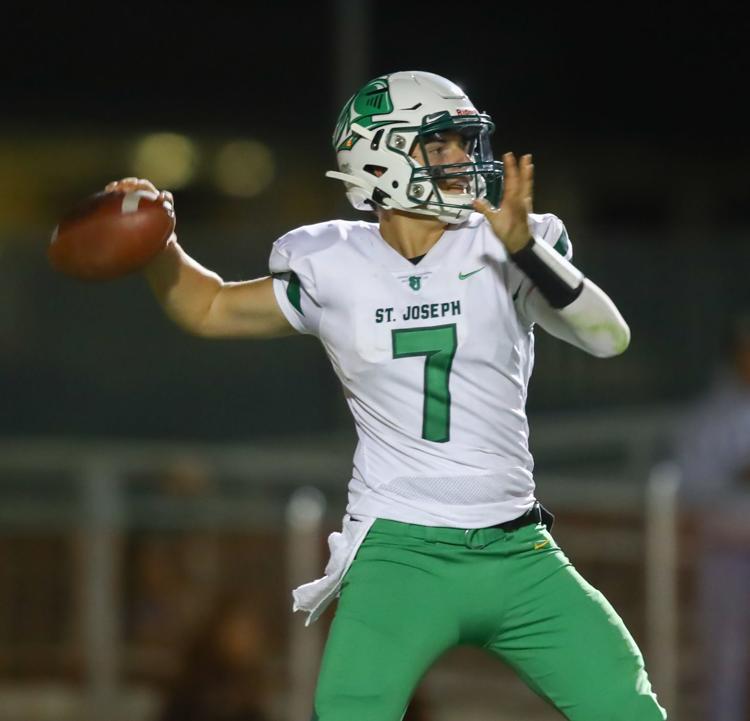 Jacob Lewis, Second Team LB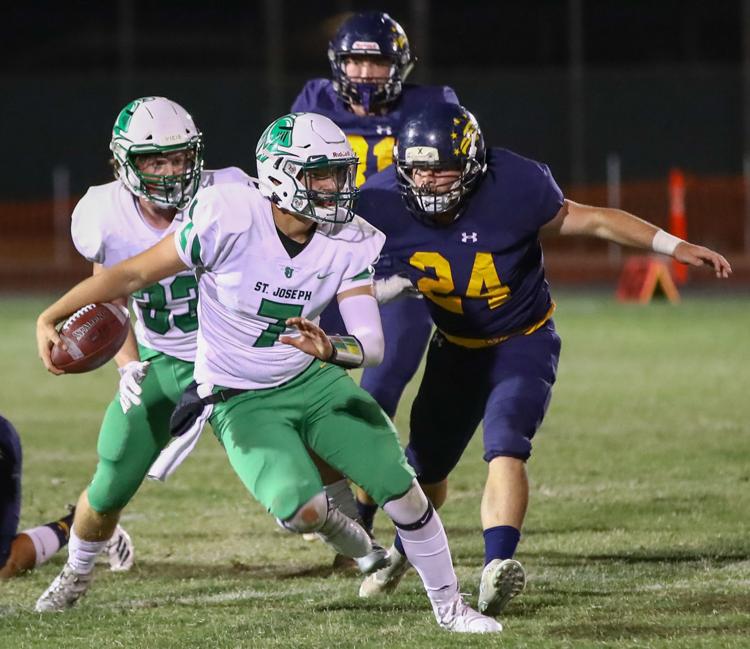 102519 Arroyo Grande vs St Joseph 05.jpg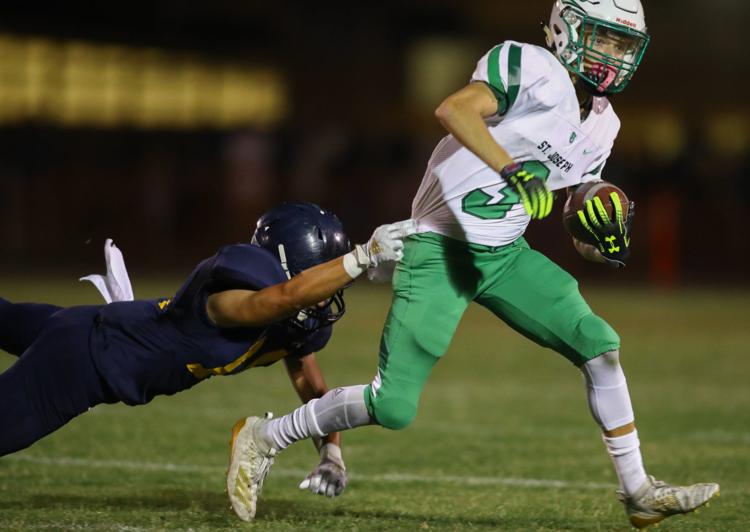 102519 Arroyo Grande vs St Joseph 06.jpg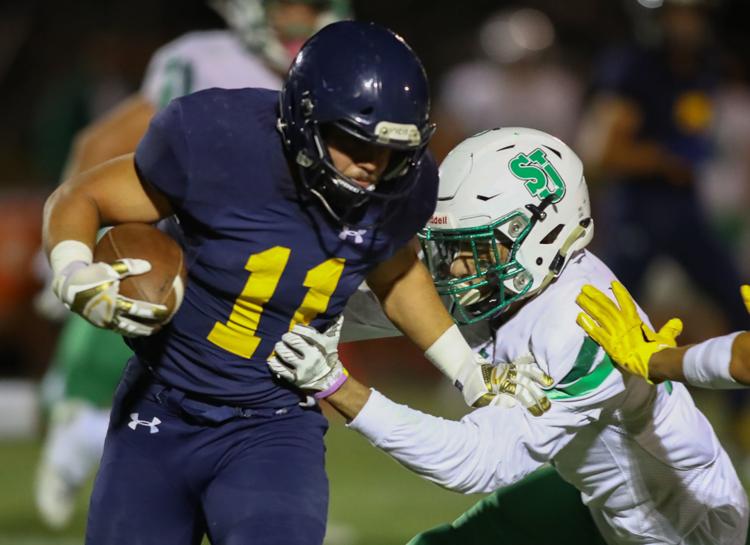 Brock Marcois, First Team K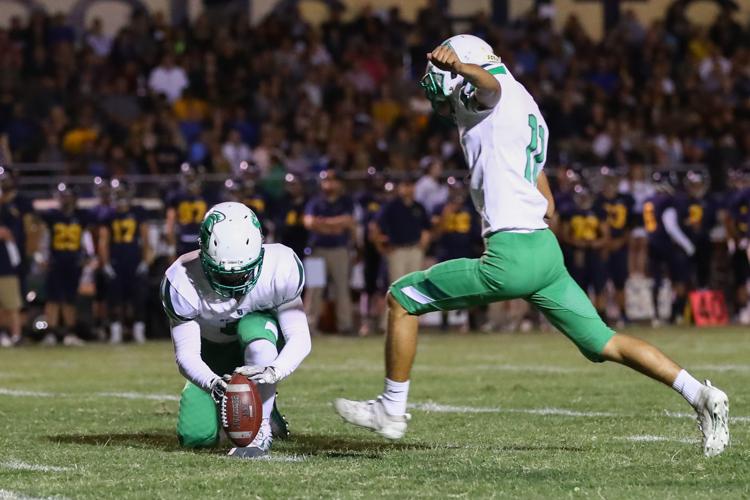 Sebastian Angulo, First Team DB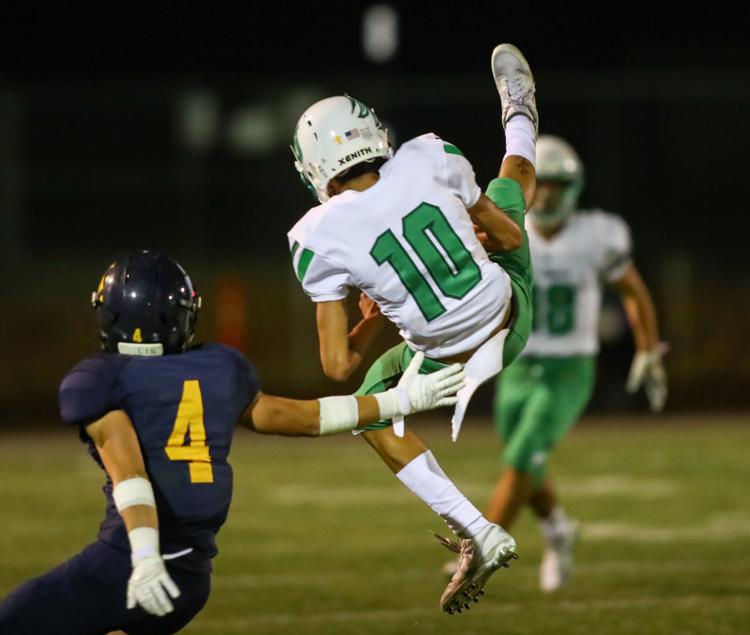 Noe Carlos, First Team DL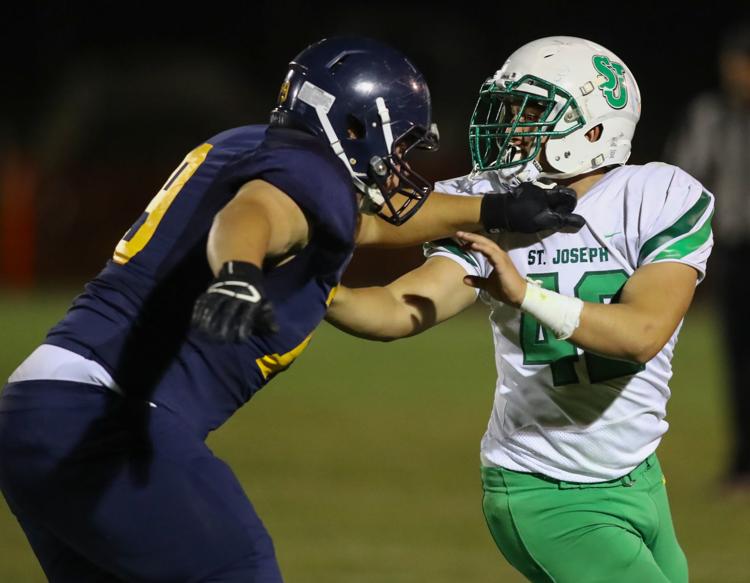 102519 Arroyo Grande vs St Joseph 10.jpg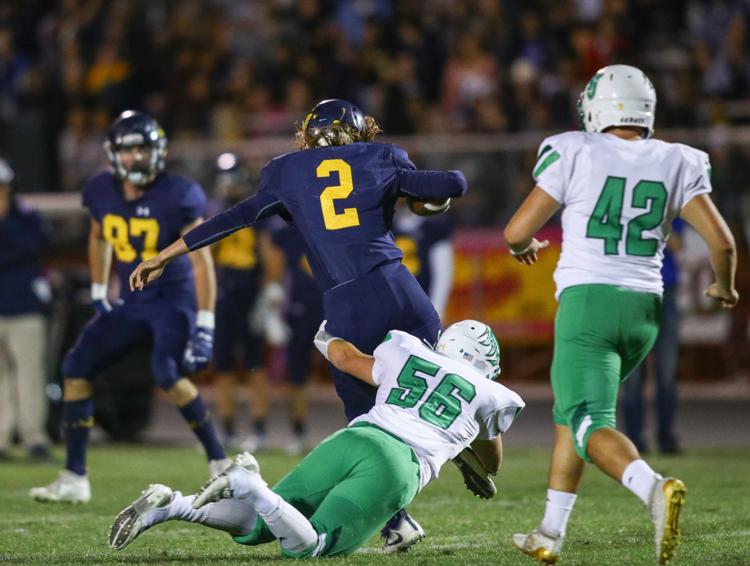 102519 Arroyo Grande vs St Joseph 11.jpg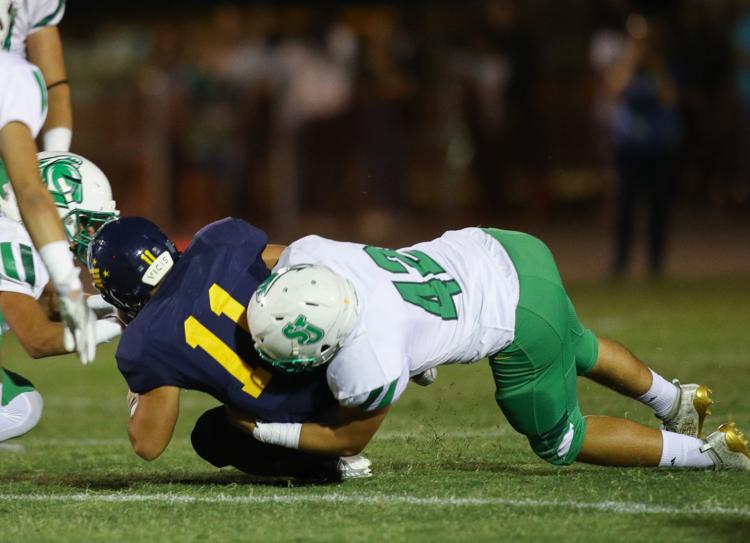 Sam Calder, Second Team DB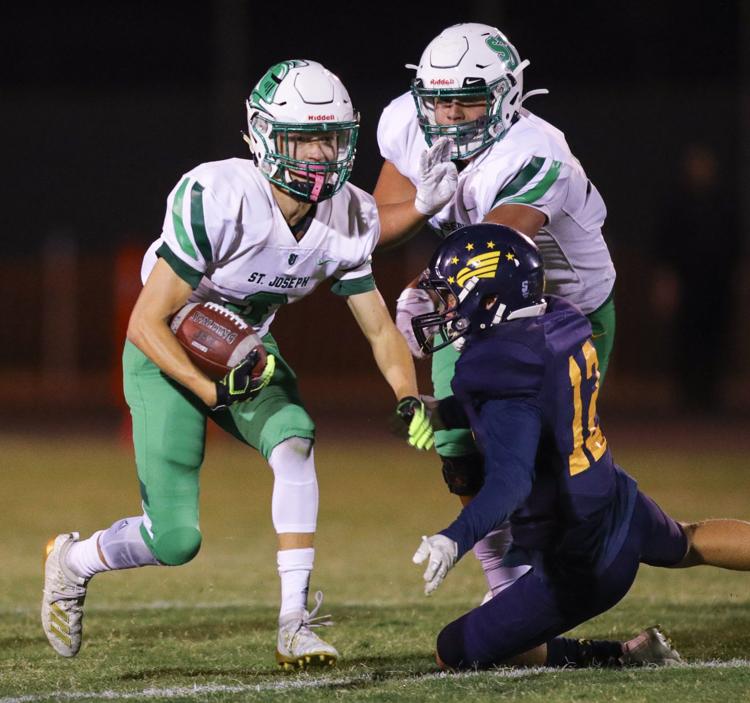 102519 Arroyo Grande vs St Joseph 13.jpg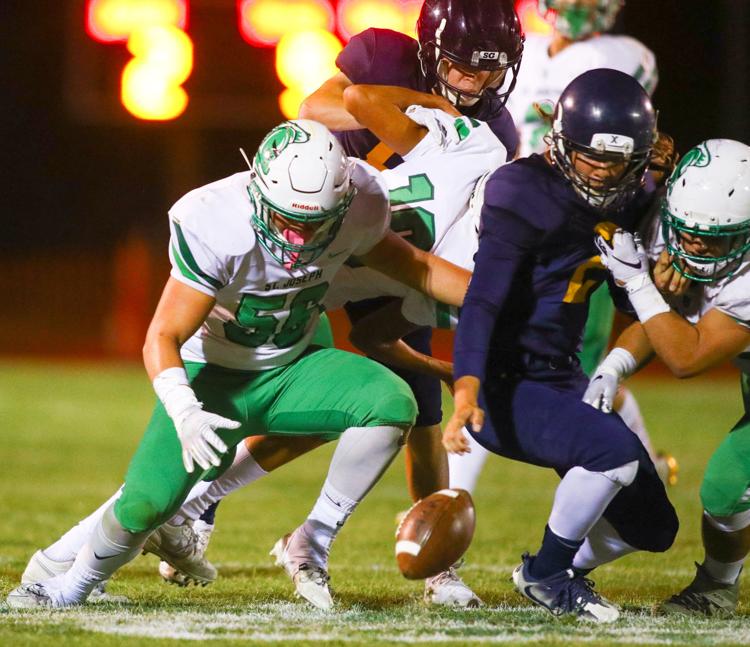 Ethan Royal, Second Team QB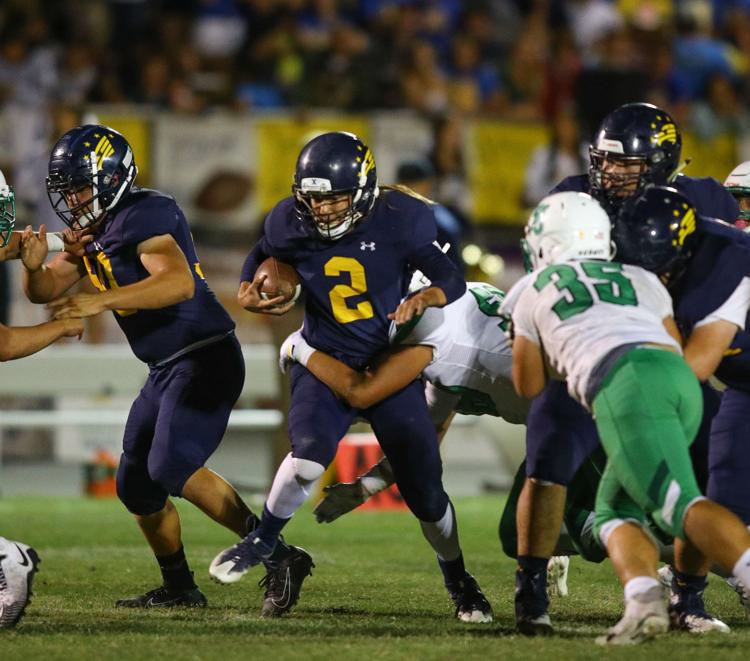 102519 Arroyo Grande vs St Joseph 15.jpg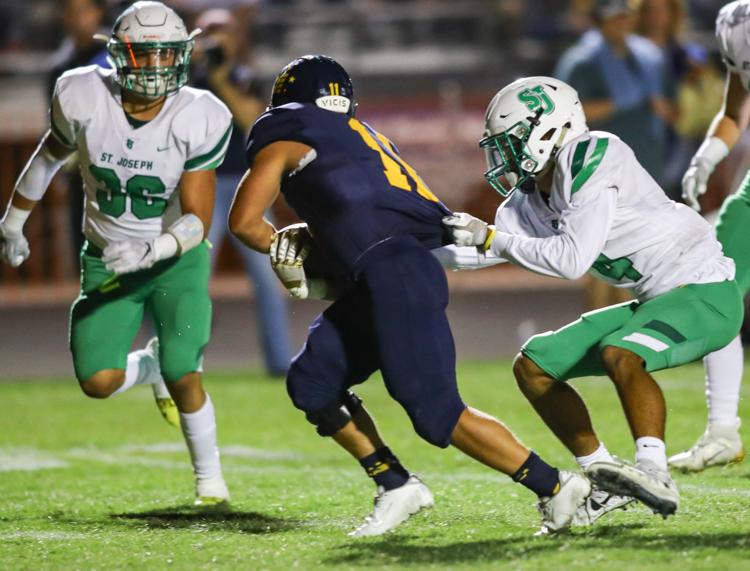 102519 Arroyo Grande vs St Joseph 16.jpg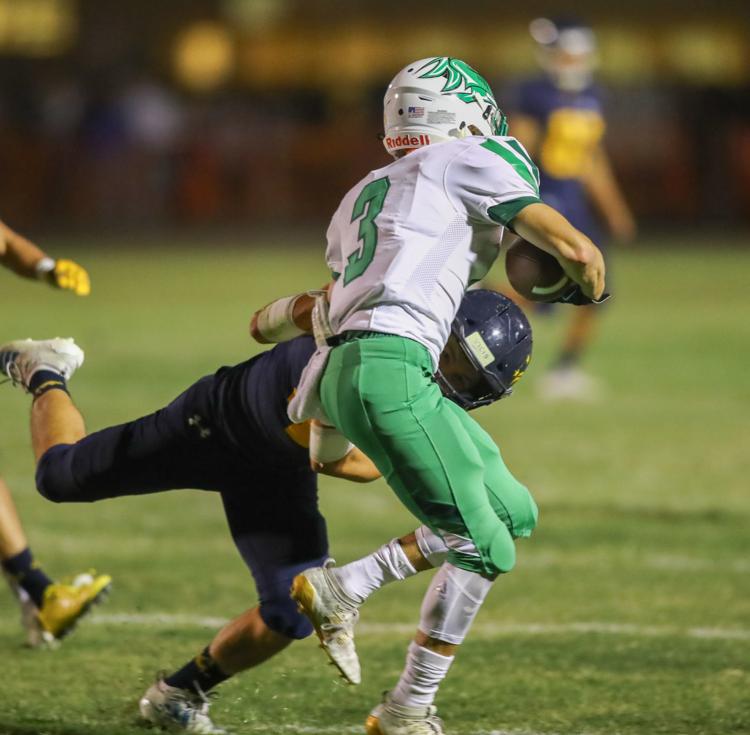 Michael Madrigal, Second Team LB