Which team will keep its momentum going?
Will it be the Santa Maria Saints or the Santa Ynez Pirates when these old Los Padres League rivals meet once again on the gridiron in a non-league game Friday night at Santa Ynez High's stadium?
Both teams bounced back last week from tough week zero losses.
Santa Maria (1-1) rebounded from its opening loss to Righetti, the No. 1 team in the Lee Central Coast Newspapers poll, with a 33-29 victory over San Marcos.
Santa Ynez (1-1) rolled past Carpinteria 42-0, a week after its comeback fell just short in a 23-21 Week Zero loss to Nipomo, the No. 4 team in the latest Lee poll.
The Pirates and Saints are the No. 8 and 9 teams, respectively, in the latest poll and both are feeling rejuvenated after getting into the win column last week.
"On defense and special teams, we were really solid against Carpinteria," said Santa Ynez head coach Josh McClurg during practice this week.
The Santa Ynez defense, led by Tyler Germani, smothered the Warriors – giving up seven yards of total offense to Carpinteria in the first half while rolling to a 42-0 halftime lead.
The Pirates' defense also created five costly first-half turnovers, three fumbles and two interceptions, that helped shut down the Carpinteria offense.
With San Marcos driving toward a potential winning touchdown, Diaz knocked the ball away from Royals running back Henry Herrera. Sammy Benitez recovered the ball for the Saints at the Santa Maria 33, and the Saints hung on for a 33-29 cross-section win at their Ralph Baldiviez Stadium Friday night.
"When you get the ball on their 20-yard line, it's easy to score," said McClurg. "But Santa Maria is a better team. Dan (Ellington) is a good coach. He's always got a good quarterback dating back to the Blake Truhitte days. Now they've got No. 4 (Dominick Martinez) – he's another good one.
"Santa Maria is super scrappy on defense. Dan's put in a 3-4 defense this year and the team has really benefited from it."
"Dominick is doing a really good job," Ellington said during his team's practice. "He has quick feet, can throw on the run and has the ability to find the open man. He's a dual-threat; a good athlete and he can put his shoulder down and run through you.
"This is an old rivalry. I always make sure we have Santa Ynez on the schedule. Josh and I go back a long ways. I like him, I like his teams. They always have a lot of enthusiasm and are well prepared."
"The things we did against Carpinteria – that's what I expected," said McClurg. "As I said back at (the Times') Media Day (Aug. 10), we have a very good team and Santa Maria has a very good team."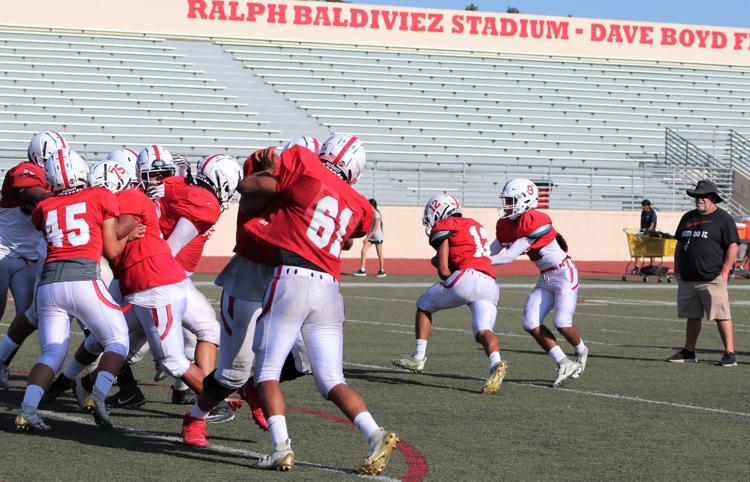 Sammy Herrera led the Saints' offense, picking up 163 yards and two touchdowns on 16 running plays. He also caught a 63-yard touchdown pass from Martinez.
Martinez was an efficient 6-for-10 passing for 141 yards and also scored on a 30-yard run.
You have free articles remaining.
Register for more free articles
Stay logged in to skip the surveys
The defense made significant contributions with a Jovanny Garcia interception that he returned for a 20-yard touchdown.
And Martin Diaz preserved the win by forcing a San Marcos fumble that was recovered by the Saints' Sammy Benitez late in the game.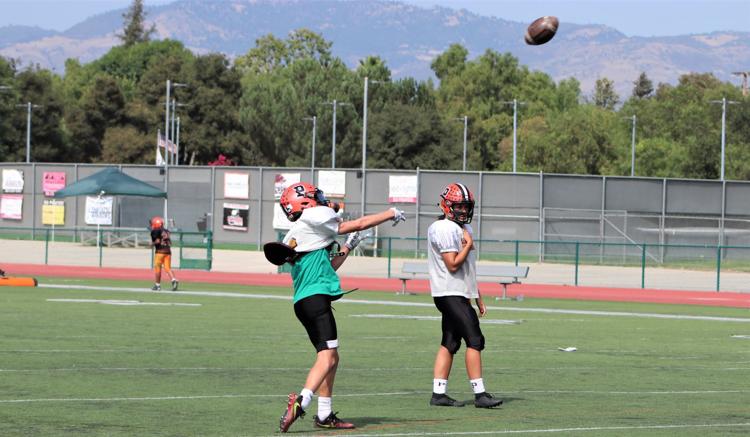 Santa Ynez's defense also came up big.
While holding Carpinteria to seven first-half yards, The Pirates forced five turnovers – three fumbles and two Anthony Gills interceptions, the second resulting in a 55-yard touchdown.
"Those two interceptions were a real confidence booster, especially the pick-six," Gills said this week. "We get pizza every time we get a pick-six and we got pizza today.
"I'm excited about the Santa Maria game. It's always a good matchup. Santa Maria has some real quickness on defense and they've got a good quarterback."
Germani sacked Carpinteria quarterback Will Collins twice.
"We were clean all game," Germani said during practice. "But Santa Maria is going to be different. They are a way better team. Santa Maria is really scrappy. It's a big rivalry and always fun playing them."
The Pirates' offense was equally impressive.
Quarterback Bennett Redell threw for 172 yards and four touchdowns, going 9-for-16 through the air with one late interception.
Lars Ladinig caught two touchdown passes while Logan Ast and Camron Prendergast caught one apiece.
Gills was the leading rusher with 69 yards on 12 carries.
"Bennett has really matured since we had to promote him from the junior varsity early last year," said McClurg. "The game has slowed down for him. Anthony is a very talented two-way player and Camron, Logan and Lars are all making big plays.
"Every coach game plans and we all have an idea of what each team wants to do. You put in a few new wrinkles but there really are no secrets. The team that makes the fewest mistakes is going to win."
"I think we're a lot better team than we've been given credit for," said Ellington. "Last week we beat a team that was higher ranked (in MaxPreps) so I've got a bit of a chip on my shoulder because we've all worked so hard to build this program up. Friday night's game against Santa Ynez is going to be a good measuring stick for us."
083019 Santa Maria San Marcos Football 08.jpg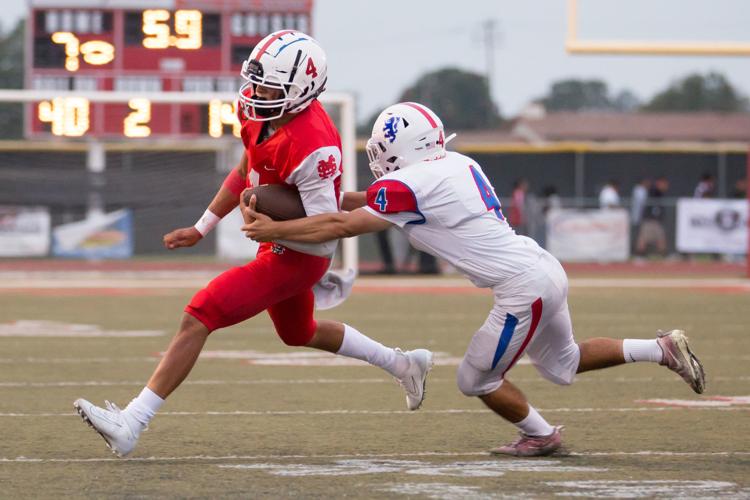 083019 Santa Maria San Marcos Football 01.jpg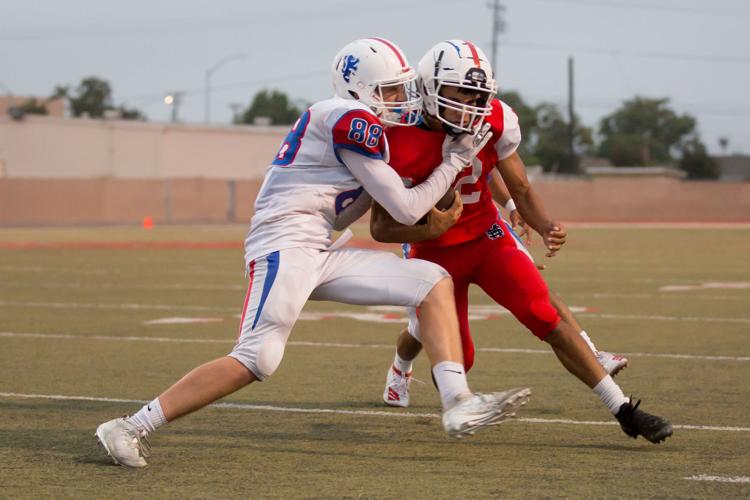 083019 Santa Maria San Marcos Football 02.jpg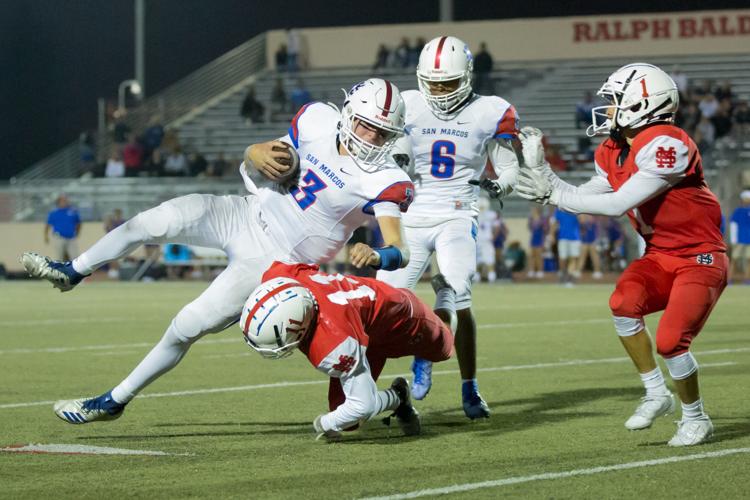 083019 Santa Maria San Marcos Football 03.jpg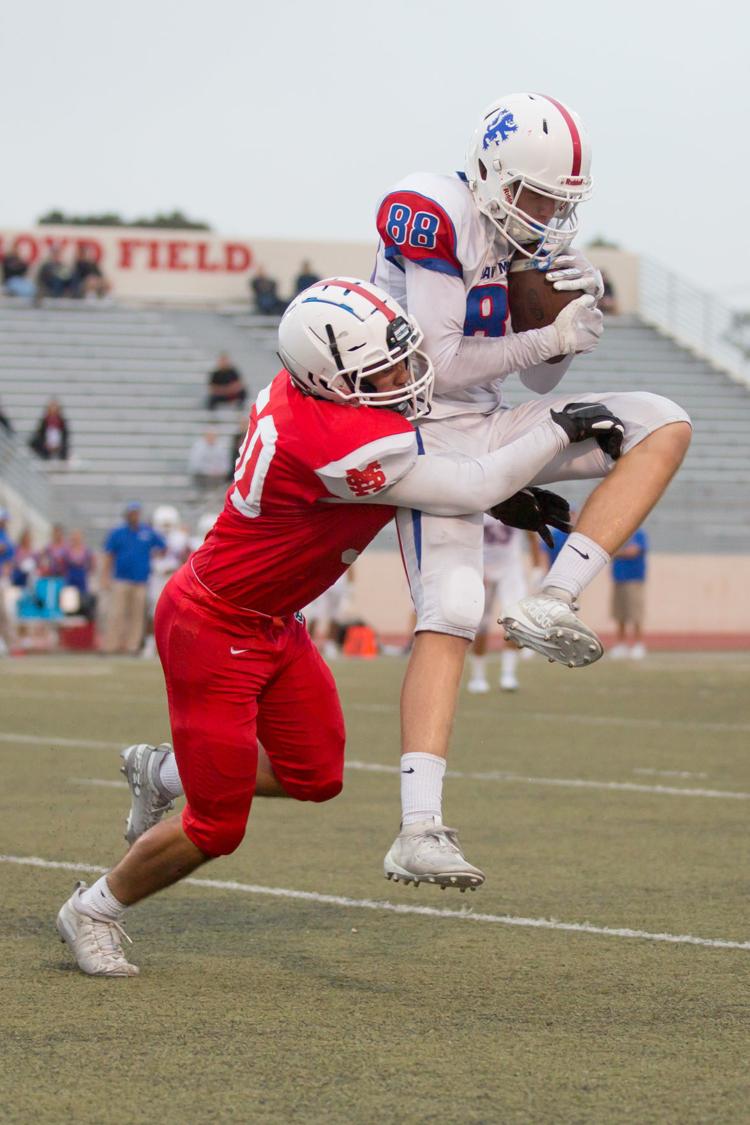 083019 Santa Maria San Marcos Football 04.jpg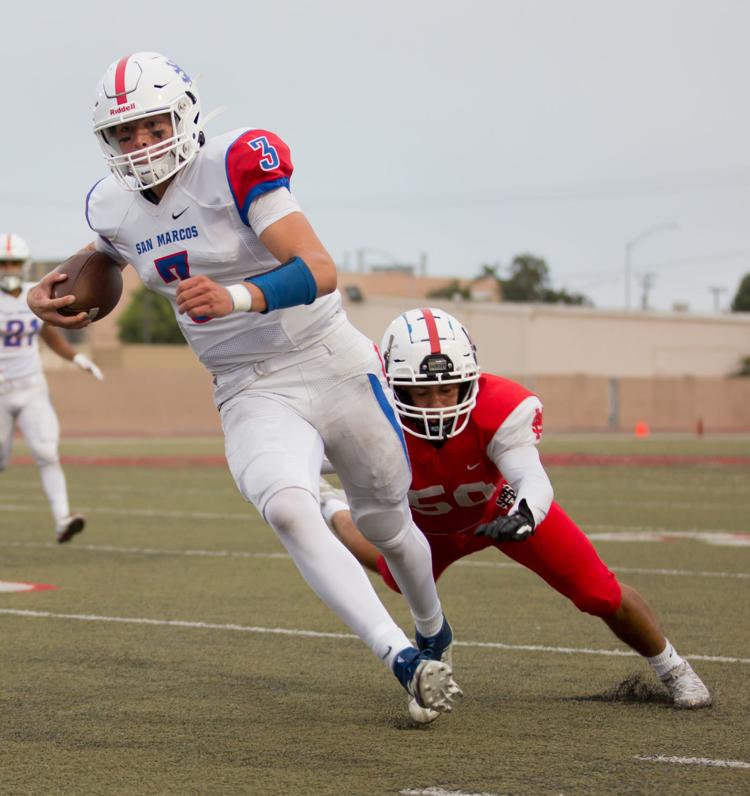 083019 Santa Maria San Marcos Football 05.jpg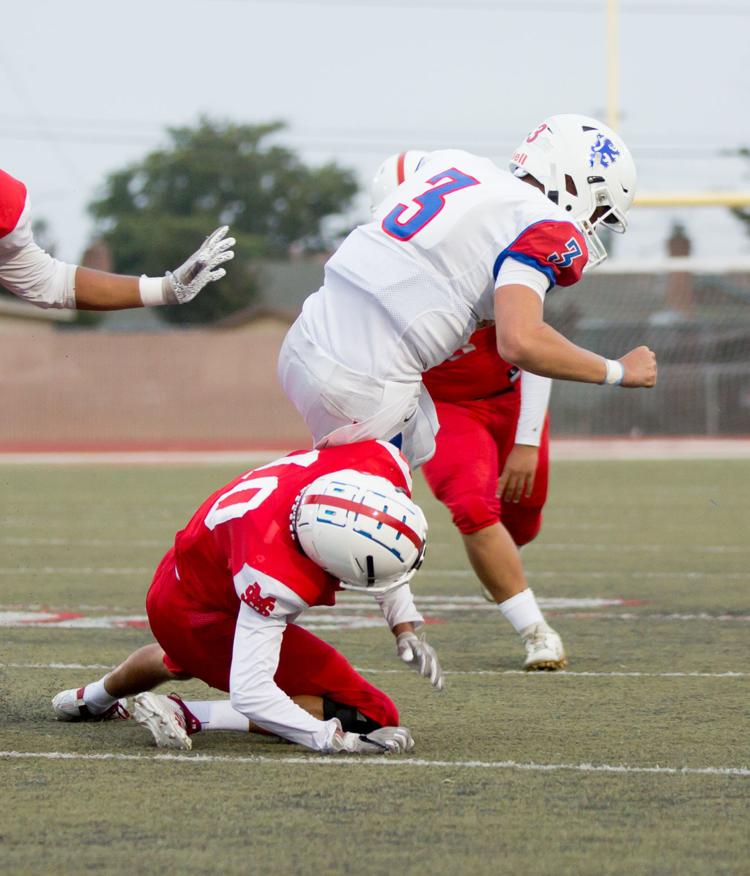 083019 Santa Maria San Marcos Football 06.jpg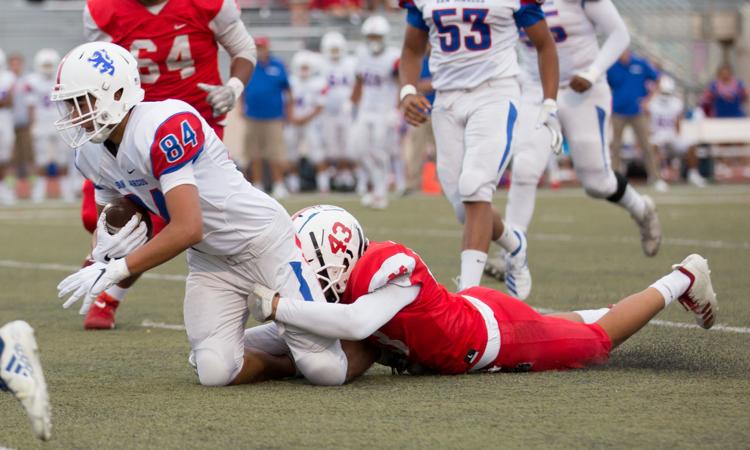 083019 Santa Maria San Marcos Football 07.jpg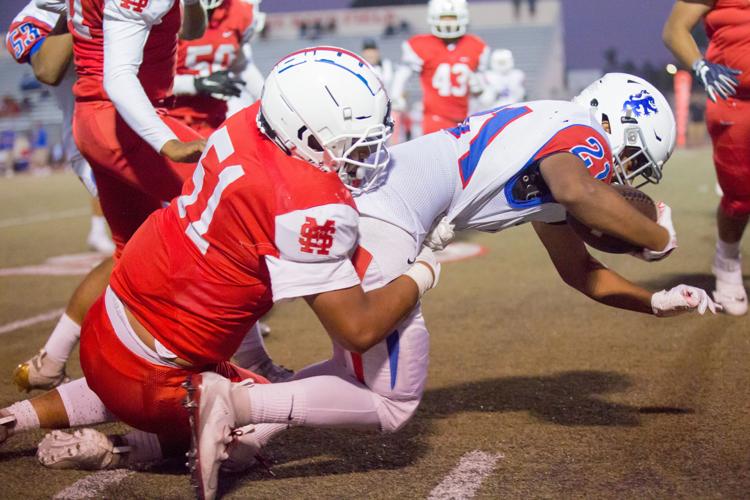 083019 Santa Maria San Marcos Football 09.jpg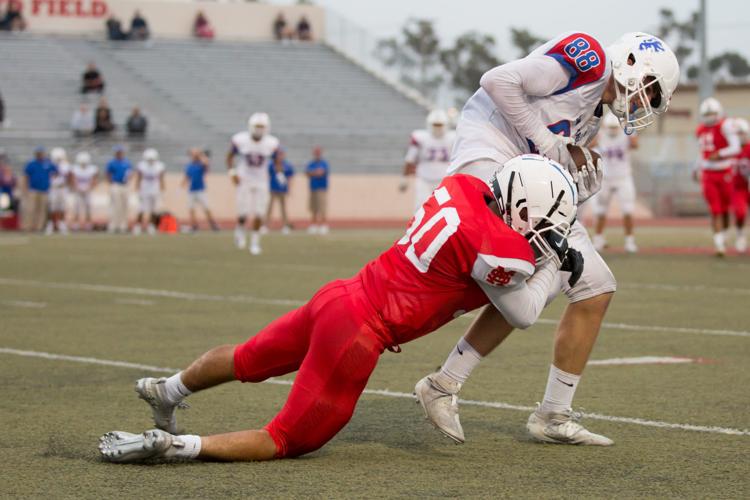 083019 Santa Maria San Marcos Football 10.jpg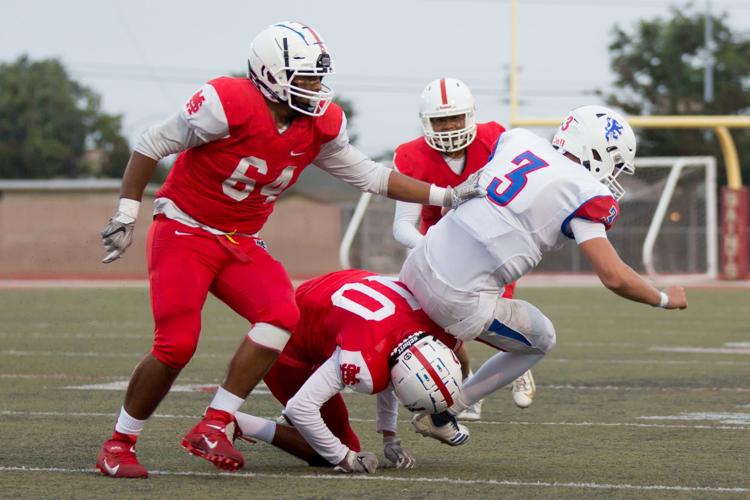 083019 Santa Maria San Marcos Football 11.jpg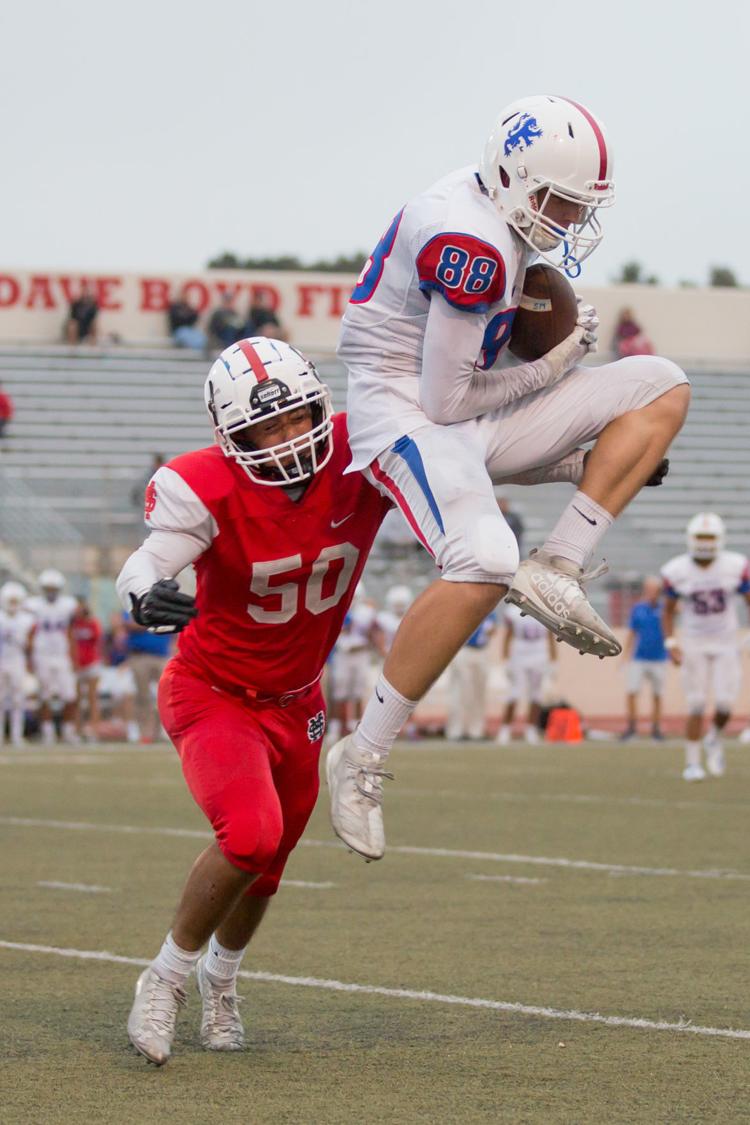 083019 Santa Maria San Marcos Football 12.jpg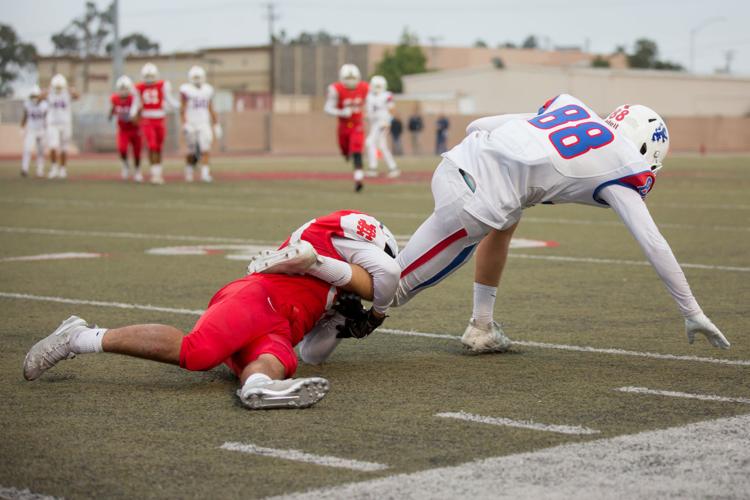 083019 Santa Maria San Marcos Football 15.jpg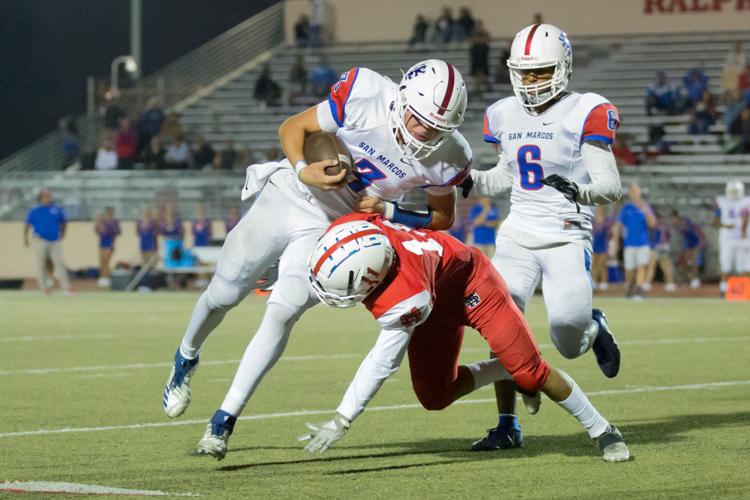 083019 Santa Maria San Marcos Football 14.jpg
083019 Santa Maria San Marcos Football 13.jpg