Sixteen teams took part on the first day of a robust two-day, seven-on-seven football competition that Santa Maria High School hosted Friday.
The nine Central Coast squads included Santa Maria A and B squads, Bishop Diego, Righetti, Pioneer Valley, Nipomo, San Marcos, Arroyo Grande and St. Joseph. The seven Central Valley squads included Visalia Golden West, Tranquility, Fresno Hoover, Bakersfield Independence, Bakersfield Centennial, Bakersfield Golden Valley and Reedley.
Several area teams were minus key starters. Several area coaches said some of their key players were participating in football camps.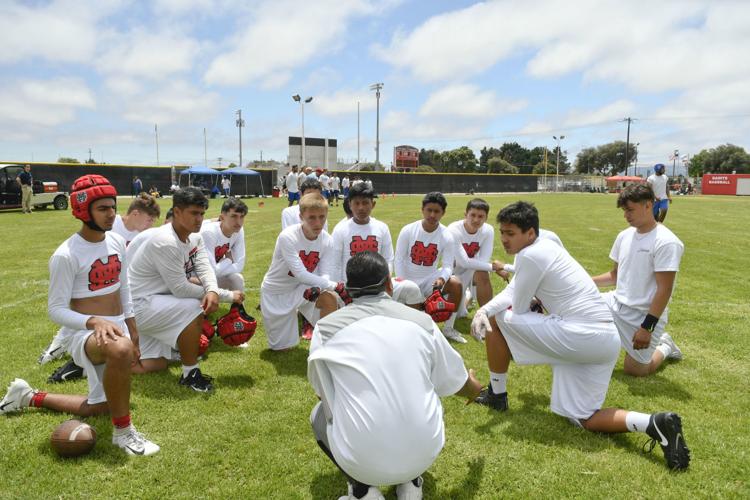 Righetti cornerback-wide receiver Jake Steels was one regular player from last year who was there, and he was quite active.
"Oh, man. Four games going both ways. It's tough," Steels said after he broke up several passes on defense and made some tough receptions on offense.
"No contact took some getting used to. I played some seven-on-seven last year, but not as much because I had baseball going on. I'm more clear to play (seven-on-seven) this year."
During each 40-45 minute session, that ran from 10 a.m. to 2:40 p.m. Friday, two games took place on Santa Maria's Ralph Baldiviez Stadium gridiron, two took place on the Santa Maria practice field and two took place on the Santa Maria baseball outfield.
In a modified scoring system, teams received points for touchdowns, and successful passing (there was no place-kicking) conversions. Teams earned two points for each interception.
Games were played on 40-yard fields, with the result always either a team scoring, losing the ball on downs or losing the ball via turnover. There were no running plays and no tackling.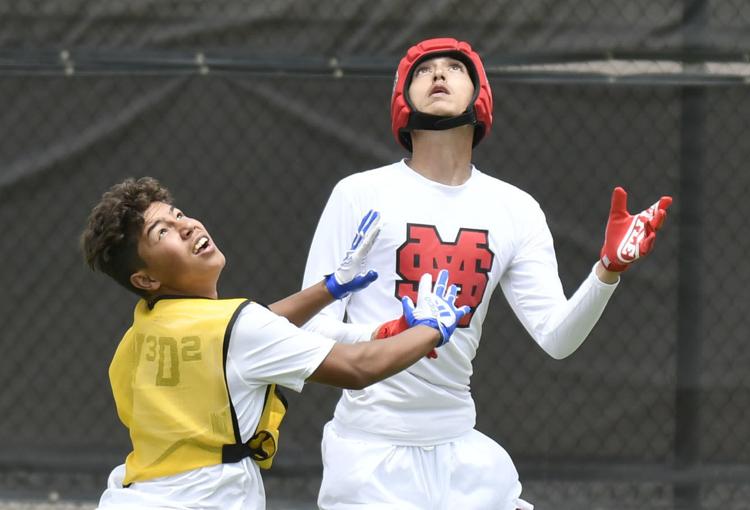 Defenders could not rush the passer, but the passer was required to get the pass off within an allotted time. If he did not, his offense lost a down.
Quarterback Logan Mortensen and running back Kidasi Nepa were two Righetti regulars who were absent due to being a out-of-area football camps Friday. Joaquin Cuevas, who played on the Righetti freshman team last year, quarterbacked the Warriors offense Friday.
Cuevas threw several touchdown passes as Righetti, according to its coaches, went 2-2, including a 34-18 loss to a sharp-looking Bakersfield Centennial side in the teams' final game of the day.
"We beat (Bakersfield) Independence 16-14. We were happy about that," said Righetti assistant coach Tony Gayfield.
"Kidasi and Logan should be here (Saturday)."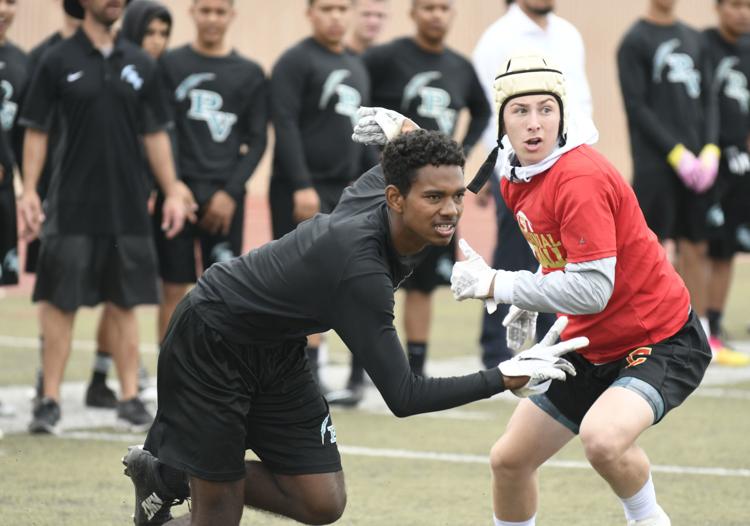 Righetti plays in the Central Section's Division 2. Centennial, a Division 1 team, edged Righetti 37-35 last year, Righetti's first loss in the 2018 season.
Host Santa Maria's "A" team struggled some Friday, but Dominick Martinez threw several crisp passes, including a sweet-looking long touchdown pass to Joannes Gonzalez, in his team's first game Friday.
Martinez took over the starting quarterback job early last year as a junior in Santa Maria's run-oriented offense.
Nipomo tied Bakersfield Golden Valley 10-10 Friday. Without many of their top players, the Titans, said Nipomo coach Tony Dodge, took close losses in their other three games.
"We kept losing by an interception," Dodge said with a smile. "Considering we basically have a JV team here, I'm happy with the way we're competing."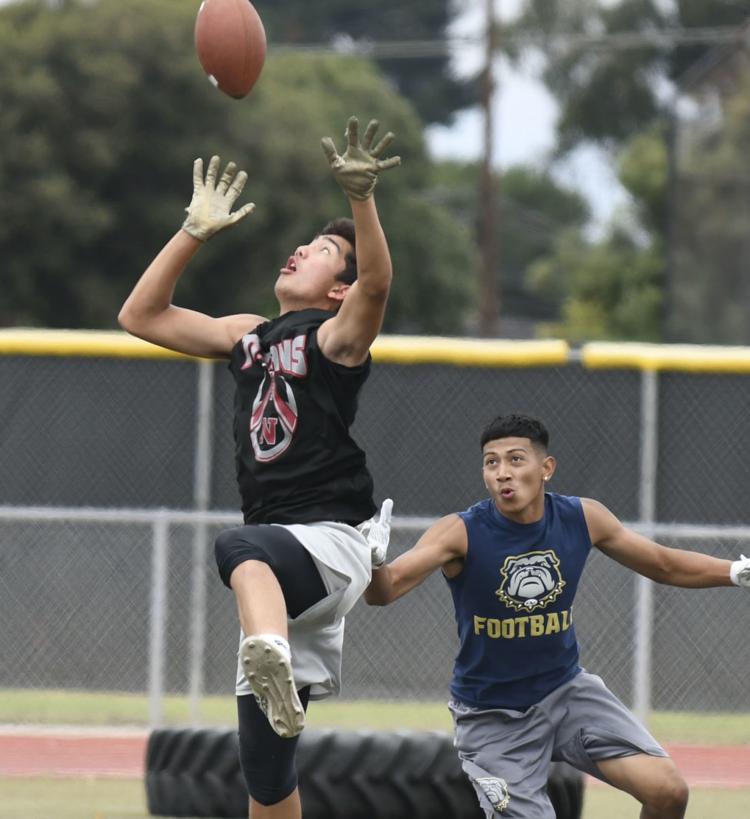 Key regulars Brayden Groshart, the team's starting quarterback the past two seasons, and linebacker Jesse Garza were among the missing Titans Friday. Keyshawn Pu'a, a stellar running back-linebacker for the Titans last year, was there.
St. Joseph, which won the inaugural Mountain League title last year, will be looking for a quarterback to replace the graduated Chase Artopoeus, who was the Mountain League co-MVP in 2018.
The Knights routed Reedley 39-8 in their opener Friday. Mark Crisp, the team's junior varsity quarterback last year, hooked up with Vincent Geronimo for a long touchdown pass in his team's second game, against the Santa Maria "B" squad, and Crisp was the team's main quarterback Friday.
"He threw the ball well. It was a good day for us, especially since we were missing some players," said St. Joseph assistant coach Jason Labastida.
The atmosphere was festive Friday. The Santa Maria snack bar was open for business. At least one team brought a spread of its own.
In a tire-pushing competition for teams of linemen near the end of the day, Righetti's "B" team of Blake Sewell, Tyler Spencer, Cody Glynn, Ethan Porcho and Cesar Ruiz won with a score of 25.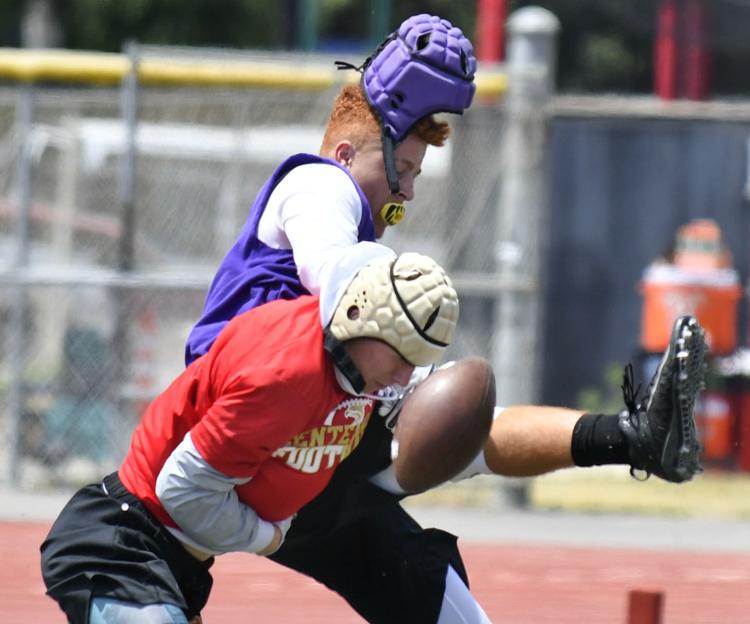 The Saturday schedule will follow the Friday one, with the first games taking place at 10 a.m. St. Joseph, Arroyo Grande, Nipomo, Pioneer Valley and Righetti will be the Central Coast teams in action then.