Someone had to snap their three-game losing skid and finally earn their first Ocean League win.
And the Santa Maria Saints used 41 unanswered points to break out of both slumps at Dave Boyd Field inside Ralph Baldiviez Stadium on Friday night.
Once trailing 7-0, the Saints turned to Dominick Martinez's legs, a physical running attack and stout defensive trench play to pour 41 on Morro Bay and win 41-13.
Both teams not only entered the league battle searching for their first win since the end of September but came into the contest with identical records and a chance to solidify their bid into the CIF Central Section Division 4 postseason.
Dominick Martinez had a big game against Morro Bay and the Saints moved to 4 - 5 ahead of next week's rivalry game against Pioneer Valley. 
And Saints head coach Dan Ellington says the Saints will indeed have an extra game after the week of Nov. 1.
"If you're .500 or above against teams from your division during the regular season, then that's how we decide if we're going to be in the playoffs or not. It gives us something to play for and we're starting to get healthy again," Ellington said. "It's starting to get exciting again. Hopefully we'll have a good week next week too."
Morro Bay quarterback Max Morison started the game by connecting on a 46-yard bomb for the touchdown. Morison saw one-on-one coverage before floating the ball to his wideout sprinting down the left side.
But that awakened the Saints (4-5, 1-2 in the Ocean League) from there.
Martinez, who was one of 16 seniors honored on senior night before the game, started to run amok on the Pirate defense. He faked the handoff inside the Pirates' 20-yard line then found an opening in the middle of the defense, scoring from 18 yards out and tying the game.
And it was the Martinez and Saint running game show from there.
On the subsequent offensive possession, Martinez bumped into his own lead blocker in what originally looked like a play that would lead to a loss of yards. Instead, Martinez managed to re-collect himself, sprint down the left sideline hash marks and accelerate his way into the end zone for the 50-yard score, breaking the 7-7 tie.
Martinez added another pair of touchdowns from 10 and 30 yards to further bury the Pirates with his four touchdowns. Ellington didn't hesitate to say that Friday was his quarterback's best performance.
"It was probably his best overall game because he's playing both ways and he did a good job defensively," Ellington said. "He's a very consistent football player for us."
Martinez credited the preparation starting on Monday as the key behind Santa Maria's romp.
"Practice was great. Coach (Ellington) prepared us well. Everything was there," Martinez said.
Martinez took advantage of Morro Bay defenders playing close to the line of scrimmage but then biting on his faked handoffs.
"They were playing really up close and they were trying to rush. We just took the creases and do what we do," Martinez said.
There was a Bronco stampede Friday night in Santa Maria.
Outside of Martinez, Sammy Herrera added an additional jolt to the Saint running game – scoring on a one-yarder before halftime. That score broke Herrera's personal slump of not finding the end zone in the last nine quarters of play. Herrera also bounced off of arm tackles and ran through Pirate players who over-pursued him. 
And the Saints' ground game was effective with a young center helping lead the charge in Larry Vea. The 6-foot-1, 240-pound sophomore helped bust open the middle of the Pirates' defense on the inside dive and blast runs.
Defensively, defensive linemen Joel Evangelista and Abel Santana collapsed pockets and clogged up running lanes. Cornerback Jovanny Garcia snatched one interception during the third quarter.
Saint players proudly posed for pictures after the game especially with the families who were honored with the 2020 class. Martinez said that through the three-game slide, the goal was always seal a playoff berth.
"It's exciting. That's been the goal since day one," Martinez said. "Things didn't go as planned and we were hoping for a better season, but it's always good to compete. We're going to look forward."
Now standing in the way: Rival Pioneer Valley, as the Saints will travel to PVHS for their season finale and annual rivalry showdown next Friday.
102519 MB SM football 03.jpg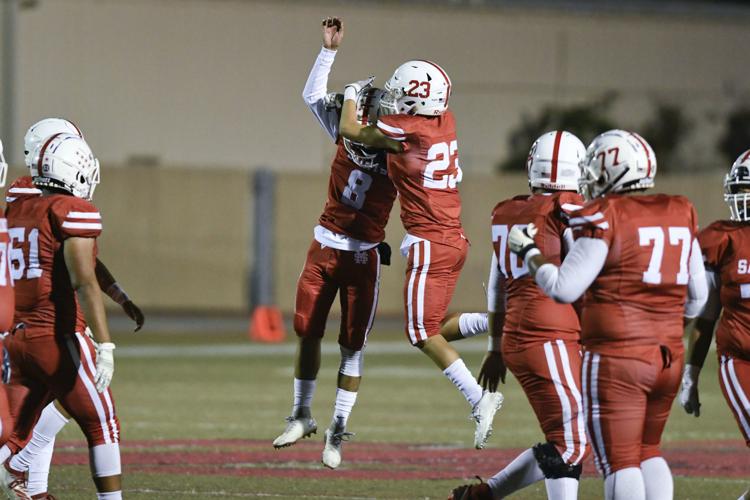 102519 MB SM football 02.jpg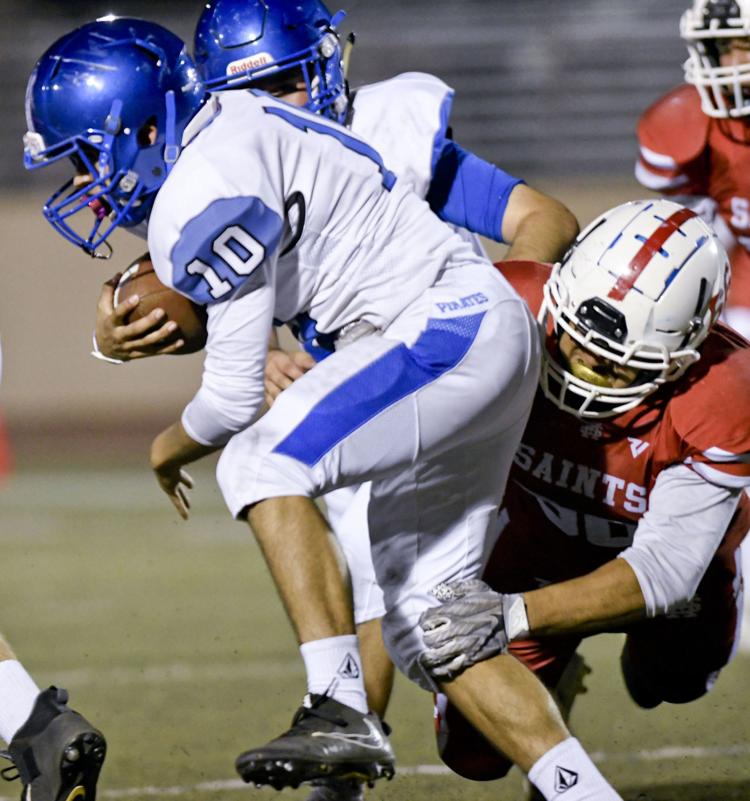 102519 MB SM football 01.jpg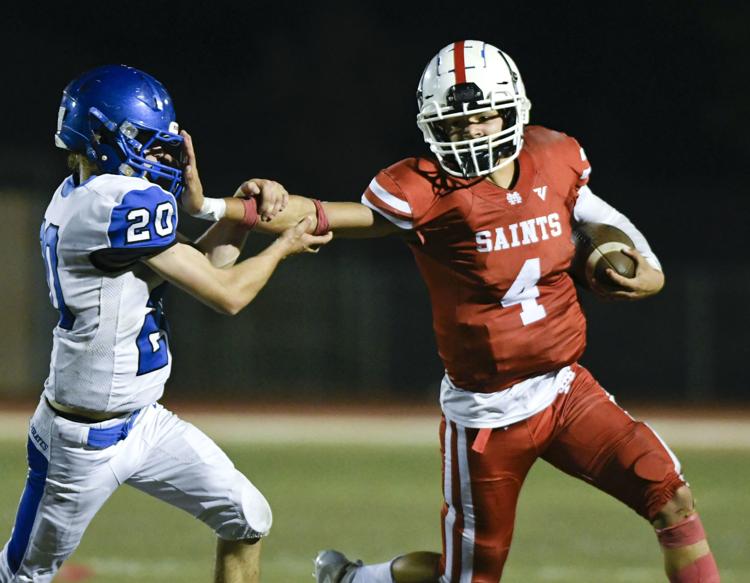 102519 MB SM football 04.jpg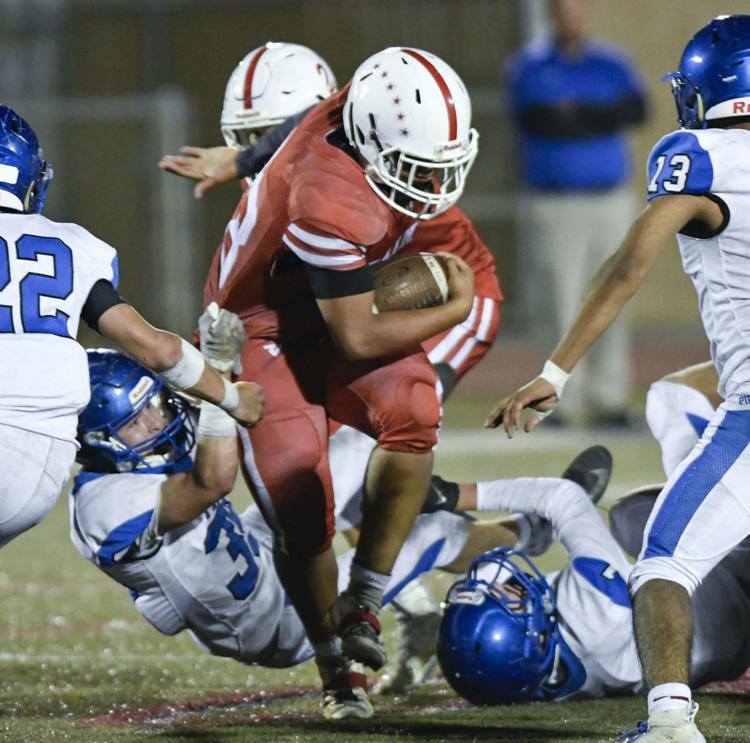 102519 MB SM football 05.jpg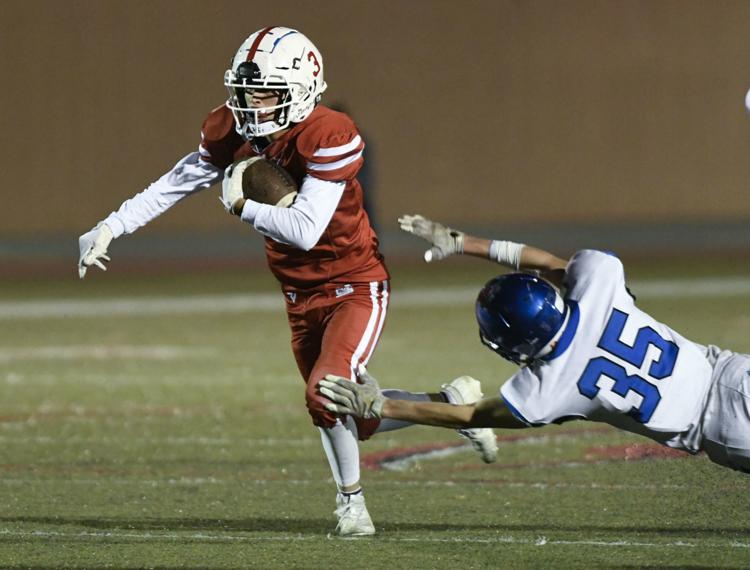 102519 MB SM football 06.jpg
102519 MB SM football 07.jpg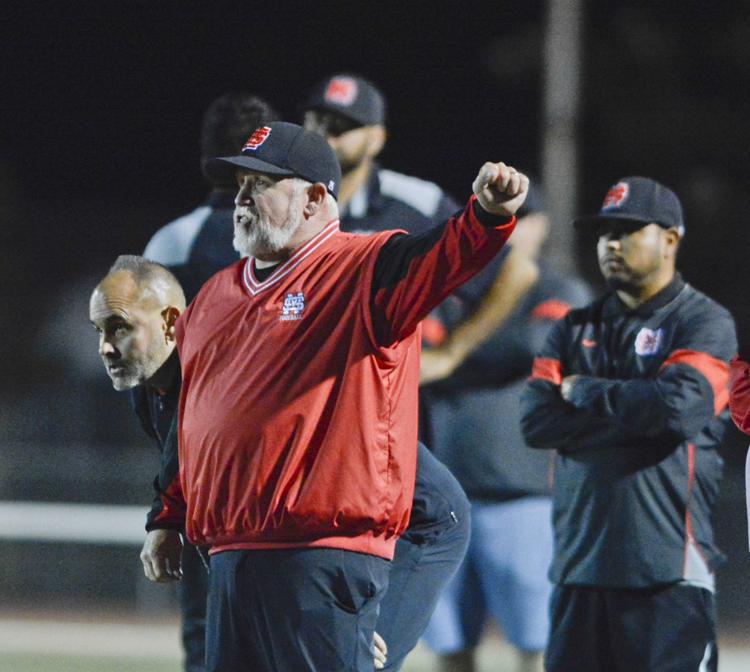 102519 MB SM football 08.jpg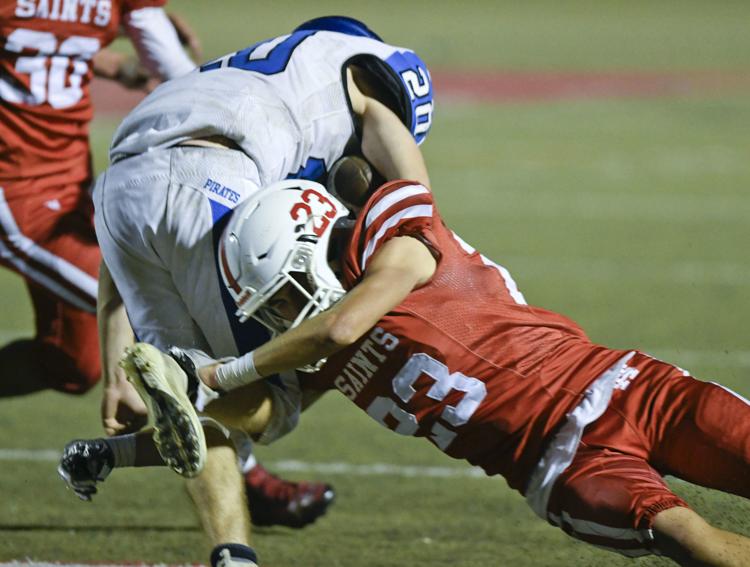 102519 MB SM football 09.jpg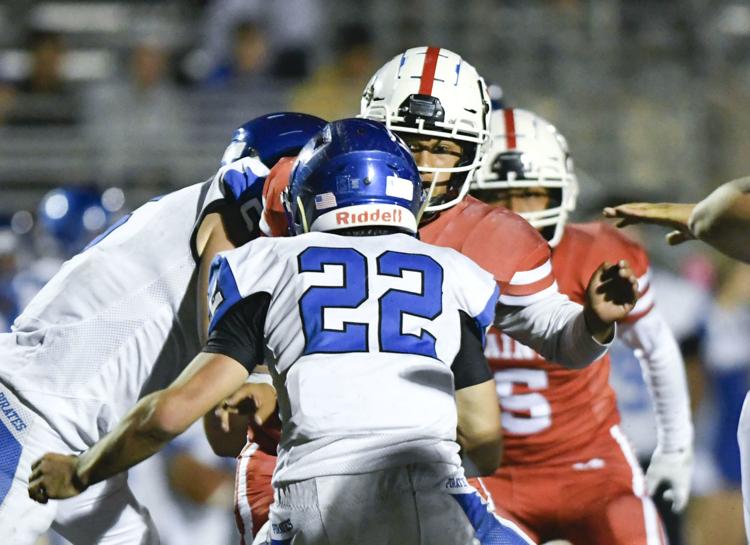 102519 MB SM football 10.jpg
102519 MB SM football 11.jpg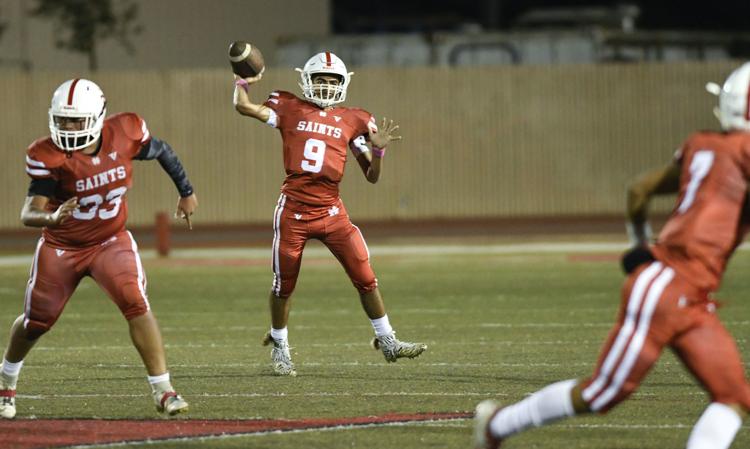 Get in the game with our Prep Sports Newsletter
Sent weekly directly to your inbox!