With so many new pieces being put in place, St. Joseph football coach Pepe Villasenor had to be happy with how his Knights played in Friday's scrimmage against San Luis Obispo.
New quarterback Mark Crisp, a sophomore, looked sharp, connecting on a number of deep passes to his receivers. The Knights' new-look defense performed well enough against an electric San Luis Obispo offense and St. Joseph's special teams unit showed promise. 
"I think it was a typical scrimmage. I did like a lot of the things I saw," Villasenor said afterwards. "There were corrections that we made in the offseason and we improved on those tonight. A lot of the young guys competed and were ready for this. I liked the way the backups were ready to come in. We were in tune.
"Being a scrimmage, there's no score, there's a lot of those things. But I'm happy everyone with us and SLO came out healthy and it's a good start to the season."
SLO coach Pat Johnston has more high hopes for this coming season after his Tigers won eight games a year ago. They've added former Super Bowl champion Bear Pascoe to the coaching staff. Pascoe played at Fresno State and then spent seven years in the NFL.
"We saw what our experienced guys can do against a talented St. Joseph team," Johnston said. "We're happy with it. We know that we're looking forward to getting into the film room tomorrow morning and making corrections.
"This was one of those weeks, and I'm sure St. Joseph felt the same way, that we were looking forward to hitting somebody else."
Crisp threw touchdown passes to Noah Skarda and Darien Langley against the Tigers' first-team defense. Skarda is the Knights' new slot receiver. Langley has long been an explosive receiving threat at the varsity level.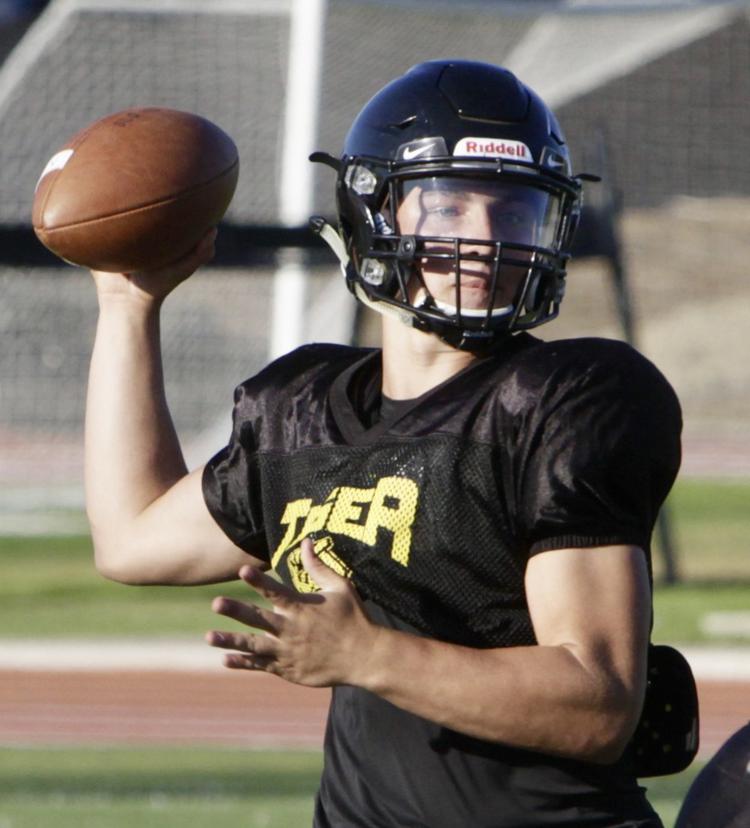 Langley caught a deep ball from Crisp early in the offensive session for the Knights, then walked into the end zone for a 50-yard touchdown catch. Later, Langley took a handoff in the backfield, found a lane in the middle of the offensive line and darted through and around the SLO defense for an electrifying 55-yard touchdown run. He then scored again toward the end of the scrimmage.
Senior running back Devin Guggia, one of the few experienced returning starters, broke off one long run. Junior running back Brett Burress scored twice, both on bruising runs in short goal-line situations. 
You have free articles remaining.
Register for more free articles
Stay logged in to skip the surveys
Tyler Williams, a junior who started for Cabrillo last season, intercepted an Emilio Corona pass on a jump ball near the end zone toward the end of the 90-minute scrimmage.
St. Joseph junior Brock Marcois handled his kicking duties well, booting two kicks deep into the end zone on kickoffs. St. Joseph's placekicker then drilled some mid-range field goals in the final phase of the scrimmage. 
The standout on defense during SLO's first offensive possession was Jayce Gamble. The junior middle linebacker made three bone-jarring tackles in a row to stymie the Tigers' offense. Josiah Acosta and Michael Madrigal are stepping up to take on larger roles this season at linebacker.
St. Joseph is implementing a slew of other new defensive starters, including Williams at corner. Patrick Heard started at another cornerback position and did well enough in coverage and made two tackles early on.
The St. Joseph offensive line is also mostly new. 
Corona is back starting at quarterback for the Tigers. He's committed to play baseball at the University of Washington. He threw a touchdown pass on the Tigers' first possession of the night.
The teams started the scrimmage by practicing live kickoff situations before they ran off 10 offensive plays each. Red zone scenarios followed and finally field goal attempts. It lasted about 90 minutes and was officiated with a group of 10 referees who were also busy getting ready for next week's kickoff.
The scrimmage was certainly physical and got a bit chippy at times, but the officiating crew ensured the players remained cool-headed.
St. Joseph hosts Visalia Central Valley Christian Friday night with kickoff at 7 p.m. San Luis Obispo hosts rival Arroyo Grande at the same time. The Knights went 8-3 last year and won the Mountain League title. SLO went 8-4 and lost in the quarterfinals of the CIF Central Section Division 3 playoffs.