Righetti football coach Tony Payne likes to refer to his team's running game as "the three-headed monster."
This year the Warriors have a three-sided passing game as well, and they've been throwing the ball a lot more.
Logan Mortensen, Righetti's left-handed quarterback, has thrown for 632 yards and eight touchdowns, with just one interception, for the 3-0 Warriors. More than 90 percent of the yardage, and three fourths of the touchdown passes, have come from Chase Reynoso or Jake Steels.
Steels has four touchdown catches on the year. Reynoso has two. Reynoso, with 21, leads the team in receptions. Steels has caught 12 passes this year.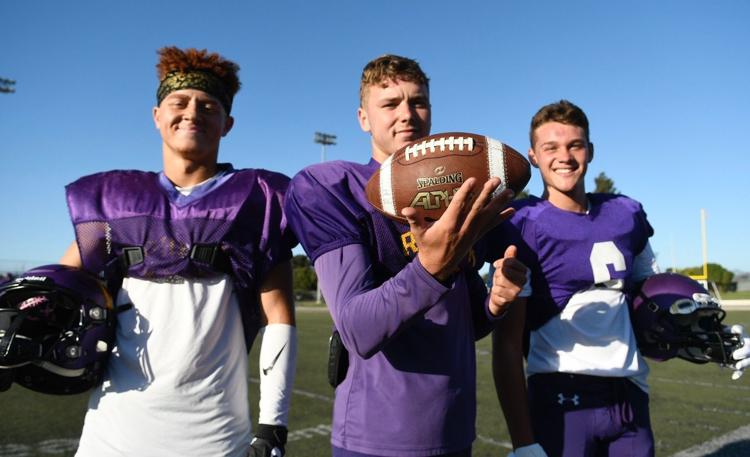 In a 42-6 win at Pioneer Valley last week, Mortensen threw four touchdown passes in the first half, two to Reynoso, one to Steels and one to Joseph Cardenas. Mortensen rested the second half.  
Mortensen, Reynoso and Steels are all seniors. Reynoso and Mortensen are two of Righetti's co-captains this year.
As for how his offensive line has protected Mortensen this year, "I don't think I've been sacked yet," the lefty said.
Besides the reliable Righetti running game, the Bakersfield Centennial defense will have to deal with the Warriors' prolific passing game in a non-league match-up Friday night. Kickoff is at 7 p.m. at Righetti. The game will be the Warriors' season home opener.
The Golden Hawks (2-1) saddled the Warriors with their first of just three defeats in 2018, a year in which Righetti made it to the Division 2 championship game in its first year in the CIF Central Section and its first campaign with Payne as head coach.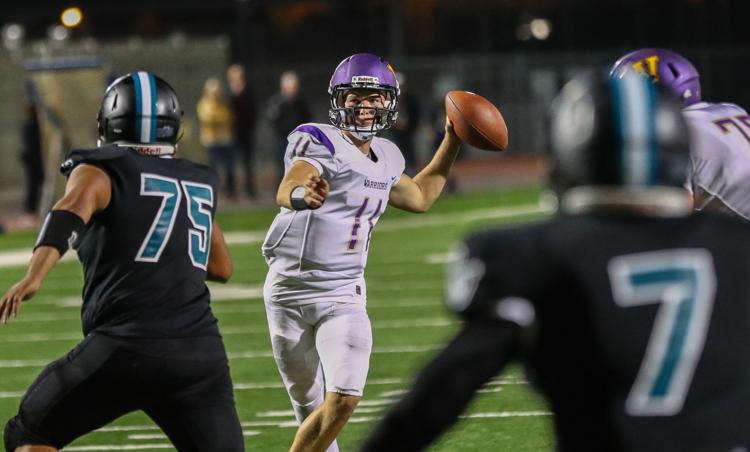 Settling a score didn't seem to be uppermost in Reynoso's mind during a break in a recent Righetti practice.
"We know it's a long process," he said. "We're taking it one week at a time."
When it comes to the Reynoso-Steels receiving duo, Reynoso has been the possession guy of the two. Still, on average, it has taken Reynoso one catch to get Righetti a first down.
At 258 yards total, Reynoso averages better than 12 yards a reception. Steels, Mortensen's main deep guy, has a total of 288 yards in receptions, a whopping average of 24 yards a catch. 
His two leading receivers complement each other, their coach said.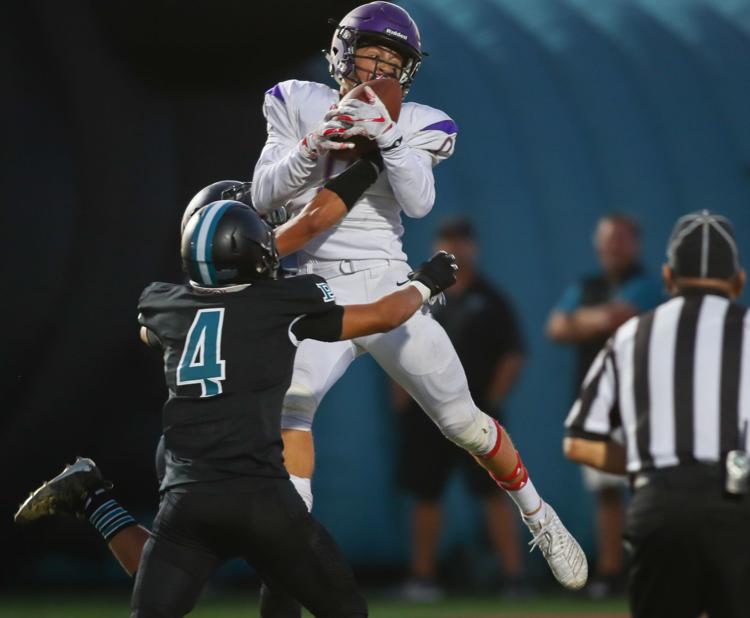 You have free articles remaining.
Register for more free articles
Stay logged in to skip the surveys
"These boys have very different skill sets," said Payne.
"Chase is all about the details. He's the best blocking receiver I've ever coached. He puts everything he has into football, and he worked his butt off all off-season.
"Jake is such a natural athlete," said Payne. "He's really good at every sport he plays."
Steels has been a mainstay for the Righetti baseball team. "He's the best five-tool player in the area," said Payne.
Reynoso said his quarterback can throw either a hard ball or a soft one. "It depends on the situation,"
How the opposition defends the Righetti passing game — no defense against it has worked consistently well — "depends on the situation," said Reynoso.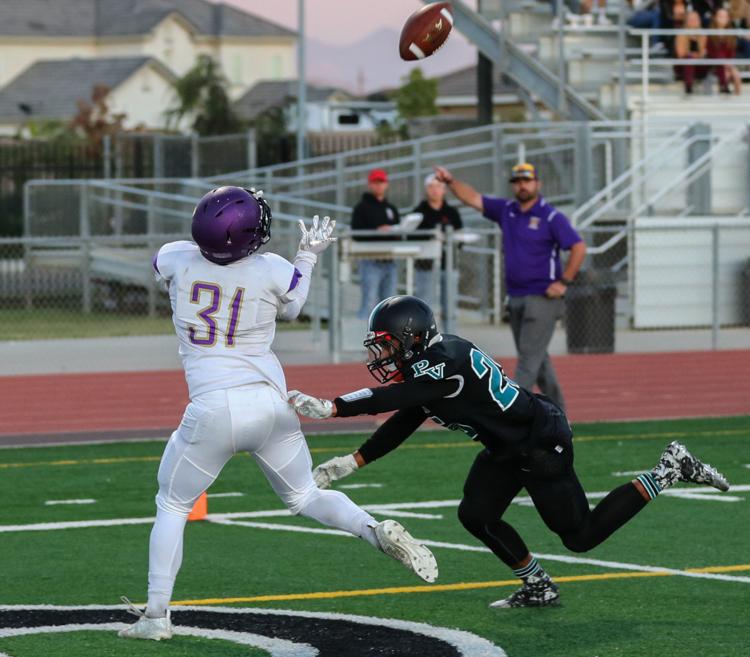 "It's been a mix," said Steels. "It's been mostly zone.
"It's hard (for opposing defenders) to stay with us man to man."
That's not bragging on Steels' part. That's just a fact that has been borne out.
The Righetti passer-receiver trio said Centennial will play some of the same pass defense the Warriors have faced before.
"They'll pay mostly zone," said Steels. "They'll blitz some, but mostly against the run."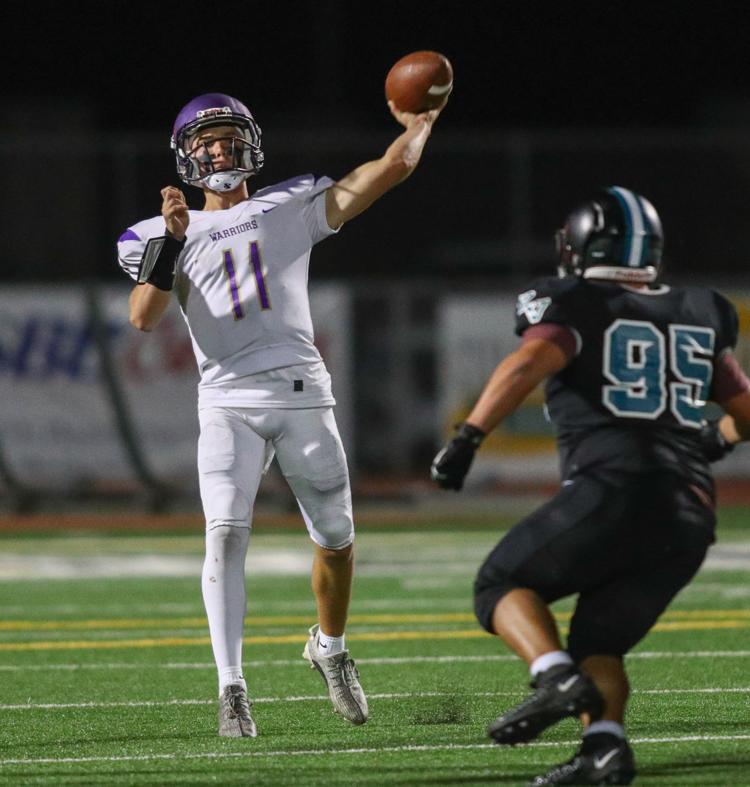 Mortensen said, "They'll load the box and show blitz some, but it will be mostly feinting."
Meanwhile, Mortensen believes he is looking toward a prosperous season behind his offensive line.
"They're doing a great job. I think part of that's (because of) coach Payne," said the senior quarterback.
"I think they're getting better each week."