Juan Sanchez will always put a smile on your face.
The Santa Ynez High School senior is always upbeat, lifting the spirits of everyone he meets — at home, school, work or with his teammates.
And Sanchez has a lot of teammates.
He's a three-sport star, an unusual combination of football, soccer and volleyball.
"Juan's personality lifts everyone around him, especially our other athletes," said Santa Ynez Athletic Director Cris Avery after Thursday night's boys volleyball match against San Marcos. "He's the most happy-go-lucky kid in school and he'll do anything to help our teams, like when our quarterback Anthony Gills went down with an injury in the first game of the year, Juan stepped in at quarterback and gave us a big lift."
"I'll play anywhere as long as I can be in the game," said Sanchez.
And play anywhere he did.
Sanchez, one of the team captains, began this year's football season opener at Nipomo as the starting defensive nose tackle and offensive left guard.
When Gills was injured at the end of the first quarter, Sanchez took over at quarterback while still anchoring the defense line.
Head coach Josh McClurg brought Bennett Redell up from junior varsity but Sanchez continued to start at quarterback while McClurg got Redell familiar with the playbook.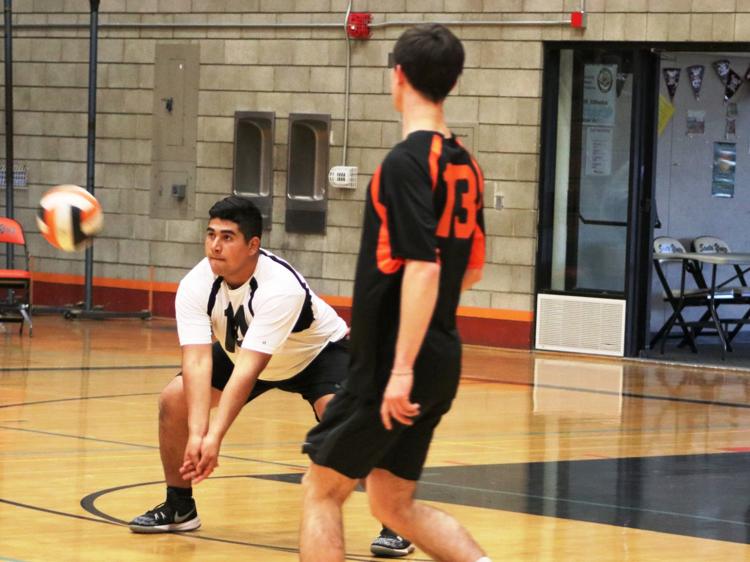 When the Pirates' starting fullback was injured, Sanchez took over that role before eventually moving back to the offensive line.
"I practice every position. One time our center was injured. We had a backup center but no one behind him. So I told coach McClurg that I'd learn that position and I even played it in a couple games my junior year," said Sanchez.
And if those aren't enough positions, Sanchez was also the team's punter and a potent weapon for the Pirates.
"I kicked four or five inside the five-yard line and two went out of bounds at the one," said Sanchez. "When you're the punter, you have the whole other team running at you but because of the guys playing in front of me, I knew I could be patient and not get nervous."
It may be hard to believe but football is Sanchez's newest sport.
"My sophomore year was the first time I ever played," said Sanchez.
What he did play as a youngster was soccer.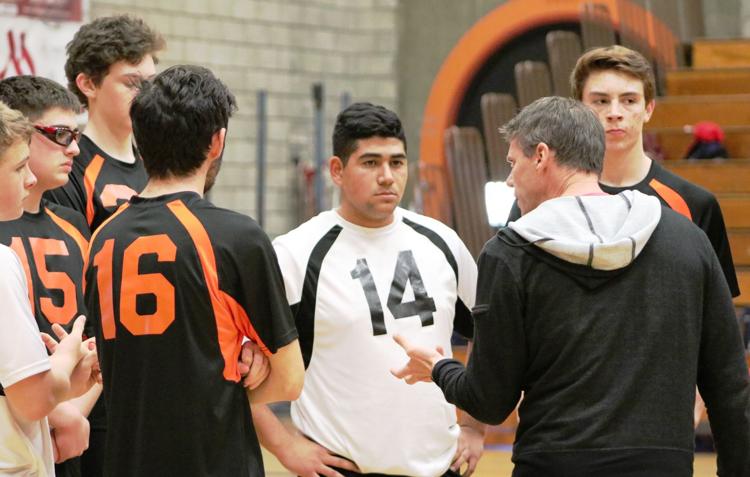 "I started playing soccer when I was 6 years old with the AYSO here in Santa Ynez," said Sanchez, a captain and starting goalkeeper for the Pirates. "I've always played goal keeper. It's the last line of defense. I like it when they attack. It's fun – but they do kick the ball very hard. Then I started playing volleyball in the eighth grade."
His versatility again shows through on the volleyball court when he plays either libero or defensive specialist.
"That's the reason he wears two different jerseys. He's 35 (also one of his football numbers along with 73) when he's a defensive specialist and number 14 when he's our libero," said volleyball head coach Craig Scott after Thursday's 3-0 loss (25-20, 25-14, 25-11) to San Marcos. "I can only have one libero active at a time but he's so versatile that I can switch him out as a defensive specialist.
"The good thing about Juan is his attitude. It's all about the team for him. He'll play any position as long as he can be on the floor. He's really an inspiration to the other kids."
"I just try to keep my fire up to be an inspiration. I try to keep everybody up no matter what happens in a game."
"In football, each position coach was always fighting for him. He's definitely the glue that keeps the guys together" said Avery. "He helps the other players enjoy the games as much as he does. He will definitely be missed when he graduates."
Sanchez is so popular that he was voted this year's homecoming king, standing proudly beside queen Vibianna Sevilla when his name was announced at the homecoming game against Templeton on Sept. 21, 2018.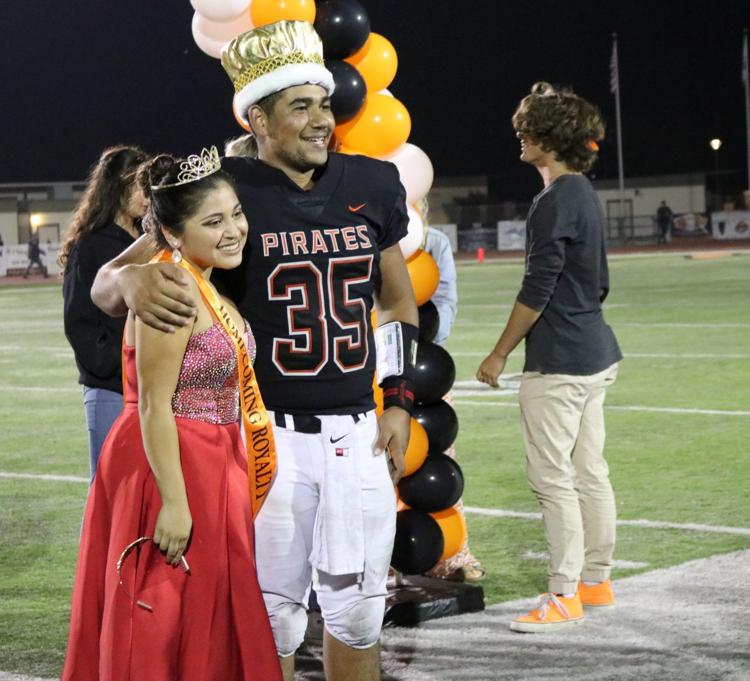 If sports and school didn't keep Sanchez busy enough, he also spent last summer working for the Pirates' head basketball coach Jason Finley at Pam Gnekow's Country Garden Catering.
"Coach Finley gave me and my two best friends, (and fellow football players) Marco Lazarit and Ivan Hernandez, a job," said Sanchez. "We worked in the kitchen and we also helped build a big sandbox so she could put a trampoline in."
Sanchez also has a part time job at Santa Ynez's Red Barn Restaurant (officially Brothers Restaurant at the Red Barn).
With sports going year round, and the hours of practice needed for each one, it's good that Sanchez, his mother Elvira, father Juan and younger brother Emmanuel, 12, live close by – their house is just a short walk away – right behind the high school.
Sanchez also has an older sister Gicel, 21, who's attending college in Mexico.
Sanchez plans to stay closer to home.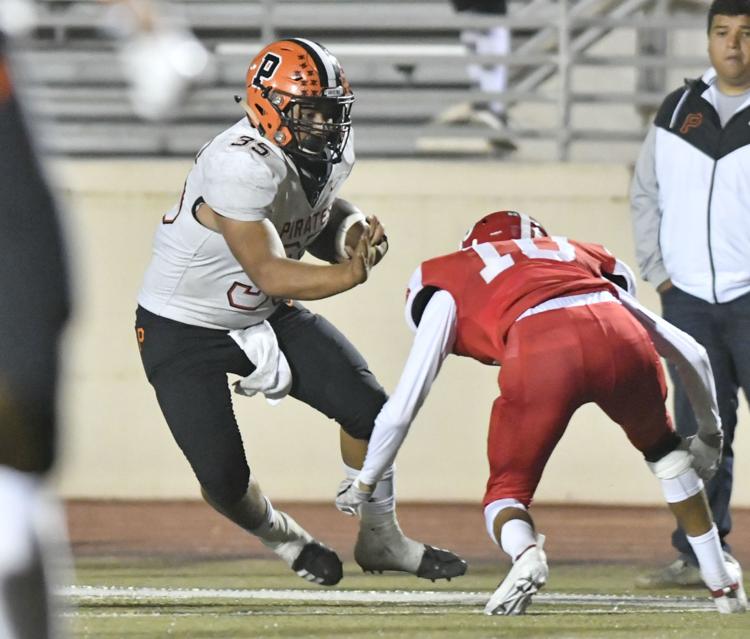 "I'm planning to go to Santa Barbara City College and continue my football career there, focus on my studies and see how far that can take me," said Sanchez.
His future is bright and he knows he can go a long way as long as he follows the advice of his football coach, McClurg.
"Coach always says 'Control the controllables. Focus on your effort and we can overcome anything that's on the other side,'" said Sanchez. "Coach McClurg really changed the way I live my life."