Nineteen players strong, Cabrillo made a solid showing at a three-way football scrimmage at Santa Maria High School's Ralph Baldiviez Stadium Friday night.
With 19 players suited up, the Conquistadores held their own against Laguna Hills and decisively out-played host Santa Maria, which was without star running back Sammy Herrera.
Cabrillo junior running back Trey Robison scored three times against Santa Maria, and the Cabrillo defense shut out the Santa Maria offense on the first series of the scrimmage. Each offense went against each defense for 15 plays, starting from the defense's 40, then each offense ran a goal line series starting from the defense's 10.
The Conquistadores kept several players home Friday night.
"We're running at about 29 players," said third-year Cabrillo coach A.J. Pateras. "We have an outstanding group of kids. They're working very hard.
With so many new pieces being put in place, St. Joseph football coach Pepe Villasenor had to be happy with how his Knights played in Friday's …
"We did some good things on offense and defense. We didn't do some things so well on offense and defense. We'll get to work in practice next week to fix the things we didn't do well."
Laguna Hills went 3-7 last year. Santa Maria went 3-8. Cabrillo is trying to rebound from a winless 2018.
Robison juked a would-be tackle in the backfield and scored from the 1 against Laguna Hills after the Conquistadores started from the Hawks' 40. Laguna Hills scored once against Cabrillo after starting from the Conqs' 40.
You have free articles remaining.
Santa Maria coach Dan Ellington said the Saints rested Herrera Friday night, and that the junior should be ready to go in Santa Maria's opener against crosstown rival Righetti next week.
"Sammy had surgery over the summer and we didn't want to risk," an injury in the scrimmage, said Ellington.
Santa Maria's defense cracked twice against Laguna Hills. Hayden McKenna found a wide open Mitch Leighber for a 40-yard touchdown pass for the first score. McKenna connected with Zane Kratz for a 16-yard touchdown pass later in the series. Matthew Enim made good on both PAT kicks.
Robison scored from eight yards out and then ran into the end zone again on a tackle-evading 25-yard jaunt in Cabrillo's series against the Santa Maria defense.
Santa Maria finally got into the end zone, twice in the goal line series against the Laguna Hills defense. Quarterback Dominick Martinez scored on a 10-yard run then Martin Diaz bulled through would-be tackles to score from the 10 on the last play of the scrimmage.
"We have high expectations, and we know the way we played tonight won't get it done," said Ellington.
The veteran Santa Maria coach chuckled. "You know, last year we had a very good scrimmage then the season didn't go so well for us. Maybe it will be the opposite this year."
Cabrillo will open at 7 p.m. next Saturday against Bishop Diego at Huyck Stadium in Lompoc.
081619 SMHS Scrimmage 01.jpg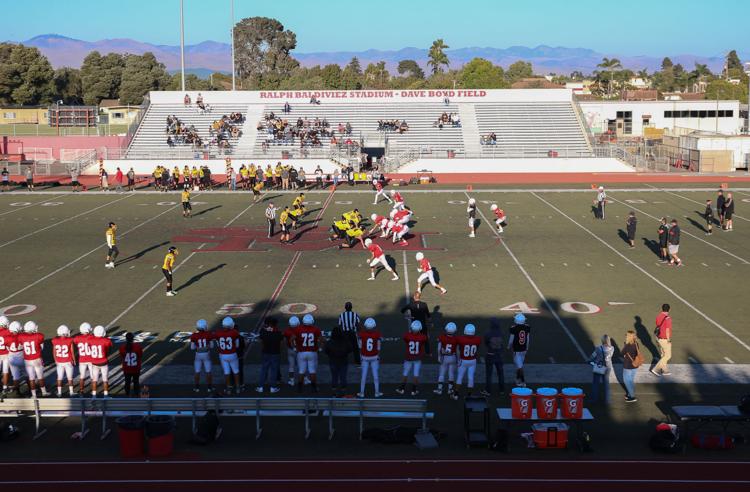 081619 SMHS Scrimmage 02.jpg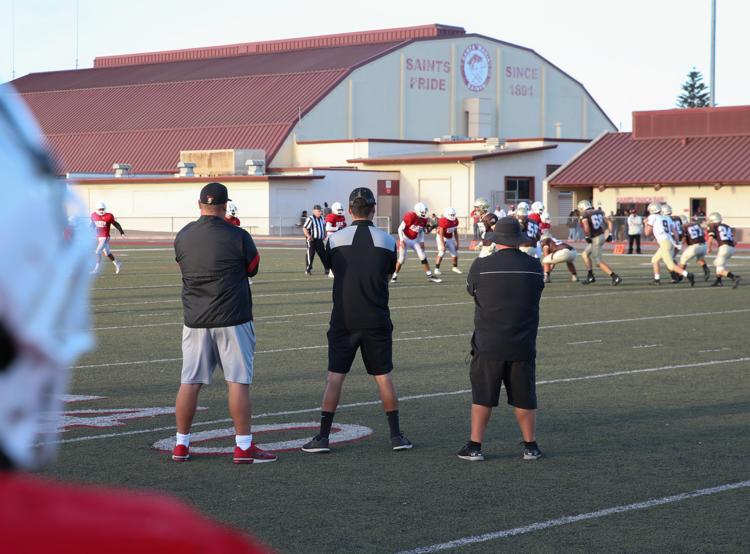 081619 SMHS Scrimmage 03.jpg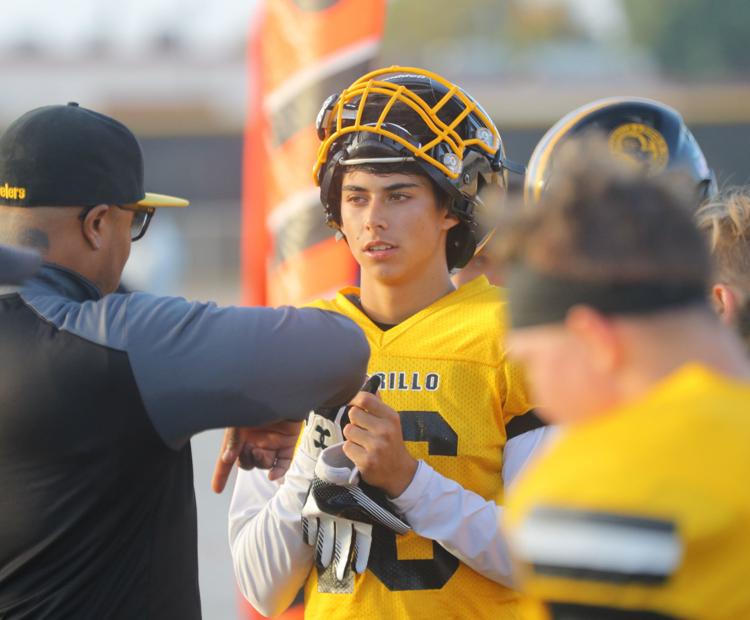 081619 SMHS Scrimmage 04.jpg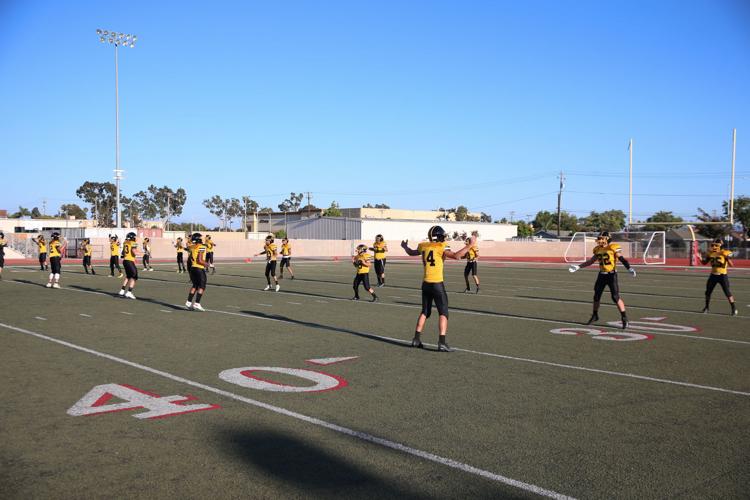 081619 SMHS Scrimmage 05.jpg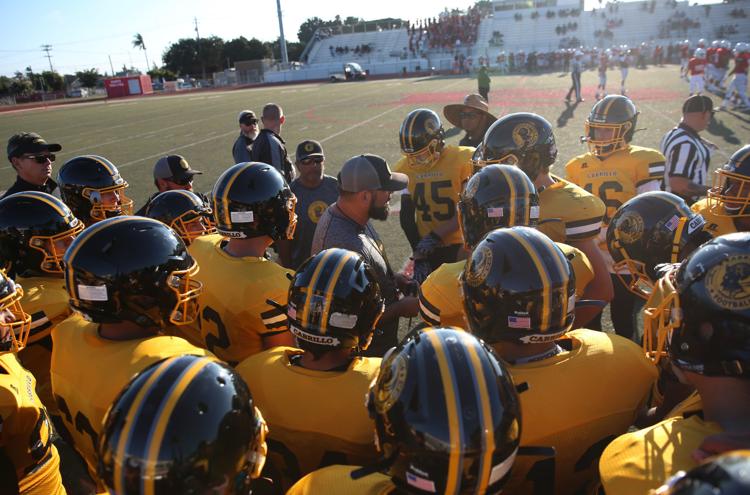 081619 SMHS Scrimmage 06.jpg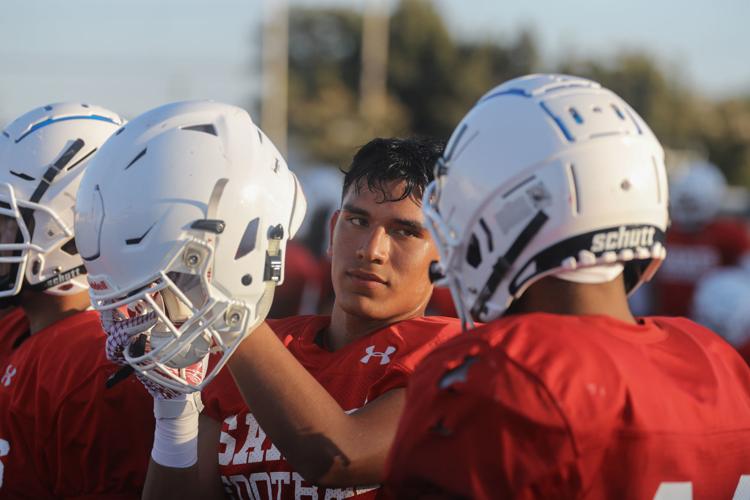 081619 SMHS Scrimmage 07.jpg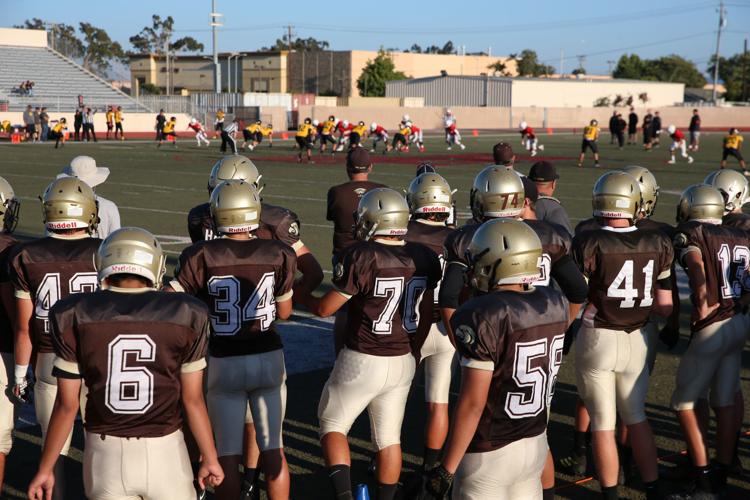 081619 SMHS Scrimmage 08.jpg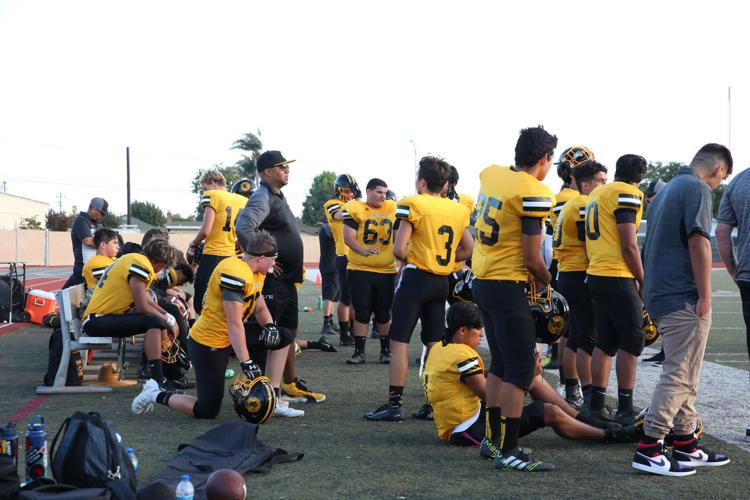 081619 SMHS Scrimmage 09.jpg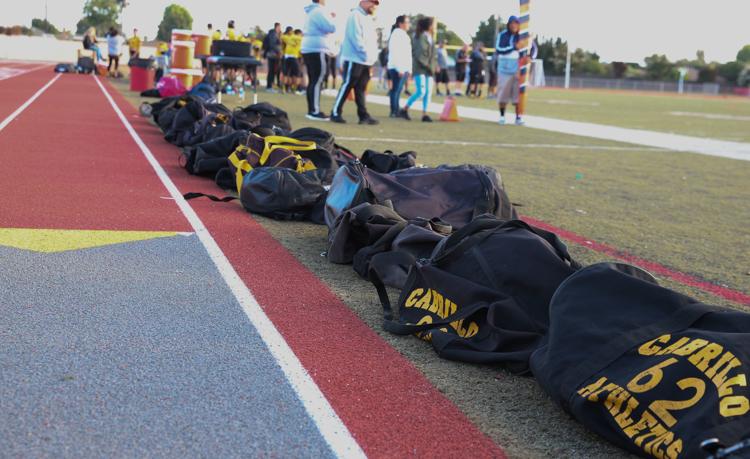 081619 SMHS Scrimmage 10.jpg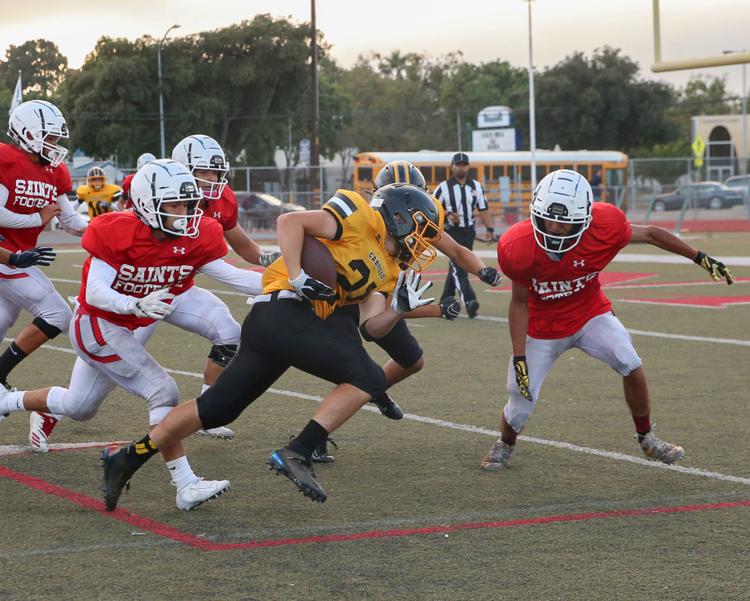 081619 SMHS Scrimmage 11.jpg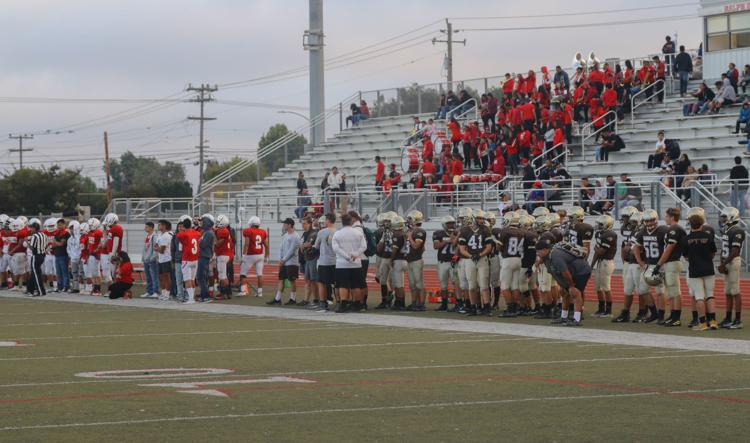 081619 SMHS Scrimmage 12.jpg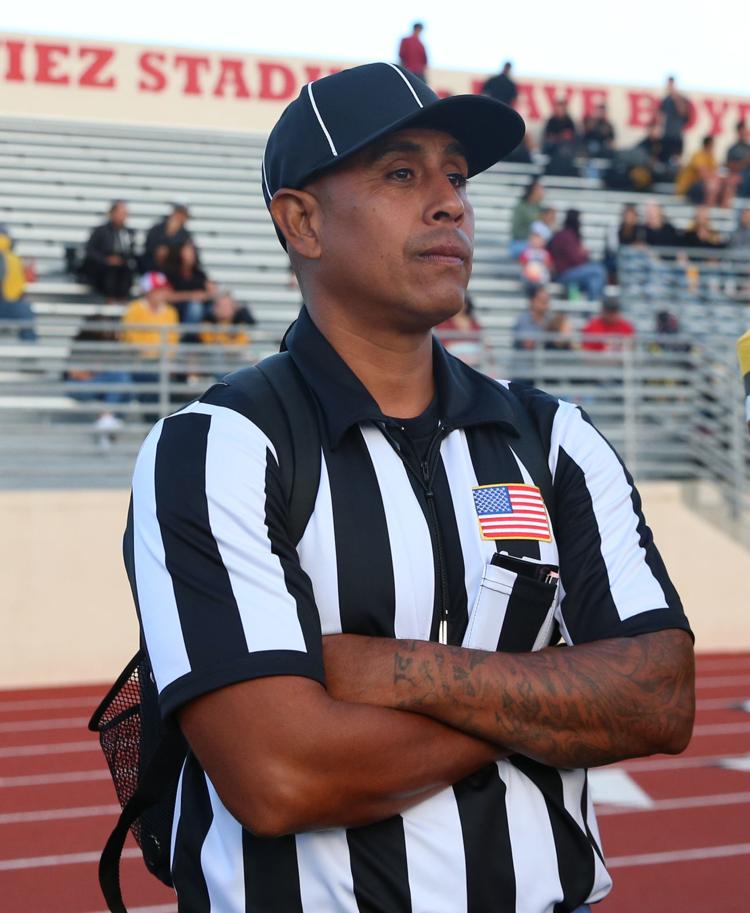 081619 SMHS Scrimmage 13.jpg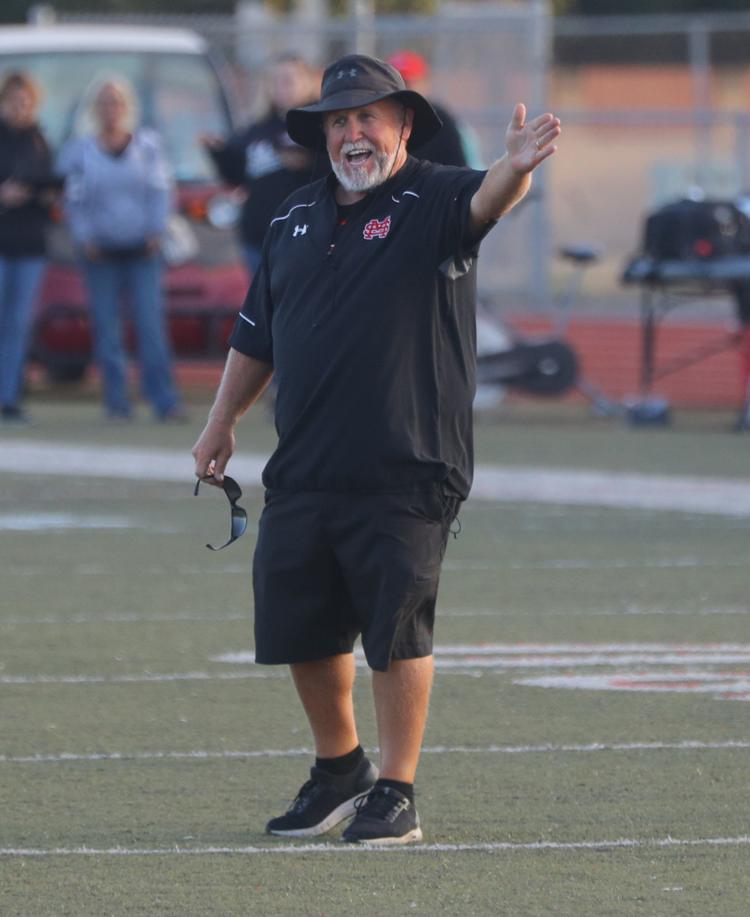 081619 SMHS Scrimmage 14.jpg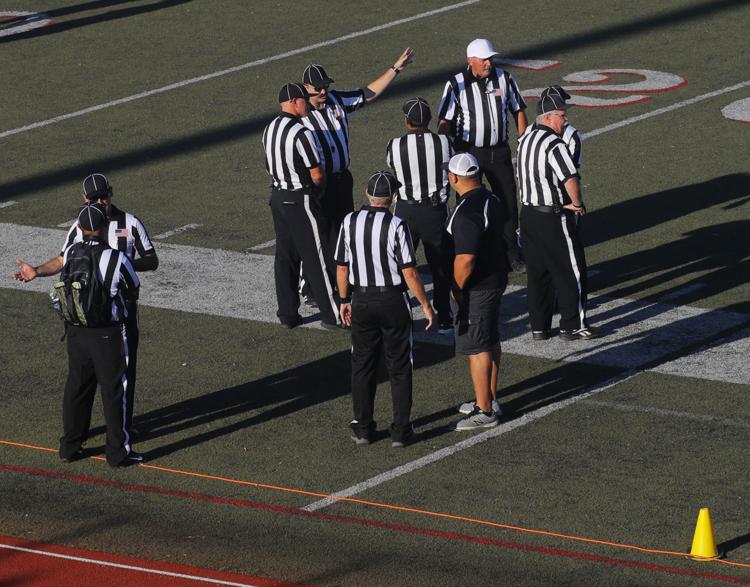 081619 SMHS Scrimmage 15.jpg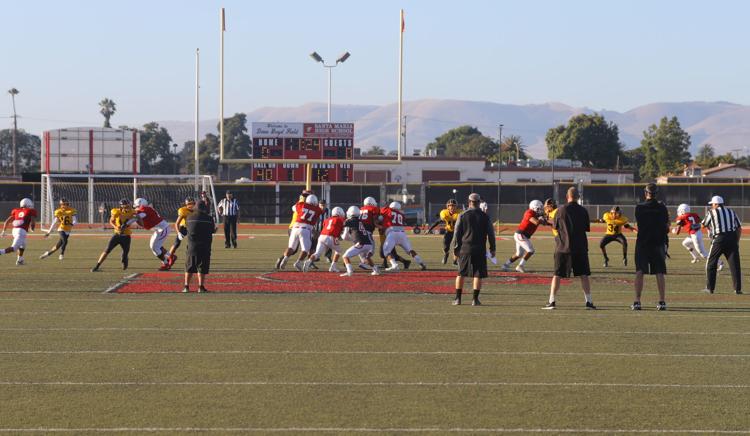 081619 SMHS Scrimmage 16.jpg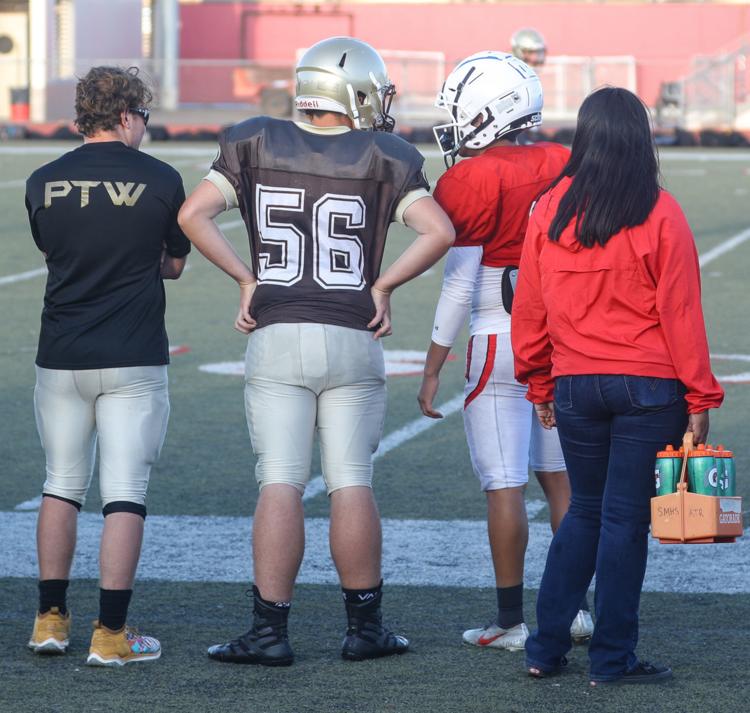 081619 SMHS Scrimmage 17.jpg
081619 SMHS Scrimmage 18.jpg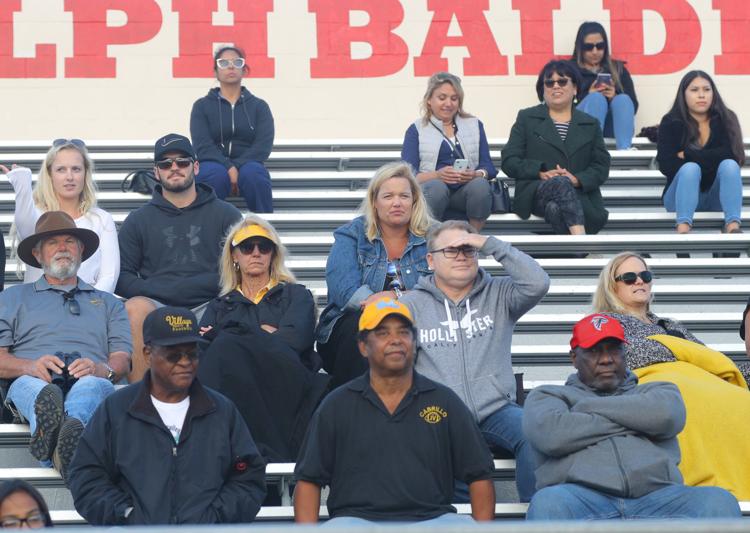 081619 SMHS Scrimmage 19.jpg