On the 14th try, a Santa Maria football team finally notched a win against crosstown rival Pioneer Valley.
The Saints' one big play from scrimmage on that chilly November night in 2019 in front of an overflow crowd at Pioneer Valley was enough. Quarterback Dominick Martinez sprinted around left end early in the third quarter for a 64-yard touchdown run, and the Saints edged the Panthers 10-6.
A holding call wiped out a would-be touchdown pass from Pioneer Valley quarterback Danny Martinez to Christian Morin near the end of the third quarter.
It was quite a regular season finale for the Saints, who finished the regular season 5-5. The Panthers wound up 1-9.
Area athletes have been pulling in scholarship offers to continue their football careers at the next level. 
Particularly considering the circumstances, "This was the best our defense has played all year," said Santa Maria defensive end Abel Santana, who was a big part of a big Santa Maria defensive effort.
The win was especially sweet for Santana because, "It came against my old team," he said.
"I played at PV my freshman year. I got moved up to JV near the end of the year. My cousin (Pioneer Valley defensive tackle Tony Escobedo) was in this game."
Escobedo helped lead a defensive surge that kept the Saints to 26 yards in the first half and, save the Martinez touchdown run, checked the Santa Maria attack for most of the second, but it wasn't quite enough.
Our 'Senior Spotlight' series is aimed at highlighting senior student-athletes who have had their final year of high school disrupted by the c…
It wasn't quite enough because the holding foul cancelled the would-be Danny Martinez 26-yard touchdown pass to a wide open Morin.
A 13-yard Martinez to Morin pass on fourth down on the next play was shy of the first down, and the Panthers couldn't come close to scoring after that.
After the Dominick Martinez touchdown run, Andres Vargas kicked the eventual winning extra point for the Saints. Vargas also kicked a 25-yard field goal in the fourth quarter when a drive stalled at the Panthers 8.
Pioneer Valley led 6-0 at halftime. Danny Martinez connected with Elias Martinez (yep, another Martinez) for a 17-yard touchdown pass near the end of the first half to cap an 80-yard scoring drive. The PAT kick missed.
As the Panthers were trying to mount a last-ditch drive in the closing minutes, Danny Martinez, under a big rush, had to throw a pass that wound up well short of the line of scrimmage.
With a little extra time on our hands, we are taking a look into the past of prep sports on the Central Coast. Our sports staff has been going…
The subsequent intentional grounding call put the Panthers at second and 31 from their 9 and essentially sealed the outcome. The Panthers had to punt and the Saints, after getting a first down, ran out the clock.
The Saints were without Sammy Herrera, the second-leading rusher on the team behind Dominick Martinez and a big return man.
Herrera, who had a 99-yard kickoff return for a score that season, was out with a broken wrist.
With Herrera out, the Panthers usually stopped the Saints' prolific read option attack.
Dominick Martinez completed one pass, for 10 yards, and threw an interception.
He carried the ball 23 times for 127 yards unofficially, with 64 coming on the big scoring run.
Danny Martinez, with 59 yards, was the leading rusher for the Panthers who, unofficially, out-gained the Saints 225-145.
Delano Kennedy beat Santa Maria 40-28 the following week in the first round of the playoffs.
Santa_Maria_Times_Sat__Nov_2__2019_.jpg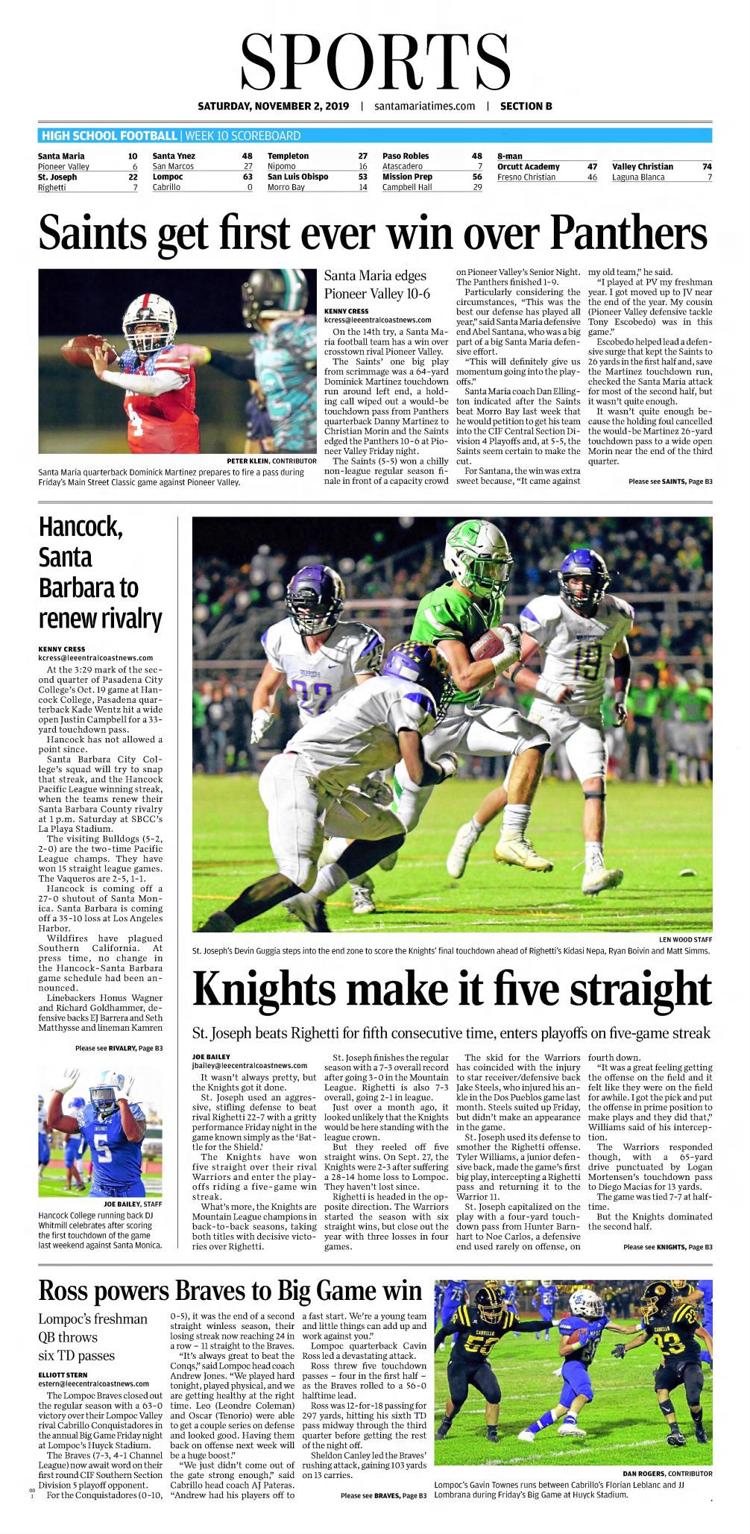 Santa_Maria_Times_Sat__Nov_2__2019_ (1).jpg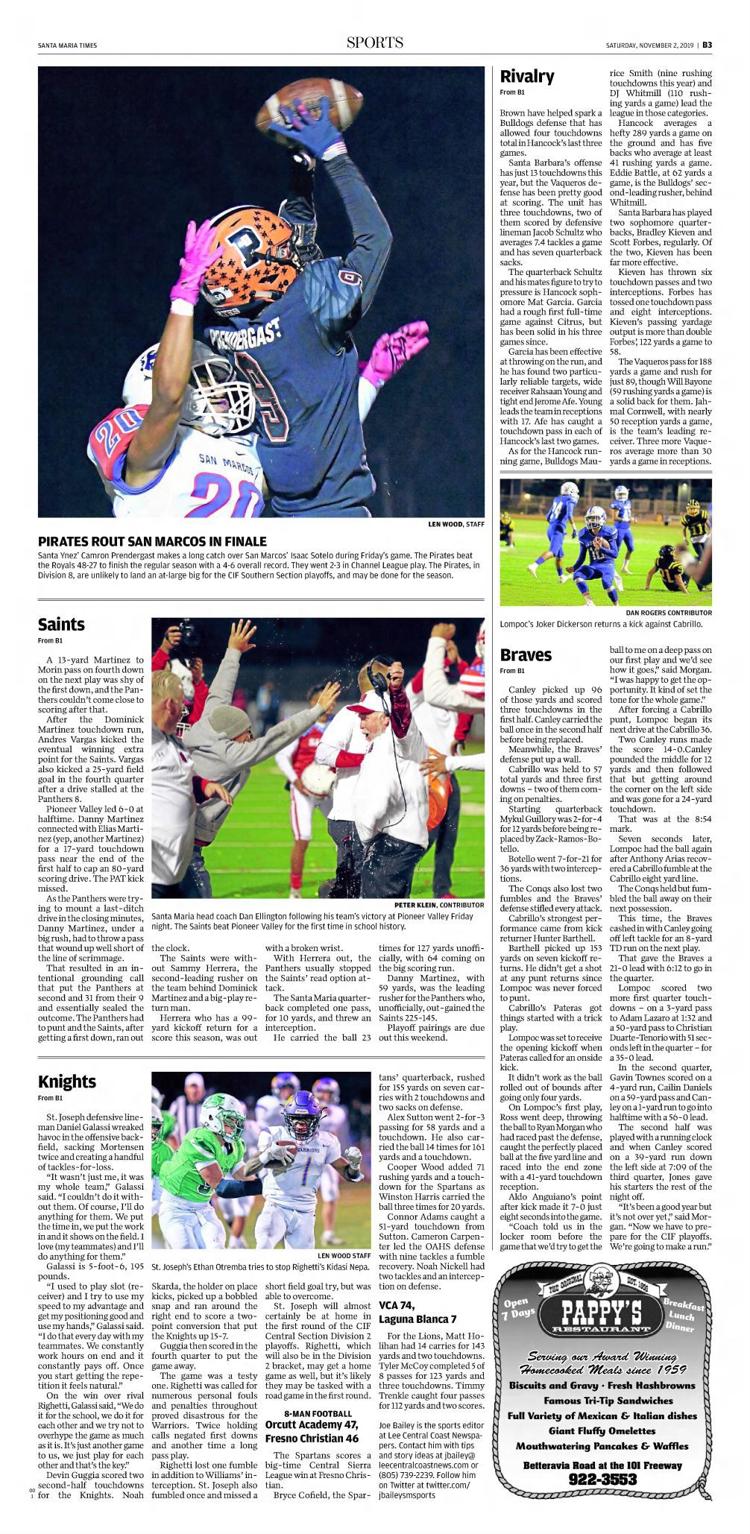 Santa_Maria_Times_Sat__Oct_27__2018_.jpg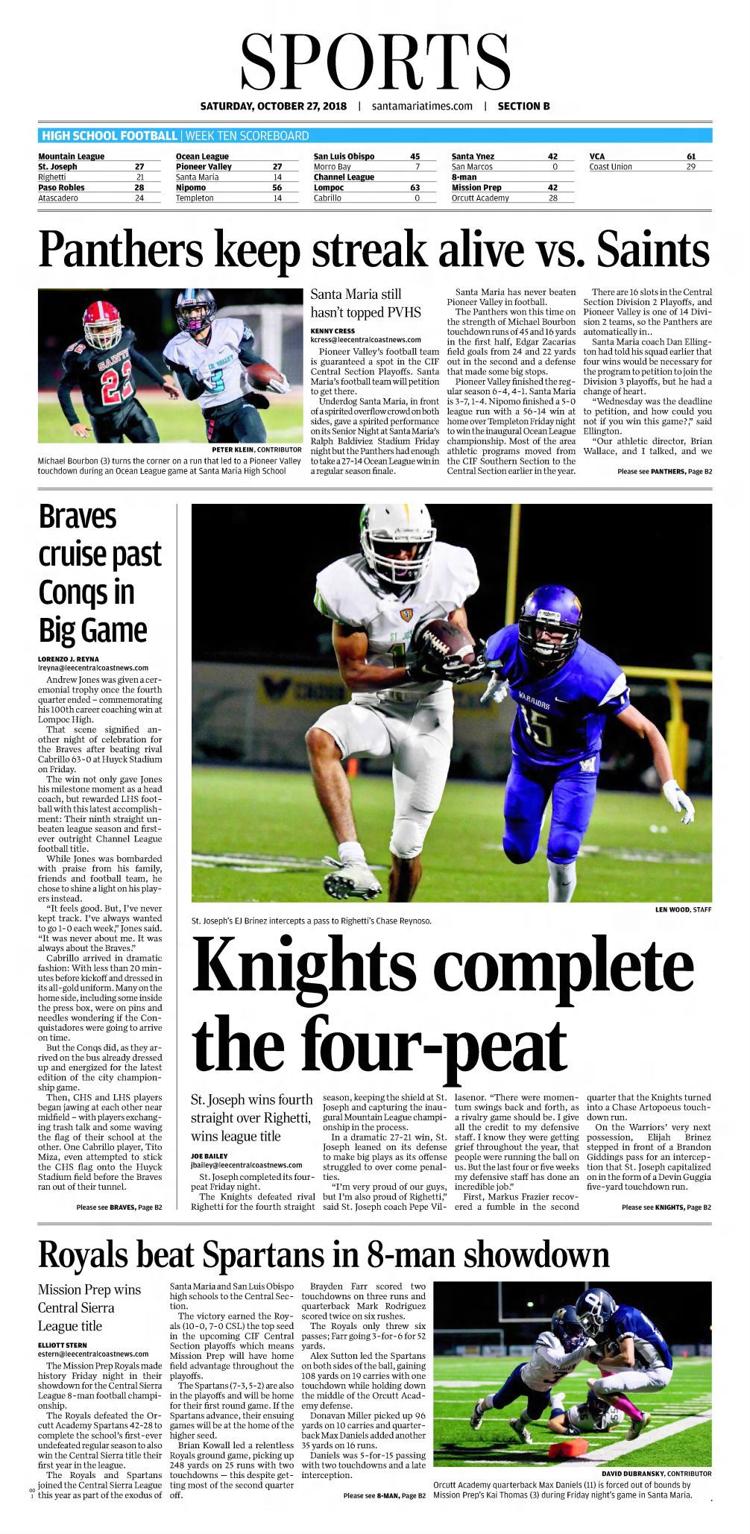 Santa_Maria_Times_Sat__Oct_27__2018_ (1).jpg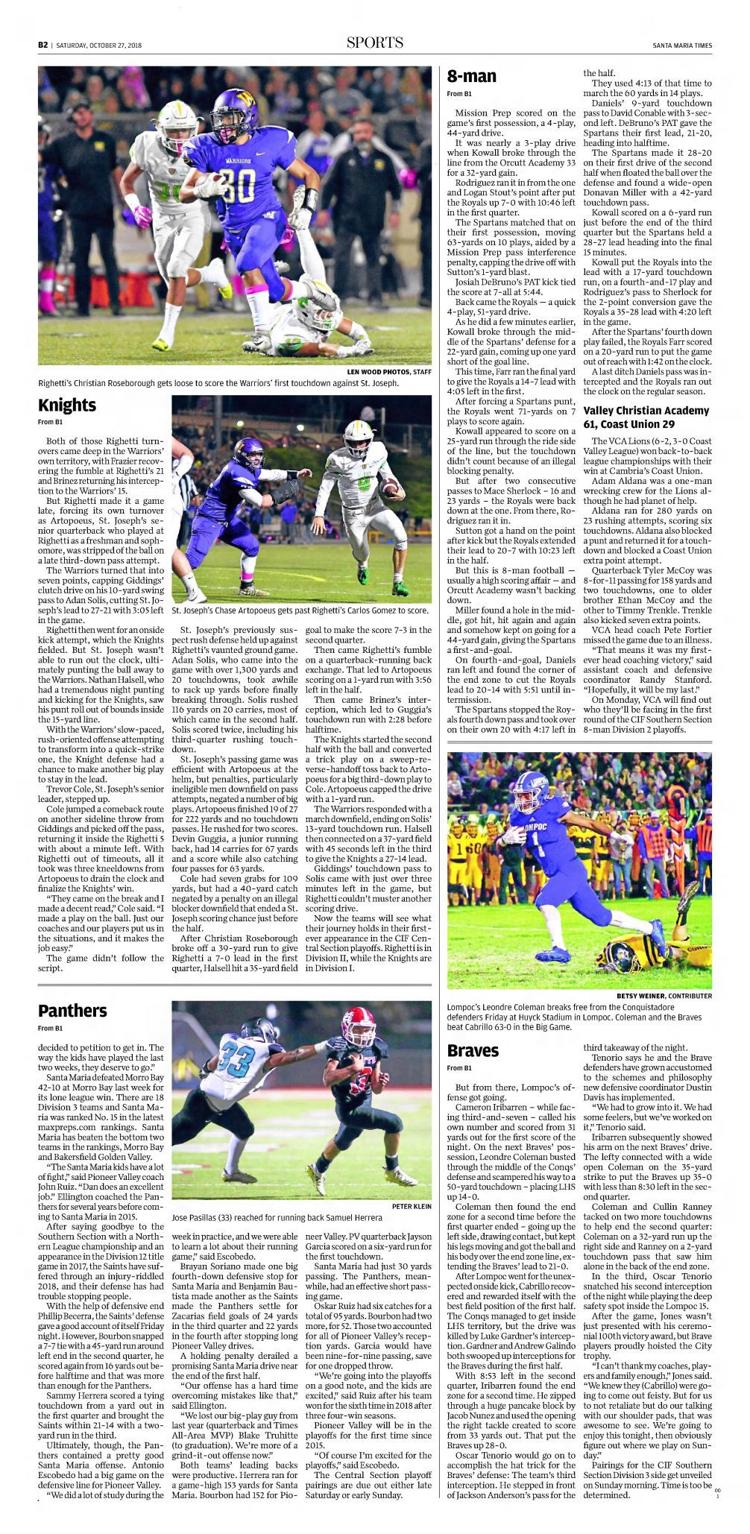 Santa_Maria_Times_Sat__Sep_23__2017_.jpg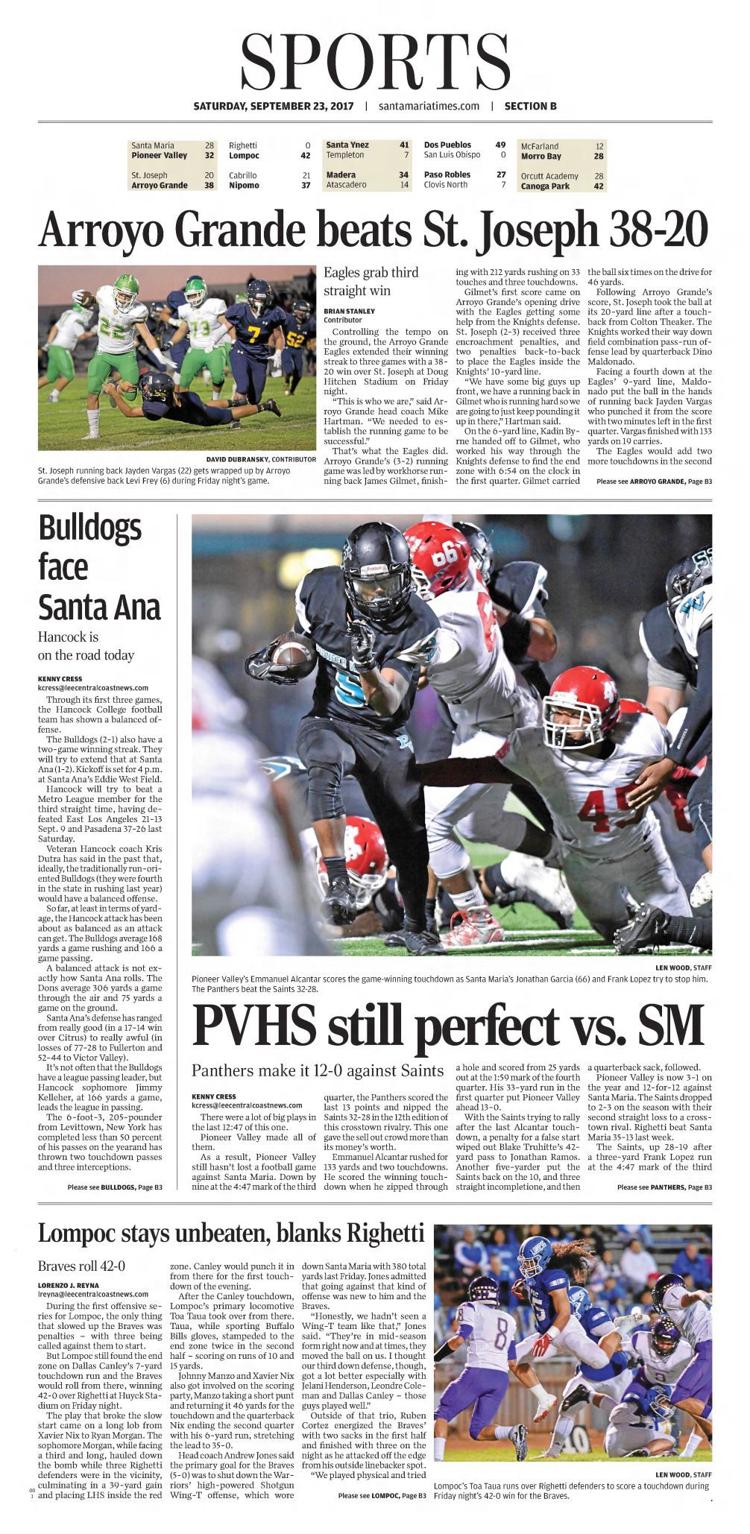 Santa_Maria_Times_Sat__Sep_23__2017_ (1).jpg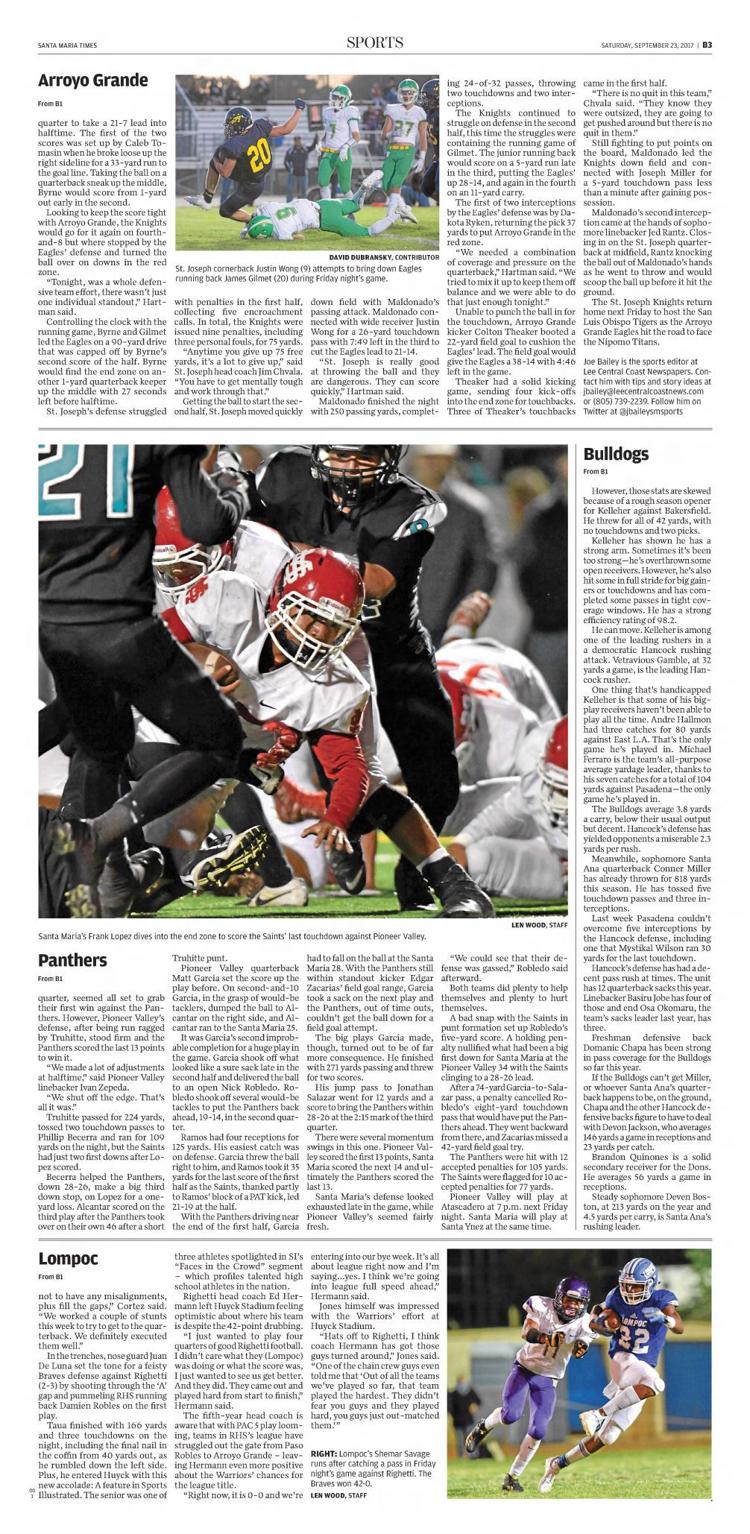 Santa_Maria_Times_Sat__Sep_24__2016_.jpg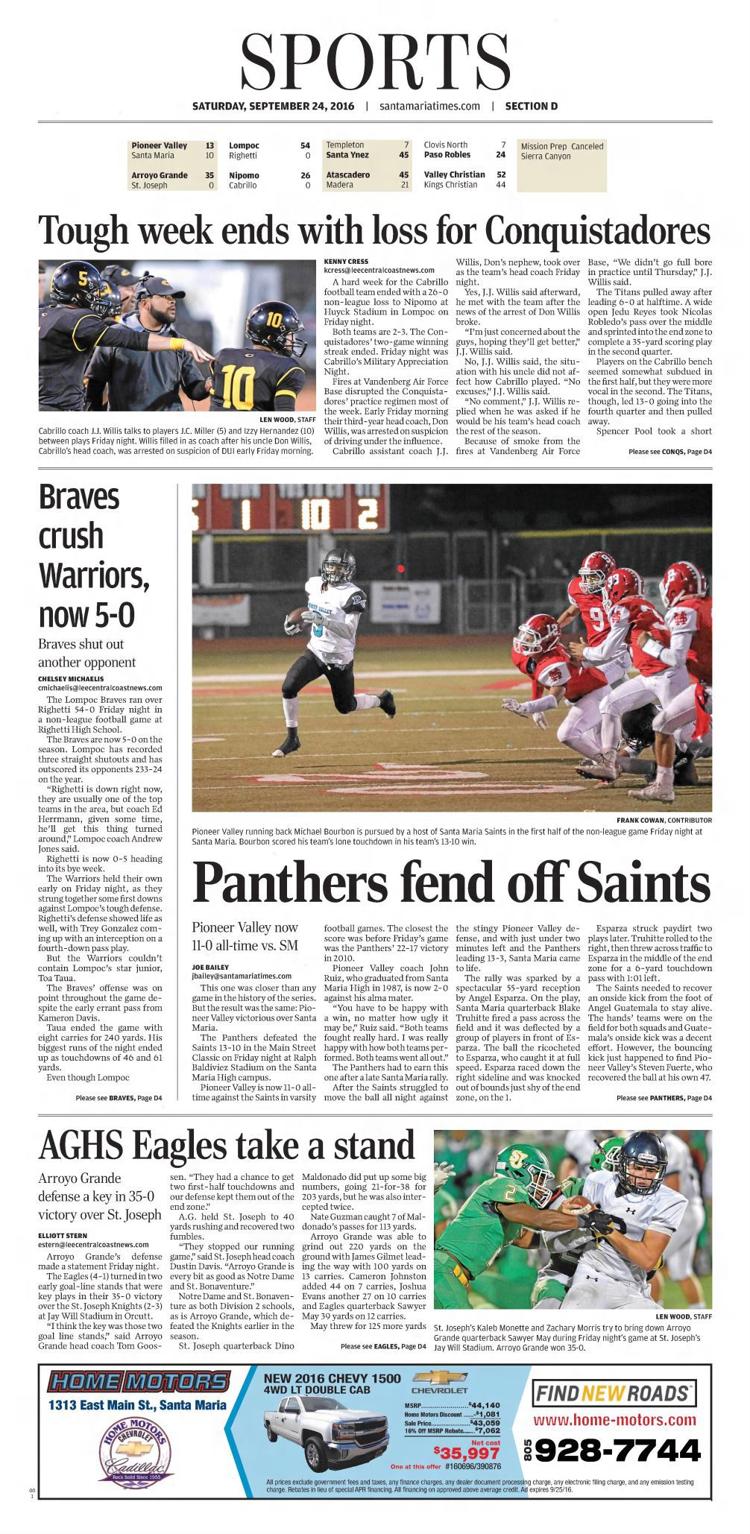 Santa_Maria_Times_Sat__Sep_24__2016_ (1).jpg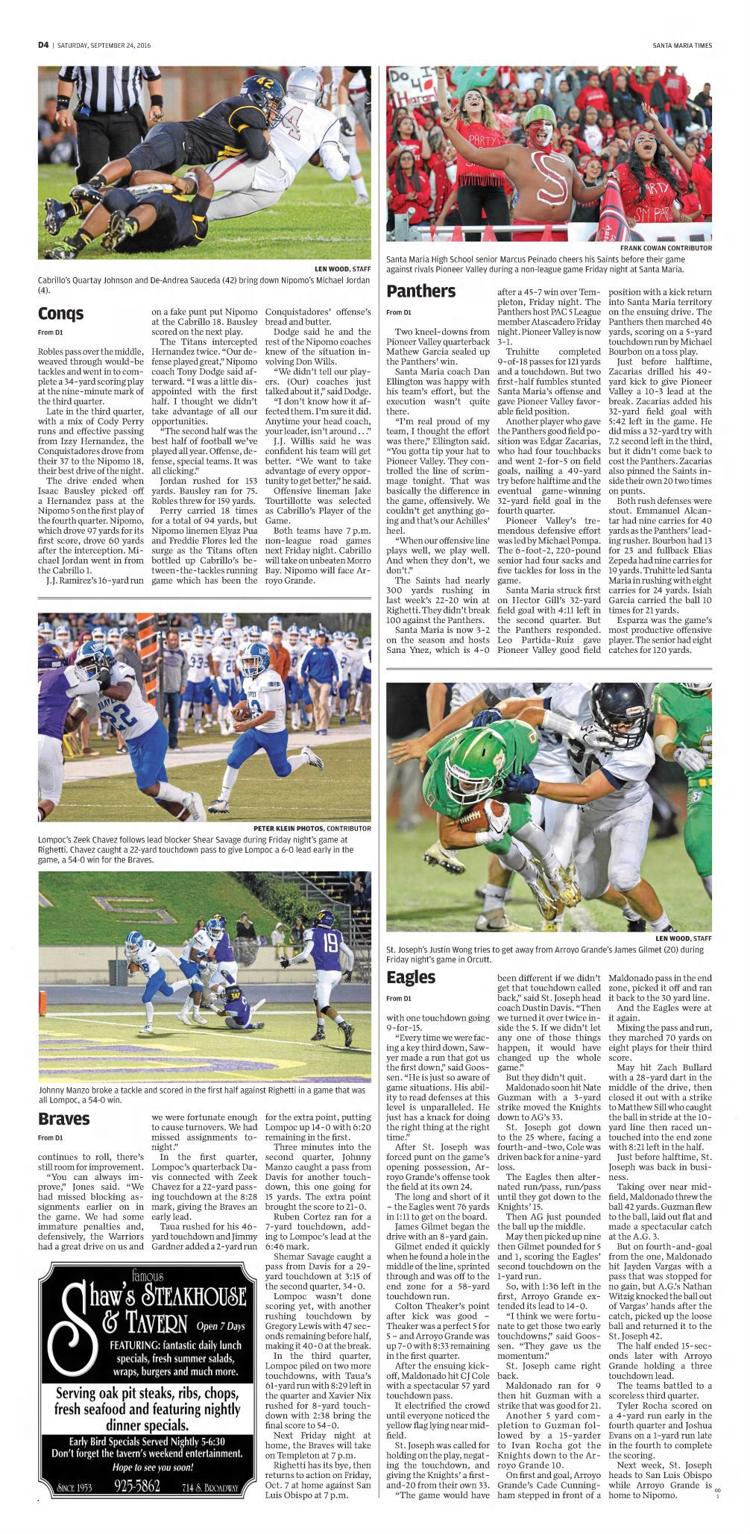 Santa_Maria_Times_Sat__Sep_26__2015_.jpg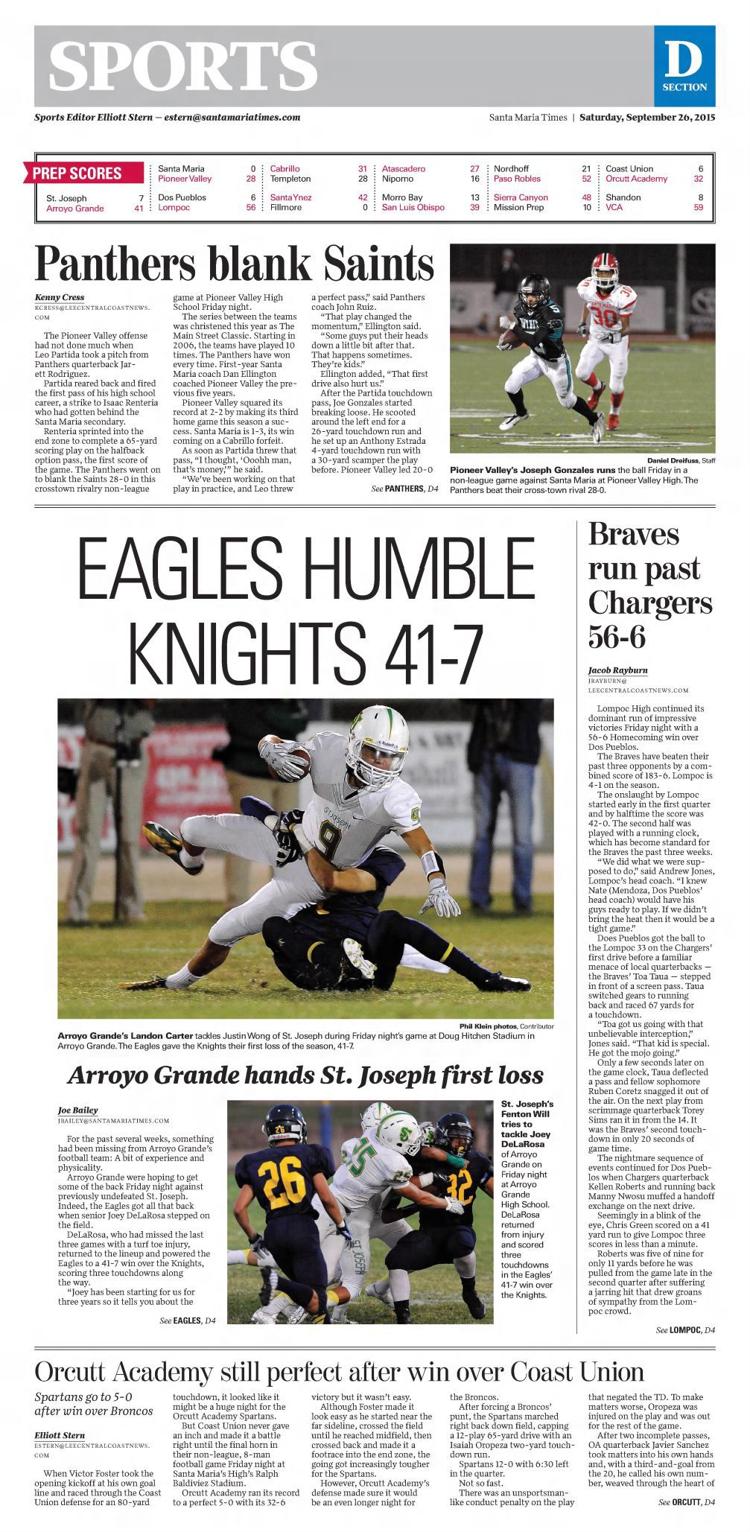 Santa_Maria_Times_Sat__Sep_26__2015_ (1).jpg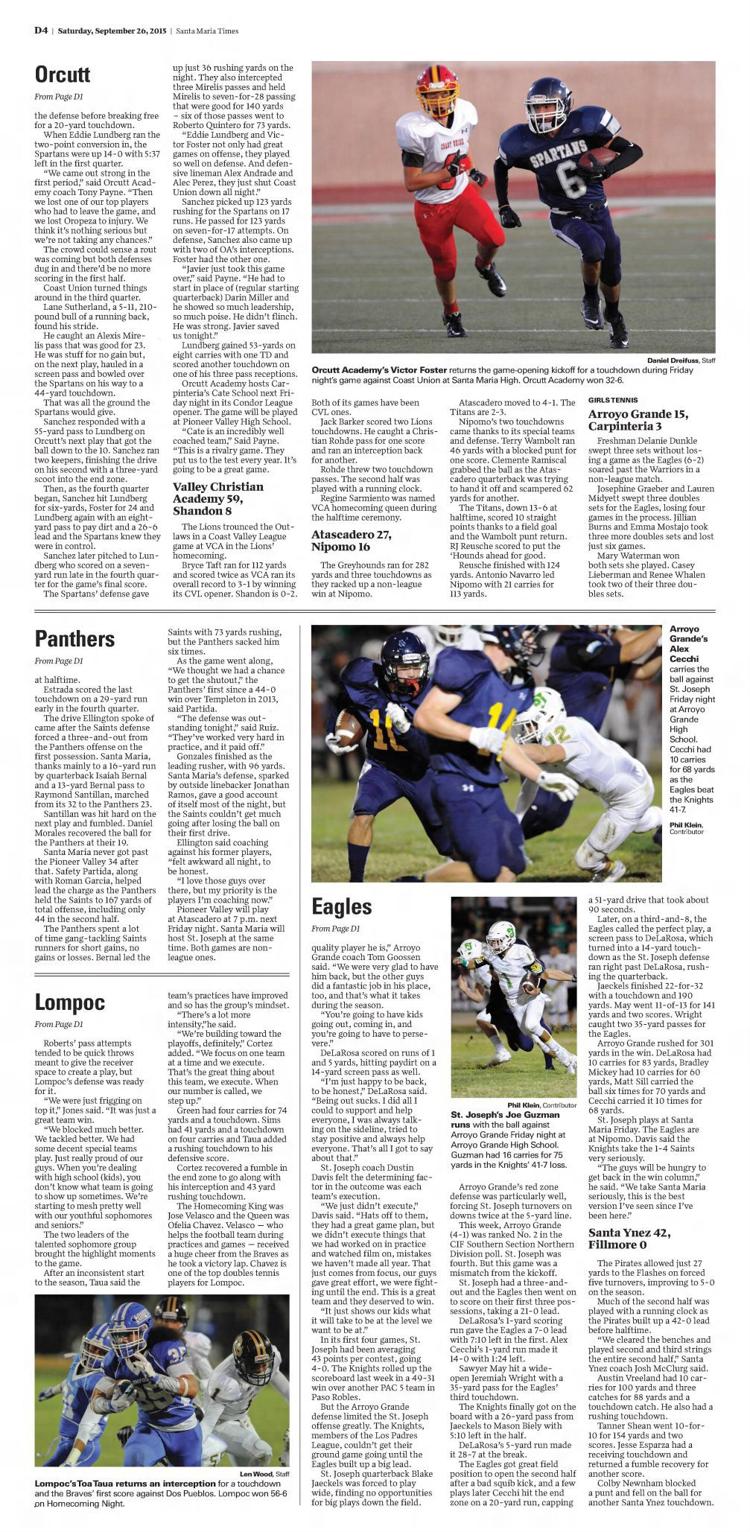 Santa_Maria_Times_Sat__Sep_27__2014_.jpg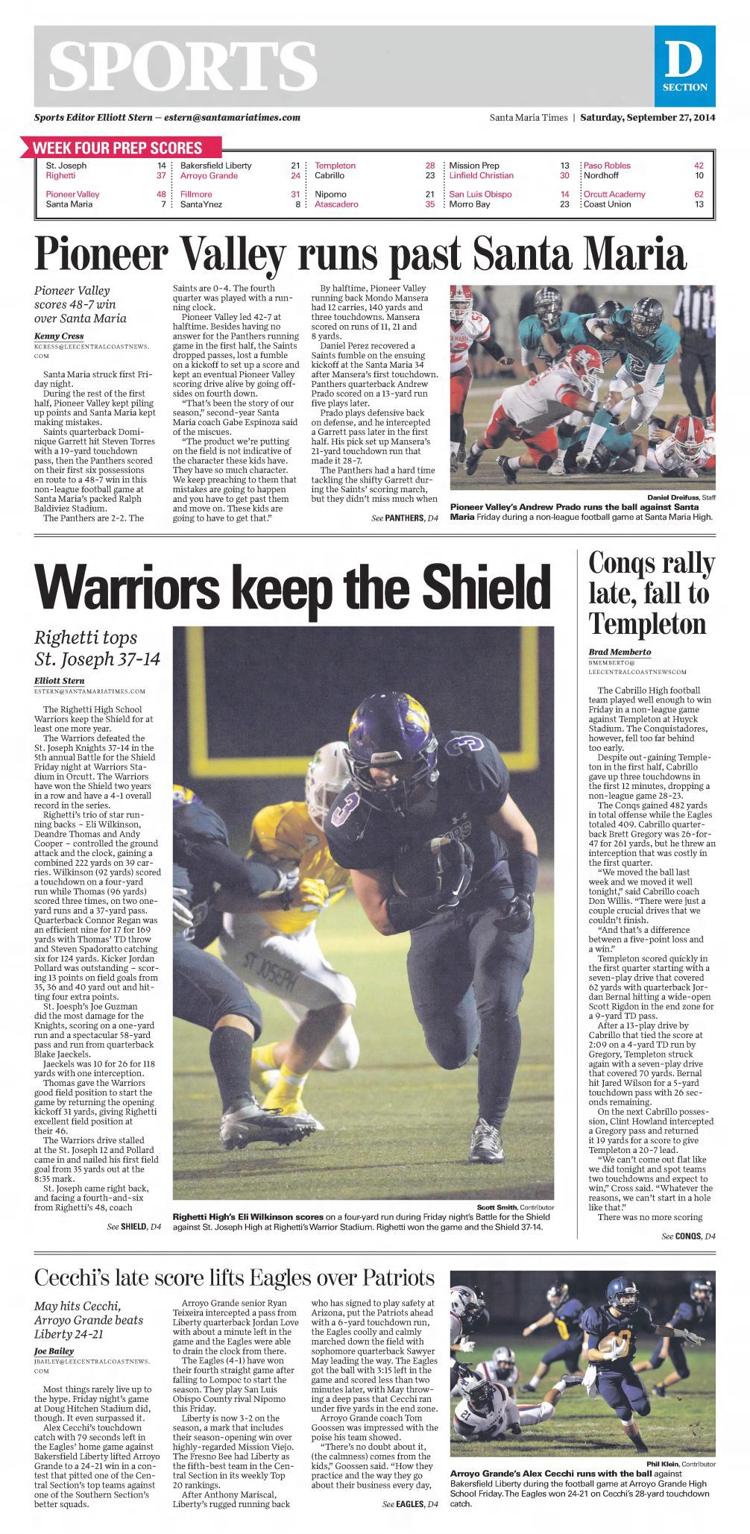 Santa_Maria_Times_Sat__Sep_27__2014_ (1).jpg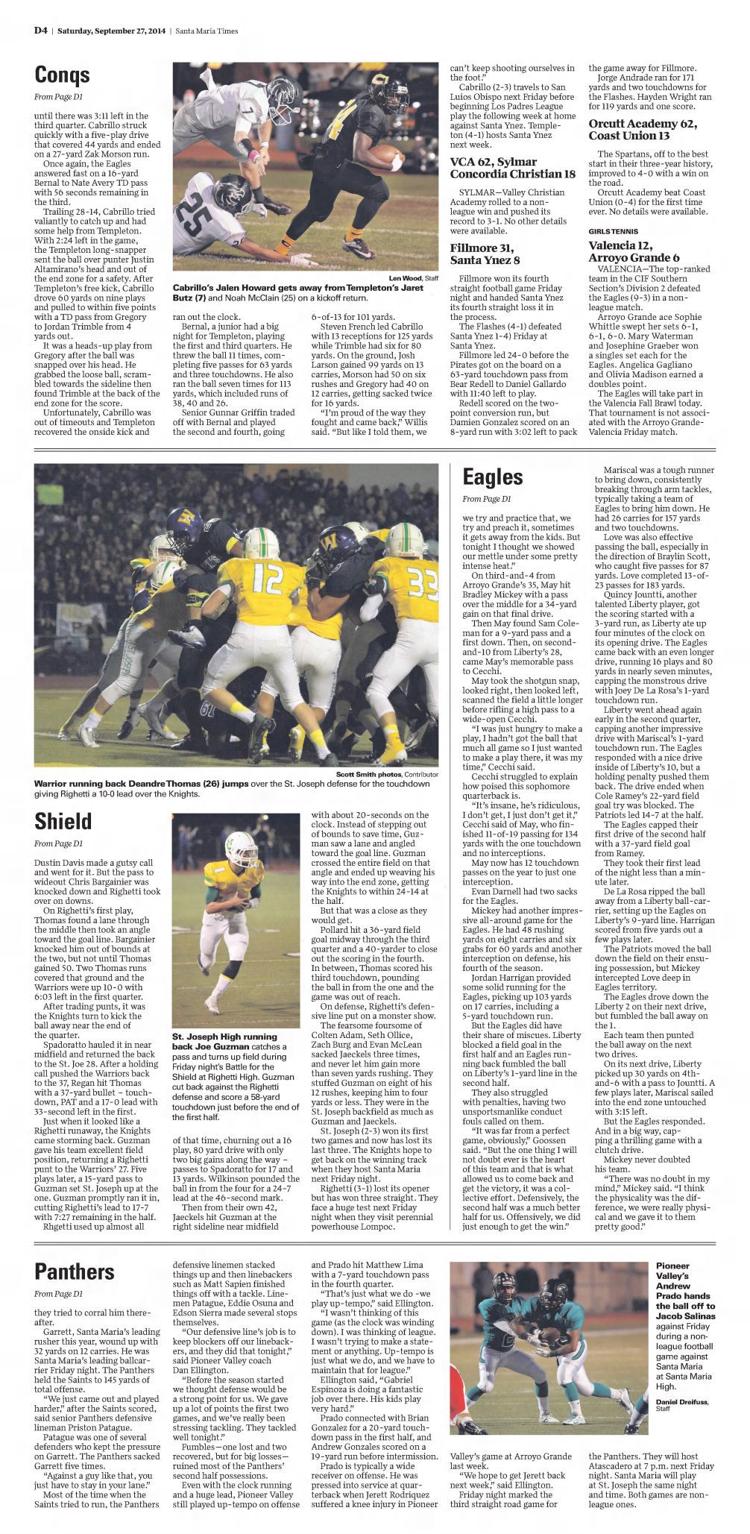 Santa_Maria_Times_Sat__Sep_21__2013_.jpg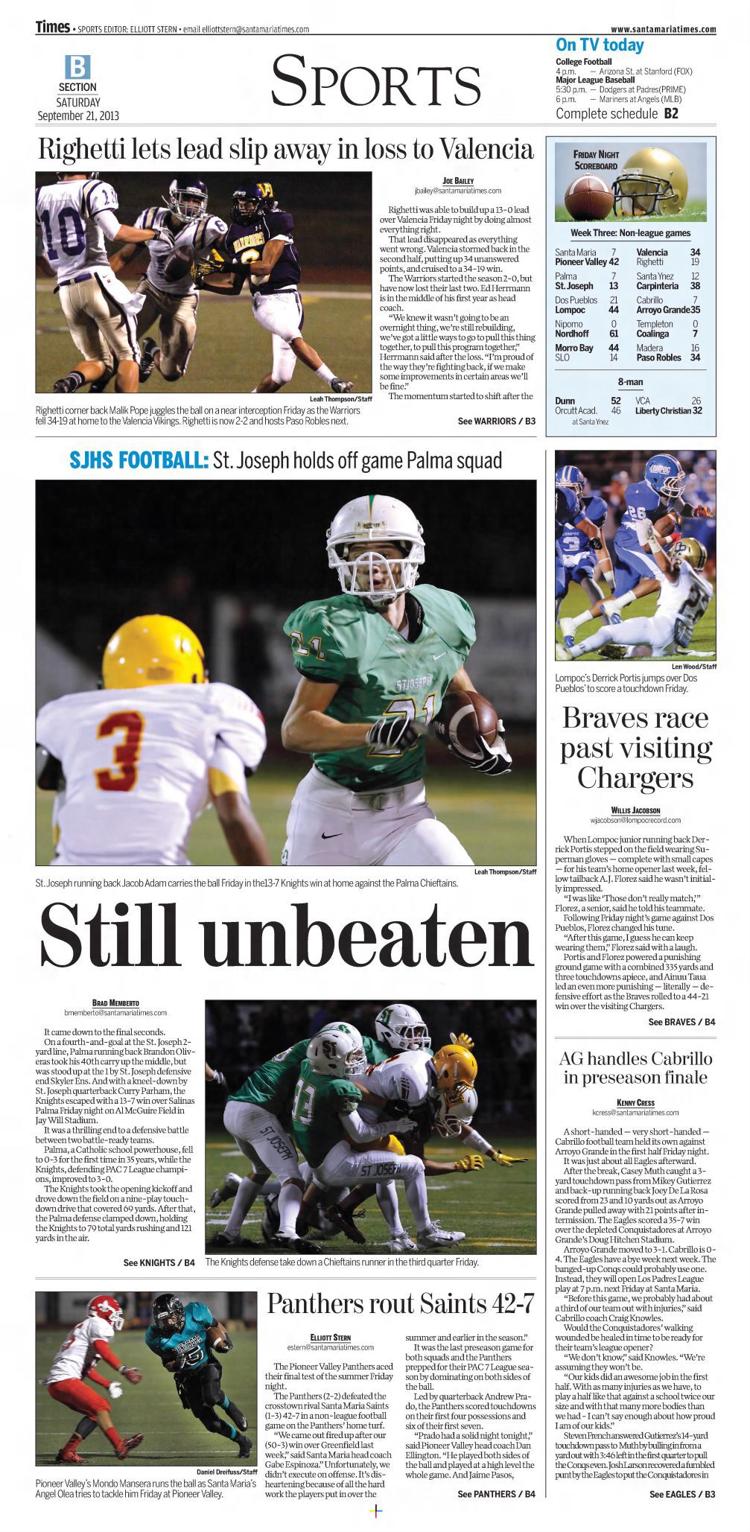 Santa_Maria_Times_Sat__Sep_21__2013_ (1).jpg
Santa_Maria_Times_Sat__Sep_15__2012_.jpg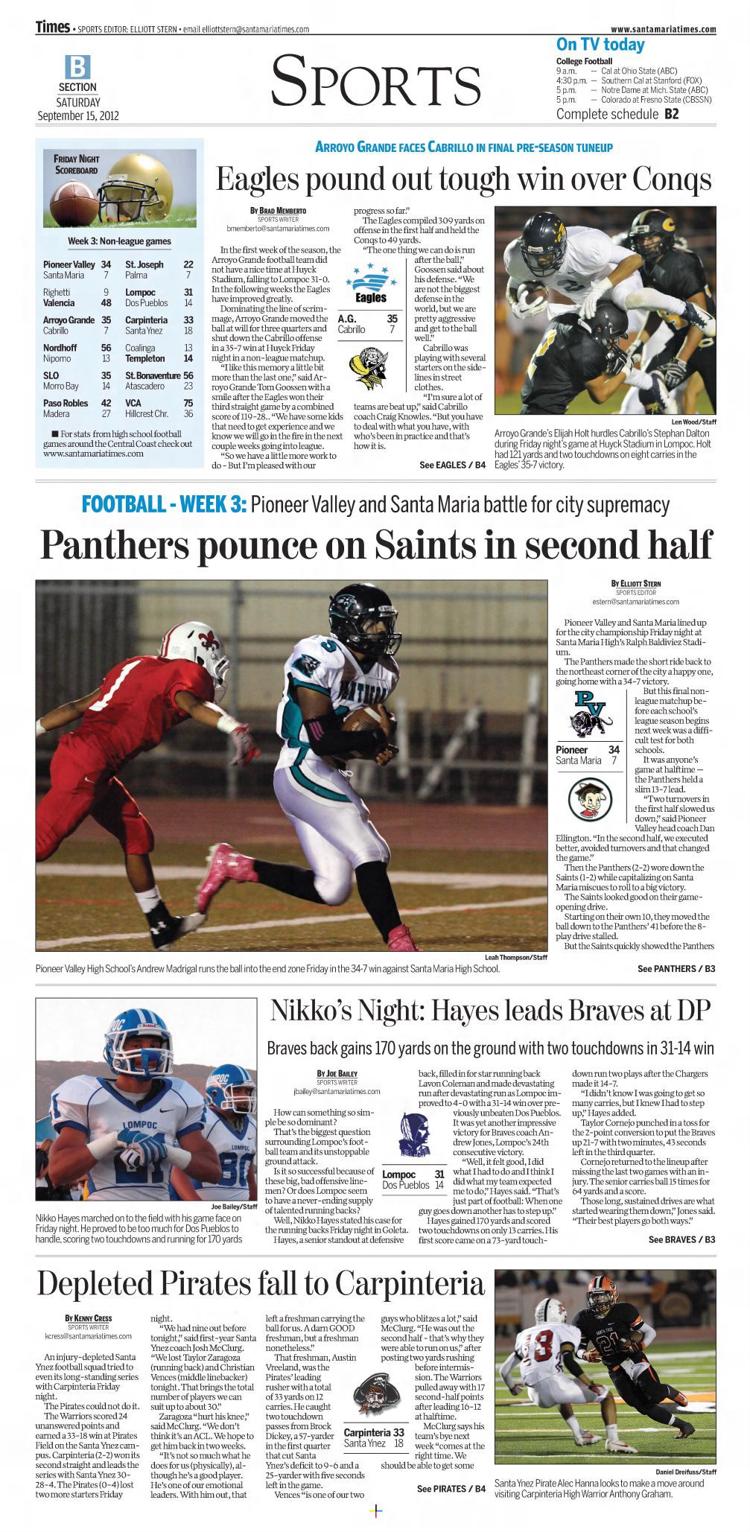 Santa_Maria_Times_Sat__Sep_15__2012_ (1).jpg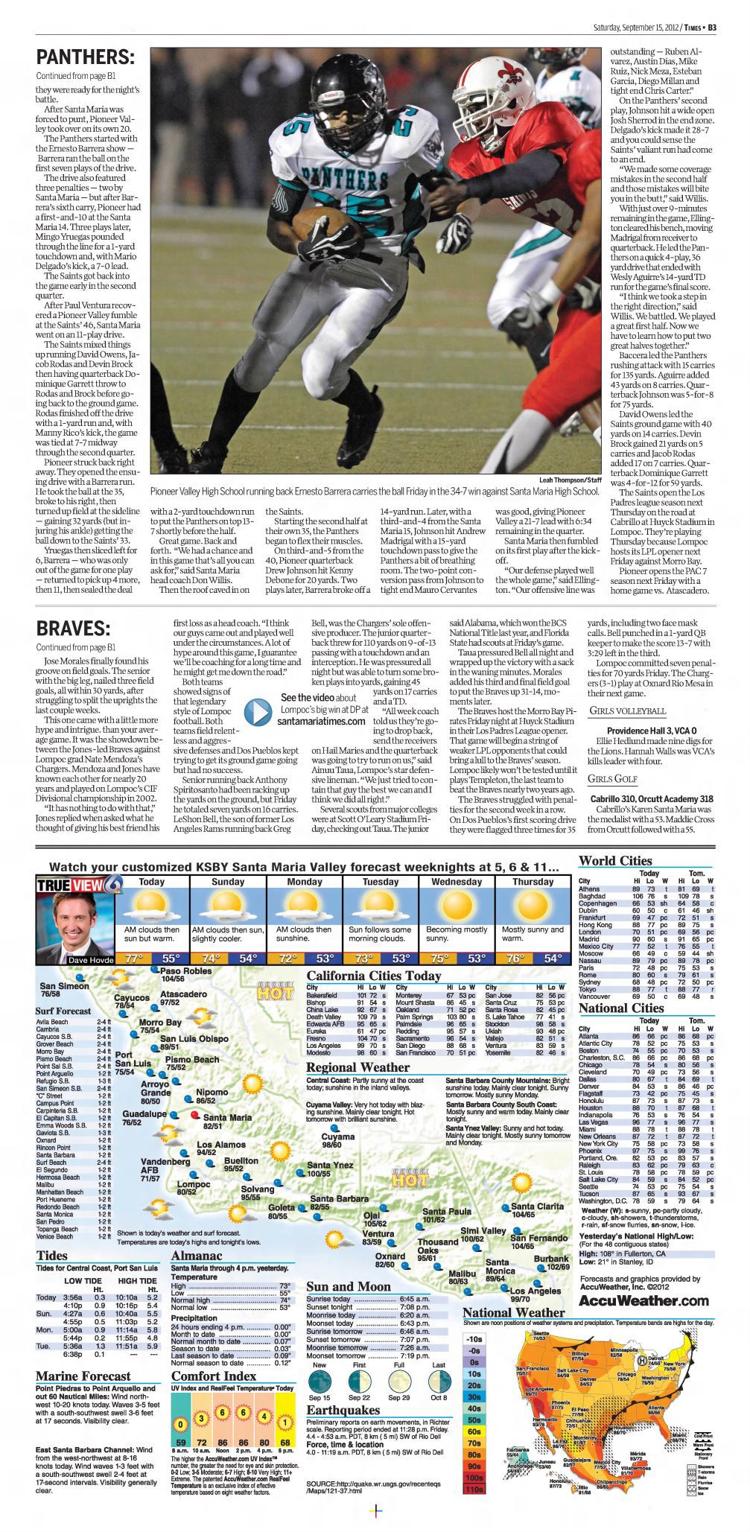 Santa_Maria_Times_Sat__Sep_17__2011_.jpg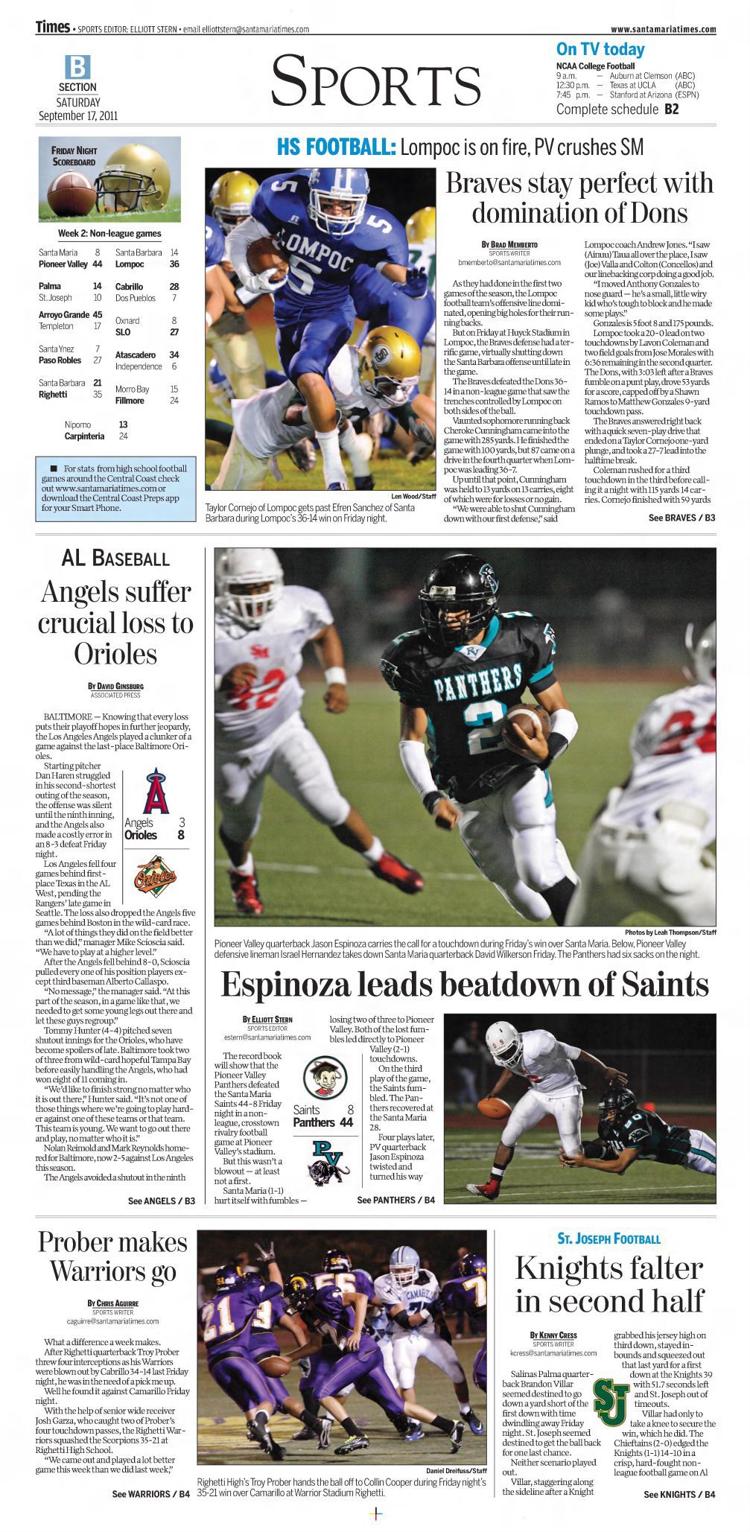 Santa_Maria_Times_Sat__Sep_17__2011_ (2).jpg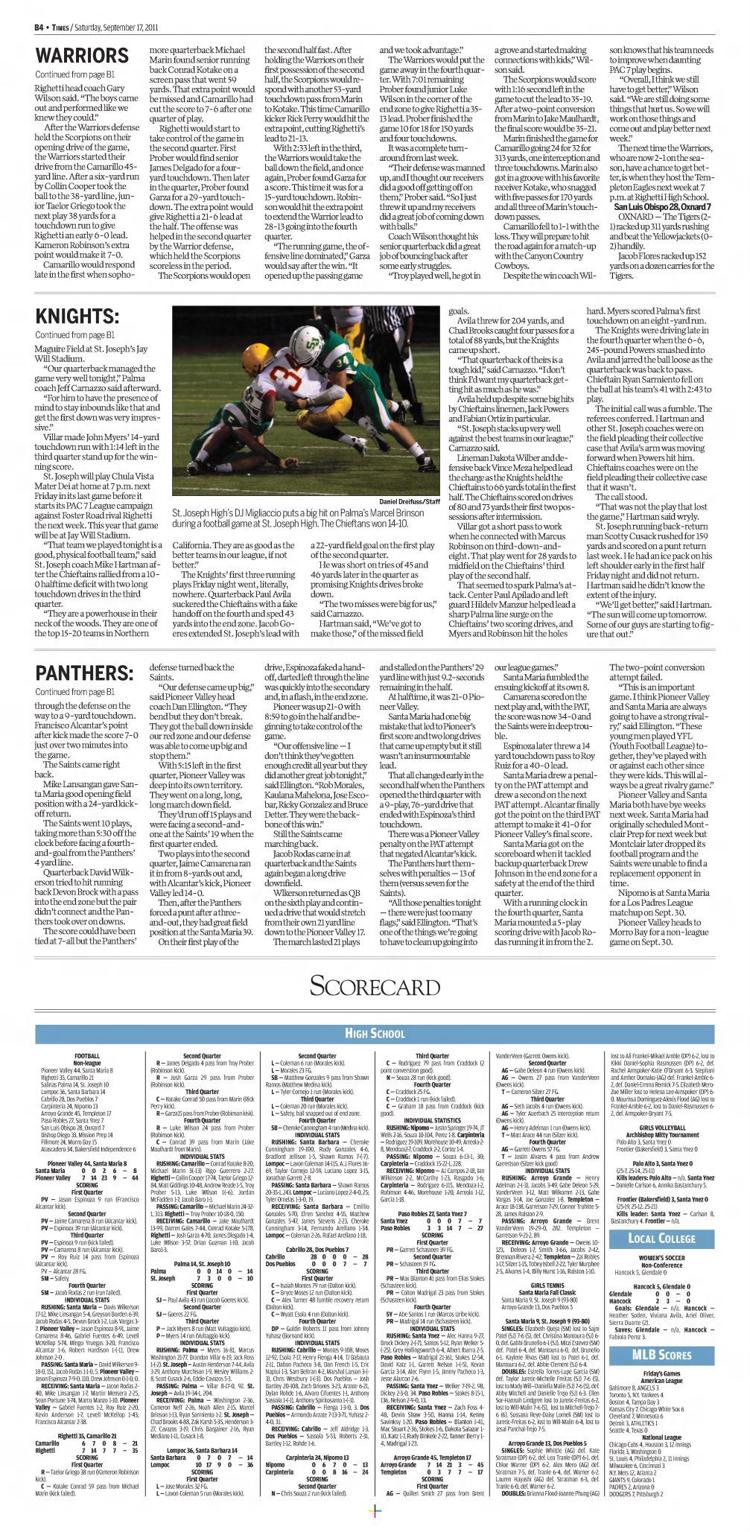 Santa_Maria_Times_Sat__Sep_4__2010_.jpg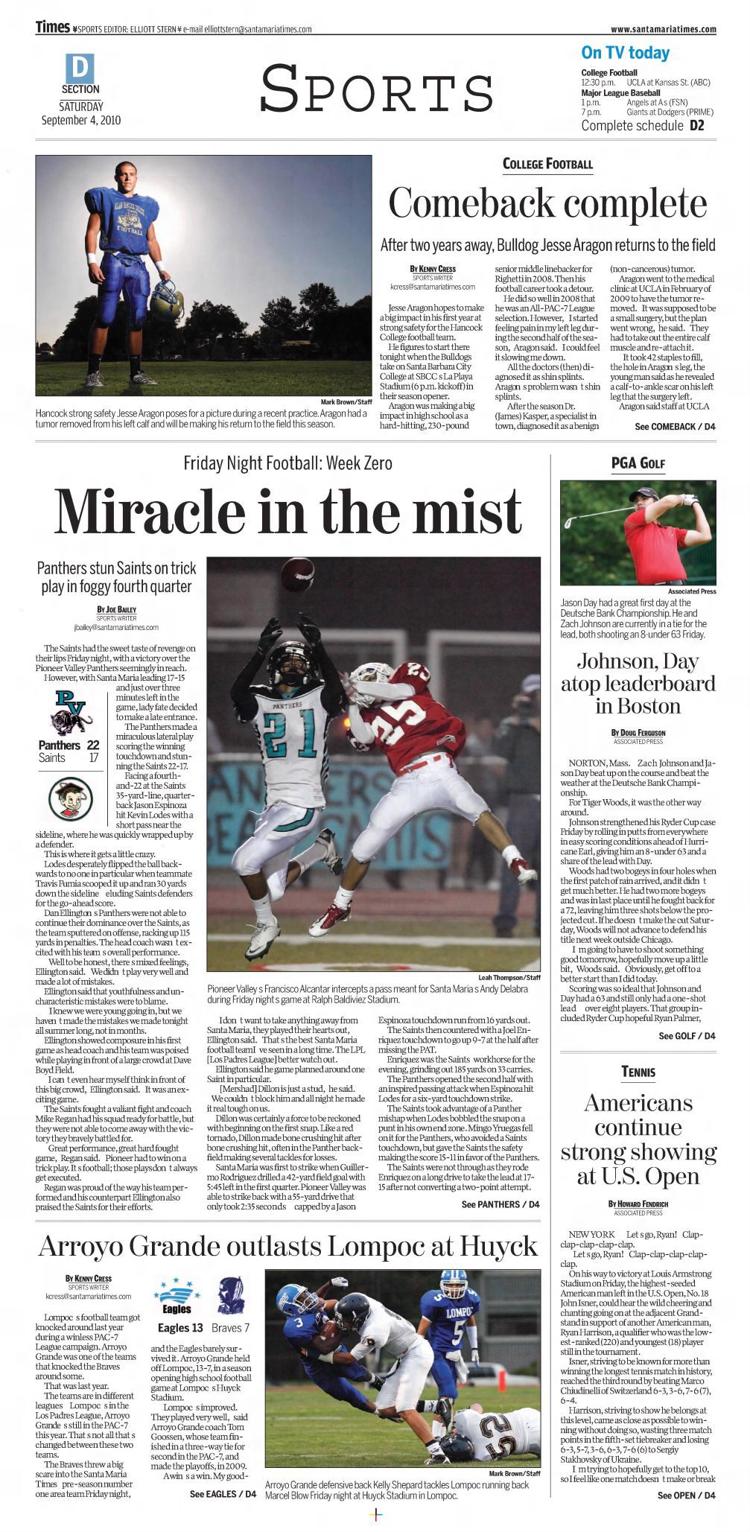 Santa_Maria_Times_Sat__Oct_31__2009_.jpg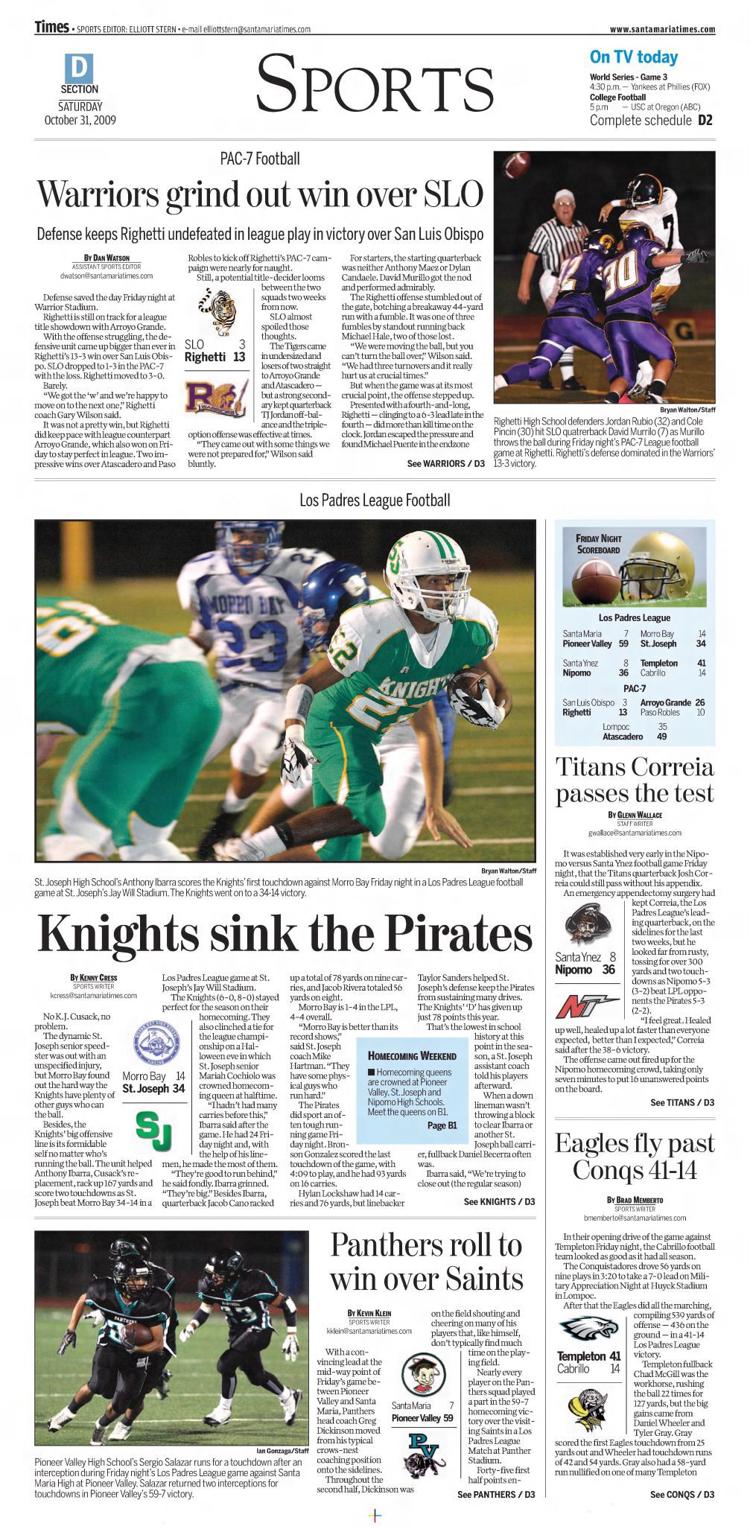 Santa_Maria_Times_Sat__Oct_31__2009_ (2).jpg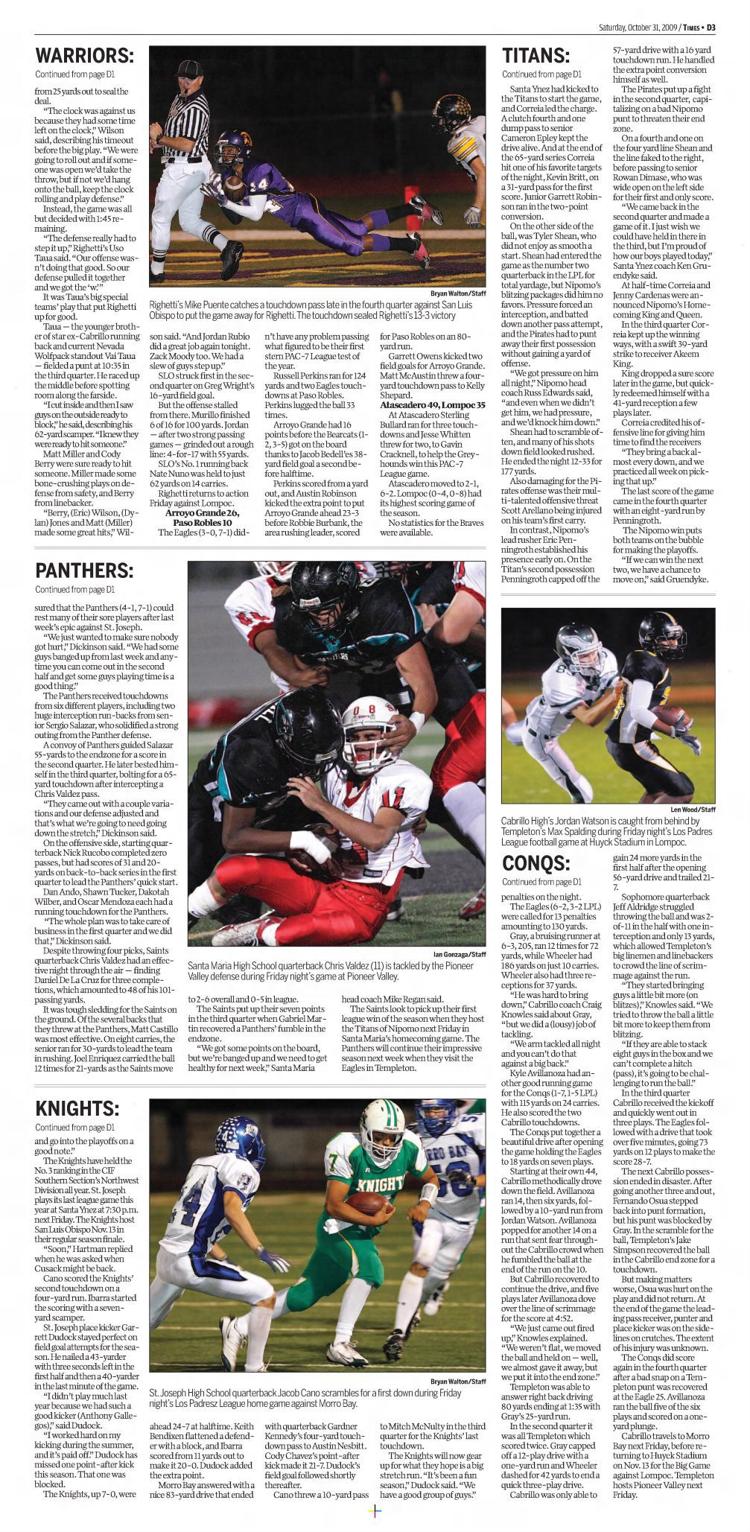 Santa_Maria_Times_Sat__Nov_1__2008_.jpg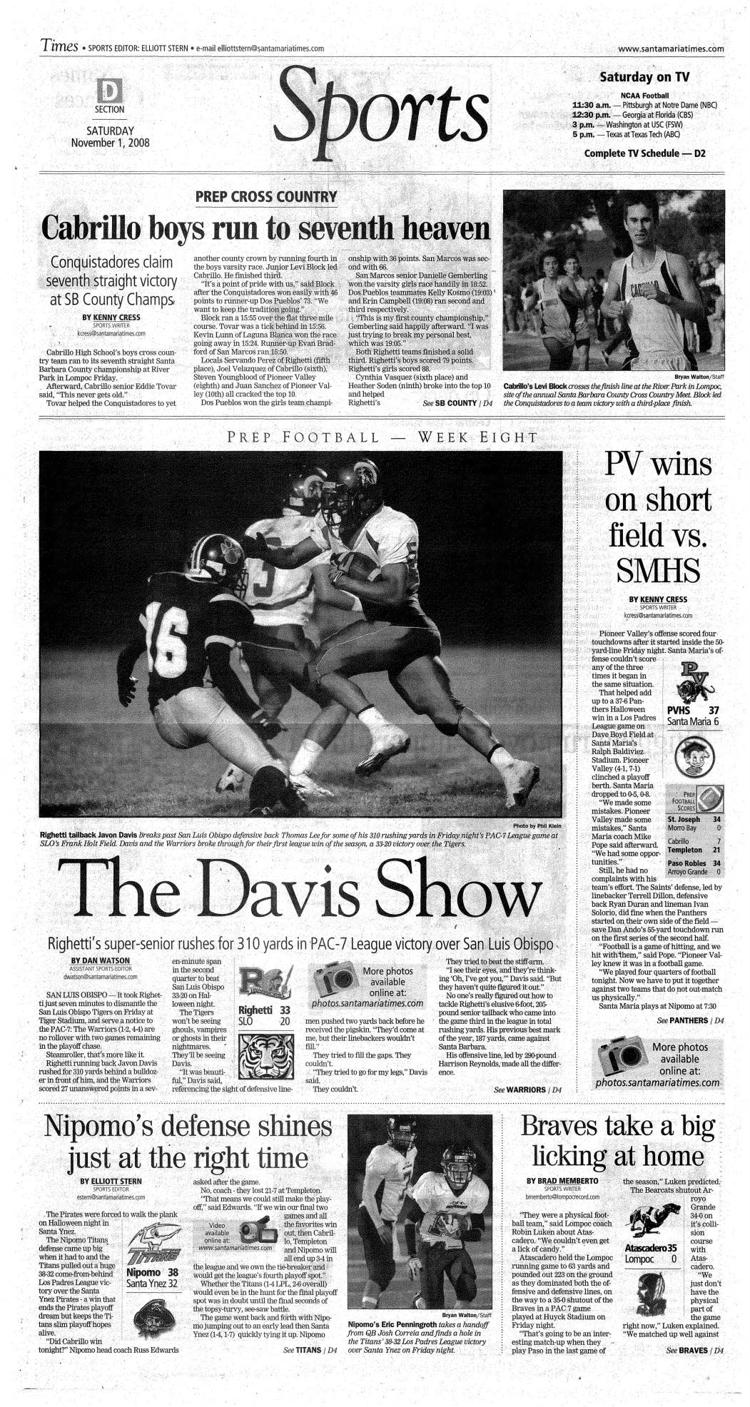 Santa_Maria_Times_Sat__Nov_1__2008_ (1).jpg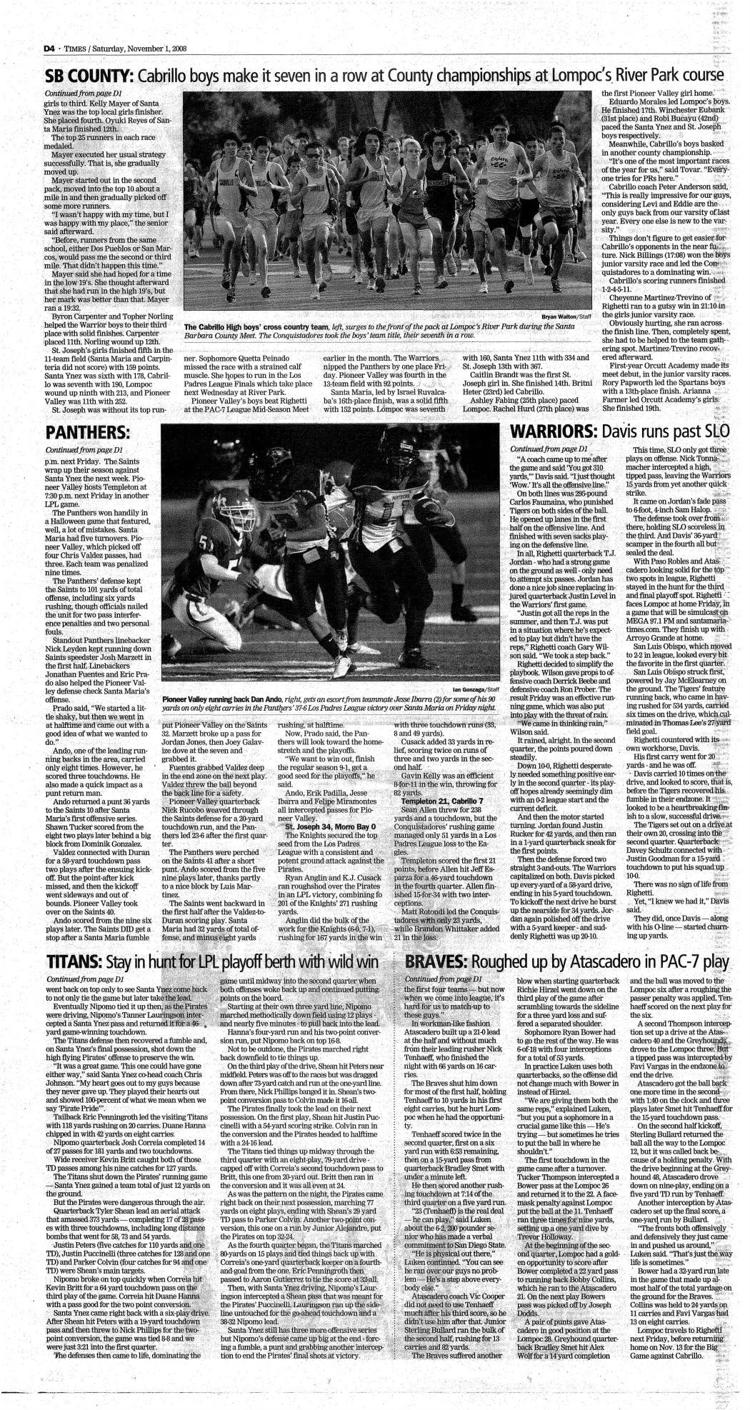 Santa_Maria_Times_Sat__Nov_4__2006_.jpg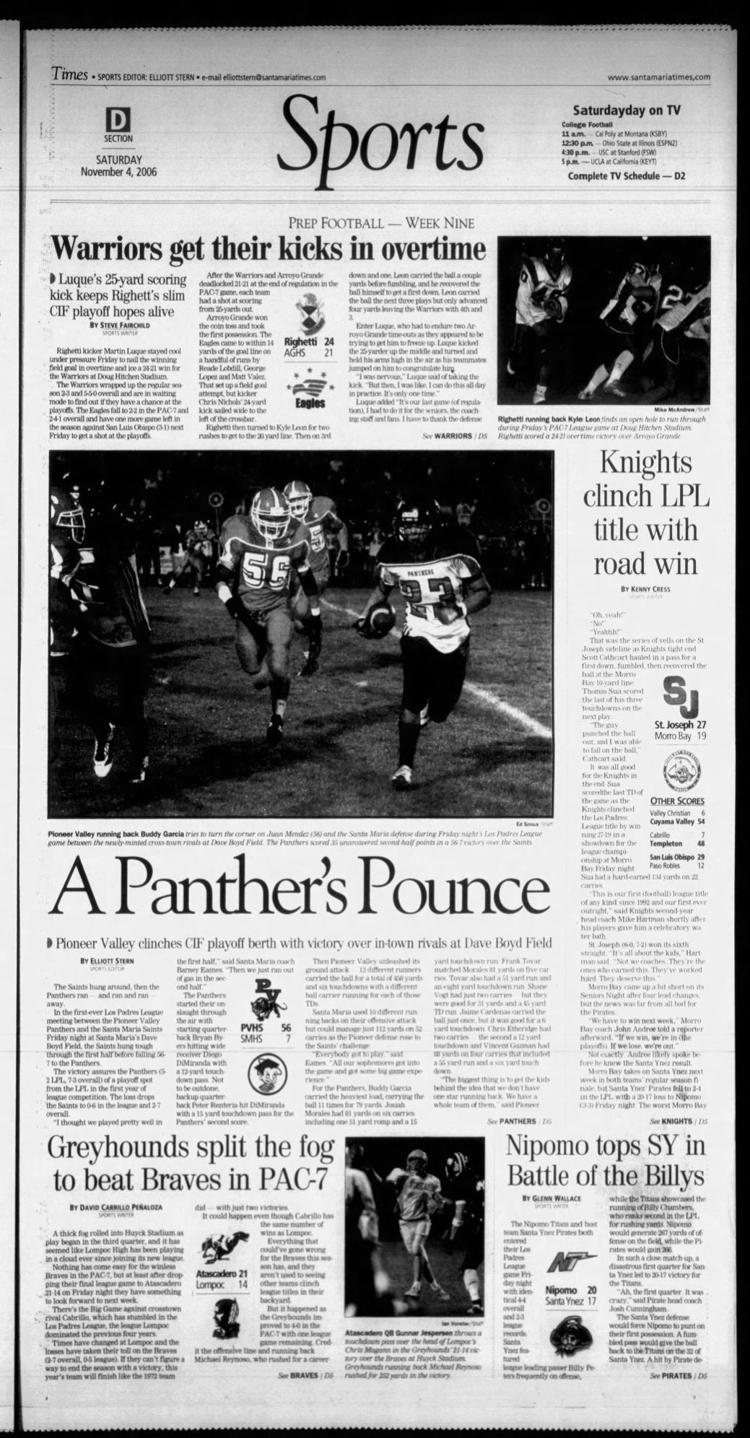 Santa_Maria_Times_Sat__Nov_4__2006_ (1).jpg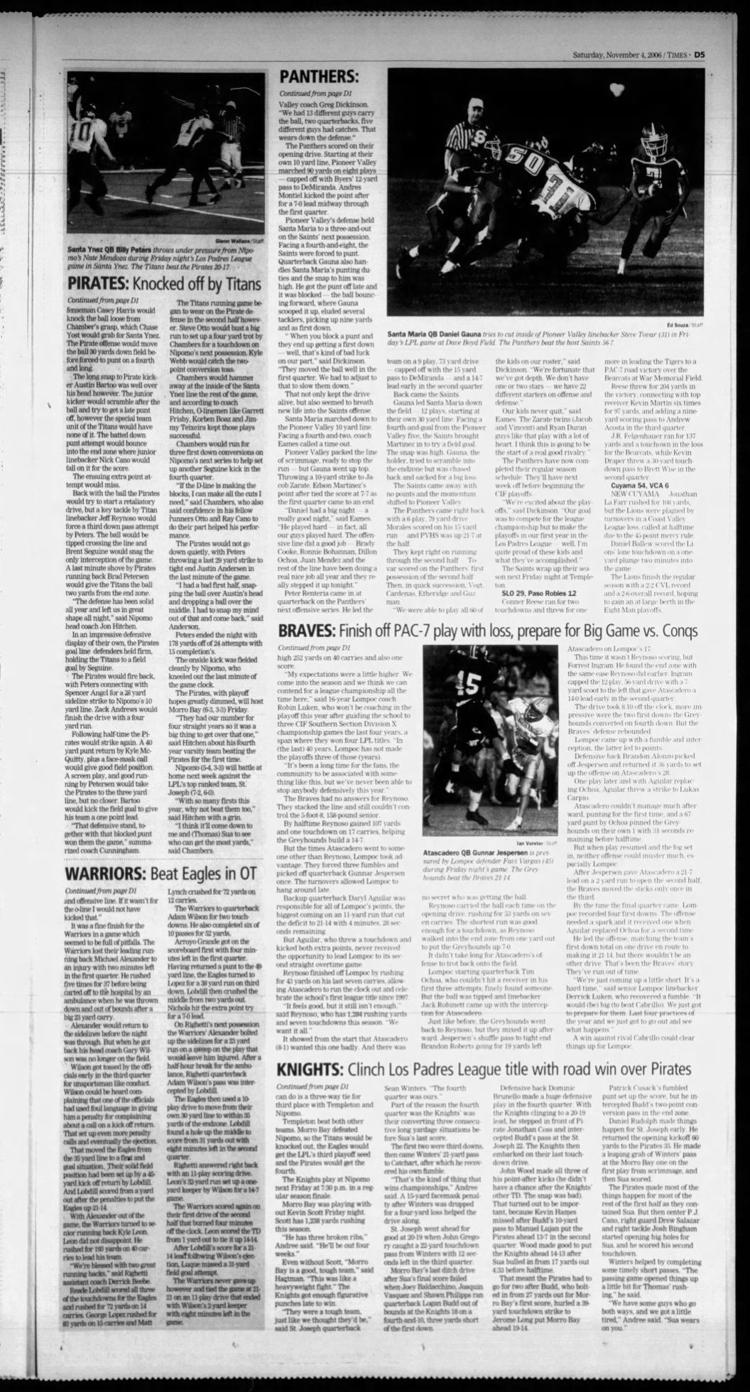 110119 PVHS vs SMHS 10.jpg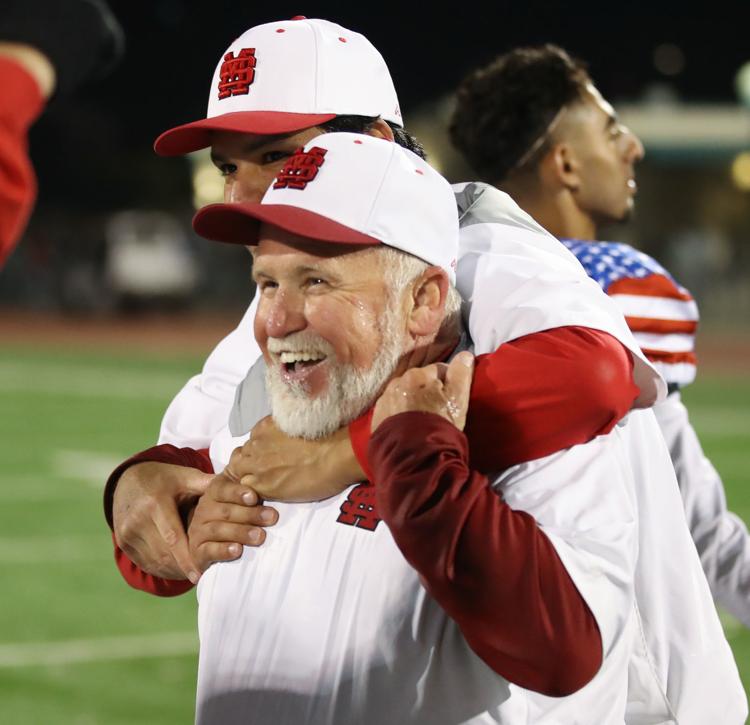 110119 PVHS vs SMHS 02.jpg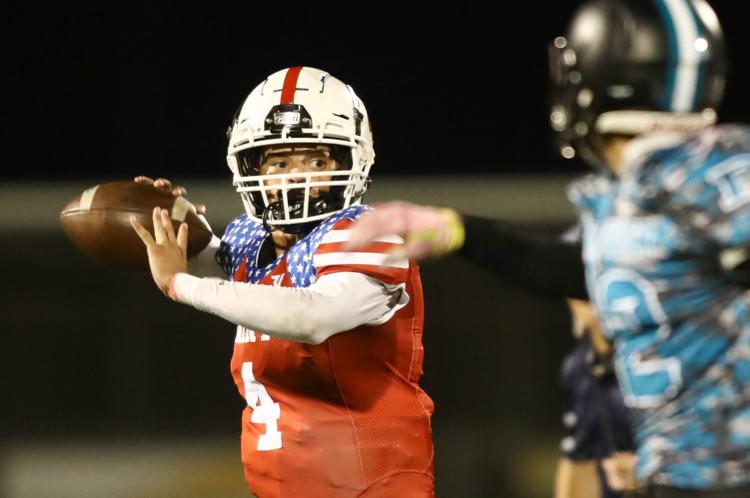 110119 PVHS vs SMHS 01.jpg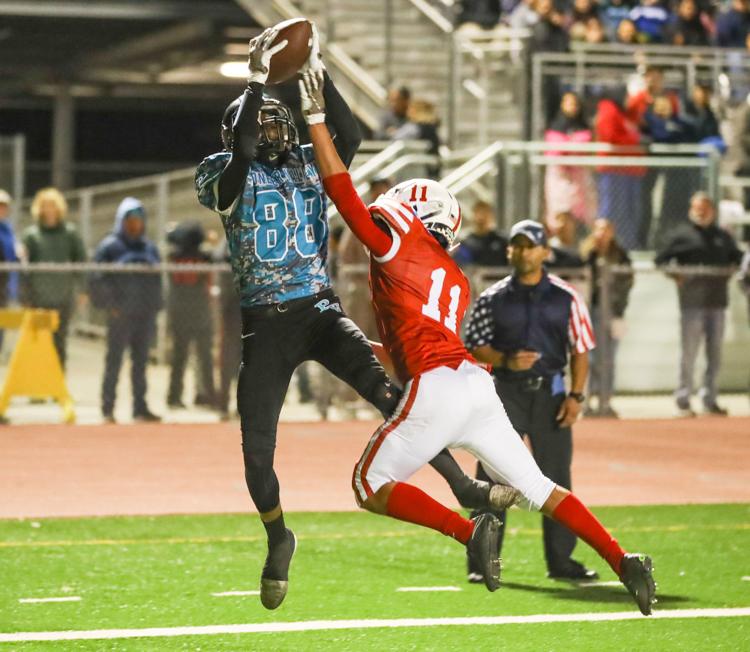 110119 PVHS vs SMHS 03.jpg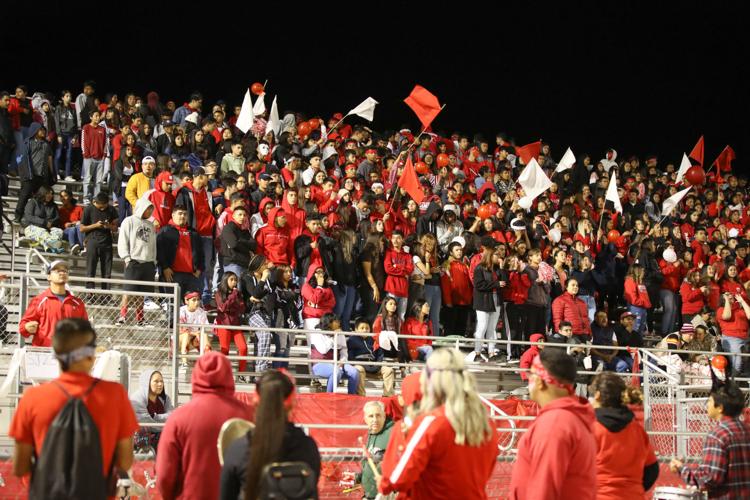 110119 PVHS vs SMHS 04.jpg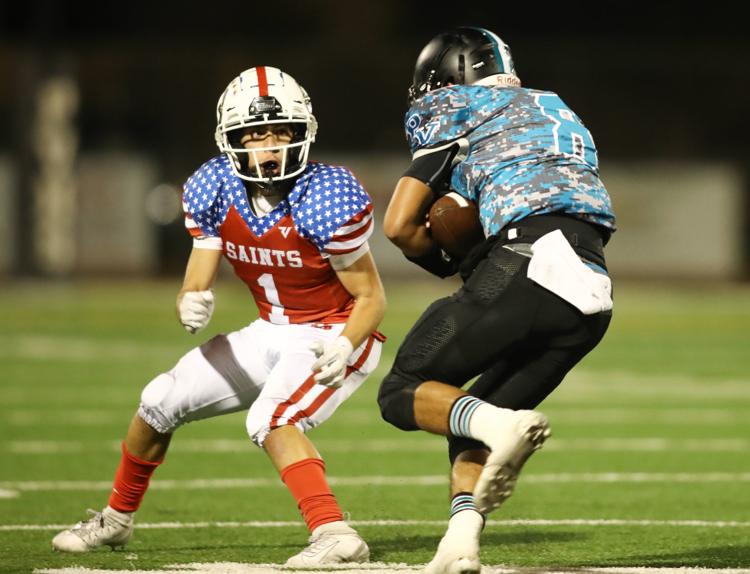 110119 PVHS vs SMHS 05.jpg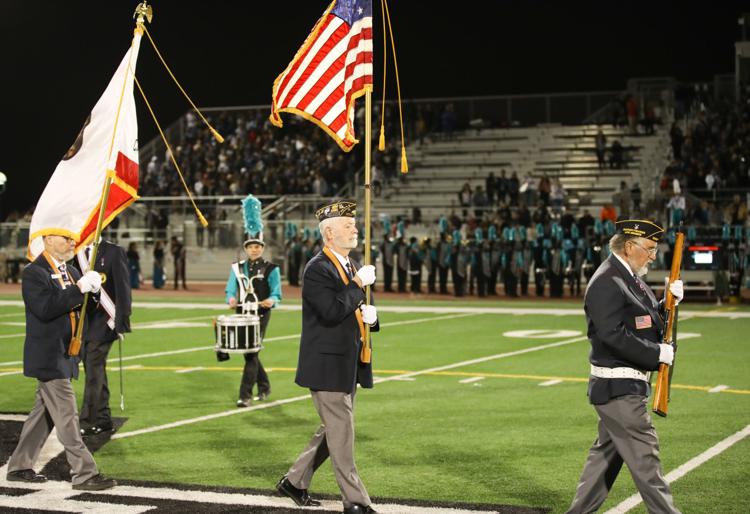 110119 PVHS vs SMHS 06.jpg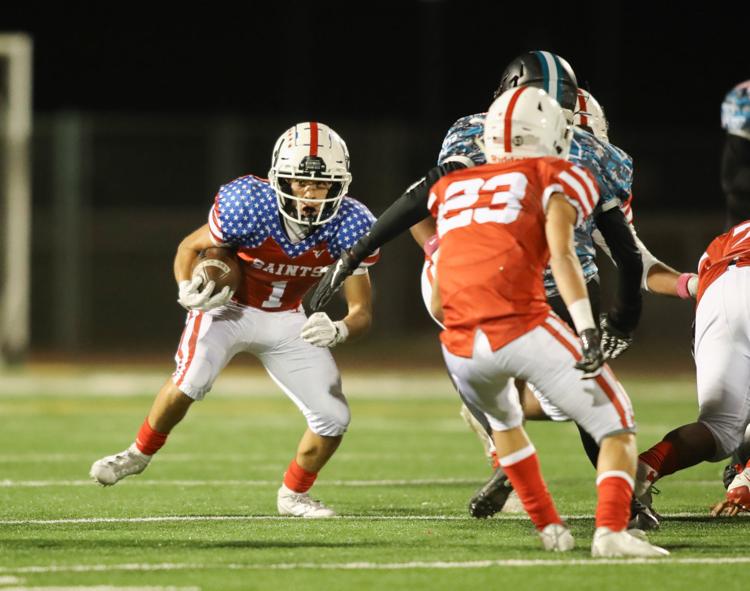 110119 PVHS vs SMHS 07.jpg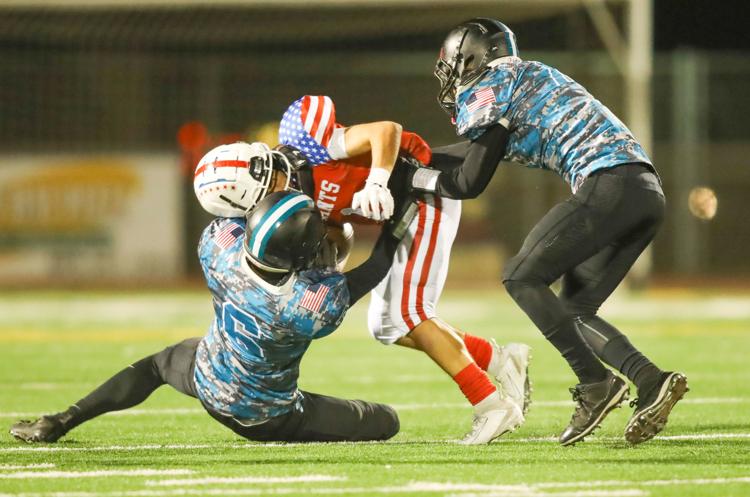 110119 PVHS vs SMHS 08.jpg
110119 PVHS vs SMHS 09.jpg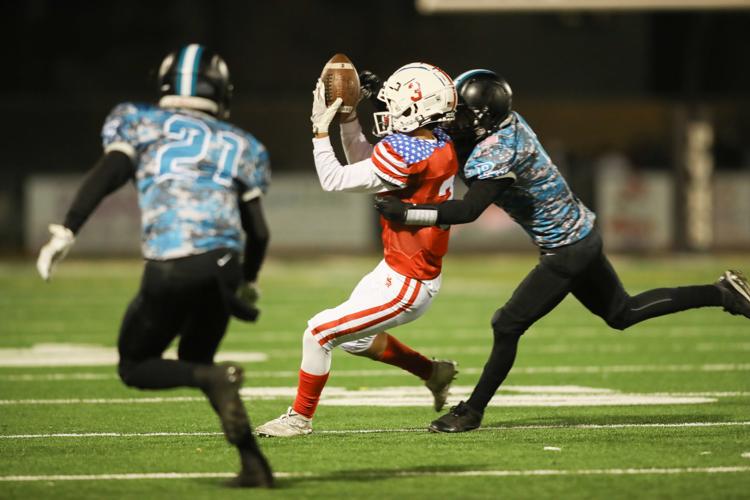 110119 PVHS vs SMHS 11.jpg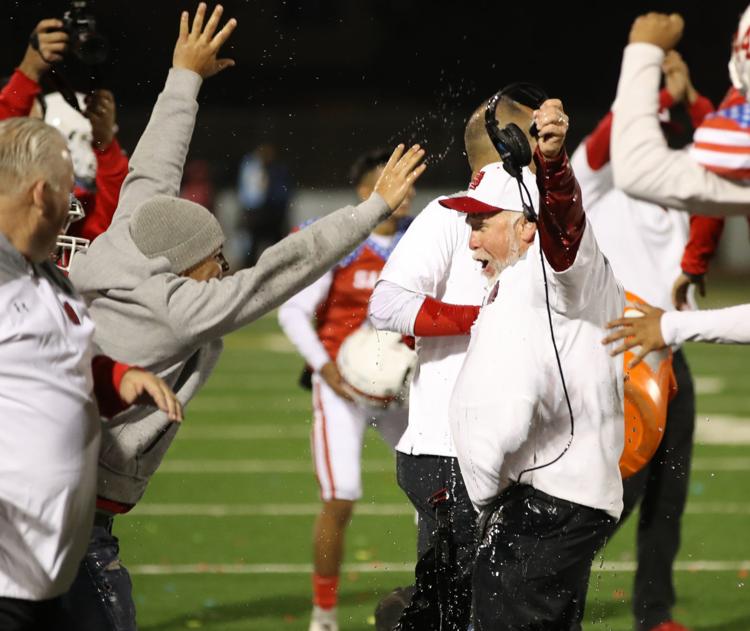 110119 PVHS vs SMHS 12.jpg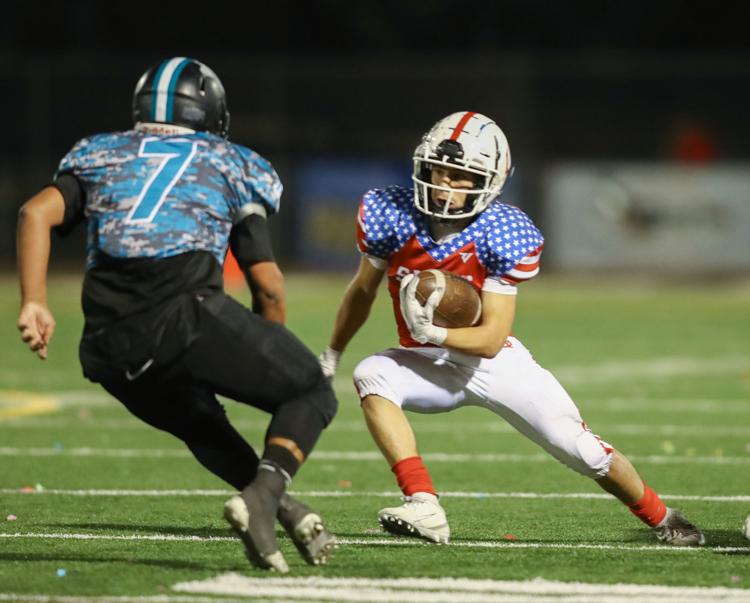 110119 PVHS vs SMHS 14.jpg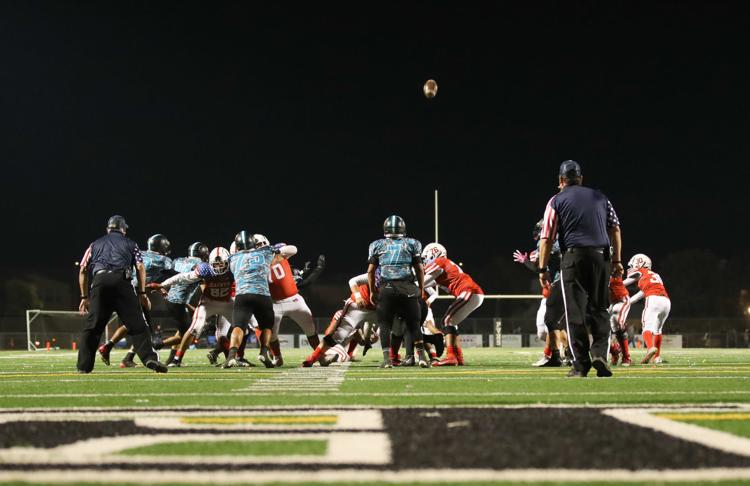 110119 PVHS vs SMHS 15.jpg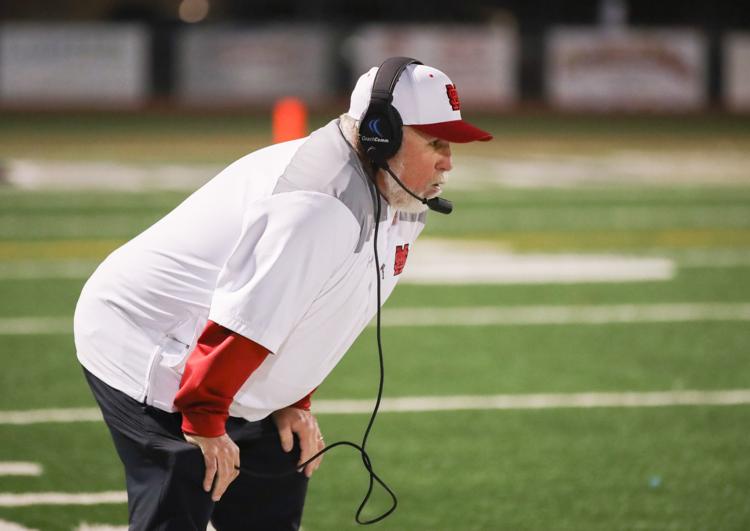 110119 PVHS vs SMHS 16.jpg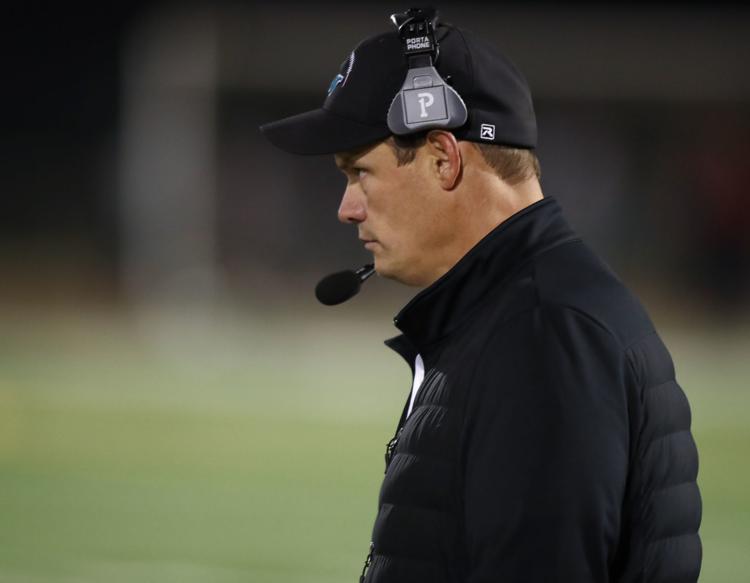 110119 PVHS vs SMHS 17.jpg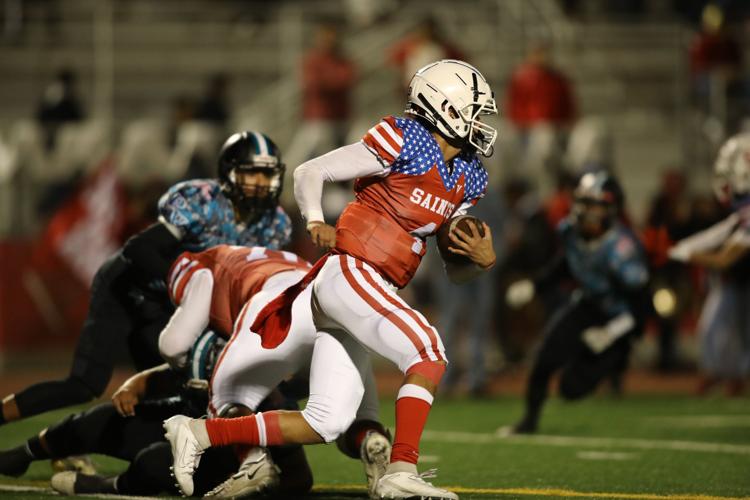 110119 PVHS vs SMHS 18.jpg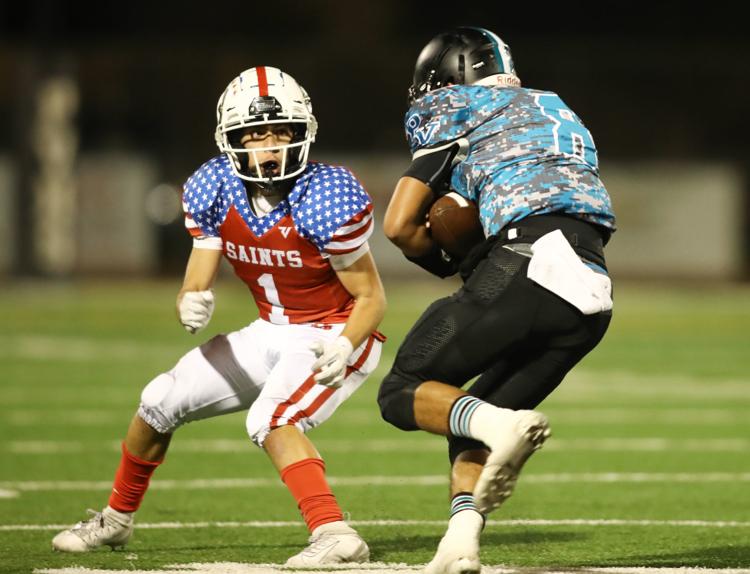 110119 PVHS vs SMHS 19.jpg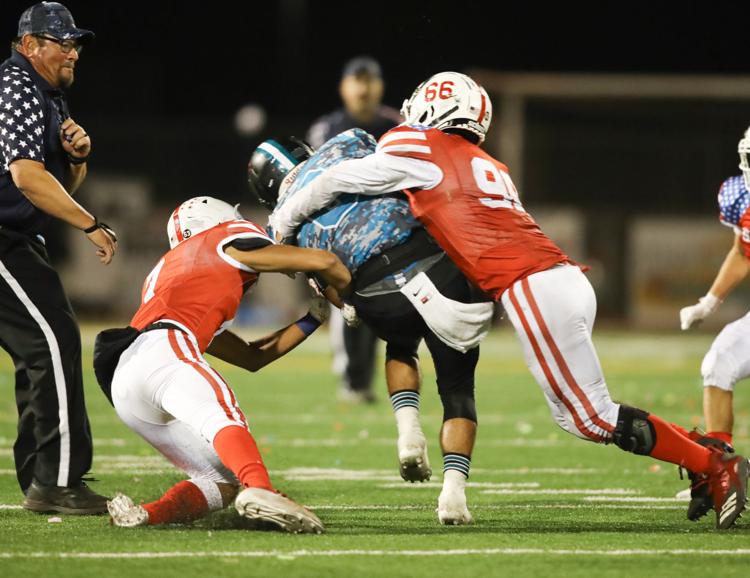 110119 PVHS vs SMHS 20.jpg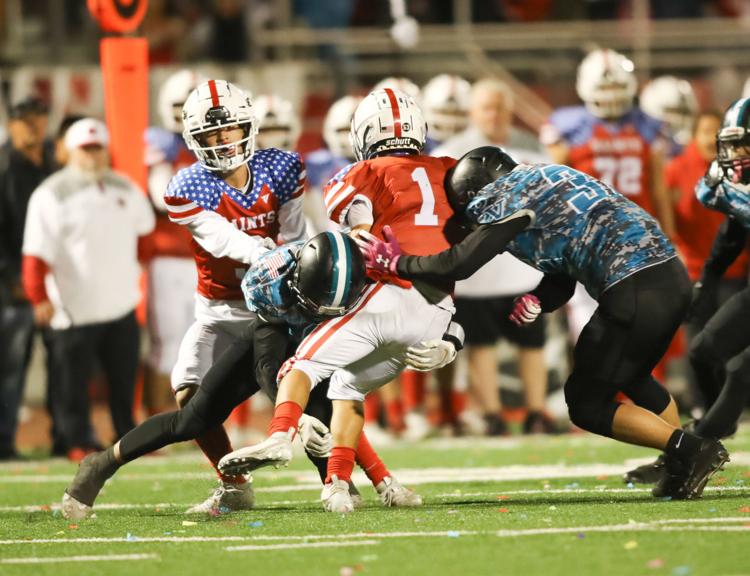 110119 PVHS vs SMHS 21.jpg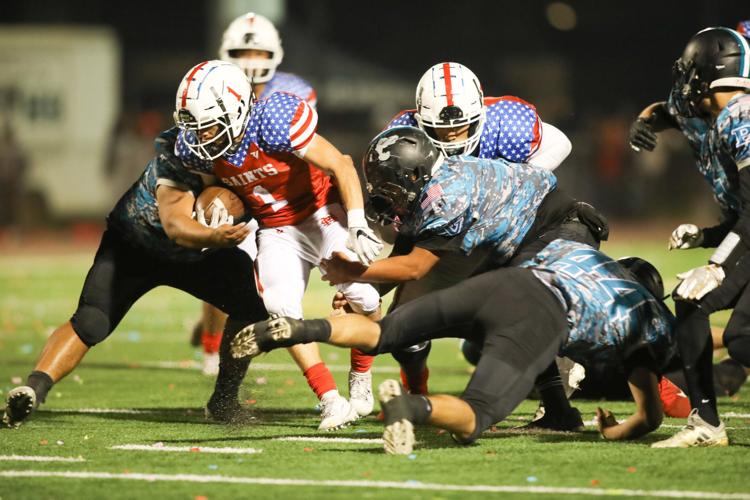 110119 PVHS vs SMHS 22.jpg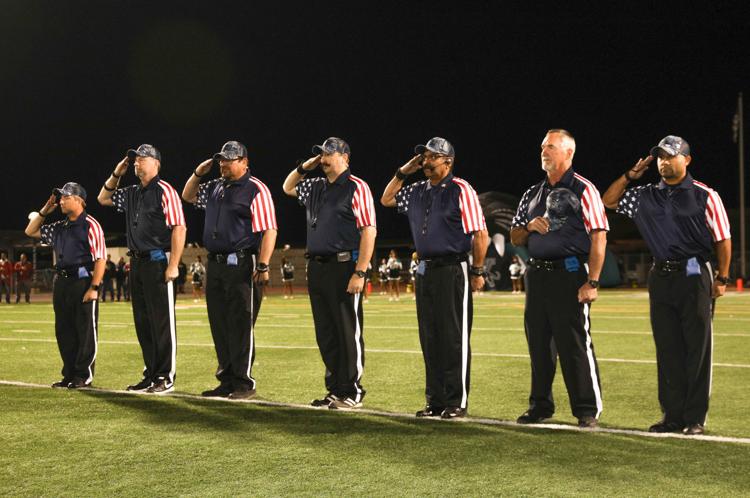 110119 PVHS vs SMHS 23.jpg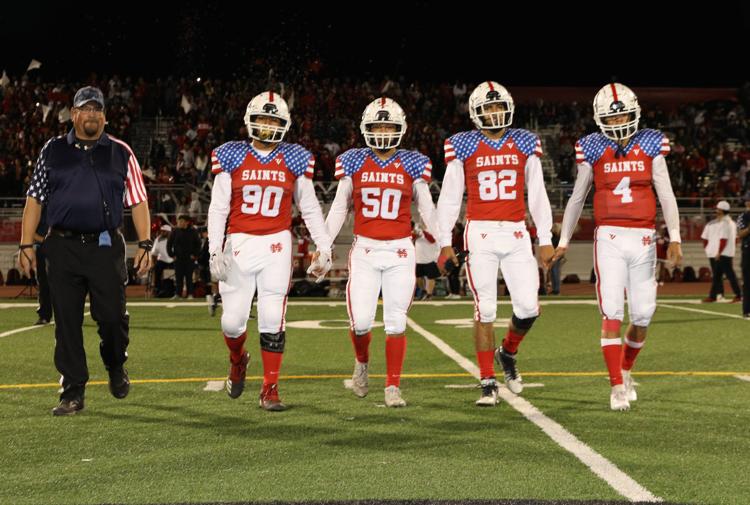 Get in the game with our Prep Sports Newsletter
Sent weekly directly to your inbox!