Russ Edwards' head football coaching career at Nipomo High School ended with the 2014 CIF Southern Section Northwest Division championship.
Nick Kimball caught a swing pass from Matt Albright at the Redlands Arrowhead Christian 30, ran in for the winning touchdown in the third quarter and the Titans held off the Eagles in the divisional title game.
Nipomo finished with a 22-19 win at Nipomo, a golden finale for Edwards as Nipomo's head football coach.
"I can't believe we are champions," said Nipomo lineman Ely-Jah Pu'a afterward. "Hats off to Arrowhead Christian. It was a great game. I'm so happy."
"I'm speechless," Nipomo senior running back Chris Owens said. "I'm just speechless. I can't believe we made it this far."
ACA quarterback Bradley Mowbray hit his cousin Isaac Mowbray for a 24-yard touchdown pass to pull the Eagles within 22-19. The two-point conversion pass failed, and that was it for the scoring.
Kimball appeared to effectively end the game with an interception. Personal fouls on both teams negated the play, but the Titans tackled Isaac Mowbray at the Nipomo 35 to end it.
Nipomo had 124 yards of offense at intermission but ran the ball effectively in the second half.
Antonio Navarro's one-yard run ended a 15-play, 70-yard scoring drive with 2:26 left in the third quarter. Kimball's point-after kick put Nipomo ahead 14-13.
Mickey was a dynamic play-maker all over the field all three varsity seasons he competed for the Eagles. It's no wonder they went 29-8 during his career there and he was offered a spot at Cal Poly once it ended.
Most of the work on the drive was done on the ground, although Kimball shook off a tackle in the backfield on a third-down pass and ran for eight yards and a first down to keep the drive alive.
"Just straight ahead drive-blocking," said Pu'a about the Nipomo ground work on the drive. "Smashmouth football."
Albright hit Kimball with a strike for 38 yards to the Eagles 2. That set up a Michael Jordan two-yard run for the first score of the game.
The Eagles scored four plays later when Bradley Mowbray connected with Isaac Mowbray on a seven-yard touchdown pass.
Area athletes have been pulling in scholarship offers to continue their football careers at the next level. 
Nipomo failed to take advantage of short fields three times in the second quarter, and Noah Mowbray broke up Kimball's pass in the end zone for Kai Givogue on a fake field goal try on fourth down.
The Eagles kept the prolific Albright to 35 yards passing. Matt Sparks and David Leon helped save the Titans when they sacked Bradley Mowbray for a four-yard loss on fourth down from the Nipomo 19.
Owens rushed 11 times, for 52 yards.
Kimball subsequently earned the Santa Maria Times All-Area MVP award. Albright was the Offensive Player of the Year.
Santa_Maria_Times_Sun__Dec_7__2014_.jpg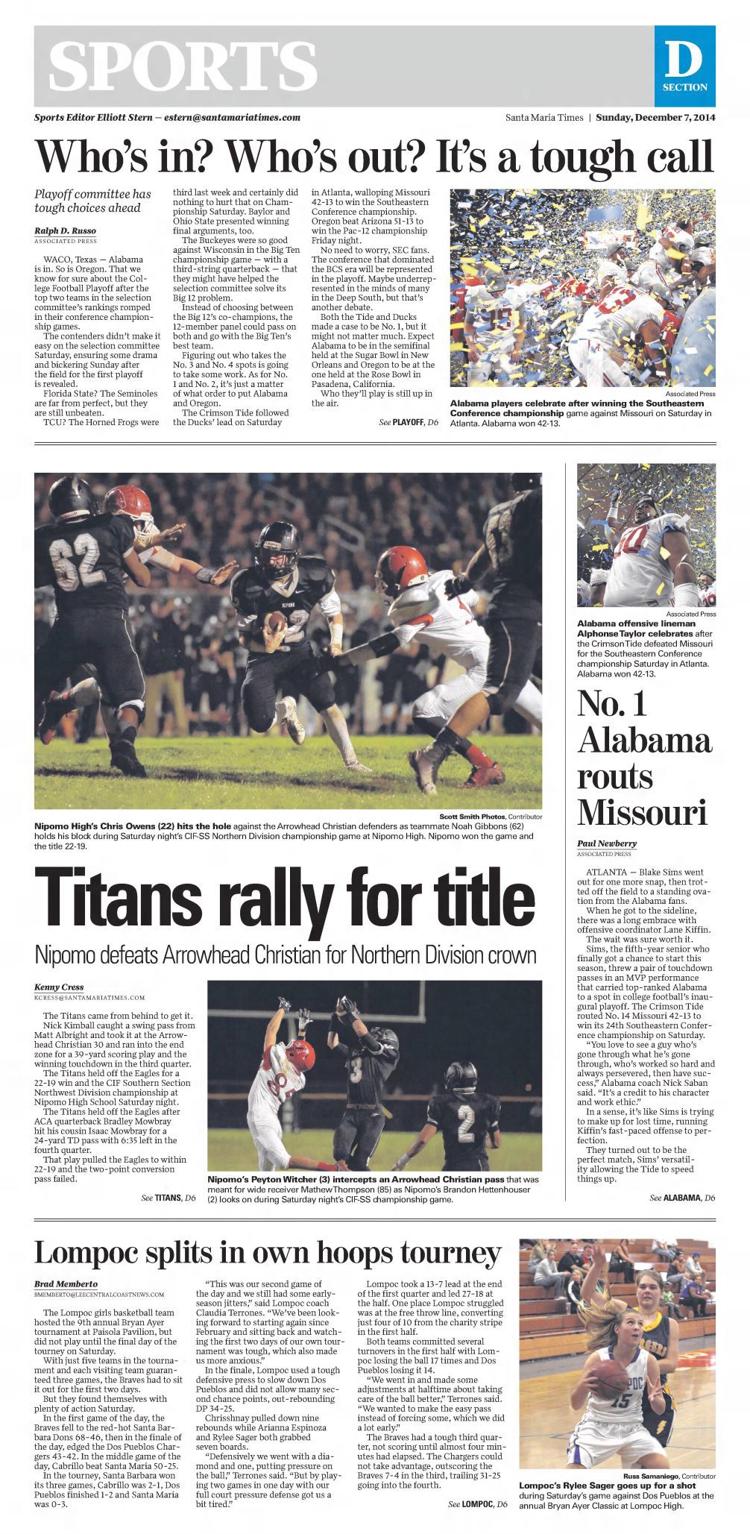 Santa_Maria_Times_Sat__Dec_6__2014_.jpg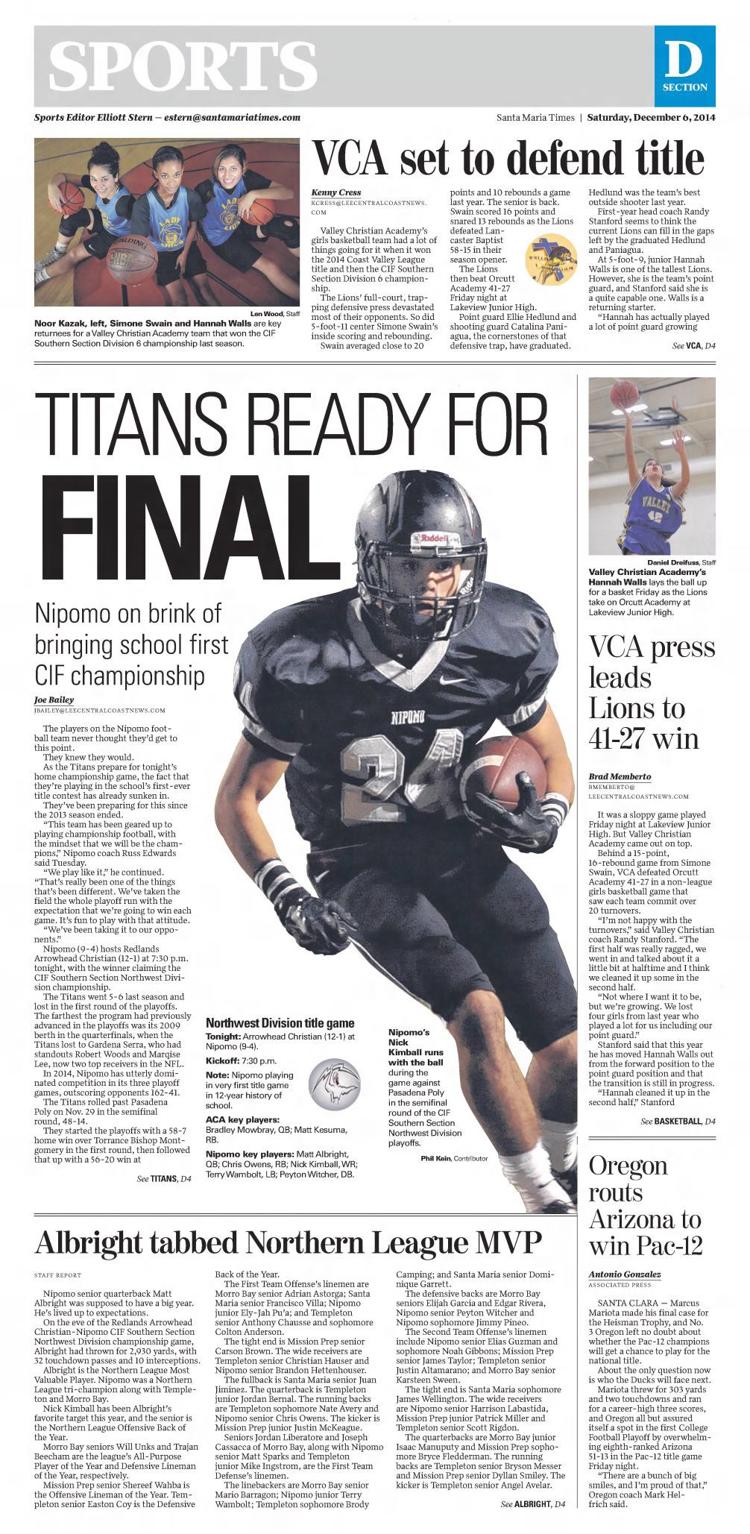 Santa_Maria_Times_Sat__Dec_6__2014_ (1).jpg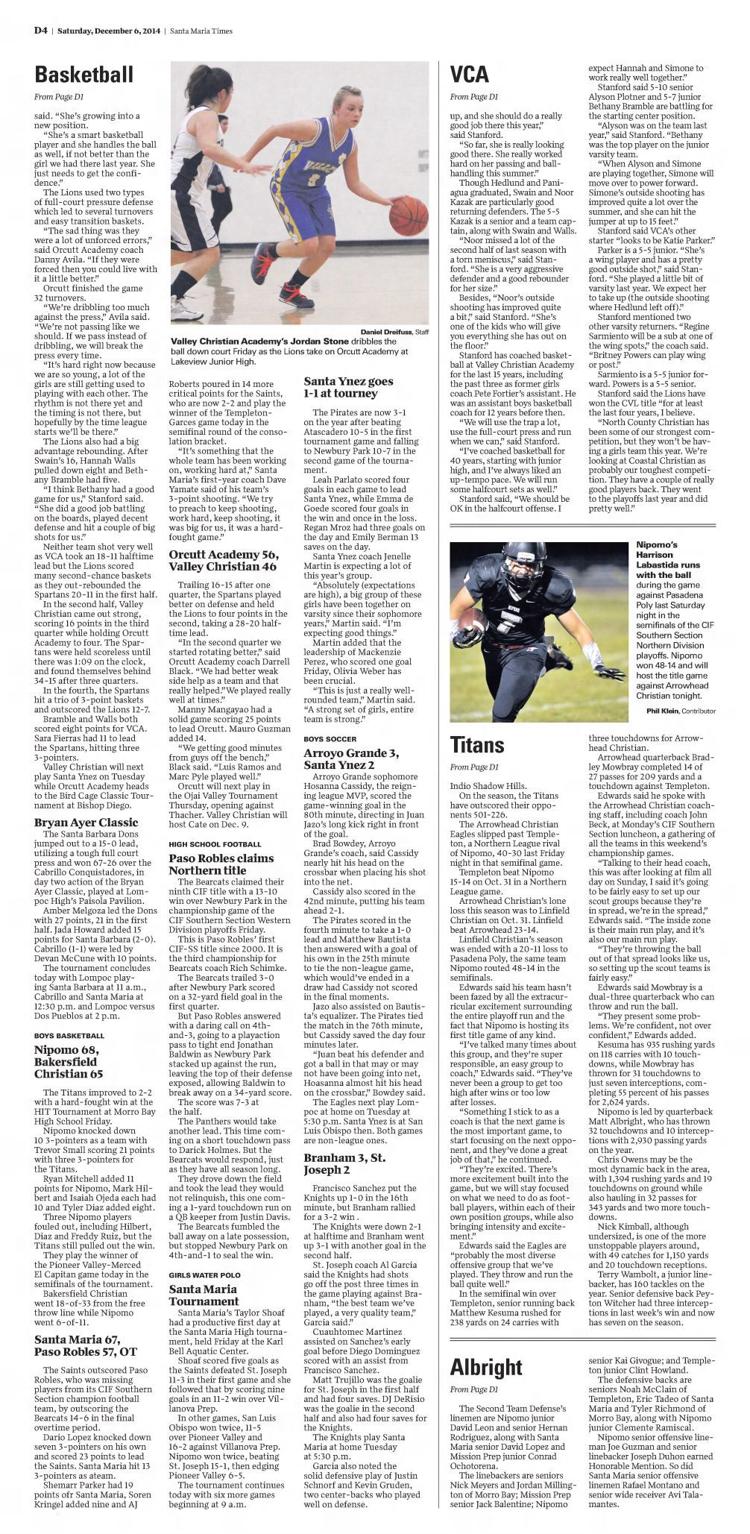 Santa_Maria_Times_Sun__Nov_30__2014_.jpg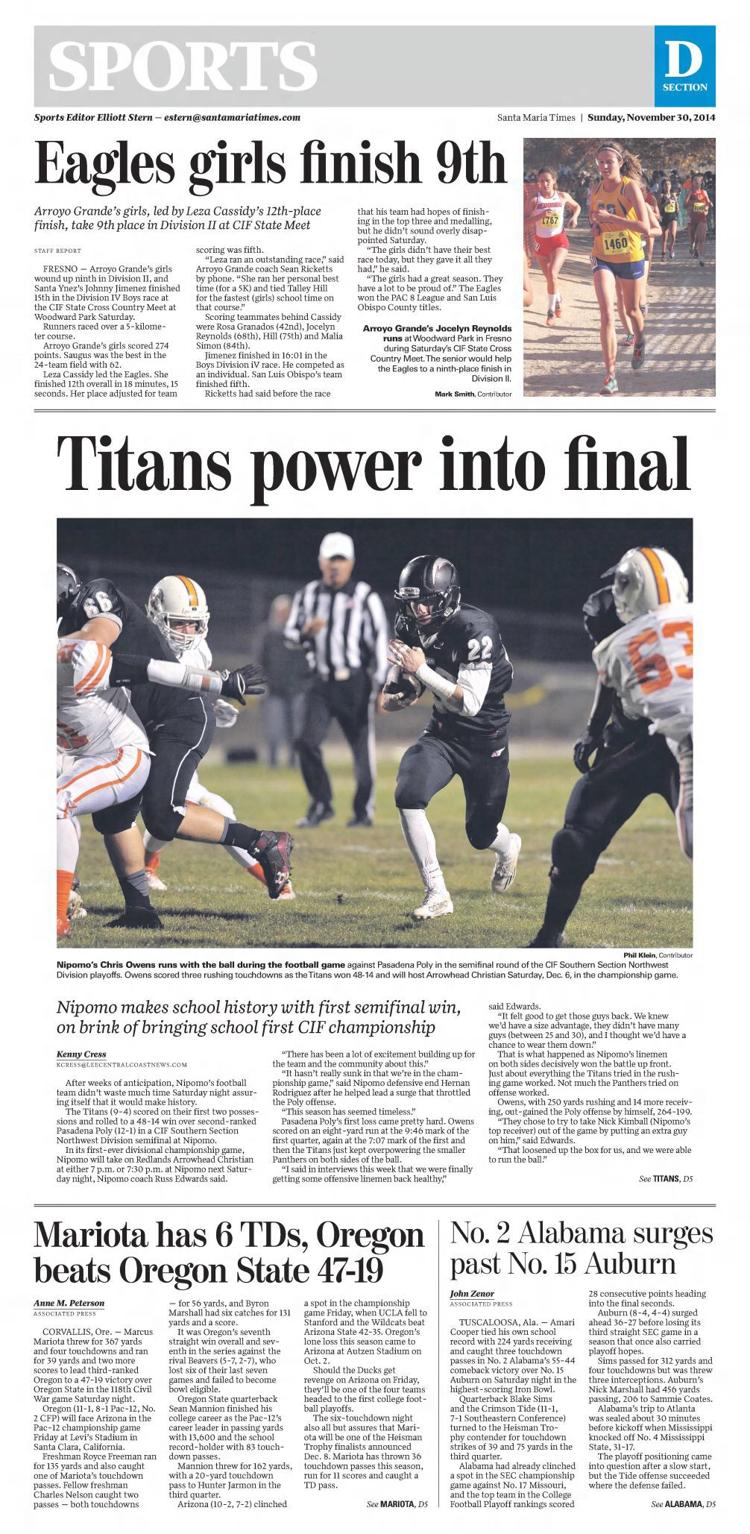 Santa_Maria_Times_Sat__Nov_29__2014_.jpg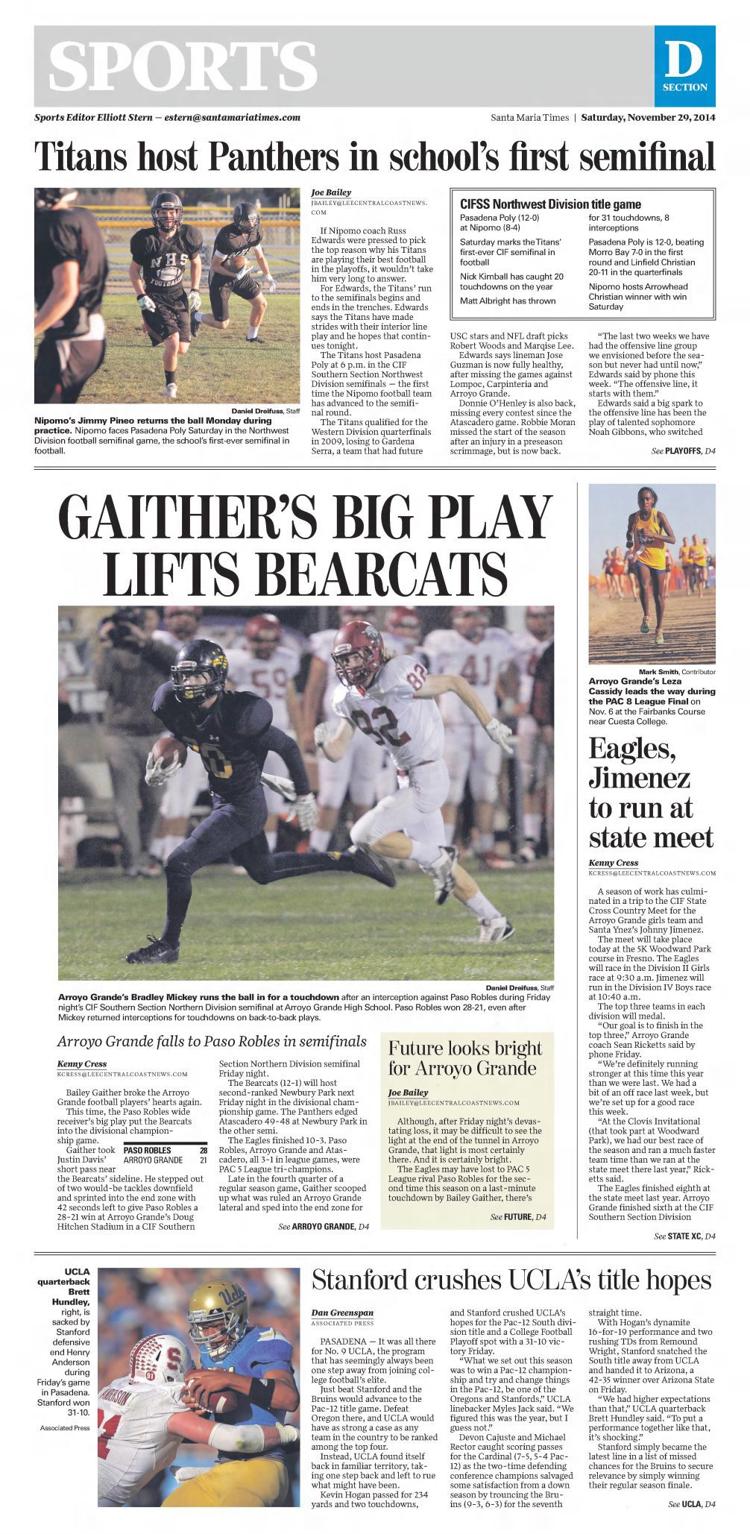 Santa_Maria_Times_Sat__Nov_29__2014_ (1).jpg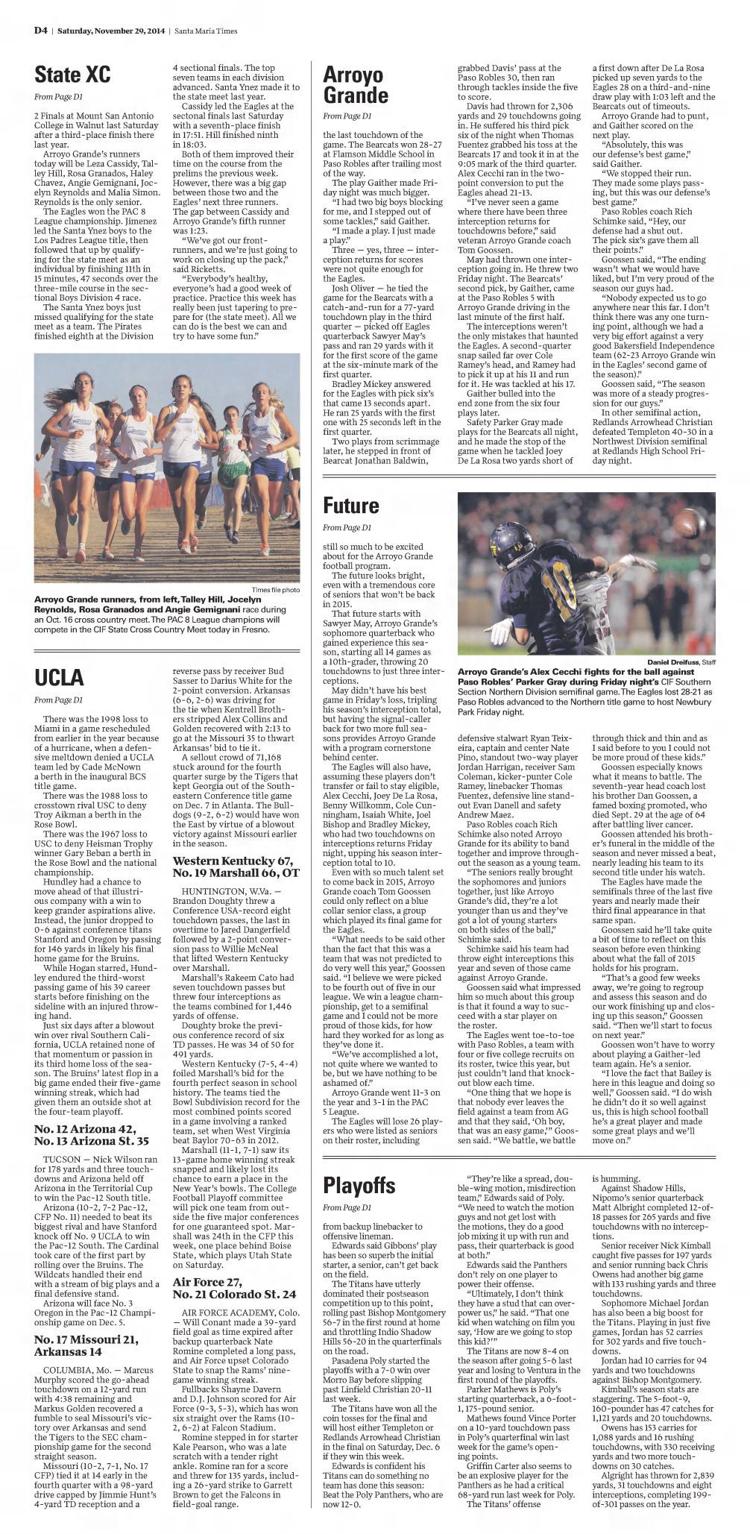 Santa_Maria_Times_Sat__Nov_22__2014_.jpg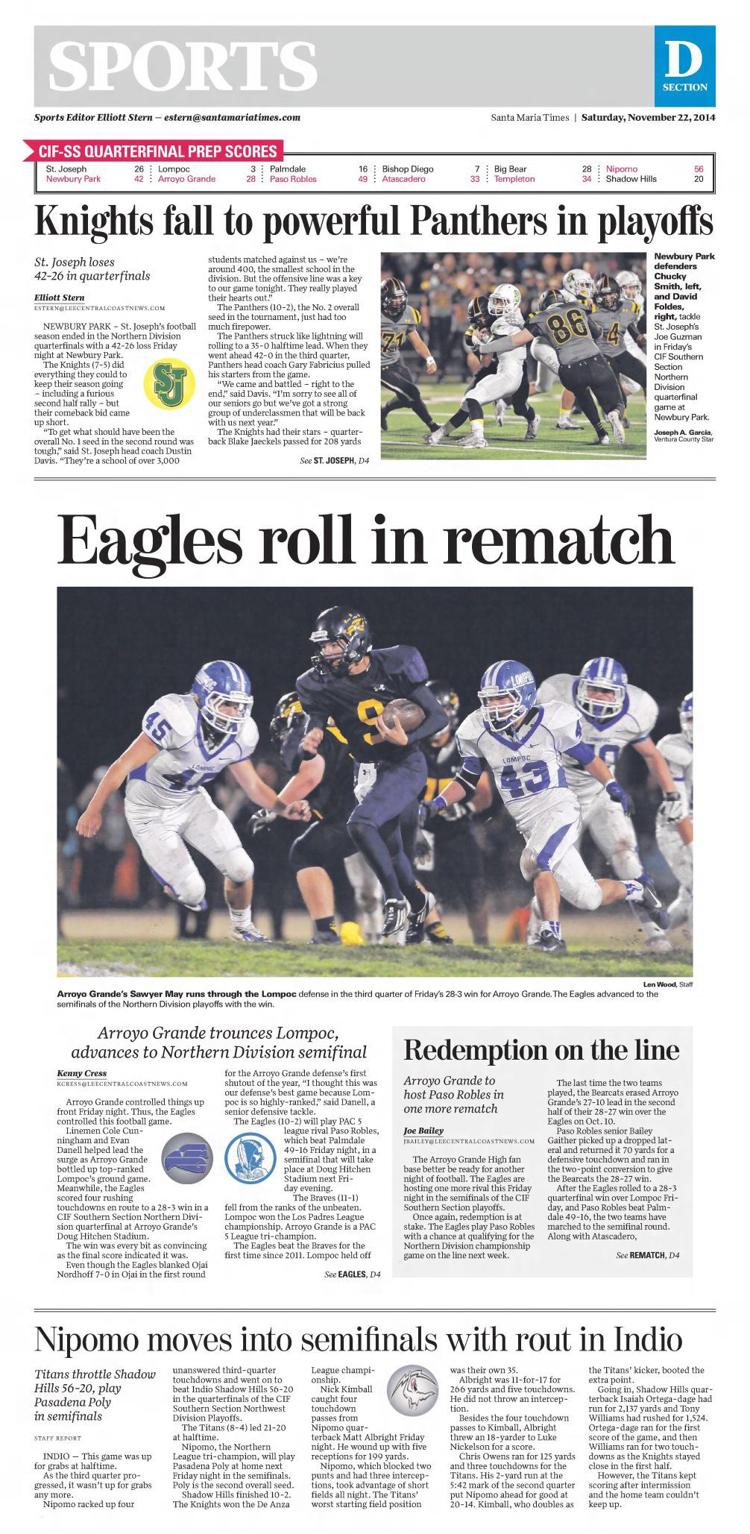 Santa_Maria_Times_Sat__Nov_22__2014_ (1).jpg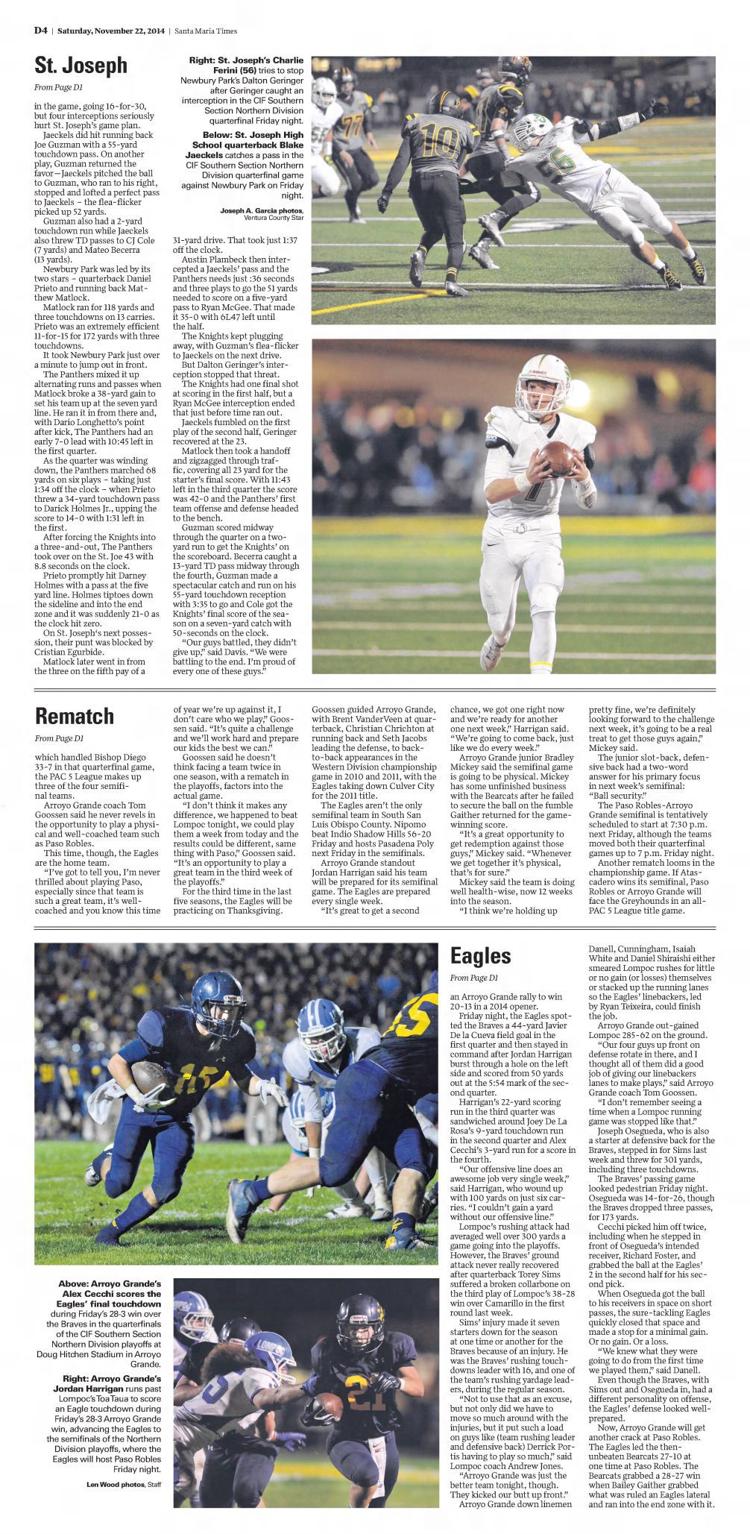 Santa_Maria_Times_Sat__Nov_15__2014_.jpg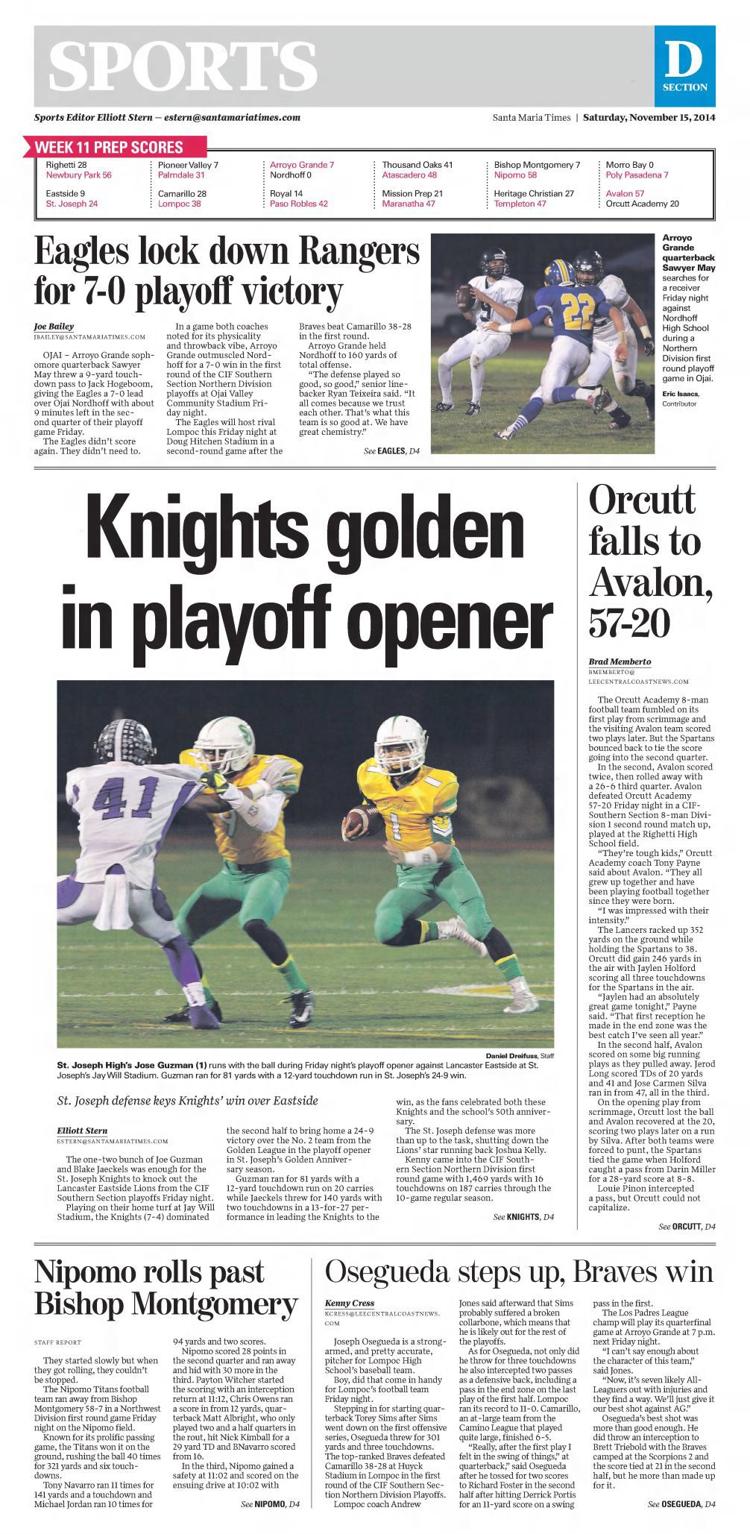 Santa_Maria_Times_Sat__Nov_15__2014_ (1).jpg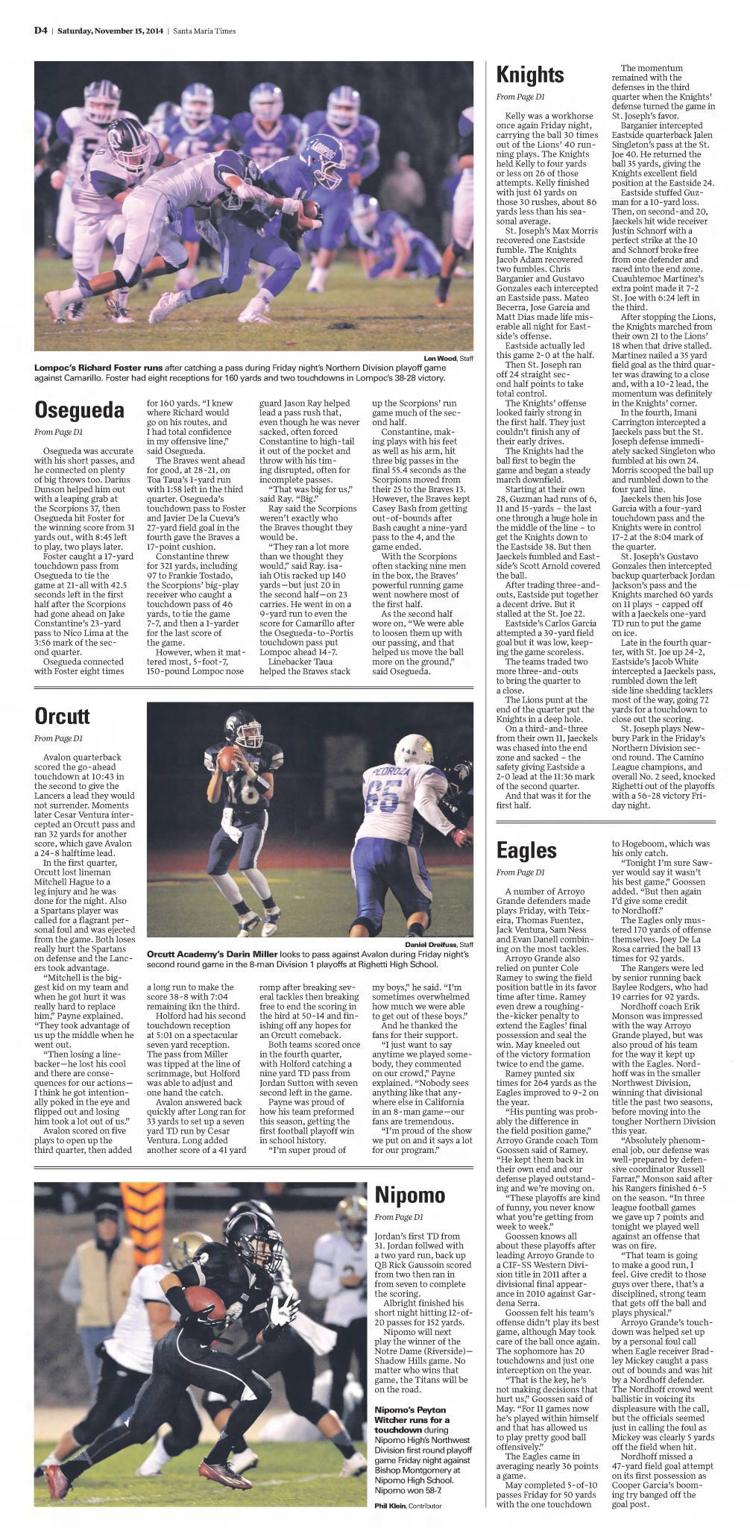 Santa_Maria_Times_Sat__Nov_1__2014_.jpg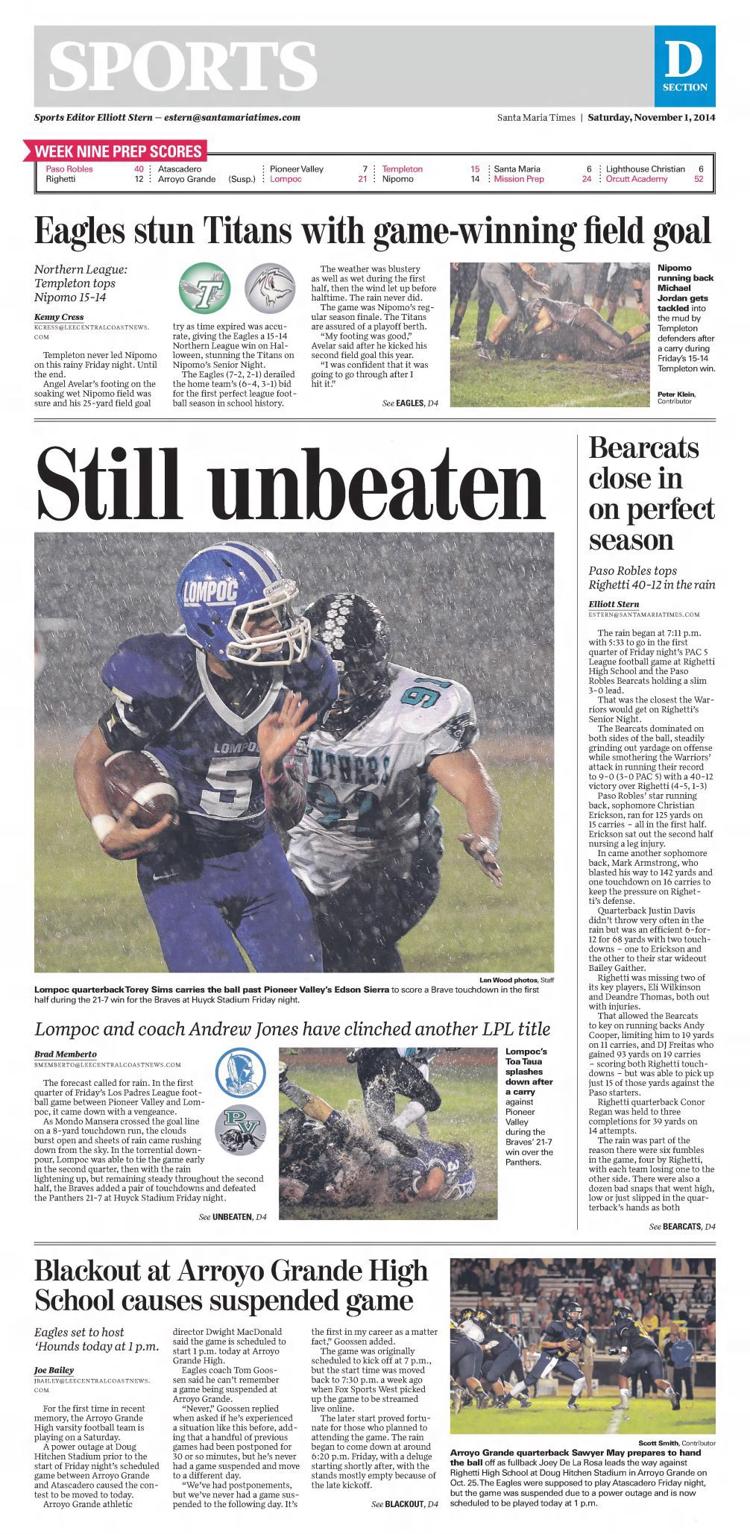 Santa_Maria_Times_Sat__Nov_1__2014_ (1).jpg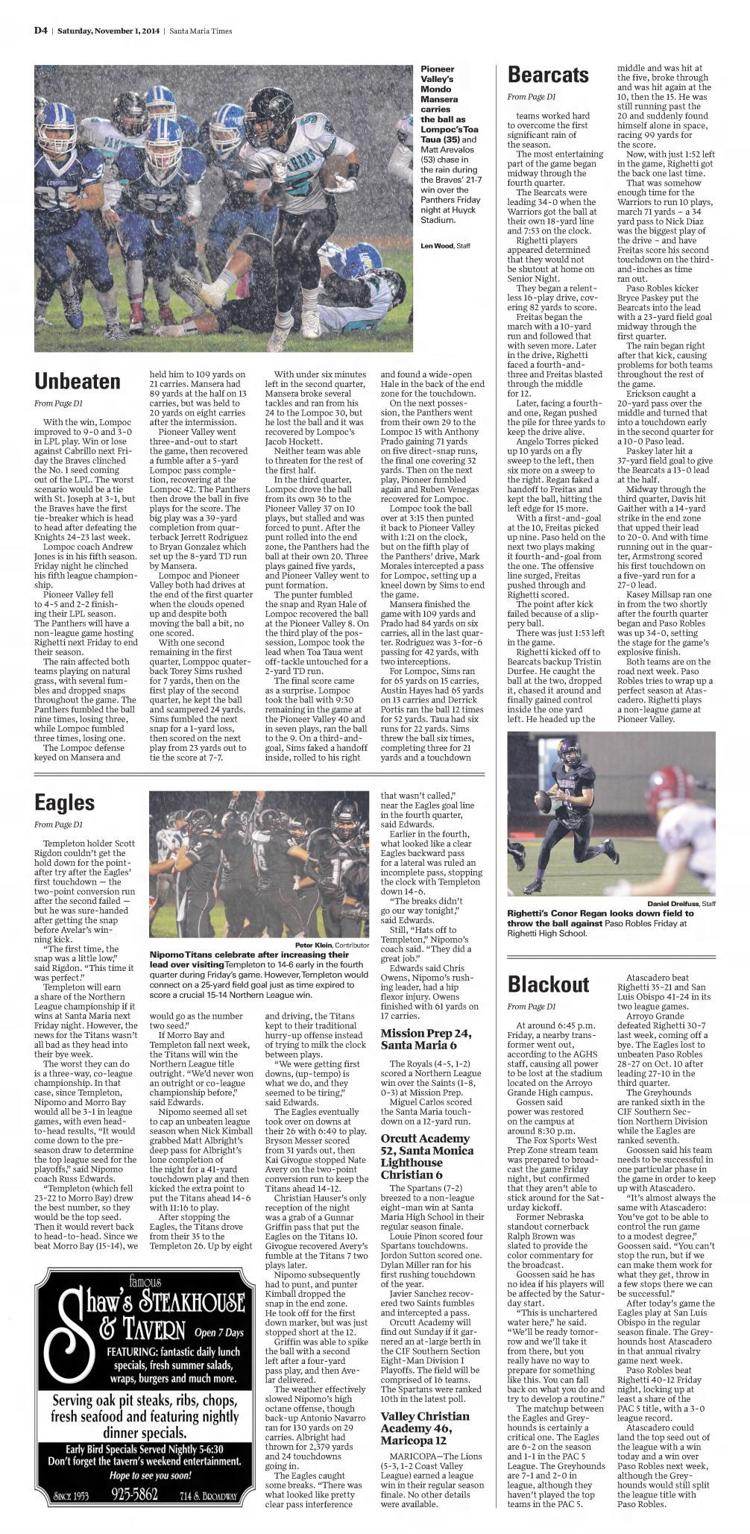 Santa_Maria_Times_Sat__Oct_18__2014_.jpg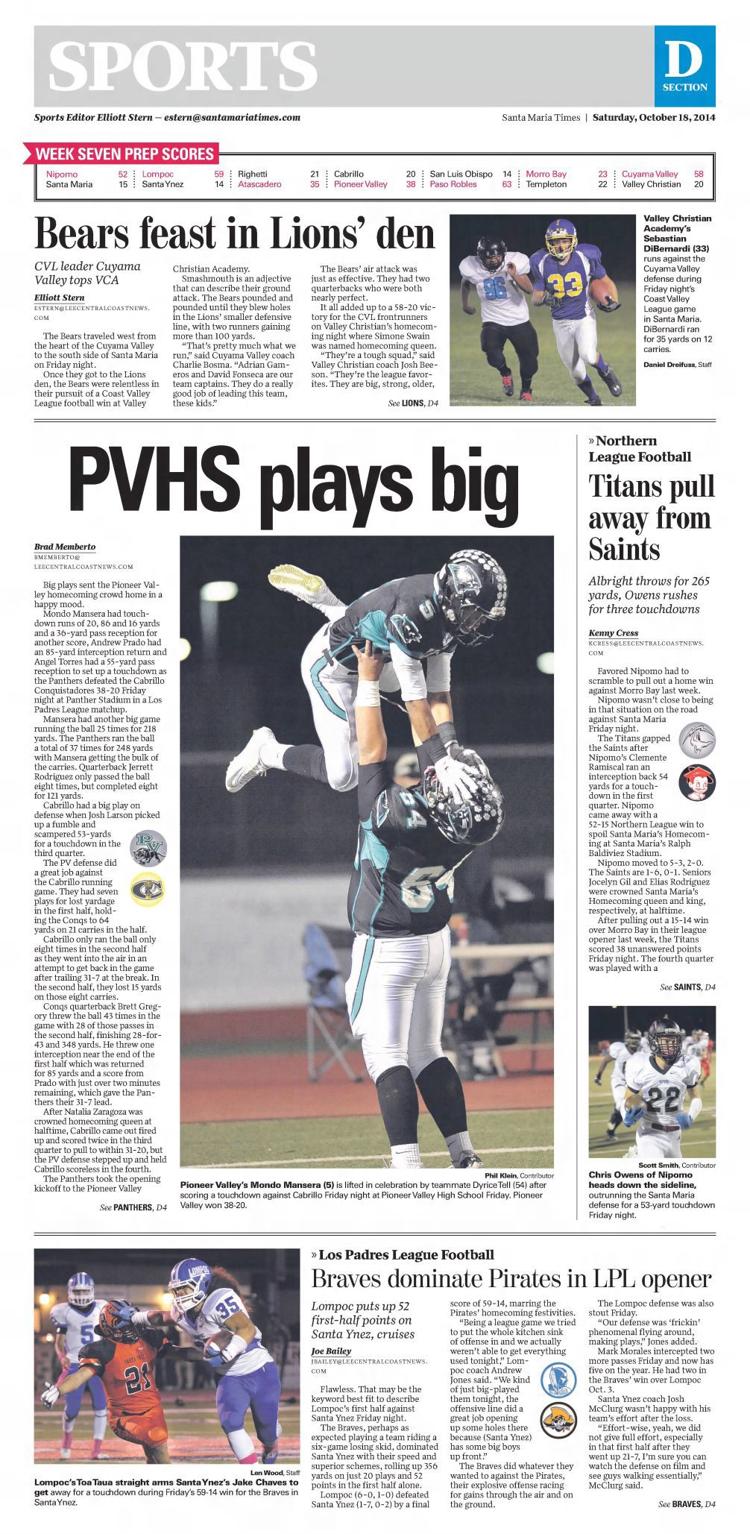 Santa_Maria_Times_Sat__Oct_18__2014_ (2).jpg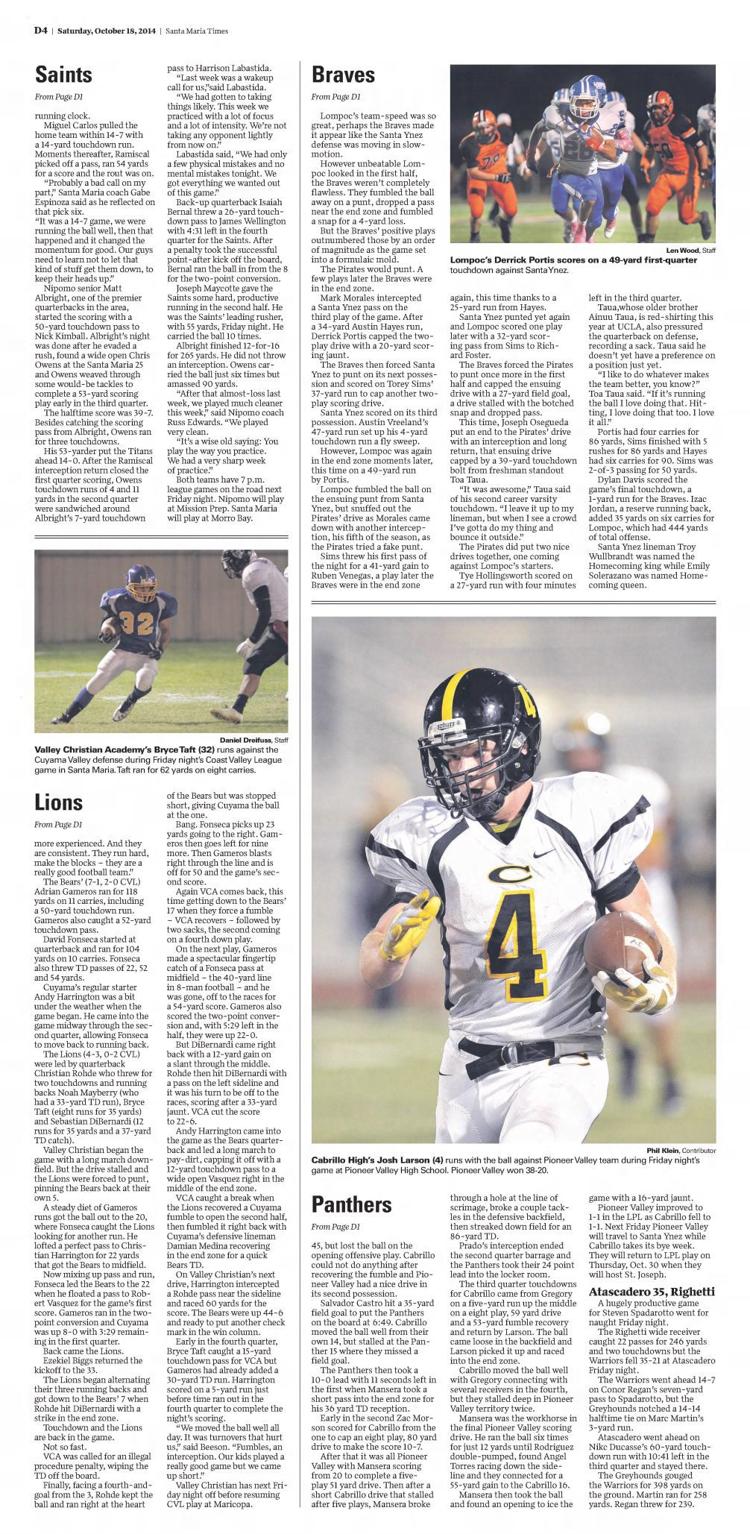 Santa_Maria_Times_Sat__Oct_11__2014_.jpg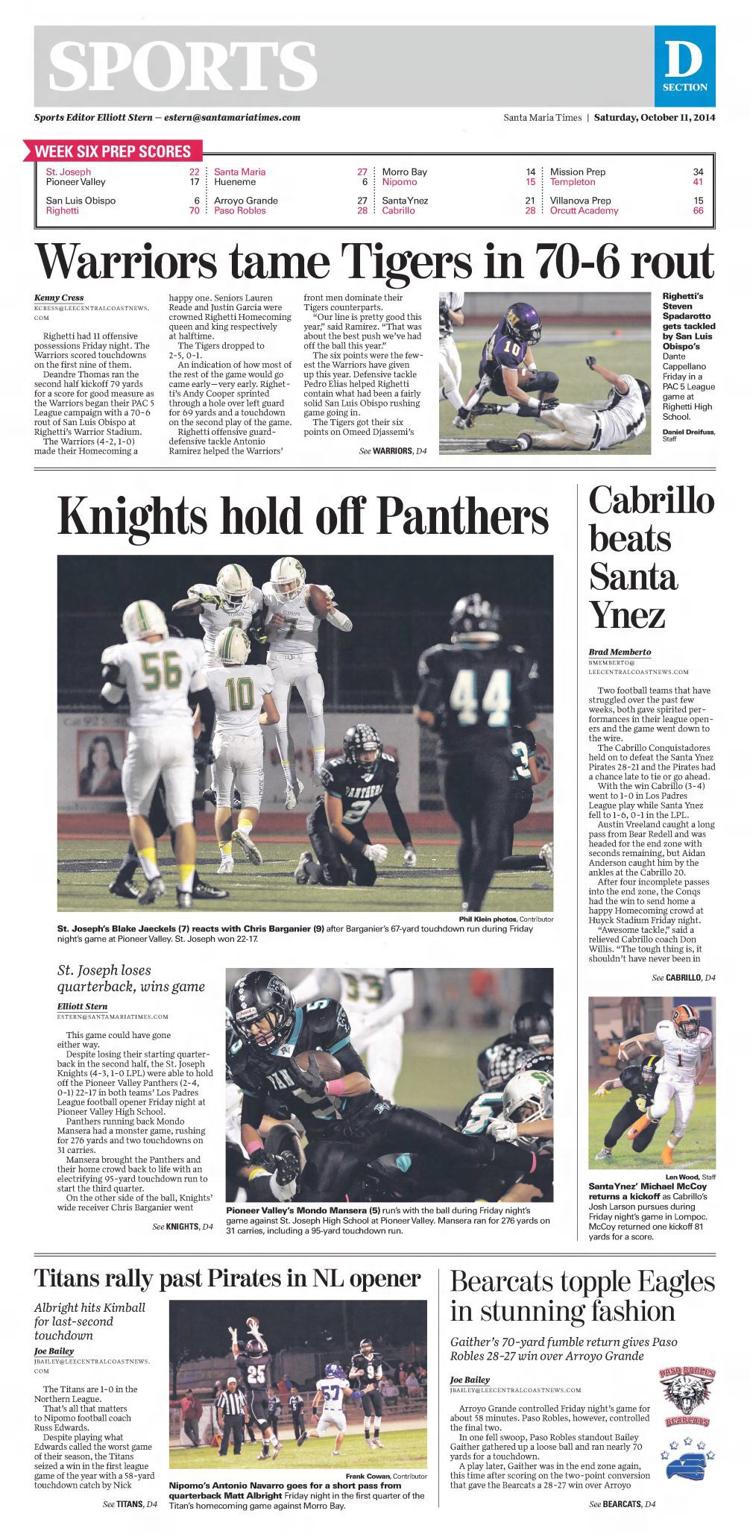 Santa_Maria_Times_Sat__Oct_11__2014_ (1).jpg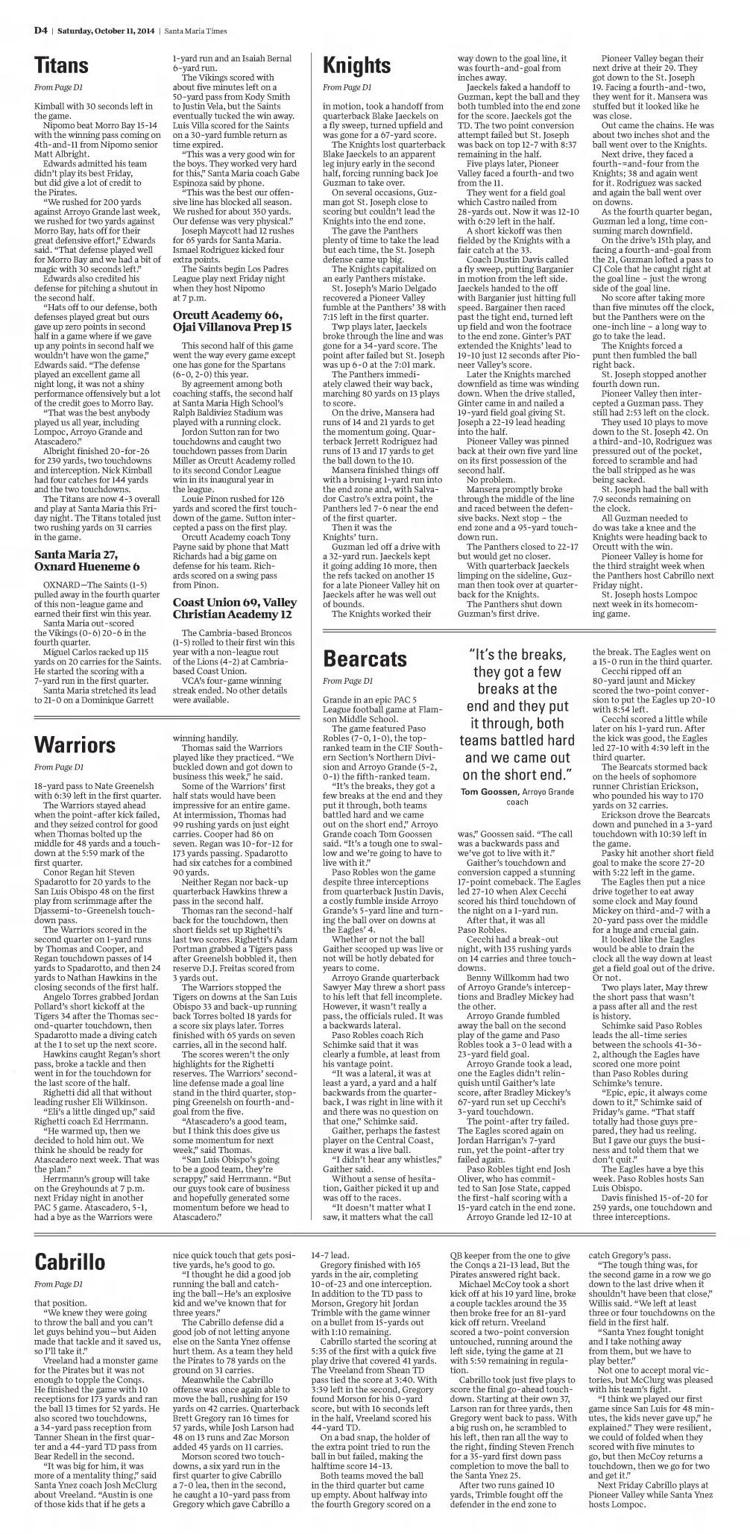 Santa_Maria_Times_Sat__Oct_4__2014_.jpg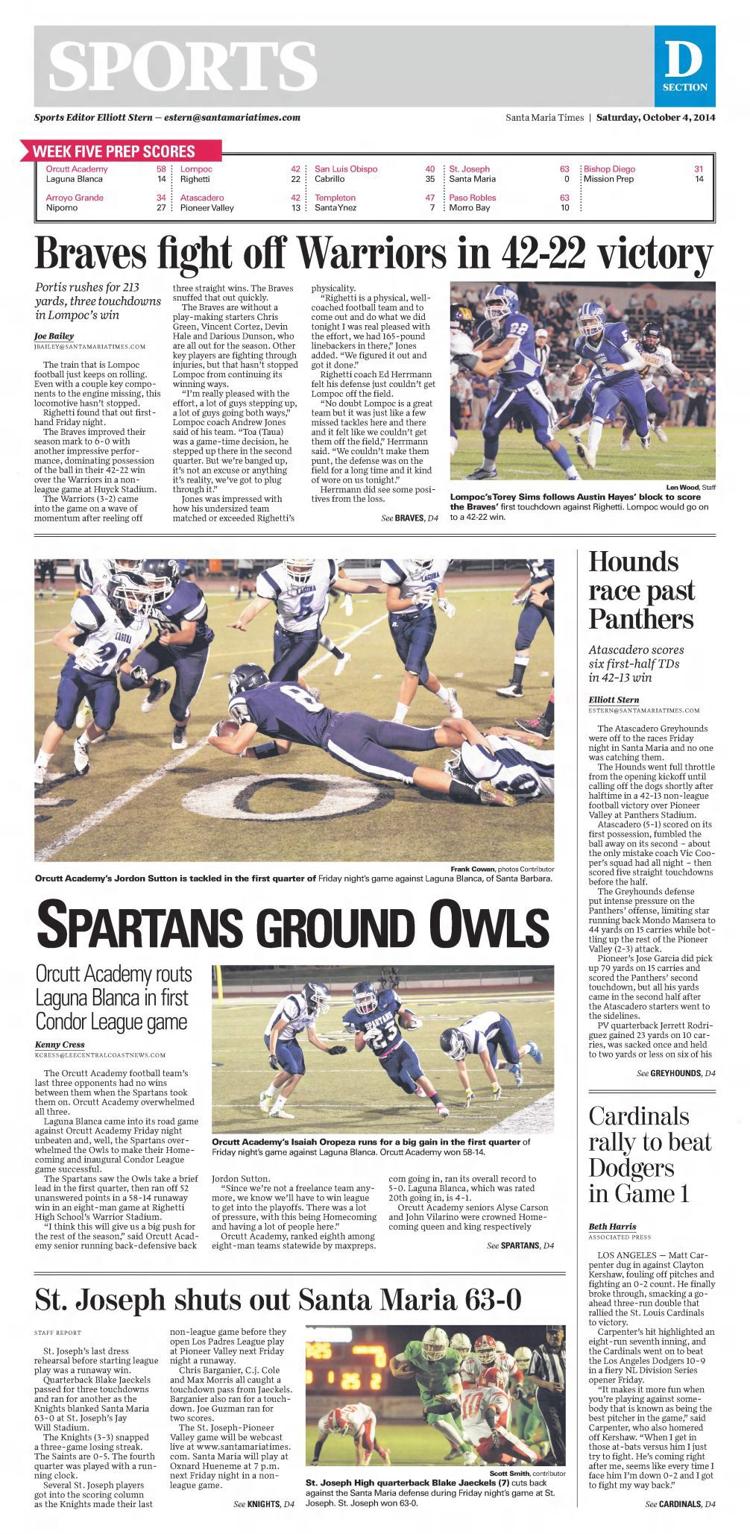 Santa_Maria_Times_Sat__Oct_4__2014_ (1).jpg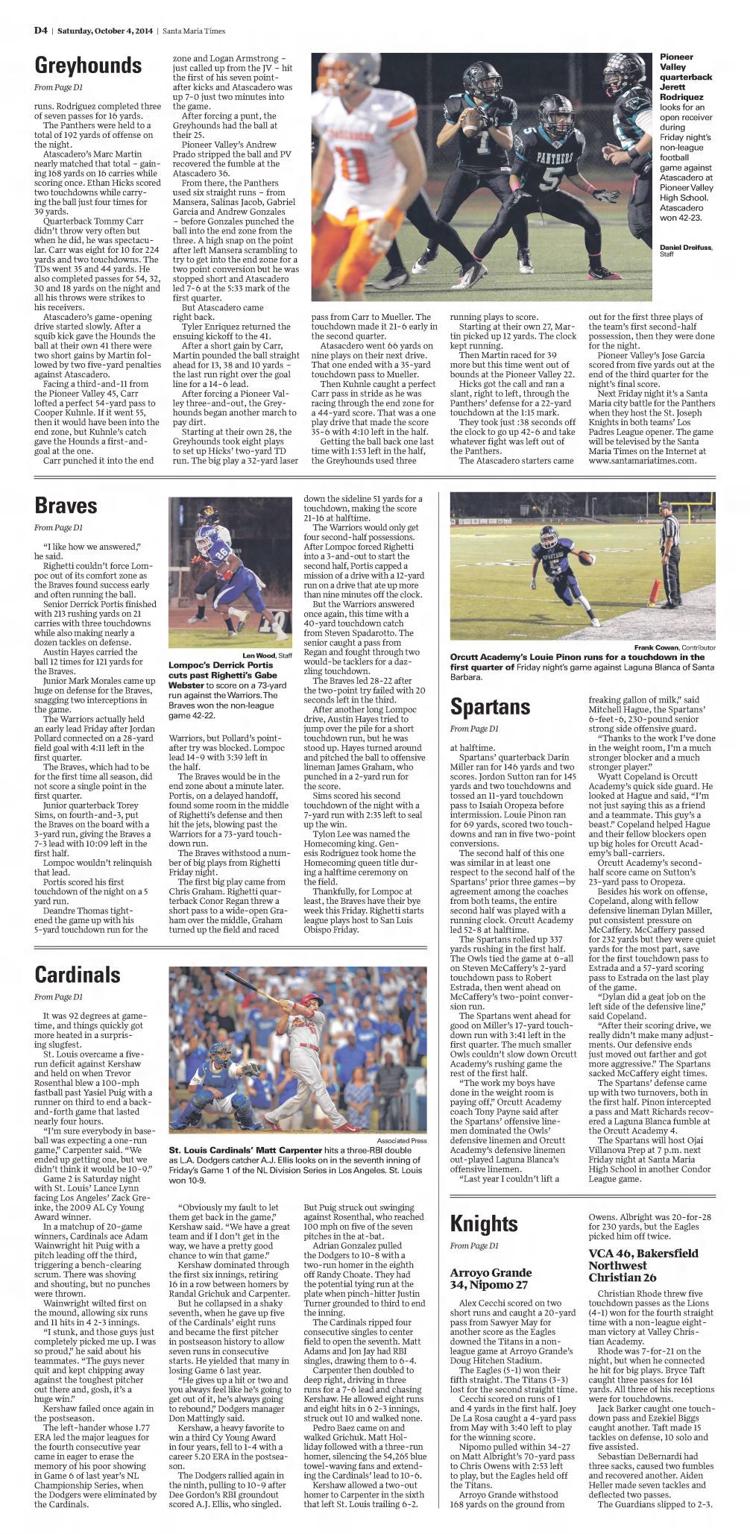 Santa_Maria_Times_Sat__Sep_20__2014_.jpg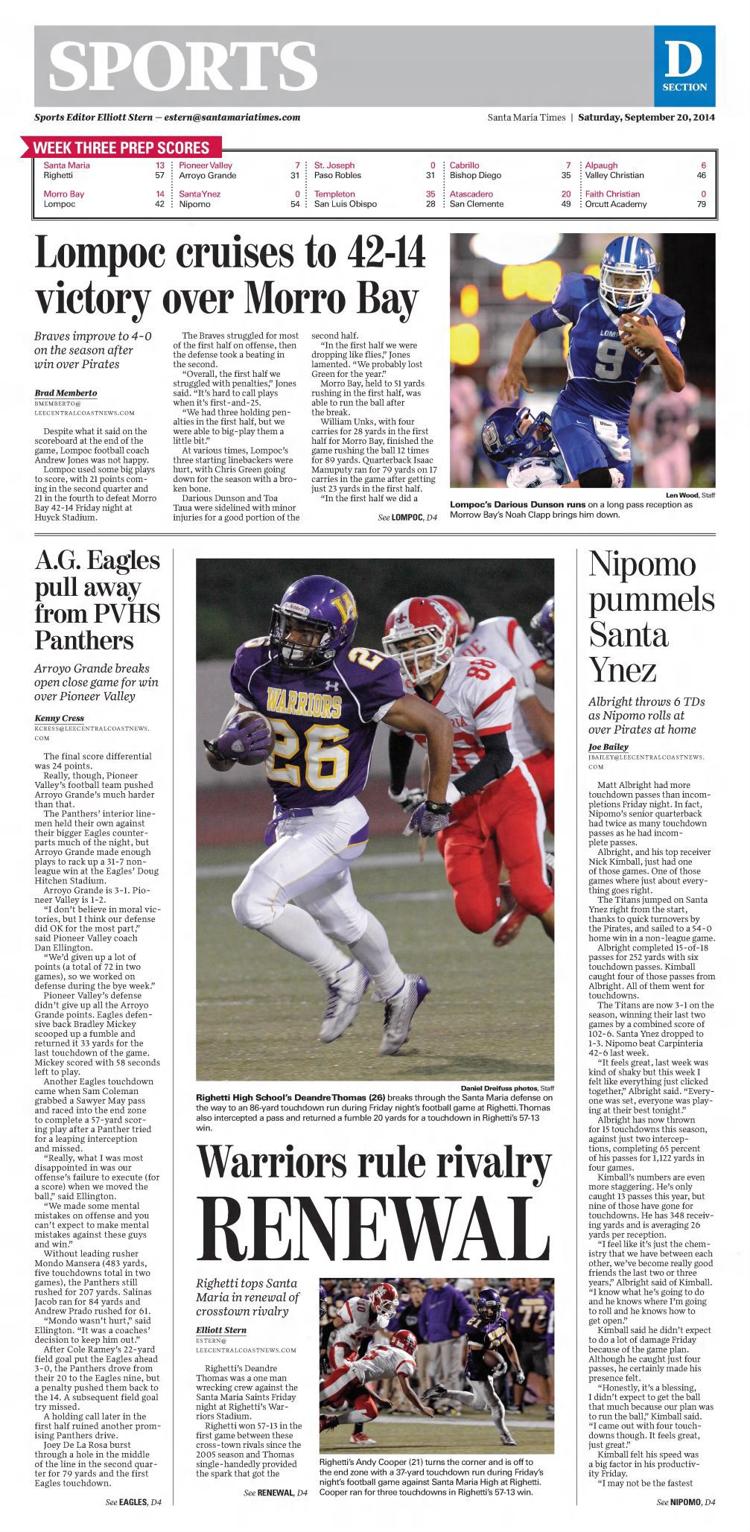 Santa_Maria_Times_Sat__Sep_20__2014_ (1).jpg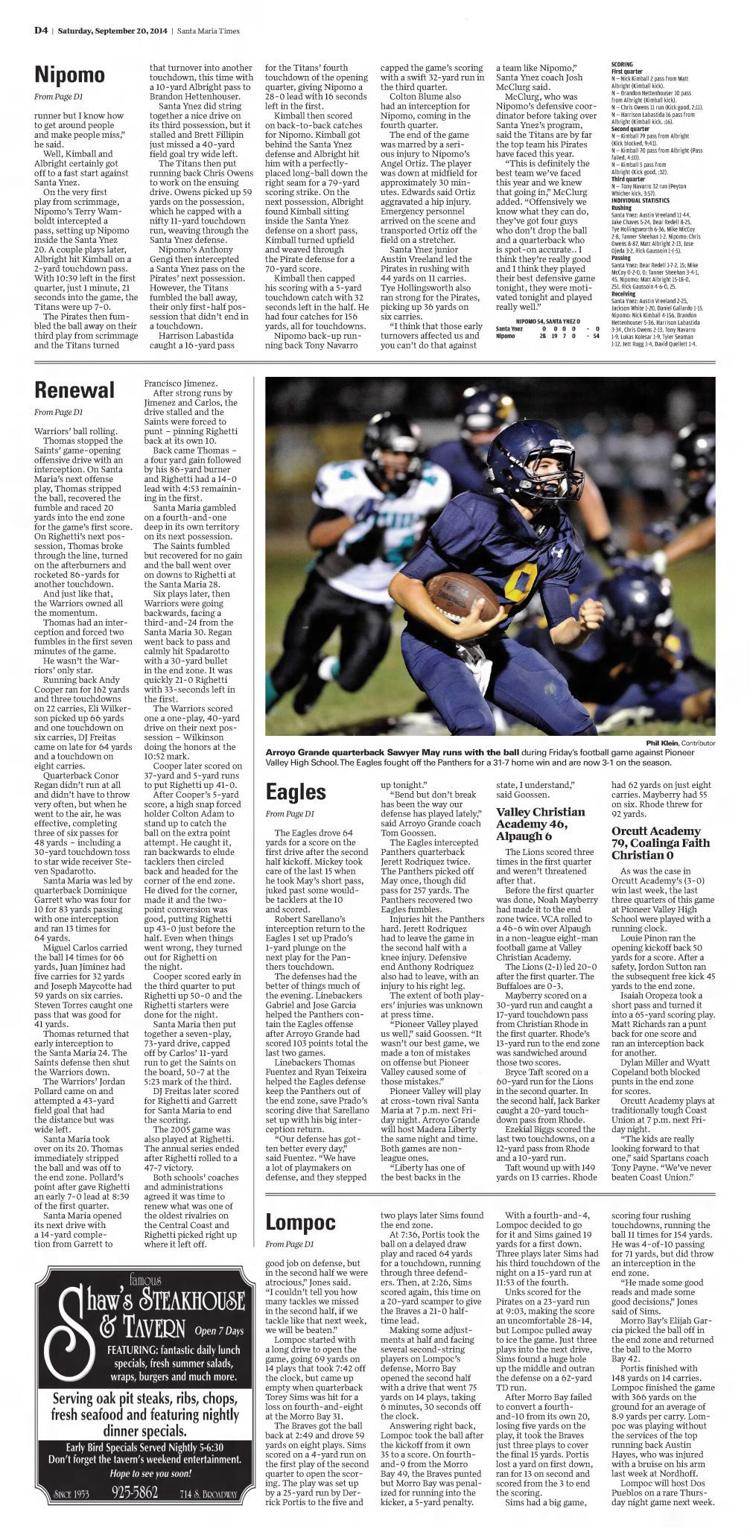 Santa_Maria_Times_Sat__Sep_6__2014_.jpg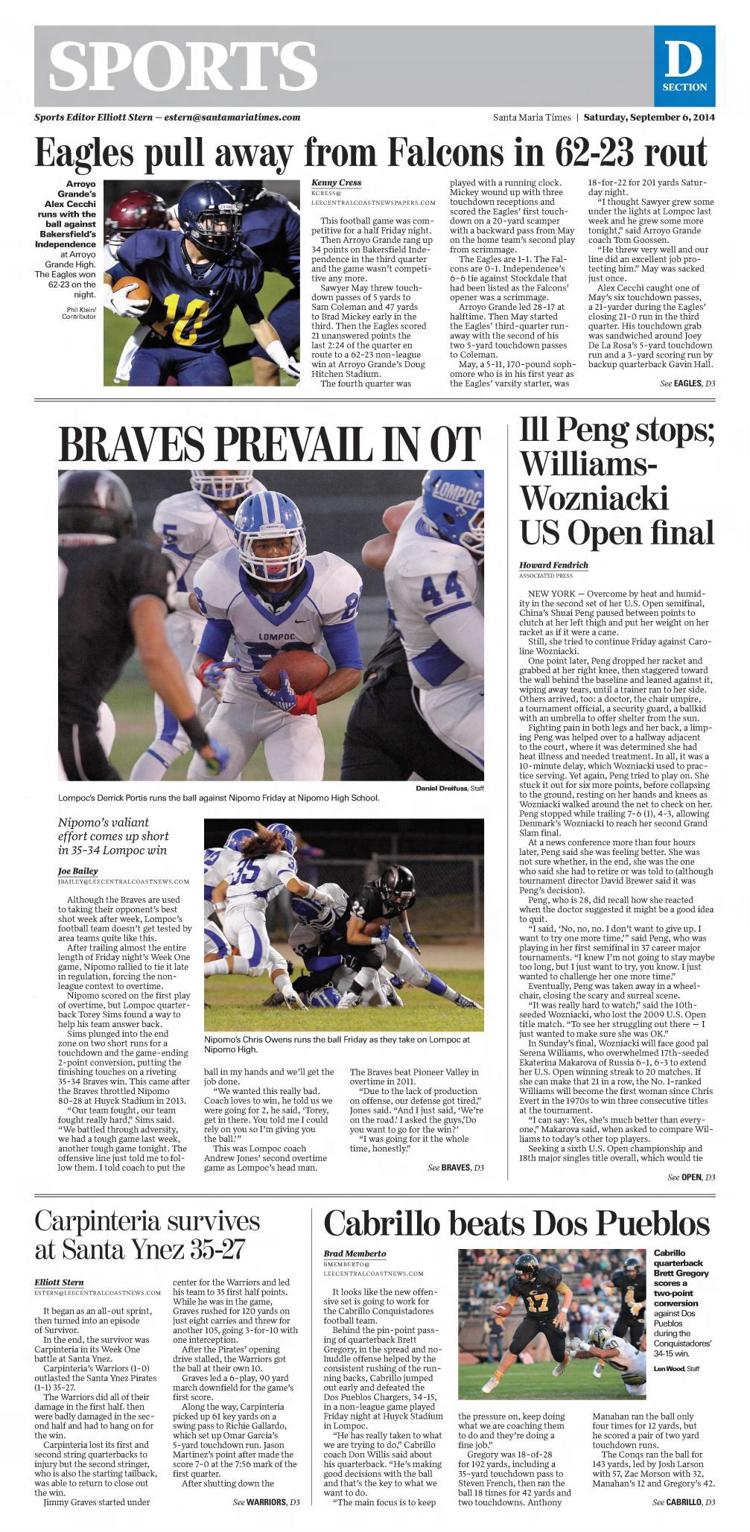 Santa_Maria_Times_Sat__Sep_6__2014_ (1).jpg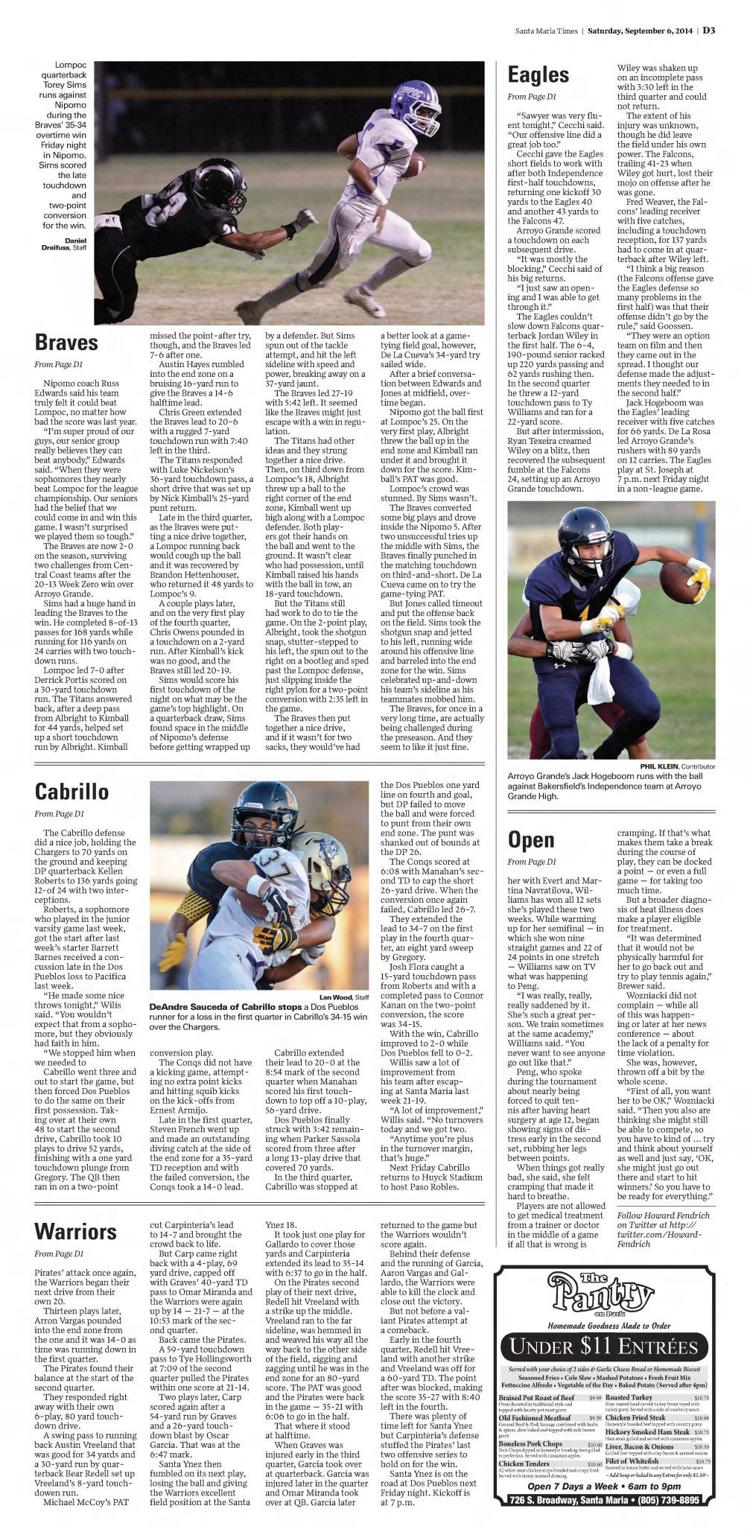 Santa_Maria_Times_Sat__Aug_30__2014_.jpg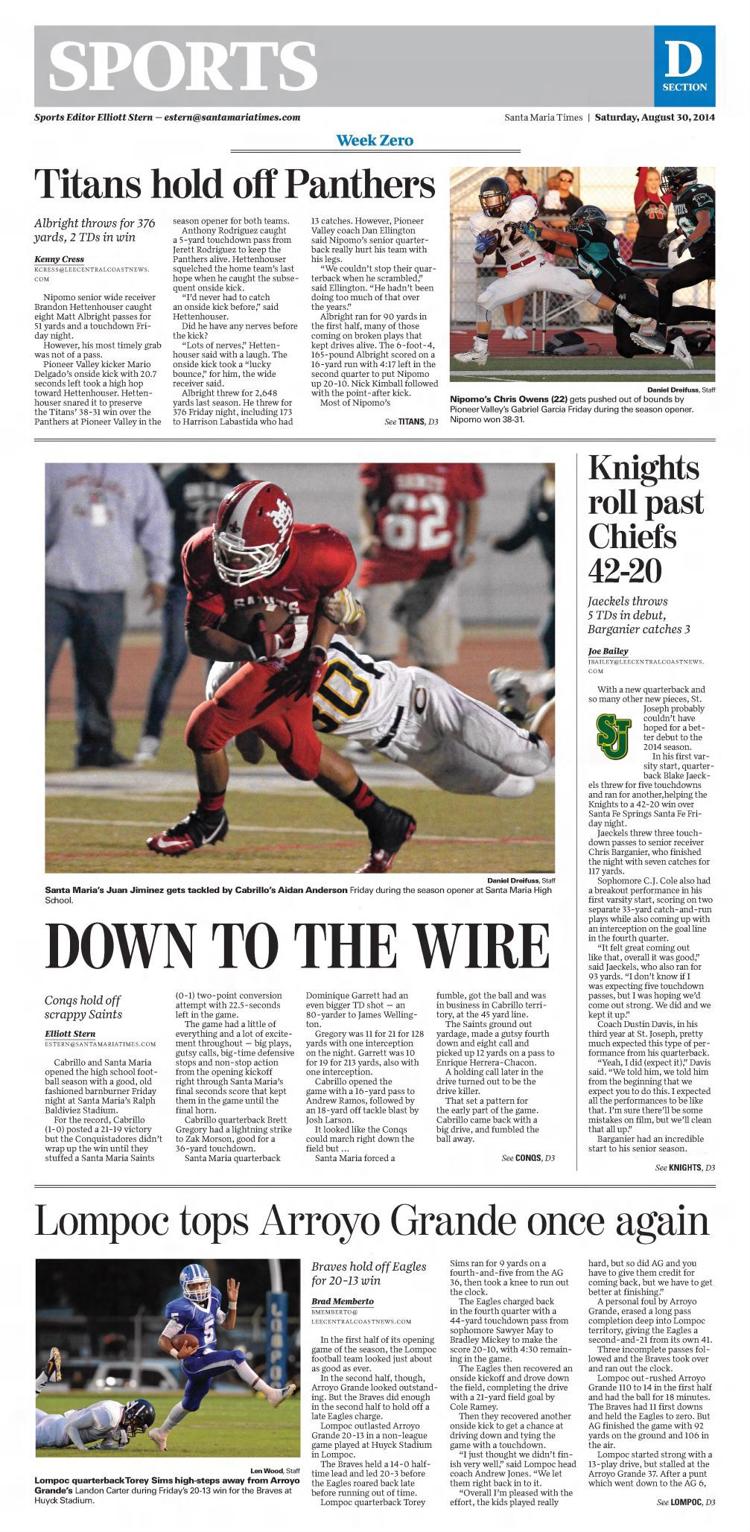 Santa_Maria_Times_Sat__Aug_30__2014_ (1).jpg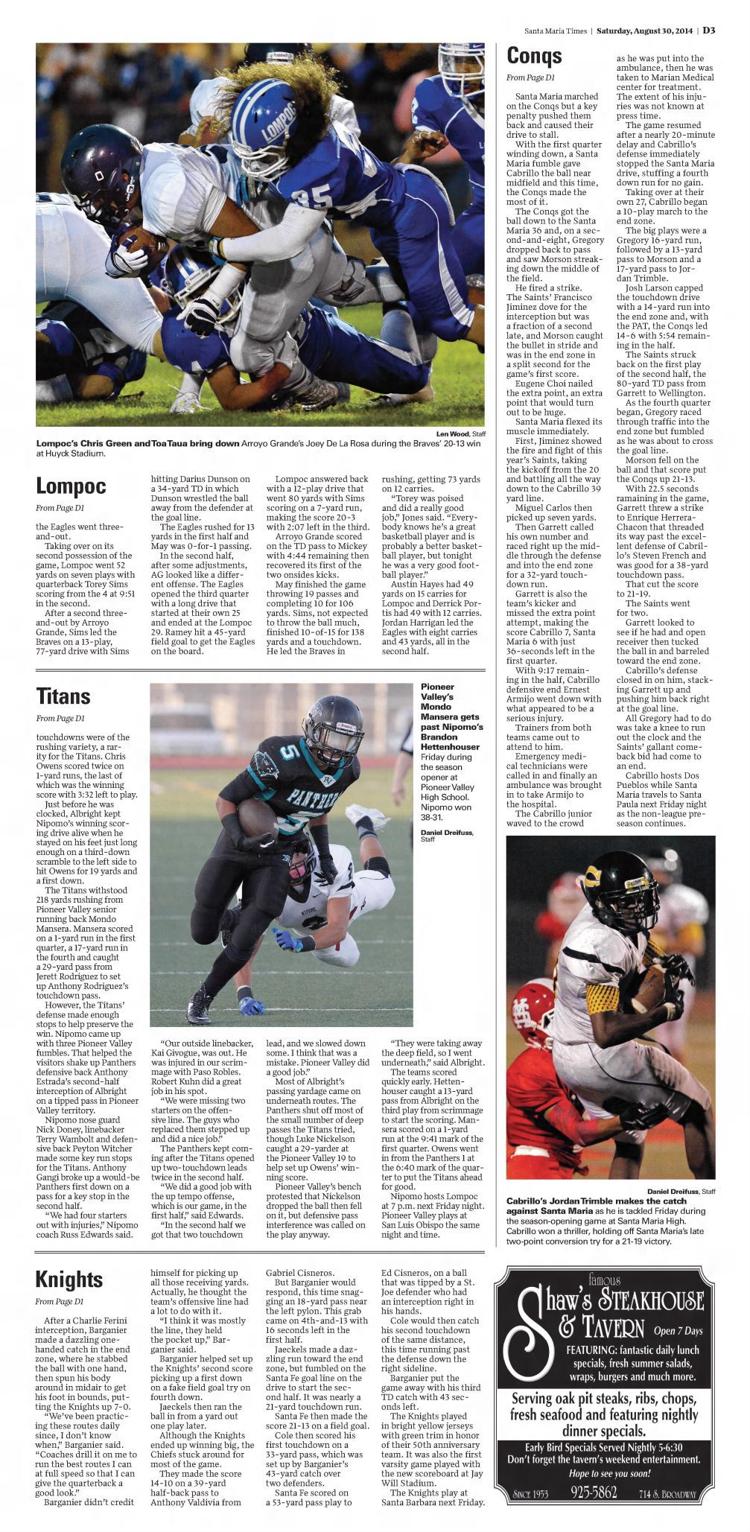 GALLERY: Nipomo football rally
A lunchtime rally was held Friday to inspire the Nipomo High School football team as the Titans host Arrowhead Christian Saturday night in the championship game of the CIF Southern Section Northwest Division playoffs. This is the school's first-ever title game in any sports.
Get in the game with our Prep Sports Newsletter
Sent weekly directly to your inbox!