For the second straight week, The Santa Ynez Pirates owned the first half.
And that led to the Pirates' second win (2-1) of the season, a 38-17 victory over the Santa Maria Saints in a non-league football game in Santa Ynez.
Anthony Gills led the Pirates' attack, scoring four touchdowns while gaining 163 yards on 20 carries including a spectacular 40 yard touchdown run on a classic hook-and-ladder play late in the second quarter that gave the Pirates a 29-3 lead.
Quarterback Bennett Redell added a 23-yard touchdown run to go along with 13-for-18 passing for 152 yards.
"We focused on keeping Anthony on one side of the ball this week," said Santa Ynez head coach Josh McClurg. "He was a little sore after last week's game so we started Lorenzo Beard at cornerback and kept Anthony just on offense and you can see he had a lot more of an effect on the outcome."
Week Two was another great week of football. Lompoc held off a tough opponent for a win at home, the Pirates topped the Saints, and Righetti cruised past Pioneer Valley to continue their impressive start. See scores, stats, videos and more from Friday's games right here.
Santa Maria (1-2) was led by Samuel Herrera who scored both Saints' touchdowns, gaining 100 yards on nine carries – all 100 and both scores on his final three touches.
Quarterback Dominick Martinez ran the ball 16 times for 59 yards but was sacked three times and lost a fumble while completing 1-of-11 passes.
"Dominick was feeling pressure all night but he still made plays with a little help from our offensive line," said Santa Maria head coach Dan Ellington. "Santa Ynez is a very good football team. Coach (Josh) McClurg did a very good job and his team outplayed us."
The Pirates took the opening kickoff and then ground out a 13-play, 79-yard drive that ended with Gills' one yard touchdown run.
The drive got a big boost from three consecutive plays; a 17-yard pass from Redell to Camron Prendergast followed by a 15 yard pass to Gills and finally a 16 yard gills run.
Quincy Valle's point after kick put Santa Ynez up 7-0 with 7:59 left in the first quarter.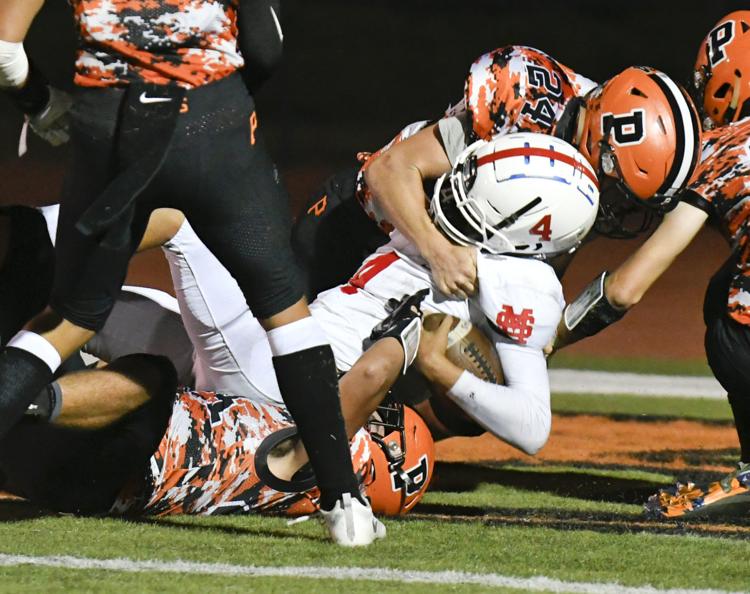 Four plays later, Santa Ynez recovered a Santa Maria fumble at midfield and then, on the next play, fumbled it right back at its own 40.
The Saints began their own march in an attempt to even the score but when the drive stalled Andres Vargas came on to kick a 30 yard field goal, cutting the Saints' deficit to 7-3 with 2:07 left in the quarter.
On the ensuing kickoff, Brayden McCoy took off up the far sideline for what looked like a 95 touchdown but it only looked that was for a second until the crowd noticed a flag in Santa Ynez territory.
Holding, Santa Ynez – so everyone marched back and Santa Ynez took over on its own 20.
You have free articles remaining.
Register for more free articles
Stay logged in to skip the surveys
But it didn't really slow the Pirates down.
They went 80 yards in seven plays, moving ahead 14-3 on Gills' four yard touchdown run on the final play of the first quarter.
Gills set up the score with a 43 yard reception of a Redell pass.
This time, there was no collapse in the fourth quarter. On this night, Lompoc ensured that it wasn't going to endure a repeat of last week's final 12 minutes of the game – and rolled past Bishop Diego 17-7 on Friday night at Huyck Stadium.
After forcing a Santa Maria punt, Santa Ynez scored on the old hook-and-ladder on the next play.
Redell hit Logan Ast with a 14 yard pass on the near sideline and Ast immediately lateralled to Gills who was off, untouched, on a 40 yard touchdown run.
With time running out in the half, Ast scored for the defense when he tackled the Saints' Martinez in the end zone for a safety and a 22-3 lead.
Then after returning Santa Maria's free kick to the Saints' 40, Redell broke through the middle for a 40 yard touchdown run and a 29-3 heading into halftime.
After recovering a Saints' fumble early in the third quarter, Niko Rocha hit a 38 yard field goal for a 38-3 lead.
Santa Maria posted two Herrera touchdowns but it was too late for a comeback victory.
090619 SM SY football 02.jpg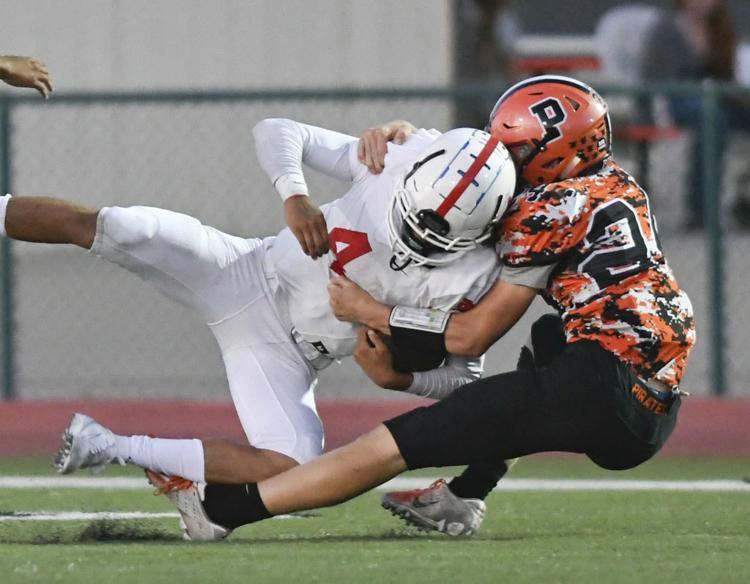 090619 SM SY football 01.jpg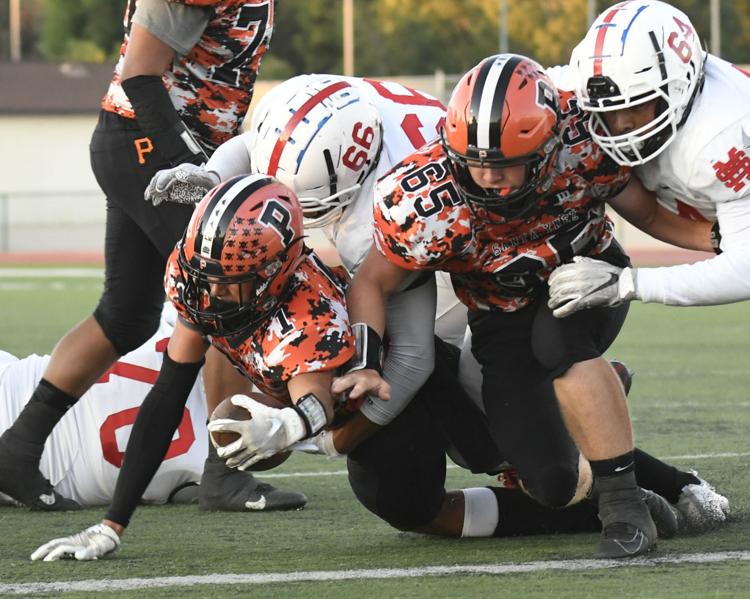 090619 SM SY football 03.jpg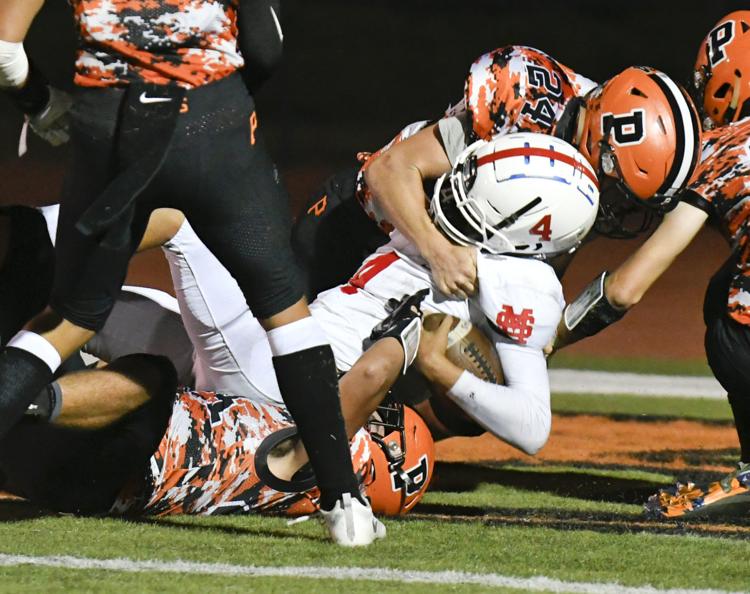 090619 SM SY football 04.jpg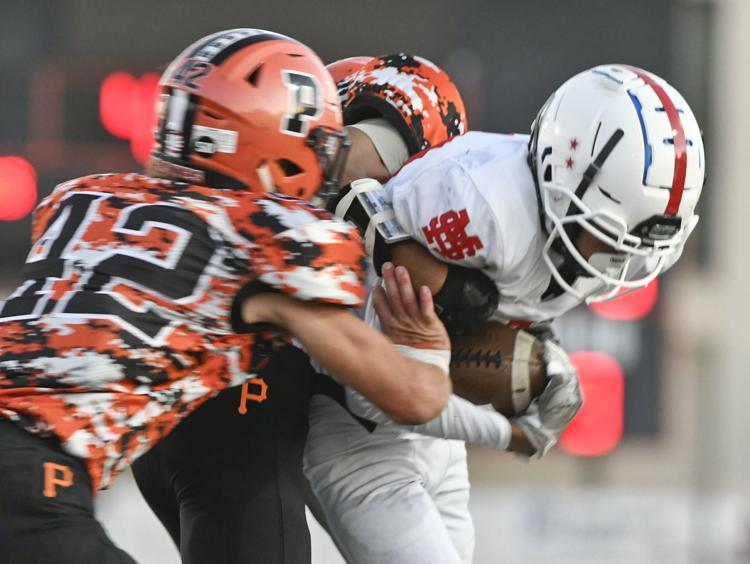 090619 SM SY football 05.jpg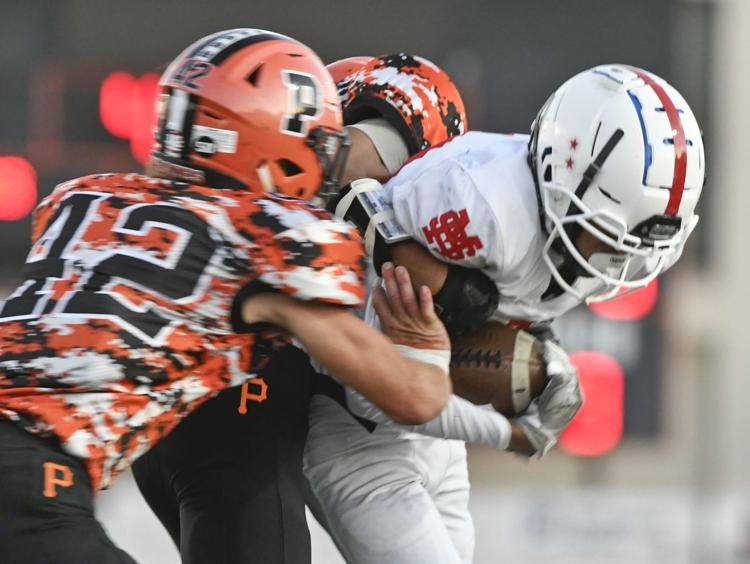 090619 SM SY football 06.jpg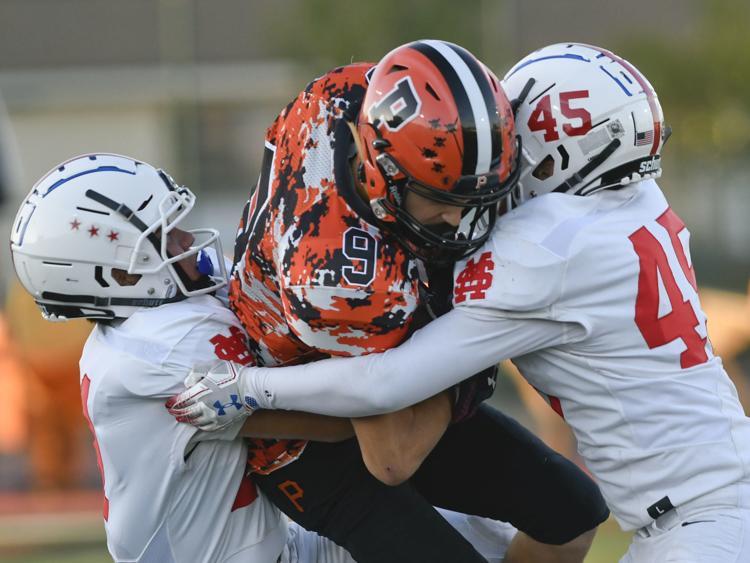 090619 SM SY football 07.jpg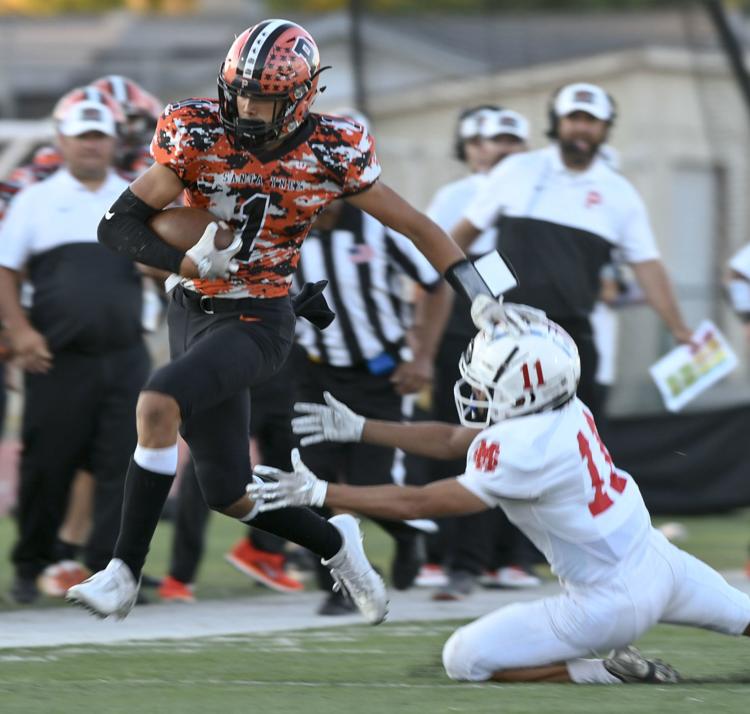 090619 SM SY football 08.jpg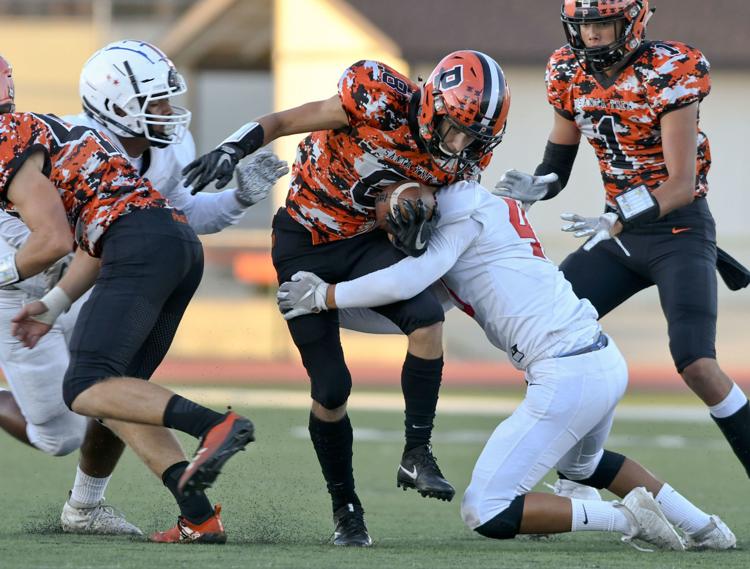 090619 SM SY football 09.jpg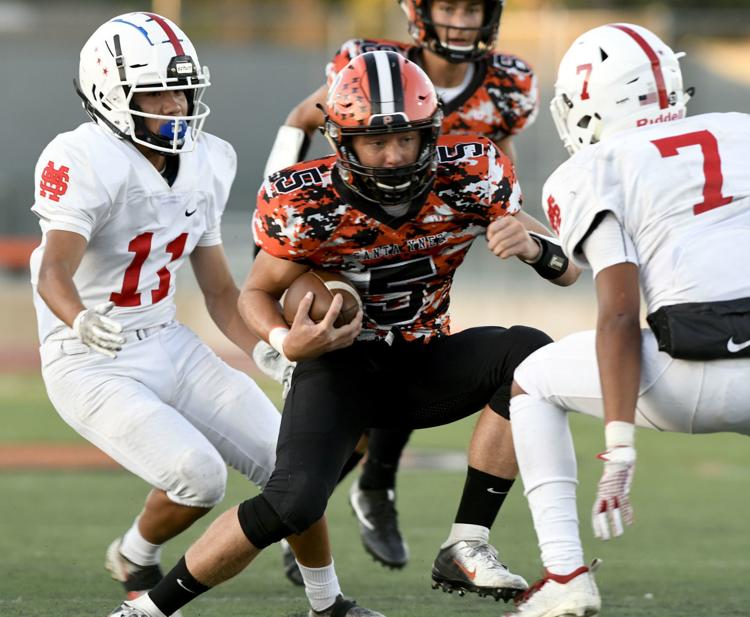 090619 SM SY football 10.jpg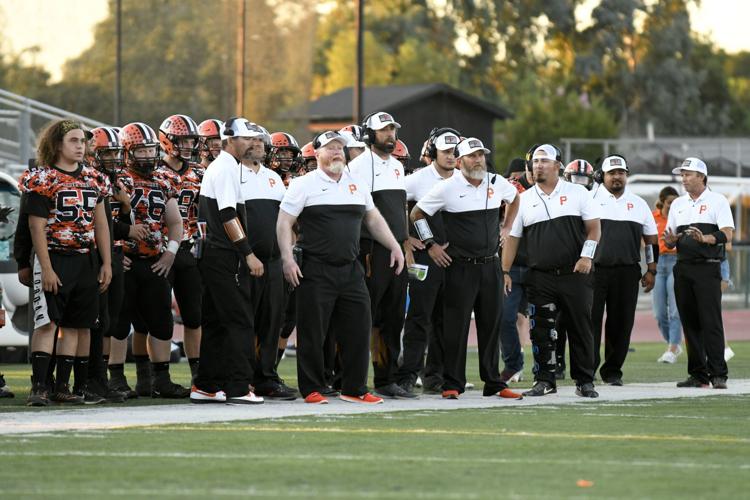 090619 SM SY football 11.jpg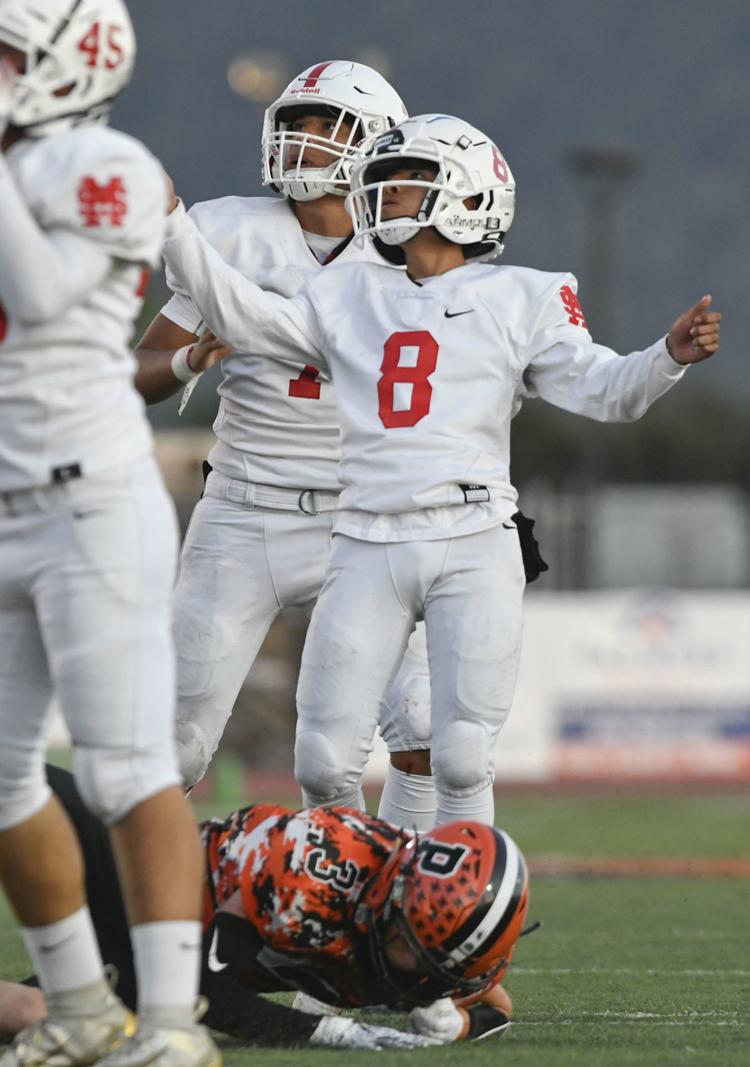 090619 SM SY football 12.jpg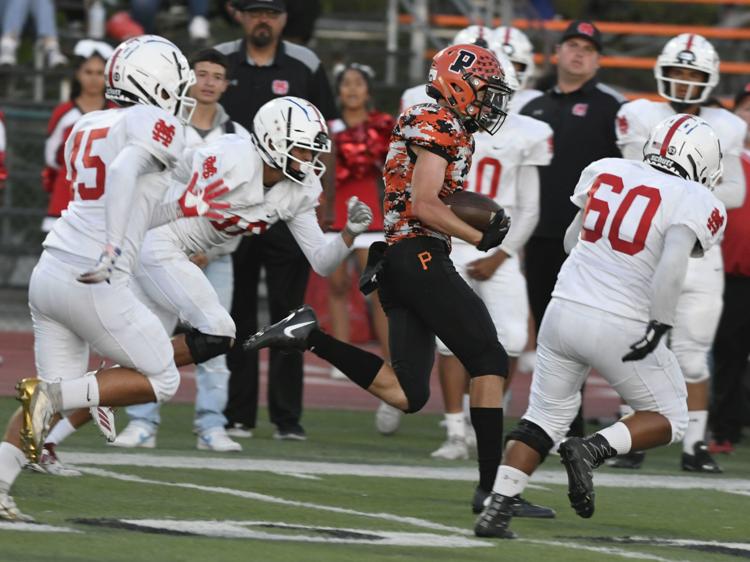 090619 SM SY football 13.jpg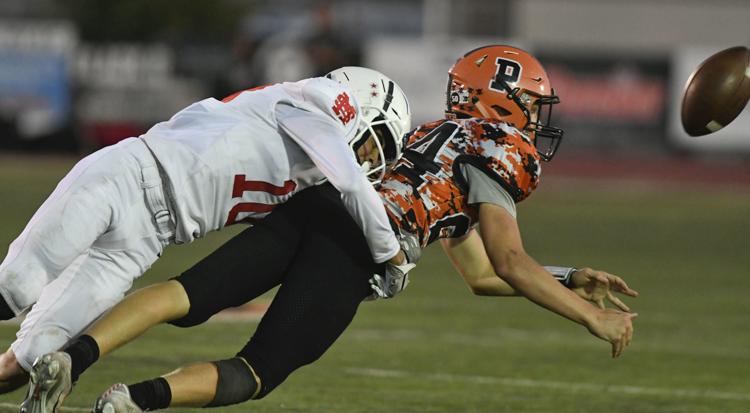 090619 SM SY football 14.jpg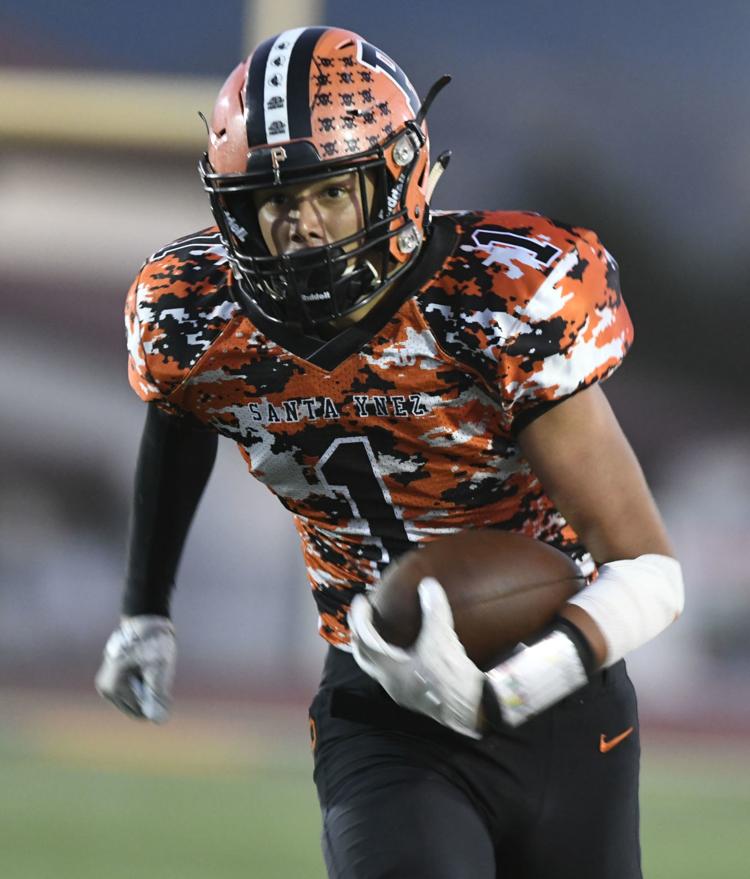 090619 SM SY football 15.jpg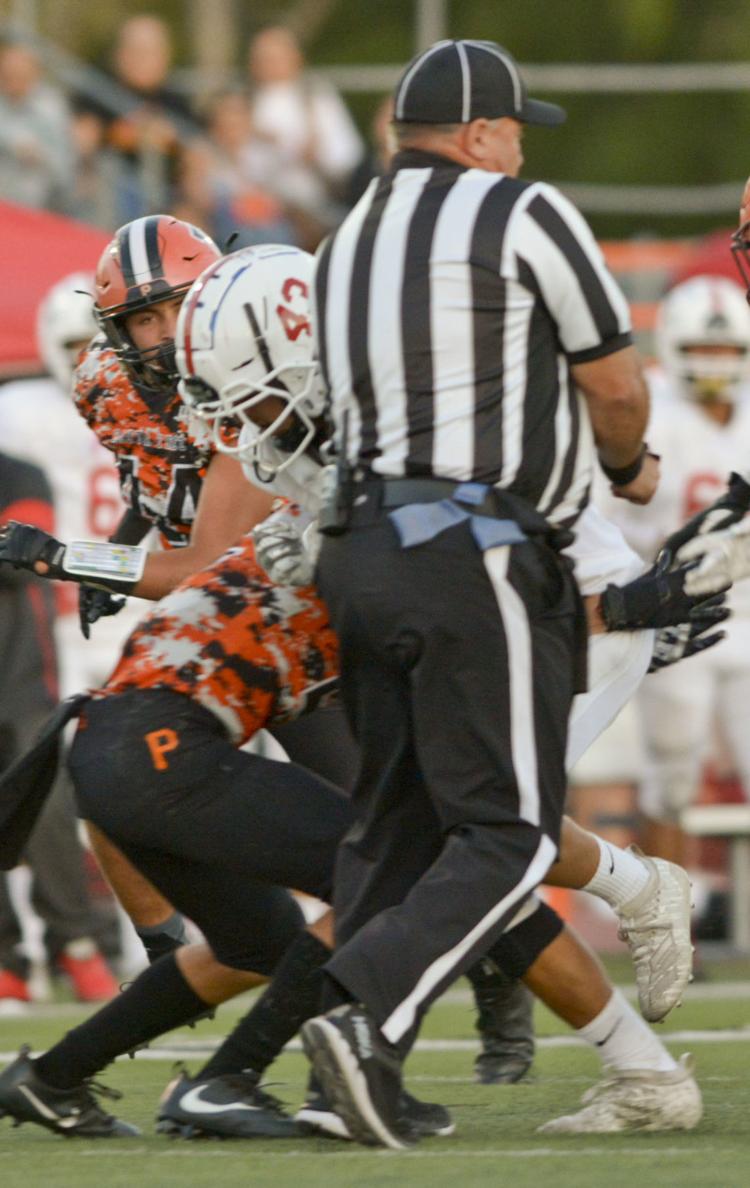 090619 SM SY football 16.jpg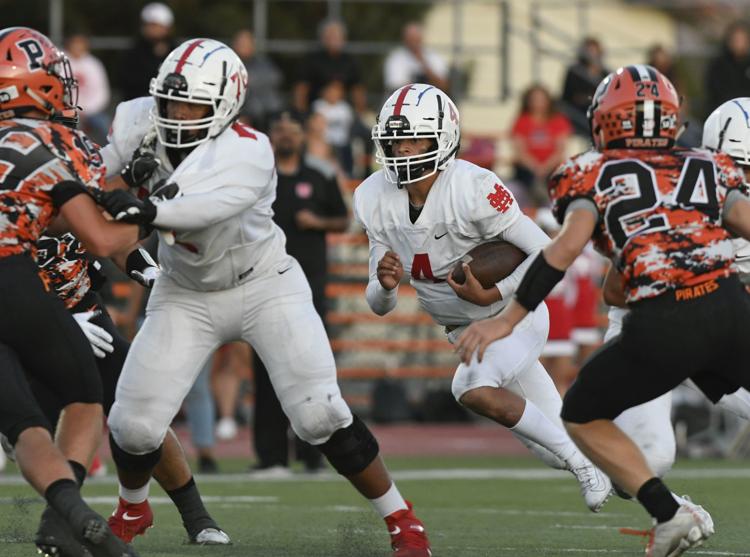 090619 SM SY football 17.jpg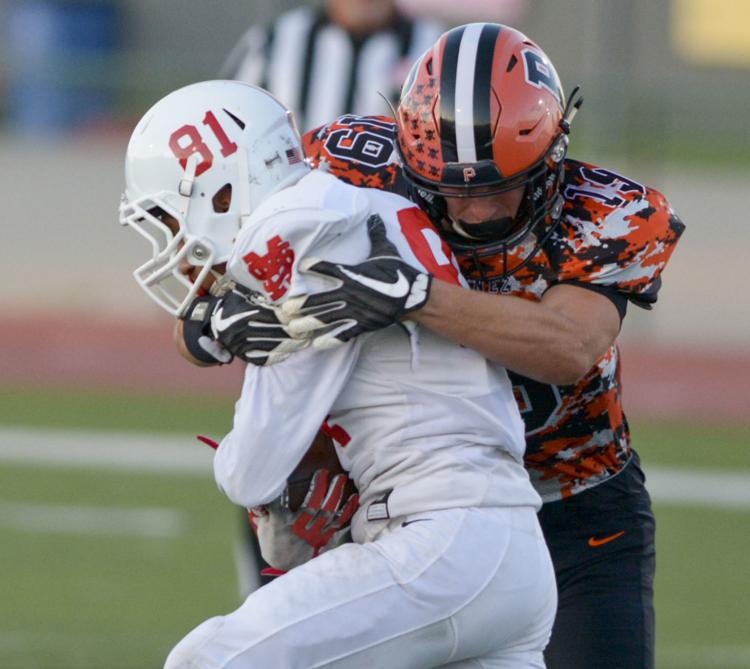 090619 SM SY football 18.jpg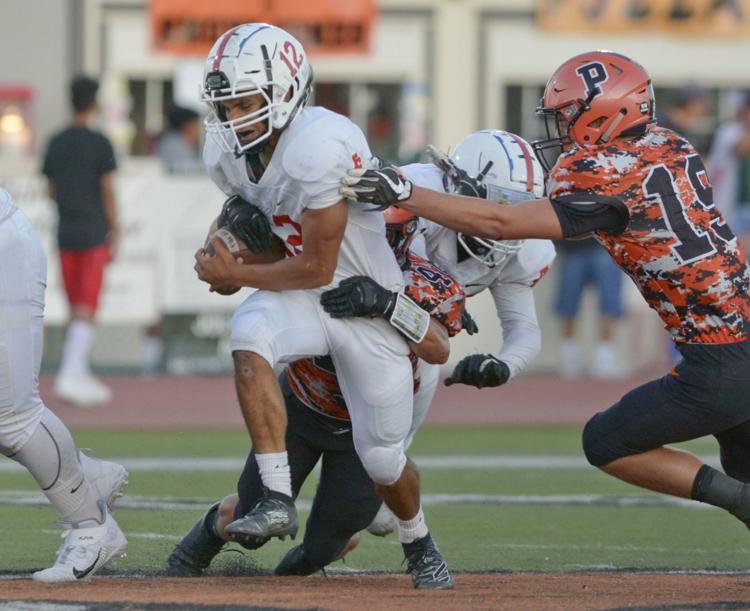 090619 SM SY football 19.jpg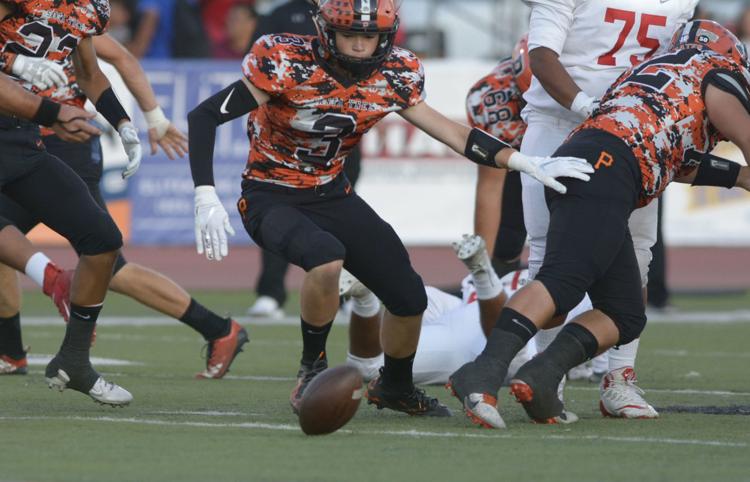 090619 SM SY football 20.jpg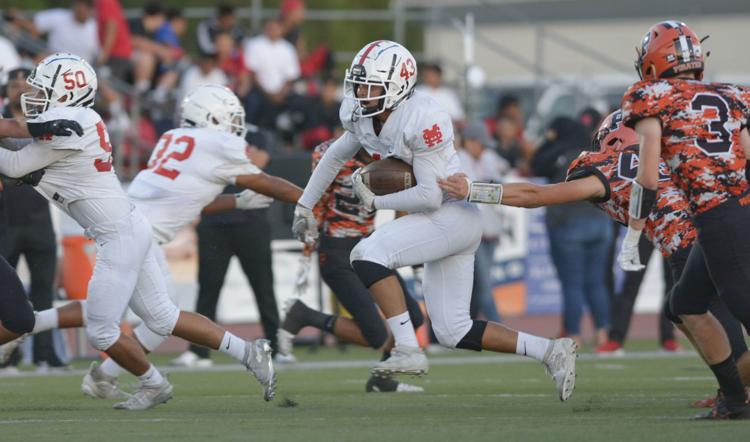 09061939.jpg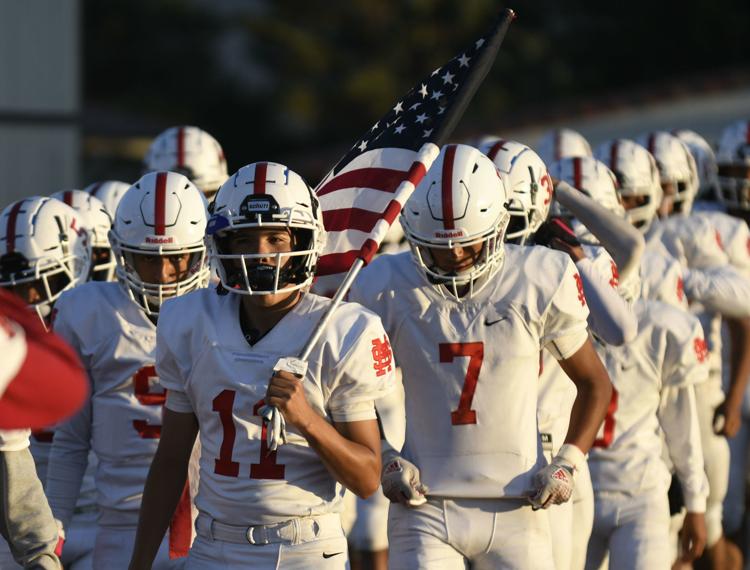 09061945.jpg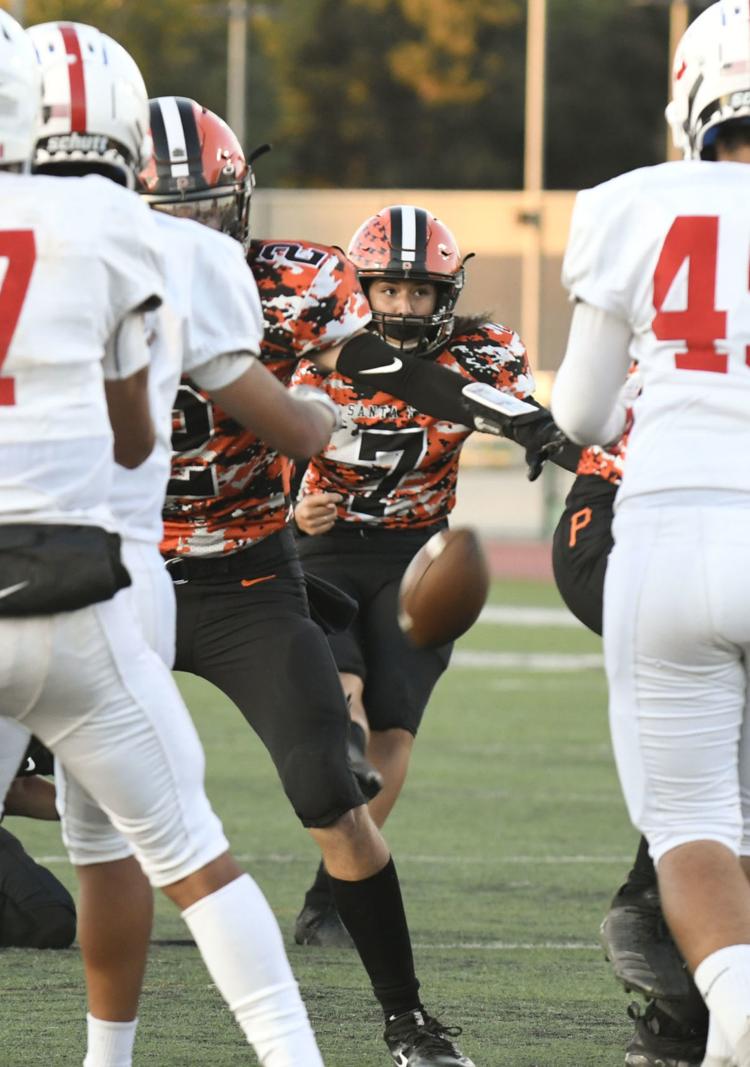 Girls Golf
San Luis Obispo 248, Santa Ynez 257
The San Luis Obispo Tigers defeated the Santa Ynez Pirates in a girls golf match Monday afternoon at the Alisal River Course in Solvang.
SLO's Catie Leebrick shot a 42 to earn medalist honors.
Sophia Silacci (44), Ellery Yasumoto (46), Sadie LaChopelle (53) and Sophie Garza (63) rounded out the Tigers' scoring in the non-league match.
Morgan Blunt and Marina Vengel led the Pirates with identical 47s.
Bridget Callaghan (52), Ryann Melville (54) and Emily Ruiz (57) rounded out the Santa Ynez scoring.