Santa Ynez High School coaches Ron Misner and Marissa Scoggins want their teams to hit the ground running this year.
After all, running is what their athletes do best.
And running is what they've been doing — around the high school track and through the hills of Solvang's Hans Christian Andersen Park.
Misner is the longtime head coach, and Scoggins his assistant, on the Pirates' boys and girls cross country teams.
"We've been getting out early — around 8 a.m. — so we can beat the heat," said Misner. "After school began (Thursday, Aug. 9), we're only be able to practice after school and, as you know, it gets really hot here in the Santa Ynez Valley in the afternoons."
"We actually like it to be warm here when we have our home meets," said Scoggins. "In league meets, it's definitely to our advantage to run in the heat."
That's because, although they are fairly close in distance, the other five schools in the new-look Channel League come from the cooler coast.
Misner says the outlook is excellent as both Pirates squads have several top-flight veterans returning to compete with old Los Padres League foes Lompoc and Cabrillo along with Channel League holdovers Santa Barbara, San Marcos and Dos Pueblos in the re-formed league.
"We have almost 40 kids altogether in our varsity and junior varsity programs," said Misner. "It's mostly boys. We only have about 10 girls this year. But we didn't lose a lot of runners to graduation so we have a good core returning."
"But we'll be competing against much larger schools," said Scoggins. "Dos Pueblos, for instance, has about 90 kids that come out for their teams."
Emily Donahue is gone — off to San Diego's Point Loma Nazarene University after leading the way for the girls team.
However, twins Kiely and Samantha West are back along with Hanni Richter, Ananda Main and Breeann Doremus.
And Misner still has a Donahue ready to run — Sarah Donahue, Emily's younger sister.
"Those girls consistently finished between third and eighth for us last year so we've got some pretty strong girls coming back and we've added a couple excellent newcomers," Said Misner.
You have free articles remaining.
Register for more free articles
Stay logged in to skip the surveys
The Pirates' girls are coming off a second place finish in the now-disbanded LPL.
The girls made it to the CIF Southern Section finals in 2017.
"The boys finished the (2017) season strong but we got too far behind at the beginning of the year and only finished fifth in league, so we didn't make it to CIF," said Misner.
He's hoping for a better result this year.
"The boys are also looking good," said Misner. "Shane Silva is back and he will, once again, be one of our anchors. Sophomore Carson Gann will also be one of our top guys," said Misner. "We can only enter seven boys or girls in each meet and we'll have to decide between eight or nine other boys to fill out those seven spots."
Those in the running include Alex Ives, Jackson Stevens, Joey Linane, Michael Martinez, Nathan Gardner, Jeremy Aiken, (wrestling team captain) Ben Nielsen, Jason Ruelas, Logan Cantrell and Jude Holthaus.
"It's a new year, a new league and we're hoping to finish in the top three and make it to CIF," said Misner. "We've never had to go against the Santa Barbara schools in league before. Dos Pueblos and San Marcos look to be the teams to beat, they've always been really good. Santa Barbara is always tough and both Lompoc and Cabrillo are improving so it's going to be a real fight for that third spot and a CIF playoff berth."
Before the competition begins, Misner and Scoggins are working to get everyone in shape.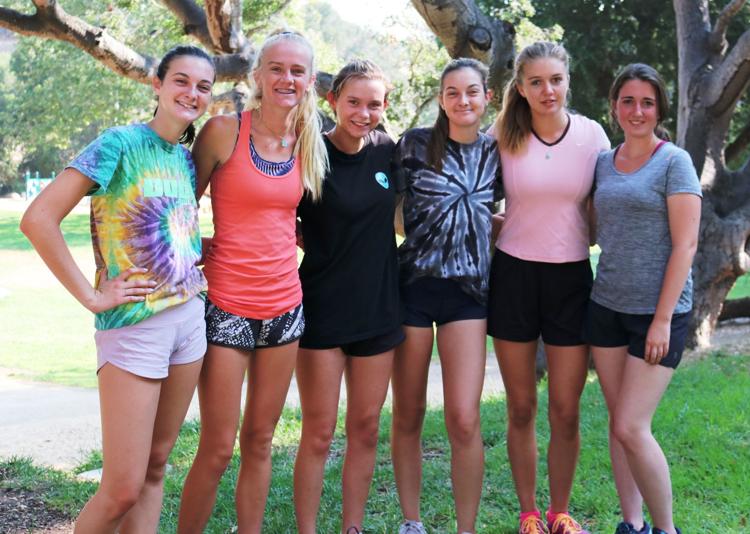 "It's not just 'go out there and run.' We run at different heart rates to work on different parts of the body," said Misner. "Our main goal during training is to make the body overcompensate and work on efficiency," said Misner. "I like training on a real course through the hills and not just going round and round the high school track. That's why I like it here at Anderson Park."
"You can do too much training," said Scoggins. "We're trying to get all the kids to peak at the right time. We don't want them to over-train and then run out of gas when we get into the heart of the season."
Misner is a longtime coach at Santa Ynez High while Scoggins is a relative newcomer to the coaching ranks.
"I actually founded the team in 1989," said Misner. "I left the team for a few years to be the athletic director at The Dunn School but then I came back to coach here. I was still an assistant coach while I was at Dunn but since I was the Dunn A.D., I couldn't be the head coach here."
Santa Ynez High has been Misner's home for the past 29 years. He is currently a Special Education Resource Aid.
Scoggins, in her second year with the cross country program, is an English teacher at SYHS.
The Pirates open the season on Saturday at the annual UCSB Lagoon Cross Country Meet.